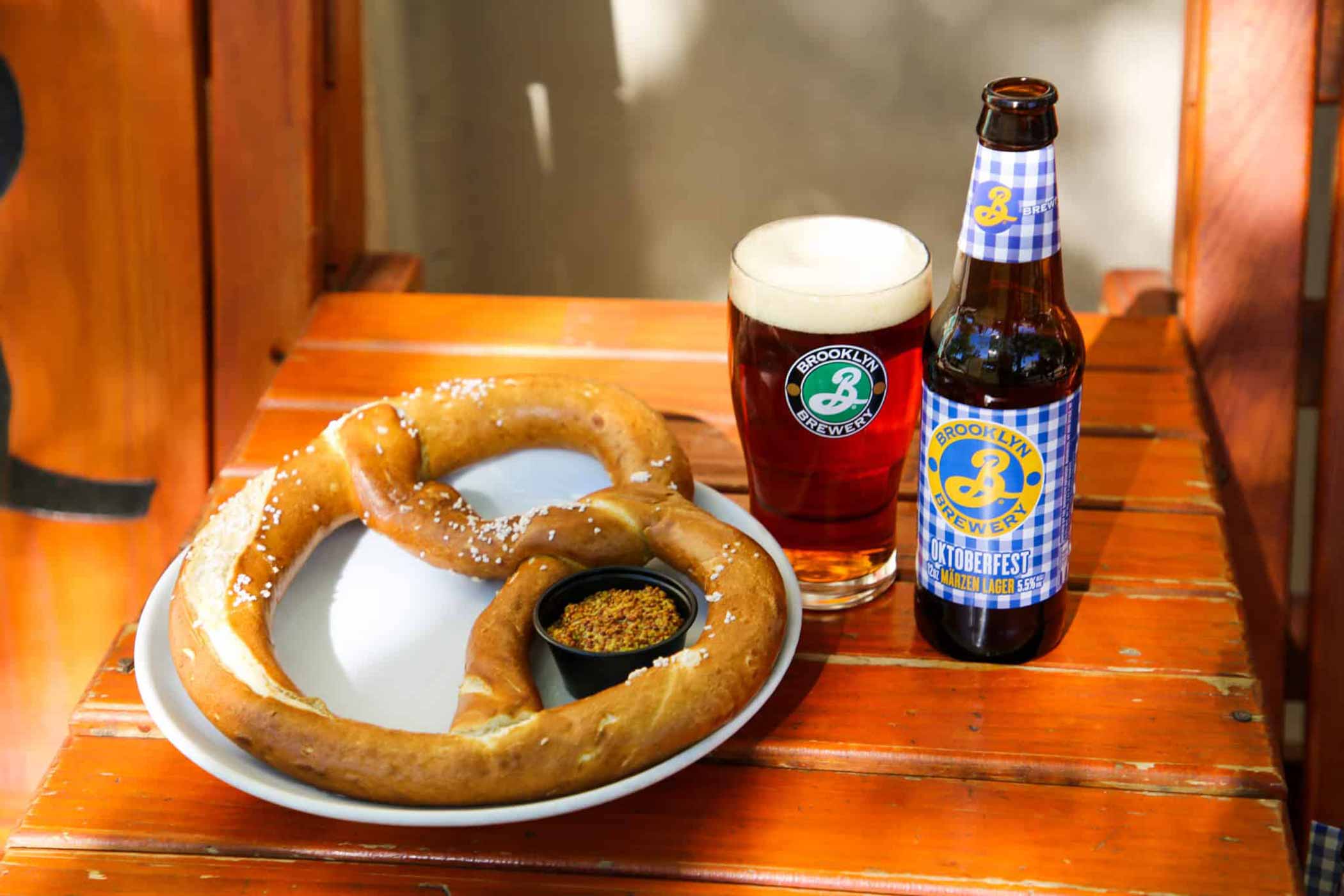 Photography courtesy of Brooklyn Brewery
More in Our "Available in Most Stores" series:
This past Saturday, the 188th Oktoberfest kicked off in Munich, Germany. And while we couldn't hop on a plane to get across the pond, we wanted to find ways to honor the centuries-old tradition at home, showing you great approachable, accessible versions of Oktoberfests you can most likely find at a store near you.
Why? Because the original idea behind Oktoberfest was actually to unite folks during a turbulent period.
An event celebrating the wedding of Bavarian Crown Prince Louis (later King Louis I of Bavaria) to Princess Therese Von Sachsen-Hildburghausen in 1810, Oktoberfest originated amid the Napoleonic Wars (1803-1815). The raucous party, replete with free beer and food provided by the royal family, aimed to unite Germans.
Today, the festival attracts, on average, six million visitors a year, canceled only twice because of global pandemics, literally (once for cholera and, of course, more recently for COVID-19).
But the annual harvest jubilee is back, and we wanted to remind you all that it's not just a drunk party but a season to come together and celebrate each other's company.
Yes, it would probably be fun to visit Munich at least once for stein-holding competitions, roast chicken, and prosts aplenty. But you can still drink great Oktoberfests in your much closer backyard with those you hold close.
Quick Recap, What Kind of Beers Are Oktoberfests?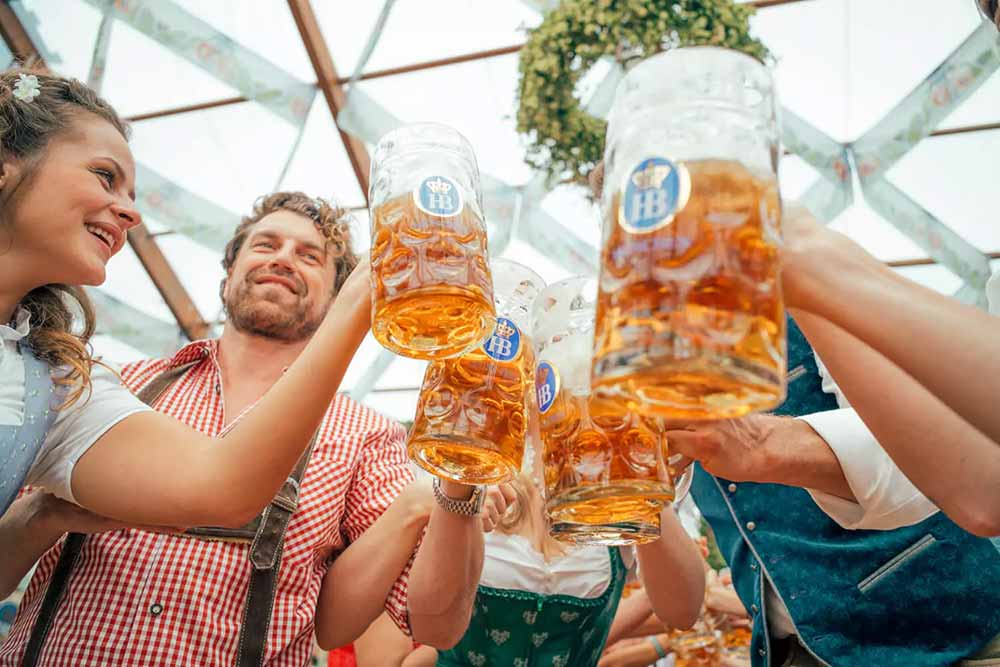 So glad you asked because we get this question a lot.
Technically, Oktoberfests refers to a beer made by one of the big six Munich breweries—Augustinerbräu Münche (Augustiner), Hacker-Pschorr, Hofbräu, Löwenbräu, Paulaner, and Spaten-Franziskaner-Bräu (Spaten)—for the official Oktoberfest celebration in Munich, Germany. Anything made outside Munich by a different brewery should only be considered Oktoberfest-style.
Luckily, today, you can find many of these historic Bavarian versions available nationwide in the U.S. (i.e. we've included a few below or you can find many in Untappd's new Oktoberfest Variety Pack).
But, many American craft brewers have also tried their hand at different types of Oktoberfests.
For instance, the Märzen, a smooth, toasty, bready, slightly spicy German amber lager with a bit of Noble hop bite. First brewed by Spaten in Germany, Märzens were the official beer of the Oktoberfest celebrations in Munich before being replaced by…
Festbiers, a golden German lager similar to a helles but a bit maltier and meatier, hitting around 6-6.5% ABV. Festbiers were first pioneered by Paulaner. Today, in Germany, Festbier is THE official beer of Oktoberfest.
Confused? Don't be. We wrote up a full rundown on the difference between Oktoberfests, Märzens, and Festbiers.
But regardless of the exact style, Oktoberfests have this in common: On a cool autumn day, these lighter-bodied, sometimes malty, sometimes slightly hoppy lagers satisfy us to our core.
And are best enjoyed with others.
Below, you'll find a mix of Oktoberfests, Märzens, and Festbiers from both American and German breweries. The common thread is that you can find any of these accessible Oktoberfests in a store near you.
Hop Culture's Picks for the 17 Best Oktoberfests Available in Most Stores Right Now
Editor's Note: All of these Oktoberfests below are seasonal beers, unless otherwise noted, that can be found from the end of summer through fall.
AleSmith AleSchmidt Oktoberfest
Märzen — AleSmith pays homage to the tradition of Märzens with its own seasonal, award-winning AleSchmidt Oktoberfest but lightens things up a bit for a classic yet clean version. Expect nice roasty notes from the malt—almost like toasted bread cut with a whisper of hoppy elegance.
Oh, and did we mention this Märzen won a 2021 California Craft Brewers Cup in the Märzen/Oktoberfestbier category?
AleSmith currently distributes to twenty-one states (AZ, CA, CT, IL, MA, ME, MI, MN, NC, NH, NJ, NV, NY, OH, OR, PA, RI, TX, VA, VT, and WA). Use AleSmith's "Find Our Beer" page to discover an AleSchmidt Oktoberfest near you.
Athletic Brewing Company Oktoberfest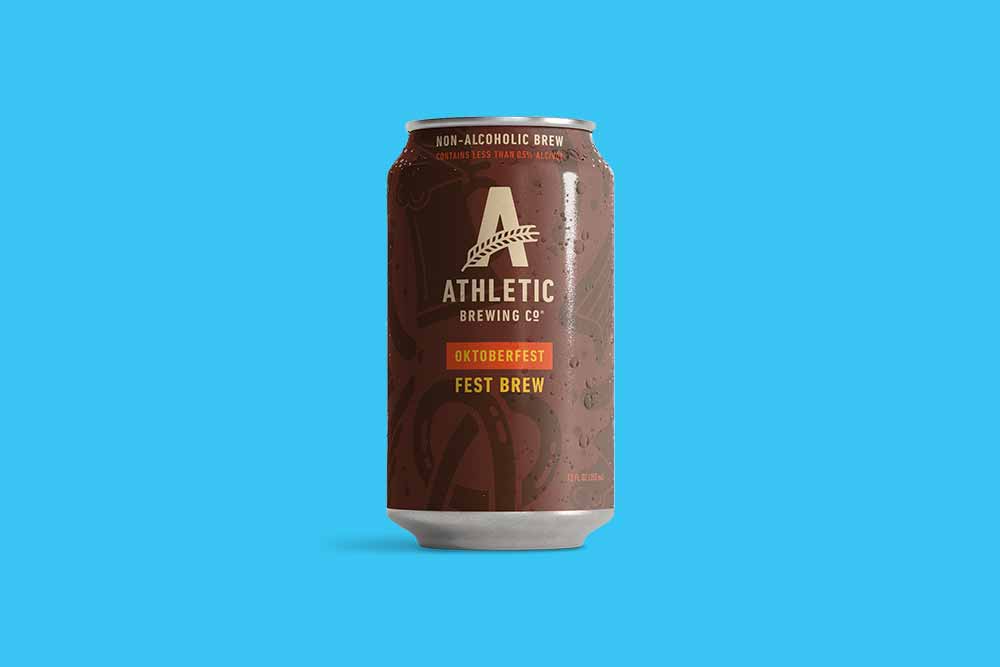 Non-Alcoholic Festbier — Because who says you can only drink non-alcoholic beer during Dry January? We'll admit this is the first non-alcoholic version of a Festbier we've tried, and we wholly enjoyed it.
Pouring a burning gold, Athletic's Oktoberfest hit us first with some really nice floralness on the nose from the Hallertau Mittelfrüh hops.
First sips detected a strong malt backbone courtesy of the Vienna and Munich malts that stood up nicely to the hoppy zing. Slightly sweet but mostly floral, this NA Festbier finished incredibly refreshing.
Currently, Athletic ships to every state except for Michigan, South Carolina, Nebraska, Kansas, Idaho, Mississippi, and Georgia due to state regulations. You can also find Athletic in on- and off-premise retail establishments in more than 50,000 retail accounts in all fifty states along with Canada and the UK. Use Athletic's Where to Find Us page to locate an Athletic beer near you.
Brooklyn Brewery Brooklyn Oktoberfest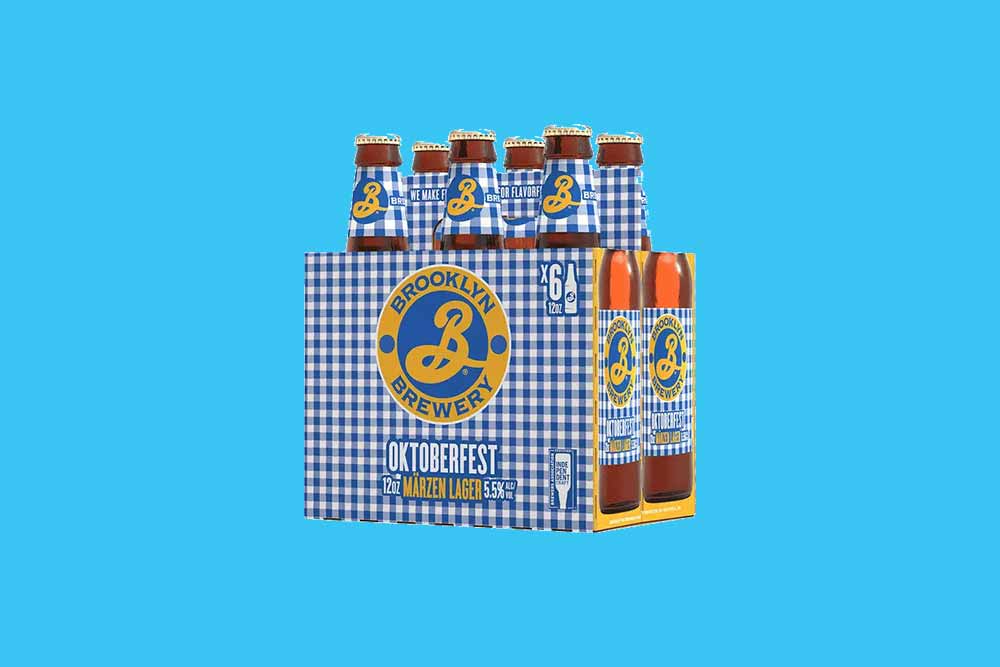 Märzen — Available from August through October, Brooklyn Oktoberfest is "a Märzen brewed the Brooklyn way," according to Brooklyn Brewery.
Their take on a classic Märzen lager nicely balances that classic harmony between breadiness and German Noble hoppiness.
As Brooklyn Brewery writes, "Pack it along for fall celebration from the first day of jacket weather to game nights to internally famous bierfestivals."
As the tenth largest independent craft brewery in the United States (Brewers Association), Brooklyn Brewery has a pretty hefty distribution footprint. Currently, they offer their beers in over thirty states (AZ, CA, CO, CT, DE, FL, GA, IL, IN, KY, LA, ME, MD, MA, MI, MN, MO, NH, NJ, NY, NV, NC, OH, PA, RI, SC, TN, TX, VT, VA, and WI) and thirty countries across five continents (you can find the complete list here).
Or use Brooklyn Brewery's Beer Finder to locate a Brooklyn Oktoberfest near you.
Firestone Walker Oaktoberfest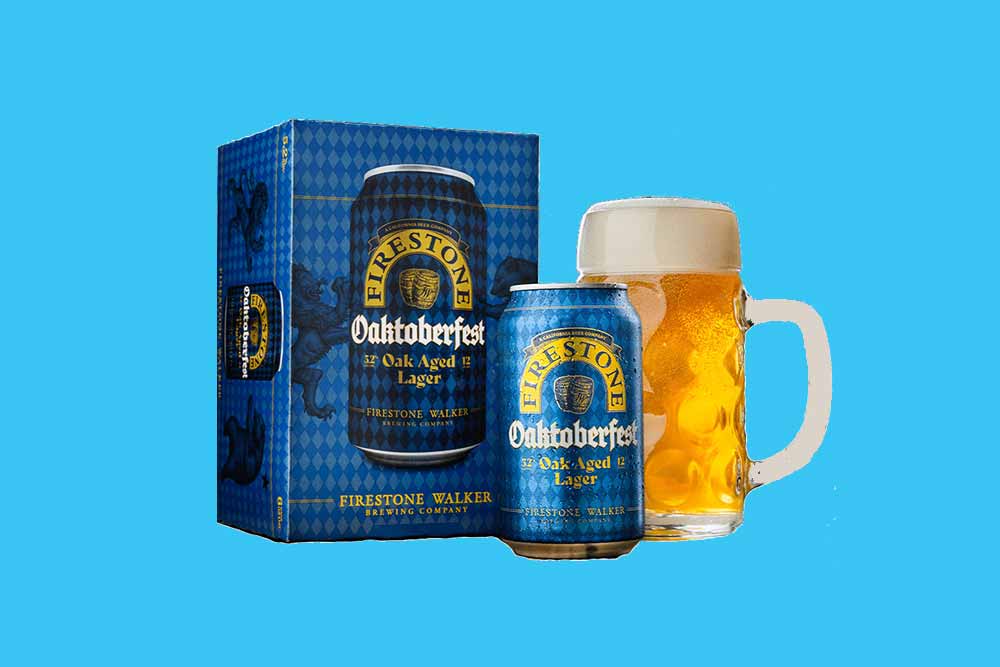 Märzen — With Oaktoberfest, Firestone Walker takes the threads of traditions and weaves in its own heritage. So yes, you'll find all that caramelly goodness you love in Oktoberfests from Weyerman Pils, Vienna, Munich, Cara Hell, and Cara Red malts.
And yes, you'll find a nice crisp bite from the Noble Tradition and Spalter Select hops.
But then, Firestone Walker injects its own DNA, partially lagering Oaktoberfest in neutral oak barrels. After all, Co-Founders Adam Firestone and David Walker started the twenty-seven-year-old brewery as an exclusively barrel-fermented business!
As a result, the finished beer has a soft caress of French oak that makes this one of the most approachable, balanced Märzens on the market.
Firestone Walker calls this one "a classic German Fest Bier with a hint of West Coast hoppiness."
Oaktoberfest is the perfect Märzen with a little twist that you can find in twenty-five states including AZ, CA, CO, DC, HI, IA, ID, IL, IN, KS, MD, MN, MO, MT, NC, NE, NJ, NM, NV, NY, OR, PA, TX, VA, WA. Use Firestone Walker's Beer Finder to track down Oaktoberfest near you.
Great Lakes Brewing Company Oktoberfest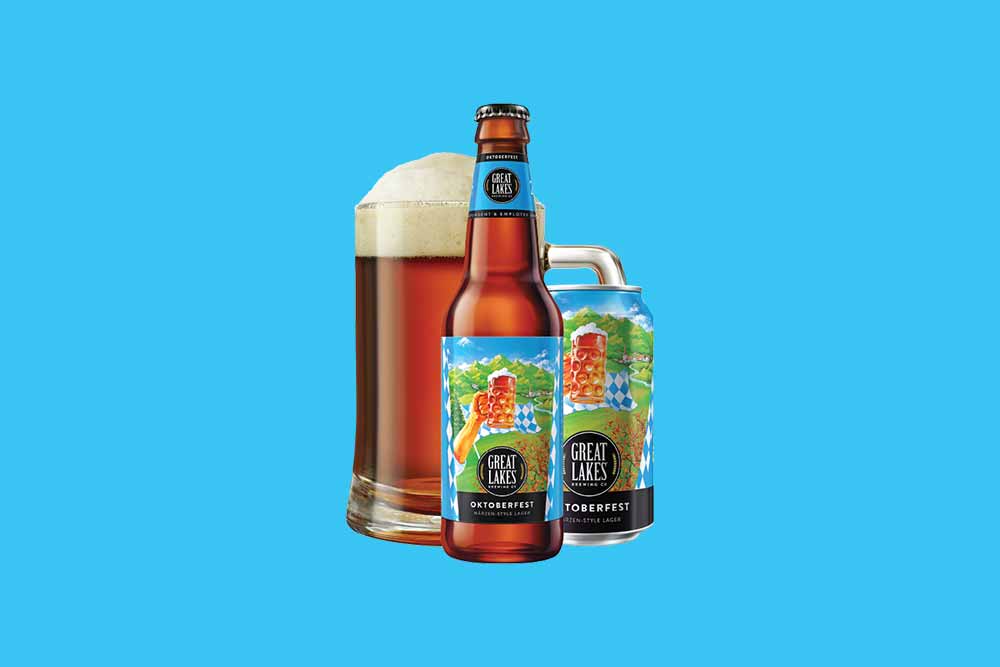 Märzen — Known for making some pretty iconic seasonal beers (Christmas Ale, anyone?), Great Lakes does justice to its own spin on a Märzen.
The four-time World Beer Championships-winning Oktoberfest doesn't stretch the boundaries far grain-wise with two-row, Munich, and Caramel 45 malts, but you do get an interesting note with Mt. Hood hops.
However, this beer is really all about the malt. As the brewery notes, "Our take on this classic German style is a real malt party, packed with toasty autumnal flavors perfect for hearty hoisting."
You can find Great Lakes' beers in fourteen states including IL, IN, KY, MI, MN, NC, NJ, NY, OH, PA, VA, WI, WV, and Washington, D.C. Use Great Lakes' Beer Finder to locate an Oktoberfest near you.
Hacker-Pschorr Oktoberfest Märzen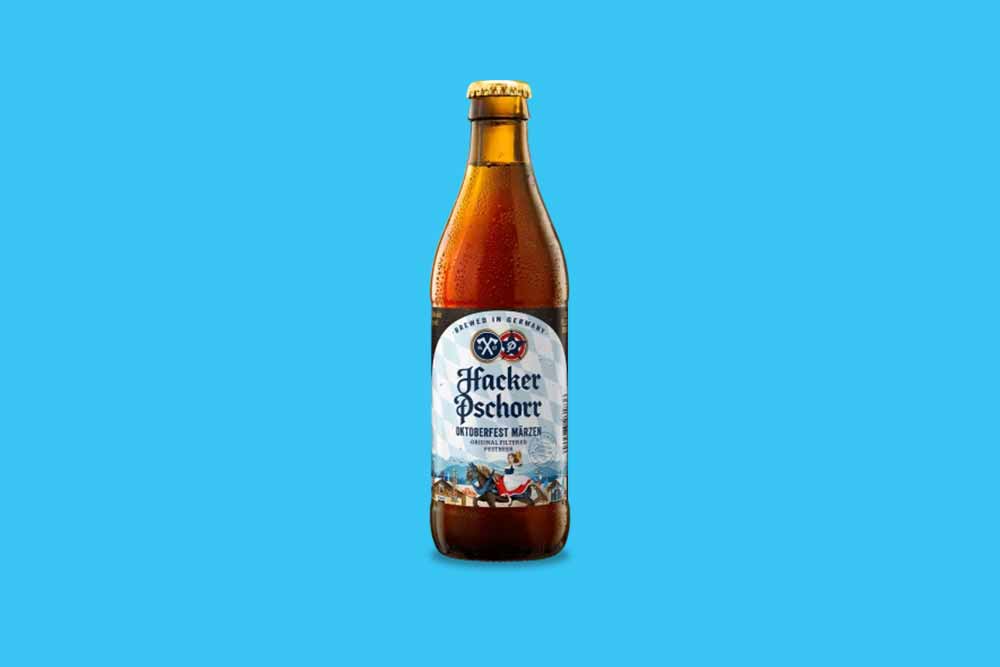 Märzen — Since 1417, Hacker-Pschorr has been a leader among Munich's famed breweries. Over 600-plus years, Hacker-Pschorr perfected its original Oktoberfest Märzen with Marthe, Grace, and Caramaran barley and Hallertauer Tradition and Hallertauer Herkules hop. In this traditional Märzen find a nose of blackcurrants and earth, with very malt-driven flavor.
Editor's Note: Find Hacker-Pschorr's Oktoberfest Märzen in Untappd's Summer Oktoberfest combo pack, which you can find here.
Hofbräu Oktoberfestbier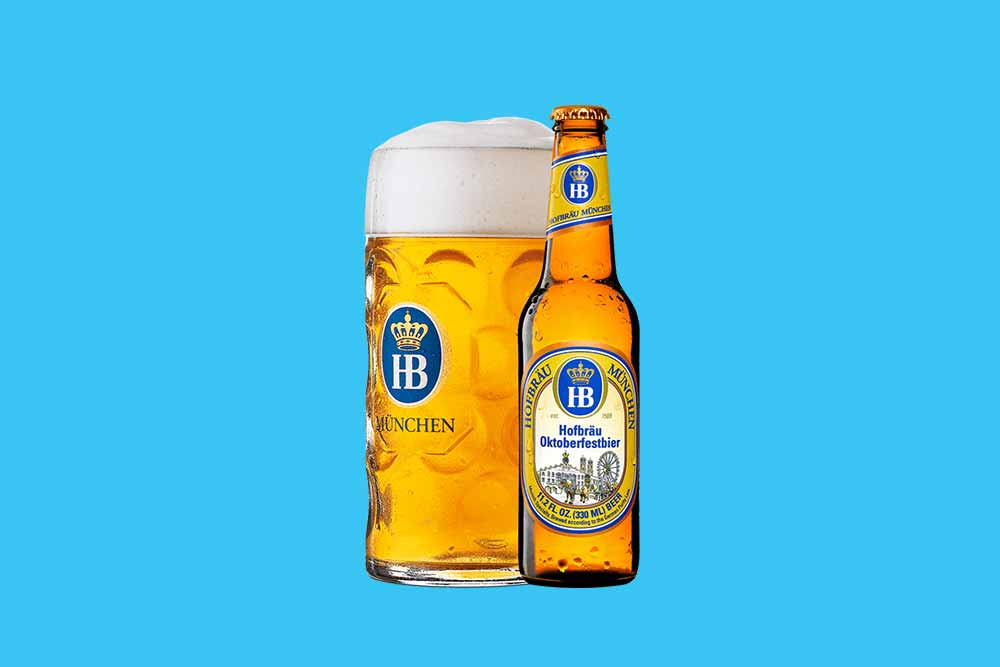 Festbier — Considered the authentic and original Oktoberfest Bier, Hofbräu Oktoberfestbier, falls under the Festbier category, served at the actual Oktoberfest celebration in Munich.
With a rich, golden color, Hofbräu's Oktoberfestbier includes four exquisite Hallertauer hops—Herkules, Perle, Magnum, and Select—and three specially selected Bavarian malts.
Find an aroma of fresh fruity hops and a rich and full-bodied flavor. This brilliant and authentic lager-style beer offers the true Oktoberfest experience—a beer bringing the world together.
Editor's Note: Find Hofbräu's Oktoberfestbier in Untappd's Summer Oktoberfest combo pack, which you can find here.
Left Hand Brewing Company Oktoberfest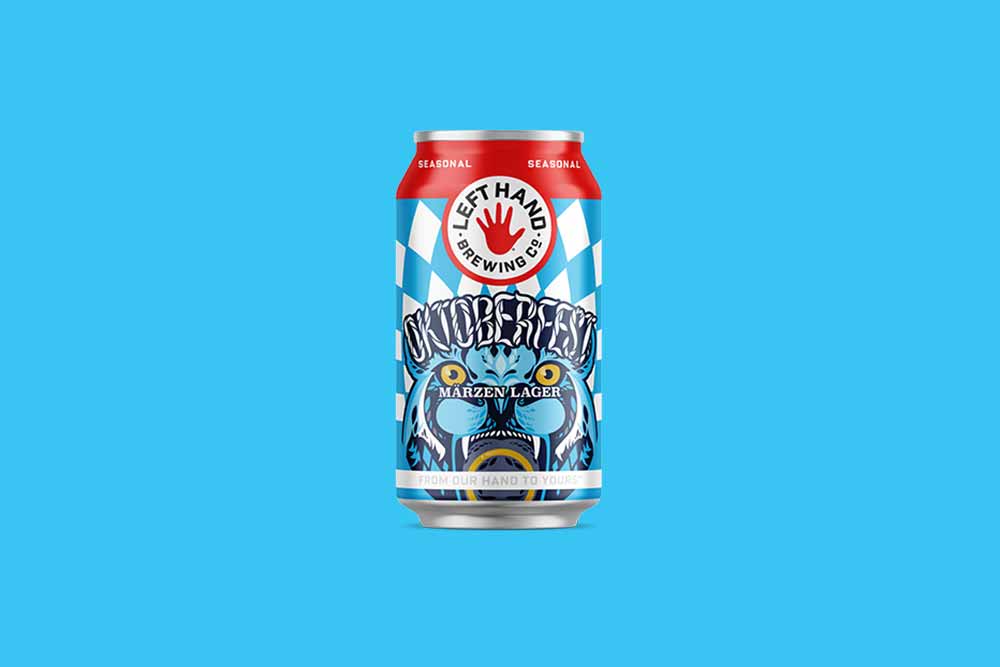 Märzen — Left Hand's Oktoberfest starts with Munich and two-row malt as a base before getting hopped with Apollo and Mt. Hood. The resulting copper lager has lovely notes of baked pretzel and bread crust with just a zing of Noble hoppiness.
Clocking in at 6.6% ABV, Oktoberfest is a Märzen you can have at least a stein of (maybe more if you're feeling peckish).
Pair this one with a pretzel, and your Oktoberfest celebrations are good to go.
As Left Hand writes, "Deliciously repeatable, this take on the classic style is the perfect way to toast the season of crisp air, changing leaves, and festival feasts. Prost!
Left Hand currently has a "handprint" in forty-three states and Washington, D.C. Available through the end of summer and fall, Oktoberfest is a Märzen you can most likely find at your favorite local beer store right now. Use Left Hand's Beer Finder to snag this one.
Odell Brewing Co. Oktoberfest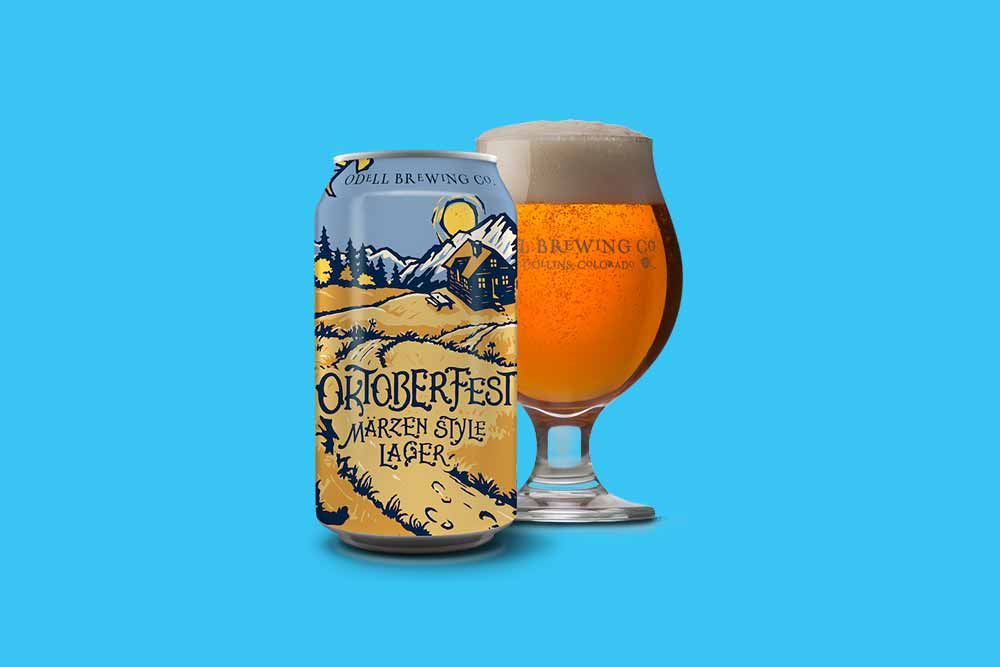 Märzen — Rich and malty—the two words Odell uses to describe its Oktoberfest. Available from August through September, this Märzen is Odell's nod to the changing seasons in Colorado. "The warm days grow shorter, the cool shadows grow longer, and the aspens put on their golden, grand finale," writes Odell on its website.
In this Oktoberfest, you'll find traditional Munich malts alongside Noble hops. A special house yeast strain, along with fresh Northern Rocky Mountain water from the Cache la Poudre River, gives Odell's Oktoberfest its own terroir. But beyond that, you'll find Oktoberfest to be a pretty classic spicy, sweet, malty Märzen.
Odell currently distributes in twenty states. To find Odell Oktoberfests near you, use the brewery's "Beer Finder" page.
Paulaner Oktoberfest Märzen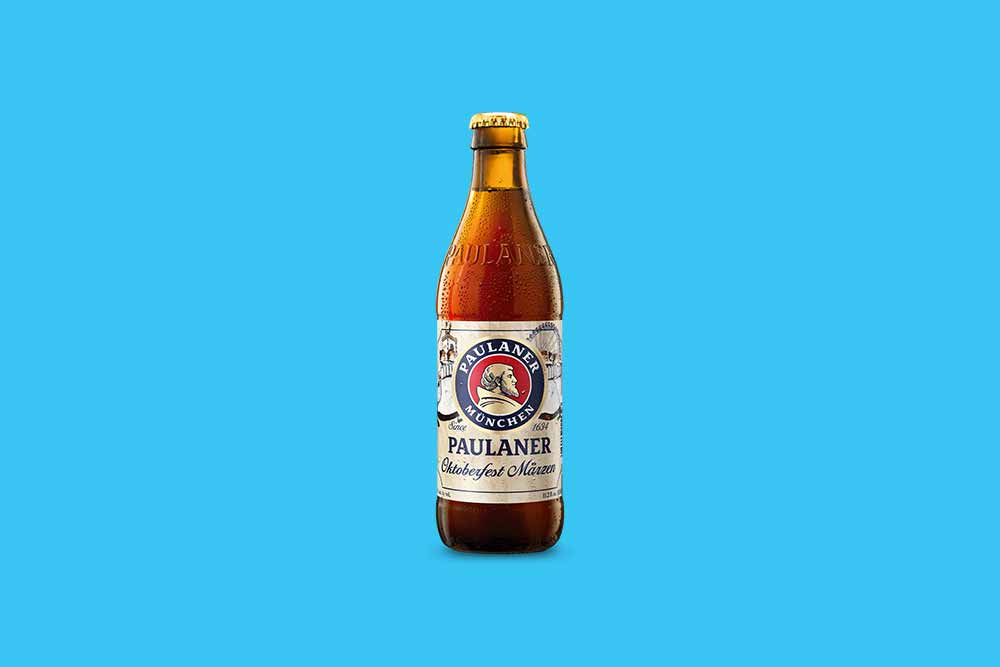 Märzen — Developed over 200 years ago to celebrate the original Munich Oktoberfest, this amber full-bodied bier has a rich malt flavor and dark toffee notes with an underlying fruitiness and masterful hop balance. Drink Paulaner Oktoberfest Märzen to instantly turn your home into an Oktoberfest celebration. Prost!
Editor's Note: Find Paulaner's Oktoberfest Märzen in Untappd's Summer Oktoberfest combo pack, which you can find here.
Revolution Brewing Company Oktoberfest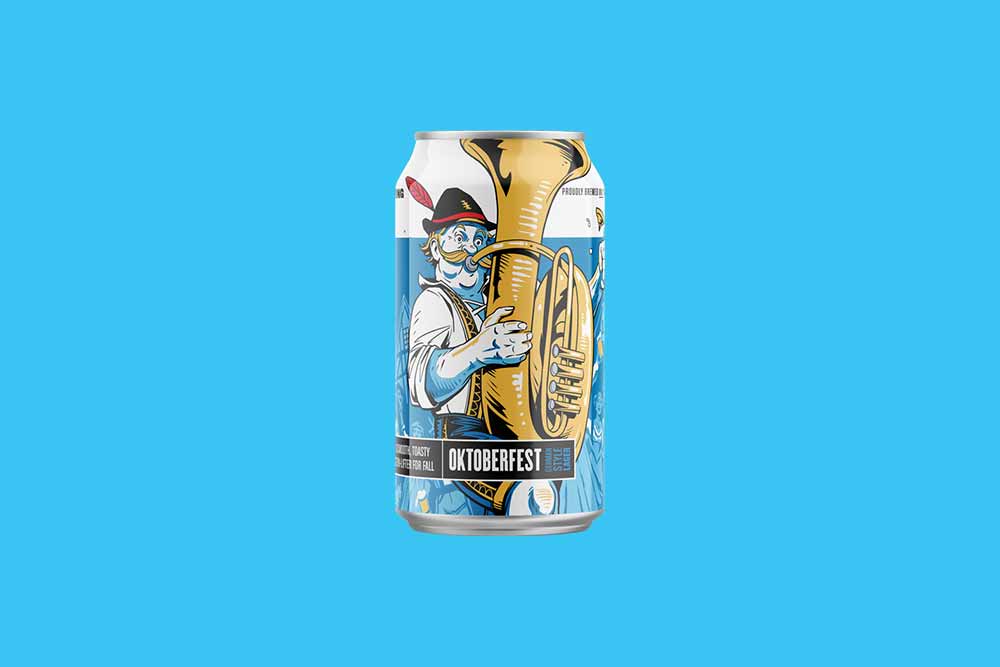 Märzen — Tradition! Tradition! Revolution's rendition of Oktoberfest rings deep and true. Oktoberfest, available from August through October, uses traditional German ingredients, hitting only 5.7% ABV and 25 IBUs.
"A stein full of traditional Märzen offered in anticipation of those days filled with sausage, pretzels, and a table full of friends," writes Revolution on its website. "Smooth, toasty flavor and the inviting aromas of hearth-baked bread, finishing with just enough Noble hop character to keep you coming back for another round."
All signs point to this being the beer you want around your table in the fall.
Revolution currently distributes in eleven states including IA, IL, IN, MA, MI, MN, NJ, NY, OH, TN, and WI. Use Revolution's Beer Finder to nab an Oktoberfest in your neighborhood.
Samuel Adams OctoberFest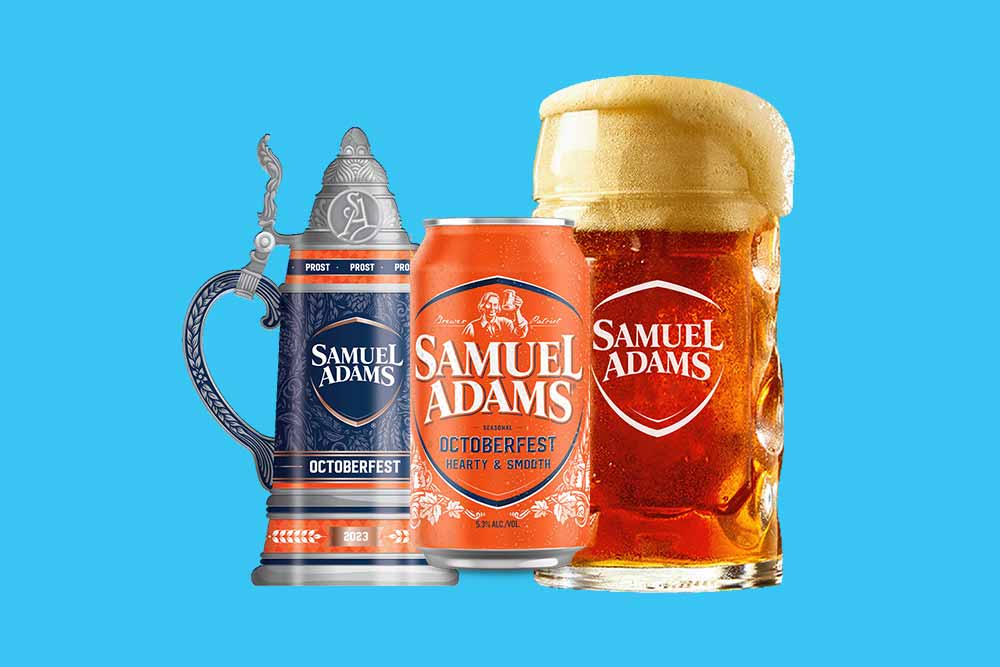 Märzen — Boston Beer calls its Samuel Adams OctoberFest a "pröst to fall." Packed full of rich, robust roastiness, OctoberFest pours a gorgeous garnet and punches you in the pie hole with nice biscuity, almost pie-like sweetness from a blend of Samuel Adams two-row pale malt, Munich 10, Caramel 60, and Samuel Adams OctoberFest malt. The brewery's custom malt blends add a unique character to this Märzen.
Hopwise, you'll find Boston Beer stays classical—Tettnang, Tettnanger, and Hallertau Mittelfrüeh Noble hops.
But ferments with its own ale yeast—another one of the brewery's fingerprints on the style.
All meld together harmoniously for a supremely satisfying German lager that's available from August through October.
As the fourth largest craft brewery in the United States, The Boston Beer Company distributes its Samuel Adams brand to the forty-eight contiguous states. To nab an OctoberFest before it's gone, head over to Samuel Adams' Find a Sam page.
Schlafly Oktoberfest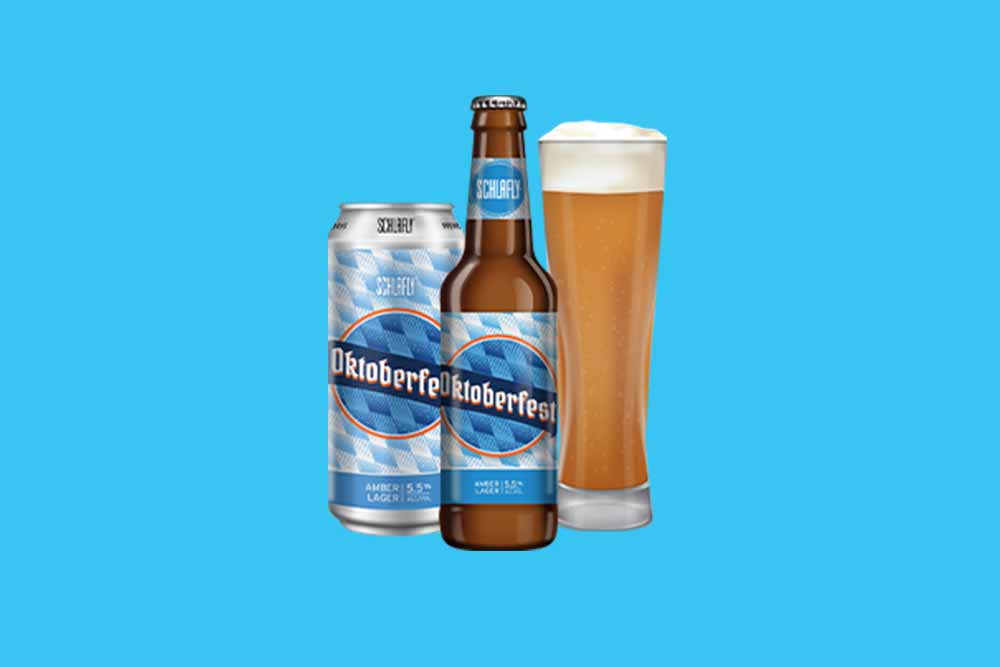 Märzen — Pouring a beautiful sunset amber, Schlafly's Oktoberfest doesn't stray far from tradition. On the brewing side, you'll find pale, caramel, Munich, and aromatic malts paired with Tettnang, Mittelfrüh, and Marynka hops.
Traditional lagering with a German lager yeast completes this homage to Märzens. Super crisp, toasty, and balanced, Schlafly's Oktoberfest reminds us why we love this style.
You can get your hands on this crushable Oktoberfest across Schlafly's footprint, including seventeen states. Check out Schlafly's Beer Finder to find an Oktoberfest near you.
Sierra Nevada Oktoberfest (2023)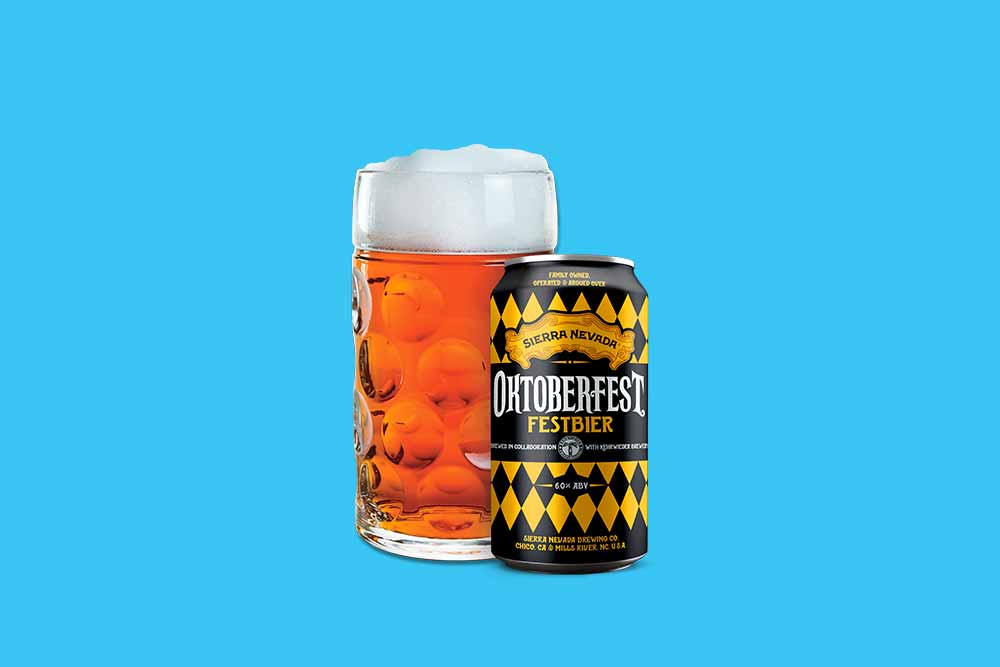 Festbier — Sierra Nevada does Oktoberfests differently. For the past nine years (minus a two- to three-year break during COVID), one of the most iconic breweries in the world teamed up with a different German brewery, collabing on an Oktoberfest that bridges continents.
This year, they partnered with Kehrwieder Kreativbrauerei, an up-and-coming Hamburg-based brewery with more than forty international awards "leading the way in shaking up the beer scene," says Sierra Nevada Innovation Brewmaster Scott Jennings, who met Kehrwieder Brewmaster and Co-Founder Olli Wesseloh when he attended a German brewing school.
Together the two brewed a Festbier blending the best of both breweries' iconic beers—Pale Ale and Kehrwieder's PROTOTYP.
"When we designed the recipe, we tried to combine something that speaks to [Kehrwieder's] origins and what they are known for, and also something that speaks to our origins," says Jennings. "One of the commonalities is high hop character."
So Jennings and Wesseloh added a bit of C-10 crystal malt—the same found in Pale Ale and Torpedo.
For hops, Jennings says they "straddled the fence on traditional Festbier and Sierra Nevada beer," so they included German hops—Hersbrucker, Tettnang, and Tradition—along with Cascade, of course.
One part Sierra Nevada, one part Kehrwieder, and one part traditional Festbier—all blended together for delicious fresh baked bread and citrusy seasonal lager.
"If I had a choice, I'd get a schnitzel right now, I'd get a Festbier to go with it, and oh my gosh, I'd be so happy," says Jennings.
Sierra Nevada distributes to all fifty states. If find Oktoberfest, head over to the beer's product page and hit "Find Near Me."
Spaten-Franziskaner-Bräu UR-Märzen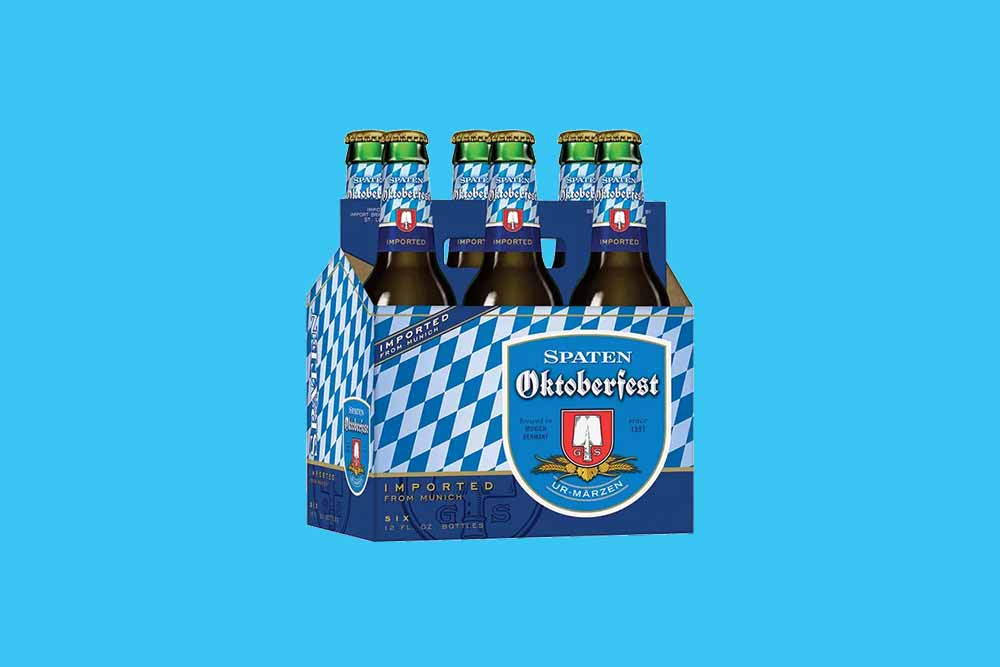 Märzen — A medium-bodied ur-märzen with aromatic roasted malt flavor and deep amber color, Spaten Oktoberfest was first served at the 1872 Oktoberfest, making it the world's first Oktoberfest beer! Today, the Mayor of Munich kicks off every Oktoberfest festival by tapping a ceremonial keg of Spaten Oktoberfest. Could you get any more traditional!?
Editor's Note: Find Spaten's UR-Märzen in Untappd's Summer Oktoberfest combo pack, which you can find here.
Tröegs Oktoberfest Lager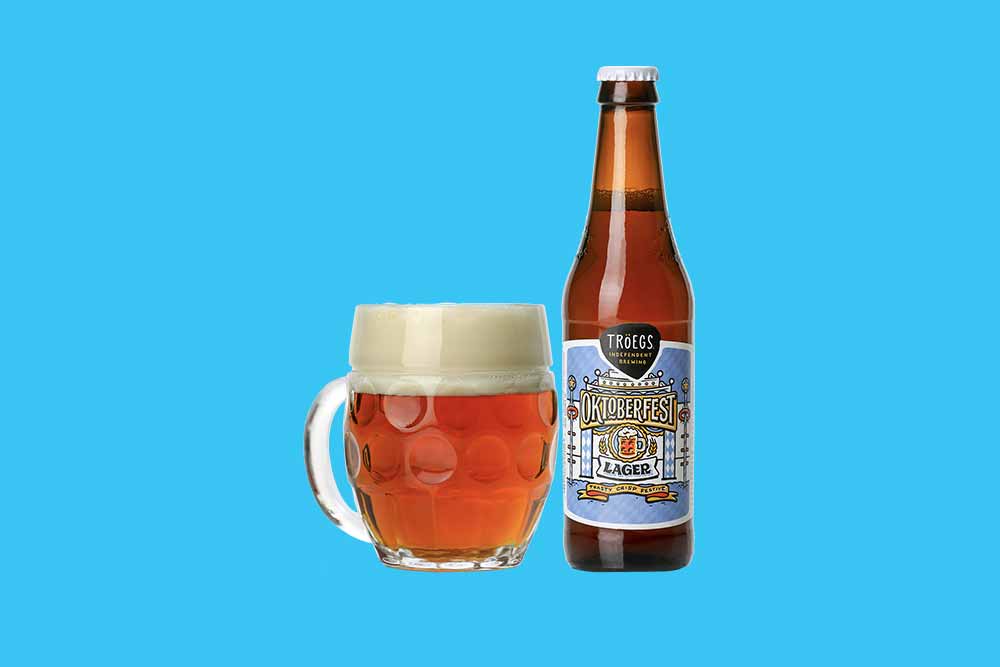 Märzen — Tröegs takes an extra step with its Oktoberfest, literally. Decocting the mash—a step that includes siphoning off part of the grains and boiling them before adding them back in—creates an extra layer of malty depths.
An additional kettle dose of Hallertau Tradition hops gives Tröegs Oktoberfest Lager a bright herbaceousness that's countered by the richness of the Pilsner and Munich malts.
One of our favorites, Tröegs' version of a Märzen, showcases their testament to tradition and perfect execution.
Tröegs currently distributes to the following states: CT, DC, DE, MA, MD, NJ, NY, OH, PA, and VA. To find the nearest store that carries Oktoberfest Lager in the U.S., head over to Tröegs' Brew Finder.
Two Road's Ok2berfest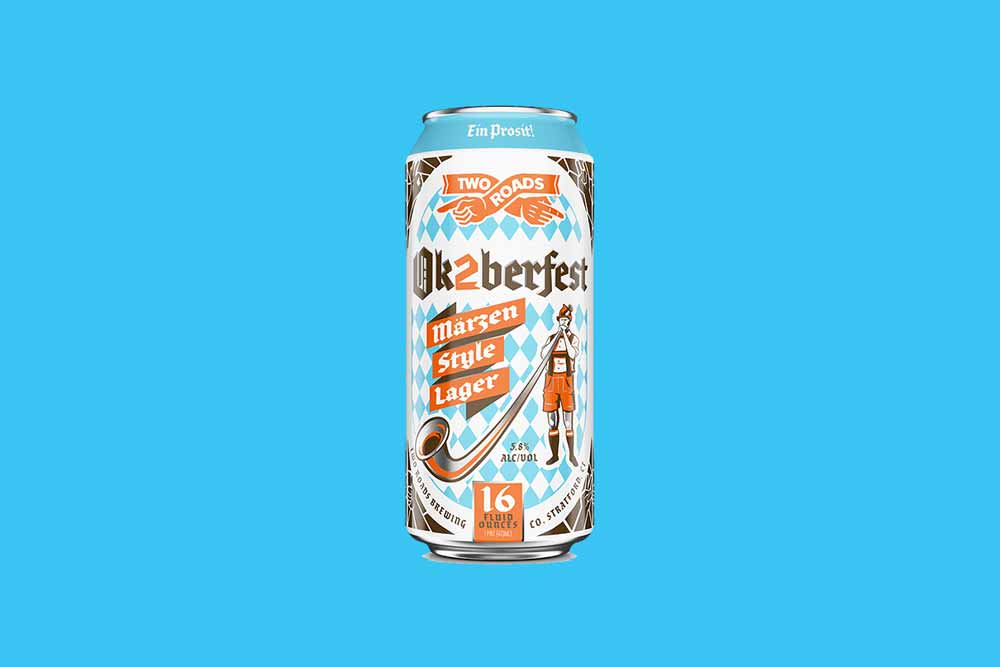 Märzen — Two Roads certainly gets brownie points for one of the most uniquely named Märzens on the list! But that's not where the creativity ends. The classic Marzenbier, released in early August, pours a beautiful amber with tons of roasty, toasty notes, and Noble hop character.
Ok2berfest signifies the turning of the seasons, the changing colors of the leaves, and the digging out of sweaters from the back of the closet. However you phrase it, Two Road's Märzen lager has us smiling all fall long.
Two Roads currently distributes in twelve states: CO, CT, DE, MA, ME, NH, NJ, NY, PA, RI, VT, and VA, and the UK. Use the Two Roads Product Finder page to nab an Ok2berfest in your neighborhood.