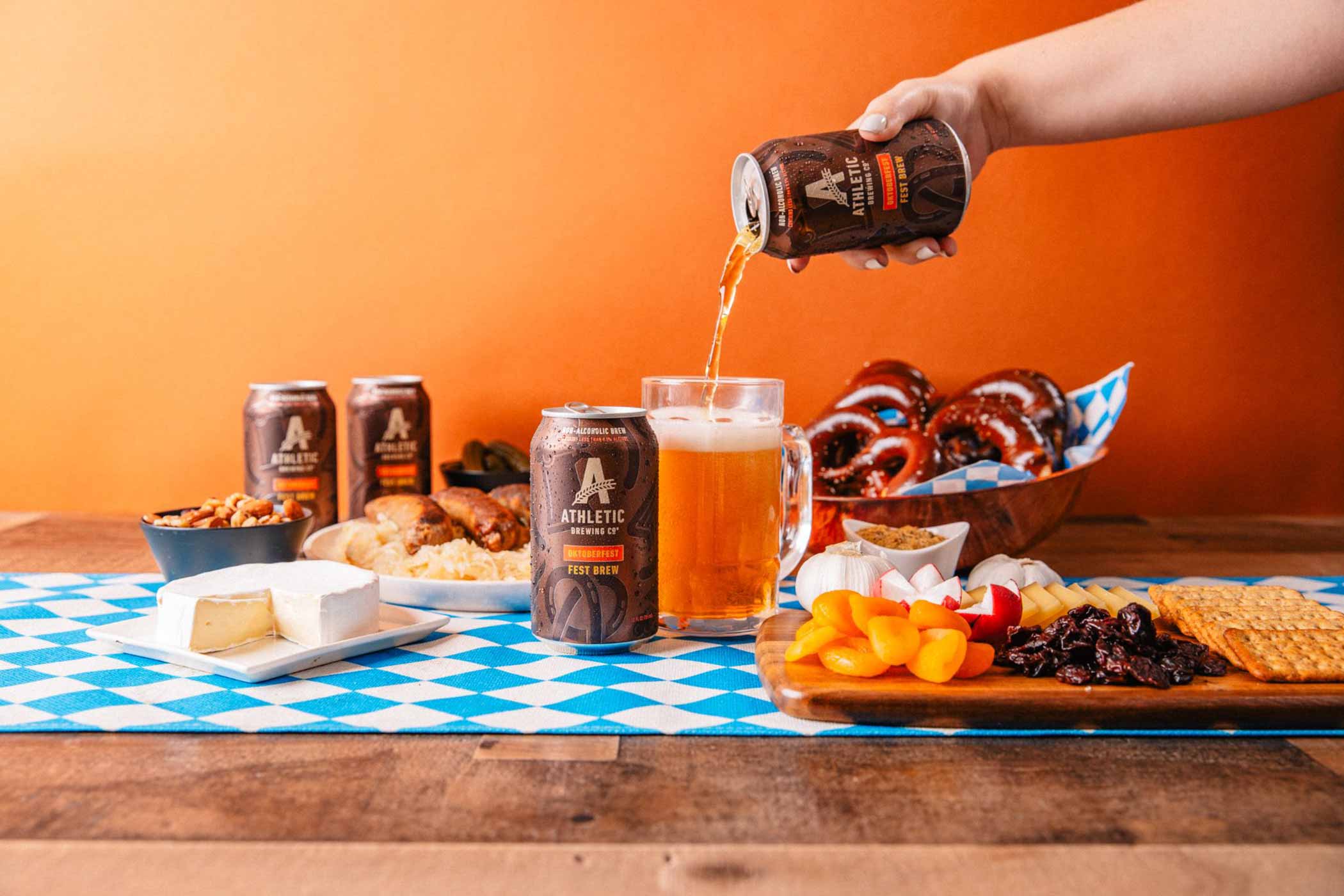 Photography courtesy of Athletic Brewing Company
Other 5-Minute Pairing Guides:
We've said it many times, but it bears repeating: We love this time of year. The NFL season started less than two weeks ago (see what beer style we think your team reps, and then check out the best place to drink near your hometown stadium). And we can't drink enough Märzens and Festbiers (especially these accessible ones available at a store near you). But when we sit down to watch the Thursday Night Football game on…Amazon Prime 🤷‍♀️ with a Sierra Nevada Oktoberfest in hand, we also want the best Oktoberfest food pairings.
As crisp, sometimes malty, sometimes hoppier lagers, Oktoberfests—specifically Märzens and Festbiers—lend themselves well to a variety of foods. But we wanted to talk to the experts, hearing how they complement or contrast these beers with different dishes and what the perfect pairing looks like.
First, Defining Märzens and Festbiers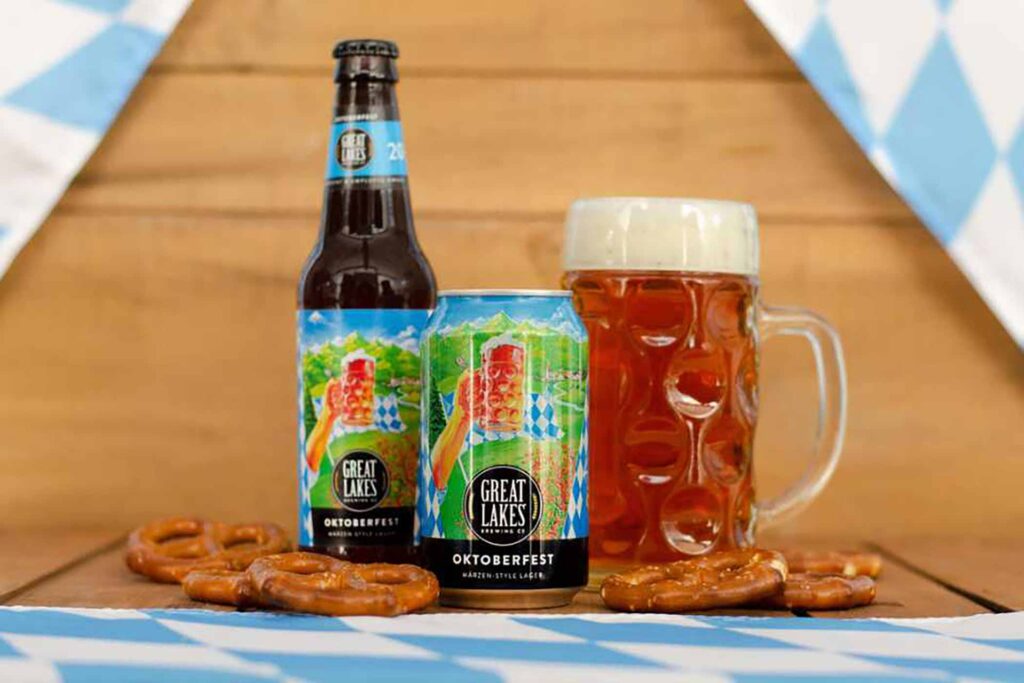 If you've read any of our content around Oktoberfest, you'll have a leg up here. But just to make sure we're all on the same page, let's lay out the definitions for these two beer styles.
Märzen refers to a smooth, toasty, bready, slightly spicy German amber lager with a bit of Noble hop bite. First brewed by Spaten in Germany, Märzens were the official beer of the Oktoberfest celebrations in Munich before being replaced by…
Festbiers, a golden German lager similar to a helles but a bit maltier and meatier, hitting around 6-6.5% ABV. Paulaner first pioneered Festbiers. Today, in Germany, Festbier is THE official beer of Oktoberfest.
"When most people hear the word "Oktoberfest," they tend to think it refers to one distinctive style of beer," says John Walker, co-founder and chief product officer at Athletic Brewing Company, which put out its own non-alcoholic version of a Festbier this year. "Historically, there have been many changes to the brews served at Germany's Oktoberfest celebration since the first festival was hosted in 1810. While marzenbier was the most commonly served style at Oktoberfest in the decades leading up to about 1990, the more modern Festbier—characterized by a golden color, a slightly sweet malty nose, and low to moderate bitterness—has been the predominant style poured at Oktoberfest over the last three decades."
How to Pair Festbiers With Oktoberfest Food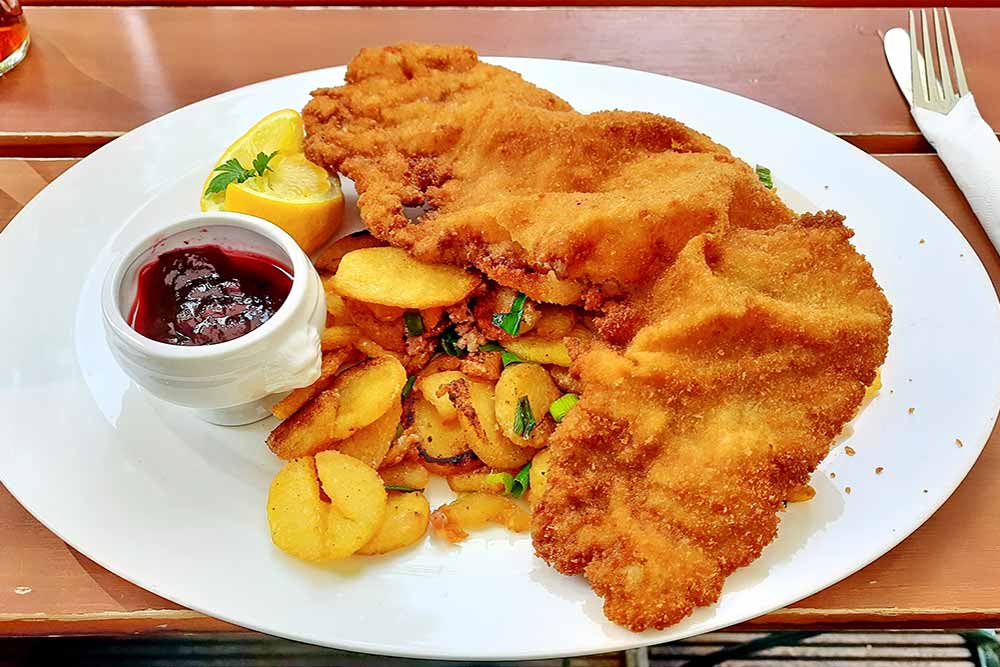 Honestly, both styles can traverse many dishes. But keep a few things in mind for any of these pairings: the body of the beer, the predominant flavor notes, and the backbone.
Then, you can either choose to complement or contrast.
"With any food pairing, the goal is always balance," says Walker. "You don't want the beer to overwhelm the dish and vice-versa."
Oktoberfest beers in particular, Walker says, "are great palate cleansers because they aren't too sweet or bitter, but they still have a complex flavor that can perfectly accompany bready appetizers, hearty main courses, and sweeter desserts alike."
For Athletic, whose well-balanced NA Festbier honors today's traditions, Walker says you can pair the beer with a variety of dishes, including Bavarian pretzels, hearty meals with sausage, pork, chicken, and strudel.
Sierra Nevada Innovation Brewmaster Scott Jennings, who recently brewed a collaboration Oktoberfest Festbier with Ollie Wesseloh, brewmaster and co-founder of Hamburg-based Kehrwieder Kreativbrauerei, believes that a Festbier's light body should be complemented by something a little less fatty.
He has a particular dish in mind.
"Schnitzel is wonderful with something like this because it's not too heavy or greasy," he says. "You don't want something like that with a Festbier because the body of the Festbier is light and really crisp in finishing."
For that reason, Jennings says a breaded schnitzel works well because it's less unctuous than, say, a pork knuckle.
"A lot of times, it comes with a slice of lemon you can squeeze over or a little red berry jam, which is a little tart and goes perfectly," says Jennings. "If I had a choice, I'd get a schnitzel right now and Oktoberfest to go with it, and oh my gosh, I'd be so happy."
Contrastingly, the slightly sharper, more floral, hoppier notes of a Festbier could excellently foil richer or creamier dishes. Things like cheesy noodles or Käsespätzle, currywurst, a more spiced sausage often served next to a pile of fries, or German potato salad.
Wesseloh says the key to him is something "with character but nothing too big or bold." He suggests Camembert or beer cheese but has a favorite dish in mind, too. "Being a coastal guy, I would guess honey-glazed salmon would also work very well!"
How to Pair Märzens With Oktoberfest Food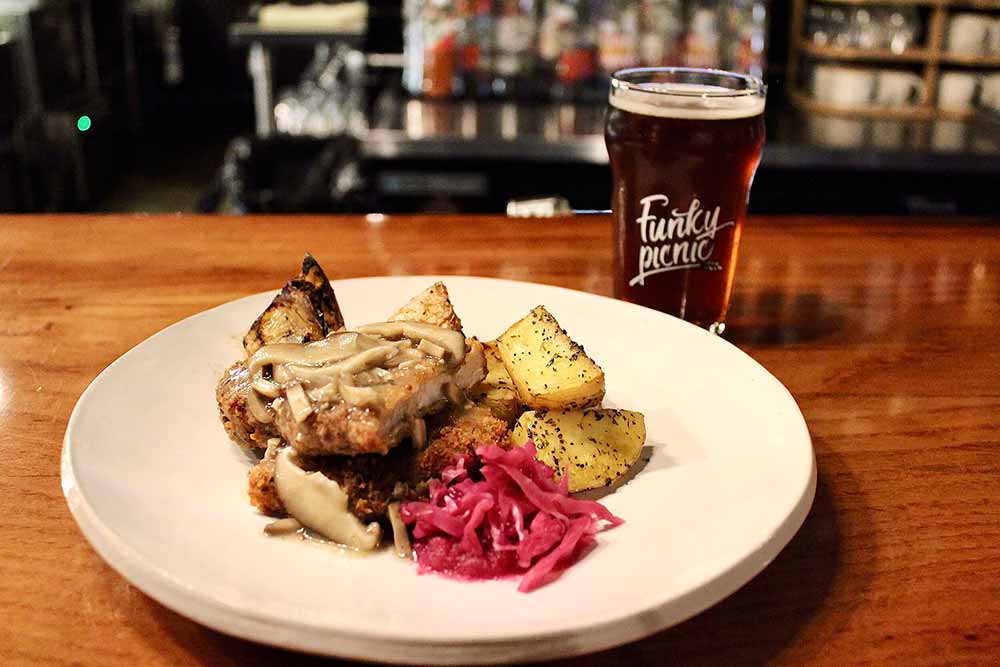 With Märzens, the game changes a little. Whereas Festbiers are lighter, snappier, and more floral, Märzens are a little thicker (although not by much), maltier, and toastier.
The key with this pairing? Find ways to amplify or contrast the beer's malty sweetness with the flavors of your dishes. Whether that's as a foil to char, grill, and salt or as a complement to toasty, nutty, and caramelly.
For instance, do you have a slightly browned or crisp skin from a roast chicken or sausage? The sweet malt counteracts the saltiness. Or with roasted root veggies, the caramelized notes of a Märzen complement those like flavors.
What about a deeper, richer dish like a hearty chili, stew, or Schweinshaxe (roast ham hock or pork knuckle) often served with gravy?
The maltiness cuts through the depth and heat.
How about a browned, perfectly crisp baked pretzel?
The nuttier, honied, amber-colored lager hits on the same levels as the yeasty bread.
Alternatively, you could look to complement the more dulcet tones of Märzens with desserts or sweeter breakfast mains. The caramelized flavors pair well with things like waffles with syrup, pancakes with jam, or even cookies and cake.
Lastly, consider cheese, a sneaky good pairing here. Just think about it: When you assemble a cheese board, you often include accouterments like jam, nuts, toasted bread, or crackers, right? All flavor notes you'll often find in Märzens work well as a pairing alongside cheese.
A Few Traditional Dishes to Pair With Oktoberfests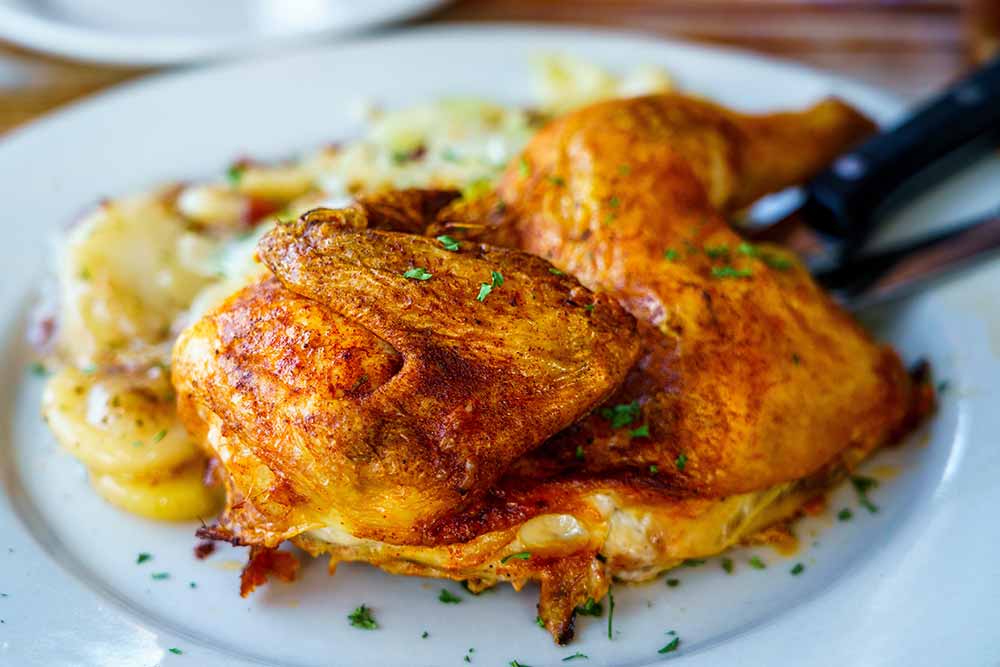 The original Oktoberfest celebrated the wedding of Bavarian Crown Prince Louis (later King Louis I of Bavaria) to Princess Therese Von Sachsen-Hildburghausen in 1810 with a raucous party featuring free beer and food provided by the royal family.
When pairing foods with these beer styles, Jennings says, "I tend to fall back on the tradition a little bit."
You can't go wrong with pairing your Festbier or Märzen with any of these classic dishes because they've been doing it for, well, quite a while. (Although, keep in mind that Festbier is currently considered the official beer of Oktoberfest in Munich).
Here are some recommendations for traditional plates to eat alongside your Festbier or Märzen. Since the possibilities are endless, we recommend using these as a jumping-off point for your own pairings.
Hendl (Roast Chicken)
In America, we might think of typical Oktoberfest food as sausages and pretzels. But in Munich, you'll most commonly find roast chicken.
Now, we haven't actually been to the official Oktoberfest (yet), but from what we've heard and read, you'll see hundreds of servers delivering plates unceremoniously adorned with just half of a well-oiled, nicely charred chicken to dig into with your hands.
Pair that next to a stein of lightly hopped Festbier to cut through that char or Märzen to complement the roastiness, and it's easy to see why this is probably one of the most consumed Oktoberfest food.
Schweinebraten (Roast Pork)
Essentially pork chops soaked in gravy, Schweinebraten can come from various cuts, including pork shoulder or loin. Traditionally roasted with a darker beer and onions, this roast pork dish complements the more decadent, maltier flavors of a Märzen marvelously.
Schweinshaxe (Roast Ham Hock or Pork Knuckle)
Another Bavarian classic, Schweinshaxe, is literally a hunk of meat (either roasted ham hock or pig knuckle) piled on top of boiled dumplings called Knödel and swimming in a light gravy. Crisp on the outside but meaty and tender on the inside, Schweinshaxe can be lightened with a swig of golden, lightly bitter Festbier.
Although even a Märzen's malty amber notes would softly bite through the richness and fat here.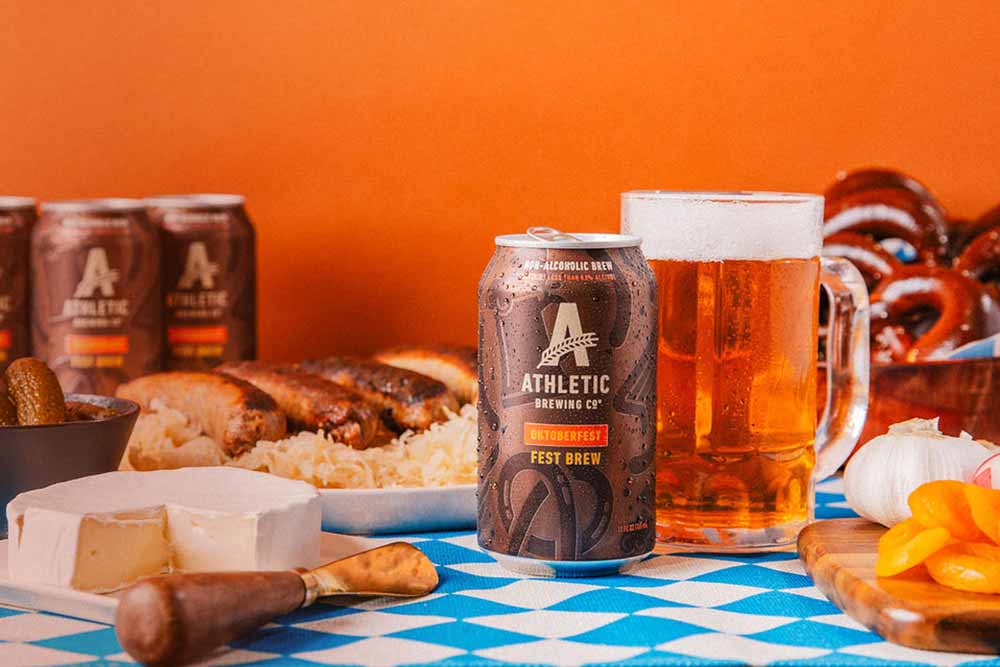 Würstl (Sausages)
You'll find many encased meats at both American and German Oktoberfest celebrations. Hard to beat that snap of a sausage next to a gulp of either Festbier or Märzen. At the classic Bavarian fest​​, you'll probably run into two varieties.
Weißwurst, considered a breakfast sausage, has sweet mustard and skin you must cut through and remove. In Munich, you never serve this sausage beyond noon.
Not technically tradition, but still popular at Oktoberfest, currywurst includes a nice dose of curry ketchup and curry powder. Often served next to a pile of fries, this humble dish goes well when cooled down with a stein of golden Festbier.
Sauerkraut
Perhaps one of the more familiar dishes on this list, the tangy, fermented cabbage provides an excellent foil to the crisp, slightly hoppier notes of a Festbier. Pair it with a bratwurst with spicy mustard, though, and a Märzen might fit the bill.
Brotzeiten
Translating to "bread times," brotzeiten refers to cold dishes eaten as either appetizers or entrees. Lots of plates can fall into this category, including headcheese (presssack), sausages, salted radish (radi), pickles (essiggurken), sausage salad (wurstsalat), cold pork roast, and spread cheese (obazda/obatzter). At the official Oktoberfest festival, many tents offer whole boards or plates with various offerings called Brotzeitbrettl. With such a variety on display, the dealer's choice applies—pair with a Festbier or Märzen at your discretion.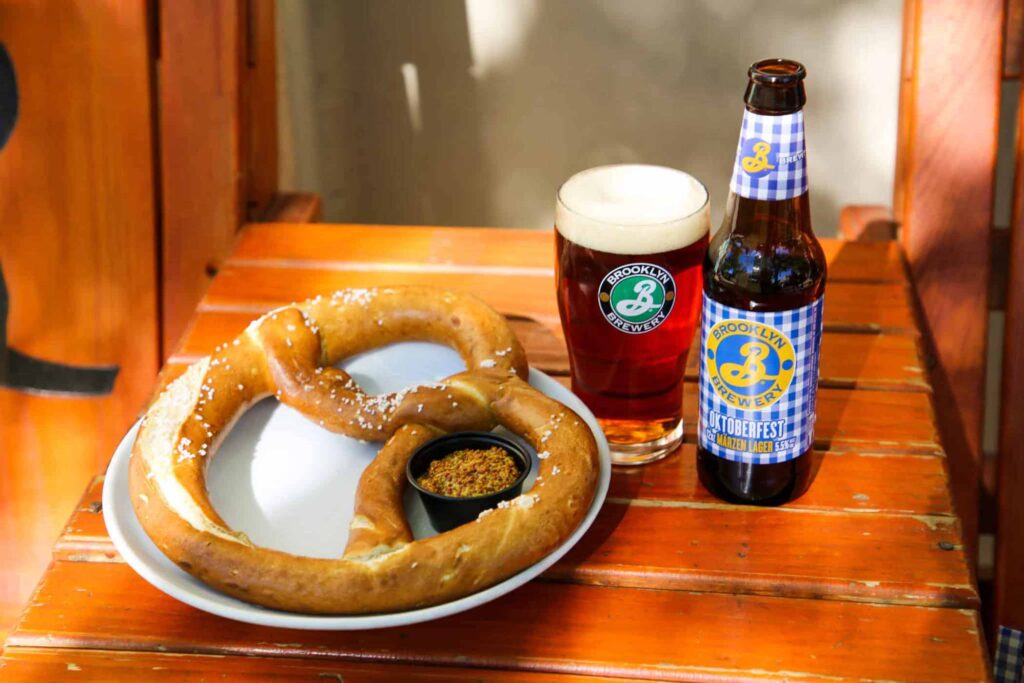 Brezen (Pretzels)
Classic, classic, classic! That's all we need to say about pretzels. Few sensations are more pleasurable than biting into a chewy, salt-flecked, twisty round of baked dough, washing it all down with an Oktoberfest.
In fact, we think these two go together so well that we wrote our own "5-minute Guide on Pairing Beer and Pretzels."
Here, we personally prefer a richer, robust, more malt-forward Märzen to pair with this yeasty treat. Oktoberfest is the one festival where it is acceptable to eat this snack, so you'll find these crusty, chewy pretzels everywhere.
Käsespätzle (Cheese Noodles)
A version of the egg noodle dish native to Germany called spätzle, Käsespätzle amps things up with cheese. You'll often find a tangy cheese called Quark and a small-curd cottage cheese in this dish.
Buttery, cheesy, rich, Käsespätzle is best tempered with a sharper beer like a Festbier.
Reiberdatschi (Potato Pancakes)
As someone who identifies as Jewish, I know these as latkes. No matter what you call them, crispy, oily, fried potatoes pair perfectly with a refreshing, cold lager. We could see either beer style working well here, but probably lean towards a Märzen. The greasy, savory pancake could overpower a more herbaceous, light-bodied Festbier, whereas a Märzen's backbone can stand up to the fried tuber.