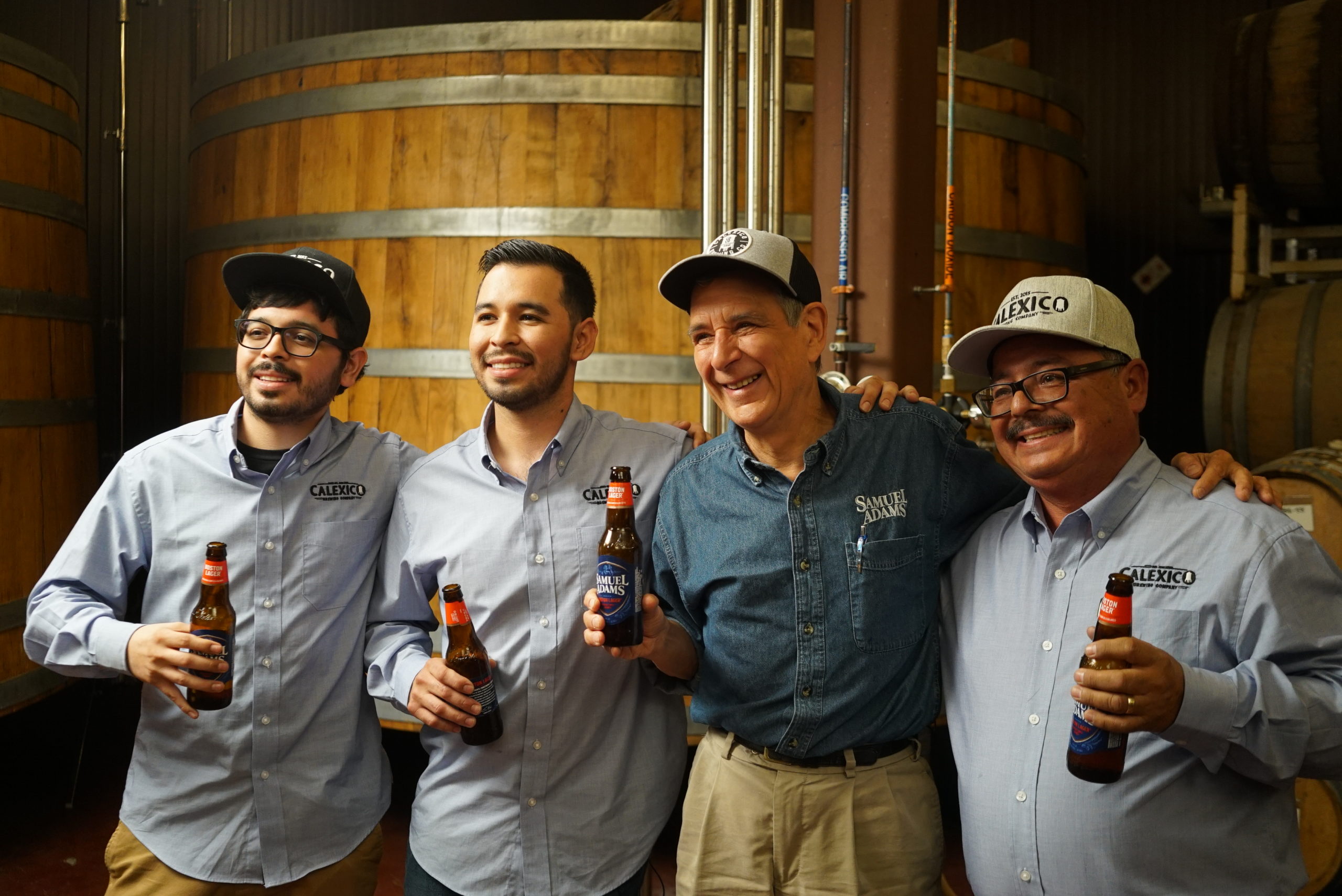 Photography courtesy of The Boston Beer Co.
Editor's Note:
This is a paid, sponsored post presented by Boston Beer Co.
Owning a brewery has been the dream of many. But, opening and operating a business, let alone brewing beer, is no easy task. Even more so if you're a woman or BIPOC-business owner.
In fact, crafting and developing beer recipes almost seems like the easy part. As a business owner, you have to consider all the details from buying the right equipment, working with the perfect distributor, marketing your beer, hiring employees, establishing your payroll, managing your HR… The list of tasks goes on and on. But most importantly, before any beer is ever brewed, a brewery owner has to consider how to finance their dream.
It's a question every brewery owner has grappled with from the smallest nano-brewery to one of the now biggest craft breweries in the country, The Boston Beer Company's Samuel Adams.
The History of Samuel Adams
In 1984 Jim Koch, founder of The Boston Beer Company, discovered his great-great grandfather's recipe for Louis Koch Lager in his father's attic. He began brewing what is now known as Samuel Adams Boston Lager in his kitchen and eventually ventured out to start The Boston Beer Company. But the journey proved difficult. As Koch applied for loans banks overwhelmingly considered the brewery risky and unbankable. Even for a guy like Koch, an educated white male with three degrees from Harvard, he found trouble securing the capital he needed to build a small business. Koch never forgot how he struggled to start and run a company.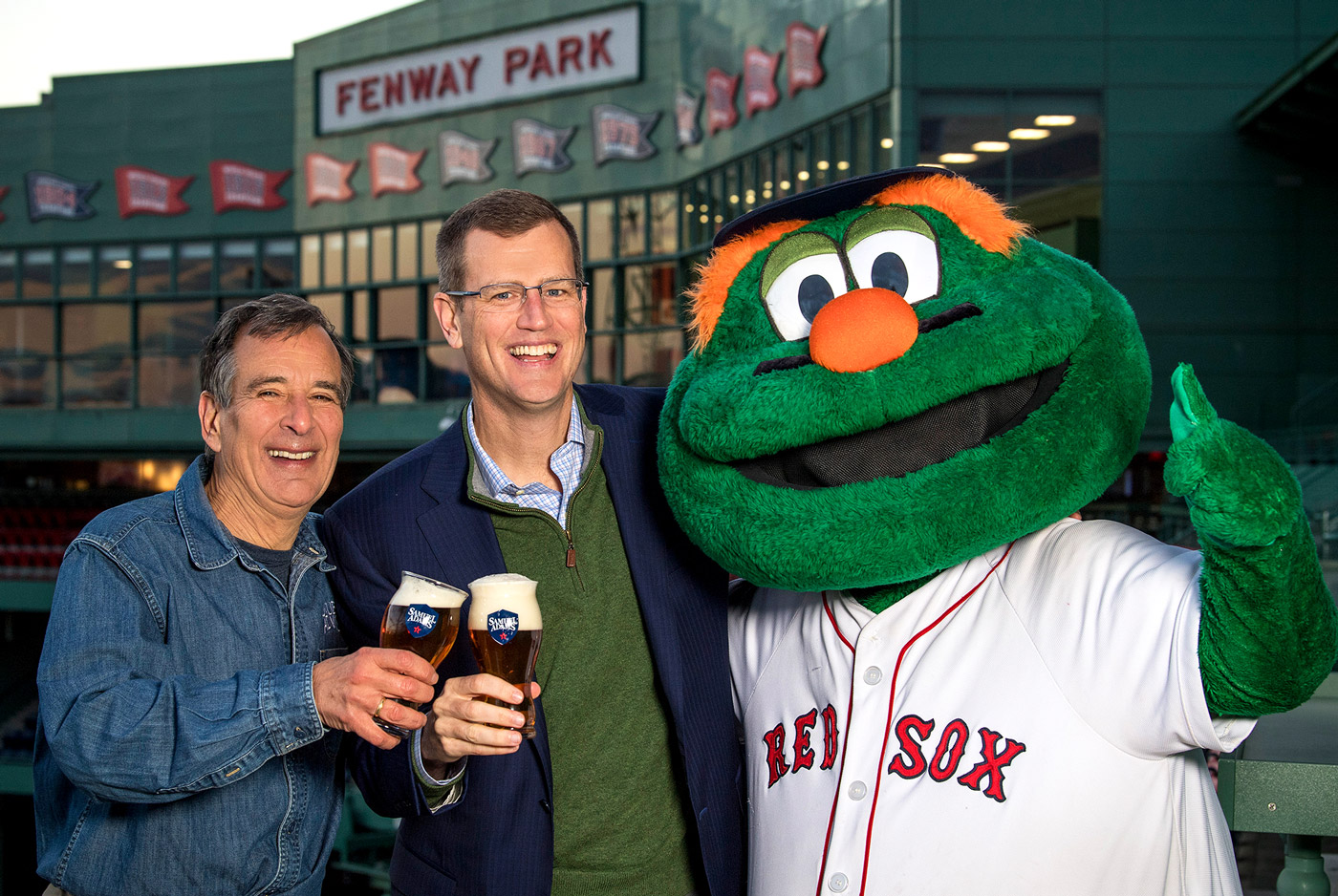 Taking this lesson with him after 36 years of learning mostly through trial by fire, Koch decided to share his expertise with the community. In 2008 he started the Samuel Adams Brewing the American Dream (BTAD) program with two core pillars. To give capital to small beverage and food entrepreneurs and, perhaps most importantly, to provide mentoring and coaching for these business owners.
The program has been wildly successful. Since its inception, BTAD supported by Accion and Opportunity Fund has succeeded in providing more than 3,200 loans totaling $65 million to food and beverage businesses. These loans have spanned 39 states and created or retained more than 9,000 jobs in the industry. Just as important, the Brewing the American Dream partnership has provided free business coaching and mentoring to over 12,000 entrepreneurs across the country.
Over a decade later BTAD continues to ignite the craft food and beverage revolution, helping businesses across the food and beverage industries gain the acumen, resources, networking, coaching, and financing to wake up every day and do what they love.
What is Brewing the American Dream?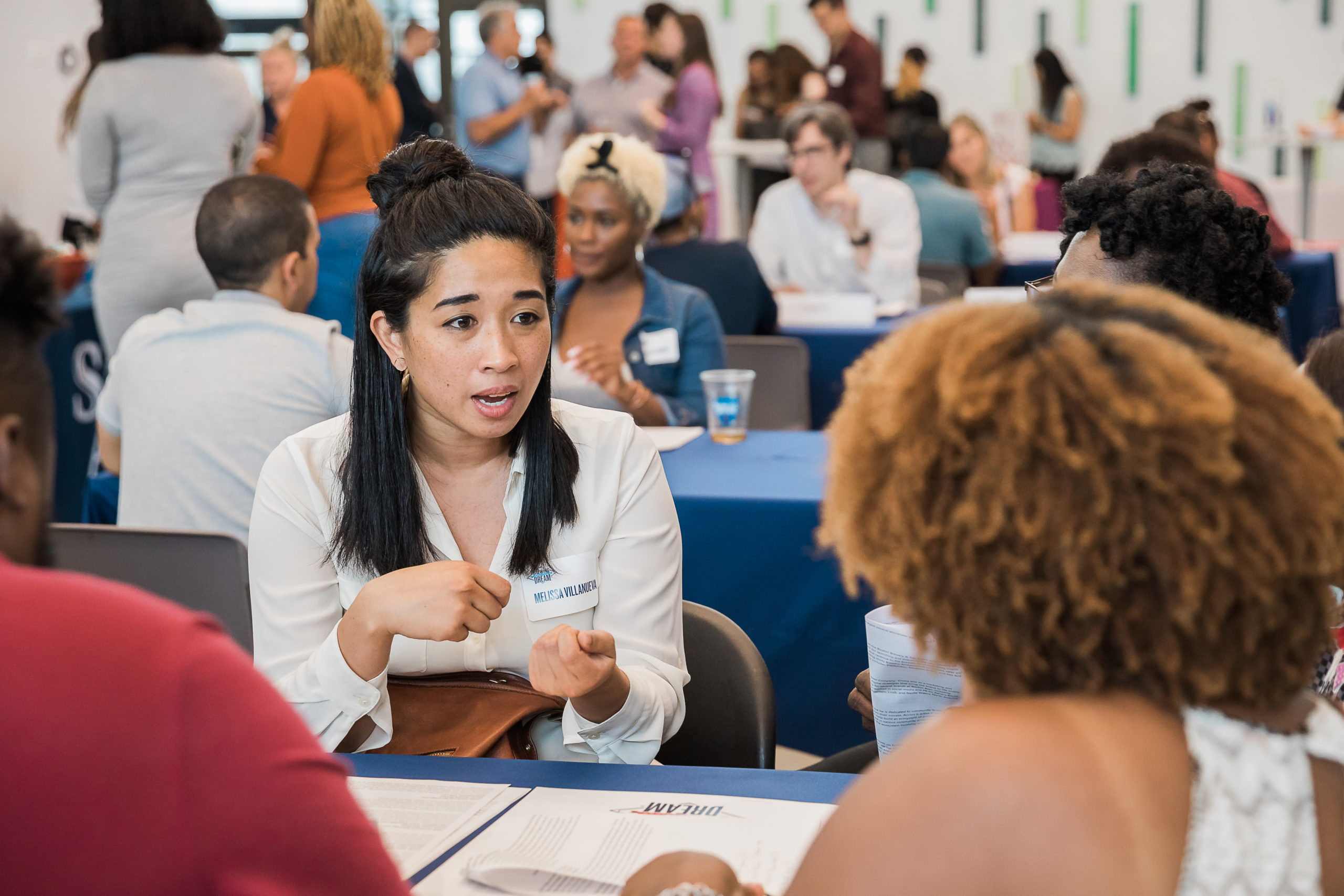 Like every great brewery, Samuel Adams' Brewing the American Dream program started as an idea. The story goes that in 2007 Koch spent an afternoon with members of the Samuel Adams team painting a local community center. At the end of the day he felt unfulfilled, "What's exciting about being an entrepreneur is that you add value, hopefully in new ways," said Koch in an article with Business Insider. "What bothered me about that day is we probably spent $20,000 worth of management time to do $3,000 worth of mediocre painting. And that wasn't at least to me adding value."
Guided by the idea to find a new way to bolster the industry, Koch launched the Brewing the American Dream program within a year with the ultimate goal to help small food and beverage entrepreneurs succeed. Partnering with Accion, a global nonprofit committed to creating a financially inclusive world by specializing in microlending, the BTAD program not only gave businesses access to loans, but also to advice from an Accion mentor that would coach them on exactly how much money to take out with each loan.
The first clients of the program? Two ladies.
Carlene O'Garro, owner of Delectable Desires Pastries & Cakes, won BTAD's first-ever Pitch Room, a Shark Tank-esque program that allows an entrepreneur to pitch their business in front of a panel of qualified Samuel Adams experts. BTAD awards the winning company $10k right on the spot and provides a year's worth of coaching and mentoring.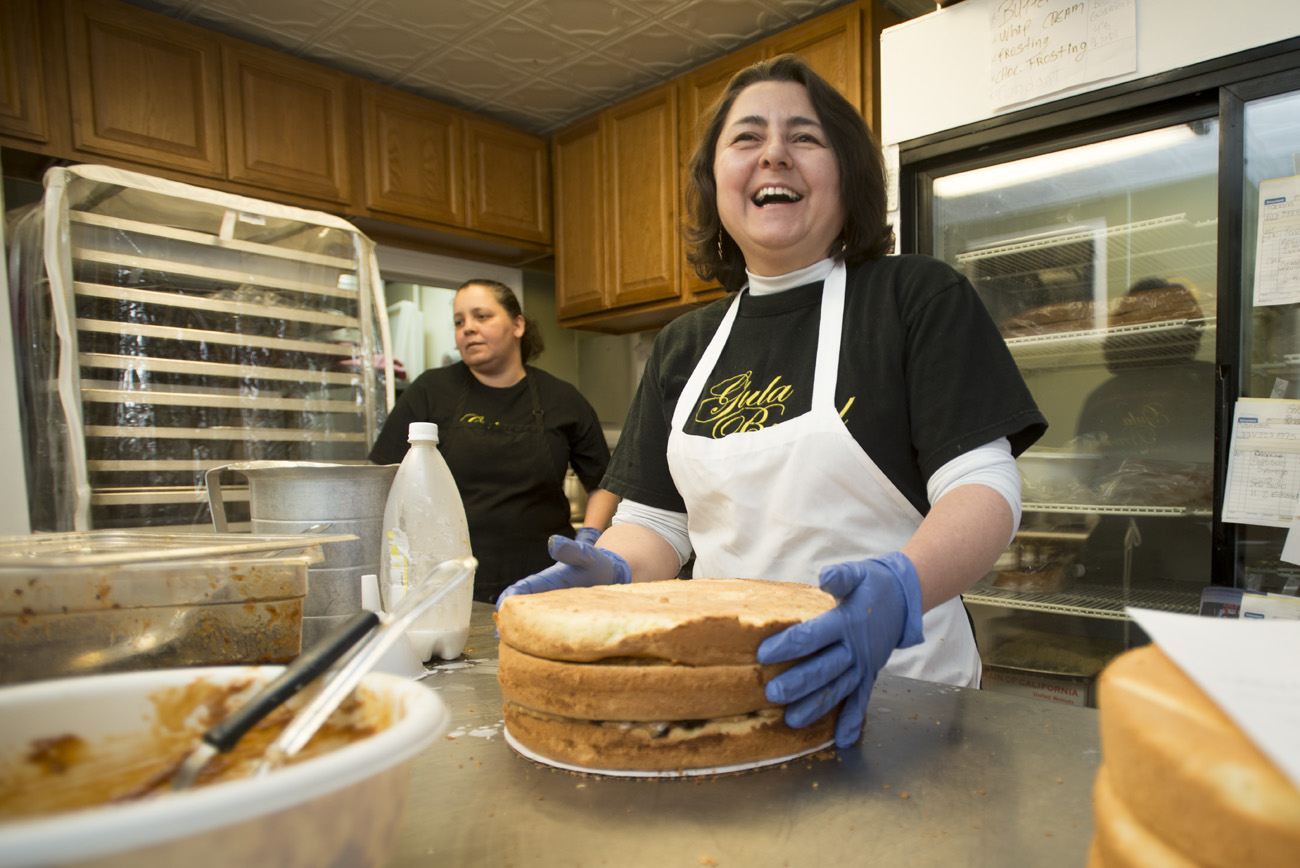 The other inaugural client Lucy Valena operated a mobile coffee cart that traveled around to businesses and conferences in Boston offering espresso. As a participant in the program she received access to three loans through Accion and within five years opened up her first brick and mortar, Voltage Coffee.
Offering opportunities to access capital is a core pillar of the program especially for female and minority-owned businesses. Banks might see food and beverage companies as risky, but they're far less likely to offer a loan if the applicant is a woman or BIPOC.
Beyond capital, BTAD prides itself on a solid foundation of coaching. They guide business owners through the ins and outs of the myriad of puzzles they encounter in their day-to-day. That could be from graphic design and human resources to legal issues and accounting and much more.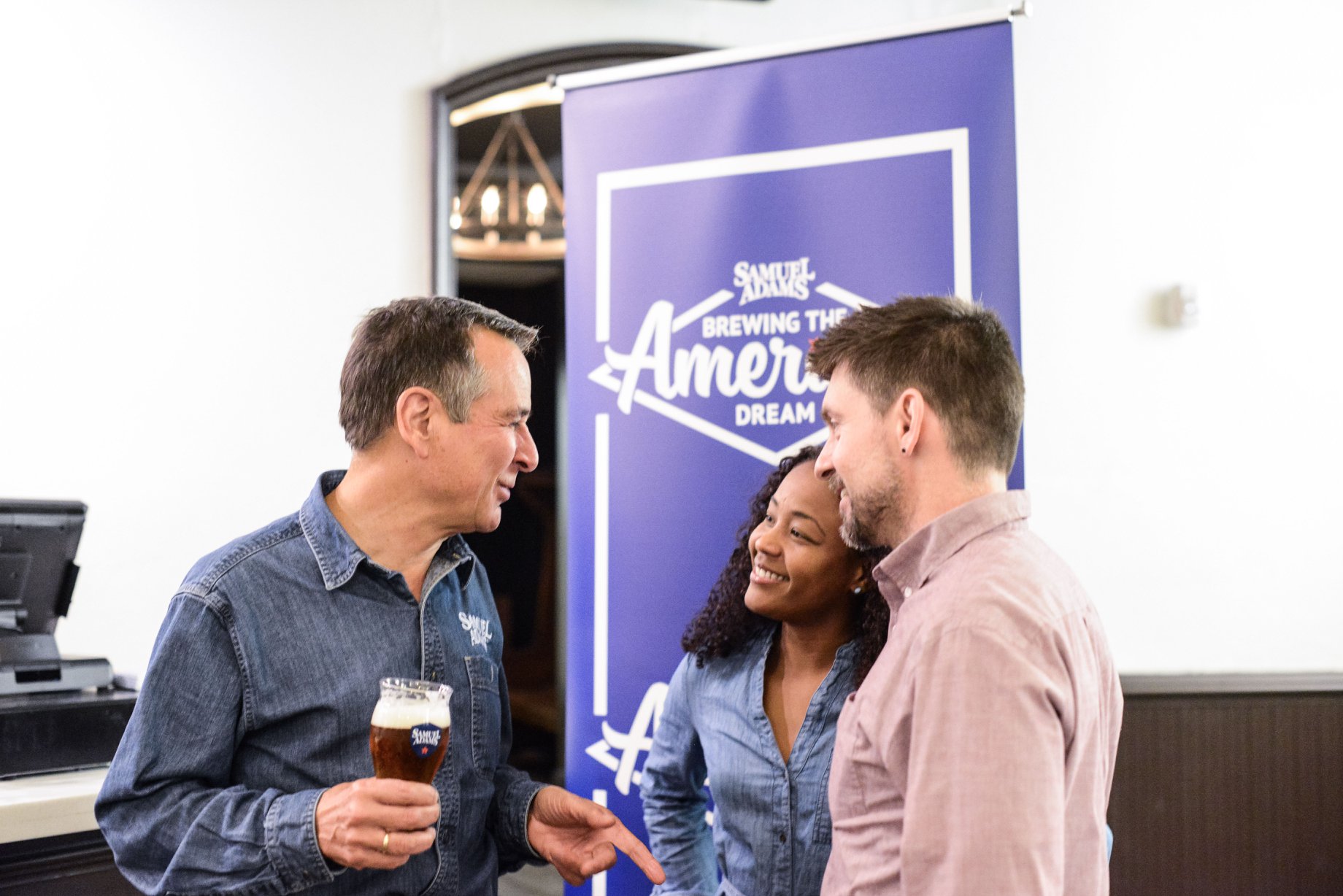 "This is a lifetime business," said Jennifer Glanville, Brewer, Director of Partnerships at Boston Beer. "We want the businesses we work with to come back for coaching and mentoring and even more capital as they continue to grow because their business will only evolve the whole community and food and beverage in your local area."
To Glanville, BTAD's backbone of education and counsel is the most important part of the program.
How Do You Build a Dream?
What makes the BTAD initiative so unique and successful is its core mission to provide mentorship and coaching to business owners for essential everyday functions.
Glanville, who transitioned from head brewer at Samuel Adams to working full time on BTAD in 2018, is continually inspired by watching companies come through the program and grow.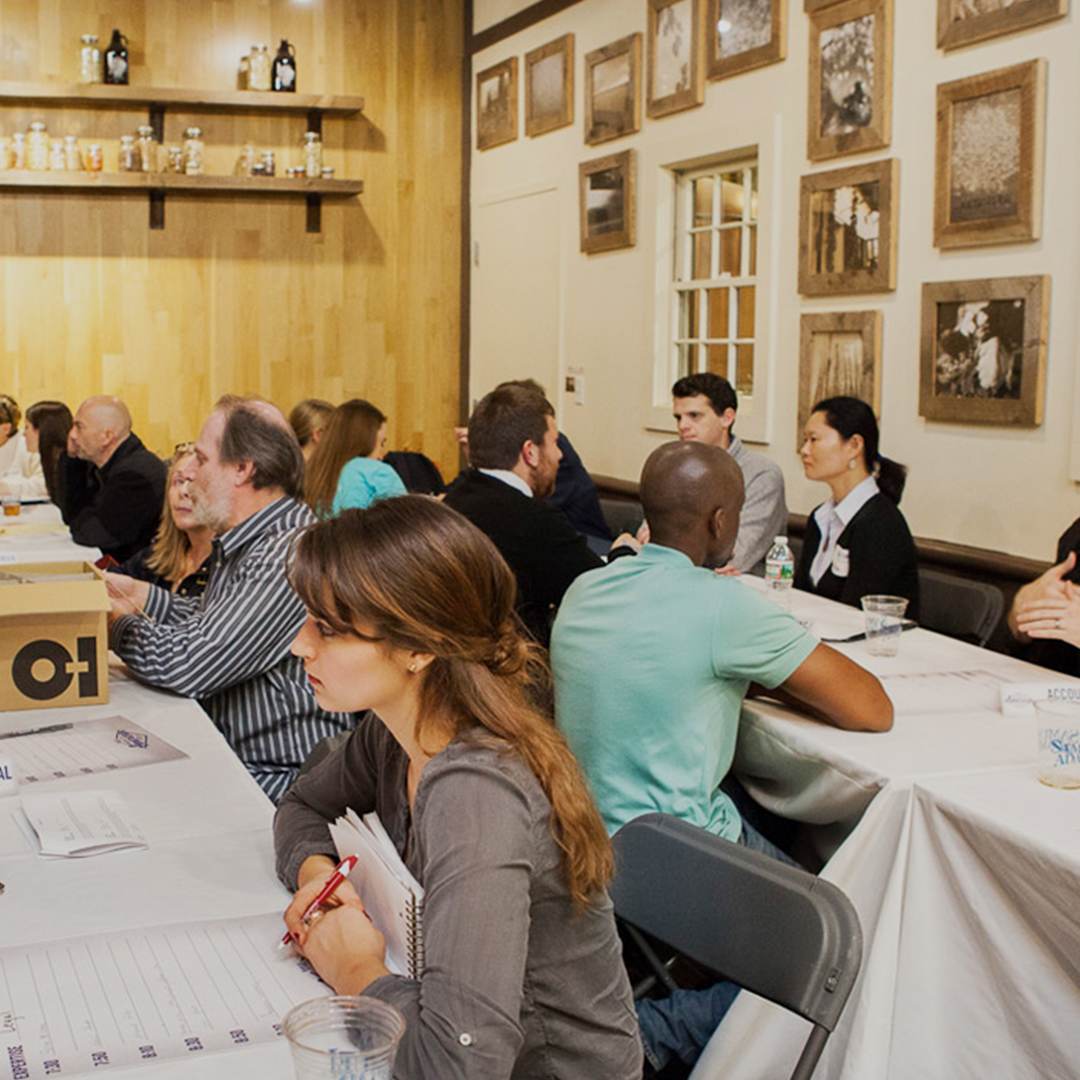 To reach this apex, BTAD implemented a variety of resources. Speed coaching sessions have been around since the program's inception and offer a speed dating-like setting where anyone interested in owning a business across the country can participate in four 20 minute coaching sessions with coaches from Sam Adams, Accion, and other local experts. Have a question about finding the right employees? Need to know how to design a new logo? Having trouble with lending, legal, social media, marketing, etc.? Attend and ask the experts questions about how to improve your business.
Programs that BTAD created and added along the way included the aforementioned Pitch Room, which BTAD hosts five times a year in different cities, along with webinars, online educational resources, and ad-hoc mentoring.
When evaluating the program, Glanville constantly asks herself, "What is the value we are providing? Are we giving the best value?"
Looking to put a number to it, Glanville actually had their services evaluated, discovering that BTAD has given over $4 million in coaching to businesses across the last 12 years. "We follow up with people who say 'I am just completely able to change my business because this is the best advice I've ever had'," said Glanville. But, you can't really put a price on hearing some of the success stories from people who have been through the program, especially those of female and minority-owned companies.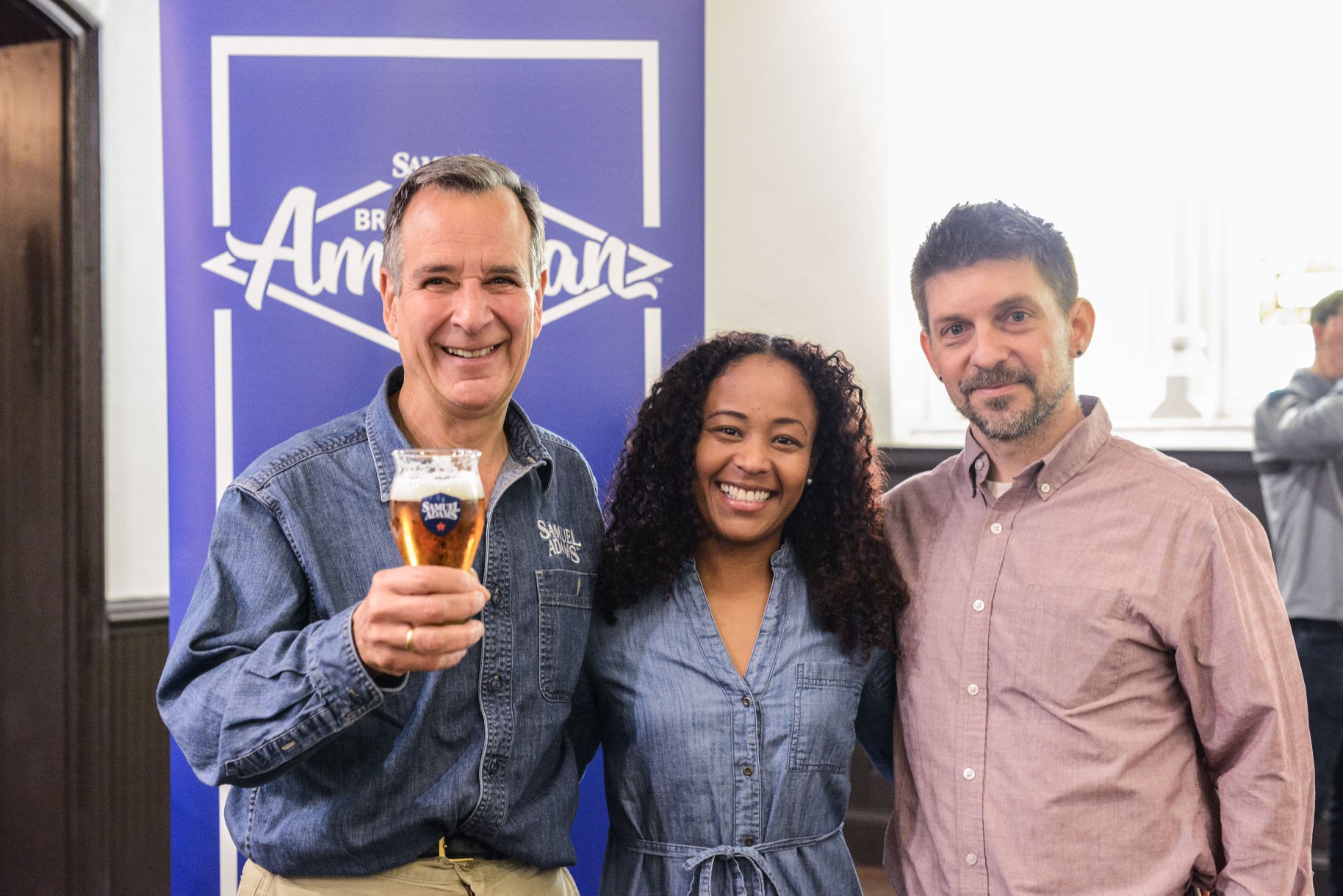 Owners like Heather Yunger, who met Glanville at a Boston Bruins bar called The Fours (since closed due to COVID-19). Yunger would bake and bring these infamous Black and Gold cookies to support her favorite hockey team, passing them around the bar for people to enjoy. Glanville said, "She kept saying 'I'd love to be a baker someday' and after a year and a half of watching everyone adore her cookies I told her about Jim [Koch's] own story. How he quit his job even though his dad said he was crazy. One day she came in and said, 'you might kill me, but I quit my job and I'm going to work part-time at a bakery.'"
Glanville directed her to BTAD and, over the last 10 years, Yunger has built Top Shelf Cookies from the ground up, taking advantage of every aspect of the BTAD program from winning the 2019 Boston Pitch Room to ad hoc mentoring to speed coaching events. Yunger even collaborated with Samuel Adams on a special cookie recipe featuring its beer, Boston Lager Chocolate Chip Cookies have become famous around Boston. Leveraging all of her time in BTAD, Yunger will be opening her first brick and mortar this November. From that first bite of one of Yunger's Black and Gold cookies in a Bruins bar, Glanville has been with Yunger every step of the way.
"We want a long term relationship with our entrepreneurs. We don't just want them to come in and get money. What's most exciting for me are the success stories….seeing people shine and rise up is always an inspiration," said Glanville.
From Bulldogs and Beer to Brewing the American Dream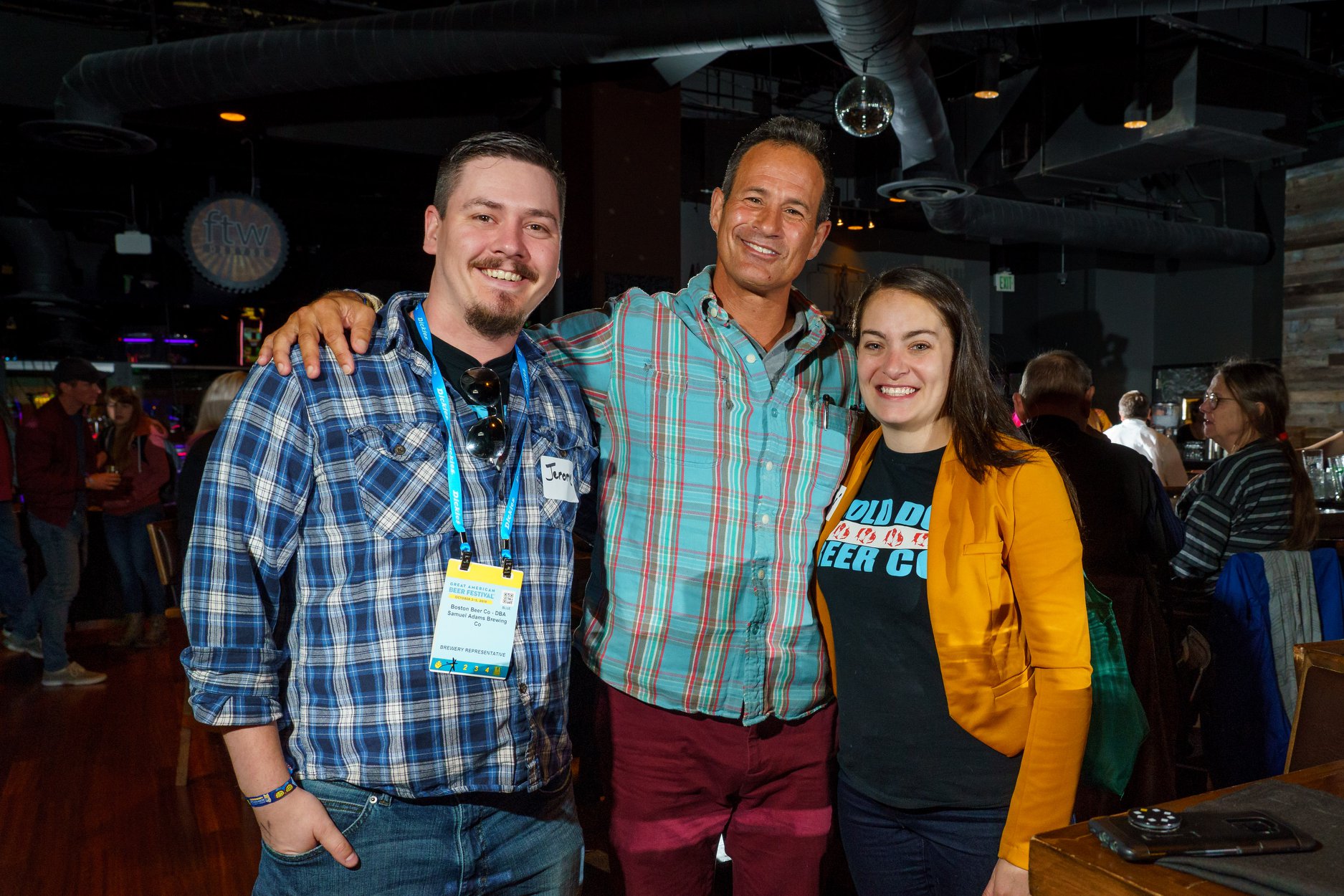 Started in 2012 the Brewing & Business Experienceship awards one brewery a year the opportunity to travel to Boston for a week to brew a collaboration beer with the Samuel Adams team, receive mentorship from Jim Koch and other experts, and continue to reach out with questions for really the rest of their business lives.
"I could email anyone I met at Boston Beer Co. [during the Experienceship] right now and just say I'm having a little problem and they'll respond right away," said Shari O'Connell-Stontz, co-founder of Bold Dog Beer Co. in Chicago, IL and winner of the 2019 Brewing & Business Experienceship.
The brewery's story epitomizes the advantages of the BTAD program.
Shari started Bold Dog with her husband and business partner Jerome Stontz in 2015. The two realized pretty much from their first date at a brewery that they shared a love of two things: Craft beer and dogs – specifically Bulldogs. A homebrewing hobby soon turned into more than just a passion. Named after the couple's English Bulldog Beefy, who passed away while the two began filling out the paperwork to start the business, Bold Dog Beer Co. carries the dog theme throughout. Most beers are named after dogs the two have fostered. With a roster of liquid to market, Jerome began peddling Bold Dog beer around town during his lunch breaks at his full-time job. Looking to make the move to opening a brewery, Shari and Jerome realized pretty quickly that applying for licensing and buying equipment would require some serious capital.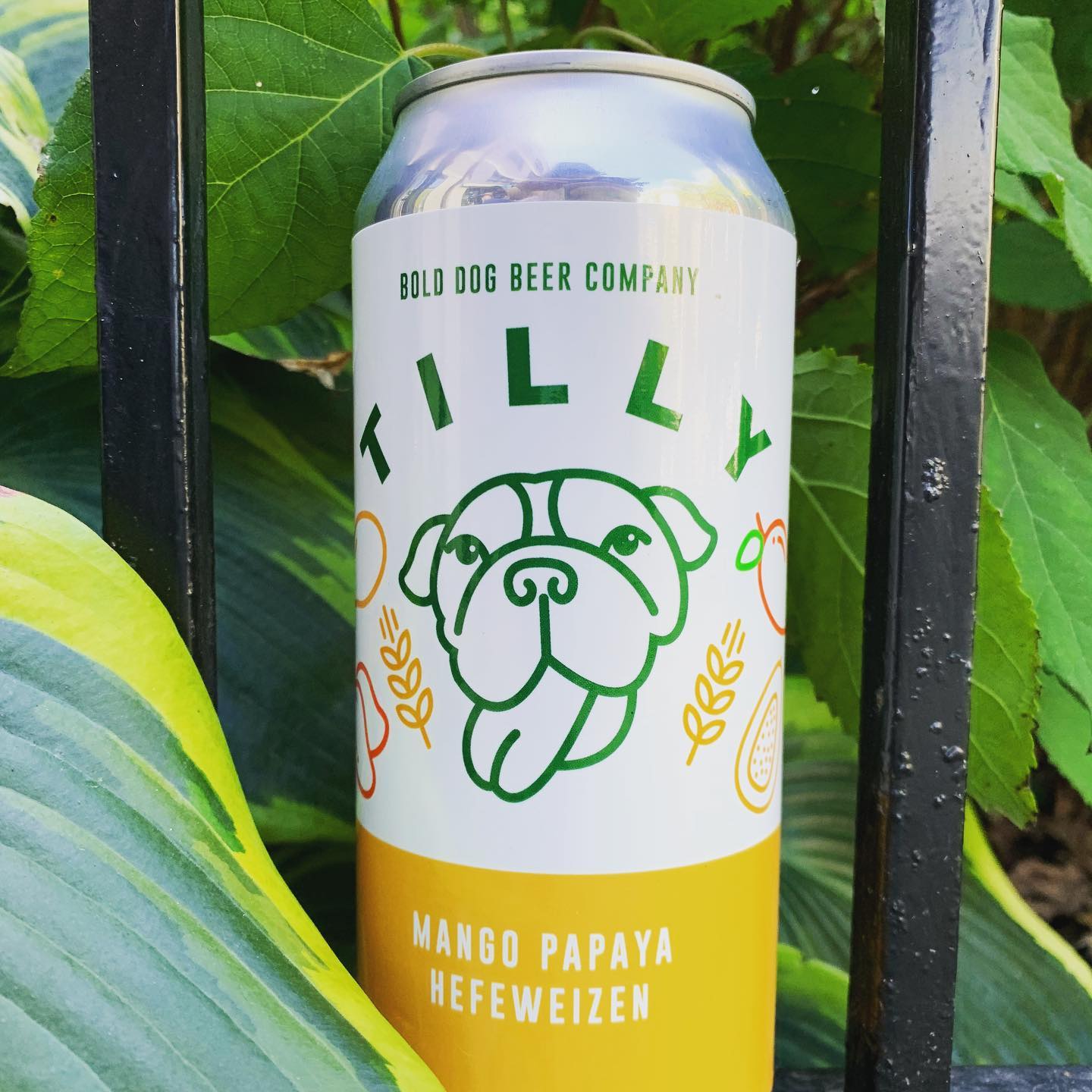 They applied to multiple loans at different banks. All were denied. It was JP Morgan Chase ( after denying them a loan) that actually told the pair to check out Accion. The microlender not only approved them for a loan, but also directed them to their partner, Sam Adams.
At their first BTAD Speed Coaching event, Shari and Jerome met Glanville. "We sat down with her and shared some of our homebrews. The first one tasted good, but as soon as she smelled the second beer she told us she smelled an off-flavor in the beer," said Shari. Detecting DMS, a sulfur compound typically considered an off-flavor in beer, Glanville offered advice on how to improve their quality control. Next year, the owners of Bold Dog returned with perfect recipes and Glanville enthusiastically encouraged them to apply for that year's Brewing & Business Experienceship.
The application process starts over the summer and ends in September. Any brewery can enter as long as they're operating and selling beer. They don't need to have a taproom open, but they do need to be producing beer.
"We look through every detail and it often comes down to a real tough decision because everyone can benefit from BTAD," said Glanville, who sees anywhere from about 20-35 applications come through every year. "It's really great to have passion, but we look for someone that can see strategically how BTAD will benefit them besides just access to folks at Sam Adams or that they want to be the next Sierra Nevada. We're looking at who can benefit best from an Exerpienceship."
The winning brewery is announced during GABF of that year. "I still have the voicemail saved from Jen saying we won and asking if we could come to Denver in two weeks," said Shari, who had a less-than-one-month-old at home when they got the call. "Even though it was very short notice and we had a very small human we said, 'Absolutely'!" Neither had ever been to GABF before.
Six months later, the duo flew out to Boston to brew their collaboration beer and meet with the Sam Adams team.
The advice Shari and Jerome received during their Experienceship has proved invaluable. "We knew our weak points," said Shari, "Being able to sit down with someone and have them explain what type of accounting we need to do, what reports we should be running, how to manage our employees, or how to improve our sales…has been incredible to our growth."
The couple even met with Jim Koch. "He told us that one of the only ways we could really make money was by having a taproom and selling our product directly to consumers," said Shari.
Since returning from Boston, Bold Dog Beer Co. has tripled its monthly sales. "We used to have a quota of 2 barrels (bbls) of beer per week that we would never really make. It was hard for us to sell that amount because we were so small," said Shari. "Now, Jerome is averaging 4bbls per week. This past week he actually had to take a day off because we physically couldn't fit all the beer we sold into our car." Additionally, Shari and Jerome opened up a brick and mortar location in Chicago's District Brew Yards, a first-of-its-kind brewery collective, in April of 2020.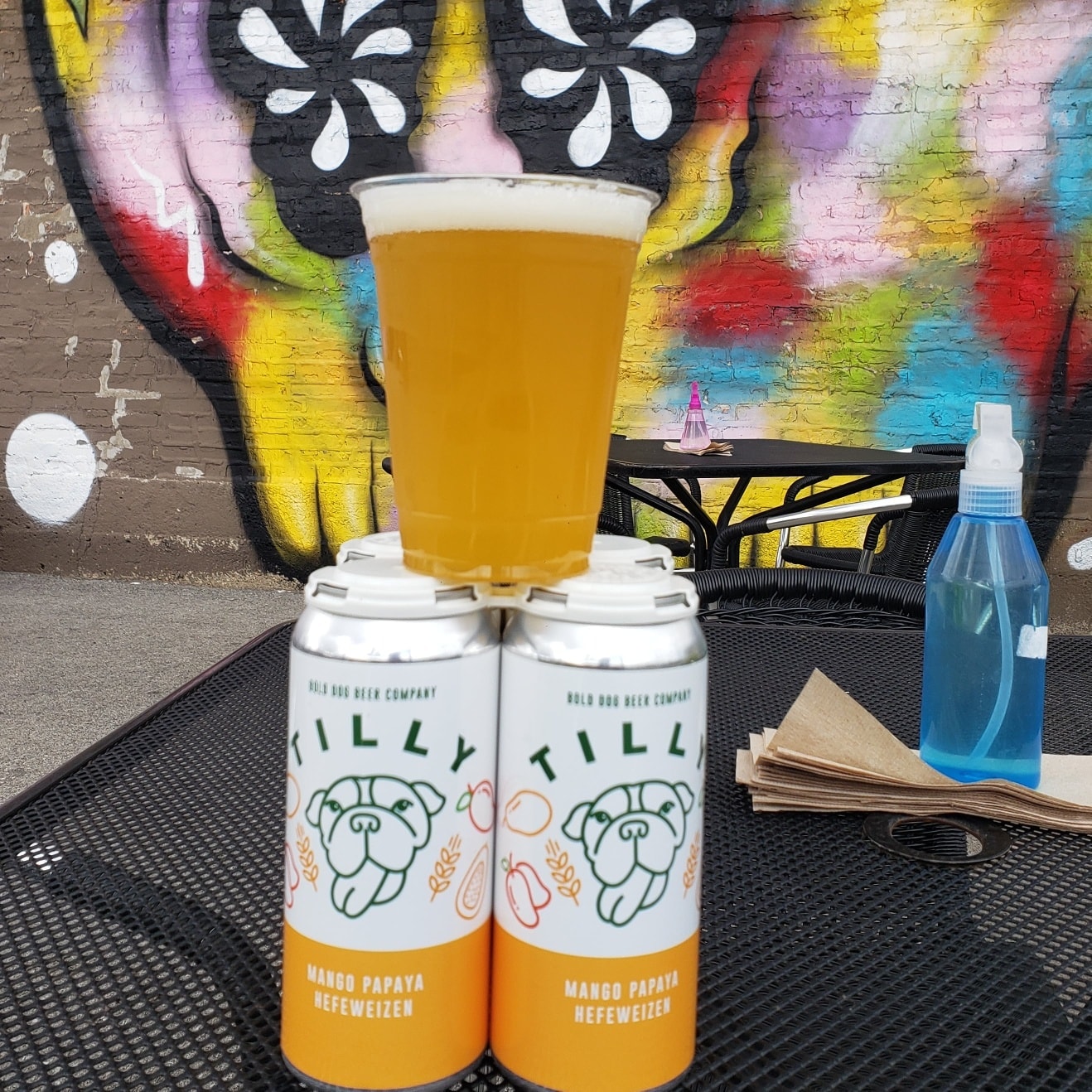 The growth rate has been exponential for the fledgling brewery. "We have literally grown this business from a few dollars, which is insane," said Shari.
"It has been great watching [Shari and Jerome] over the years," said Glanville recounting the first time she tasted those off-flavors in the couple's homebrews. "This amazing couple has grown the brewery from an idea, bringing beer to [speed coaching] three years in a row and every year [improving]. Today, the beer is damn good."
For Shari and Jerome who can now call themselves brewery owners they're looking to give back to the initiatives that have helped them grow these past few years. With that goal in mind they'll be donating 100% of the proceeds sold from their BTAD collaboration beer (named Sammy after Sam Adams and because everyone knows a dog named Sammy!) back to Accion. "Accion and their partnership with Sam Adams and BTAD has helped us out so incredibly. We know we would not be here if not for them. This is our way of donating money back to Accion, so they can continue to help underserved neighborhoods and small business owners," said Shari.
Brewing the American Dreams Breaks Through Barriers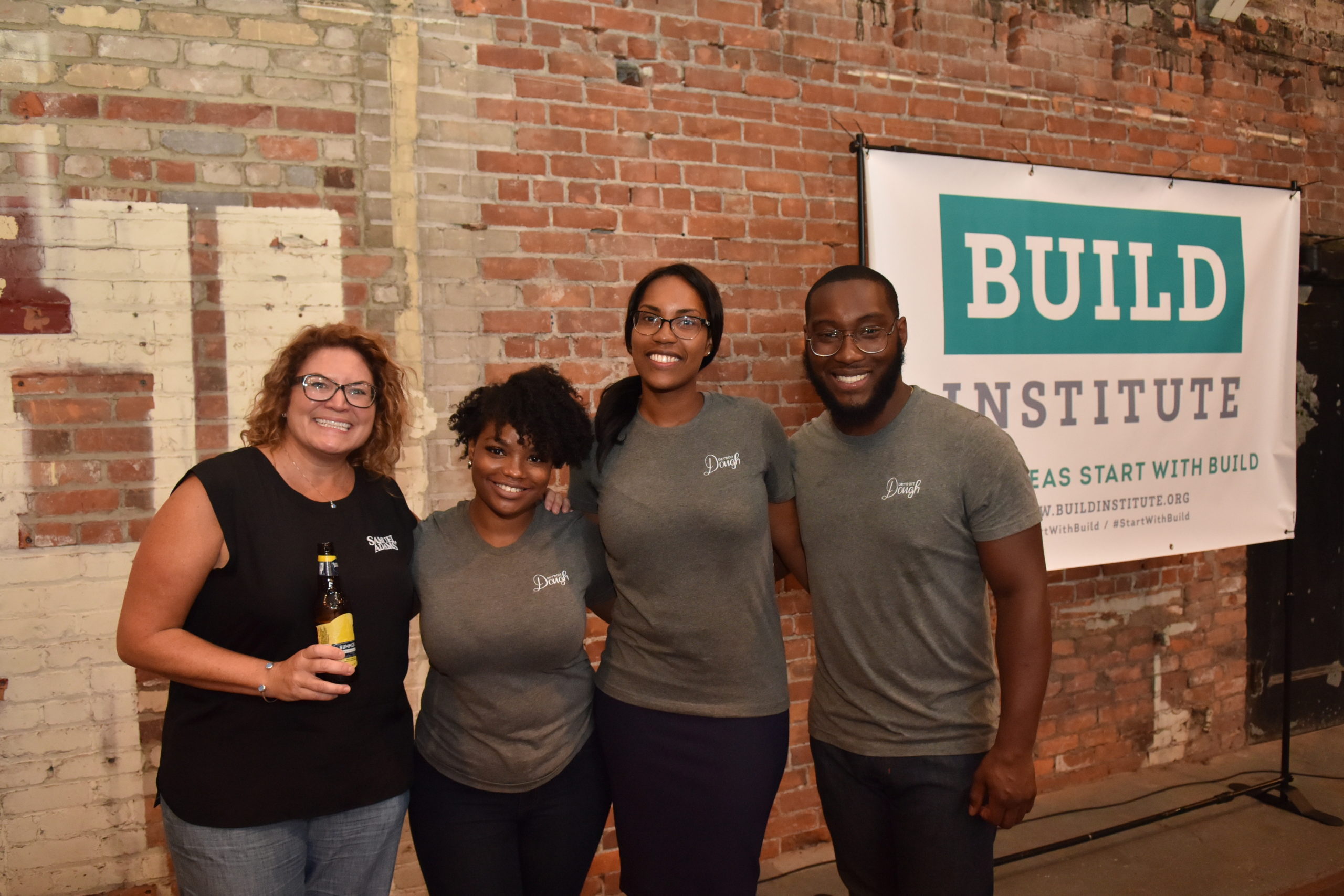 With over a decade under its belt, BTAD continues to evolve and look ahead to the future.
For Glanville seeing husband and wife teams such as Shari and Jerome participate in the Experienceship is a huge win because women and minority groups continue to be designated by banks as risky investments. With that in mind, Glanville notes that almost 50% of entrepreneurs in the BTAD program are women and 79% are from minority communities.
But despite these strong steps forward, stereotypes persist even in the everyday lives of owners who have benefitted from BTAD. "We'll go to festivals to pour beer and people will ask questions that I'll answer," said Shari. "But then they'll turn to my husband and continue asking the question."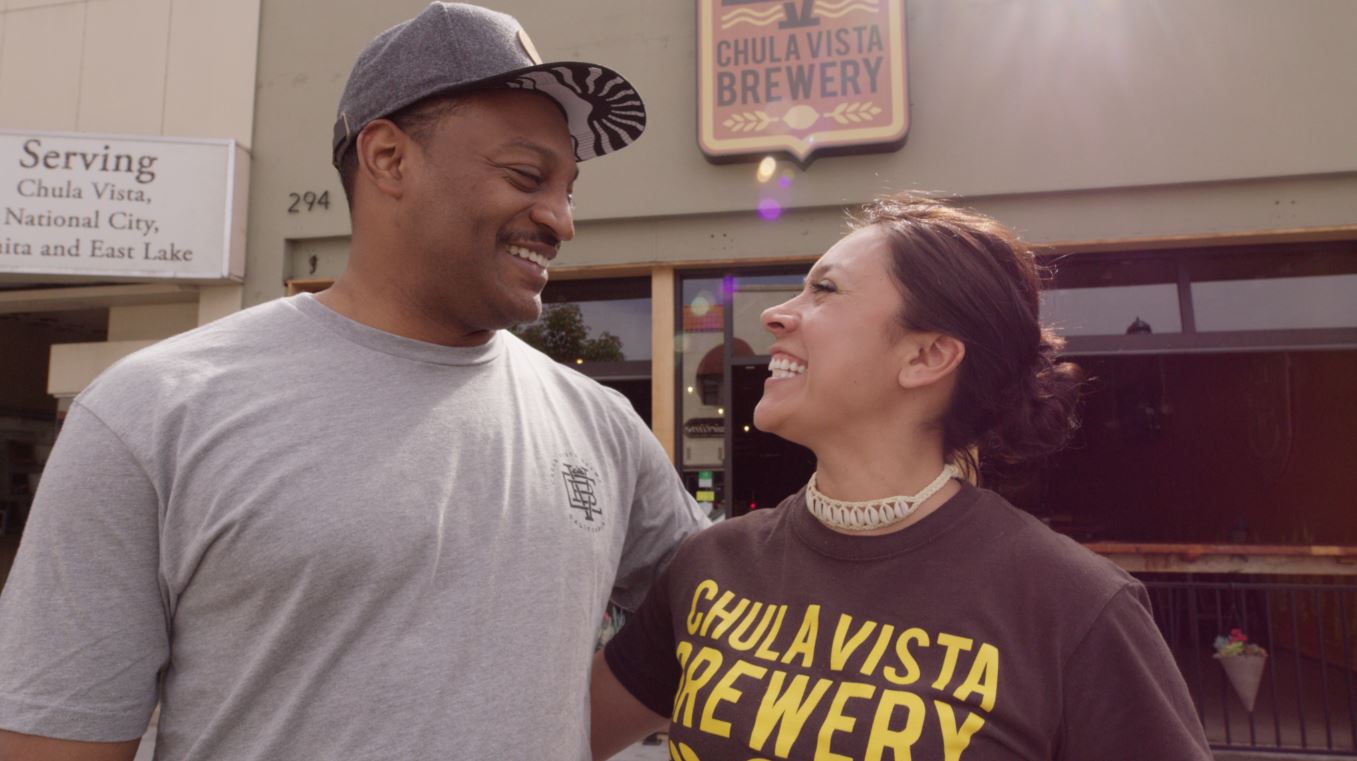 These are the exact barriers that enterprises like BTAD are hoping to breakthrough. Giving under-recognized business owners a chance to grow their dream has been, and will continue to be, a core focus of BTAD moving forward.
"We are focused on getting folks [in the program] who don't have access [to loans] or who may be turned away [by banks] because of their gender or because they haven't had a long credit history because they haven't been in the U.S. very long," said Glanville " There are a lot of barriers for minority, female, and BIPOC business owners. We're really excited to dig in and make sure that we're providing opportunities for all folks to start or grow their business."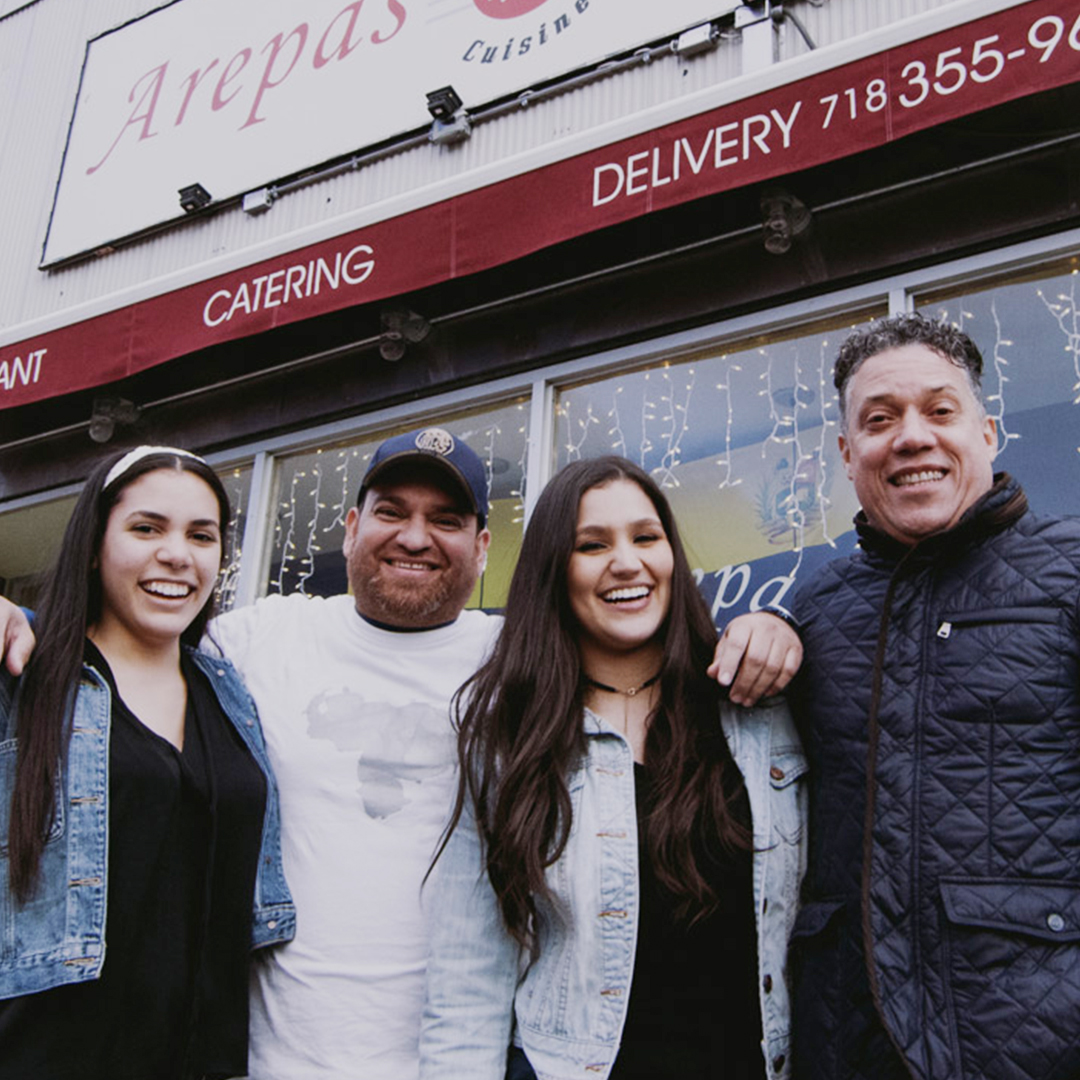 The dream of opening a brewery in the U.S. should be a reality for everyone regardless of gender, skin color, nationality, or sexuality. Samuel Adams' Brewing the American Dream program continues the brewery's revolutionary spirit, championing the hard work of pioneers in the food and brewing industries and breaking through barriers in the industry to accessing capital and coaching.
It's time to wake up.
Looking to hear more about BTAD and the success stories of Shari, Alicia Conger, co-owner of 1912 Brewing, winner of the 2018 Brewing & Business Experienceship, Dali Parker, co-founder Chula Vista Brewery, winner of the 2017 Brewing & Business Experienceship, and how we can continue to break through barriers for women and minorities in the craft beer industry? Tune into our Brewing the American Dream Stories presented by Boston Beer Co. during our women in craft beer festival, Beers With(out) Beards on Saturday, Oct. 10th.
And, check out Samuel Adams' Brewing the American Dream's website and Facebook page for more information on upcoming speed coaching events, webinars, ad hoc mentoring opportunities, Pitch Room competitions, Brewing & Business Experienceships, and more.
Liked this article? Sign up for our newsletter to get the best craft beer writing on the web delivered straight to your inbox.