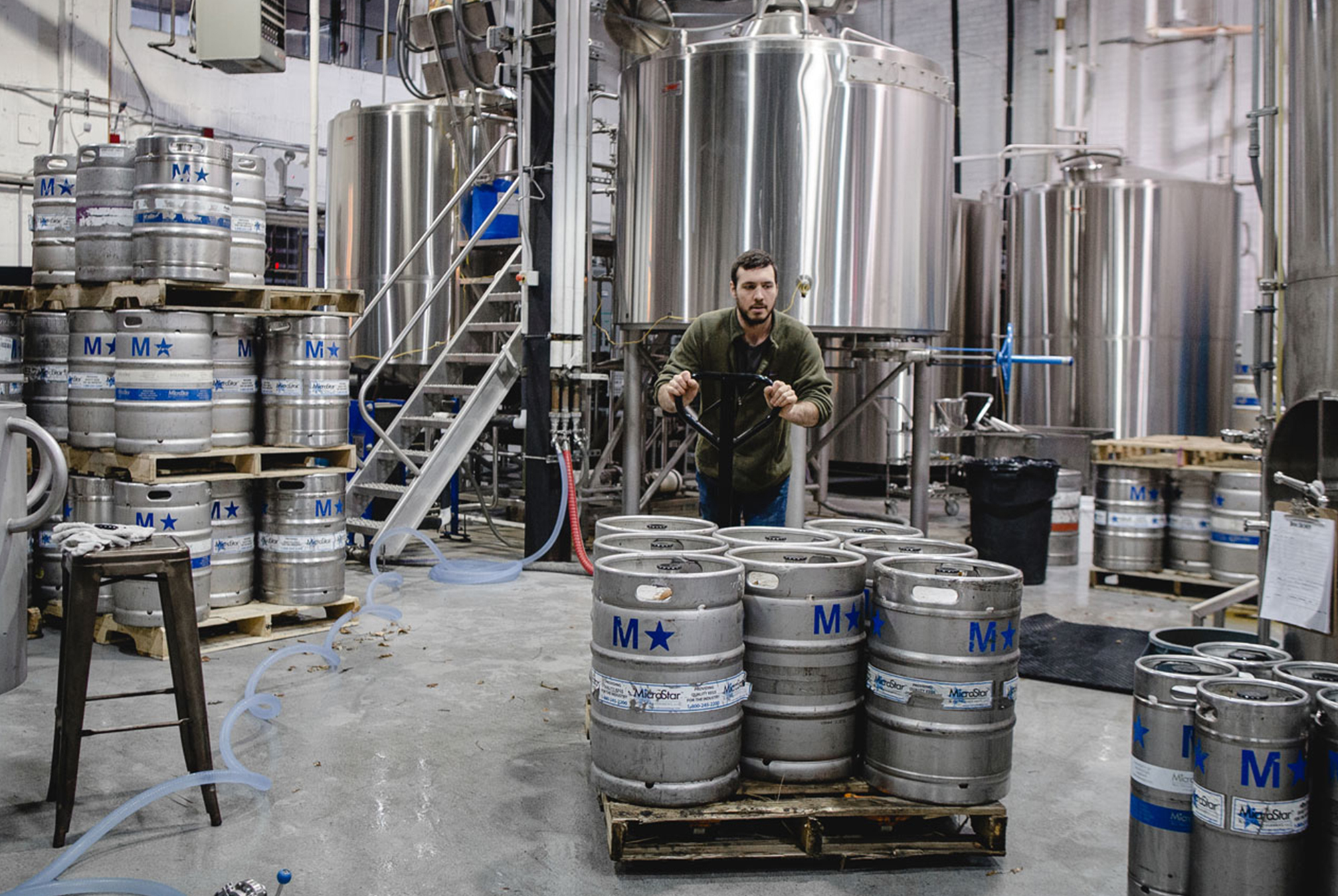 Photo courtesy of The Bronx Brewery
Editor's Note:
This story is part of our #brewwhatsright campaign, an effort to feature people, businesses, and communities actively helping others by doing what's right.
As the battle against COVID-19 rages in hospitals everywhere, the sweeping lockdowns that have ensued are sparking a fight of a very different nature. It's a fight in which it's the 9th round, and small businesses are staggering with both hands tied behind their backs. Their only choice? Hunker down, improvise, and hope they come out on the other side without too many bruises––if at all.
The Industry at Large
In an effort to stay afloat amidst odds heavily stacked against them, breweries are revising their models. Gone are the days of draft sales and taproom functions. Curbside carryout and local delivery are the new normal. Plus, some states are doing their part by easing up on alcohol laws and allowing breweries to offer direct delivery. Chances are that your favorite local brews can be shipped right to your door.
The Bronx Brewery
So what do these changes look like for a brewery in one of the nation's COVID-19 hotspots? Like many other breweries, New York City's The Bronx Brewery is grappling with the highly unpredictable changes coming each day in pandemic life. Breweries that thrived on direct sales in taprooms have had to drastically pivot. Beertenders have become delivery drivers. And brewers have taken to the digital world to foster some of that taproom energy.
Breweries are community gathering places and folks are trying to maintain that feeling even with their taprooms closed. Given that "community is at the heart of everything we do," says director of marketing Kevin Schetirum, The Bronx Brewery has worked fast to adapt and provide a new sense of normal. Both for their regulars and for those putting their lives on the line.
Bronx Brewery Go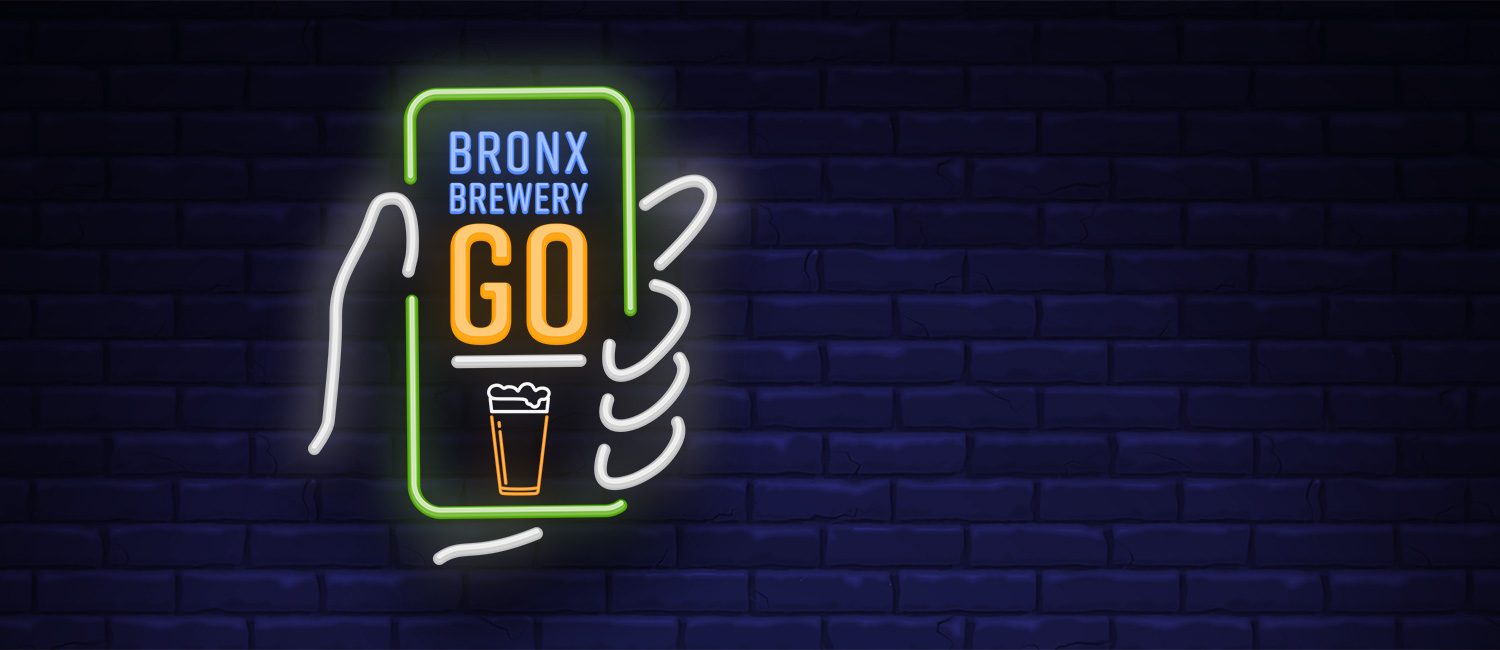 With the introduction of a convenient solution they're calling Bronx Brewery Go (BXB GO), the folks at The Bronx Brewery have made their beer available for pickup, delivery, and shipping across the city and throughout New York State. It's a move many others have resorted to, but one which few have managed to package so cleanly. From 4-packs to pizza and merch, they've got it all. They're also using services like Whole Foods, Fresh Direct, and Doordash to ensure they can get fresh beer to you.
And about all that beer you thought would go to waste? Scheitrum is here to set our minds at ease. "We are taking measures, be it moving beer from kegs back into bright tanks and into cans or taking cans from our cold room and making them available," he says, to ensure that they've got a steady supply going. You might not be able to enjoy your favorite brew on draft, but that's not to say it won't taste damn good knowing that it was spared from a lonely, expired death. Rest assured, for Scheitrum reports that "we're not gonna waste a drop."
Building Community
Besides, there are a plethora of online events The Bronx Brewery is running. You may not be getting your beer at the taproom, but you're getting the next best thing.
For instance, during their Boogie Down Hour, they've held everything from skills sessions, to mixologist Q&As, to exclusive beer Zoom launch parties. It's all in an effort to make sure that during the loneliest of days, there's still a feeling of being "together while apart." They want to ensure that the sense of taproom community can still be enjoyed from your living room couch. But, these measures aren't just for quarantine. Scheitrum hopes that they're something that'll stick around for the brewery to continue building support and connecting with its fans.
Purchase Matching Program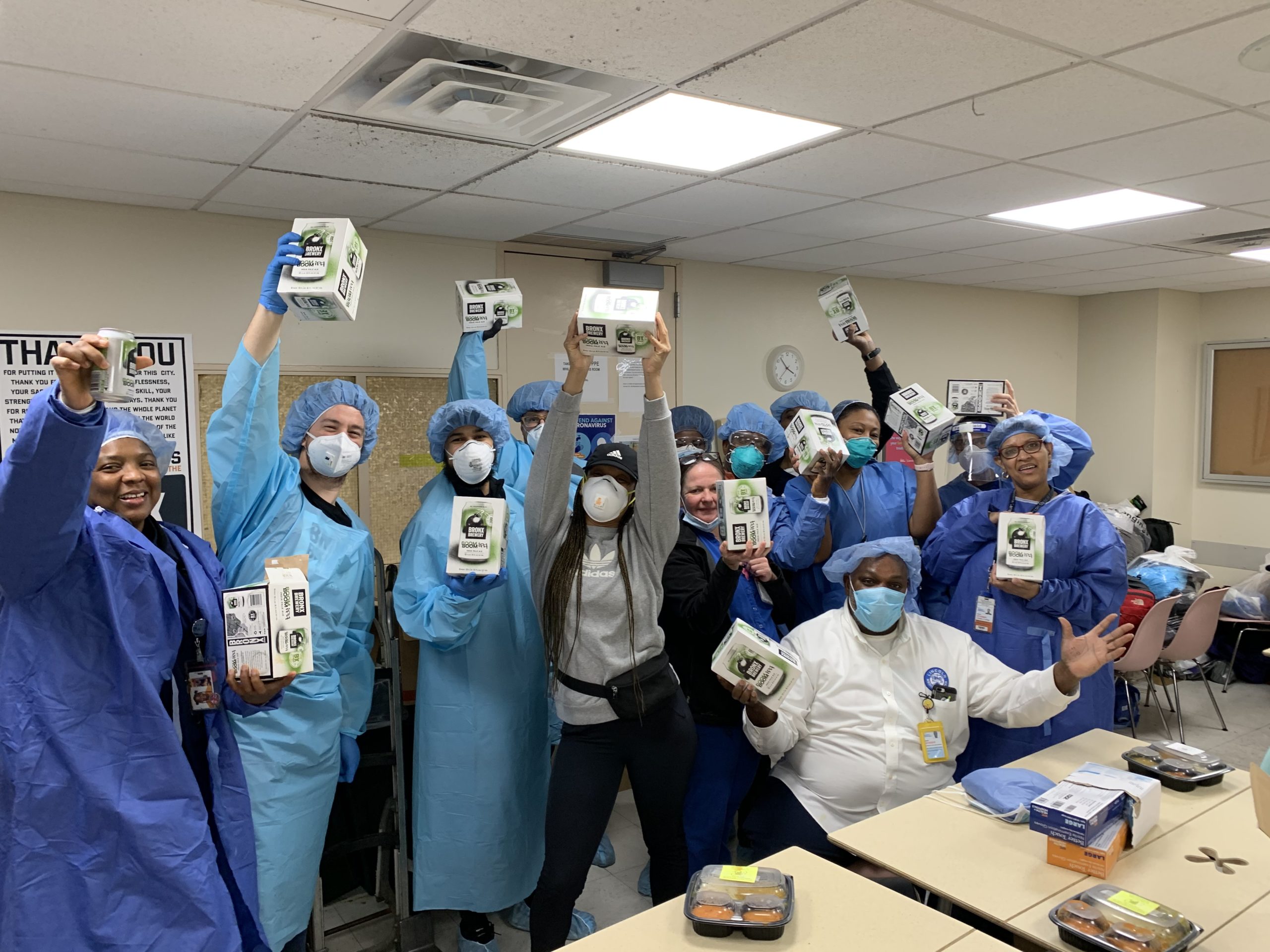 The Bronx Brewery's work doesn't stop with extending community to their consumers. They've implemented a purchase matching program to benefit frontline workers across the city. Under the program, The Bronx Brewery will be matching each BXB GO order with a beer donation to frontline workers.
When asked about the program, Scheitrum admitted that while "we don't really have money to give, we've got a way where we can make a difference with beer––even in a small way." It came about in large part because of head brewer Damian Brown's philosophy that "everybody knows beer tastes best at the end of a long day."
We all know that beer isn't at the top of our grocery list. (Or maybe it is, no judgment.) But, a cold beer after a long day of isolating can be a much-needed balm. Right now, nobody knows better than those working on the front line of the COVID-19 response just how long a day can be.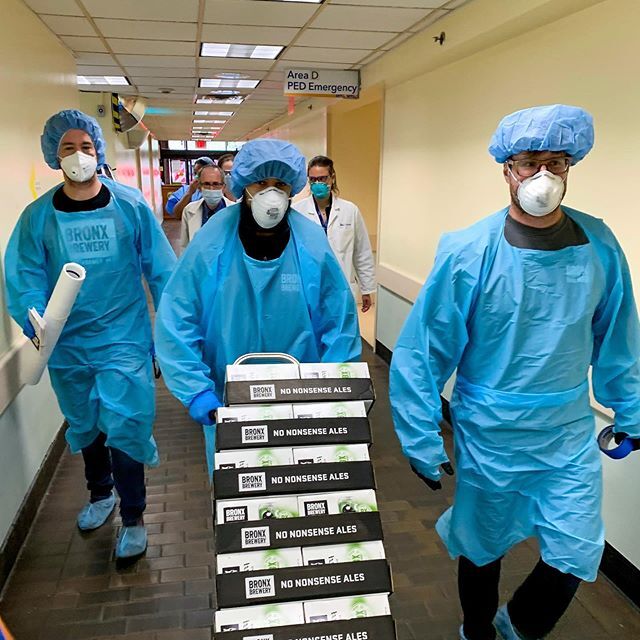 For the good people at The Bronx Brewery, they hope the purchase matching program will serve as a "way to bring joy and relief to the people who are going above and beyond to help with the crisis."
On their Instagram, you'll see employees decked out in scrubs and masks wheeling in cases of beer for weary medical staff at Lincoln Hospital, one of the facilities most beset by the outbreak in New York, in the United States, and in the world.
It hits especially close to home for The Bronx Brewery because it's their "local hospital, the one [they'd] go to should anything go wrong."
Above all, Scheitrum and those at The Bronx Brewery are grateful for the opportunity to show their appreciation in a direct and authentic way. In the words of their venue and events GM Brandon Espinosa, "you might not be able to help everybody, but you can help somebody.
Liked this article? Sign up for our newsletter to get the best craft beer writing on the web delivered straight to your inbox.