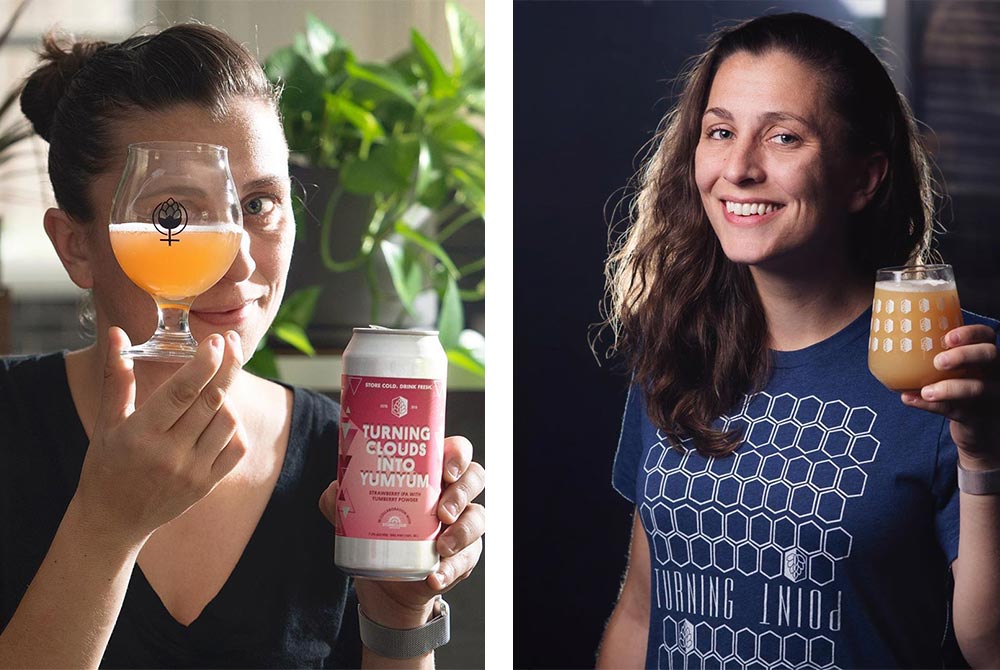 Photography courtesy of Eli Traks
Editor's Note:
Eli Traks is a panelist at FML Fest 2020, our collaborative virtual craft beer festival with Oozlefinch Beers & Blending. Tickets for the festival are available here.
Take it from Hop Culture's resident Instagram photographer: shooting beer photos is harder than it looks. Eli Traks, or @elitraks on Instagram, is a professional product photographer with a passion for craft beer who makes the art look easy.
Scroll through Traks' feed on Instagram and her aesthetic becomes immediately clear. While Traks is an incredibly skilled photographer, her set design and editing chops separate her from the rest of the iPhone-using craft beer lovers on social media. Traks' work is surreal and stunning; it often lives in the uncanny valley where beer no longer looks like beer and you wonder if she somehow actually managed to get a glass to float.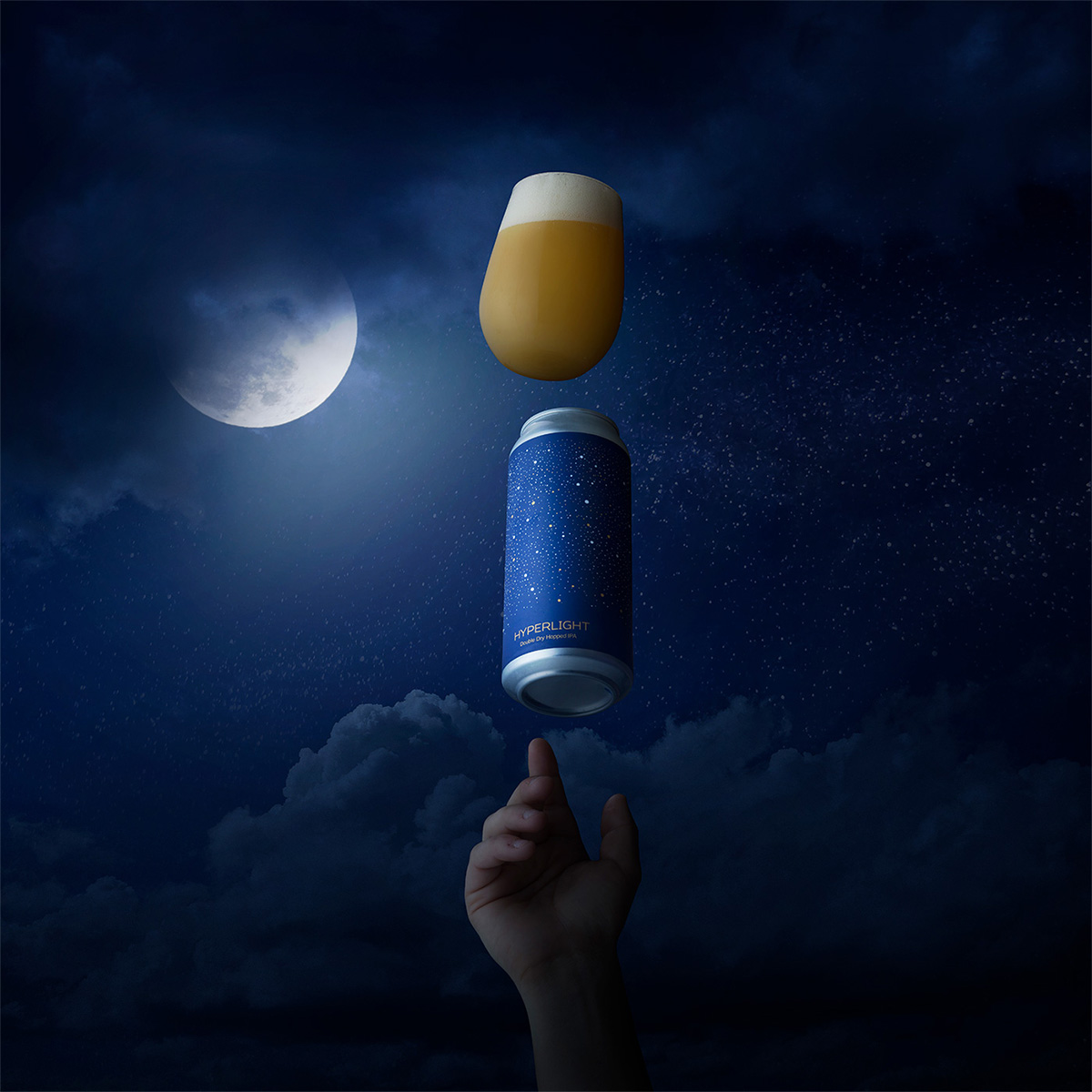 Despite her undeniable skill, Traks is as humble as they come. And, while she's always game to talk photography, the (sadly) few times we've met in person have consisted of friendly personal talk rather than comparing photo techniques. Traks is more interested in meeting a new friend than getting technical about her craft. She's also a passionate supporter of women in craft beer and has used her platform to bring more attention to other female creatives in the community.
Originally hailing from the East Coast, Traks recently moved to Texas and joined the marketing team at Turning Point Beer. Traks is also joining us for a panel on Craft Beer and Social Media at FML Fest 2020. She'll be chatting photography, editing, and all thinks craft beer, so don't miss out.
We sat down with Eli Traks for a brief Q&A to get to know who's behind the lens.
An Interview with Photographer Eli Traks
John A. Paradiso: How'd you first become interested in craft beer? Do you remember any early favorites?
Eli Traks: I started enjoying craft beer while living in Pittsburgh about a decade ago. I actually have Peter Kurzweg (owner of The Independent, Lorelei) to thank. Before meeting Pete, I was exclusively drinking Miller Lite. Though I can't remember exactly what my first non-macro beer was, I'd chance a guess that it was either German or Belgian. The first real US craft beer I remember drinking and seeking out was Dogfish Head.
JP: How'd you start your photography work?
ET: I actually went to school for photojournalism. Shortly after college, I lucked into a product photography gig and fell in love with it. So technically, I'd been shooting in photo studios for a decade before ever photographing my first beer.
JP: When you're not shooting photos of beer, what are you doing?
ET: I've been on a bit of a health kick this past year, so I'm either rock climbing, kayaking, or jogging.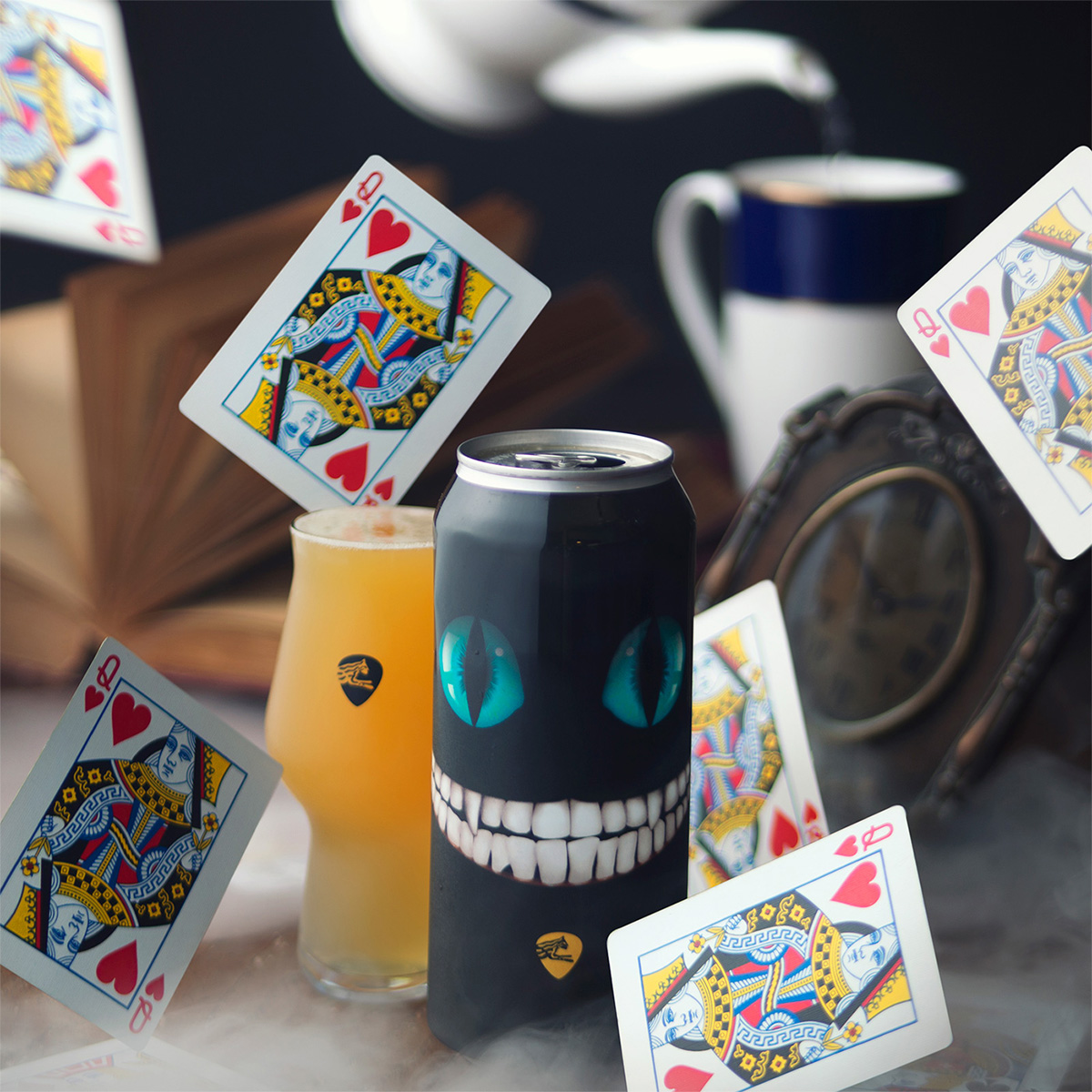 JP: Are there any photographers that you look up to?
ET: Some non-beer photographers that I love are Steve Giralt, Felix Hernandez, and Erik Johansson. Definitely look them up and remember that not everything is as it seems.
In the world of beer photography, @beerliveshere, @cory_s_smith, @craftbeerdeer, and @nomsandbeer are all crazy talented.
JP: Do you consider yourself a talented photographer?
ET: My mom seems to think so. Seriously though, I think I achieve some success with my photos. That being said, some are a miss. But I've viewed beer photography as an avenue to play and get creative; sometimes I make a beautiful mess and other times I just make a mess.
JP: Do you have a single photo–or photos–you're most proud of?
ET: Photos are kind of like songs to me. I might love one and then hate it the next time I see it. The ones I have on my website are some of the ones that I've consistently felt good about and proud of: Stripes, Big Cat, Hyperlight, Reciprocal, Master of Karate, Meet Local Singles, Orchid.
Despite tweaking my back while shooting it, probably my favorite photo is the one I did for Halloween a couple of years ago. 'The Power of Beer Compels You'. It's the one of me drinking while levitating above a bed.
JP: How do you approach each photoshoot?
ET: All of my photoshoots start and finish the same way. I start by spending way too much time thinking of a concept. Once I have a concept and props (if necessary), I put the beer can I'll be shooting in the freezer. (The condensation helps even out the light on the can.) Then, using a stand-in can, I'll light the scene making sure I have some extra white card, diffusion, and chopsticks nearby.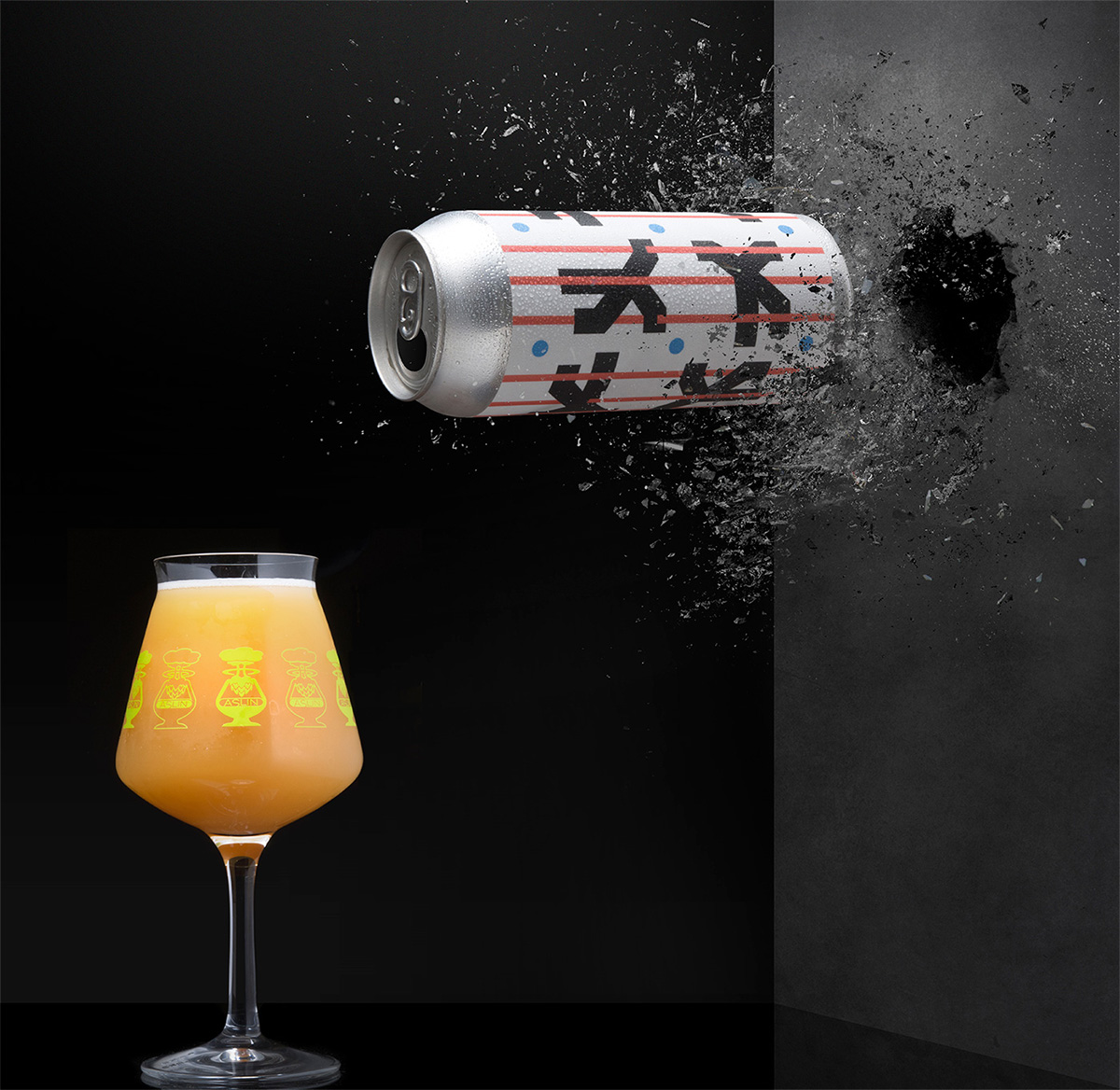 Once I'm satisfied with the composition and lighting, I'll place the actual beer in the photo. If I only have one beer, I'll make sure I capture the can exactly as I want. Once I do, I'll pour it into the glass, shooting the whole time by trigger just in case a half-filled glass looks better or the beer overflows or something unintentionally beautiful happens.
If I take too long shooting and the head dissipates, that's what the chopsticks are for. Pro tip: don't whip too aggressively at first. If you do, have towels nearby to clean up the overflow.
Once I'm satisfied with how the beer and glass look, I'll remove the glass and photograph just the background in case I need it. Finally, while I sip on my now room-temp beer, I'll combine all the shots in Photoshop then spend way too much time editing it.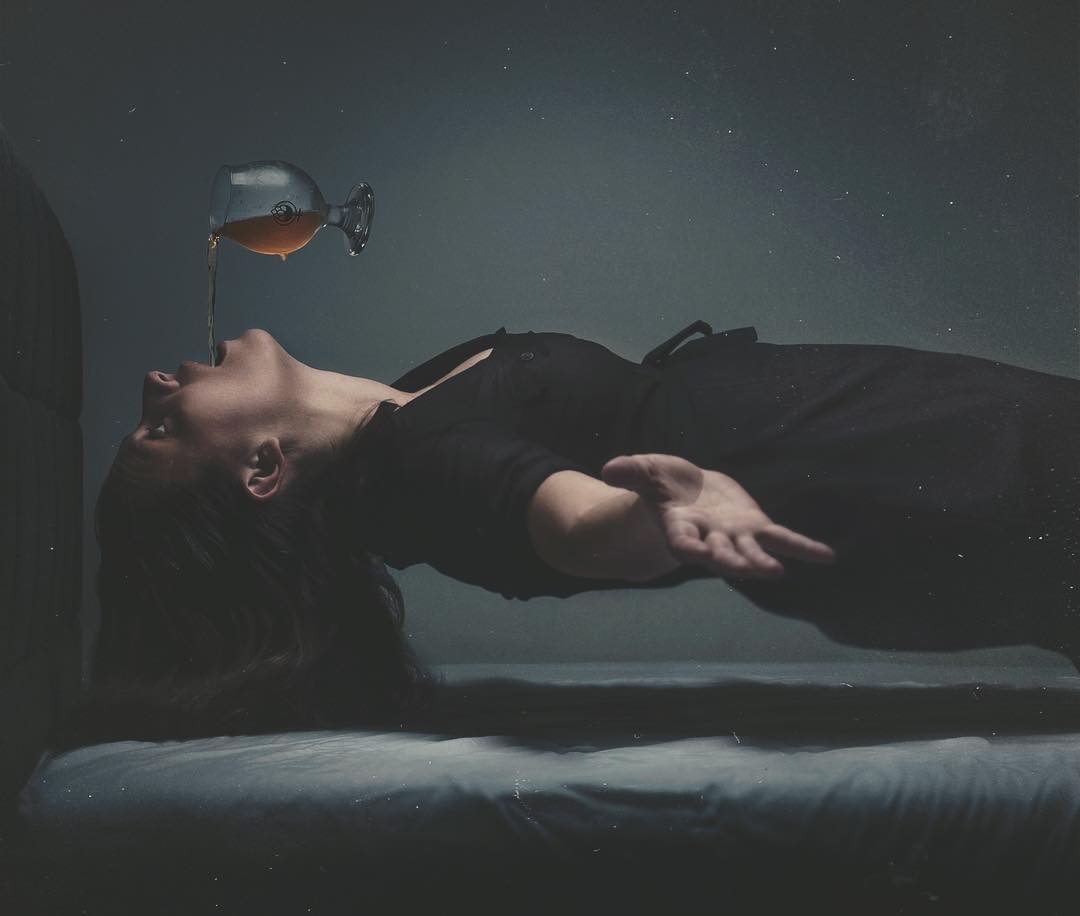 JP: Do you have examples of photos that you've found particularly challenging or pushed you far? Why were they challenging?
ET: Originally, splash photos were my Everest. But after countless hours of splashes and spills, I probably struggle more now with working myself into my beer photos and not hating them.
JP: Anything in photography that you consider a serious "don't"?
ET: Portrait mode on the iPhone! Just kidding… kind of. Portrait mode is fine as long as it doesn't remove the stem or half of your glass.
JP: In your mind, what constitutes a good photo? When do you feel that you're finished with a shoot?
ET: Gosh, that's such a hard question given how subjective art is. Obviously composition and lighting are hugely important, but some of the best photos work because they break the rules. Experimentation is the most fun way to learn.
I never truly feel like I'm done with a photo. At some point, I just quit and post it. Ultimately, I think the most important thing is that the photo tells a story or makes the viewer feel something.
Catch Eli Traks at FML 2020 Digital Craft Beer Festival on 8/15! Tickets are available here.
Liked this article? Sign up for our newsletter to get the best craft beer writing on the web delivered straight to your inbox.