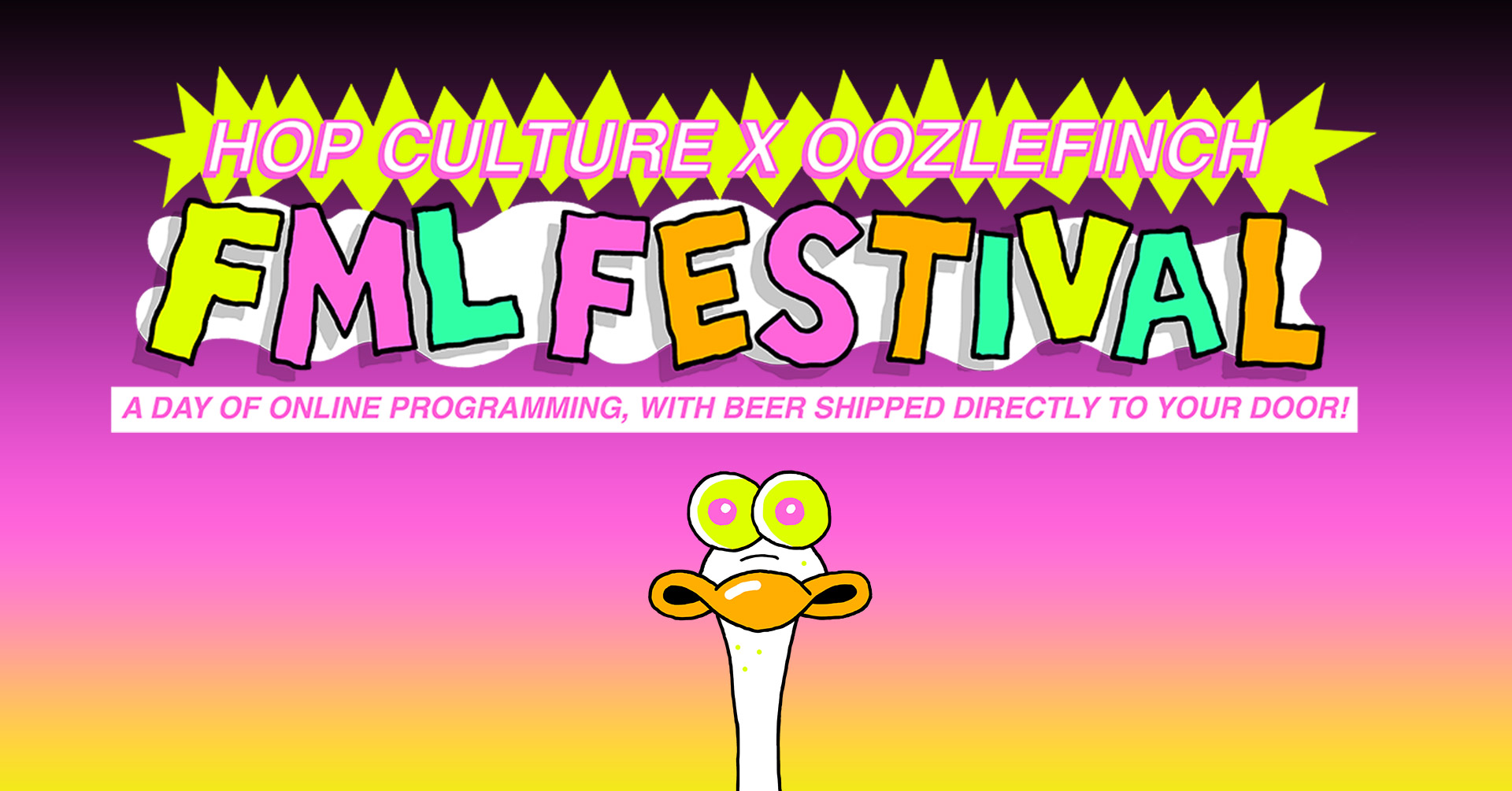 Since October 2017, Hop Culture has thrown twenty-nine beer festivals, from the massive Pro Football Hall of Fame Craft Beer Festival to the culture-changing Beers With(out) Beards. In addition to writing about the beer industry, shooting photos for our Instagram, and running our online store, planning beer festivals occupies the majority of our time. Of course, coronavirus interrupted plans to throw our thirtieth event, but nothing stops our party. To keep things going during quarantine, Hop Culture teamed up with Oozlefinch Beers and Blending in Fort Monroe, Virginia, to launch FML 2020, the world's largest digital craft beer festival.
On August 15th, 2020, join Hop Culture, Oozlefinch, and some of our favorite breweries from around the country for a day of digital programming. And if you live in one of our eight target states or D.C., you'll also have the option of adding a curated box of eighteen beers, which arrives on your doorstep a week before the event.
To learn more, keep reading, or enter your email here to get information as it debuts.
What Is Hop Culture Magazine?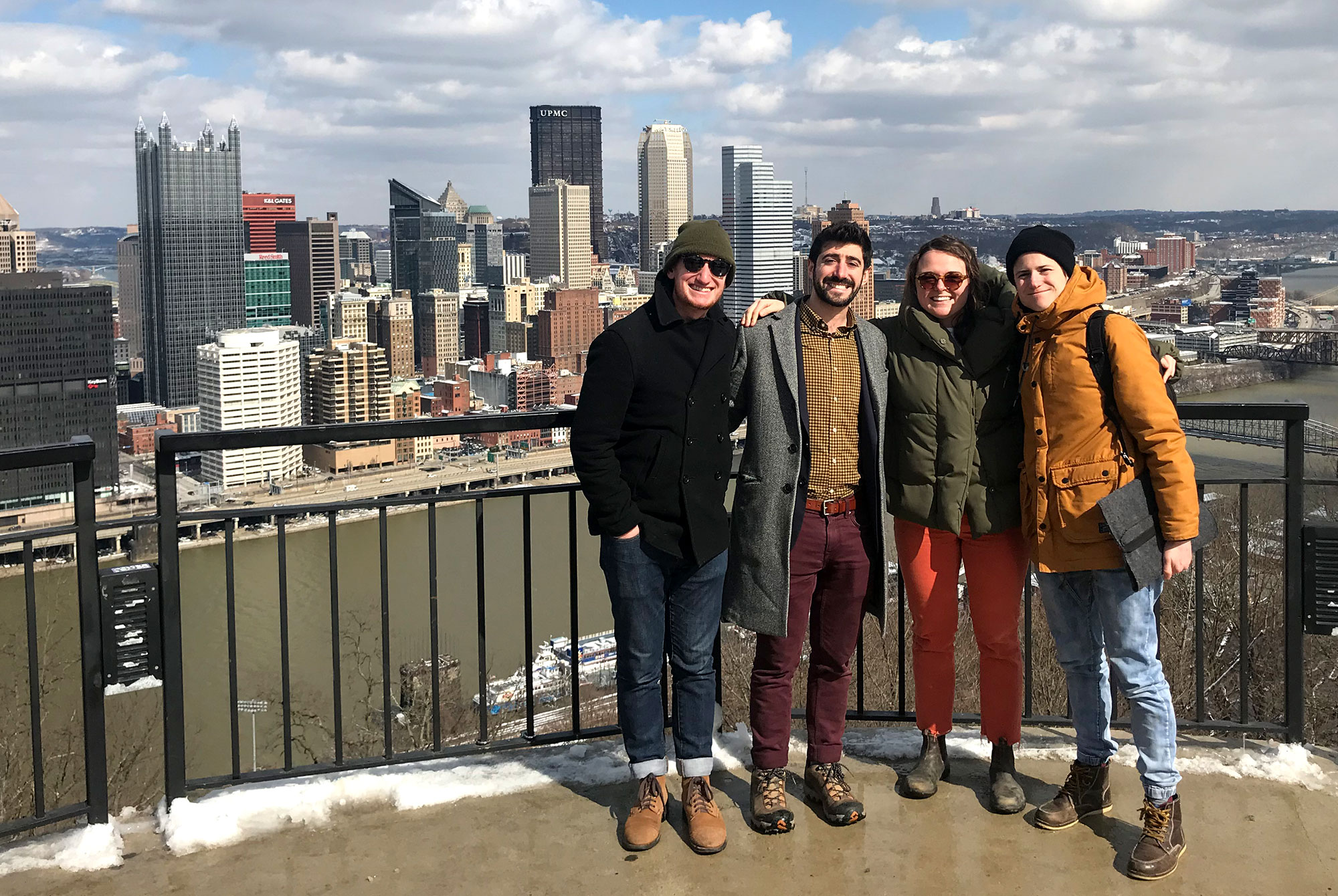 In January 2017, writer Kenny Gould founded Hop Culture in Pittsburgh, Pennsylvania, as a digital outlet dedicated to independent craft beer journalism. Later that year, he teamed up with Dancing Gnome Beer to throw the first Juicy Brews Craft Beer Festival, which sold out in only ten seconds.
Based on the success of the first Juicy Brews, Hop Culture took the concept to New York City, where they sold out a second 800-person event in Manhattan's West Village. After that, festivals and events became an integral part of the Hop Culture ecosystem, bringing to life the breweries and the brands featured by the online magazine.
Today, the company operates three offices around the United States (Pittsburgh, PA; Oakland, CA; and Carrboro, NC), run by Gould, Head of Partnerships Grace Weitz, and Managing Editor John A. Paradiso, respectively. Hop Culture works with artists like Killer Acid, Sam Taylor, and Kailah Ogawa, as well as nationally recognized brands like Jameson, Pabst, YETI, and more.
What Is Oozlefinch Beers and Blending?
Navy veteran Russ Tinsley founded Oozlefinch Beers and Blending in 2016. In fact, Oozlefinch is actually based on a decommissioned naval base in Fort Monroe, Virginia. The brewery makes a variety of styles but specializes in top quality live sour and barrel-aged beers.
One of the most interesting facets of Oozlefinch is that their brewing team is led by twenty-four-year-old Rachel Edwards. A chemistry graduate of Christopher Newport University, Edwards started her career at Oozlefinch in the taproom but quickly demonstrated her prodigious aptitude for brewing. At twenty-two-years-old, she harvested native yeast off a Civil War artifact at a museum on the Fort Monroe base, which the brewery still uses in their beers.
Other members of the Oozlefinch leadership team include Marketing Manager Rebekah Smith, Taproom Manager Paul Metzger, Sales Manager Jason Fallon, and Graphic Designer Vaiva Rimeika.
What Is FML 2020 Digital Craft Beer Festival?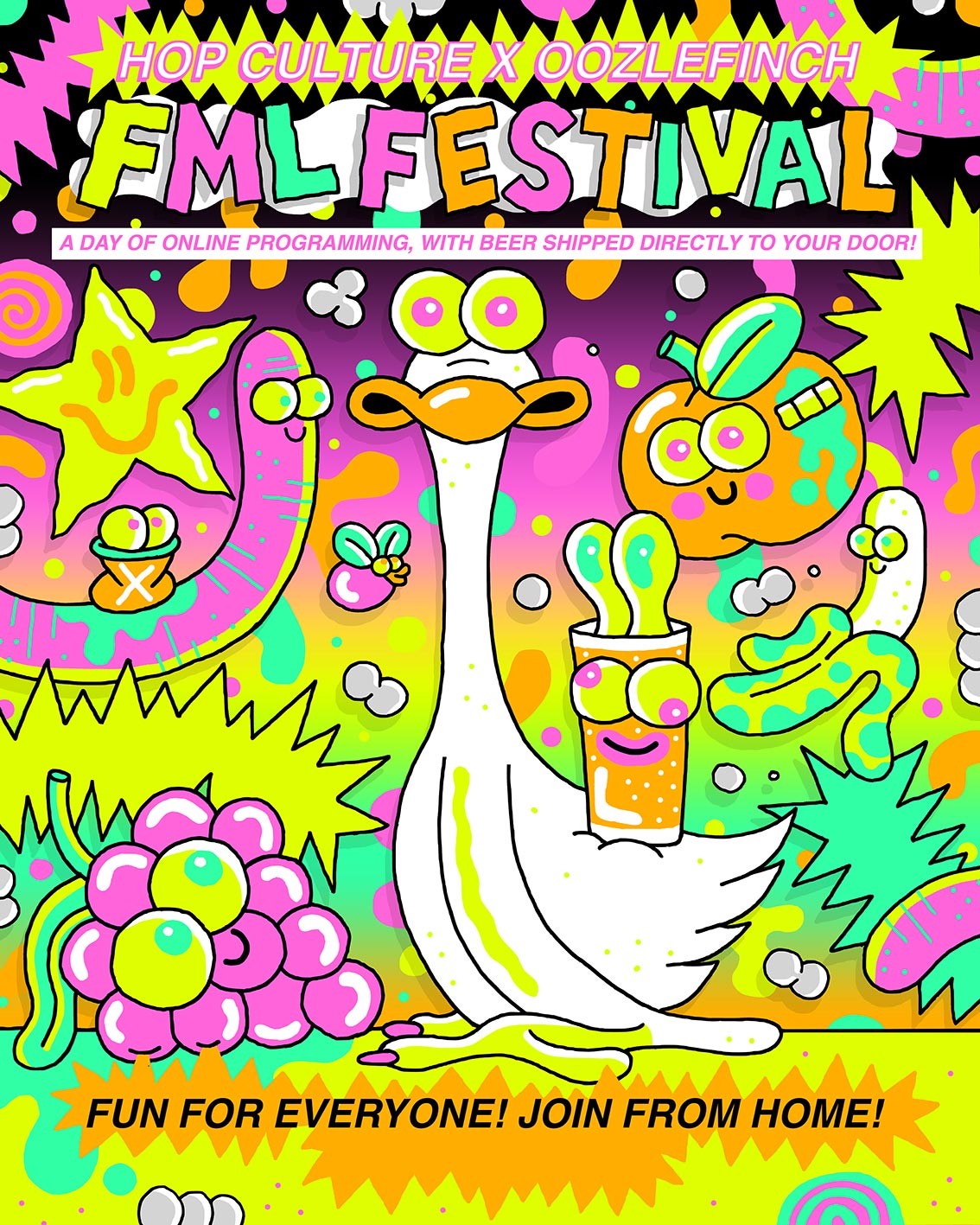 During an interview for Forbes Magazine, Oozlefinch founder Russ Tinsley mentioned to yours truly that he wanted to throw a digital craft beer festival. I couldn't see it happening. Why would anyone want to sit in front of a computer and watch a bunch of other people drink? But that wasn't what Tinsley was thinking.
Rather, Tinsley envisioned a full day of educational programming put on by some of the biggest names in the craft beer industry. To make the event even more robust, he obtained a direct shipping license to eight states and D.C., which would allow him to send a box of eighteen beers directly to consumers.
That was something we could get behind. In 2017, Hop Culture and Dancing Gnome changed craft beer events with Juicy Brews, a more educational, intimate, and fun craft beer festival. Now, Hop Culture and Oozlefinch are changing the game yet again, laying the groundwork for the beer event of the future.
Who's Participating In The FML 2020 Digital Craft Beer Festival?
Currently, Hop Culture and Oozlefinch have revealed that John and Jen Kimmich from The Alchemist Brewery in Vermont will be giving the keynote speech at FML 2020. The rest of the schedule for the festival on August 15th is listed below. Note that times and events are subject to change. (Times are in EST.)
FML 2020 Festival Schedule
12 PM: Beer Yoga w/Suzanne Nagel of The Om Lounge
1 PM: Keynote – Sustainability In Craft Beer w/John and Jen Kimmich of The Alchemist
3 PM: Craft Beer and Instagram Social Media Panel – Instagram accounts: @hopsnobbery, @la_petite_bier, @bendbrewdaddy, @elitraks
4 PM: Intense Flavors and Adjuncts Panel – TBD at WeldWerks, James Dugan at Great Notion, Jeppe Jarnit-Bjergso at Evil Twin, Kenny Gould at Hop Culture
5 PM: Wild Fermentation and Foraged Ingredients Panel – Jeff Stuffings at Jester King, James Howat at Black Project, Rachel Edwards at Oozlefinch Beers and Blending
6 PM: Nationwide Cheers – Kenny Gould at Hop Culture and Russ Tinsley at Oozlefinch
6:15 PM: Pivoting in Fast-Moving Industry – TBD
7 PM: Beer and Beer Cocktails – TBD
8 PM: Craft Beer Photography – Taylor Pogue and Benny Ray at Calusa Brewing
The beer box going to eight states and D.C. will contain eighteen beers from seventeen breweries. As of June 11th, 2020, the following breweries and beers have been announced. Note that beers are subject to change.
FML 2020 Brewery Lineup
Almanac Beer Company – Alameda, California – Gemini Mind Trick
Bearded Iris Brewing – Nashville, Tennessee – DDH Citra Tunnel Vision
Black Project Spontaneous & Wild Ales – Denver, Colorado – KIPPER: Pineapple and Pomegranate
Equilibrium Brewery – Middletown, New York – Photon
Evil Twin Brewing – New York, New York – TBD
Great Notion Brewing and Barrel House – Portland, Oregon – TBD
Hidden Springs Aleworks
Hop Culture // Oozlefinch – Pittsburgh, Pennsylvania and Fort Monroe, Virginia – Green Beer's My Jam
Ingenious Brewing – Humble, Texas – Blueberry Crumble Milk Stout
Resident Culture Brewing Co. – Charlotte, North Carolina – Lightning Drops Hazy IPA
Schilling Beer Company – Littleton, New Hampshire – TBD
Southern Grist Brewing Co. – Nashville, Tennessee – TBD
Tripping Animals Brewing – Doral, Florida – TBD
WeldWerks Brewing Co. – Greeley, Colorado – TBD
Weathered Souls Brewing Co. // Oozlefinch – San Antonio, Texas and Fort Monroe, Virginia – TBD
Tickets for FML 2020 Digital Craft Beer Festival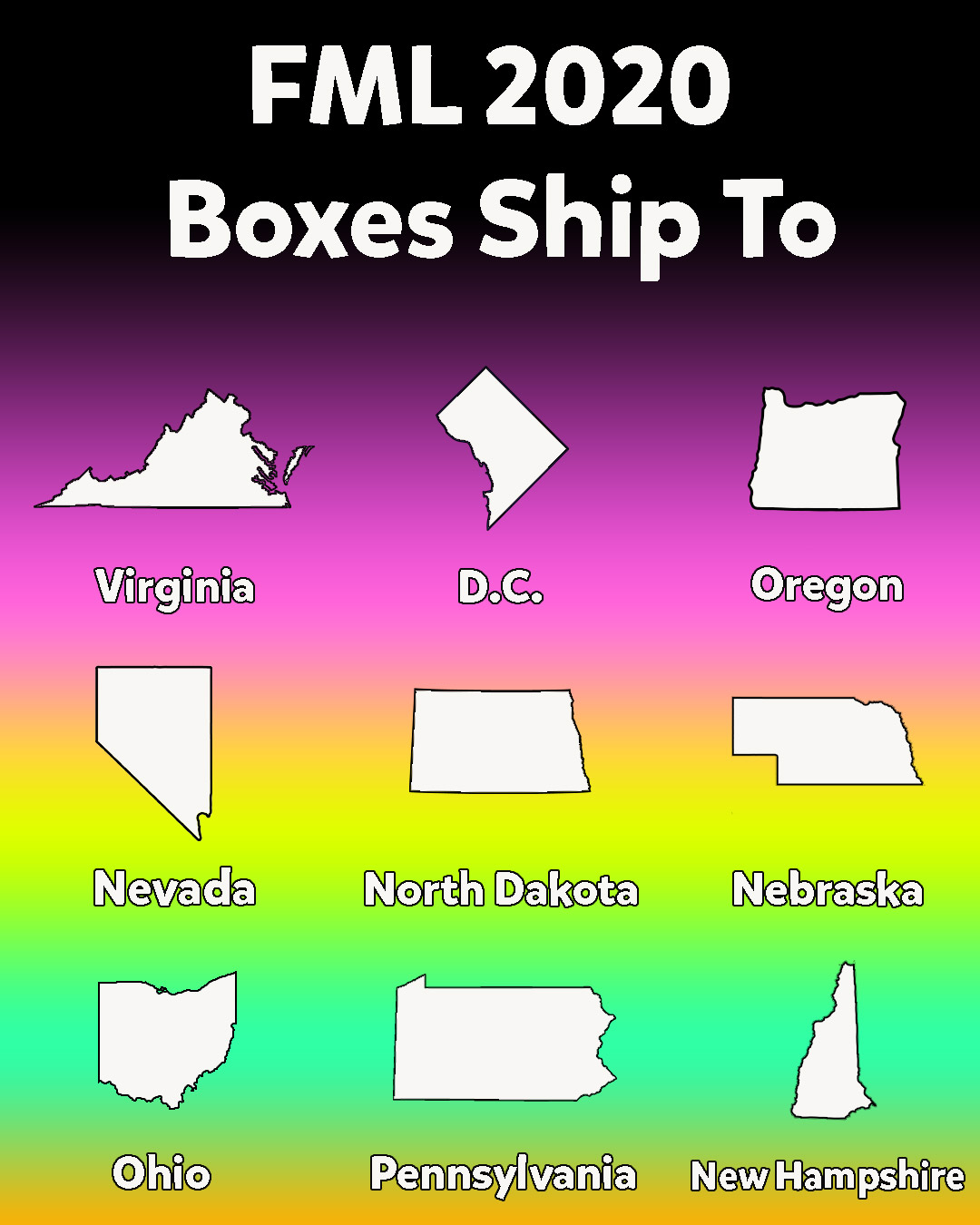 Tickets for the FML 2020 Digital Craft Beer Festival will go on sale on June 17th and will run until July 2nd. The festival itself will take place on August 15th, 2020.
For those in a state that allows direct shipping, beer boxes will arrive the week before the festival. States where direct shipping is available include: VA, DC, OR, NV, ND, NE, OH, PA, and NH ONLY.
Currently, we're offering two tickets: the All-Access Pass and the VIP Beer Box.
The All-Access Pass costs $15 and is available to anyone. It includes access to the full schedule of digital events on 8/15/20.
The VIP Beer Box costs $175 and includes an All-Access, as well as the box of 18 curated beers, shipping, and an exclusive festival glass. The Beer Box is only available in states that offer direct shipping.
Liked this article? Sign up for our newsletter to get the best craft beer writing on the web delivered straight to your inbox.