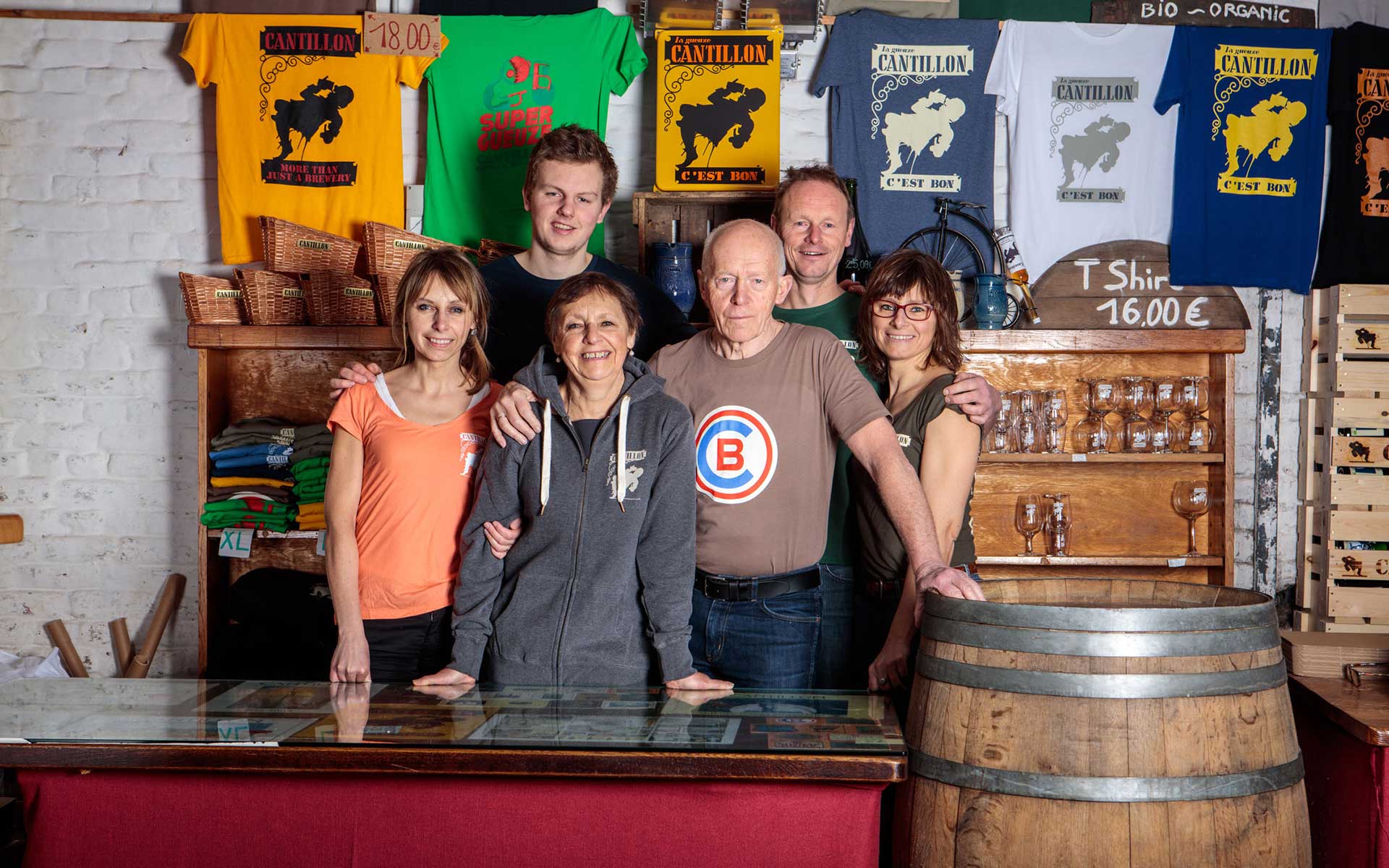 If you're on a quest to drink a wide range of phenomenal Belgian beers at the source, here are four venues—one brewery and three bars—that deserve your attention. Undoubtedly, there are others. Belgium is a small country, but its long, rich history of beer-making and beer-drinking—from Trappist monasteries to Flemish farmhouses to modern-day experimental craft breweries—means that there are innumerable sacred locales to imbibe and contemplate these endlessly inviting ales. What follows are simply a few places, and some beers to try at them, that I've found to be unforgettable.
Cantillon
Rue Gheude 56, 1070 Anderlecht, Brussels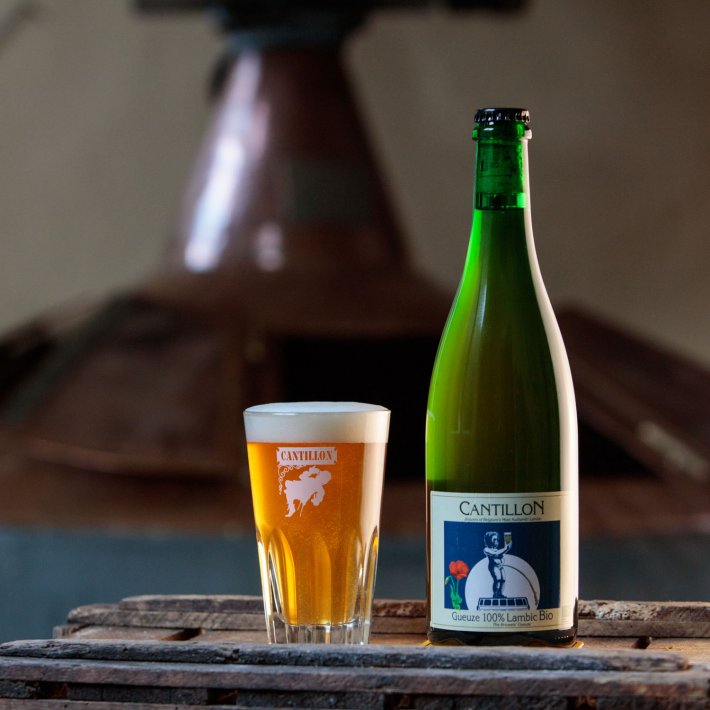 Duh. What makes Cantillon arguably the world's best brewery is its humble confines, preference for substance over style, and painstaking dedication to its core principles of beer-making, many of which are at odds with contemporary American trends. First, you'll never drink a Cantillon beer with fruit juice or other added adjuncts. Cantillon is renowned for its fruit-forward lambics, but they're made with whole fruit placed in the barrel and left there to impart its flavors over time. The Kriek (cherry) and Rosé de Gambrinus (raspberry) are most popular, and you can enjoy them on tap in the lounge area. But I recommend grabbing a bottle of the Fou'Foune (apricot), lovingly served in a woven basket with the bottleneck at an angle so that you can tilt and pour without lifting it out.
Secondly, you'll never drink a dry-hopped beer from this brewery. Cantillon beers utilize hops only in the sense that nearly all beers must, for preservation, but never as part of the flavor profile. "We don't care about hops at Cantillon," our tour guide told us, making sure we heard him right.
Moeder Lambic
Place Fontainas 8, 1000 Bruxelles
Many other bars in Brussels offer longer beer lists, but Moeder Lambic manages to be the consensus beer-nerd destination. Brussels is many things at once, nestled at the convergence of the southern French-speaking and Northern Dutch-speaking parts of the country, as well as both sleekly modern and steeped in tradition. Moeder Lambic is like a microcosm of the city: you'll find traditional styles (Trappists, blondes, ambrées) represented alongside American-style IPAs and collaborations with the city's best and newest breweries.
If you think Belgian beer is all about antiquated abbey styles or funky farmhouse and spontaneous fermentation ales, a pour of something from Brasserie de la Senne or Brasserie Jandrain-Jandrenouille will reassure you that this country continues to produce some of the world's most cutting edge and experimental beers. As a bonus, after spending a couple of hours getting tipsy in here, grab a chocolate waffle, wander through the Grand Place, and gawk at the pissing mannequin statue, which for some reason is a thing.
De Garre
De Garre 1, 8000 Brugge
Bruges is a pretty town, and millions of tourists have gotten the memo about its prettiness. Spend time wandering around the canal and climbing the belfry, all while being literally smashed up against hundreds of other people doing the same thing, but when you need a little respite—and a beer list that absolutely slays—find De Garre. It will take a little bit of searching. If you're following your phone's directions, you'll probably walk right past it and then be confused when the little dot moves past where you were supposed to turn. To be fair, this place is not that much of a secret – it's just down a narrow alley that you wouldn't notice unless you knew what you were looking for.
This is a great spot to try a few beers that are completely essential but not actually that easy to find. For me, it was Sint-Bernardus Pater 6 (a crushable, well-balanced abbey dubbel), Achel Blonde (a lesser-known Trappist ale with an absolutely gorgeous, subtle yet complex flavor profile), and Boon Kriek (way too sweet, in my humble opinion; stick to Cantillon or, when stateside, Cascade). There's also the house tripel, an 11+ % take on the style, brewed by Brouwerij Van Steenberge. Spicy, only a little boozy and only a little sweet, this is one of my favorite tripels ever. You will occasionally find the Tripel Van De Garre at a specialty beer store in the states, and when you do, it will be a good day.
Billie's Bier Kafétaria
Kammenstraat 12, 2000 Antwerpen
There are lots of great, old beer pubs in Antwerp, but like the towering Cathedral of Our Lady in nearby Old Town, Billie's rises far above the fray. On a nice night, this is the perfect place to sit outside, people-watch, and pre-game with phenomenal beers before bar-hopping through the more touristy (but still awesome) "brown cafés."
Billie's is likely to have whatever you're looking for, including some hard-to-find vintages of gueuze (which, thanks to my server, I learned is pronounced "hoyzuh" rather than "gooz"). I tried the Hanssens and the Girardin Black Label, both of which rival the complexity and utter transcendence of Cantillon's legendary gueuze. The blending of aged and new lambics gives these beers a dry, sour, Champagne-like character, and yet, paradoxically, they also taste juicy and fresh. Brussels may be the true gueuze mecca, but it's well worth your time to make the short trek to Antwerp, and to Billie's.
Liked this article? Sign up for our newsletter to get the best craft beer writing on the web delivered straight to your inbox.