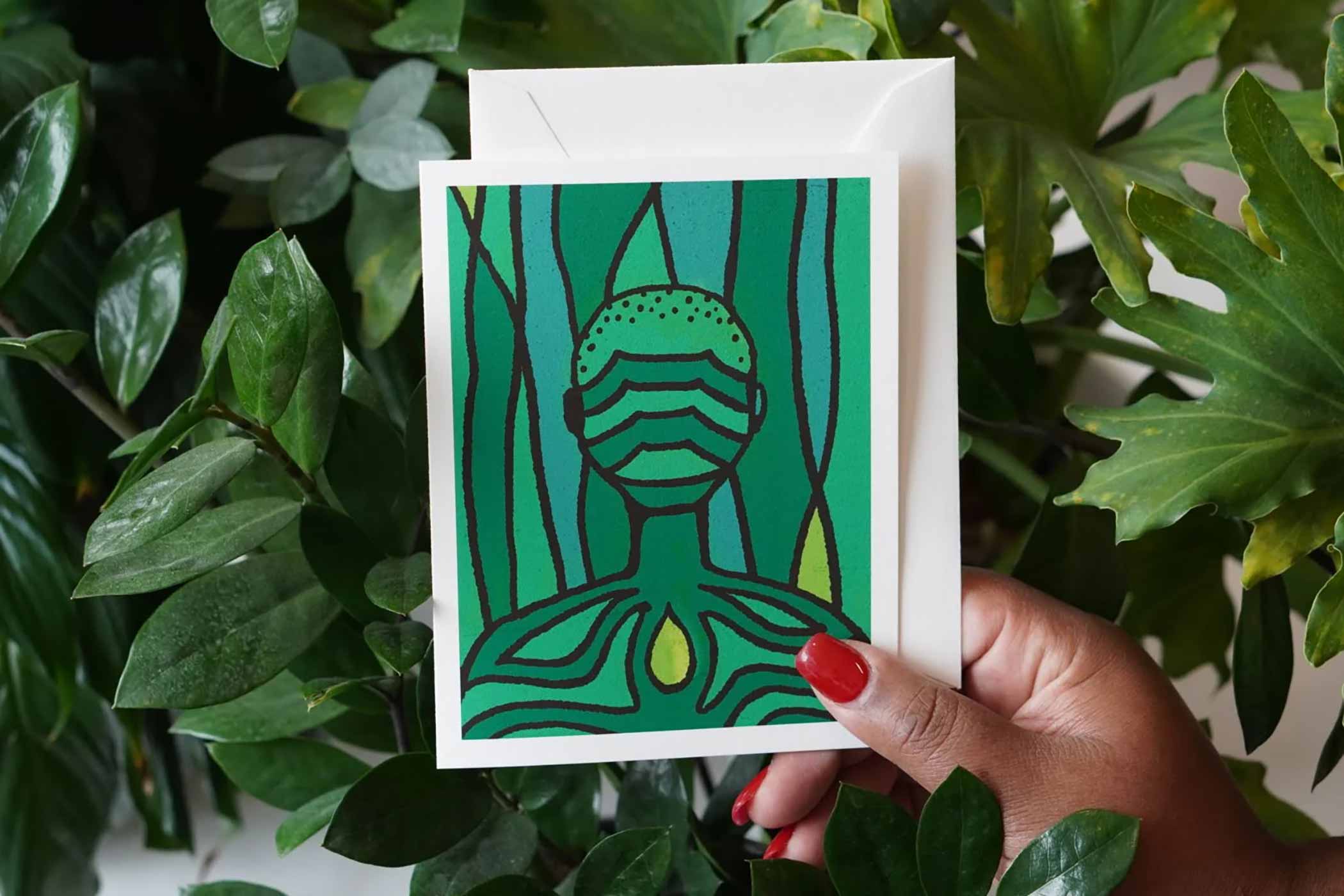 Artwork courtesy of G. Qulture
Editor's Note:
Hop Culture commissioned G. Qulture to create the brand identity for Queer Beer in 2023. For full transparency, Hop Culture Senior Content Editor, Grace Weitz, has known G. Qulture Co-Founders Laur and Jesse for over a decade.
We have been so excited to team up with G. Qulture for this project.
Get your Queer Beer Box here!
Imagine you could build your own brick-and-mortar shop. What would you fill it with? What would it look like? What would you hang on the walls? How would you color the space?
For the Black, Queer-owned art brand G. Qulture, co-founders and life partners Laur (she/they) and Jesse (they/them) Garner dreamed their sanctuary was "this green, healing, cool, bright space, " says Laur. "So we create art to fill that imagined store."
Celebrating the intersection of the Black, Queer space by showcasing the non-binary beauty in the world through art, G. Qulture's illustrations beautifully advocate for a safe space for everyone regardless of race, gender, sexuality, ability, or class.
For the last few years, the seeds G. Qulture has planted to water the Black and Queer communities have started to bloom.
When Hop Culture set out to create a brand identity for its 2023 Queer Beer Box, we knew we wanted to commission an artist who shared our synergistic mission to create safer spaces for all folx in craft beer. No matter your gender identity, gender expression, sexual identity, the color of your skin, age, etc.
We were beyond excited to collaborate with G. Qulture for our 2023 Queer Beer Box because if you dig a little deeper into the dirt to find both our roots, you'll quickly learn that the only way we can grow together is by healing our soil.
G. Qulture Plants Seeds for a Brighter Future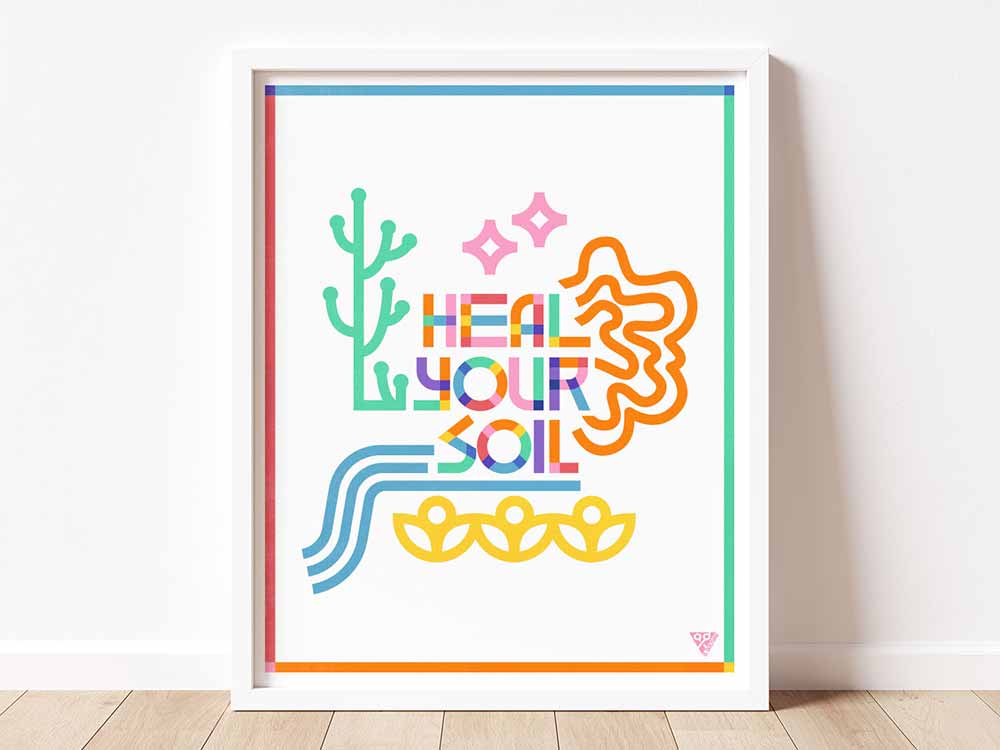 Since Laur and Jesse met over a decade ago, they've always shared not only a real love but also an affinity for art.
"We've been making things together ever since we got together," says Jesse. First through an Etsy shop and later with G. Qulture.
But it wasn't until the global pandemic forced everyone inside physically, emotionally, and mentally that G. Qulture became a reality.
"We were looking at it as a way of making community art for Queer people, by Queer people," says Jesse. "We really wanted it to be intersectional and our way of sending out our art to the world at a time we really felt disconnected."
Which is why you'll find many of G. Qulture's prints, postcards, t-shirts, and stickers Queer-leaning with what Laur calls a "nature and mental-health edge."
"Our mantra for the first year was 'heal your soil,'" Jesse explains. "[G. Qulture] is tied to our own journey of trying to heal ourselves. We express that through artwork with the idea that maybe someone else is feeling similar."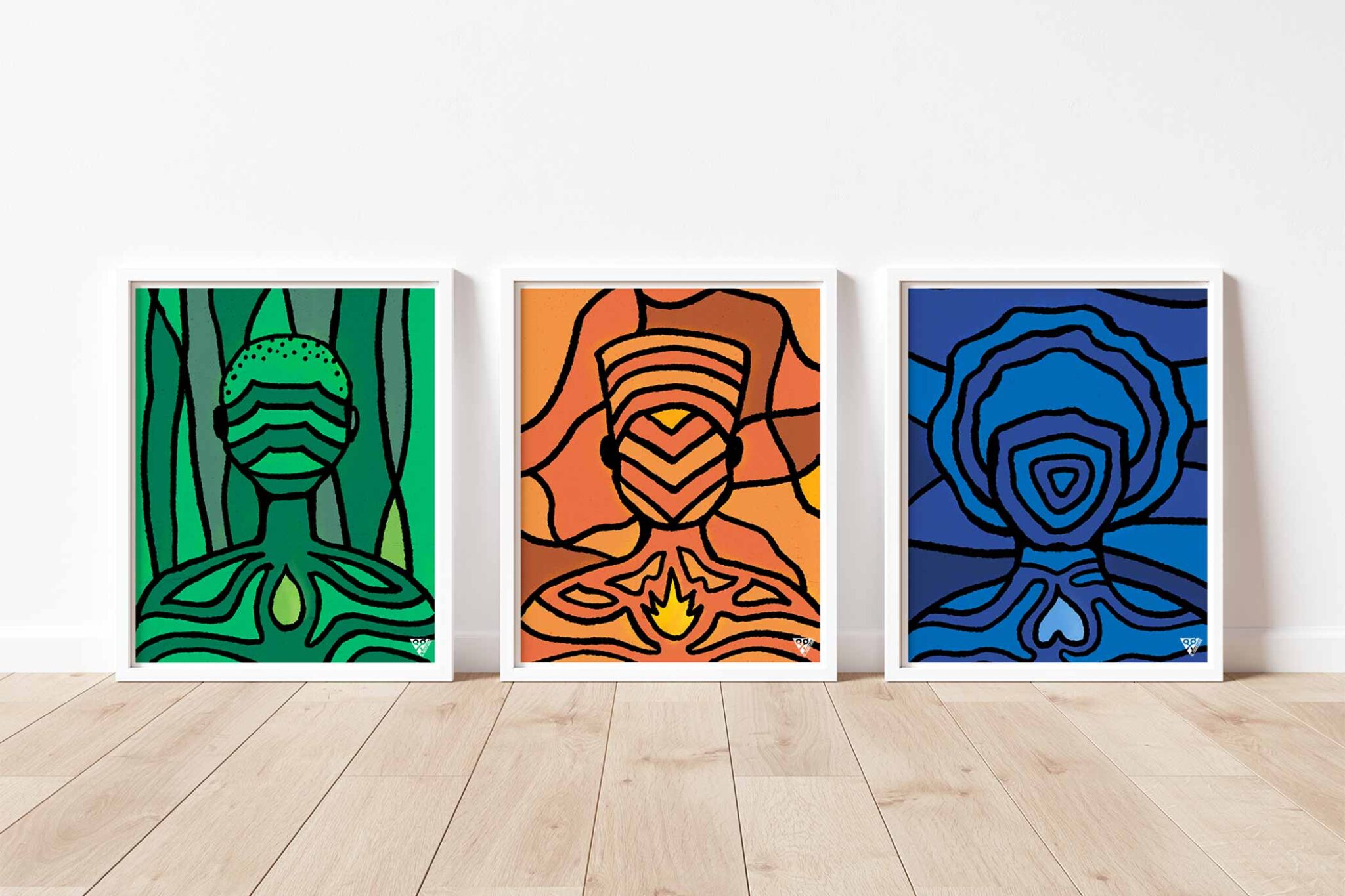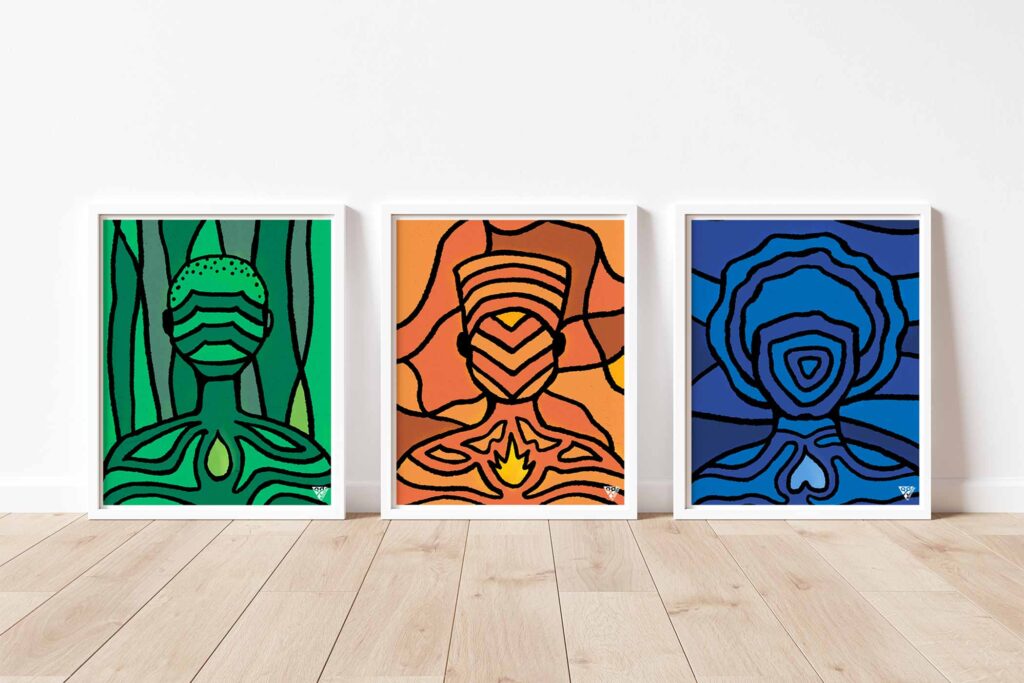 For instance, the first triptych G. Qulture released called "Name Yourself" includes three panels dubbed "Earth," "Wind," and "Fire."
Through shapes that seemed to jump off the print and bold colors (bright blues for water, burnt oranges for fire, and forest greens for earth), Jesse and Laur's designs meld into Afrocentric shapes inspired by an episode from the show Lovecraft Country called "I Am."
According to Jesse and Laur, the scene depicts what happens to a character who accidentally slips through a portal into an alternate reality and along the way meets a being that demands that she name herself.
"The episode is all about identity, agency, and self-actualization for a woman who feels trapped by the constraints of gender, race, and the identity that has been imposed on her by society," they say.
For Laur, "Name Yourself" has come to represent the journey of G. Qulture. "We were really in sync," she says. "Sometimes we have a hard time creating a piece that matches our vision, but with this one, never before had it flowed out so easily … [Name Yourself] brought together what I was excited about for this company."
Because while G. Qulture may have started making art during a time of unprecedented turmoil, one might argue that today, we need their identity-defying, binary-breaking art more than ever.
Tearing at the Seams of Society One Print at a Time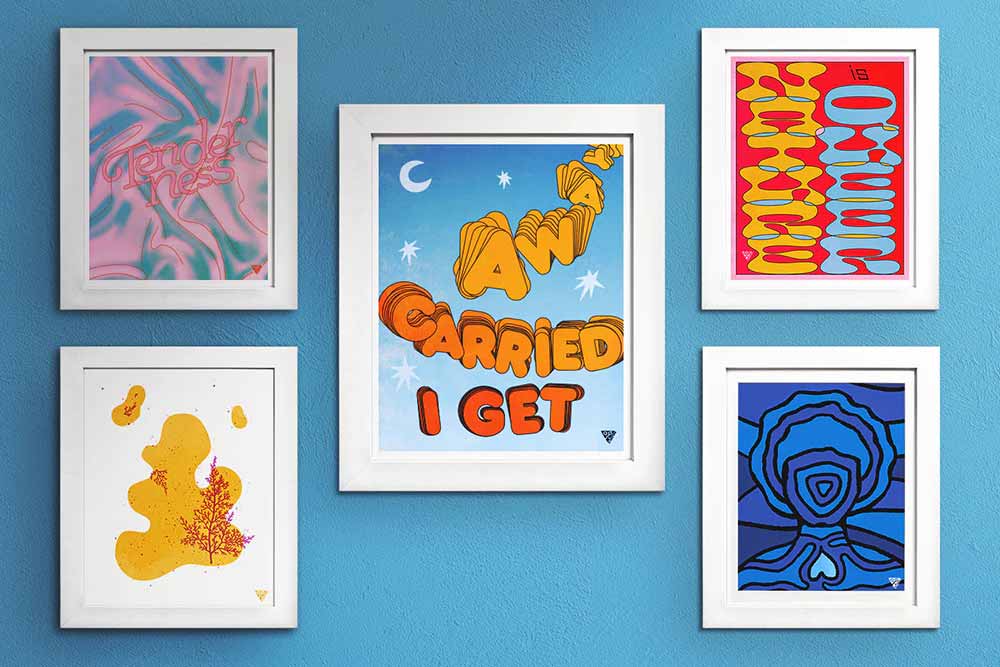 A lot has happened over the last three years. Since 2020, we've experienced a global pandemic, watched the murder of George Floyd, and experienced the continued harassment of the Queer community.
In 2023 alone, 17 states across America have introduced over 500 anti-LGBTQIA+ and anti-trans bills.
"We're at a time where Trans existence and Queer rights are just so under attack in a really different way than we're used to in our generation," says Laur.
During this time, G. Qulture has become more than just a place for Laur and Jesse to create art. It's a place where they can illustrate how they're feeling as a Queer interracial couple and family in America.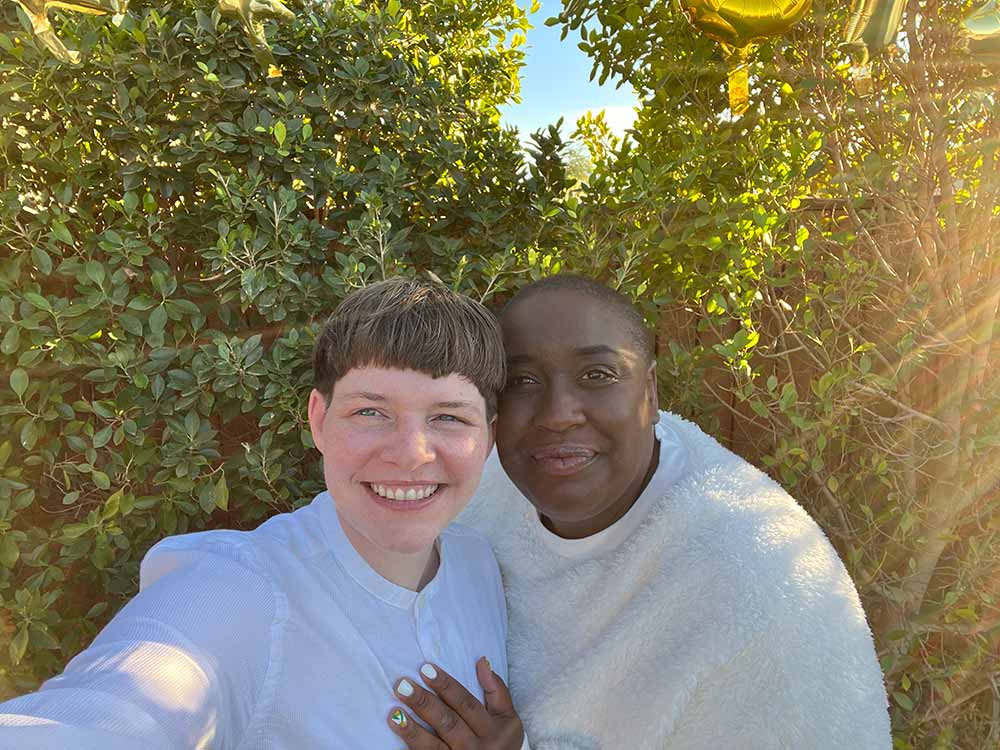 The company, much like the art inside its metaphorical walls, lives and breathes on its own, growing in tandem with the duo's lives and their three-year-old son, Kendall (who helps pack orders and put stickers on packages).
"When I was little, my dad planted a tree in the yard, so I always grew at the same time as the tree," says Laur. "This tree was as old as me! It's cool that G. Qulture is like that tree marker for Kendall, and I hope that he feels like this business is as old as me."
Dropping little pieces of yourself into each design and manifesting it into the world takes courage. You're literally wearing your heart on your sleeve.
Meaning every piece G. Qulture makes has a purpose.
Prints With a Purpose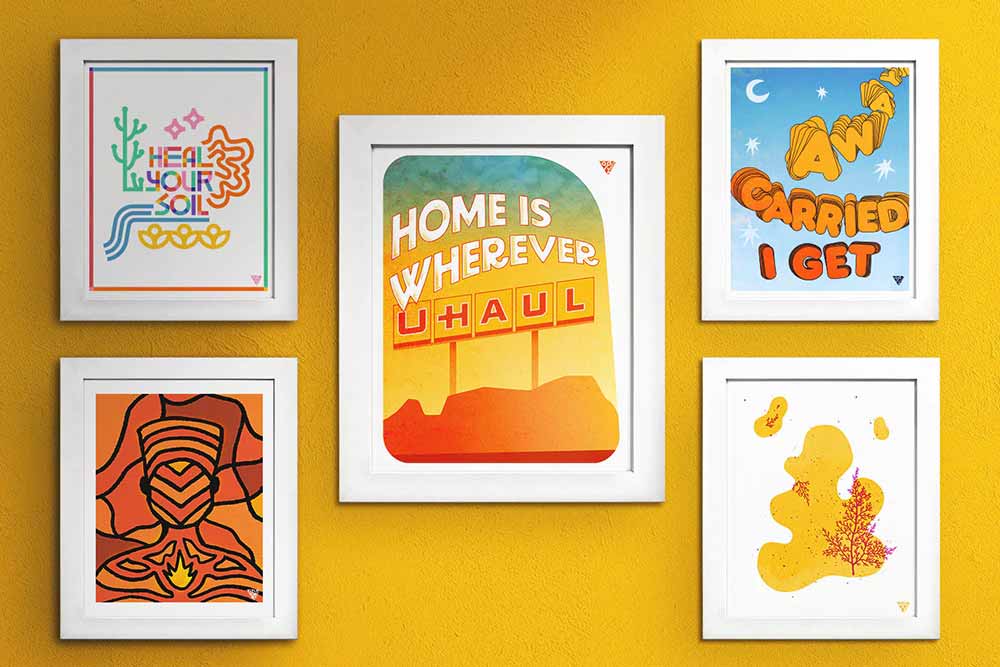 Wwhen Jesse and Laur create a series called "Nature Is Queer," it's not only fulfilling a personal mantra, it's an expression of how nature and organisms interact.
"Evolution is just one part of the story," says Jesse. "It's a competitive version, but it's really reductive, and in actuality, nature is a really complicated ecosystem that is, for the most part, working together to do things and live in harmony."
In other words, nature isn't binary like we're taught in society or science class. "This is only a fraction of the story and not even really the dominant one," says Jesse.
To reflect or perhaps rebel against this linear interpretation of nature, G. Qulture broke all the conventional rules.
They illustrated the words "Nature Is Queer" vertically with the "is" in a left slant italic (i.e., conventionally the "wrong way") and overlapped the letters—also a big no-no in design.
"We're taking all of the rules of Western writing and reading and flipping them," says Jesse. "A lot of people can't read it, but people love it."
In fact, because people need to take time to stare at, dissect, and sit with the piece, it causes discussions. Actually, Jesse points out that because the letters overlap, "it's like they're in conversation with each other instead of just existing side by side," they say.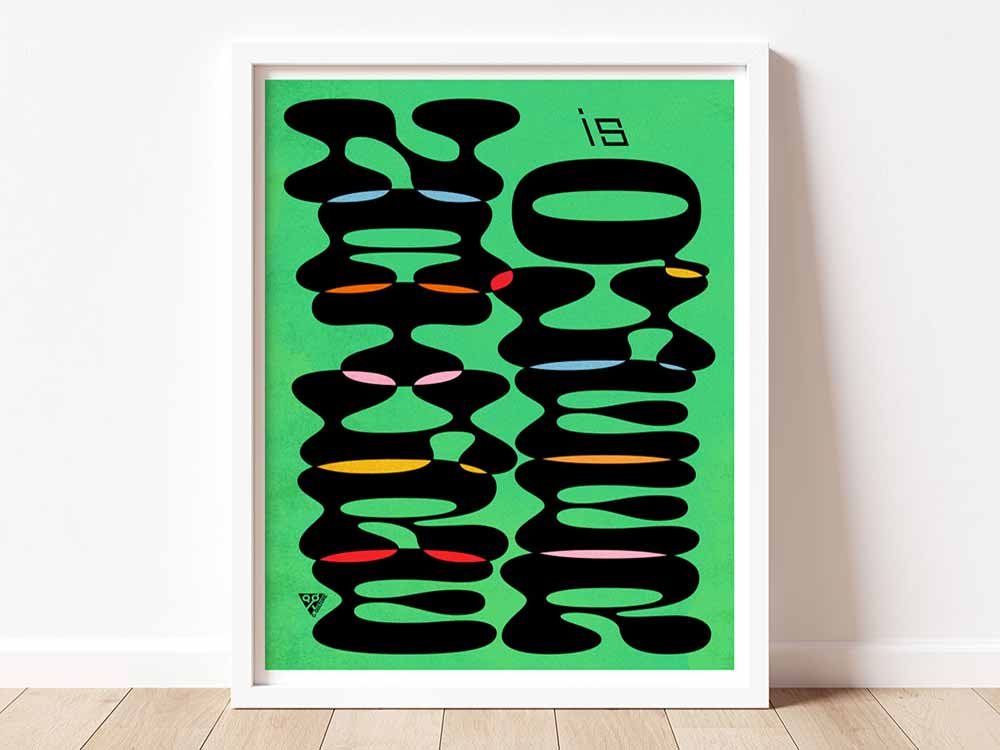 "Nature Is Queer" forces us to realize that what we accept in society every day isn't actually normal. And if we instead question the reality around us, we could start to break down these systemic structures that hold back certain genders, races, and sexualities.
This is the true power of G. Qulture. You could look at one of their pieces and go hey, I think those are amazing colors, I love those shapes, wow, these look so cool. Or you could take a second, sit with them, and unpack something that asks you to dig deeper into the soil.
This will be the only way we heal. And subsequently, grow.
"It's easy to fall into this place of anger, frustration, and disappointment with how you don't feel like you're allowed to exist as yourself," says Laur. "But, G. Qulture is a space of joy and celebrating through what we create."
Hop Culture Commissions G. Qulture for Queer Beer Brand Identity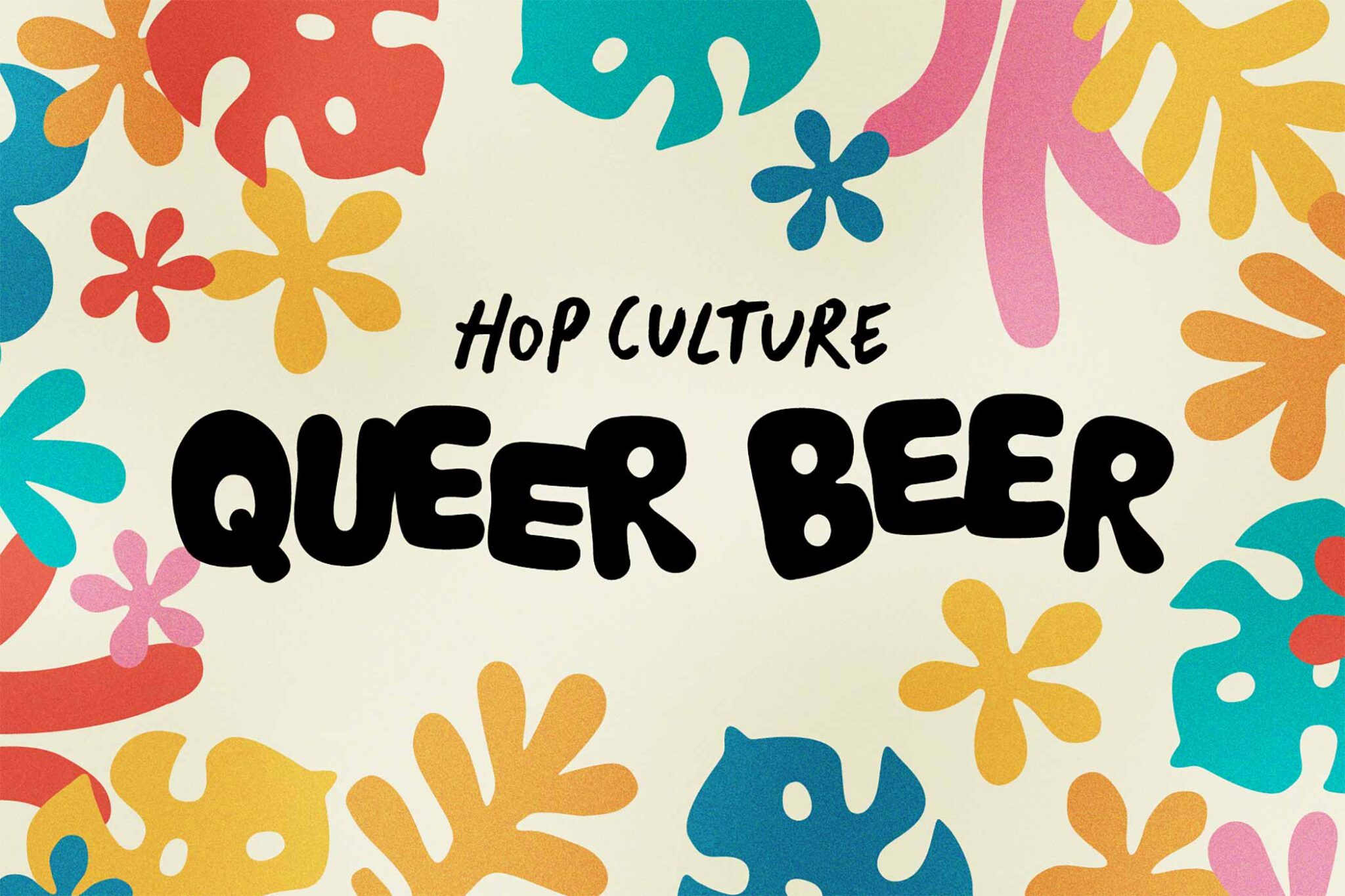 Last year, Hop Culture hosted an in-person Queer Beer festival for the first time in Washington, D.C.
G. Qulture participated as a vendor, showcasing its prints, apparel, and merch to fest-goers.
"It was a really affirming event for us in a way," says Laur. " People that were all there felt this—it wasn't pride, but it had this feeling of acceptance and just feeling at home in this community that I haven't really before in places that are not Pride."
For eight hours over the course of two days, Queer Beer brought out drag queens of all colors, shapes, and sizes; BIPOC, Latine, AAPI, men, women, femme-identifying, male-presenting, straight people; and, of course, Queer folx, holding hands, smiling, laughing, and above all, enjoying the f**k out of some beer.
"It was a very welcoming, wonderful space, and everyone was just so excited to engage with our art," says Laur. "Queer Beer is creating a really cool community of beer drinkers but also Queer, like-minded people."
And that's how G. Qulture approached creating Queer Beer's brand identity for 2023.
By thinking back to that space the festival made.
"What was this community creating?" asked Laur. "If this was a Queer beer garden, what are the things that would be in it? What would it look like? What would it feel like? What would the people be doing? What would the music sound like? What would it be?"
Laur and Jesse translated all those feelings into a design exuding warm, joyous colors with natural, floral elements seeming to wave and exist harmoniously with each other in the same space.
"We had this idea of a really lush healing space where people are coming together in community, and it's really inclusive, accessible, and warm," says Laur.
That's Queer Beer to an LGBTQ+.
I always wanted Queer Beer to be a safe space, but I wasn't sure how to visually represent that feeling. G. Qulture took the mission of Queer Beer, broke it down, and built it back up into a living, breathing identity that will continue to grow.
What Is the Future of G. Qulture?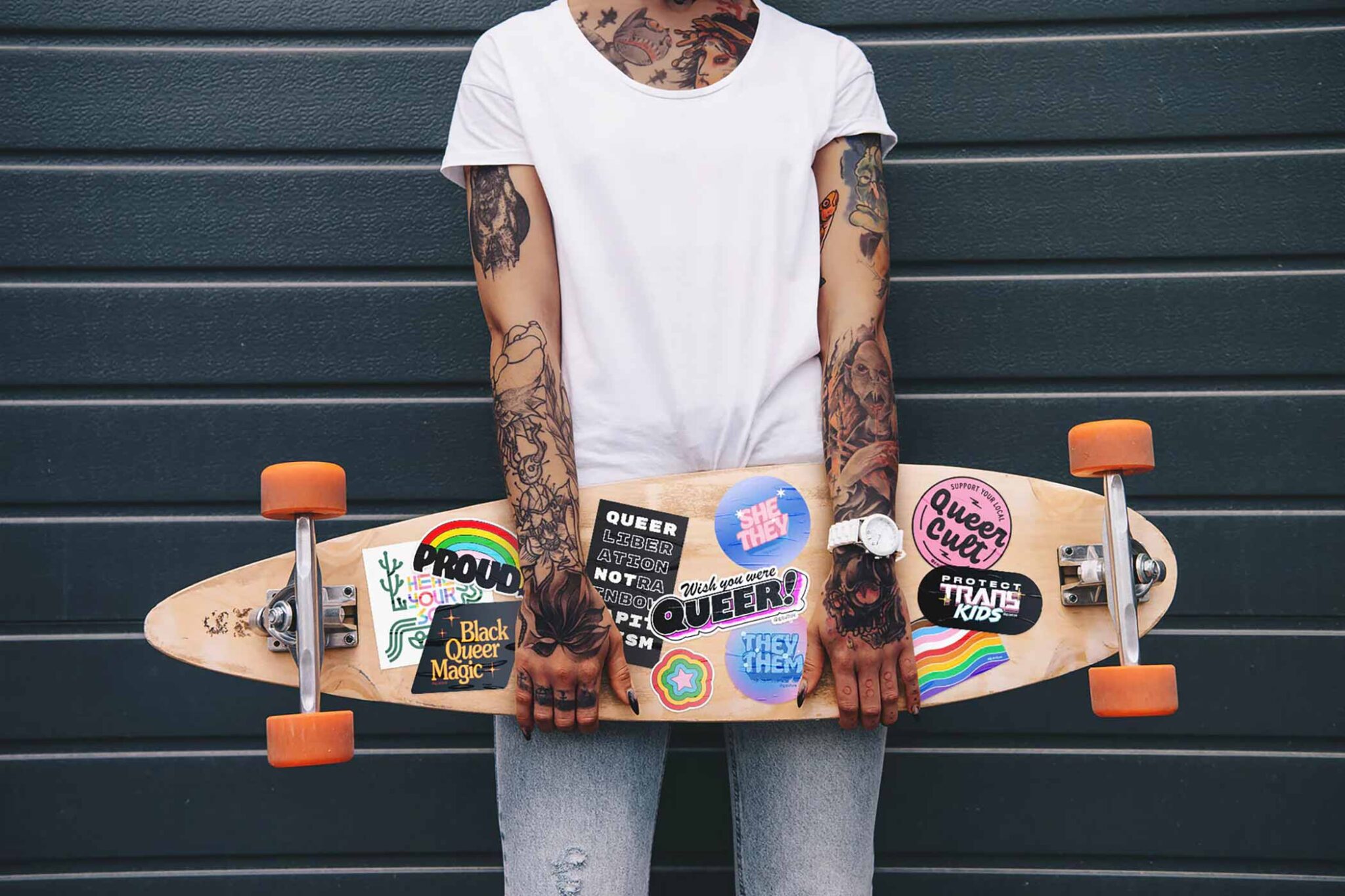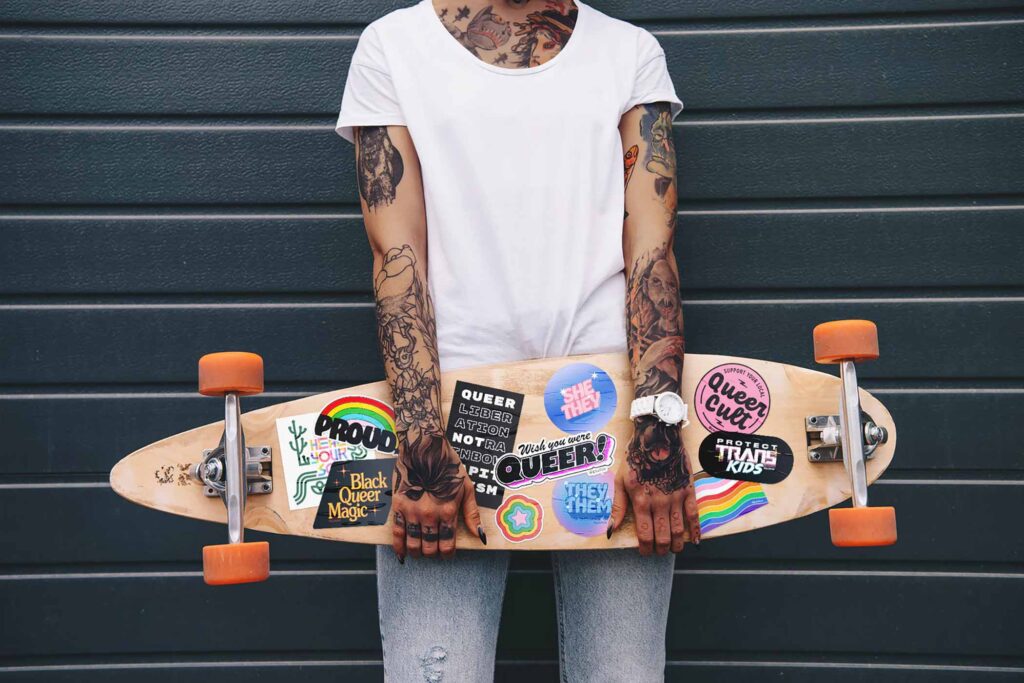 If G. Qulture started with the idea of filling a hypothetical space, it would make sense that the future includes an actual brick-and-mortar. A place where Laur and Jesse can showcase their art but but also host events, bringing together people in the community.
While they say they don't have any firm plans yet, "I think we're always trying to create space and hold that space, so having a physical space would be that," says Jesse.
For now, you can find G. Qulture's illustrations, apparel, and merch in a store called Shop Made in D.C. or in their online store.
And Laur shared that starting in July, G. Qulture will be dropping new items through the next few months in what they've dubbed "G. Qulture Summer of Love." Expect new merch items such as hats and restocks from some of their old prints.
It's almost too poetic, but by partnering with Queer Beer, G. Qulture has helped us visually create the thriving beer garden we always envisioned, where people of all sizes, shapes, colors, genders, and sexual identities could come and drink beer in a safe space.
"G. Qulture is about exploration in the community, things being fluid, things not being binary in any way of this is the right way to do this or not," says Laur. "It's like everything is existing all at once, so how do we celebrate that in every aspect?"