Hop Culture comnissioned Black-, Queer-owned art shop
G.Qulture
to create Queer Beer's brand identity
Editor's Note:
Grab your 2023 Queer Beer Box here.
Hello Squirrel Friends! Grace Weitz here, Senior Content Editor for Hop Culture. In 2020, I started Queer Beer for one simple reason: I'd never found anywhere to drink craft beers with a bunch of Queers (let's be honest, I've had plenty of PBRs with a bunch of Queers, but that's a different story. Shout out to my 🍕family…and Scarlet!).
I started in this industry selling beer for a local Chicago brewery, and I'll admit that I felt very alone. Out on my route, I always ran into, to be candid, a bunch of white cis dudes, most likely with some type of facial hair.
So in 2018, for my NYU graduate school thesis project, I started Beers With(out) Beards, a seven-day event with panels, workshops, and a beer festival celebrating women, femme-identifying, and non-binary folx in craft beer. After three successful years with thousands of participants engaging in conversations, drinking rad beers, and coming together with good vibes, I naturally thought: Well, hot damn, why can't we put together an event for Queer folx in craft beer? Why can't we create a safe space where all, no matter your background, race, gender, sexuality, ability, or what have you, can come and drink incredible beer?
Three years ago, during a global pandemic, we hosted Queer Beer as a virtual festival with an accompanying beer box. Last year, we threw Queer Beer in person festival in Washington, D.C., for the first time.
I'm not saying this lightly: It was the most incredible, colorful, vibrant festival I've ever been to, and many shared those same thoughts.
I remember an older, straight, white couple coming up to me, sharing that their kid came out as Trans and how thankful they were to know these welcoming, safe spaces existed. I saw drag queens of all colors, shapes, and sizes. I saw BIPOC, Latine, AAPI, men, women, femme-identifying, male-presenting, straight people, and, of course, Queer folx, holding hands, smiling, laughing, and above all, enjoying the f**k out of some beer.
Presenting Hop Culture's 2023 Queer Beer Box!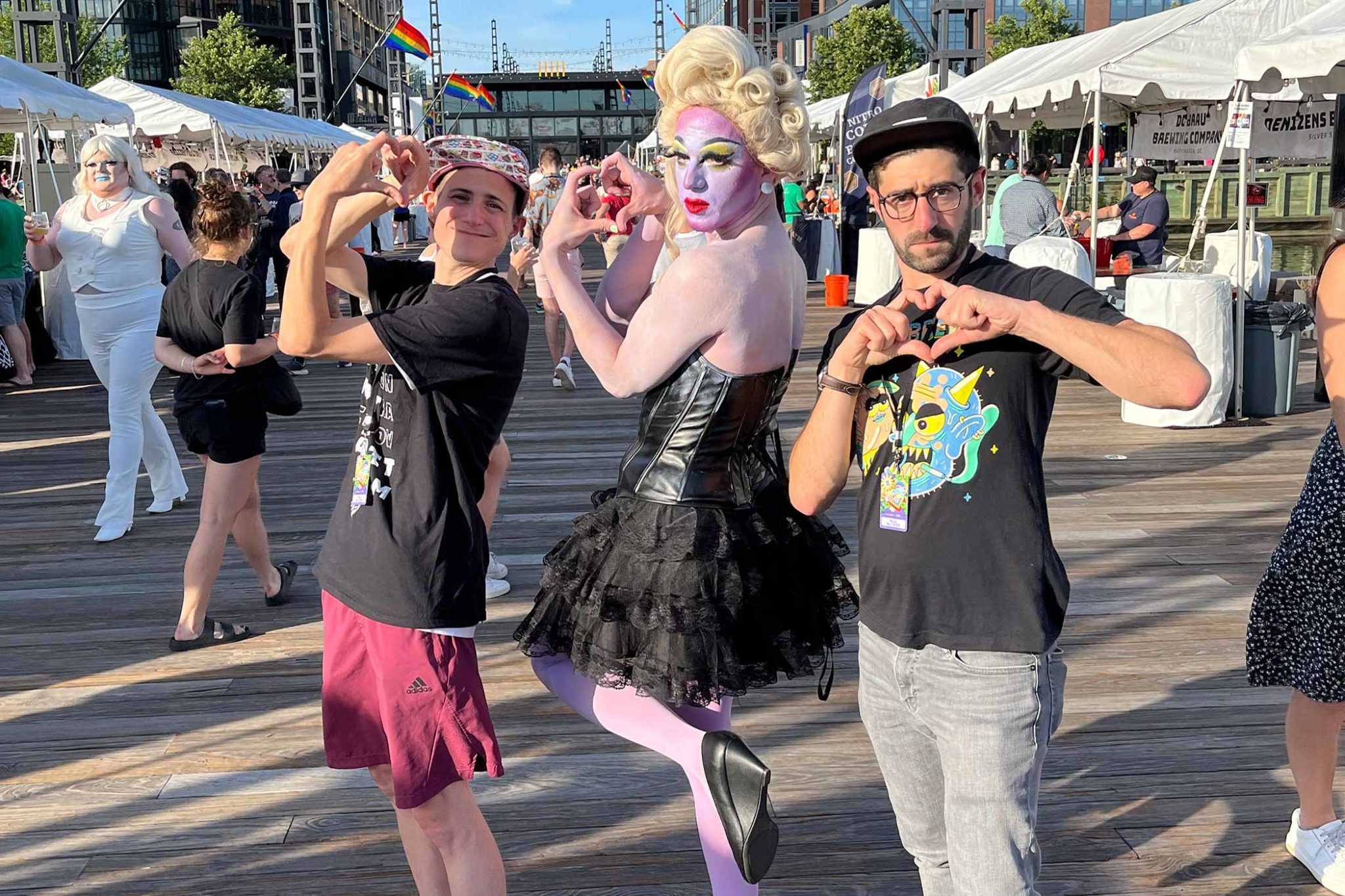 This year, Queer Beer returns as a first-of-its-kind beer box, showcasing LGBTQIA+ drink makers, sharing stories of empowerment from top Queer-owned and Queer-supporting breweries, and building a stronger culture of inclusivity in the beer industry by celebrating those that are creating safe spaces.
See, we have another goal in mind.
We want to tell the stories of and support Queer-owned, Queer-led, and Queer-supporting breweries 365 days a year. Not just on one day for a festival. And not only for thirty days during Pride month.
So this will be the first step in Hop Culture's ongoing support of different Queer breweries, spotlighting their stories and enjoying their beers with new, creative offerings in the future.
(Want to stay up to date? Sign up here to stay in the know!)
To kick us off, the first Queer Beer Box includes the following breweries: Bow & Arrow, Cerebral, City-State, Denizens, Goldspot, Lady Justice, Marz Community Brewing, Necromancer, Resident Culture, TALEA, Ten Eyck, and Virginia Beer Co.
And we're shipping all these beers straight to your door thanks to our partner at Half Time for free! Yes, shipping and handling is all included. (*Boxes will start shipping in early July 2023*).
Additionally, Hop Culture and Half Time will donate $5 from every Queer Beer Box sold to a Queer-led organization.
In this Queer Beer Box, we're teaming up with Meals On Us PDX, an incredible organization started by Mark "Goose" Guzman to create chef-cooked meals for anyone suffering from food insecurity and for Trans folx recovering from gender-affirming surgery in Portland, OR.
And to develop the Queer Beer brand identity, Hop Culture commissioned G. Qulture, a Queer- and Black-owned art shop bringing intersectionality and intentionality to art that helps you qultivate your space and mind.
Started by Laur and Jesse Garner, G. Qulture showcases the non-binary beauty in the world through art. Their illustrations beautifully advocate for a safe space for everyone regardless of race, gender, sexuality, ability, or class.
Hop Culture shares a synergistic mission with G. Qulture and Meals On Us PDX, so we are beyond excited to work with both for Queer Beer 2023!
So, Why Did You Create the Queer Beer Box?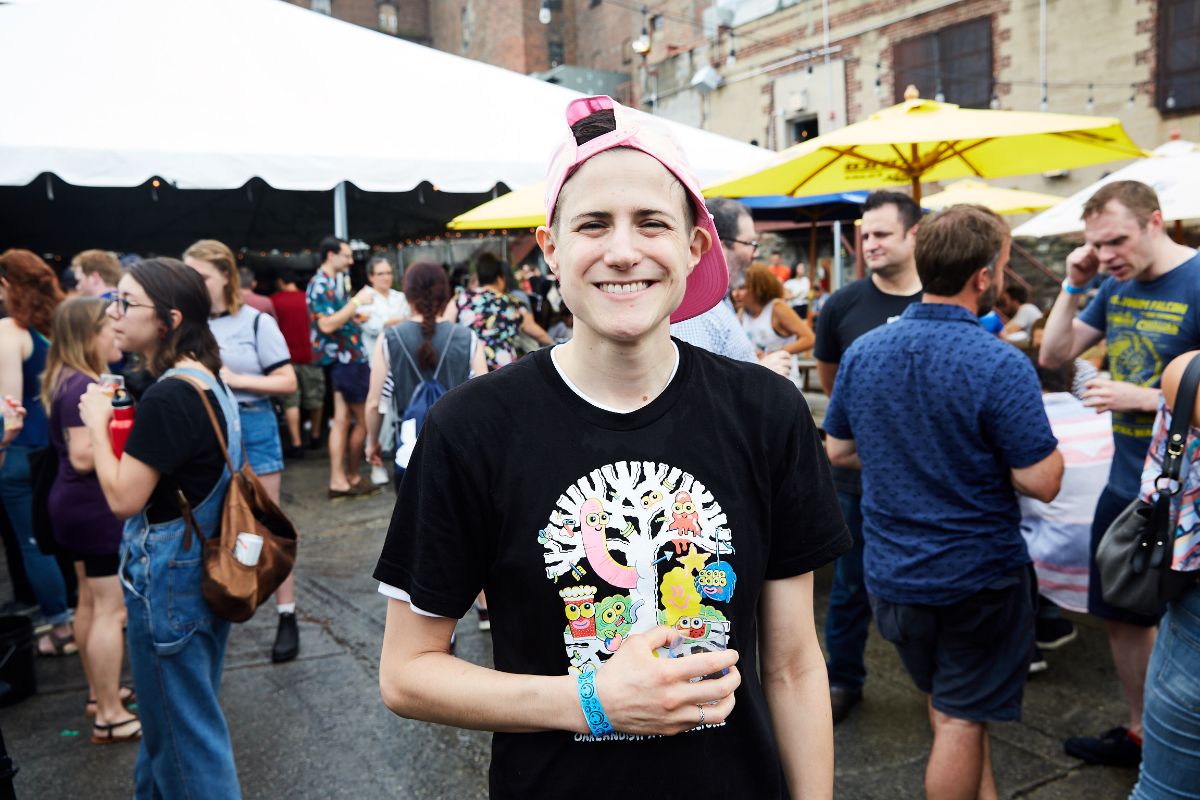 Great question!
I started Queer Beer to create a space where everyone felt welcome to show up, taste excellent beers, and cultivate conversations about how to tell the stories of an unrepresented community in craft beer. And now more than ever, Queer Beer is an initiative where everyone can share their voice in a predominantly white, straight, cis-male industry. (If you're wondering why that's important, please read our new 10-part series on "Creating Safer Spaces in Craft Beer").
The 2023 Queer Beer Box takes pride in representing lesbian, gay, bisexual, transgender, queer, intersex, and asexual folks or allies in the beer industry.
I'm not going to sugarcoat anything here. The Queer community has faced challenges for many, many decades now.
And this year is no different.
For instance, last month, Bud Light inexplicably fired two members of its marketing staff and pulled ads featuring trans influencer Dylan Mulvaney after people boycotted the campaign.
Most recently, Target removed part of its line of LGBTQIA+ products after threats and damage to some of its stores.
And across America, at least 17 states have introduced over 500 anti-LGBTQIA+ and anti-trans bills.
For these 500+ reasons and more, we're committed to advocating for and promoting Queer-owned and Queer-led breweries in our industry 365 days a year.
That's what the Queer Beer Box represents: an opportunity to grab the box, learn about the people behind these Queer-owned or Queer-supporting breweries, and drink their beers…ALL. YEAR. LONG.
So if, like us, you believe in Pride 365, sign up here to be the first to learn about what's next for Queer Beer.
When and How Can I Buy the Queer Beer Box!?
Hop Culture's 2023 Queer Beer Box goes on sale at 12:00 PM EST on June 16th, 2023. You'll be able to purchase the boxes here.
Read on to find out answers to some more common FAQs. If you don't see the answer to your question here, please reach out to festivals@hopculture.com with any questions.
Cool! Tell Me More About the Breweries in the Queer Beer Box 2023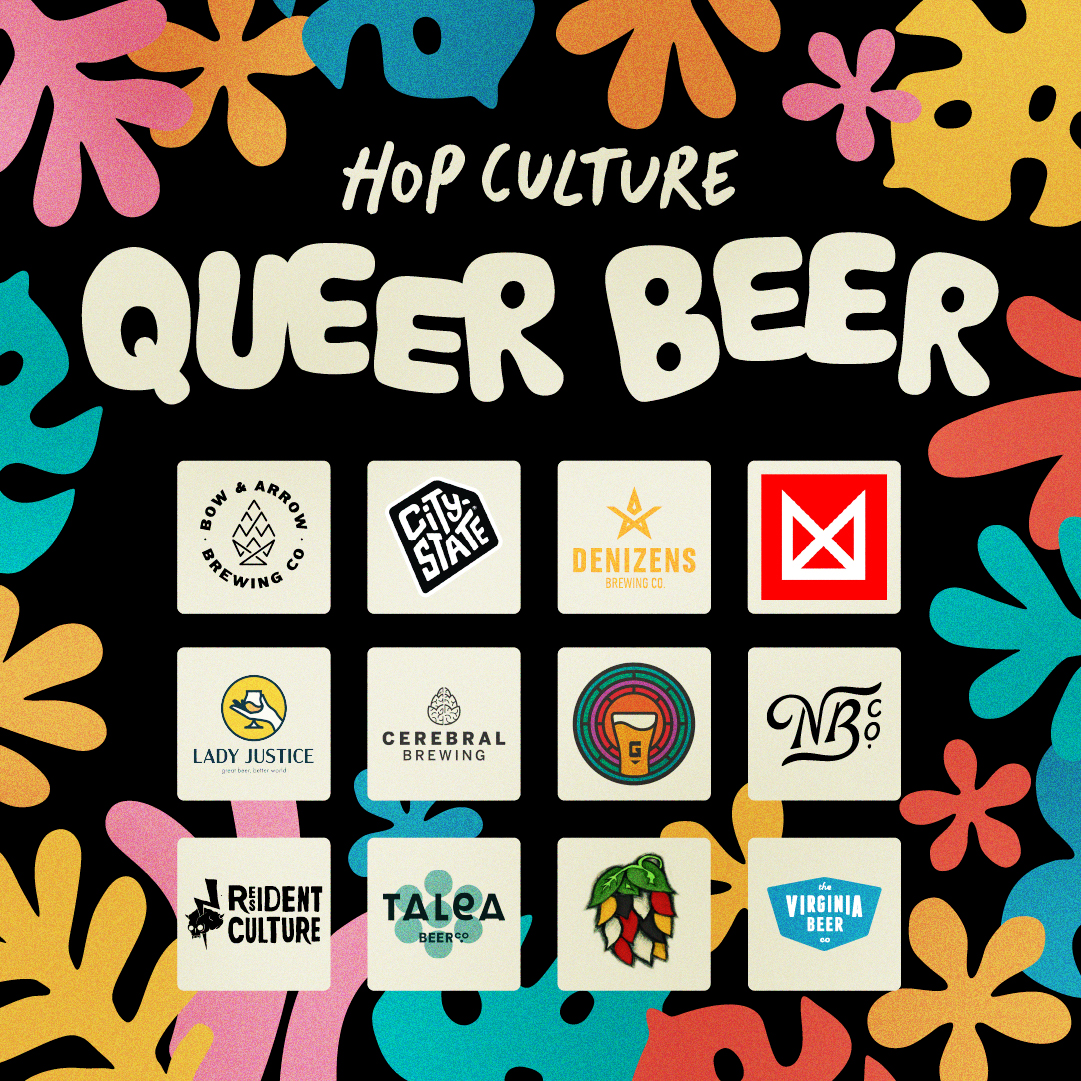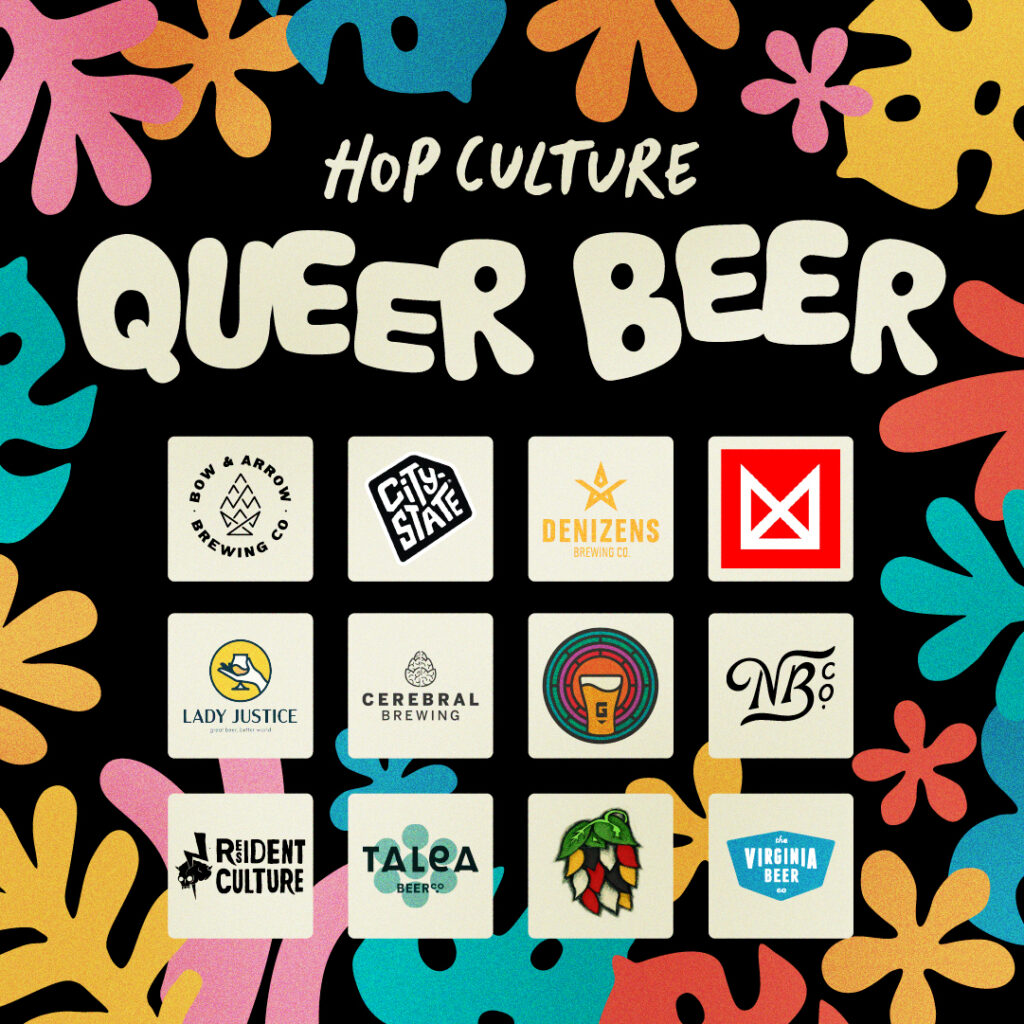 So happy to!
Scroll through them all or jump to your favorite:
Bow & Arrow Brewing Co.
Albuquerque, NM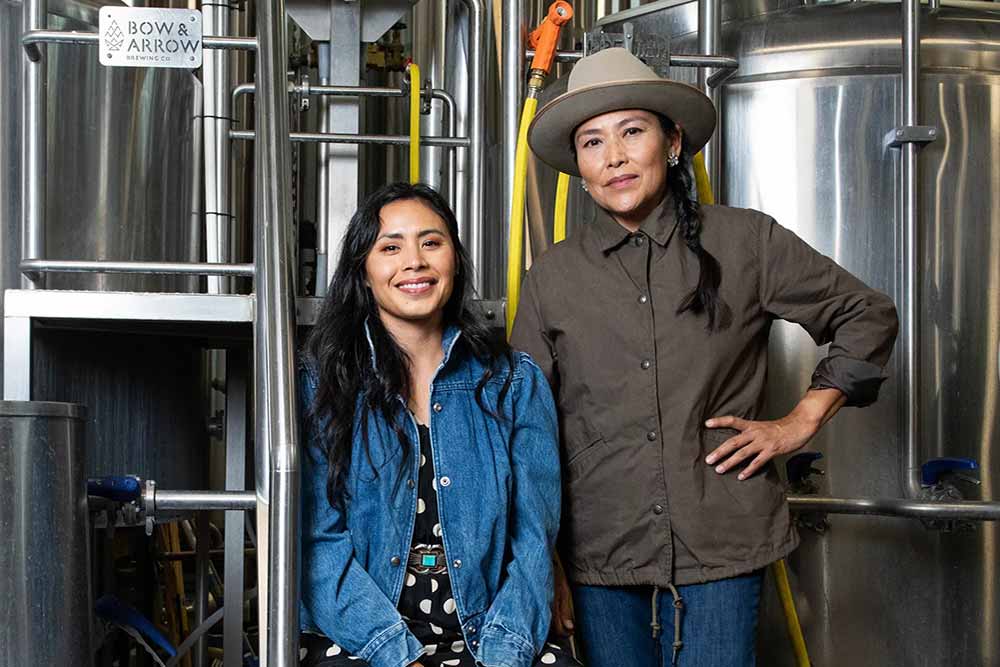 Partners in business and life, Shyla Sheppard and her wife, Missy Begay, opened their Native-, women-, and Queer-owned brewery in New Mexico to incorporate ingredients and culture from their Native American heritage. Born and raised on the Fort Berthold Reservation in North Dakota, Sheppard is a member of the Three Affiliated Tribes, while Begay is the granddaughter of Navajo silversmiths and weavers. Together this dynamic duo weaves delicate threads of Native American customs and legacy combined with a vision for the future across their entire brewery.
The beauty of this synergy explodes in the can with beers like Native Land, a project designed to increase awareness about ancestral Native land and raise funds for current Native communities and organizations.
Or Denim Tux American Pilsner inspired by the classic symbol of the American West and made with premium New Mexican blue corn from Santa Ana Pueblo Farms.
Or Funk Sloth, a mixed-culture beer with wild yeast from New Mexico that they've split into variations such as a small batch with locally foraged Newmexicanus hops.
Although Bow & Arrow wanted to make wild ales from the very beginning, Sheppard told us it took a while for them to branch out.
"We felt, out of the gate, pressured to do traditional styles and do them really well to just be accepted," she says. "It took longer to gain traction because we were these other things. There were people who wouldn't even come by because they didn't take us seriously. It's that bias. … We've had great beers for years, but only fairly recently people are taking notice."
Sheppard notes, though, that she likes to focus on the positive. "I'm really thankful for the folks who come and support us, not only because we have great beer but because they recognize the importance of diverse perspectives," she says. "We've gotten feedback on being a safe place for gay folks and women because, in a lot of ways, it's really powerful just to normalize it. This is who we are. … We started this, and we're here and visible!"
Now celebrating its seventh anniversary, Sheppard confidently describes Bow & Arrow as "we make wild, sour, and Southwest-inspired beers in the heart of the American Southwest."
For all the above reasons, Bow & Arrow is one of the most amazing Queer-owned breweries in the country.
Cerebral Brewing
Denver, CO
Director of Operations Anne Abrahamson has proudly represented as a gay female on the Cerebral Brewing leadership team since joining the brewery four years ago. Abrahamson has directed many of the brewery's DEI efforts in the Queer community, including launching a Pride beer called Out Loud that benefitted the Transformative Freedom Fund, an annual Pride Kick-Off Party, and a monthly "Queer Beers" event where "we celebrate the value of Queer space and give back to a rotating local LBGTQ+ organization," Abrahamson wrote to me in an email. Cerebral is the perfect example of how breweries can support the Queer community for 365 days out of the year and not just in June.
City-State Brewing
Washington, DC
A Queer-owned brewery with a strong core of Queer owners and investors, City-State Brewing offers a Pride beer all year round. Supporting the Queer community in craft beer and beyond takes work 365 days out of the year, not just in June, so it's even more important to see a brewery like City-State spreading that ethos.
Equal Marriage celebrates how "the District has pioneered marriage equality across race, gender, and religion," writes the brewery on its website.
City-State brews a couple of different versions of this beer, including a blonde wheat and a dark wheat. And while both beers are delicious, for us, it is all about what the liquid represents.
Denizens Brewing Co.
Silver Spring, MD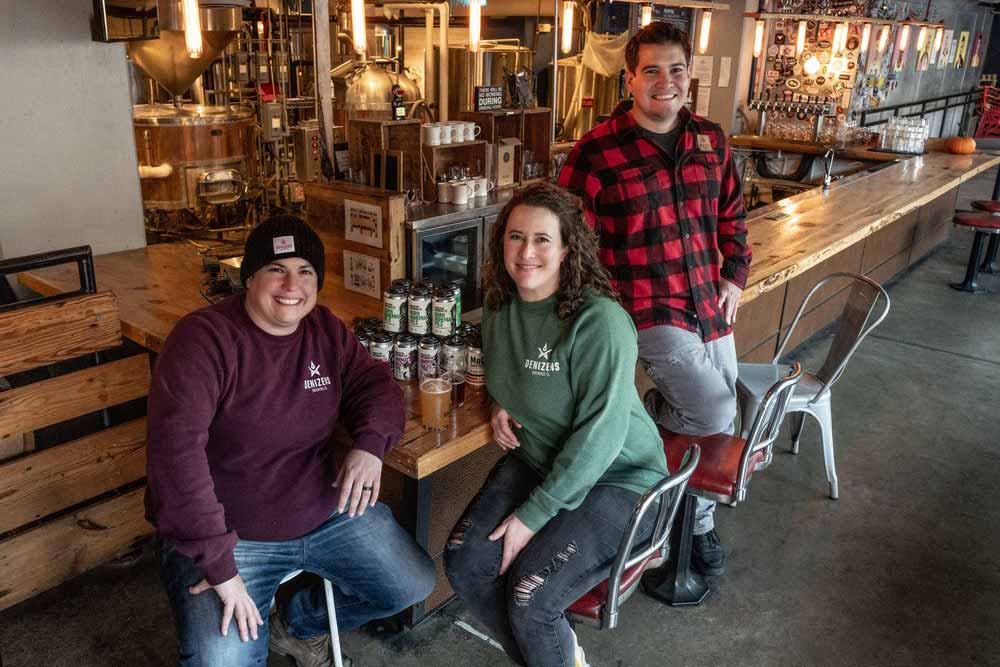 Denizens is a trailblazing brewery.
Seriously.
When wife-and-wife team Julie Veratti and Emily Bruno set out to open a brewery in Silver Spring, MD, in 2013, the laws didn't allow them to open as a taproom/production brewery. Instead, you had to operate as a brew pub.
That wasn't what Veratti and Bruno wanted to do.
And, if you wanted to distribute beer, you had to sell it to Montgomery County first, and they'd sell it to other licensees.
That didn't jive well with the duo.
So they rallied, reaching out to local county council people, local council executives, and county executives to make their case. Veratti figured out what committee of jurisdiction on the Senate and House sides in Maryland to target. "How do I get them to be supportive," she says, arguing that changing the laws to favor the brewery would create jobs, increase tax revenue, create a community gathering place, and bring manufacturing back to areas it hadn't been for decades.
Their strategy worked. Today, any brewery in Montgomery County benefits from Bruno and Veratti's trailblazing work.
But honestly, this tracks. Because both are no strangers to breaking barriers.
In the early 2000s, Veratti worked for Mass Equality, an organization fighting to protect same-sex marriage rights in Massachusetts, which legally passed in May 2004. In four years, Veratti led the charge, turning 105 out of 200 legislators against same-sex marriage to 151 out of 200 for same-sex marriage.
"We were ruthless," she says, recounting how they would go into neighborhoods, knocking on doors, and handing people cell phones to call their local legislators on the spot to share their support of same-sex marriage. "I was advocating for something I passionately believed in, which was same-sex marriage rights and just LGBTQ rights in general, making sure that our community was being protected and respected and doing it in every way possible."
It worked.
Veratti used the same tenacity to change Montgomery County's alcohol laws and grow Denizens.
After co-founding the brewery in 2014, Veratti and Bruno have been consistent advocates and voices for the Queer community in the craft beer industry. As one of Maryland's only women- and minority-owned-and-operated breweries, Denizens focuses as much on community organizing as on their crisp lagers, hoppy IPAs, and barrel-aged stouts.
But Veratti is honest when she says that being a Queer-brewery owner is tough.
"We've never been the cool kid, and I don't think we ever will be," she says. "And part of that is when you look at the people who decide the cool kids, they're not Queer women, right? It's a bunch of straight white bro-y dudes, and they all bro out with each other."
Which is crazy to us because Denizens makes crazy good beers.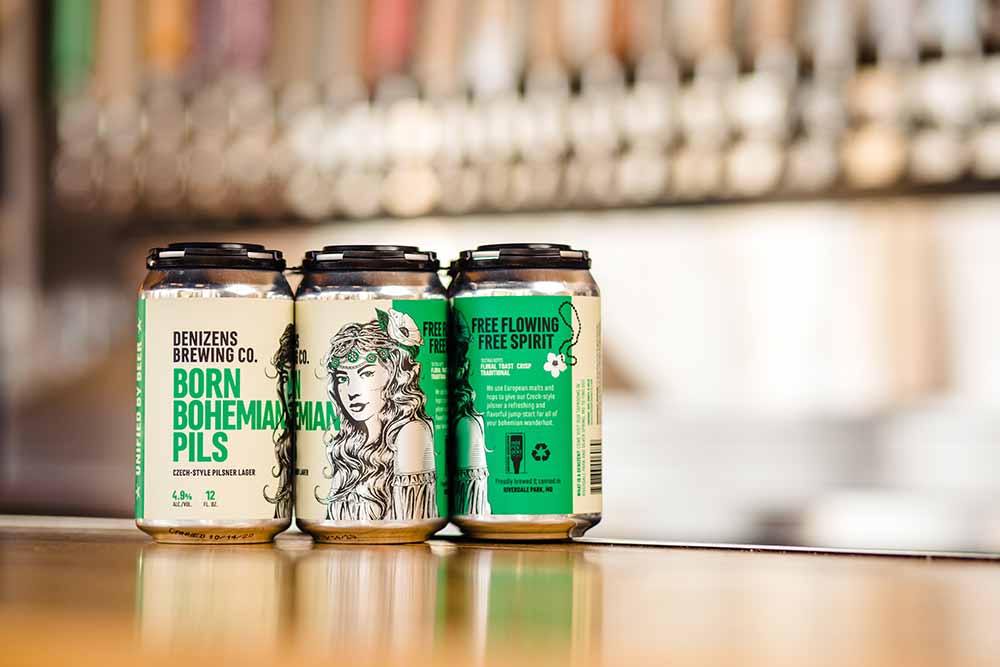 Like its Born Bohemian Pils, which you'll find in Hop Culture's Queer Beer Box 2023.
A true-to-style Czech pils, Born Bohemian Pils, includes 100 percent Czech Saaz hops, a yeast strain from the Pilsner Urquell family, and Czech Bohemian floor-malted grain. Denizens even adjusts the water profile to mimic the iconic soft water of Plzen, Czech Republic, where the original pilsner was born.
One of the brewery's top two beers, Born Bohemian Pils, scored a 96 from Craft Beer and Brewing in a blind tasting. "I'm pretty stoked about that," says Veratti. "This is a beer that, in the summertime, you'll see me drinking regularly; it's just super crushable and easy to drink."
Beyond the beer, the idea behind the brewery is to be a gathering place for all, often hosting craft fairs, trivia, live music, a running club, and drag shows.
And the brewery has often given back to specific LGBTQ+ organizations such as the Human Rights Campaign, the Sexual Minority Youth Assistance League, and the MoCo Pride Center.
Outside the brewery, Veratti served as chair of the Brewers Association's Diversity Committee and received a presidential appointment to the U.S. Small Business Administration.
In October 2020, Veratti joined us during our Women in Beer Leadership Roundtable during Hop Culture's women in craft beer festival, Beers With(out) Beards.
And Veratti poured with us in Washington, D.C., last year for our first in-person Queer Beer festival.
So yeah, like we said, trailblazing. Denizens is a big deal, and you need to know about them.
Goldspot Brewing Company
Denver, CO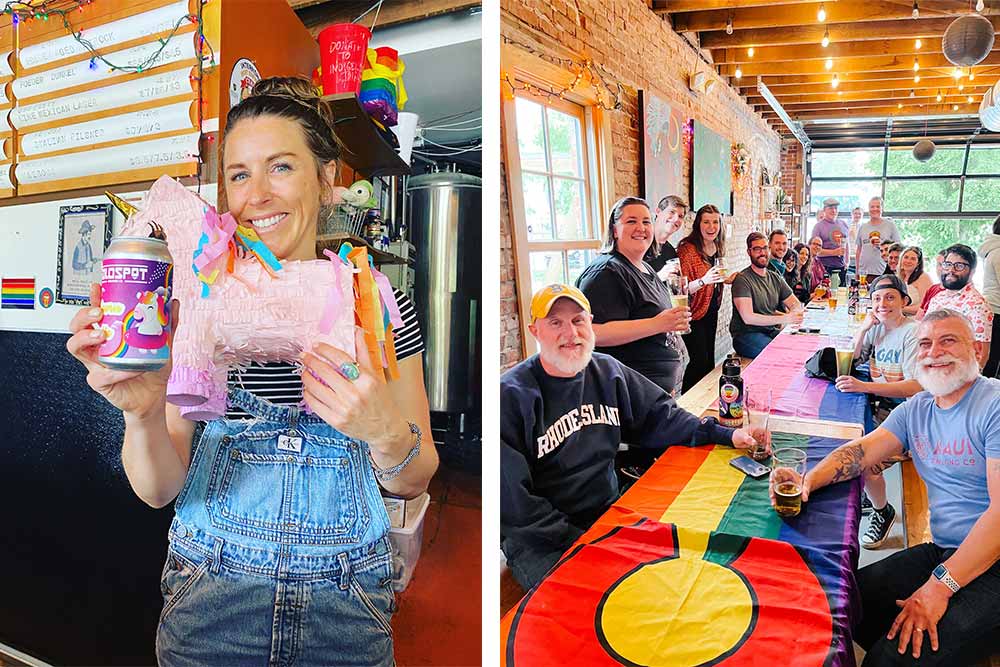 A one hundred percent Queer- and women-owned brewery in Denver, CO, Goldspot Brewing Company has become a pillar in the community. It's a brewery with an exciting trajectory. For example, Goldspot wasn't always Queer- and women-owned. Now-owner Kelissa Heiber (who identifies as Queer) moved to Denver to attend the Applied Craft Brewing Program at Regis University in 2012. After school, a stint at TRVE Brewing led to a bartending job at Goldspot Brewing, where Heiber would move on to assistant brewer and then head brewer. At the time, Matt Hughes and Alex Sward owned the brewery. But in 2018, the duo sold to Ryan and Winnie DuBois, with Heiber purchasing a thirty-percent stake. In February 2021, Heiber bought out the DuBoises to assume full ownership, making Goldspot a one hundred percent Queer- and women-owned brewery.
Accordingly, Heiber has been able to lay the groundwork for the brewery as a community-driven, inclusive business, which meant hosting the first-ever festival dedicated to LGBTQ+ causes called Big Queer Beerfest, featuring Pride-focused beers, last year. Or hiring an entirely Queer staff and posting signs around the taproom that say racism and homophobia won't stand.
At Goldspot, Hieber hired Safe Bars to train her entire staff, giving them tools to handle situations in the taproom.
"If you have someone being misogynist and … saying it so loudly to the group of people they're with so that the whole taproom can hear it … how can you safely de-escalate that?" says Hieber. "What is the line that's breaking our community standards? If someone is doing any of that stuff, [we want] to kick them out of the taproom because everyone can hear and see that."
Although Hieber emphasizes that, with an entirely Queer staff, she only encourages employees to act if they feel safe.
The taproom has become a hub for the Queer community, with Goldspot hosting everything from Queer Dungeons & Dragons to craft markets featuring Queer-owned businesses to open mic nights with Queer performers and gay dance parties.
One of Hieber's favorite events, Homos and Homies, invites a BIPOC vegan food truck and a Queer-owned one, along with Queer artists and vendors, to set up on Goldspot's patio. Ten percent of all sales that day go to a different local food justice or advocacy group. Goldspot raised $300 during the last Homos and Homies, but each participating vendor donates too, bringing the grand total to a couple of thousand dollars. Hosting one every quarter, Hieber says, "It's the most racially diverse that you'll ever see at the brewery, especially in Denver. … It's really diversifying the type of people that come into the space. … You're just hanging out with friends, raising money; it's always a poppin' time. … Everyone is in a good mood; the vendors are doing well; it's very cool."
Additionally, over the last few years, Hieber shares that Goldspot has donated tens of thousands of dollars to various organizations from their benefit beers or events.
For instance, Gender Fluid originally started as a beer to raise money for one of her bartender's gender-affirming surgery. Matching the amount raised from $1 per pint poured, Hieber morphed that beer into a series, donating to a different organization every time, such as Denver Community Fridges or the Transformative Freedom Fund.
Most recently, Hieber started the Out Loud Beer Project with Everywhere Is Queer, a collaborative beer recipe open to anyone to brew as long as they donate twenty-five percent of all profits to Everywhere Is Queer and a Queer non-profit of the collaborating brewery's choice.
Lady Justice Brewing
Aurora, CO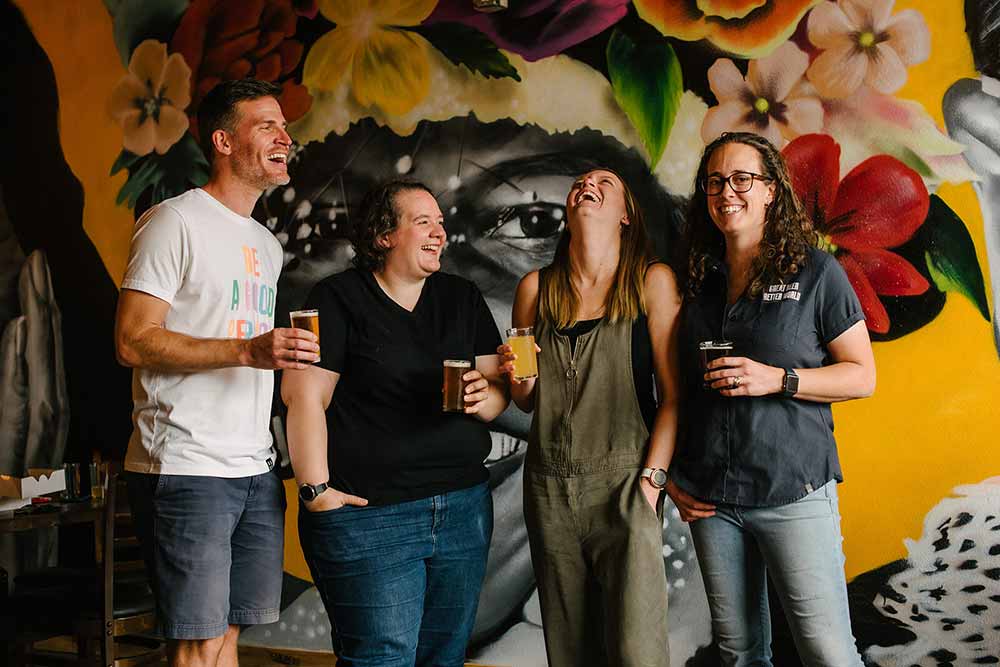 Queer- and woman-owned and Latina-founded Lady Justice Brewing Co. in Aurora, CO, set out to make beer for a better world across all genders, nationalities, races, and sexualities. Founded in 2010 by Betsy Lay, Kate Power, and Jen Cuesta, Lady Justice holds the distinction as the world's first fully female-owned and philanthropic brewery when it opened.
The entire model of the brewery is to give back consistently. They call it Pouring Goodness, so $1 from every 13oz pour of the Pouring Goodness tap in a given month goes to a local organization. Since opening, Lady Justice has raised $32,000 and counting for over thirty organizations.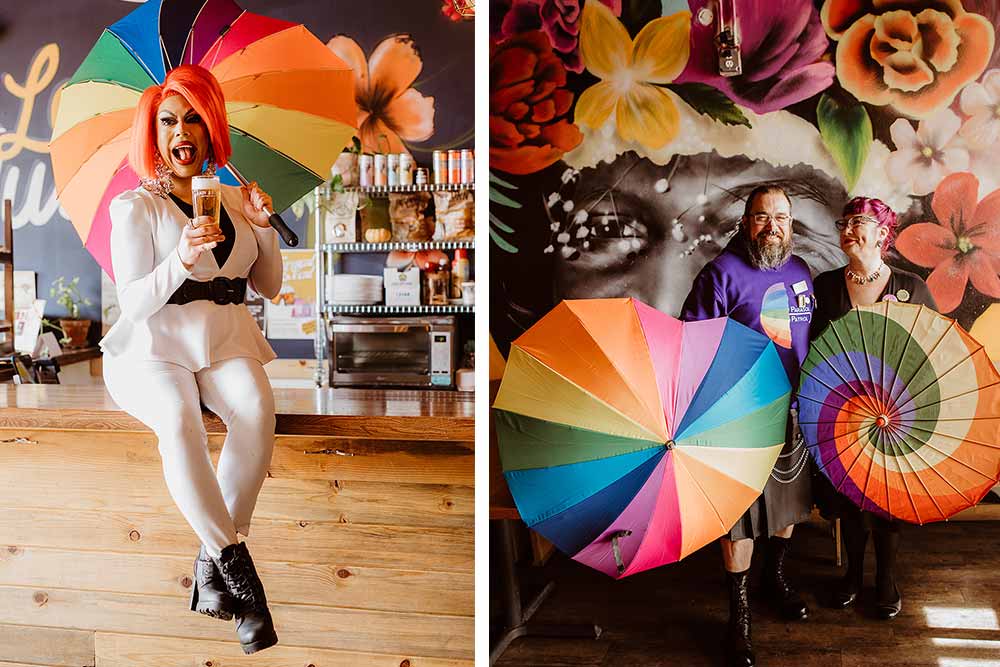 Such as Women's Wilderness, whose mission is to cultivate courage, confidence, connection, and environmental stewardship among girls, women, and the LGBTQIA+ community through year-round outdoor immersions; and The Gathering Place, the only daytime drop-in center in Denver serving transgender individuals experiencing poverty.
In addition to donations, Lady Justice employs a Queer staff, creates a safe space for Colorado's LGBTQIA+ population, and brews a Pride beer with rainbow glitter that has benefited the Transformative Freedom Fund.
Marz Community Brewing Co.
Chicago, IL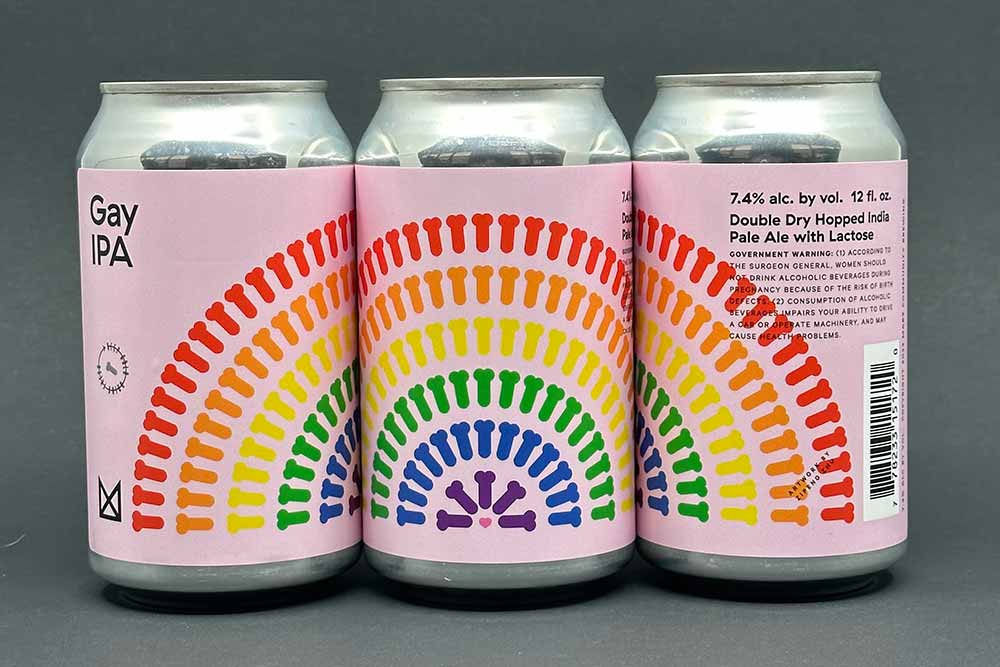 Marz Community Brewing isn't pulling any punches here. The Queer Beer veteran and Chicago-based brewery's Gay IPA represents exactly what the name says—being gay. And being proud to be gay. Queer, Chinese-born designer, art director, illustrator, and animator Zipeng Zhu (@zzdesign) designed the colorful phalluses, razzle-dazzling anyone who looks at them.
Beyond turning heads, Marz's Gay IPA also supports the local LGBTQ+ community with a portion of the proceeds from sales donated to organizations such as The Legacy Project, Equality Illinois, and ALMA Chicago.
What we love so much about this double dry-hopped hazy IPA is that Marz has been unapologetically unafraid to embrace Queer culture and proudly and loudly represents what makes the Queer community so colorful and spirited.
Necromancer Brewing
Pittsburgh, PA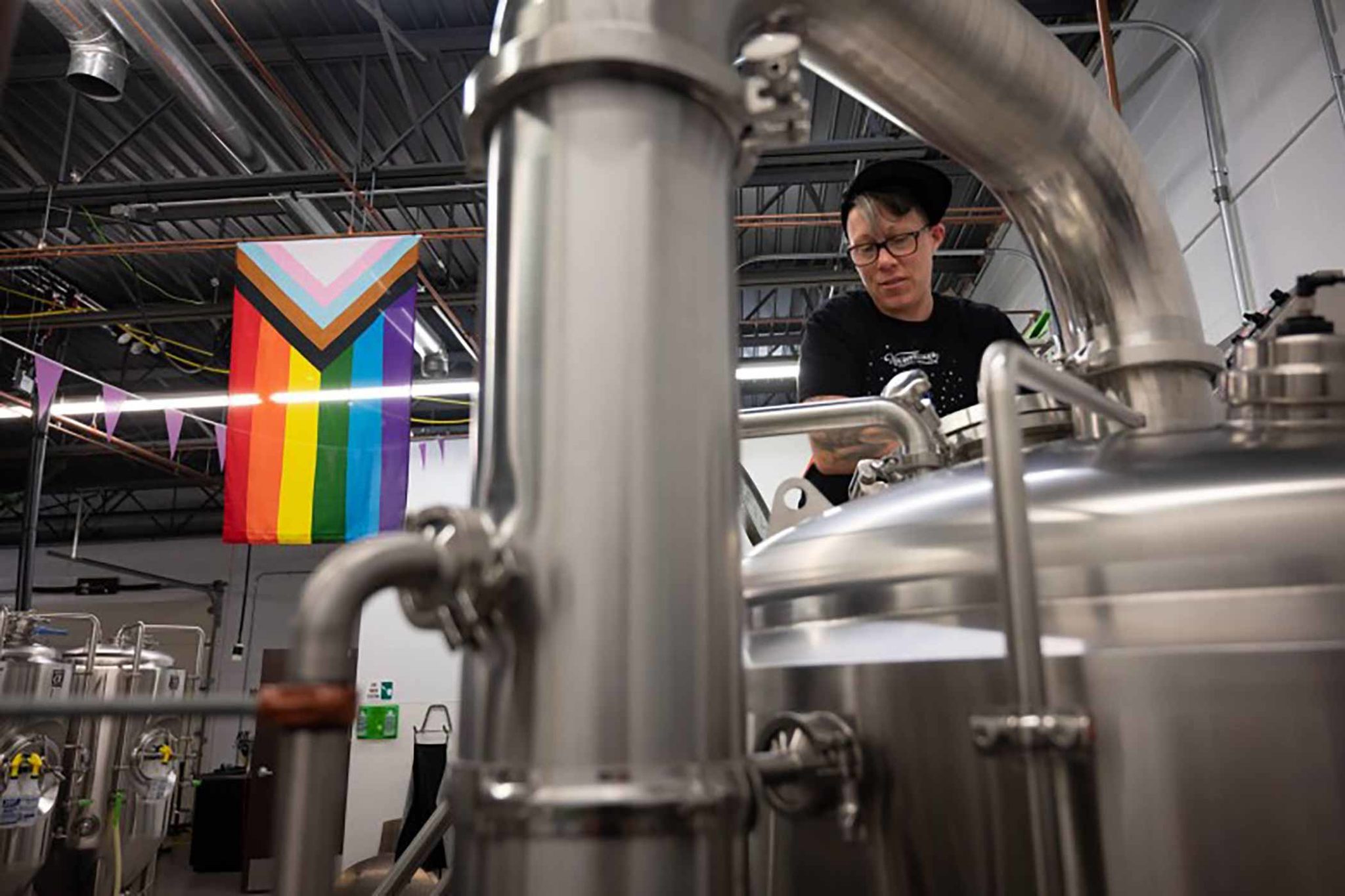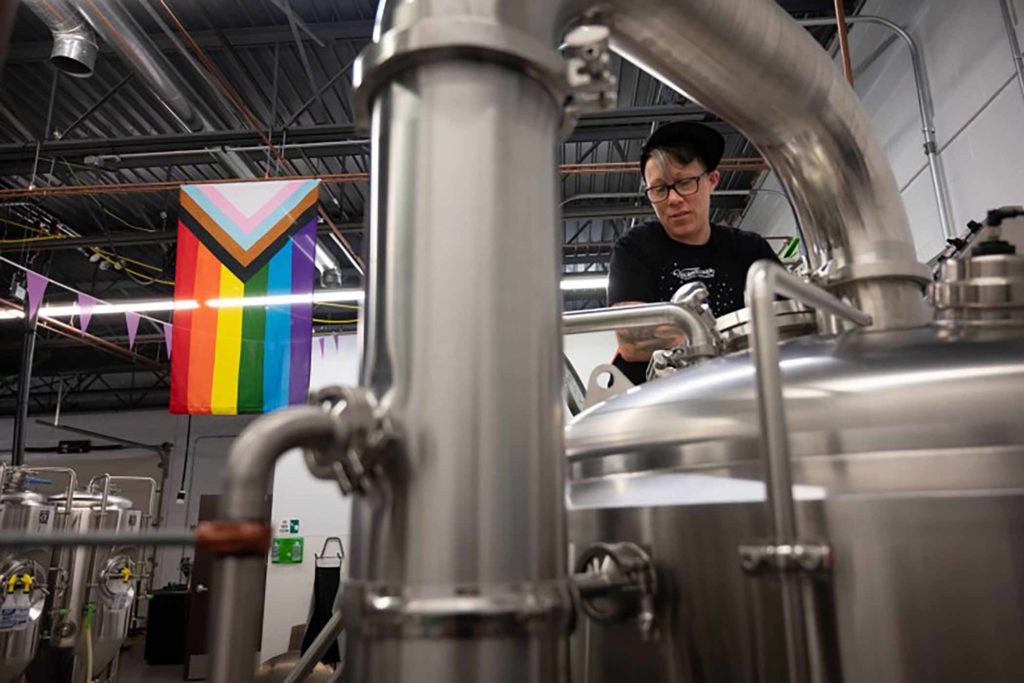 At Necromancer Brewing Co., diverse management has been a lynchpin for Head Brewer Lauren Hughes (one of our "23 People to Watch in Craft Beer in 2023"). The Queer, female-identifying brewer says Necromancer has been the first brewery where she's brewed that she can feel safe being herself.
"I've worked at many breweries, and while they're good companies to work for, you still have this wall or guard up," says Hughes. "[But at Necromancer], you can completely be yourself and not worry about it."
Hughes says that feeling starts with representation. Currently, in the back-of-house at Necromancer, the entire production team identifies as Queer, including Assistant Brewer Nina Santiago and half of the taproom staff.
And, oh, by the way, Necromancer is owned by a straight, cis-gender white man, but that hasn't stopped founder Ben Butler from understanding the importance of creating a safe environment for the team.
"A core component of our culture is the intentionality of diversity, equity, and inclusion," says Butler, acknowledging that his team of two Queer, female-identifying brewers has guided him along the way. "As a cis-white guy, I wouldn't have the credibility to do this all by myself, nor should I without the right advisors in my life."
Seen as a safe place to work, Necromancer has been bombarded with Queer applicants.
"People have seen us not only talk the talk but walk the walk, go toe to toe with people who have made remarks and done things that we've taken stands against," says Butler. "People feel like … they can be safe working here, and they'll know that, from a leadership perspective, we'll protect them."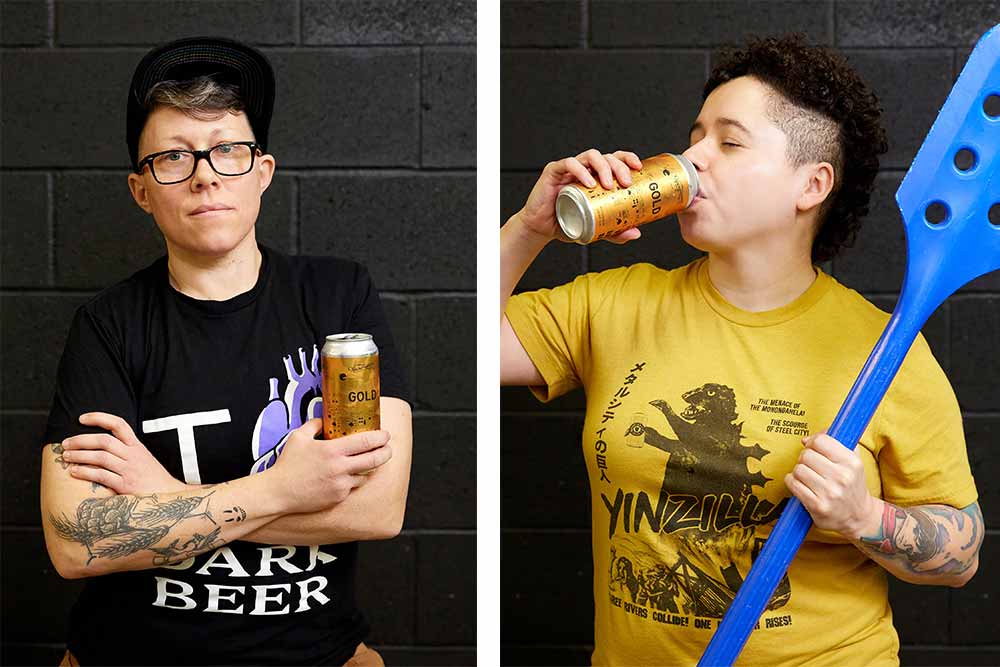 And a more diverse management team has had a trickle-down effect in the brewery.
At Necromancer, Hughes says you'll see a diverse group of drinkers on any given day when you walk in. Something she's fiercely proud to accomplish. "It's great to see and hear from customers, 'Thanks so much for making this a safe space because I've never felt comfortable going to other breweries, but I can come here and not worry,'" says Hughes. "To us, that means more than being like, 'Hey, we make great beer.'"
Although Hughes, Santiago, and Co. do make incredible beer!
You'll be hard-pressed to find another brewery like Necromancer, which focuses on resurrecting bygone beer styles (hence the name Necromancer… Get it?). For instance, a grodziskie, a sort of sparkling Polish oak-smoked wheat beer, a maibock, and an English best bitter, to name a few.
It's a love of oft-forgotten styles that put Necromancer on our best new brewery list in 2021. And landed them on many of our best-of lists, including "The 27 Best Beers We Drank in 2022."
But Hughes, Santiago, and Butler's incredible work to create a safe space for the Queer, non-binary, and trans community (including starting a Queer Beer Club) will keep us gratefully consuming Necromancer's beers for years.
Resident Culture Brewing Co.
Charlotte, NC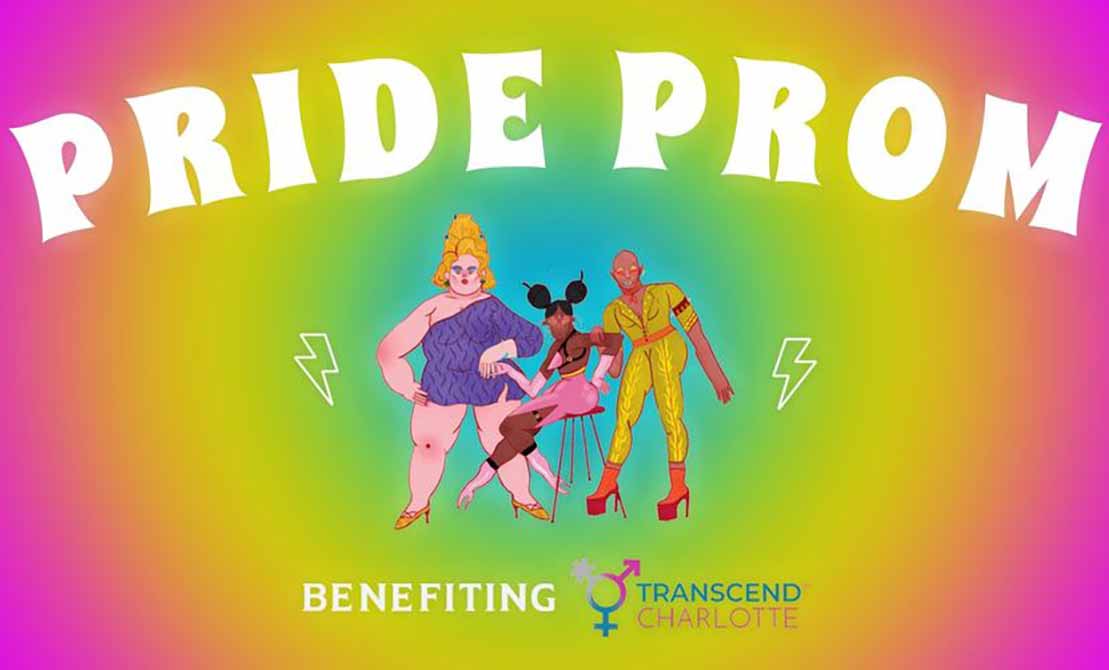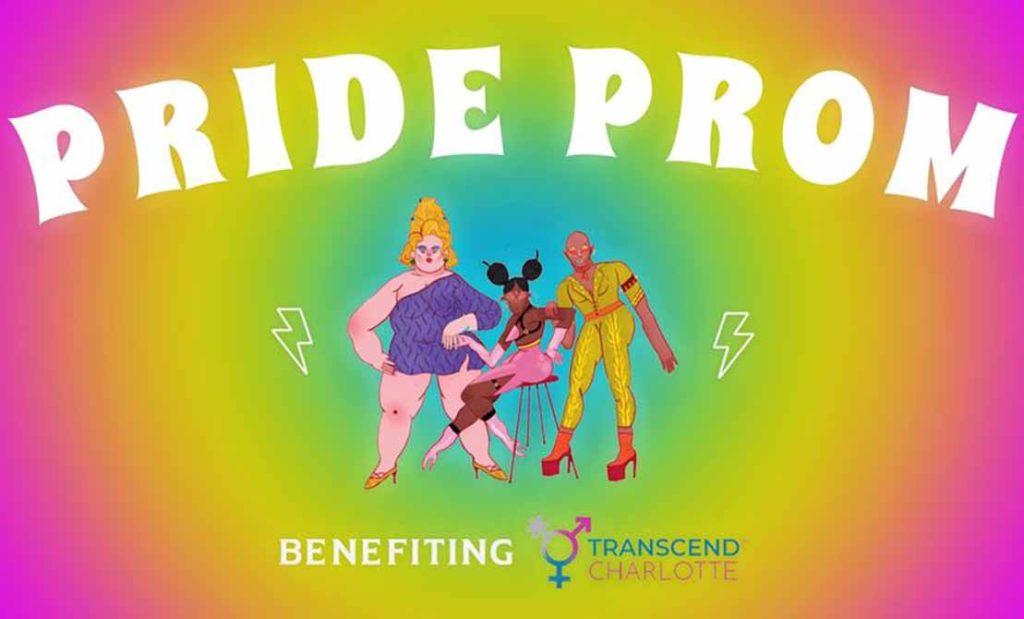 Along with employing several people who identify as Queer, Resident Culture has actively supported its Queer community. Last year, Resident Culture hosted its own Pride Prom right at the taproom. The event included drag performances, a live DJ, a photo booth, and of course, plenty of beer and benefitted Transcend Charlotte, a non-profit dedicated to pursuing equity and social justice for transgender and gender expansive communities through education, advocacy, mental health, and social support services.
Additionally, do you like Resident Culture's labels and artwork? Well, those are courtesy of Queer artist Maryssa Pickett, whose design for the brewery's Out to Pasture we named one of "The 20 Best Beer Label Designs of 2020." Her art is unmistakable and has catapulted Resident Culture to the top of some of the most prolific designs in the beer industry.
TALEA Beer Co.
Brooklyn, NY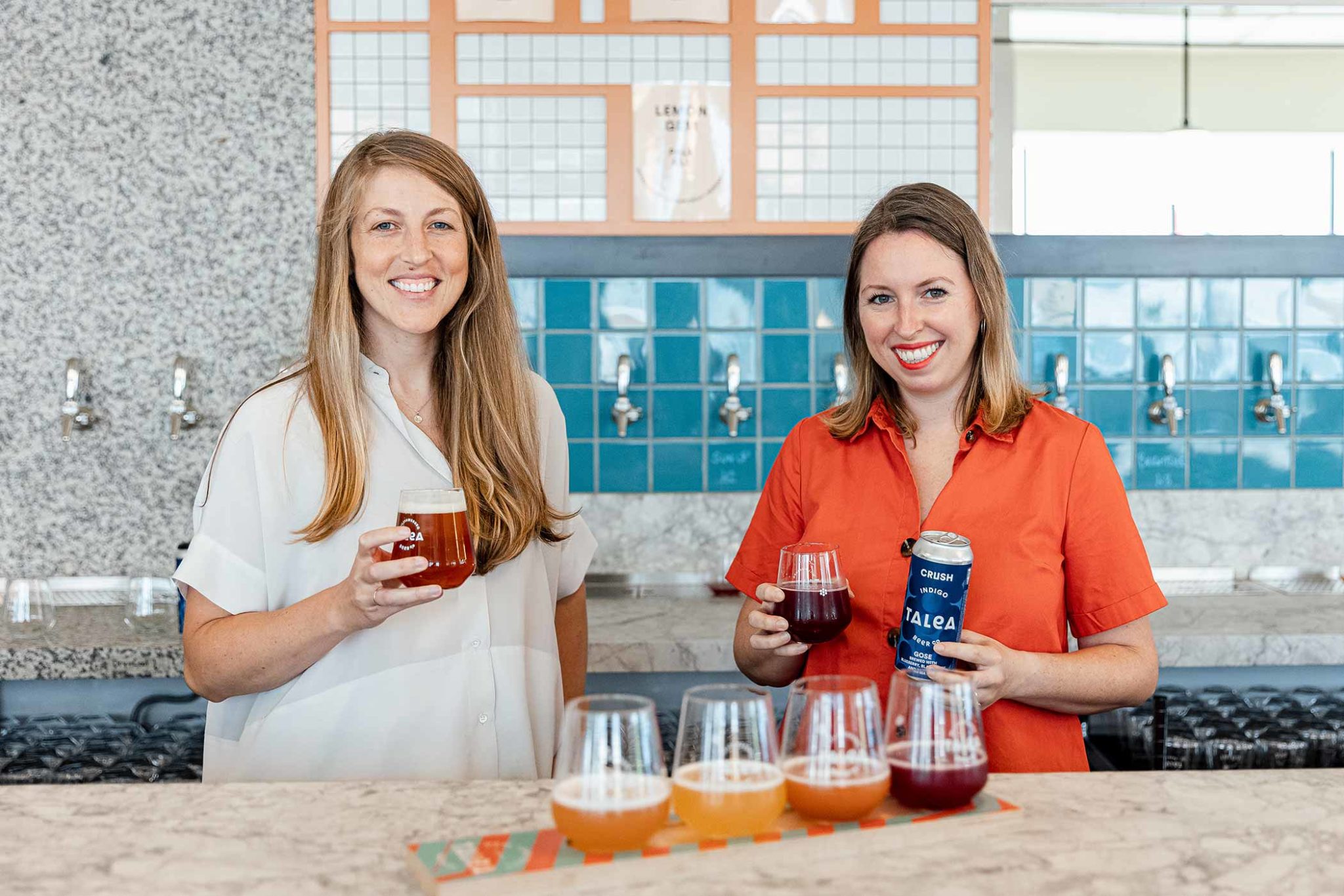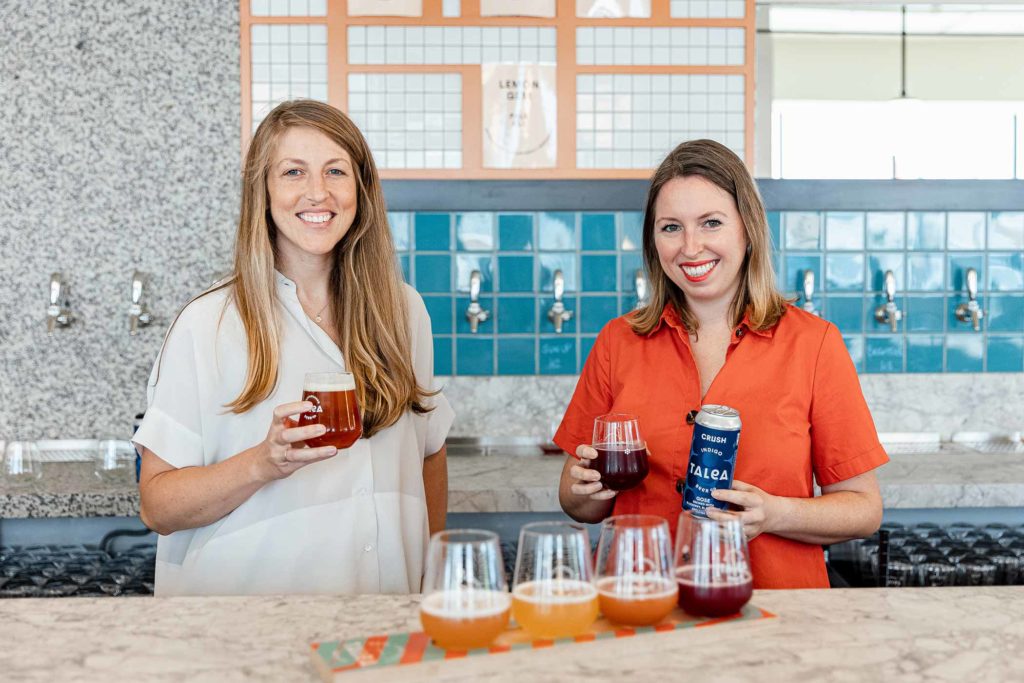 We've rained praise down on TALEA Beer Co. in the past for many reasons. The all-woman and veteran-owned brewery in Brooklyn was started by Tara Hankinson and LeAnn Darland. And while neither identify as Queer, they have consciously decided to cultivate an inclusive culture, from their packaging meant to attract all types of consumers regardless of gender to their incredibly friendly space to hiring Ariel Schwarz (they/them) as lead brewer.
Last year, Ariel joined us at our fourth annual Beers With(out) Beards to walk us through how they are making some of the softest, most pillowy, juiciest hazy IPAs.
If you're looking for an example of one business that is just doing it right, look to TALEA Beer Co.
Ten Eyck Brewing Company
Queenstown, MD
Owned by a team of Queer women veterans, first responders, and ruggers (i.e., rugby players), Ten Eyck Brewing Company makes it a mission to bring delicious craft beer to their Eastern Shore community.
Ten Eyck features a standout crew of seven women making their mark in craft beer. We met many of them, including Yancy and her partner Jessica and Nicki Sener, at our fifth annual women in craft beer festival, Beers With(out) Beards (and they also joined us for Queer Beer last year). We can tell you unequivocally that this incredible group of people dedicates themselves to promoting inclusivity and equality in craft beer.
Like Tmave Pivo, which recently won a bronze medal at the 2023 World Beer Cup.
Or Betsy, a blueberry grisette that Next Glass Director of Strategic Business Development John Gross called his favorite of last year's Queer Beer Fest!
The grisette foeder ferments with blueberries for six months before getting bottled, corked, and caged.
"People don't understand why they should drink this beer, but then they taste it. … It's the best beer ever," says Sener. "It's so complex, not out of reach or snobby."
Sener says once this current batch of Betsy runs out, they'll never make that beer again.
Just one example of how Ten Eyck approaches brewing: thoughtful, complex, yet approachable and down to earth. Much like its seven founders.
The Virginia Beer Co.
Williamsburg, VA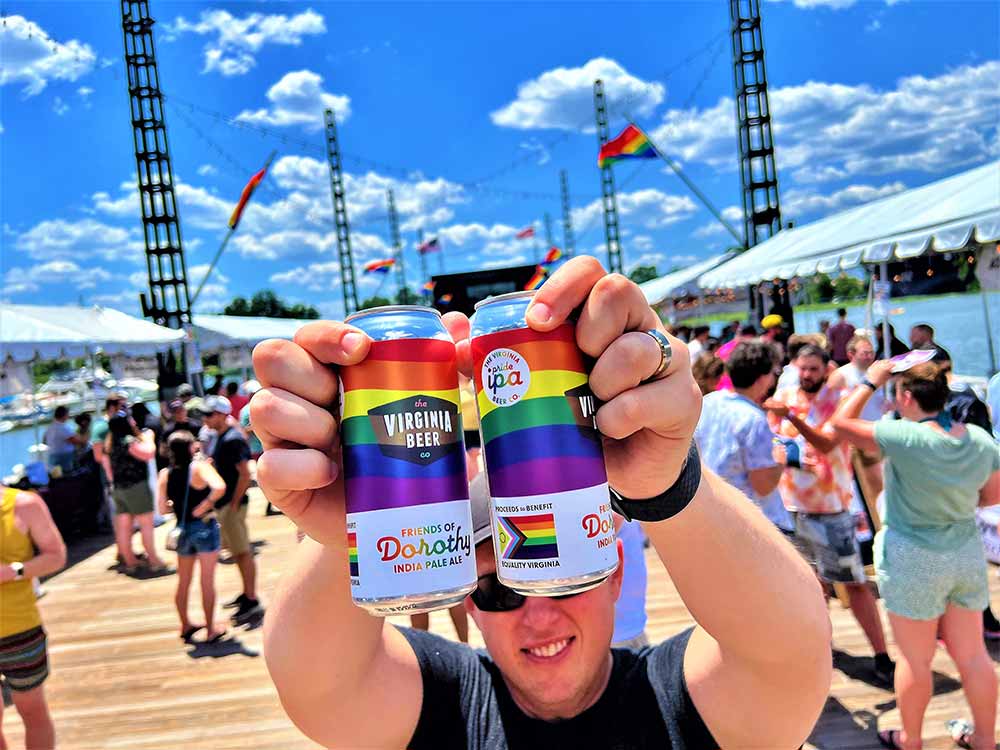 Chris Smith and Robby Wiley started The Virginia Beer Company with a goal: to change Williamsburg and to be a place that's comfortable for anyone. For Smith and Wiley, that means supporting the LGTBQIA+ community.
The brewery's Friends of Dorothy is one of the more well-known Queer-supporting beers in the country. The beer, named after the phrase "a friend of Dorothy," symbolizes the secret signal used by gay men dating back to at least World War II when being Queer was illegal. Saying you were "a friend of Dorothy" signified your orientation in code.
The beer respectfully nods to a very tough time for the Queer community, where we persevered and survived.
Friends of Dorothy may be a Pride IPA, but the beer's meaning hits us and proves that Virginia Beer Co. embodies equality all year, including joining us at Queer Beer in 2022.
How Did You Choose Breweries to Participate in the 2023 Hop Culture Queer Beer Box?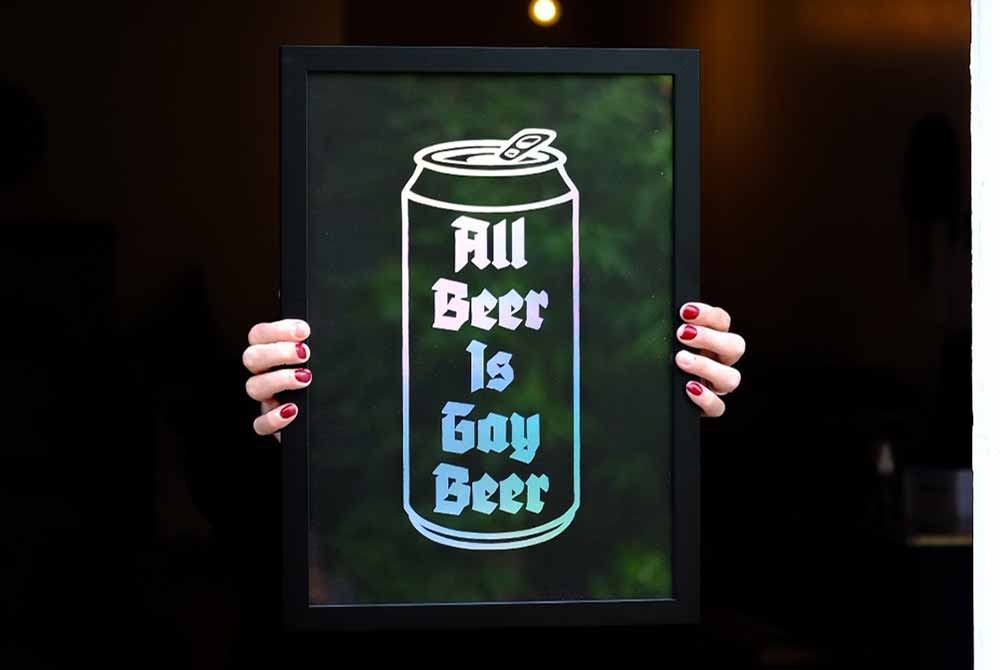 The Hop Culture team invited all breweries to participate in the Queer Beer Box 2023.
However, before sending out any invites, we developed internal criteria for invites that we felt would best represent our mission of supporting Queer and LGBTQIA+-identifying people in the craft beer industry.
To be considered for this beer box, breweries had to fit into one (or more) of the following categories:
Queer owned and operated – breweries owned by Queer folks or with Queer folks in prominent leadership positions or in the brewhouse.
Breweries making Pride beers that directly donate the proceeds to organizations that support the Queer community.
Breweries with robust diversity, equity, and inclusion programs and a commitment to social justice work for the Queer community.
Together each of the breweries participating in Queer Beer is integral to moving the conversation of inclusion, equity, and justice forward in our industry.
Editor's Note: Please note that due to timing and availability, not everyone we reached out to could participate. We're also continuously learning of new Queer-owned or Queer-supporting breweries and would love to hear your suggestions if we missed someone you would like to see included in the next box. Please let us know by dropping a line to festivals@hopculture.com—notes from our community are the best way for us to learn!
What Does Purchasing the 2023 Queer Beer Box Include?
Hop Culture's 2023 Queer Beer Box includes twelve different beers from Queer-owned, Queer-led, or Queer-supporting breweries.
And free shipping! Yes, that's right shipping is free and included with your box.
Additionally, Hop Culture and Half Time Beverage will donate $5 of each Queer Beer Box 2023 purchased to Meals On Us PDX, a Queer-, BIPOC-owned organization battling food insecurity and providing meals for trans folx recovering from gender-affirming surgery in Portland, OR.
How Much Is a Queer Beer Box 2023?
The 2023 Queer Beer Box costs $119.99, which includes shipping and handling to 35+ states.
To Which States Can We Ship the Queer Beer Box 2023?
Our shipping partner, Half Time Beverage, can ship to specific zip codes in the following U.S. states and territories: AK, AZ, CA, CO, CT, DC, DE, FL, GA, ID, IL, IN, KY, LA, MA, MN, MO, MT, NE, NC, ND, NH, NM, NY, NJ, NV, OH, OK, OR, PA, RI, TX, VA, WA, and Puerto Rico.
For more info, please refer to Half Time's shipping info page.
When Will Boxes Start Shipping?
Hop Culture's 2023 Queer Beer Box will start shipping in early July 2023.
You Didn't Answer My Question Here. What Should I Do?
Contact us: festivals@hopculture.com.
Want to be the First to Learn About Queer Beer in the Future?
Sign up here.