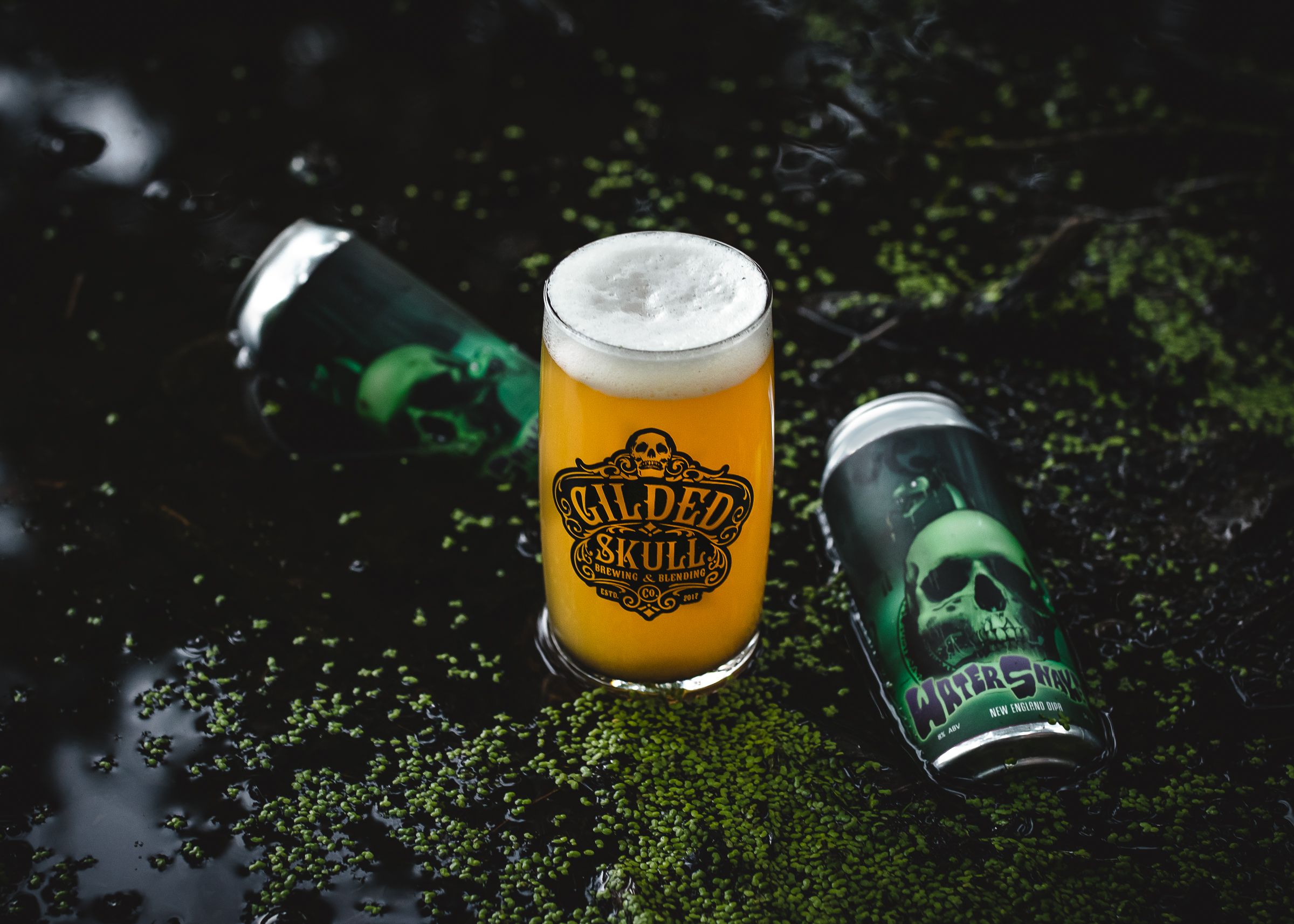 Photography courtesy of Gilded Skull
Making beer is hard. Many will tell you it is a labor of love.
Making beer while you have a rare form of cancer. That becomes more than just a labor love. Brewing becomes a symbol of hope.
For Neil Kade, founder of Gilded Skull Brewing and Blending Co. in Woburn, MA, his beer is made with much more than just grain, water, hops, and yeast. Look a little bit underneath the surface and you find that his beer tells a story. One of survival. Of strength. And, of hope.
In 2018 Kade had been on the cusp of turning his lifelong aspirations of opening a brewery into a reality. Until, in September, he received some news. He'd been diagnosed with Cholangiocarcinoma, a type of cancer that attacks the bile ducts.
Amidst 10-months of chemotherapy and a radical surgery to remove half his liver and gallbladder, Kade and his wife Amy remained undeterred, plunging ahead to create a brewery to call their own. As beer lovers for a long time, the humble liquid took on a new meaning and for Kade and Amy in essence beer became the best medicine.
The History of Gilded Skull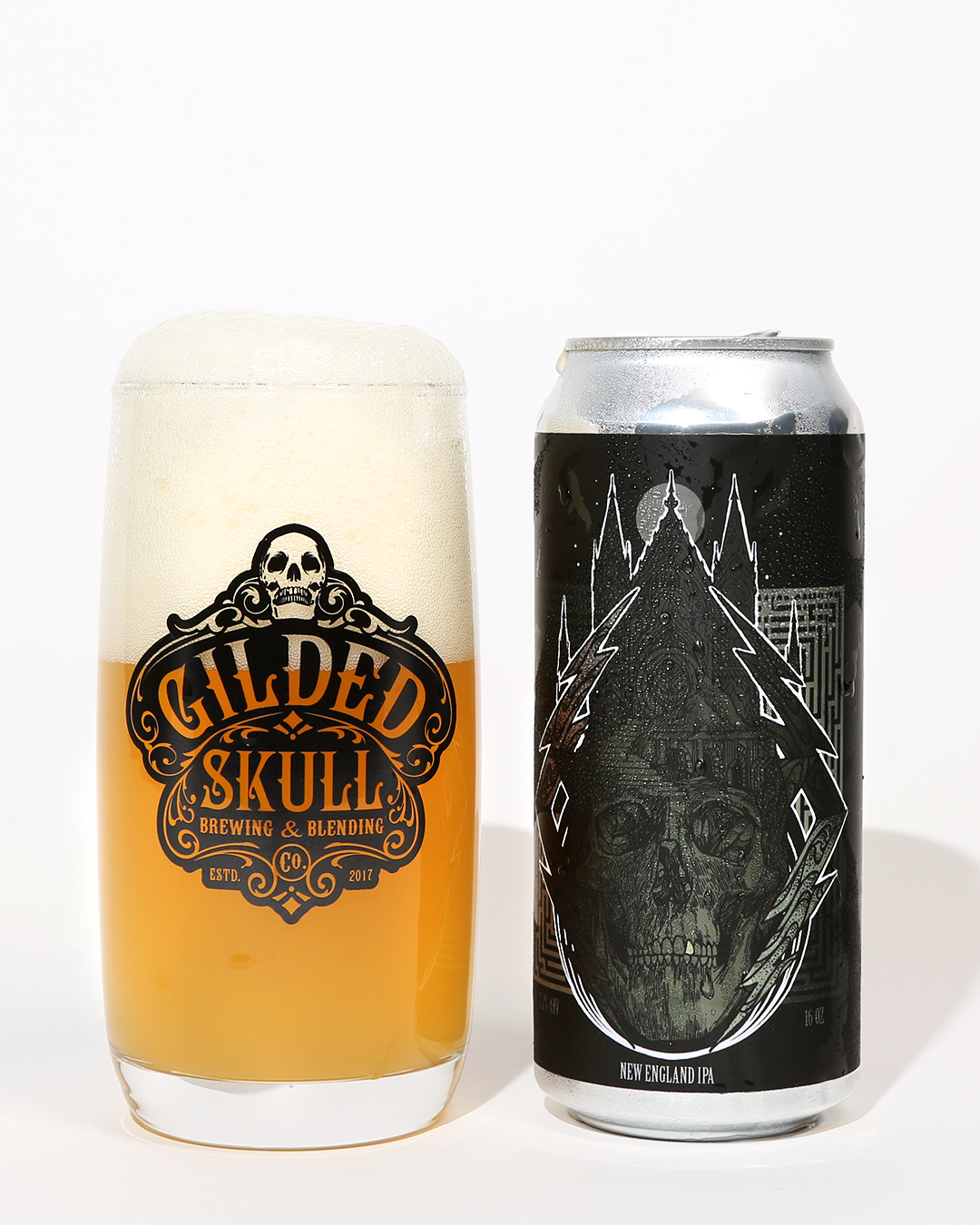 Beer has always been a part of Kade's life, growing up in Central Illinois Busch, Natty Light, and Milwaukee Bests were the preferred drink of choice. It wasn't until stationed as an infantryman paratrooper in Anchorage, AK that Kade sipped his first craft beer. Believe it or not, in 1999 Sam Adams Cream Stout and Boston Lager made their way to the Last Frontier.
Kade didn't look back.
Seeing his passion for a new hobby, Kade's partner at the time bought him a homebrewing kit. Kade brewed his first porter on a tiny apartment stove. It was terrible. He bottled up the beer and stashed it downstairs in a cage; never to touch the lips of anyone. (Except an unknown thief that apparently liked to sneak into the cage and steal bottles.) Bad beer and sticky-fingered neighbors aside, Kade continued to dabble, brewing a few more home batches. But nothing turned out quite right.
As fortune would have it, it wasn't until Kade met Amy in Boston in 2014 that everything began to change. A wave of craft beer had erupted in the city; Kade and his wife were swept up in the peak of it, going out to new brewery openings, trying all these fantastic beers, and diving into the subculture of the craft beer phenomenon–together.
One day she told him that she'd always wanted to homebrew. Now a professional scientist by day, Kade dusted off his old hobby and began applying new techniques, leveraging equipment the average homebrewer couldn't get their hands on.
"I basically dove headfirst," says Kade.
From Natty Light to Winning Homebrew Competitions
And then, something clicked. Kade's first batch of a 12% ABV bourbon barrel-aged Russian imperial stout called Black Cape won a silver medal in the wood-aged beer category at the 2016 Boston Homebrew competition and later a gold medal and best-of-show out of 400-500 entries in the wood-aged beer category at the New England Regional Homebrew Competition. His second batch of a Russian Imperial stout aged in rye whiskey barrels called Carpathian won a silver medal in wood-aged beer category at the 2016 Boston Homebrew Competition and a gold medal at the 2016 Merrimack Valley Homebrew Competition.
"It was off to the races for me," says Kade.
Only eight months after brewing their first batch together Kade and his wife knew they wanted to turn their hobby into a profession, dreaming of opening a brewery to call their own.
All the pieces started to fall into place.
The Story Behind Gilded Skull's Name
In 2017 while toying with the idea of building out a brewery, Kade, his wife, and a good friend were walking around Boston on Halloween night. The notion of opening a brewery still fairly fresh, Kade had been trying to come up with a name.
"Anyone that has tried to open up a brewery or name a beer knows that with 8,000 other breweries in the U.S. there's not a lot of room to operate," says Kade, whose lawyer had already shot down half a dozen names for one reason or the other. His latest names Black Cape Brewing and Blending as well as Old Ghosts Brewing and Blending had just been rejected. As fate would have it the trio walked by a window display full of a bunch of golden skulls. The name Gilded Skull came to mind.
A fan of metal bands like Motorhead, Iron Maiden, and Megadeth, Kade originally hoped to combine two of his passions – music and beer – into one brewery. Gilded Skull seemed like the perfect name.
But, at the peak of brewing, dreams, and life in March of 2018, Kade began feeling ill. Six months later in September of 2018 Kade received the news. At only 40-years-old he had cancer.
Gilded Skull Brewing: More Than A Statistic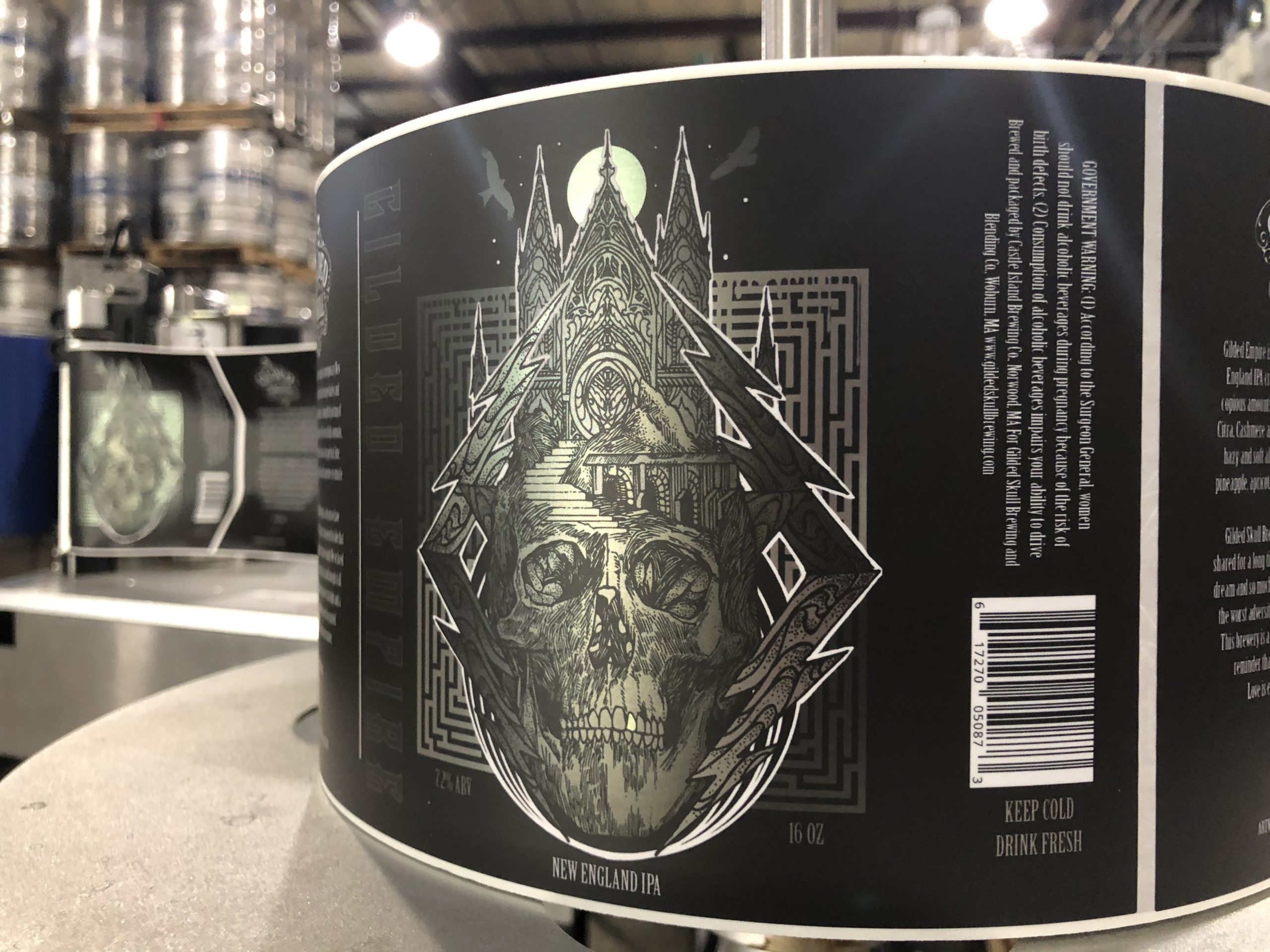 A protein biochemist ironically specializing in cancer immunotherapy and vaccine development, Kade immediately knew the gravity of his diagnosis. According to the American Cancer Society, the 5-year relative survival rate for a specific stage of bile duct cancer is 30 percent.
"A lot of things pass through your mind when you think you're going to die," says Kade. "But the most hurtful thing was that I'm going to leave my wife alone. She'll have another 40-50 years on this Earth without me. That's a whole lifetime. Will she remember what I look like or smell like?"
Thoughts of brewing and opening a brewery faded into the background. A constant reflection of mortality, of not being here, stuck around.
Kade spiraled.
Slowly, but surely Amy began to reassure him. "She kept telling me this is bad, but you're not a statistic," Kade shares. "We don't know what life has to offer us. You have to live the life you have." She told him this mantra daily. Through surgery, a nasty bout of chemotherapy, and days of feeling ill, she reminded him that a future existed.
Gradually, Kade began thinking about a future again, about the brewery he'd always wished to open with Amy, and the hobby he loved. Brewing became, "I'm still going to be here," says Kade. Making beer became, "I'm going to have a future."
Beer is Neil Kade's Future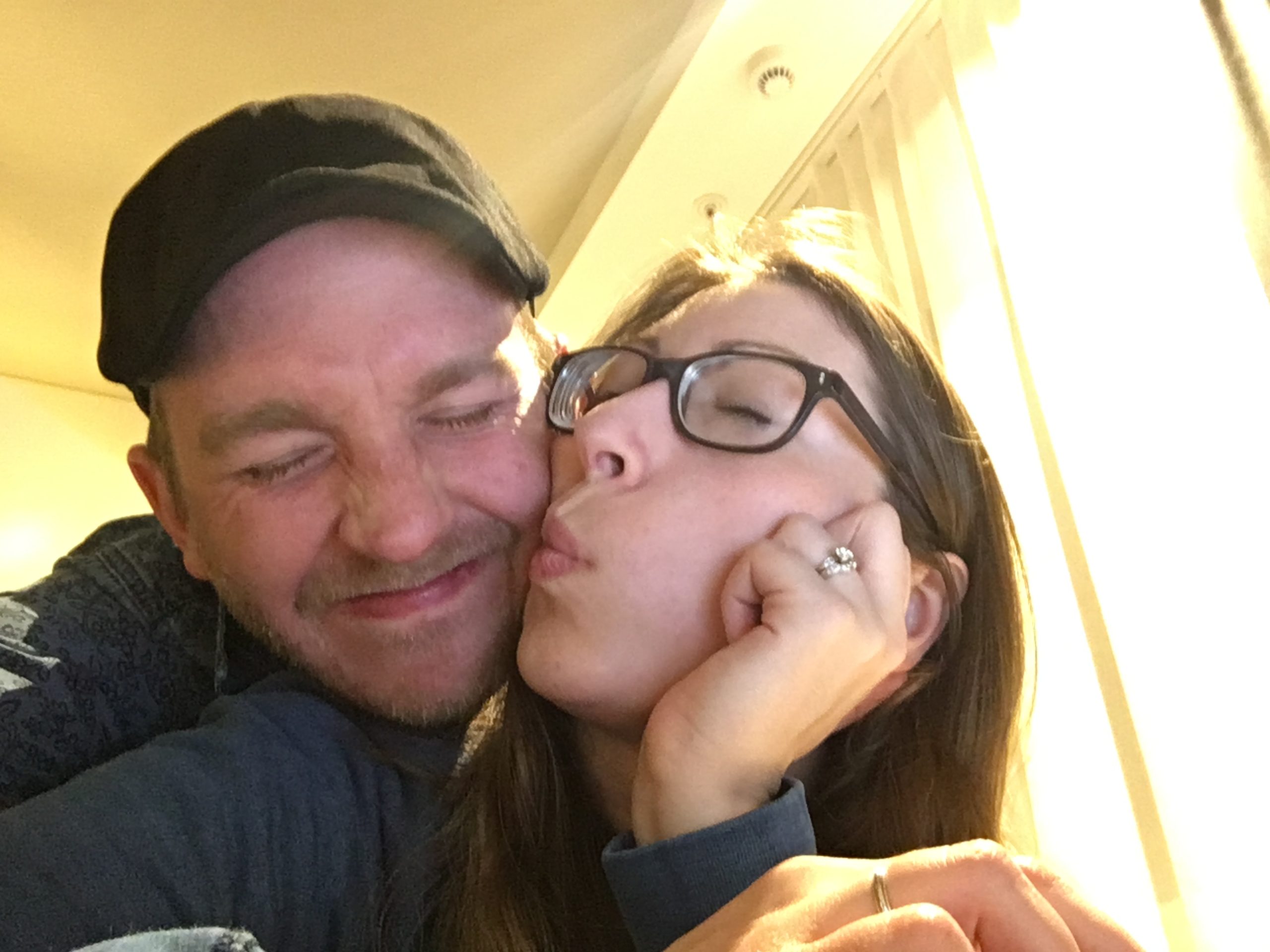 Two weeks after a major surgery that removed half of Kade's liver, his gallbladder, and two lymph nodes where the cancer had metastasized, Kade found himself in his friend's own brewery-in planning, Granite Coast in Peabody, MA. He just worked, doing everything from brewing to painting murals to working in the taproom. By lending a helping hand, Kade once again immersed himself into beer.
"The more I worked and the more I talked to my wife I realized we had to open our own [brewery]," said Kade. "Because if you're ever dealing with something like this and you can't think about a future you won't be okay."
He went down the rabbit hole, contract brewing sour beers out of Granite Coast and eventually meeting Matt Smith, owner of Wandering Soul Beer Co. Technically, Kade and Smith first started talking shop online, connected through their mutual friend at Granite Coast.
Eventually, the two met in-person and Kade shared a homebrewed Belgian Saison with Smith. "He gave me a fancy green bottle and told me it was a few years old," said Smith. "I remember having it and thinking this is unlike anything I've had in America. It transported me directly back to the little cafes and breweries my wife and I visited in Belgium for our honeymoon. I was blown away."
Underneath the dissection of beer and running a brewery, Kade and Smith's friendship shared another common thread; for both of them beer meant more than just a drink in a glass.
Wandering Soul Beer Co.
Similar to Kade, Smith began his brewery as a way of healing. Starting Wandering Soul Beer Co. in January of 2019, Smith named his first beer Melody Maker in memory his first daughter Melody who he and his wife lost 35 weeks into pregnancy in May of 2017.
"It was definitely the worst thing I've been through in my life," says Smith. At the time Smith had been working on a recipe for a beer he wanted to release on a larger scale. "I dedicated that first beer to Melody to give her a legacy," explains Smith.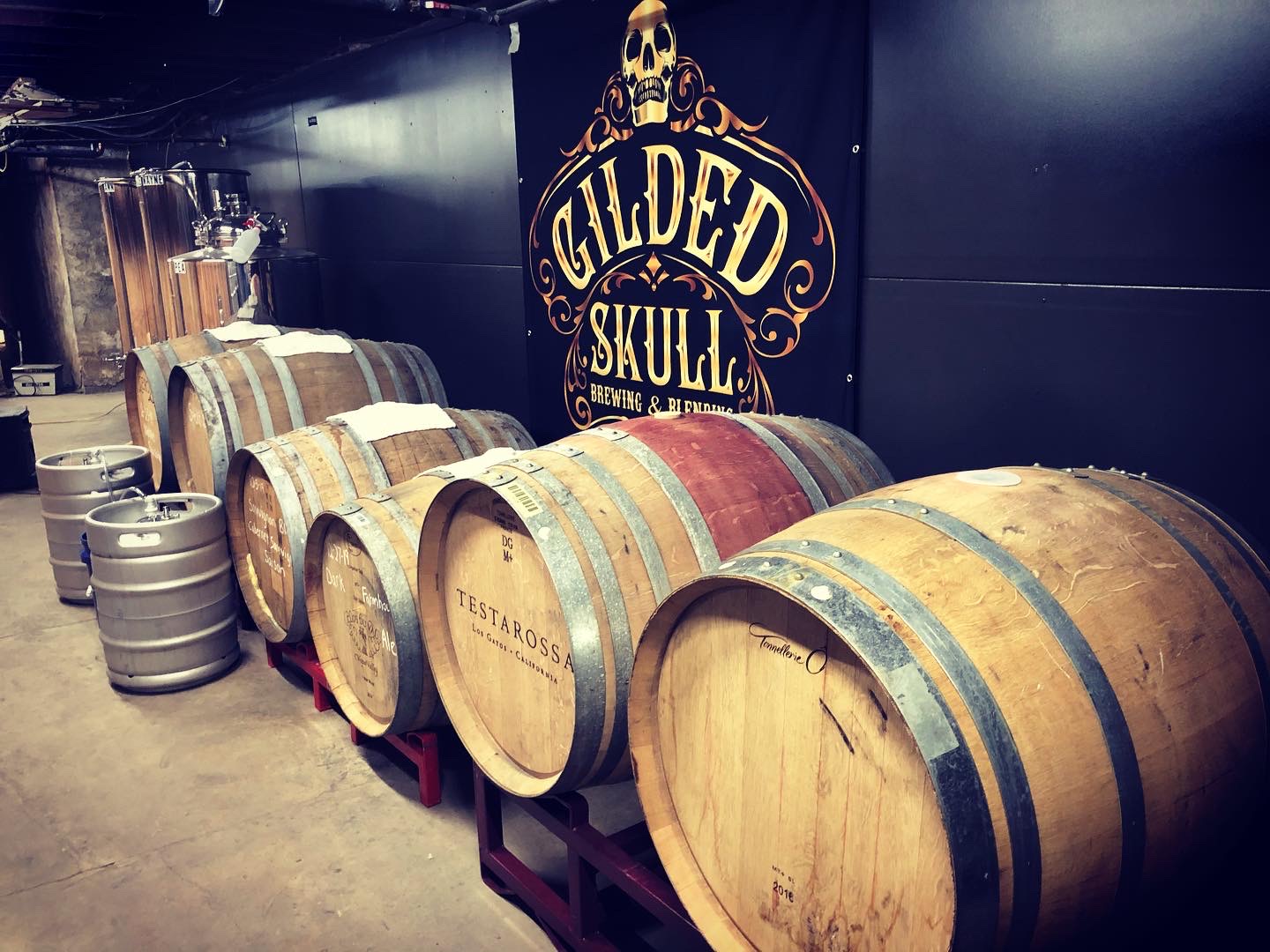 The beer sold out so quickly that Smith brewed another batch and then another. A little over a month ago in early June, he released his newest can called Bend Don't Break. The sister beer to Melody Maker, this 4.9% ABV New England Pale Ale is named after Smith's daughter Willow. "The branches of a Willow tree don't break under pressure," says Kade. "[The beer] is a symbol of resilience, courage, and hope for the future. Wandering Soul is a symbol of hope."
It's that similar sentiment of hope that bonded these two. The more time they spent discussing and tasting beer the more they shared their own personal stories and the more their friendship grew.
"The closer I came to Neil I learned about him as a person and his story and the more I wanted to see him realize his dream of putting beer into the world," says Smith. With 10 years of history in the industry including a long stint at Clown Shoes Beer running, managing, and growing the brand, Smith has been deeply involved in watching a beer brand growing. He's made decisions on everything from recipes, production, and distribution to accounting, new beer styles, and artwork.
Kade knew how to brew. Smith knew the business.
When Kade approached Smith with his idea to open Gilded Skull, Smith immediately offered to help.
From finding a place for Kade to contract brew at Castle Island Brewing Co., to setting pricing structures of the beer, to figuring out distribution, to accounting and securing him Federal brewing permits, Smith helped Kade put all the pieces together.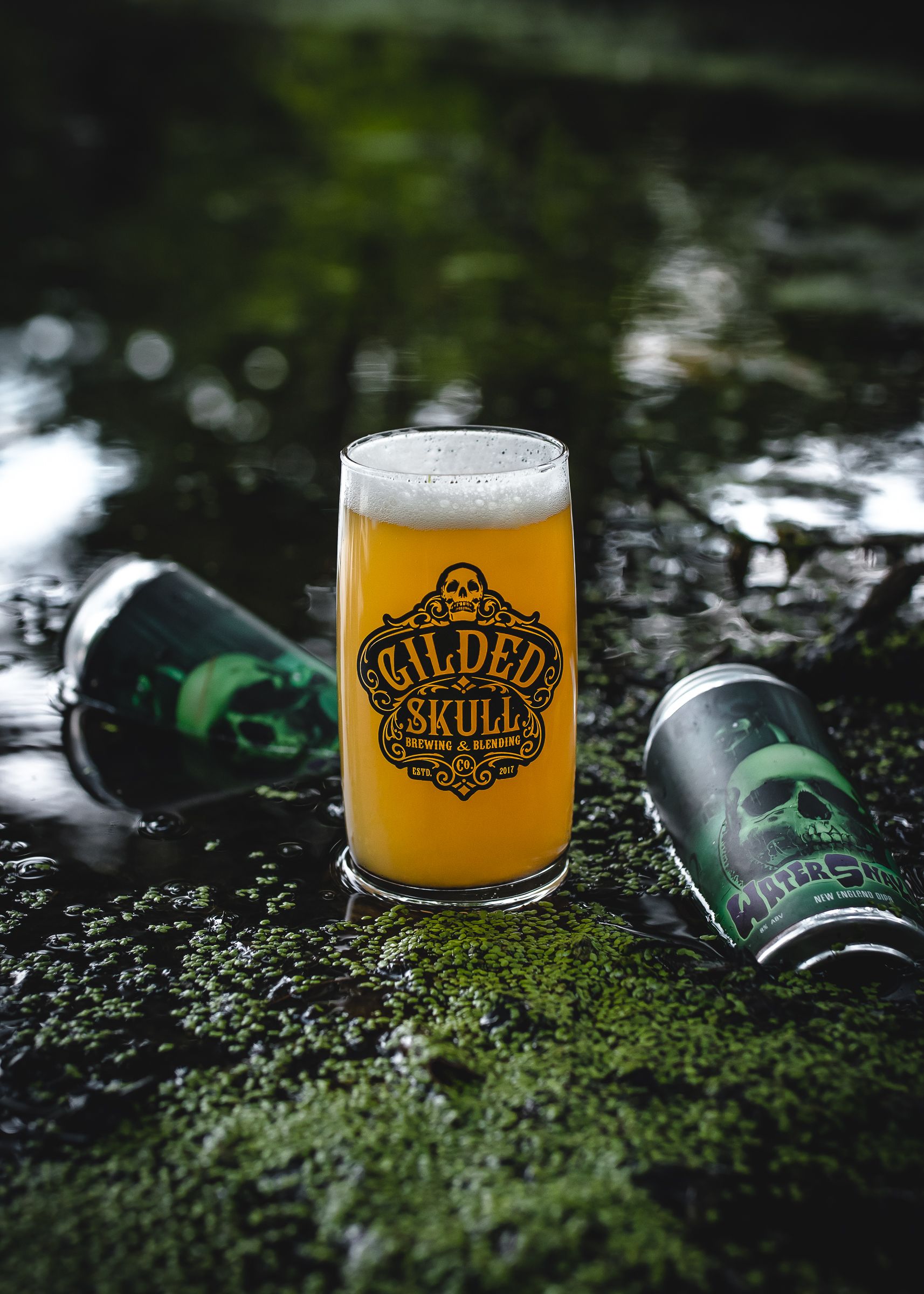 "He got me off the ground," said Kade. "He is the reason Gilded Skull even exists."
With the support of his family, friends, and the craft beer community, the once forgotten dream finally became a reality.
From Skulls to Gilded Skull
A few weeks ago, almost two years after being diagnosed with a rare form of liver cancer, one large surgery, and about a year of chemotherapy, Kade released the first official beer from Gilded Skull Brewing & Blending: Gilded Empire. The 7.2% IPA features Citra, Cashmere, and Lotus hops along with spelt and flaked oats. The beer is a big break from Kade's traditional beers.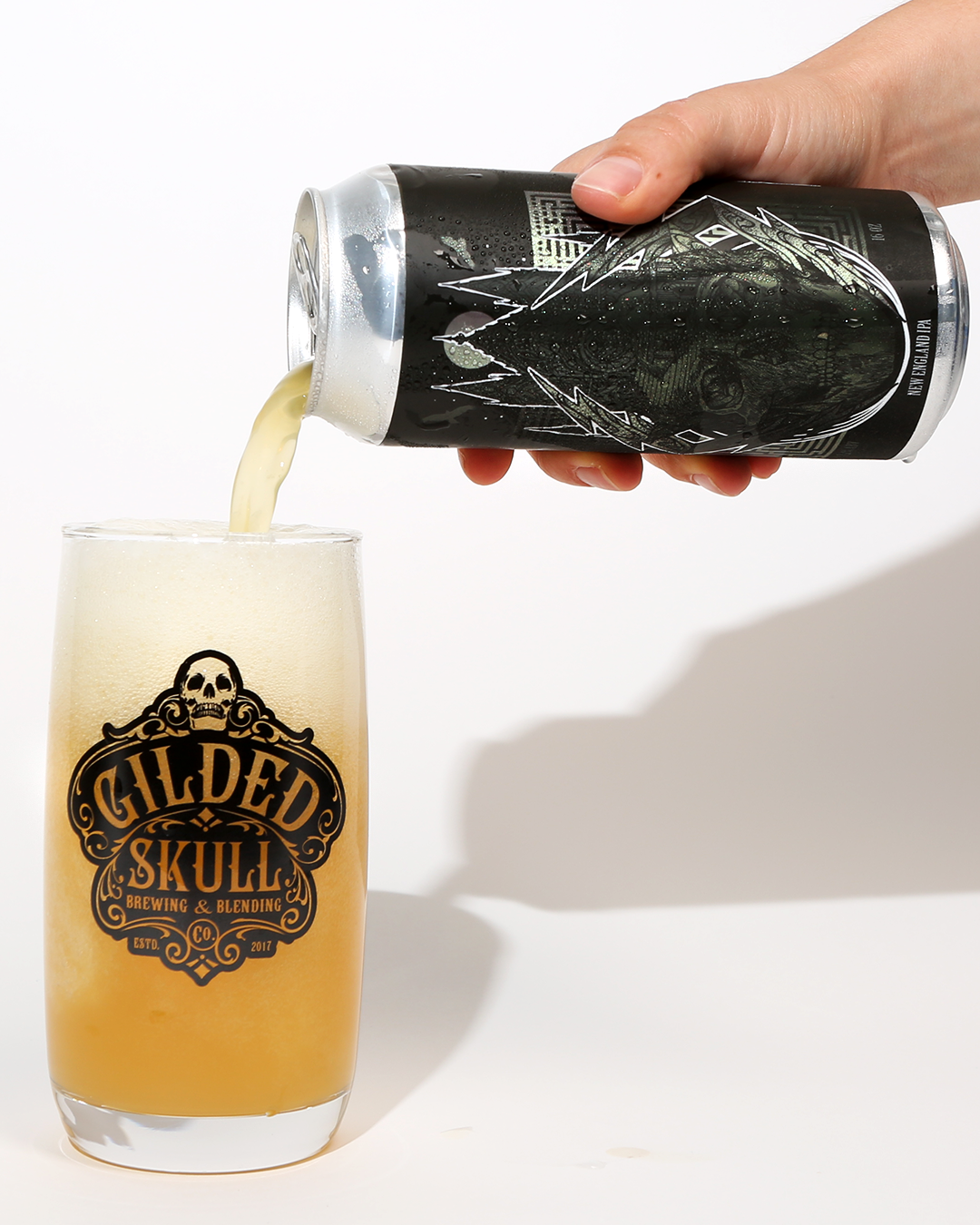 A lover of saisons, barrel-aged beers, sours, and mixed-culture beers aged in oak, Kade had hoped to stick to brewing these beers. But they're time-consuming, expensive, and labor-intensive.
"Physically, I'm still not that well," says Kade. "I'm healthy but my body is basically like a 60-year-old man." So just as he'd done many times before in the face of adversity, Kade adapted.
Gilded Empire has been crushing it, practically selling out within its first week in the market. In a city like Boston where the competition for hoppy beers and elite IPAs is stiff, the popularity of Gilded Empire has blown Kade away.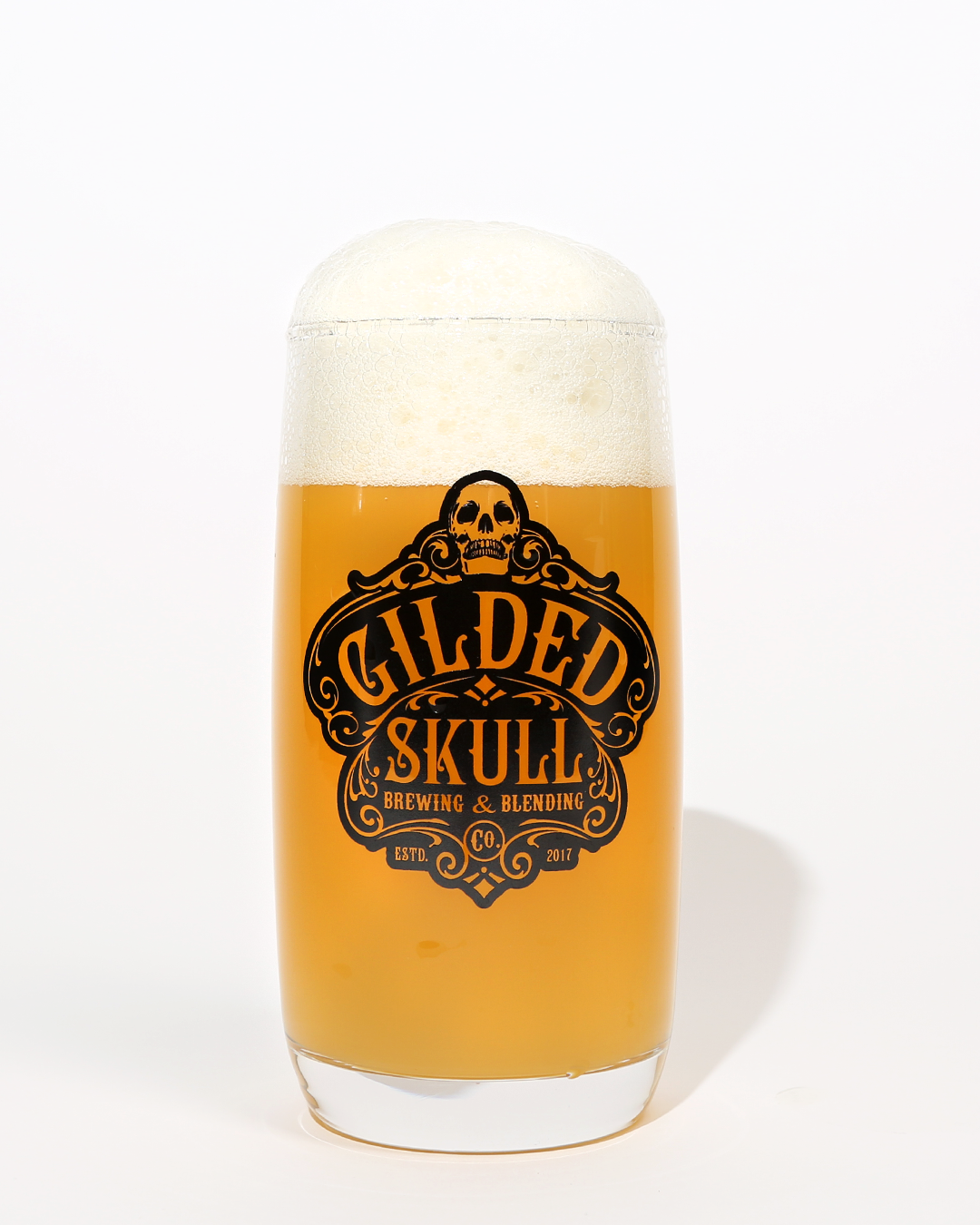 "Honestly, I had no expectation," says Kade. "I just figured I'd put the beer out there and be happy with checking that box and fulfilling my dream and hopefully some people would like it. I'm amazed and I'm humbled. Twelve months ago I would have never thought I'd still be here. It was bad thing after bad thing and now all of a sudden I have all this great stuff in my life. It's a shock."
This is a shock that Kade can live with.
Following the success of Gilded Empire, Kade will be releasing his next beer on July 29th. Water Snakes is a double dry-hopped New England IPA formulated with hefty portions of chit malt, oats, and wheat. It's hopped heavily in the whirlpool and features Idaho 7, Motueka, Azacca and Citra. And before the year is up Kade hopes to release a sour or farmhouse ale.
Turning Hope into Beer
At first glance, Gilded Skull seems like a fantasy lingering on images of death, brimming with shades of black and gold, grisly looking skulls, and metal music inspired graphics. But lean in a little closer, read Kade's story on the back of his cans, and paradoxically, you find Gilded Skull to be the brightest ray of shining light and a buoyant reality filled with hope.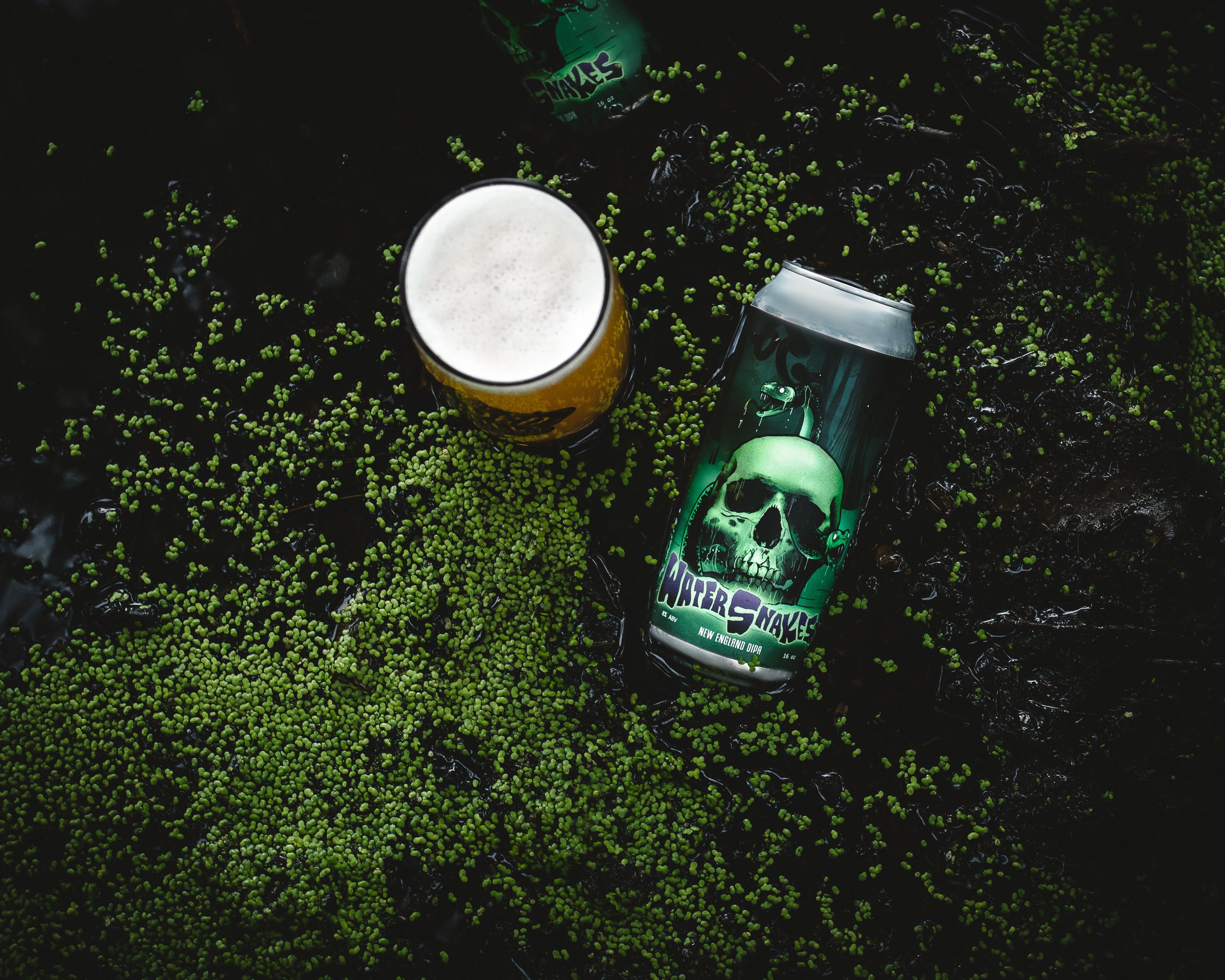 "This brewery was never supposed to be very deep or have the story it has," says Kade. "But it does. This brewery is about hope for me. It's about love. And, it's about fighting."
Literally, Gilded Skull turned into the most important fight of Kade's life, the fight for survival. Now, for Kade, the skull has become a symbol of hope, an emblem of endurance, and a logo for life.
"I was one of those people lost in the drudgery of my day job and taking things for granted," says Kade. "I try like hell not to do that anymore. And I try like hell to be humble, happy, and grateful. When I tell my story I want you to read between the lines. I want people to know that…you have to sink your teeth into the ass of life and drag it to you while you can. You have to have hope."
Liked this article? Sign up for our newsletter to get the best craft beer writing on the web delivered straight to your inbox.