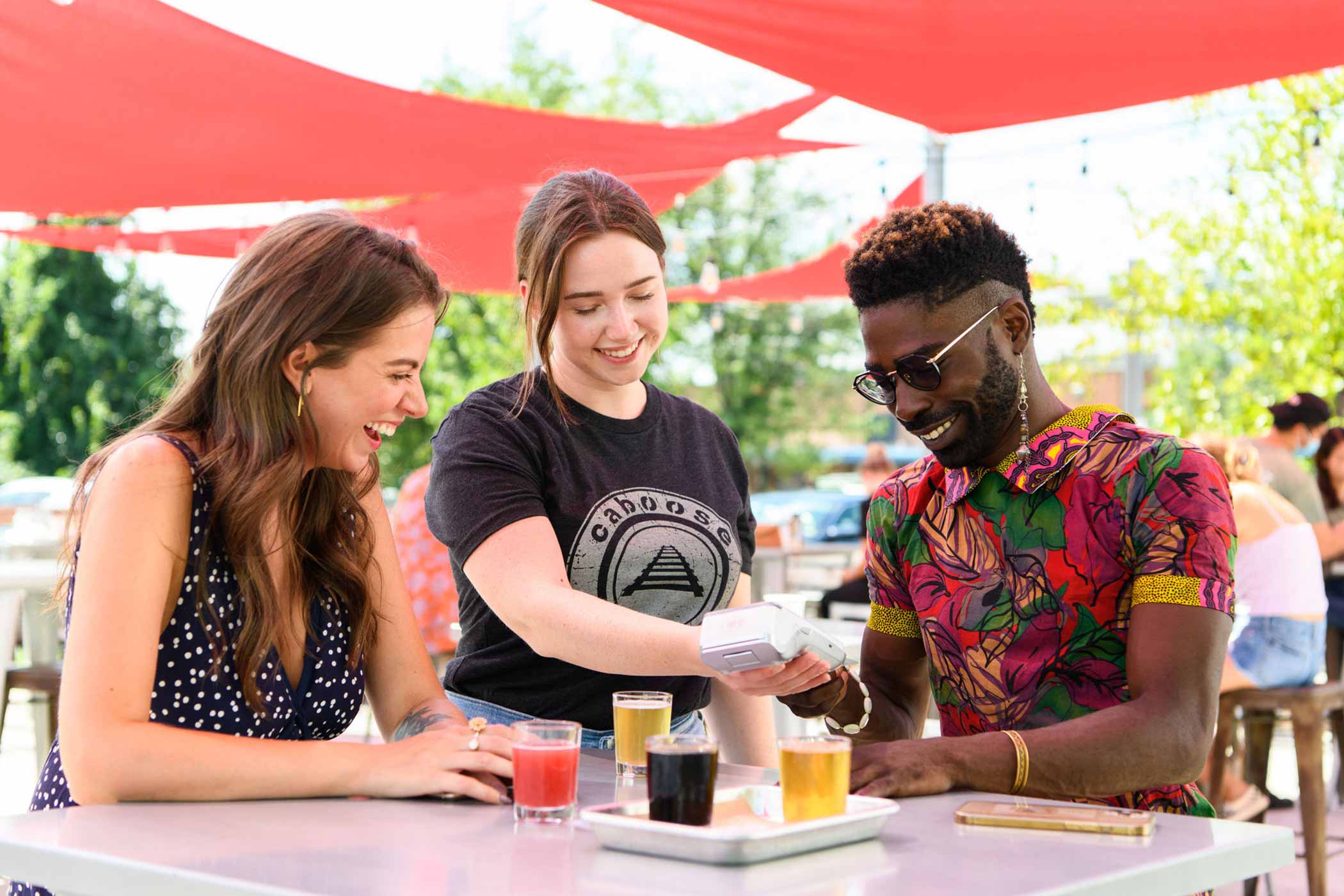 Photography courtesy of GoTab
Editor's Note:
This is a paid, sponsored post presented by our friends at GoTab.
The business of brewing beer has changed. Today, breweries need to consider everything beyond the beer, from the flow of their taproom to how their customers order beer to how to market to their consumers. With the growth of the industry has come a parallel rise in technologies supporting the business side of brewing. GoTab started as a contactless ordering and payment web service, deploying QR codes to help breweries and restaurants turn tables faster, safely order during the global pandemic, raise check averages, and ultimately boost bottom lines.
Now, the company that revolutionized contactless ordering is launching an all-in-one restaurant point-of-sale system capable of creating a first-class guest experience while simultaneously handling operations with ease.
Once again at the vanguard of industry technology, GoTab is helping breweries see beyond their beer to boost their bottom lines.
What Is GoTab?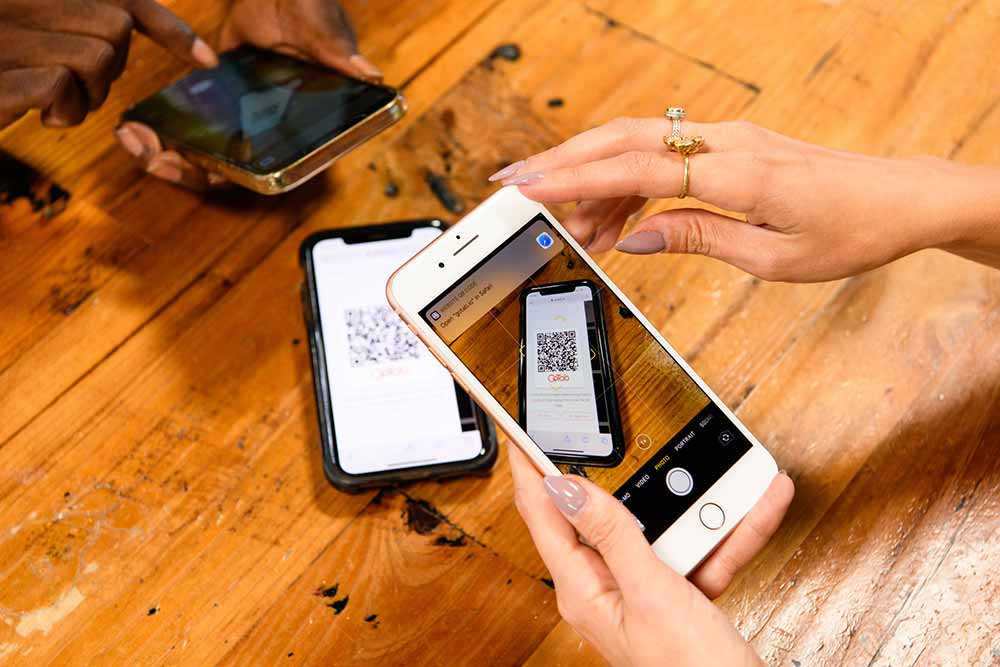 Started in 2016 by Tim McLaughlin, GoTab originated as a web application based on leveraging QR codes to help solve a problem and generate more revenue. McLaughlin spent fifteen years growing and thriving in e-commerce technology, working with clients like Mandarin Oriental Hotels, Goldman Sachs, and Sotheby's.
But in 2015, McLaughlin, his wife, and another couple started their own restaurant and brewery called Caboose Commons in Fairfax, VA. From the very beginning, they had lines out the door and seat constraints, meaning they maxed out on how much revenue they could generate pretty quickly. "We couldn't make more than as many people as we could have on a Friday, Saturday, or Sunday," says McLaughlin. "We were trying to turn tables faster, so we turned to QR codes."
McLaughlin came up with an idea. "What if people order beer to their table, so they don't have to go stand in line?" says McLaughlin.
Fast forward to 2018, McLaughlin and his business partners opened a second location of Caboose Commons. The new 8,500-square-foot, three-story brewery featured multiple spaces, including a big outdoor patio. Instead of launching with a traditional counter-service model, the pair decided to go all out, implementing what is now the GoTab mobile ordering product. At Caboose Commons, to order a beer one simply scanned a QR code, accessed a menu, and selected beer or food through GoTab. It was the first time anyone had seen something like it in the States.
A simple concept that had complex implications.
After rolling out QR ordering, McLaughlin personally stood next to the line in the restaurant for three days convincing people and teaching them how to scan QR codes.
His persistence had an immediate impact.
"It was amazing because we would see when there was a big line sixty percent of our orders would go through QR," says McLaughlin. "Mind you this was when nobody in the country knew how to use QRs. It was crazy."
GoTab had found a niche.
A solution for high-volume restaurants and breweries to help ease long lines, make ordering faster, turn tables more quickly, and generate more revenue as a result.
But breweries and restaurants were hesitant to try GoTab because QR codes were still fairly unheard of and unknown.
Until the beginning of 2020.
GoTab Grows Exponentially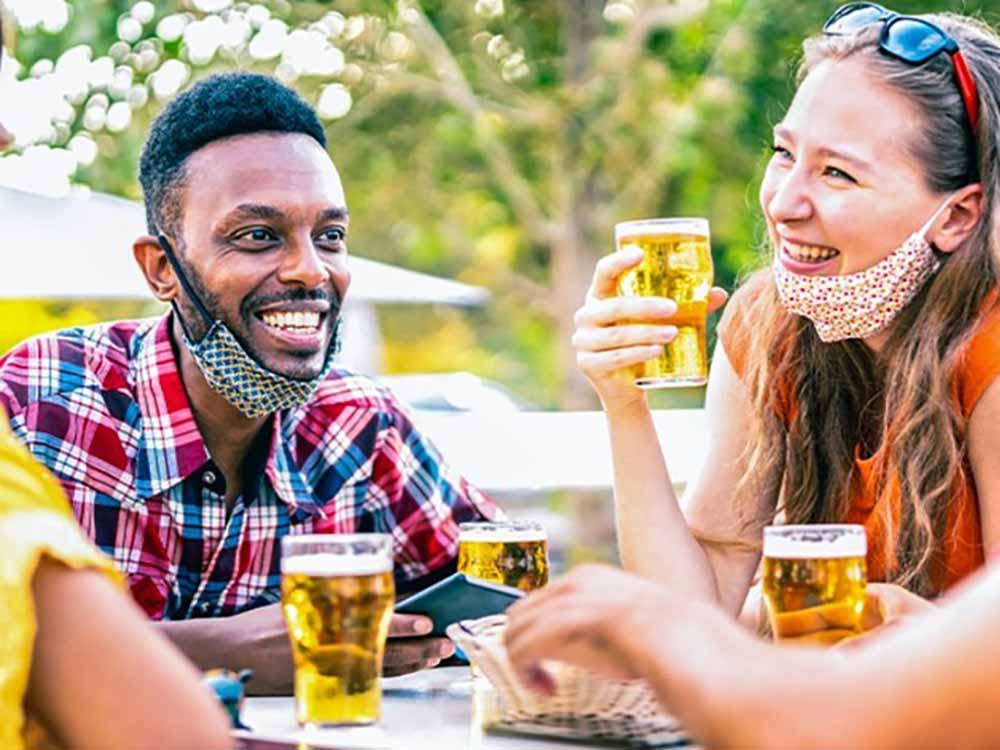 When the global pandemic hit the world, the ramifications were instant. Overnight, businesses had to completely overhaul their practices from back-of-house to front-of-house, carrying out new safety precautions for their consumers. Even the most basic actions at a brewery changed.
For example, how do you order beer in the middle of a worldwide crisis?
Traditionally, a server would come to your table to write down your order. Or, perhaps the taproom employed a counter-service model where you stood in line to nab a beer from someone behind the bar. Both posed their own challenges during a worldwide epidemic.
GoTab provided an elegant solution. With the contactless ordering and payment web service, a brewery's customers could order beer without talking to a single person, touching an unknown surface, or standing in one line.
Beyond the consumer safety applications of the program, GoTab has distinct advantages for a brewery's bottom line, increasing check orders, improving Yelp reviews, creating more efficient service, and designing a better customer experience.
Breweries went crazy for GoTab.
For instance, Stone Brewing, one of the biggest breweries to jump on the platform first. When the COVID-19 pandemic hit, they hit the gas on GoTab.
In 2020, GoTab grew an incredible 7,000 percent. "All of a sudden all those stupid ideas seemed like smart ideas," says McLaughlin.
With a single tap on your phone, GoTab allows you to access a brewery's menu, place your order, ask a server for more water, put in a request for additional ketchup, pay your bill, leave a tip… You get the idea; it's all-encompassing.
In today's touchless world, the jack-of-all-trades ordering system has quickly become the business of the future for breweries.
Now GoTab has a who's who of breweries signed up including Ballast Point, Resident Culture, Other Half, and many more.
And with the wind behind its sails, GoTab has continued to innovate.
GoTab Rolls Out the Ultimate Restaurant Point-of-Sale System
In 2021, McLaughlin and his team realized that at some point QR ordering could slow down, so they developed a full point-of-sale (POS) system.
With GoTab's innovative QR code ordering, guests could order a beer or food whenever and wherever they wanted in an establishment.
With GoTab's Restaurant POS, operators can streamline the entire process, integrating their POS systems with GoTab's QR ordering to create the best overall experience for both its guests and its staff.
The technology lets business owners track sales, cash flow, and food inventory while helping with bookkeeping and simultaneously operating as the establishment's credit card processor.
GoTab Restaurant POS rolled out last year with Stone Brewing once again jumping on board as one of the first clients.
The major brewery now runs GoTab's Restaurant POS at all of its locations.
And many more popular taprooms have jumped on board.
GoTab and Resident Culture Brewing Company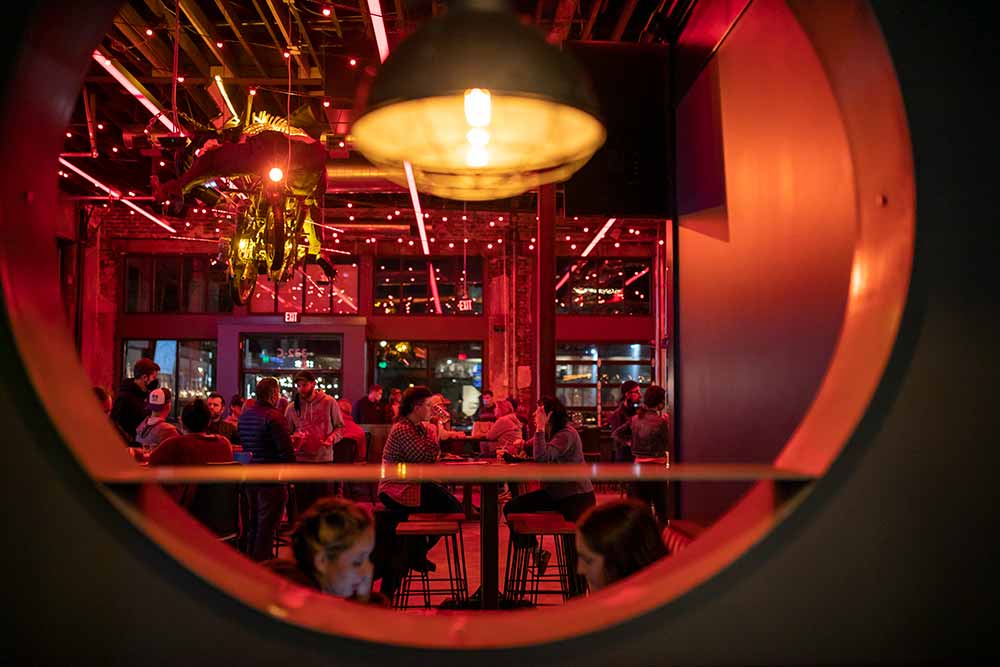 This past January, Resident Culture Brewing Company in Charlotte, NC, opened its second location in the South End neighborhood with the GoTab Restaurant POS.
While the original location has now been upgraded to the GoTab Restaurant POS as well, for the first month or so the two locations operated with different POS systems, making them the perfect case study.
"Since we've been using GoTab at our South End location, we can tell sales are increasing just by virtue of it being easier to order a drink," says Philip McLamb, co-founder of Resident Culture Brewing Company. "It's very clear to us that if we didn't have the QR ordering capability and didn't have the logistics around getting the food and drinks to peoples' tables, it would be physically impossible to do the volume we're doing, especially in South End."
According to McLamb, the ease of ordering has contributed to an increase in sales volume. "You don't have to go stand in line at the bar, so people are in control of their tabs. That makes a huge difference," says McLamb. "It's a light bulb moment for customers when they realize: Wait, I can order a drink, have it brought to me, and close my tab whenever I want to."
Even better, since Resident Culture's original Plaza Midwood location switched over to the GoTab Restaurant POS, they've seen a fifteen percent increase in the average tab.
Again McLamb cites the ease of ordering. "You really see the advantages of having something like GoTab when you're really busy on a food truck day or a busy Saturday," says McLamb. "When the bar is jammed and people want that one last beer before they leave, if they go up to the bar to order that beer they're going to wait ten minutes. But if they can order from their table…I really see the first tab continuing to increase the more our customers get comfortable with and learn [GoTab]."
Beyond efficient ordering and higher check averages, Resident Culture has enjoyed other features of GoTab's POS system.
For instance, the in-depth sales tracking and analytics allows McLamb to see who is buying what in all the areas of the taproom at any specific time of the day. "Obviously, the quick bar order spot…is typically our largest because we're open late and people aren't sitting at tables, but during lunch and dinner people order from the tables, getting drinks and food brought to them," says McLamb.
Additionally, GoTab worked with Resident Culture to personalize the layout of its POS system, "understanding the workflow and use cases that every place has to customize buttons," says McLamb.
And lastly, McLamb emphasized GoTab's amazing customer service. "They're always quick to hop on a Zoom, a call, or send someone physically here to work on things," says McLamb. "That means a lot to us and makes a big difference."
All contribute to a healthy hospitality ecosystem. One where it's easier for people to order what they want, where they want, when they want, and to close their tab when they want.
GoTab Understands All the Possibilities of Ordering Beer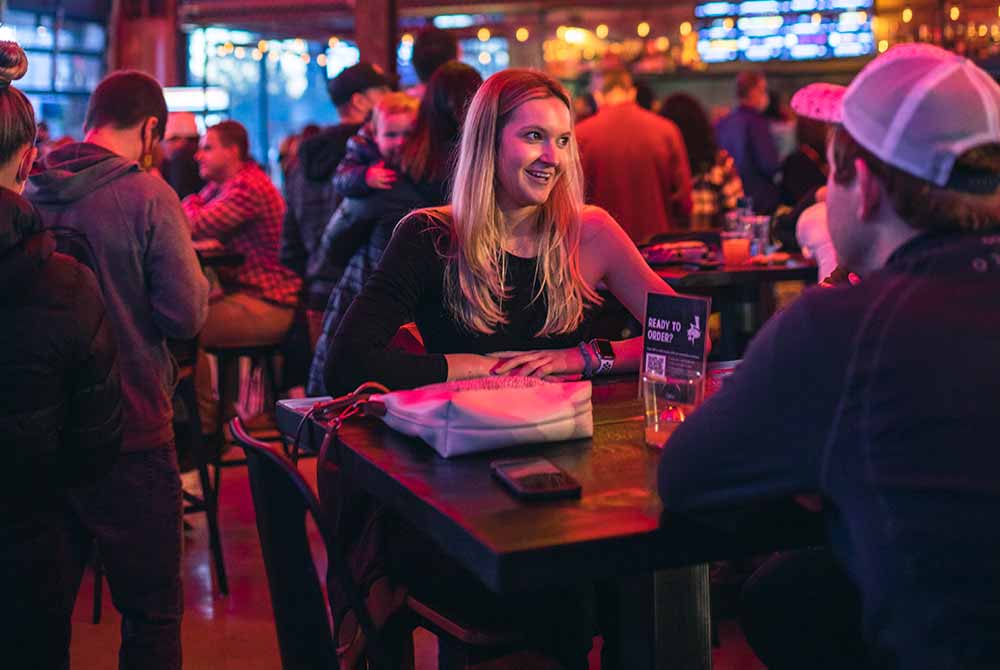 There are many advantages to using GoTab's intuitive restaurant POS system.
First and foremost, GoTab's Restaurant POS supports all kinds of models for paying a tab. Do you have customers who are comfortable storing their cards on their phone? What about folks who don't? GoTab supports both. "We try to make it as easy as possible to enable a restaurant or brewery to run in a largely self-ordering and self-payment model," says McLaughlin.
A cloud-based POS, the GoTab Restaurant POS system considers all the possibilities of how a brewery guest might order a beer or food.
For example, let's say you're sitting at a table with your friend and you both open a tab. With a good service model, a server would come out to check on you at some point. That waitperson might see that your beers are low and offer you another round. "On all other systems they can't add to your check easily," says McLaughlin. "In our system, if they have our mobile POS, they can just grab your check, hit reorder, and it will show up on your phone as another round ordered by the server on your check."
It's that care and consideration for how breweries operate that differentiates GoTab. Remember, McLaughlin owns his own brewery and restaurant spaces. He knows all the different ordering scenarios.
Are you a taproom that likes to give people tastes of beers?
No problem.
With the GoTab Restaurant POS, guests can stand in line, taste beers, open a tab with a card, and, after they're done tasting, not only take that first batch of beers back to their table, but also take their tab with them. The bartender can hand off the tab to the customer on their phone.
Plus, wherever they go in the space they can scan the spot where they are and new beers or even food will be delivered right to their table.
They can also reorder on their phone or go back up to the bar and buy from the bartender.
GoTab has made ordering a seamless transition between guests and staff. "We facilitate interaction with staff around tasting and experience, but that doesn't stop them from buying that second beer," says McLaughlin.
If there is a way to order a beer or food in your establishment, GoTab has thought of it and built a way to easily pay for it into its system.
And that's important because "the sales volume will increase according to how hard it is to get a beer," says McLaughlin. "If you never have lines, if you have four seats at the bar, and you're at a place that doesn't have a ton of traffic, there are not a lot of obstacles to buying another beer."
But if you're a high-volume destination, like one of GoTab's biggest partners that's also a worldwide brand, you need to get beers out fast to maximize revenue. Since this particular brewery partner implemented GoTab, their sales volume has doubled.
GoTab Costs Less, Encourages Guests to Buy More, Helps Breweries Save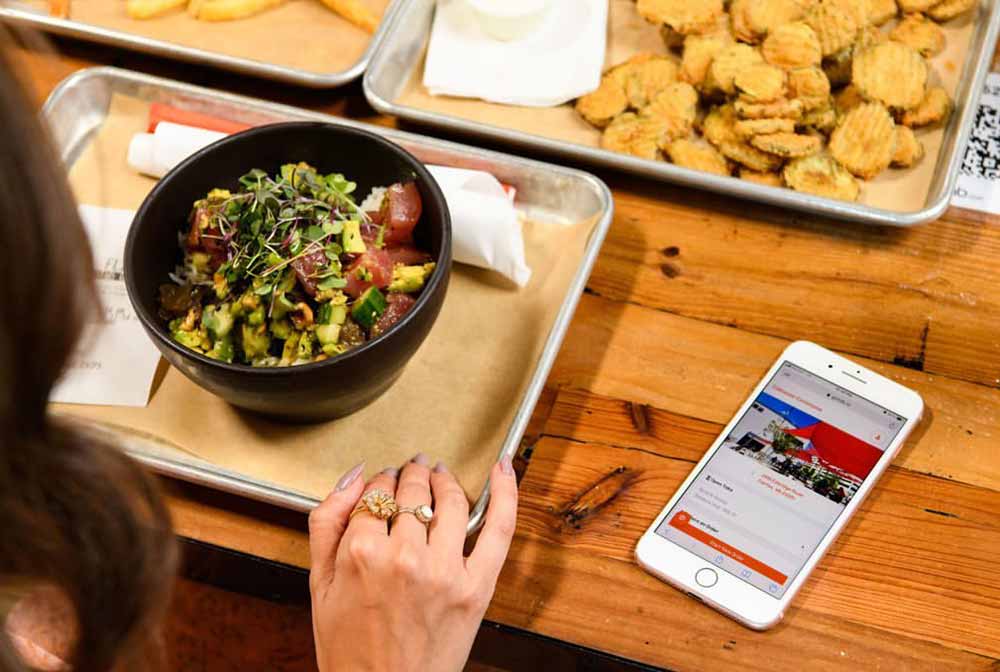 Leveraging the capabilities of GoTab's Restaurant POS and QR ordering system, breweries have seen their consumers buy more beers while simultaneously saving on costs.
It's a win-win.
"We tend to cause guests to buy more because it's easier and because they don't have to go to the counter any more," says McLaughlin. "At the same time we cost less because we run tabs more effectively, we save on payments, and we have lower processing rates."
Additionally, because of the efficacy of GoTab's Restaurant POS, establishments can easily operate with fewer runners and staff, contributing to lower labor costs. You'll also be less likely to run your team into the ground during high-volume times.
Another cost-saving benefit, GoTab's Restaurant POS tracks a brewery's inventory depletion either as packaged goods or in volume. This has a direct effect on a business' taxes. "Typically, breweries are paying thirty percent more taxes than they should be because…a lot of people pay taxes based on how much they made, not on how much they sold," says McLaughlin. GoTab's Restaurant POS does all the math for you.
And on top of all of this, GoTab doesn't charge a monthly subscription or require a contract, a huge differentiator from other QR ordering and restaurant POS systems out there.
Bottom line: GoTab easily helps breweries save while also boosting their bottom lines.
What's Next for GoTab
Even with all these fantastic features, GoTab isn't resting on its laurels. Currently, there are new brewery-centric components in the works.
One of the features McLaughlin is most excited about is tapping into GoTab's data and analytics.
In GoTab's world, once someone opens up a QR code, you gather their name, phone number, email, and purchase history. "Did they re-buy your IPA or not? Did they like it or not?" says McLaughlin. "I always say trust behavior, don't trust words. Don't ask them what they think, see what they do."
Gathering all that data can help a brewery build a customer profile that can be used to create an audience, which a business owner can target through specific campaigns. "Here are my IPA lovers or my Tuesday-night weekly customers, or whatever you want to do you can start slicing and dicing by segments and understanding who your customers are and start creating appropriate ads for them," says McLaughlin.
Going even further, GoTab builds in your mug club, VIP, or barrel club memberships, so when someone shows up at the brewery you can see if they're a mug club member and offer them an automatic discount, for instance. Or if they're a barrel club member you can offer them a special menu.
All enhance the guest experience.
For Resident Culture, understanding this data can help the brewery create a better customer experience and even develop a robust marketing strategy.
"We can take some of the customer data we have and create segments to market to different people," says McLamb. "Like people who love breakfast burritos or our hazy IPAs. We can get very granular in the data."
Beyond marketing, GoTab has a direct-to-consumer shipping functionality rolling out.
Plus, if your establishment offers on-premise takeout or delivery, GoTab is working with two different companies to integrate all of those delivery services—Grubhub, Uber Eats, Doordash, etc.— into one marketplace.
And finally, GoTab will launch an ecommerce platform, where you can ship beer all through GoTab.
Overall, there are more exciting features and innovations coming down the line from GoTab this year, making GoTab's Restaurant POS an exciting new option for breweries.
"We were built for breweries," says McLaughlin. "We're the cheapest product on the market and we're able to drive the highest volume. I don't know what else you would want!"