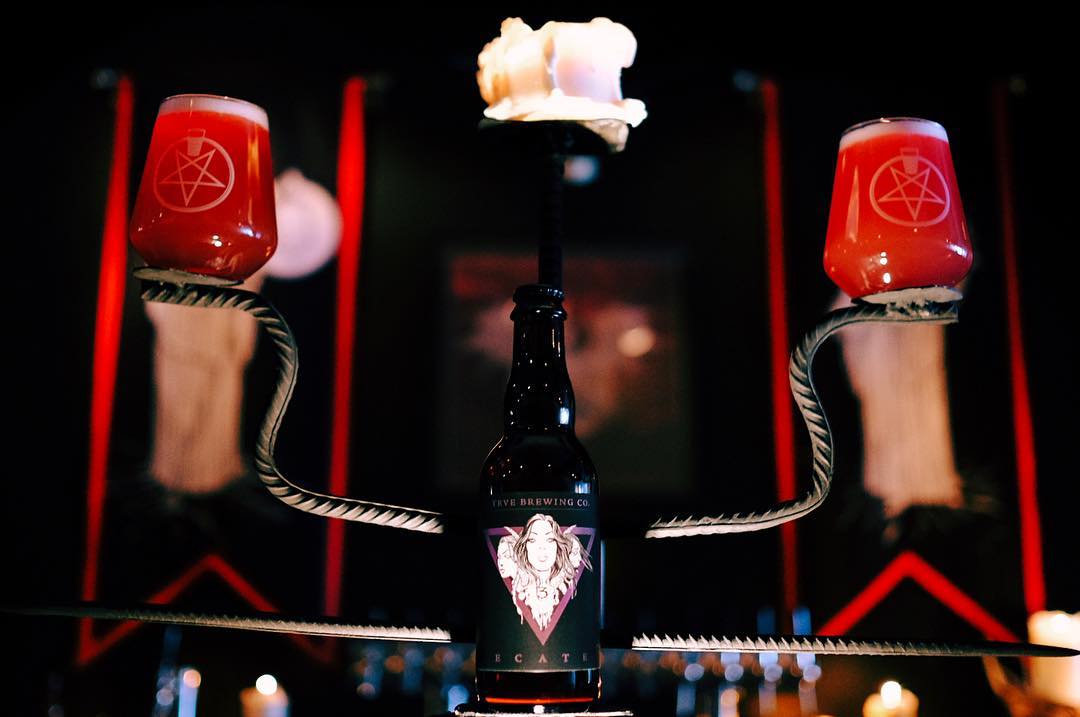 Photo courtesy of TRVE Brewing Co.
Once upon a full moon, beer and witches (well, the concept of witches) went hand in hand. In medieval times and more recent history, alewives were the ones brewing. The black hats we often associate with witches were worn by alewives to distinguish themselves in public markets, brooms were hung over front doors to let people knew beer was being sold there, and black cauldrons were used as a kettle for boiling wort.
We may not use the term alewife these days and pointy hats generally only come out once a year, but we sure know how to celebrate the spooky season. The craft beer scene isn't immune to the "pumpkin everything" madness, and frightful decorations line the walls of establishments across the country. Heck, even we here at Hop Culture are throwing a Spooky Brews Vol. II party in Boston. While plenty of breweries will be throwing Halloween parties or releasing specialty brews specifically timed for this boo-tiful holiday, there are a handful that truly bewitch to their cores.
These five breweries are always living that occult life, which makes the spooky season the perfect time to visit them. From California to Virginia, hop on your brooms and conjure tasty spells at these haunts just in time to celebrate Halloween.
Thirsty Pagan Brewing
1615 Winter St., Superior, WI | (715) 394-2500
You can read about alewives and witches of years past, or you can go ahead and drink a beer brewed by a practicing Wiccan IRL. But first, some history anyway: Thirsty Pagan was originally called Twin Ports when it opened in the mid-'90s. When the new owner, Steve Knauss, took over in 2006, he wanted to change the name but keep the same initials, thus Thirsty Pagan was born. You could call it kismet that head brewer Kathleen Culhane ended up there. When she took the head brewing position, she brought her Pagan practice, a combined 25 years of homebrewing and brewery ownership experience, and chops honed in the Minnesota beer scene with her to the brewpub. The power of manifestation and hard work!
While you won't find any witch imagery nor eerie decorations at the Northwestern Wisconsin brewpub, its what's in your glass that fits the Samhain spirit. Culhane incorporates what she learned in her coven training into the spiritual aspects of her beers, because, as she puts it, "brewing is magic." "It is inherently magical," she says. "When you do a Wiccan ritual, you are combining the classical four elements: air, earth, fire, and water, and when you combine these, you create the fifth element, which is spirit, and that's the top point of the pentacle. Think about this for a second: what do you do when you make beer? You combine grain (earth), hops (air), yeast (fire) and water and you create alcohol — a one to one correspondence."
Though there is no Halloween shindig going down at Thirsty Pagan this year, now that Culhane has a full-time assistant, she's in the process of setting up her working altar at the brewery, so the magic is just beginning. There are, however, some fresh fall beers to help make your costume decisions easier. In mid-October, Culhane will be whipping up her third incarnation of a hazy IPA called Pier 20 Hipster Fuel, a brand new English mild, and a light Belgian-style that's technically a "patersbier" but that she calls a "maters" because she "doesn't do patriarchy." As the temps drop, her mint chocolate stout and winter warmer will be available as well. All this drinking making you hungry? There are plenty of pizza options to choose from at the brewpub.
Big Rip Brewing Company
216 E. 9th Ave., North Kansas City, MO | (816) 866-0747
This Kansas City-area brewery is all about sci-fi, which is a great way to get into monster mode. The Big Rip name comes from the theory that one day, every single atom in the universe will be ripped apart. "I like to think of it as the opposite of the Big Bang," Head Brewer Bri Burrows says. "That kind of segues into mythical creatures, horror, and B-movies, all of which everyone involved in the brewery has always been a big fan of."
How into this concept are they? TVs are always set to one of those aforementioned genres, and their biggest influence is Evil Dead. The franchise has found its way into many of their beer names, a chainsaw above the bar reads "Order Here," and they've named one of their fermentation tanks "Ash." Not into Evil Dead? Big Rip is also obsessed with kitschy fair like Sharknado and classics like Halloween, Alien, Scream, and Friday the 13th, and they've got a monthly horror trivia night; October's theme is, of course, Halloween.
As you might expect, Big Rip takes Halloween very seriously, and they'll be throwing their 7th Annual Ripper Halloween Party on Nov. 2. Tickets to the staff-favorite shindig include unlimited drinks, plus there will be a taco food truck, costume contest, and DJ-curated, Halloween-inspired playlist. The party also marks the annual release of Pennywise, a sweet potato beer that is Big Rip's take on the pumpkin beer concept, with 100 pounds of sweet potatoes brewed in the mash and pumpkin pie spice, vanilla, and brown sugar in the boil. If you've shunned off anything gourd-adjacent, later in October comes the release of Try and Tear Me Down!, a New England IPA with boysenberry brewed in collaboration with the U.K.'s Queer Brewing Project, with proceeds going to the Kansas City Anti-Violence Project.
Phantom Carriage Brewery
18525 S. Main St., Carson, CA | (310) 538-5834
If you've ever wanted to know what it would feel like if Vampira opened her own brewery, look no further than Phantom Carriage. They are so devoted to the horror cinema cause that their name derives from the Swedish film Körkarlen, which revolves around the legend that the last person to die each year has to drive Death's carriage and collect the souls of those who die the following year. Cheery, no?
It fits then that Phantom Carriage's beers are based on old-world brewing techniques fused with innovative blends, with their most popular beers being of the sour and wine barrel-aged varieties. If you prefer to drink beers as dark as your soul, there's almost always a Russian Imperial Stout to choose from; on tap now is Babayaga. A recently released West Coast IPA isn't remotely creepy but proves the devotion to the cause with the name Devils Playground, as does their Belgian amber, Daughters of Darkness. A few new beers will also be pouring just in time for Phantom Carriage's Halloween party and costume contest on Oct. 26, including a marzen, a lambic, and a kolsch.
The reason you are stopping in and staying a while though is because you're being sucked in by vampires. Literally. Walking into the dark, cavernous taproom just south of Los Angeles feels like you're unwitting become an extra in a B-movie set in a creepy cellar, minus all the blood and guts and such. A small theater room is constantly showing a vintage horror flick, and they have a weekly Wednesday Night Thrillers viewing party (recent features included Zombieland and Terrifier). The brewery goes beyond film reels and posters with some truly spine-chilling events, like a live zombie makeup demonstration and tarot card readings. In addition to their beers, Phantom Carriage features a full food menu, and if you're craving something sweeter than blood, even their desserts get the terror treatment; you can't go wrong with their cookie-and-ice cream combo, White Zombie.
The Oozlefinch Craft Brewery
81 Patch Rd., Fort Monroe, VA | (757) 224-7042
The story behind the brewery's name, which is located at a decommissioned Army fort, is both creepy and full of lore. Captain H.M. Merriam supposedly had the very first sighting of the oozlefinch outside the Fort Monroe Officers' Club in 1905. The unofficial mascot of the Air Defense Artillery, this fowl is said to have no feathers or eyelids, red bloodshot eyes, and a long neck, and apparently flew backwards at mach speeds. The club felt such a kinship to it, they christened their secret society the Order of the Oozlefinch. With a history like that, it's no surprise that the fort itself — and thus the brewery — is said to be haunted. So, while you're enjoying your Zombie-series hazy IPAs, remember they're so named for the animal graveyard that sits atop the fort's casemate. May we suggest raising one in the darkest hours so you can look out for the Lady in White, a ghost looking for her murdered lover, or the Moat Monster.
According to Russel Tinsley, Oozlefinch's Founder/Majority Owner, the brewery itself may have made the most Frankenstein move of all. "Perhaps one of the coolest and weirdest things that we have done involves a yeast strain that we pulled off of a creepy civil war era Tiffany & Co. dinner chest," he explains of the piece once owned by General Benjamin Butler. "One of our brewers, Rachel Edwards, was able to harvest the wild yeast strain from the old chest, which had been stored at the base's casemate museum for many years. This strain is now a proprietary strain that we have banked and use in multiple barrel- and non-barrel-aged beers."
If you'd rather not think about which furniture lent itself to your drink, they've got plenty of other beers to choose from, including two upcoming releases. The first is a brewery-favorite hazy IPA named Flannel Thief, named after a soldier who was forced to wear a flannel jacket bearing the word "thief" and march around the moat's parade grounds after he was caught stealing during the Civil War. They're also dropping the latest in their pastry stout series, Eatin' Cancake; the latest version is a banana pancake with maple syrup variant. A good time to imbibe would be during Oozlefinch's annual BOOzlefest on Oct. 26, which includes a Zombie-themed CrossFit competition in the morning and a costume party at night.
TRVE Brewing Company
227 Broadway #101, Denver, CO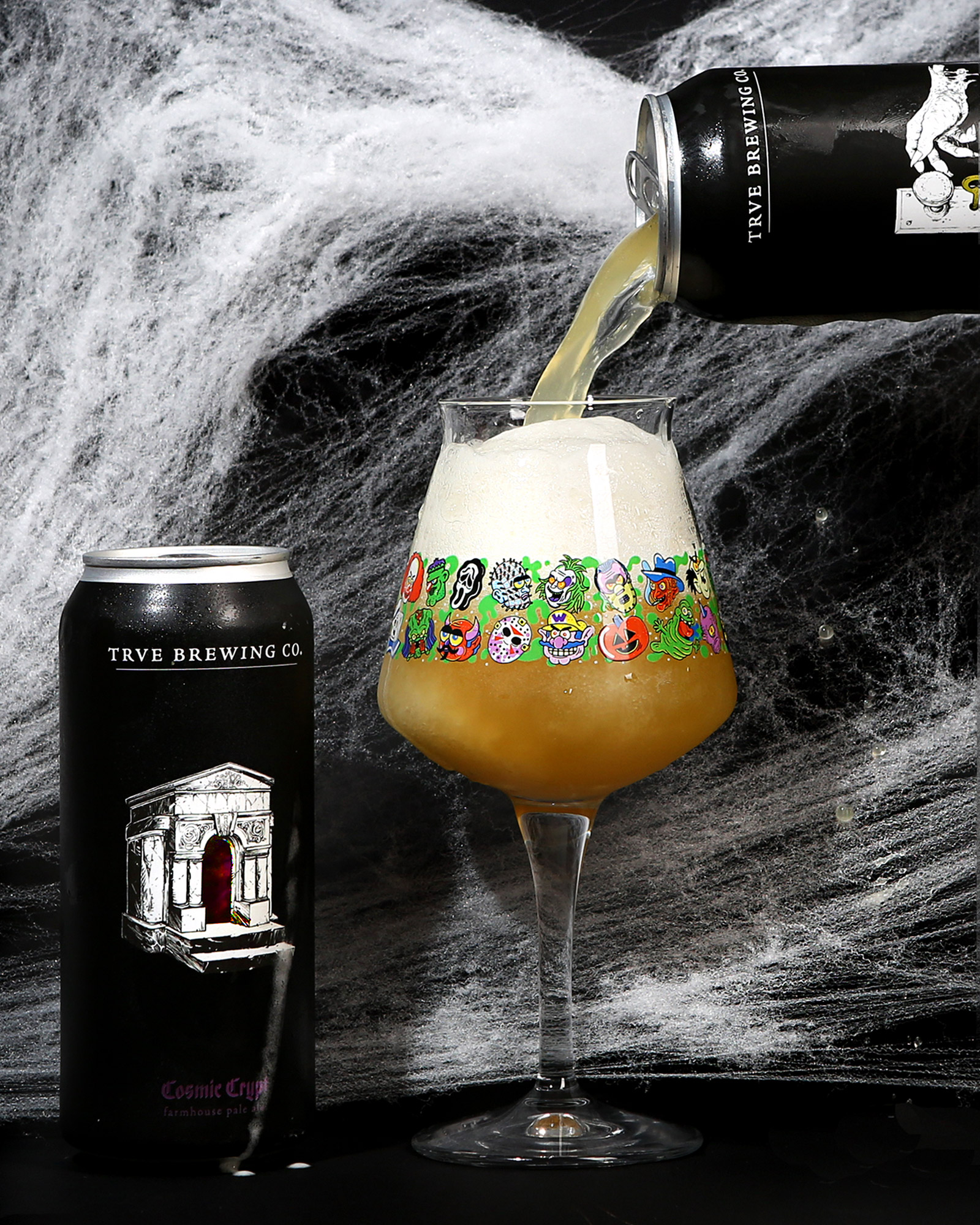 Is there anything more dark and mysterious than heavy metal? Not only is TRVE's artwork based on the rock genre, but it's even in their company motto: "Beer. Heavy Metal. Denver." Everything about these guys is metal: they channel Loki, embrace chaos, and don't adhere to any particular beer style guidelines because, as they say on their website, they're "style blasphemers and category agnostics." The brewery is dark enough that any vampire would be happy to frequent it, and the tap setup resembles an altar, complete with an array of candles. Even the bathrooms are painted black. Basically, this is a place to get lost, rock out, and possibly sell your soul.
To match your palette with the season, let the beer names guide you. May we suggest "Cursed," a mixed culture sour pale ale, "Peach Crypt," a taproom-only farmhouse ale with Colorado peaches, or "Spirit Ritual," a mixed culture golden ale with Colorado plums. Pucker up before the graveyard shift. While the brewery isn't doing anything specific for Halloween this year, they're still worth a visit just to get in the mood and practice your howls before you party so hard you lose your voice anyway.
Liked this article? Sign up for our newsletter to get the best craft beer writing on the web delivered straight to your inbox.