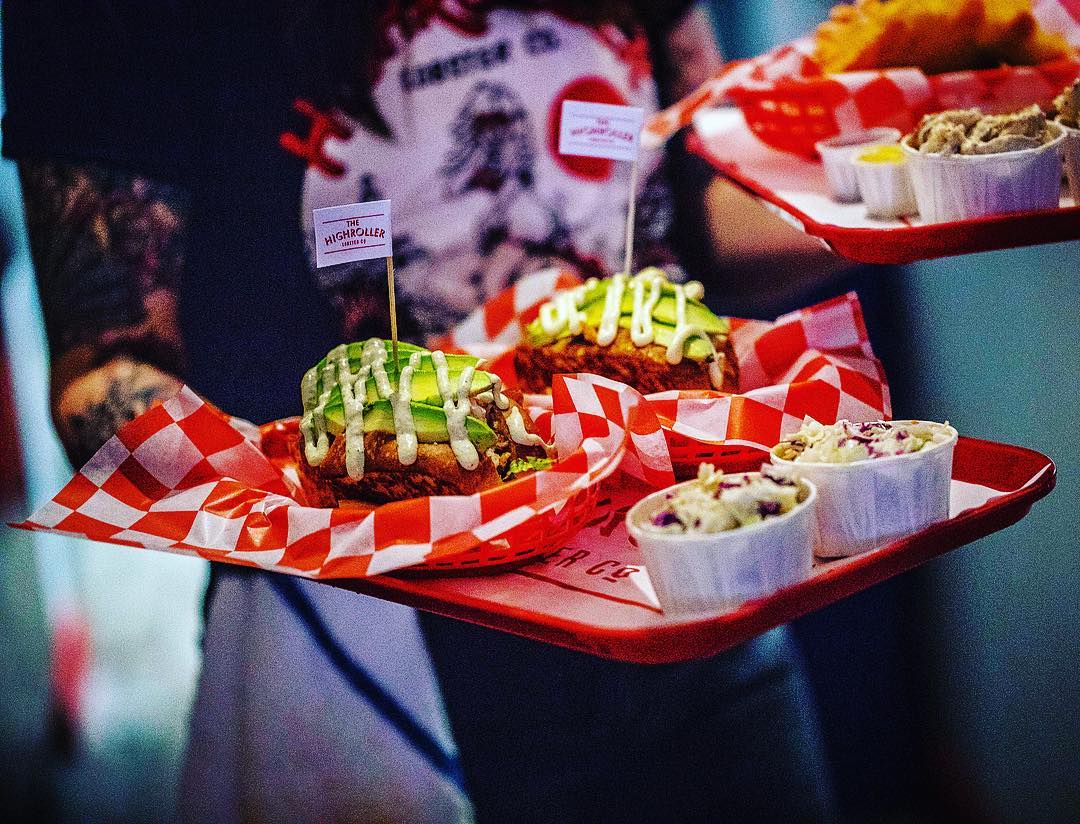 Photo courtesy of The Highroller Lobster Co.
Editor's Note:
Hop Culture's collab glass with Highroller is now available in the online store. Shop for it here.
It's summer in Maine. And 'Vacationland' screams for coastal getaways, woodsy hikes, and outdoor adventures. Beers are poured and shared with friends, barbeque grills are lit, but it's hard to think of summer in this New England state without thinking of a classic that brings both tourists and locals together: the lobster roll.
Portland, though not the capital of Maine, could arguably be the capital of this popular dish.
Having been named 'Restaurant City of the Year' by Bon Appétit Magazine, this food/beverage destination has brought a calling to craft beer lovers for quite some time. More and more food and drink projects have popped up over the last few years as the demand never seems to cease. But separating yourself from the sea (pun intended) takes determination, consideration, development, and, most of all, fun.
You'll find all that at The Highroller Lobster Company in downtown Portland, where a weathered red and white awning welcomes guests to enjoy their fill of great food and beer. The straight-from-the-paint-tube color scheme carries throughout the space, with a nod to nautically themed seasonal seafood shacks. The sparsely decorated, diner-like, order-at-the-counter setting, is anything but pretentious, even with an acclaimed menu and draft list that has people lining up and coming back for more. Cheeky, graphically forward merchandise, such as 'herb' grinders and full sweatsuits have become collectibles for fans, and graffiti murals from local artists complete a recently expanded outdoor seating area.
What has defined the brand (aside from their skeleton mascot, Bony Riga Tony) has been their authenticity and their ability to be faithful to their roots. The mobile eatery concept still plays an important part in the business, with coast-to-coast pop-ups at breweries and beer festivals throughout the country. (And even international pop-ups including Mikkeller Beer Celebration in Copenhagen, Denmark.) By serving up fresh lobster with exciting flavors, by a team with fresh threads and fresh ideas, The Highroller Lobster Co. is on a roll.
We sat down with Co-Owners Andy Gerry, Baxter Key, and Peter Bissell to talk about how The Highroller went from a former food cart purchased off Craigslist to becoming one of the must-visits in Portland, ME.
Though the three all credit spontaneity and borderline accidental discovery as a contributing factor to the culture of their business, it's their professional experience and commitment that distinguishes items on their food menu and brings esteem to their beer program.
Rewind to 2015, when Gerry and Key take the calculated risk and push the boundaries of what a pushcart can be. With Gerry having access to great vendors and fishermen from previous employment at a fish market, and Key fresh off learning the tricks and trades from other mobile-food entrepreneurs and industry veterans, the two frequent breweries with a modest menu of chunked lobster accompanied by a selection of sauces in fresh baked brioche buns made specifically for the cart by Maine's Southside Bakery.
"It's been a four-year learning curve," Gerry shares. "We are always learning new techniques to better our system, so whenever we think we're at our absolute prime, there is always something to do better."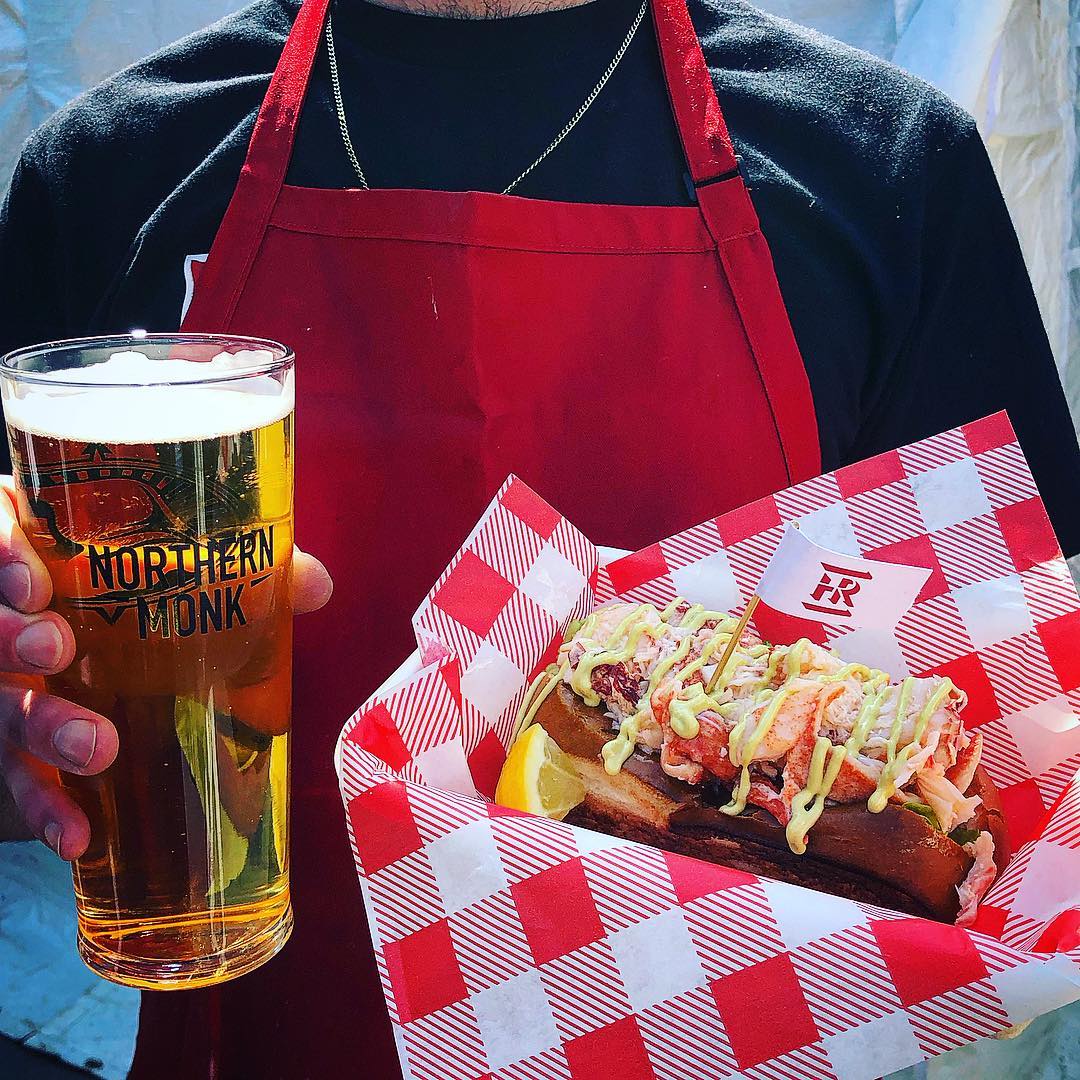 "Four years ago it could have taken up to 45 minutes to fulfill an order 'cause we used to just keep taking orders," Key continues. "And people were still excited! But we knew it wasn't a good look. We figured out how to expedite things from experience over time and at larger events."
Gerry mentioned that they have the process dialed it in, so that, now, when people order, they can expect their food by the time their transaction is done.
Unlike other lobster rolls that are mixed more like seafood salads, the Highroller Lobster Roll is left fairly unadulterated with options to add sauces such as Jalapeno Mayo, Charred Pineapple Mayo, and a Lobster Ghee (that is not to be missed). Key mentions that this was from wanting to do a butter option with a spin.
"It was actually one of my dad's ideas," Key explains. "He read a Thomas Keller book where they used to make lobster butter by toasting the shells, crushing them, infusing the butter, and straining them out. We gave it a try and it's kind of become a staple."
In December 2017, the modest food cart was prepared to take the leap to brick-and-mortar restaurant thanks to new business partner, Peter Bissell, of Bissell Brothers Brewing Company.
With a new kitchen, 10 draft lines, and even more space to work their magic, the three owners would get together weeks before the Grand Opening to continuously test and research their ideas in Peter's home kitchen.
"To make a new restaurant successful it's not about reinventing the wheel," Bissell says, "it's about the little things. We wanted to engineer an experience that was great for us, in hopes that people would feel the same way. It's been really cool to see that work out."
That ethos manifests itself in a particular menu item: The Surf & Turf Burger. Meticulous development–with Key on a self-proclaimed burger bender–including nailing down a sesame seed potato bun, omitting shallow ingredients like the beefsteak tomato, and perfecting the cheese blend, has resulted in the dish being voted Best Sandwich in the state of Maine by the Portland Press Herald in 2018.
To pair with the world-class eats, Bissell's seven years running a brewery helped the team build out the beverage program.
"There are a lot of places in Maine, and in Portland specifically, that have leaned into their beer menus," Bissell shares. "A lot of it is the same. There are a lot of great brands in Maine, and they are available at all these places. So you want to give people an experience they've never had before. In small ways or big ways. And we've dovetailed on this path within the last few years to make a lot of connections within beer. And we can use those to deliver these experiences that you can't necessarily get at any restaurant or eatery on Portland."
Maine runs on an economy of intimacy, and the Highroller cart acts like a business card, as an extension of the restaurant. As a result, the brick-and-mortar location has become a culmination of contributions from friends, family, and artists. A playful environment that showcases partnerships and encourages creativity (like inter-employee bootleg merch designs, menu additions, and guest/tap takeovers). And while the Exchange St. location has become a shared gallery to the owners, the cart is still integral in continuing to establish these connections.
"The flexibility of this company is an asset," Bissell maintains. "You can take what you do and maximize it. There is an openness to hit that point of relevancy that humans desire. So you need to be open to collabing on a shirt, or doing pop-ups. Sometimes it's not going to pan out perfectly. You don't know until you try."
"The fact we're so busy, that we're creating jobs at other businesses, is truly something I didn't expect to ever happen when we bought a food cart for a couple thousand dollars on Craigslist," Gerry affirms.
They say that pirates spend their whole life searching for gold on a map, when the real treasure is the friends and times they've had along the way. Gerry agrees, "That's exactly how this place exists."
Liked this article? Sign up for our newsletter to get the best craft beer writing on the web delivered straight to your inbox.