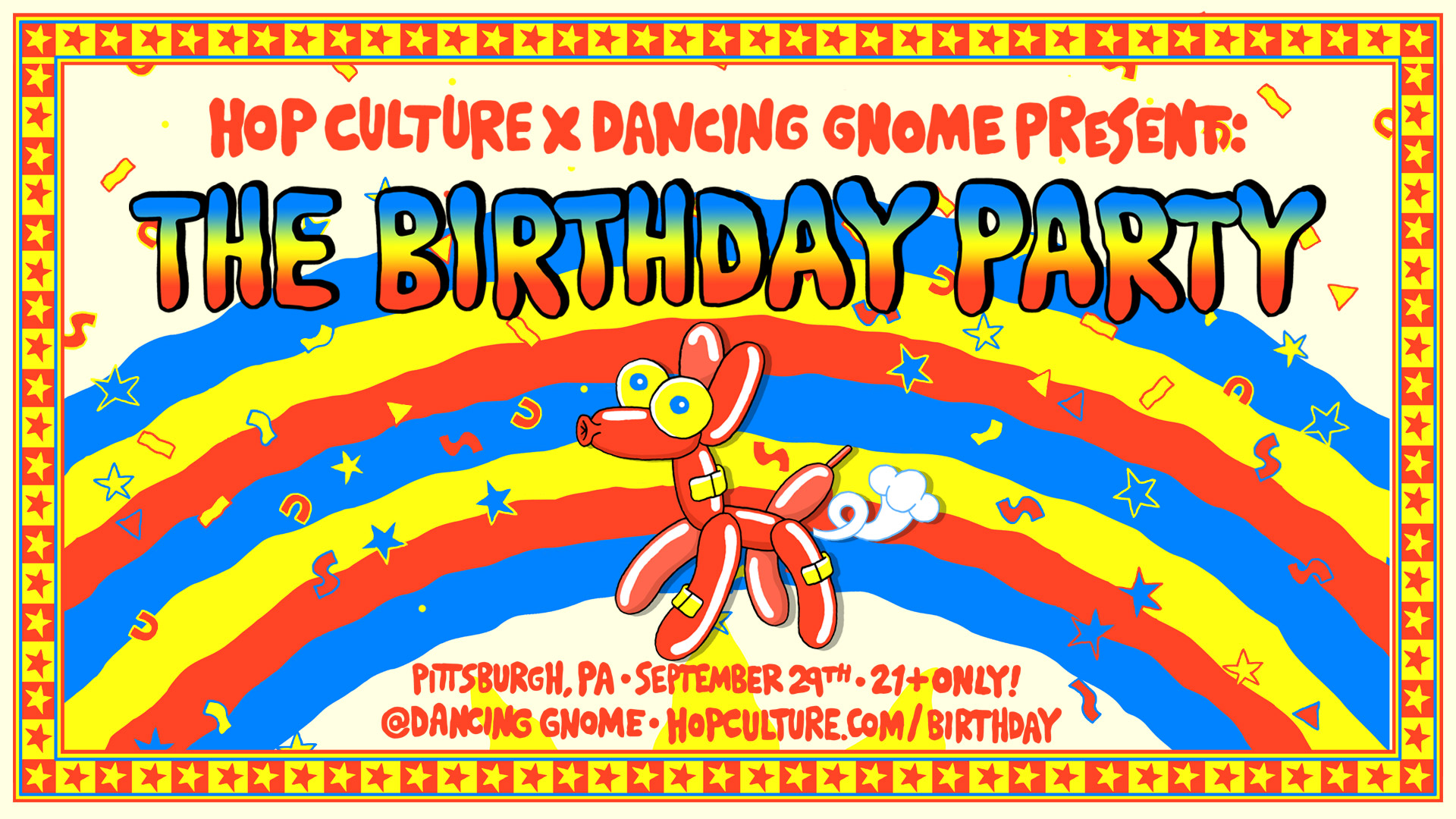 Remember the best birthday party you ever attended? Maybe it was at a roller skating rink. Or your local bowling lanes. The zoo? There's something nostalgic about those parties, with young friendships, underpaid magicians, and incredible sheet cake.
We've taken the best of those parties, added booze, and planned one hell of a birthday bash.
On September 29th, we'll be returning to Dancing Gnome, the site of our first Juicy Brews, for "The Birthday Party," a celebration of beer, nostalgia, and Dancing Gnome's 2nd anniversary. Per usual, we'll have unlimited pours, local food, dope music, and limited-edition merchandise designed by London-based graphic artist Sam Taylor. Come ready to eat cake, make balloon animals, and drink the day away.
I'm especially looking forward to "The Birthday Party" because it's our sequel to that first Juicy Brews at Dancing Gnome, which was drunken serendipity at its finest. I met Dancing Gnome's owner Andrew Witchey when I was writing about soon-to-open breweries in the Pittsburgh area for Craft Pittsburgh. My editor had sent me to cover the brewery when it was the shell of a building, and some ambitious blueprints. Unlike many of the brewers I interviewed, I got the sense that Witchey was connected to a national craft beer movement that extended beyond Western Pennsylvania. He was young, but so was I, and maybe that's why we hit it off.
A year later, once I had moved onto Hop Culture, Witchey wanted a first anniversary party, and I wanted to throw a beer fest. And so on October 1st, 2017, Juicy Brews was born, and the craziness began. We've since thrown eight iterations of our festival, but Pittsburgh is always our favorite city to return to.
We're stoked to be back in Pittsburgh and partying with some the same breweries who were there with us from day one.
The Details
Featured breweries include:
Aslin Beer Company
Barreled Souls Brewing
Bearded Iris Brewing
Burley Oak Brewing Company
Charles Towne Fermentory
Dancing Gnome Beer
Deciduous Brewing
Finback Brewery
Foam Brewers
Magnify Brewing
Ocelot Brewing
Outer Range Brewing
Rotunda Brewing
Triple Crossing Beer
VIP tickets go on sale at 12:00 PM on 8/15/18 and include (1) limited edition taster, unlimited pours, (1) limited edition Hop Culture x Dancing Gnome "Eat Your Greens!" tumbler, and (1) four pack of Dancing Gnome beer (1 x Hop Culture collab beer, 1 x Triple Crossing collab beer, 1 x Nobody's Robot, and 1 x Black Clouds).
GA tickets go on sale at 12:00 PM on 8/17/18 and include (1) limited edition taster and unlimited pours.
Those are the important bits. See you in September!
Stay fresh, stay fly,
Kenny Gould, Co-Founder, Hop Culture Magazine