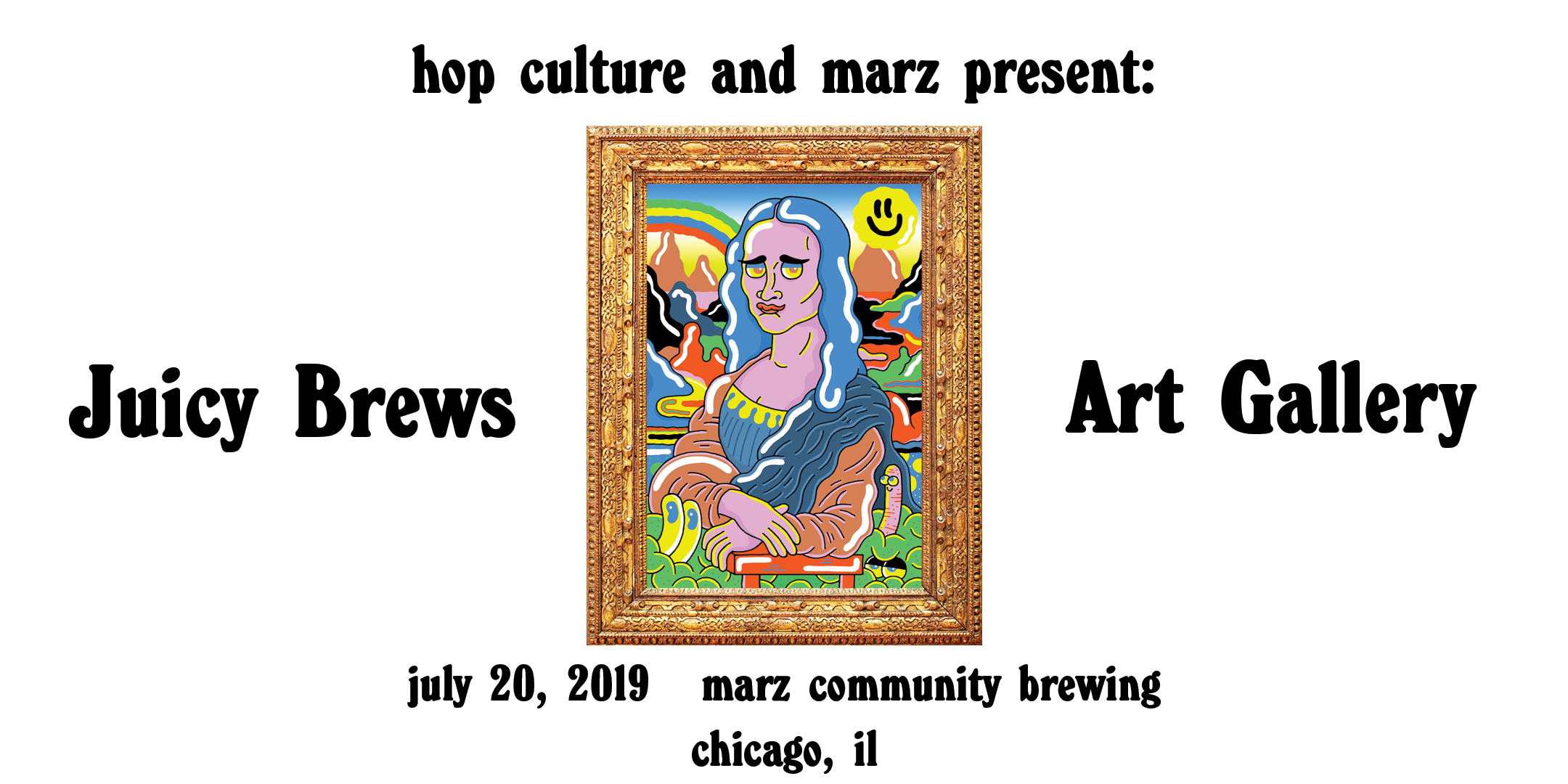 Editor's Note:
Tickets for Juicy Brews Art Gallery go on sale on Tuesday, May 28th at 12:00 PM EST. Click here for more details!
Hop Culture doesn't publish a ton of beer reviews. They seem like a relic of past beer journalism, when a critic's opinion actually had an impact on consumer purchases. But with 7,000 breweries across the country, the vast majority of which produce a stunning variety of hyper-local products, the chances of any reader actually tries a beer we review is slim. Also, I have terrible taste.
So what do we cover? Stories, for one. I'm deeply interested in the people who spend time in this industry. One of my favorite pieces in this vein include Grace Weitz's coverage of Scratch Brewing in Ava, Illinois.
We also cover industry change and developments, particularly when something innovative or noteworthy happens.
But one of my favorite things to cover is design. Imagine: every brewery needs an artist or designer, and most of them don't have the budgets to keep someone on staff. They hire freelance artists. The result is widespread patronage of the arts. While the majority of people — non-beer fans included — could probably name a few good craft breweries, I imagine the same people would be hard pressed to name the brewery artists. And yet, many of those artists are integral parts of the brewery's success.
What's Hoof Hearted without Thom Lessner? Hudson Valley without Evan Cohen? Amazing breweries, certainly, but artists make them something greater than the sum of their parts.
This realization that got the team thinking about Chicago. We wanted to do something different in the Windy City, but we didn't know what. Everything clicked when we talked to Tom Piekarz, co-founder of Marz Community Brewing in Chicago. Personally, I'd describe Marz as "intensely creative." The brewery not only took the top spot our "Best Beer Label Design of 2018" list (along with Collective Arts and Lexington, Kentucky-born artist Jacob Ciocci), but they're also incredibly supportive of the Chicago arts scene. Their taproom is a showcase of amazing artists, and they publish the Mash Tun Journal, and run non-profit radio station. They're probably involved in a hundred other little creative projects that I don't even know about.
Since Piekarz offered Marz's incredible warehouse space for a festival, it was only fitting that we paid homage to the arts. Juicy Brews Art Gallery will have unlimited pours from all the amazing breweries you'd expect at a Hop Culture festival, along with a notable inclusion: in addition to inviting the breweries, we've invited their artists. Oh, and Thom Lessner, artist for Hoof Hearted? He'll be DJing.
Without further ado, here's the list for Juicy Brews Art Gallery, which'll take place at Marz Community Brewing (3630 South Iron Street, Chicago, IL, 60609) on July 20th, 2019. We hope to see you there!
2nd Shift Brewing (MO)
3 Floyds Brewing Co. (IN)
Barreled Souls Brewing (ME)
Burley Oak Brewing Company (MD)
Brouwerij West (CA)
Cinderlands Beer Company (PA)
Collective Arts Brewing (ON)
Commonwealth Brewing (VA)
Corridor Brewery & Provisions (IL)
Foam Brewers (VT)
Forest & Main Brewing Company (PA)
Half Acre Beer Company (IL)
Hoof Hearted Brewpub and Kitchen (OH)
Jackie O's Pub & Brewery (OH)
KCBC (NY)
Marz Community Brewing (IL)
Resident Culture Brewing Company (NC)
Revolution Brewing (IL)
Sideward Brewing (FL)
Spiteful Brewing (IL)
The Referend (NJ)
Yours truly,
Kenny Gould, Founder, Hop Culture
Liked this article? Sign up for our newsletter to get the best craft beer writing on the web delivered straight to your inbox.