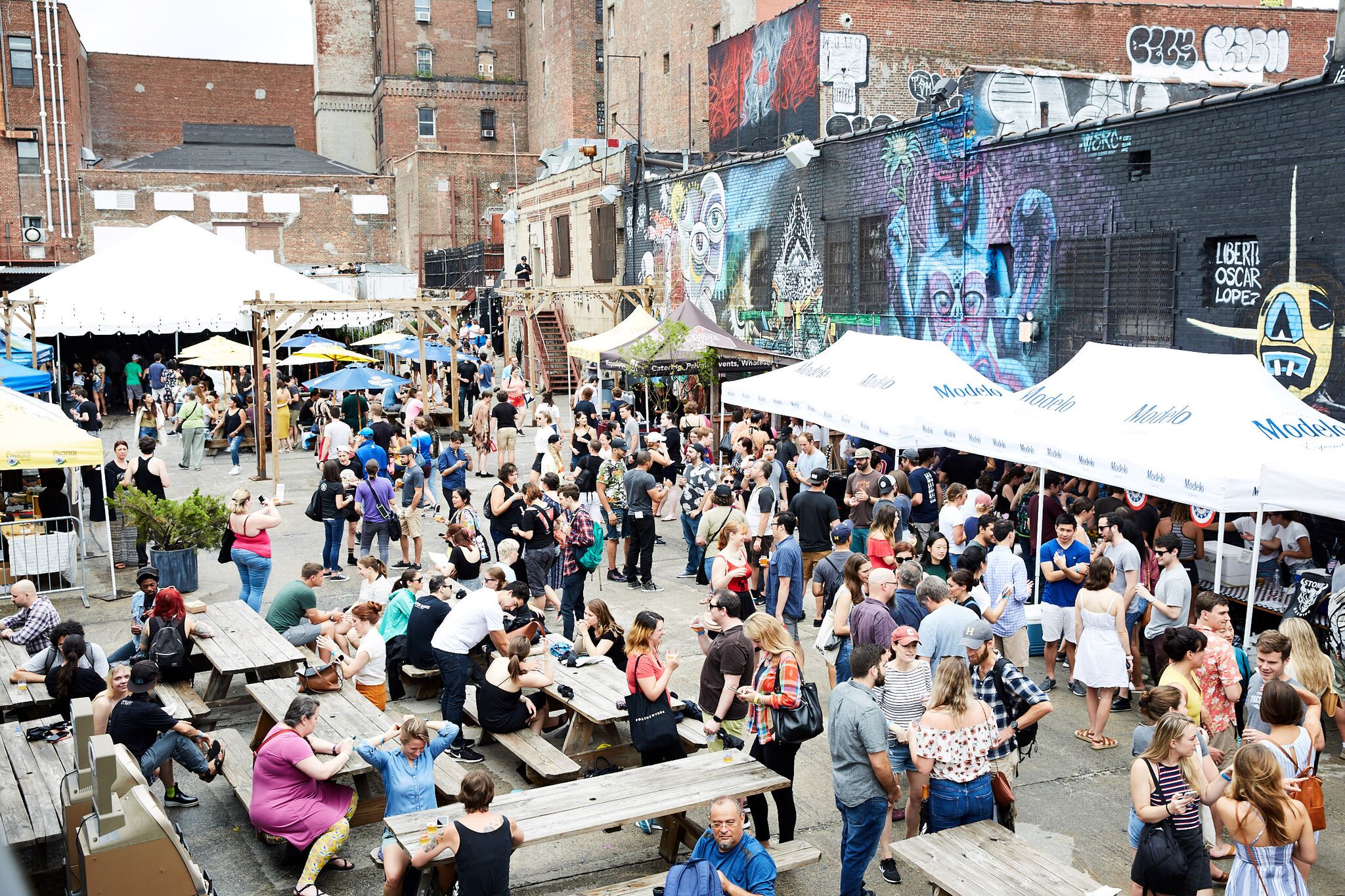 Photo by Lauren Perlstein
In October of 2017, Hop Culture threw its first festival at Dancing Gnome Brewery in Pittsburgh, Pennsylvania, a 500-person event that sold out in ten seconds. Over the past two years, we've continued throwing events, making minor and sometimes even major adjustments in order to perfect the craft beer festival.
Just like brewers who learn on a five-gallon kit before opening up their own taproom, we've slowly been honing our model and processes. July 2019 marks our eighteenth festival, and we'll throw another in August. By the time we help host the Pro Football Hall of Fame's inaugural craft beer festival in Canton, Ohio, on September 7th, we'll have thrown twenty events.
For those who don't know about the Pro Football Hall of Fame, it's an organization that "enshrines exceptional figures in the sport of professional football, including players, coaches, franchise owners, and front-office personnel, almost all of whom made their primary contributions to the game in the National Football League (NFL)." The grounds house offices, a museum, event spaces, and a stadium, and sees over 200,000 visitors every year.
I first heard about the Pro Football Hall of Fame from Dennis VanFossen Jr, the organization's Executive Manager of Events. In his position, Dennis had been tasked with activating the organization's event spaces, and he wanted to throw a beer festival. However, as an avid craft beer lover, he knew how much went into a festival. He'd first heard of Hop Culture through Instagram, and driven to Pittsburgh with a couple of his colleagues to attend our Birthday Party Festival at Dancing Gnome. After the experience, he asked us if we'd be interested in helping the Pro Football Hall of Fame throw an event.
Although most people know Hop Culture as a magazine and events company, consulting makes up a fair portion of our business. After nearly twenty events, we know how to execute a successful festival. Part of our process is operational: we know how many pounds of ice to order for each brewery, how many ounces of beer we need to purchase for the average person, how to check in hundreds or even thousands of people without causing problems. But the other is creative. We know which concepts will work, and which might flounder. We know how to keep things simple while providing a one-of-a-kind experience for our partners and attendees.
Sometime in the fall of 2018, Hop Culture Marketing Manager Grace Weitz and I drove to Canton, Ohio, to meet with Dennis and his team. After a tour of the Pro Football Hall of Fame's facility, we met in a conference room to talk business. Mostly, the meeting consisted of Grace and I asking questions, and the Hall of Fame team laying out their vision: a 3,000-person craft beer festival at the Hall of Fame in Canton, Ohio, featuring at least one brewery from each NFL market.
Nearly a year later, that project is finally coming to fruition. On September 7th, 2019, we'll have fifty of the nation's best breweries coming into Canton for a one-session extravaganza of football and beer. Below, we've listed all 50 attending breweries. Thirty-two of them represent each of the NFL markets, and the others represent some of our favorite breweries from around Ohio and the country.
7venth Son Brewery
Aardwolf Brewing Co.
B. Nektar Meadery
Bluejacket
Boulevard Brewing Co.
Branch and Bone Artisan Ales
Central State Brewing Co.
Cinderlands Beer Co.
Commonwealth Brewing Co.
Courtyard Brewery
Crooked Stave Artisan Beer Project
DankHouse Brewing Co.
Dancing Gnome Beer
Deciduous Brewing Co.
Double Nickel Brewing Co.
Drake's Brewing Co.
Evil Twin Brewing NYC
Fat Heads Brewery
Hacienda Beer Co.
Heavy Seas Beer
Hoof Hearted Brewing
Inside The Five Brewing Co.
Jackie O's Pub & Brewery
Lincoln's Beard Brewing Co.
Listermann Brewing Company
Magic City Brewing Co.
Marz Community Brewing Co.
Masthead Brewing Co.
Mikkeller NYC
Missing Mountain Brewing Co.
New Realm Brewing Co.
Noble Creature Cask House
Outer Range Brewing Co.
Platform Beer Co.
R. Shea Brewing
Resident Culture Brewing Co.
Reuben's Brews
Rhinegeist Brewery
Royal Docks Brewing Co.
Sandy Springs Brewing Co.
Seven Stills Brewery & Distillery
Seventh Son Brewing Co.
Southern Grist Brewing Co.
Spindletap Brewery
Stone Brewing Co.
The Bruery
The Collective Brewing Project
Thin Man Brewery
Wild Mind Artisan Ales
Wren House Brewing Co.
This is perhaps Hop Culture's most ambitious project to date, and a no-brainer for those who love beer and football. We hope to drink a beer with you soon!
Best,
Kenny Gould, Founder, Hop Culture
Liked this article? Sign up for our newsletter to get the best craft beer writing on the web delivered straight to your inbox.