Let's get right to the juicy stuff.
I'm talking, of course, about hazy IPAs, a relatively new type of beer that has confused some, captivated many, and created a new class of devoted drinkers who DGAF unless the label reads "DDH."
Also known as New England-style IPAs, these unique hoppy brews have become a phenomenon, unprecedented in the history of craft beer. They first appeared in the Northeast about a decade ago, designed to be less bitter than the aggressive, palate-punishing IPAs of the West Coast that had become prevalent. With a hazy appearance, soft mouthfeel, fruity aromas, and juicy flavors, they quickly attracted a cult following among beer fans, the type unfazed by waiting in line for hours, even overnight, at the breweries making them for a chance to score super-fresh cans.
The limited nature of these flavor-fragile IPAs further fueled the fire and, along with beer's thriving black market and the rapid rise of Instagram, contributed to the speed of their success. It also created a highly spirited subculture with similarities to the one surrounding streetwear, where the most coveted cans are status symbols, signifiers of clout. A hypebeast scene for hops, if you will.
There have been some naysayers along the way, mostly purists who doubted the hazy IPA's longevity and denounced its wide appeal as unsophisticated, more show than substance. But its success is undeniable. Today, brewers of all sizes across the country can't put limited-edition IPAs in cans fast enough, and the fervent fan base for foggy seems to grow with each "drop."
In few places is the so-called "haze craze" clearer than Brooklyn, where a number of beer makers are making great versions. Some purveyors are world class. As such, the canned-IPA release has become somewhat of a weekend staple for a certain segment of locals. Perhaps it's the beer geek's brunch, which is fitting when you consider the New England-style IPA looks and tastes more like fresh-squeezed orange juice than actual beer.
Without further ado, here are the best breweries for canned, hazy IPAs in Brooklyn.
Other Half Brewing Co.
195 Centre Street, Carroll Gardens | 917-765-6107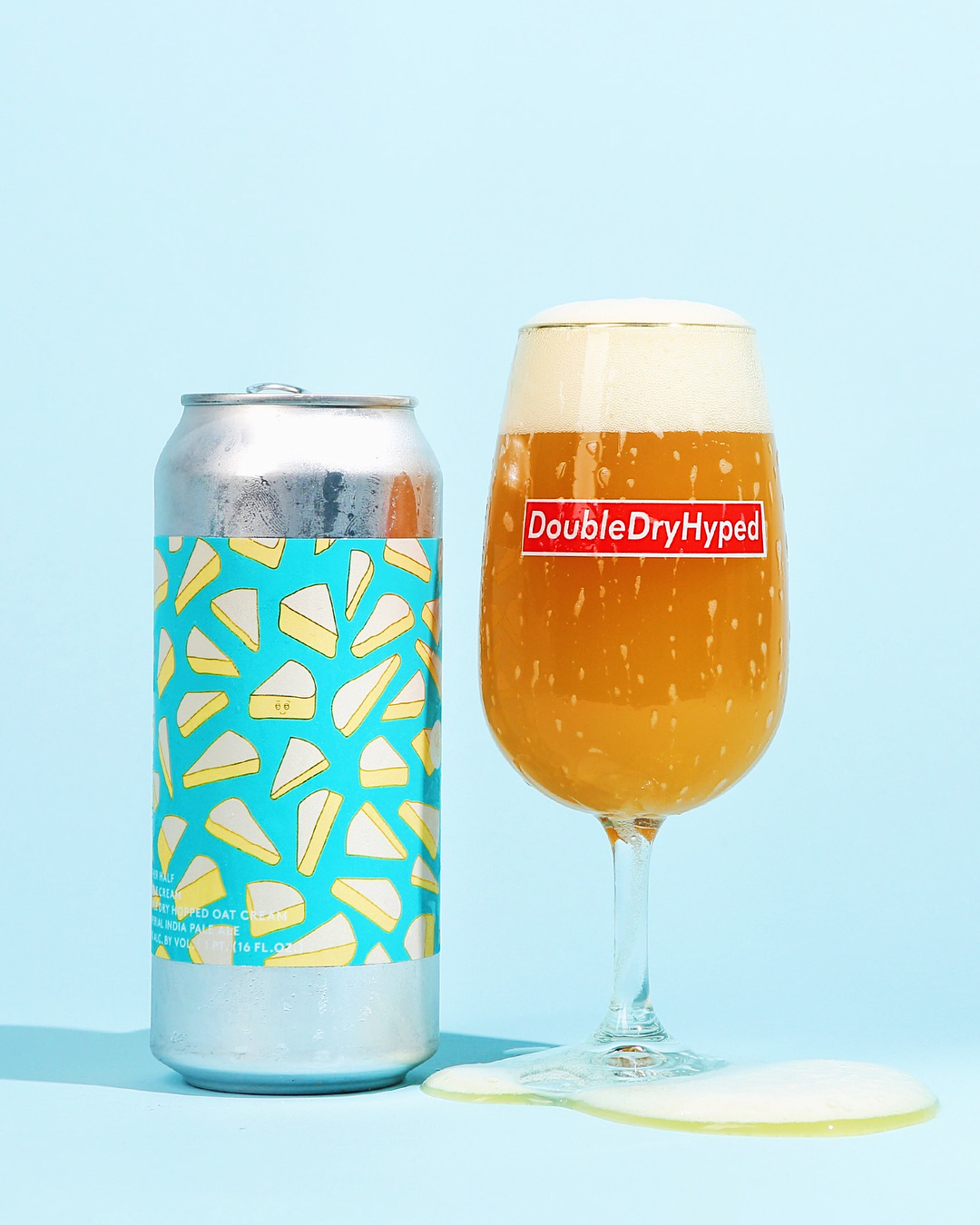 Canning IPAs: Almost daily
Where to find them: Brewery only
When it comes to coveted cloudy IPAs, few premier purveyors are making it rain hops harder and heftier than Other Half. Opened in early 2014 by Samuel Richardson, Matt Monahan, and Andrew Burman, the beloved brewery was among the first–like The Alchemist, Tree House, and Trillium–to see through the haze and recognize the vast potential of New England-style IPAs. They built their business around producing these murky, juicy IPAs, aggressively hopped but with restrained bitterness, in limited quantities and selling them exclusively on the premises. They sell a silly amount of days-fresh IPAs, sometimes six or seven different ones each week, in 16-ounce cans with sleek designs directly to eager customers, who can't get enough of the cult producer.
What's particularly fascinating about it all is that, even after several expansions and increased production capacity to make more beer and package more cans (and lessen those 11-hour waiting lines), even after opening a second location (just outside of Rochester, New York) and announcing a third (that will be in Williamsburg and is slated to open sometime in 2020), and even after creating a huge festival celebrating the hazy-IPA phenomenon (called Green City, the annual event was held for a second time a few weeks back), demand has only intensified, the massive adoration surrounding its superb iterations of the style—Mylar Bags, All Citra Everything, Space Diamonds, to name a few—hasn't softened one bit.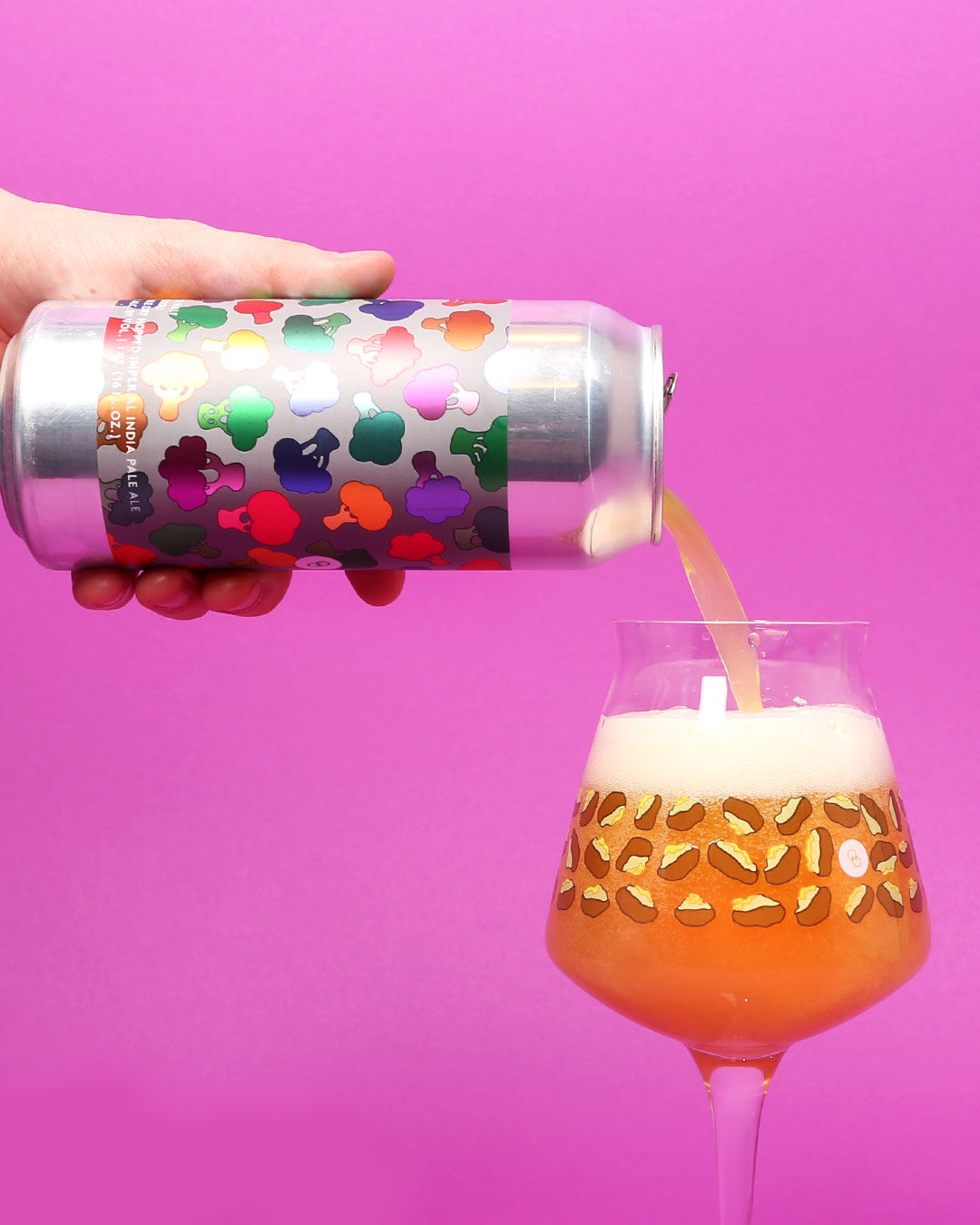 As more brewers across the country focus on New England-style IPAs, Other Half has managed to sidestep the fickle, unforgiving constructs of hype, continuing to be regarded as a top practitioner as well as a "genuine cool" producer, on the daily drawing droves to Centre Street in Carroll Gardens in hopes of scoring even just a single four-pack. (Today, the long waiting lines are mostly reserved for major releases, like collaborations with Monkish. With several drops each week, and some of Saturday's release, the largest and most desirable drop, usually available for a few days, hitting the taproom on a Monday or Tuesday will maximize your chances at scoring variety.) In other words, Other Half can brew no wrong. It's quite fitting that the very first hoppy beer the brewery put in cans was a pale ale called Superfun!, because that's exactly what it gives so many drinkers around the country every day. And at the end of any day, that's what beer is all about.
Grimm Artisanal Ales
990 Metropolitan Avenue, East Williamsburg | 718-564-9767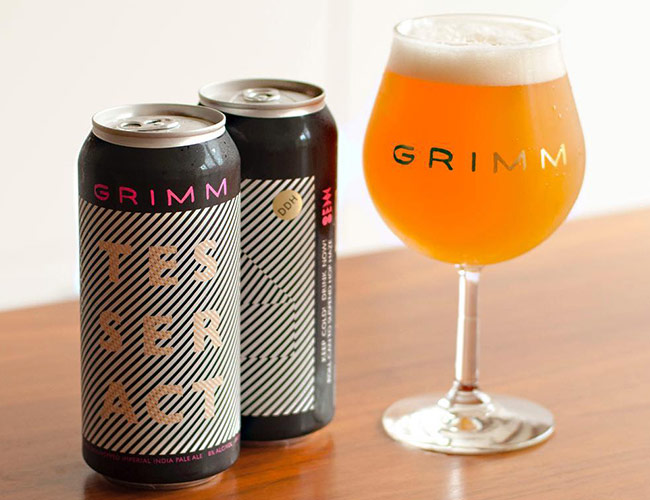 Canning IPAs: Weekly
Where to find them: Brewery, select retail locations
Astounding as Other Half's ascendency is, it feels like the hoopla surrounding local canned IPAs truly began with the work of two nomadic brewers from Gowanus, Joe and Lauren Grimm. Surprisingly, the spouses and longtime fermentation fanatics had little interest in producing hop-forward beers under their fledgling label, Grimm Artisanal Ales, instead focusing initially on Belgian styles and dry-hopped sours.
That soon shifted, however, and, like many of the city's hop loons, in 2015 and 2016, I found myself scurrying around the borough after each announcement of a new drop, hitting the best beer stores in search of fantastic IPAs, typically limited to a can or two per person, like Tesseract and Lambo Door. Even without a physical location to visit, the Grimms quickly gained a following among beer diehards and collected plenty of accolades, including silver and gold medals at the Great American Beer Fest in 2014 and 2015, respectively. But the ultimate goal for the couple was always to open a brewery and taproom in Brooklyn.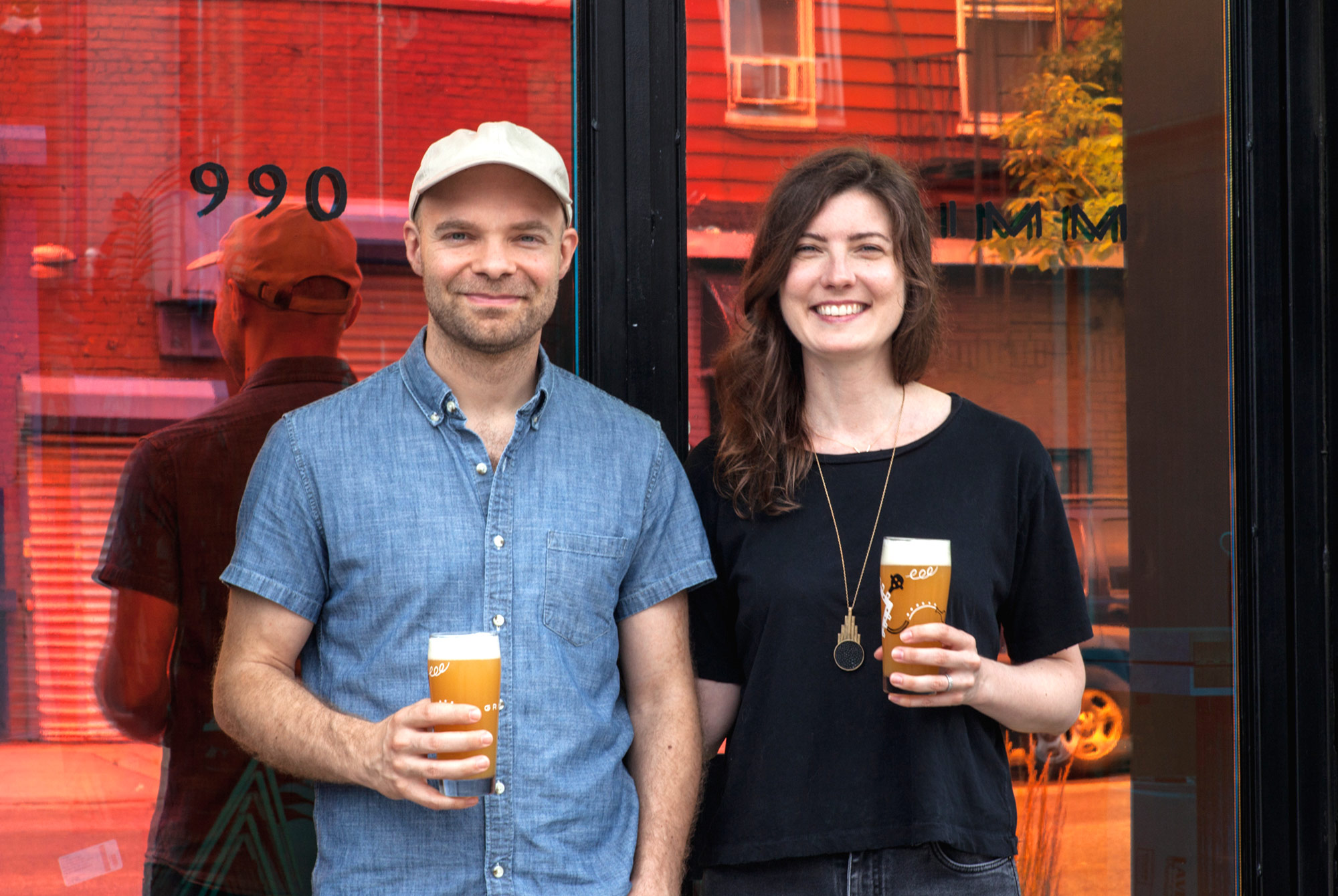 They finally did last summer, converting a former garage in East Williamsburg into a gorgeous venue to experience their brand's beautifully expressive beers in a new, deeper way. With small wooden tables, large windows, shelves filled with art books and vinyl records, bare incandescent light bulbs hanging from the ceiling, flowing velvet curtains, and an abundance of plants, the 7,500-square-foot space is bright, restful, and airy.
The brick and mortar frequently buzzes with a young, good-looking, upwardly diverse crowd—and plenty of foggy, fragrant IPAs that drink like a liquified basket of ripe fruit. Weekly releases here are held on Saturdays and typically consist of two canned titles, ranging from newcomers like Energy Vibration and Magnetic Cloud to old favorites like Afterimage. And with no sales limits on packaged products, it's safe to say the scramble once required to score even a single Grimm can is finally over.
Threes Brewing
333 Douglass Street, Gowanus | 718-522-2110
113 Franklin Street, Greenpoint | 917-909-0271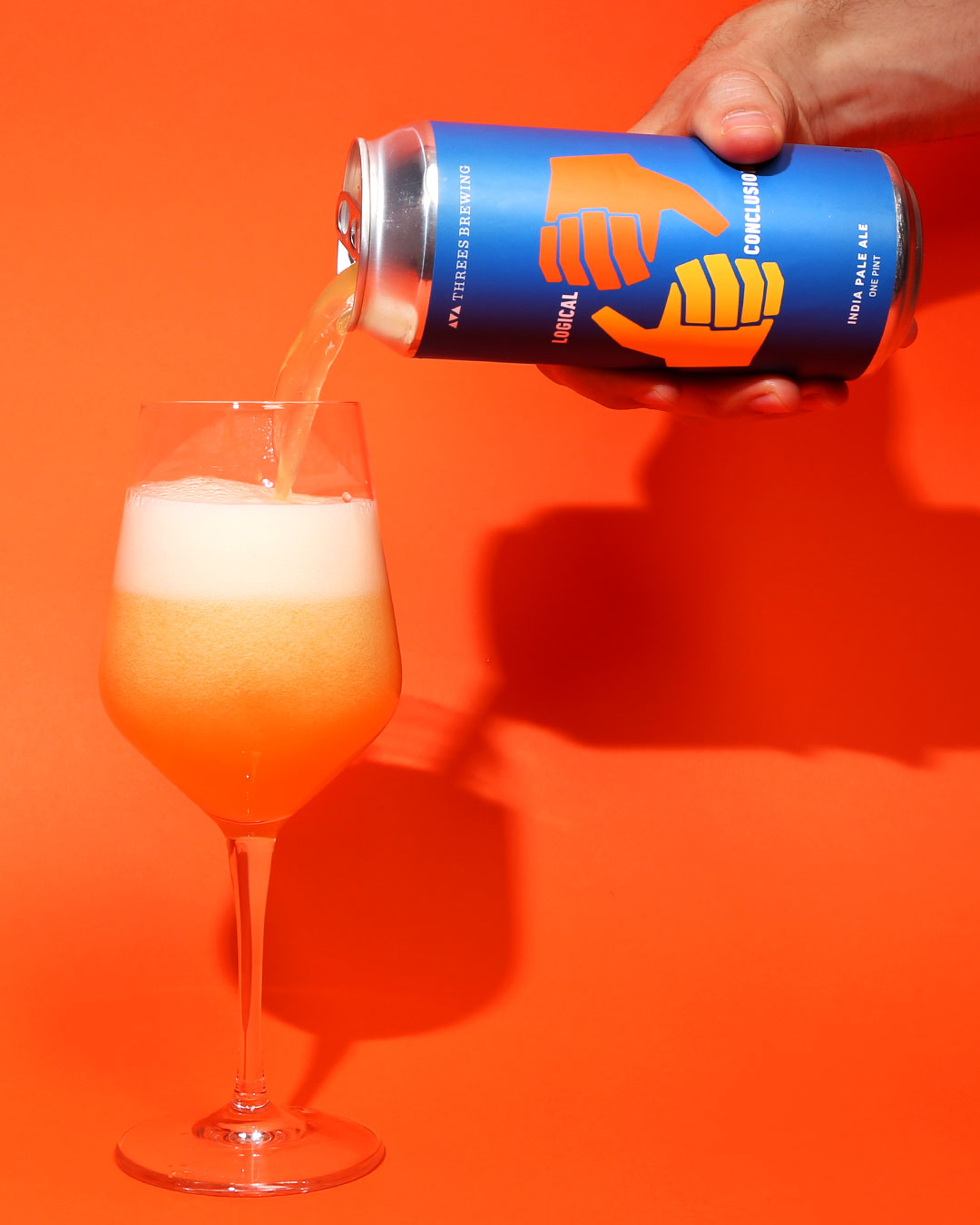 Canning IPAs: Bimonthly
Where to find them: Brewery, satellite locations, select retail locations
When summer hits, local beer diehards know to head to Threes and park at a picnic table in its gorgeous backyard garden; there's no better place to spend a beautiful day drinking superb IPAs like Logical Conclusion, I Hate Myself, and SFY than here, surrounded by walls of hops. Inside, the sprawling 8,000-square-foot space is equally equipped to easily erase a few of your hours, and at any time, with a Ninth Street Espresso outpost, a menu from The Meat Hook (think dry-aged burgers and hot chicken sandwiches), and a warm, vibrant taproom pouring the brewery's excellent and varied portfolio (which offers some of the industry's most entertaining tasting notes, including "Four Loko" and "White Mystery Airheads") as well as selections from venerable outside producers.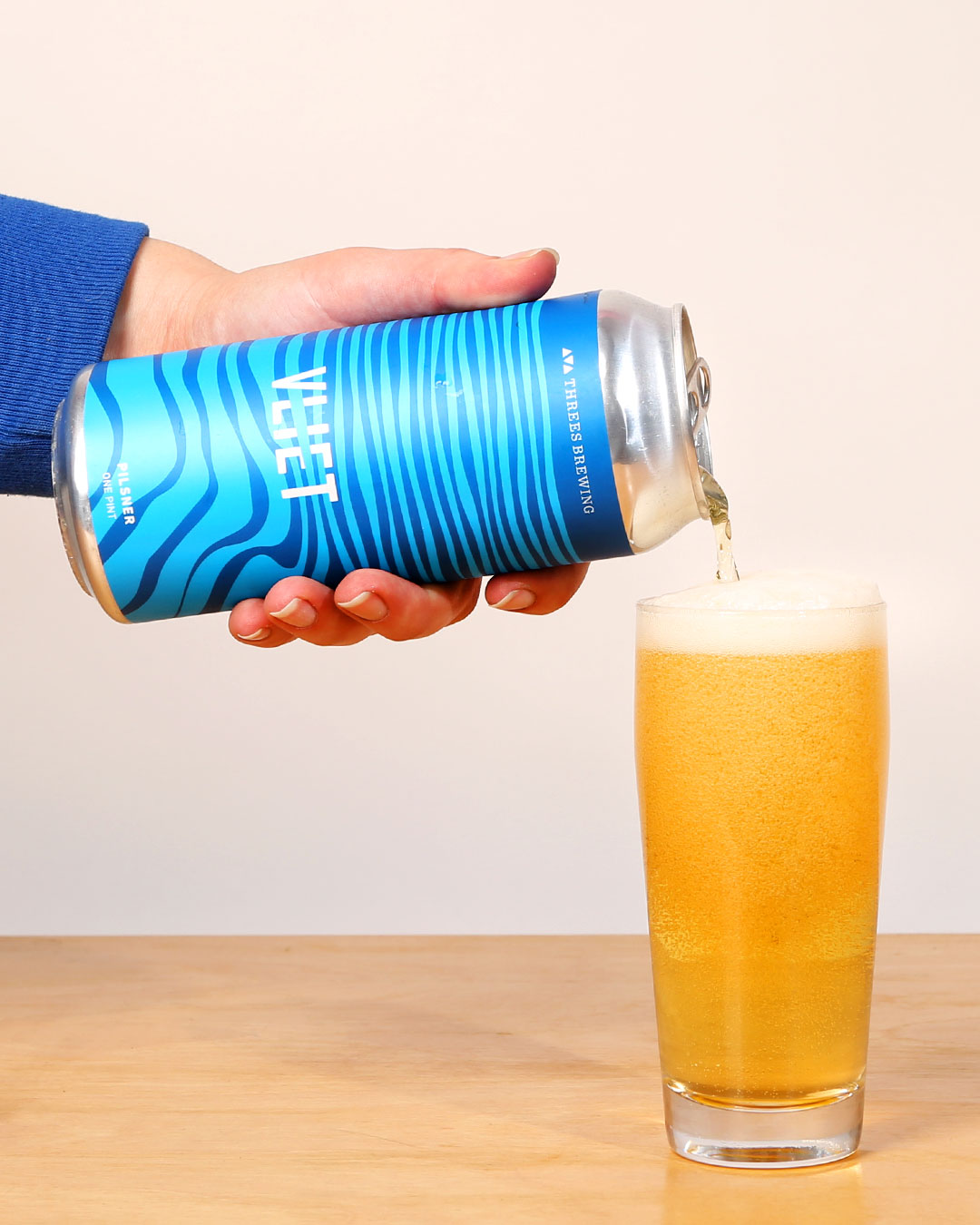 When you're finally ready to depart, tucked away upstairs is a fridge of bottles and cans to take out, and since releases are rarely announced ahead of time, expect it to be fully stocked—not only with generously hopped IPAs but also with lagers like Vliet, an award-winning pilsner and beloved refresher you'll see many local brewers sipping at long events. Can't make it to Gowanus? You can also grab cans at its more intimate location in Greenpoint and a new summer outpost on Governor's Island, where it's serving an IPA exclusive to the site.
Interboro Spirits & Ales
942 Grand Street, East Williamsburg | 877-843-6545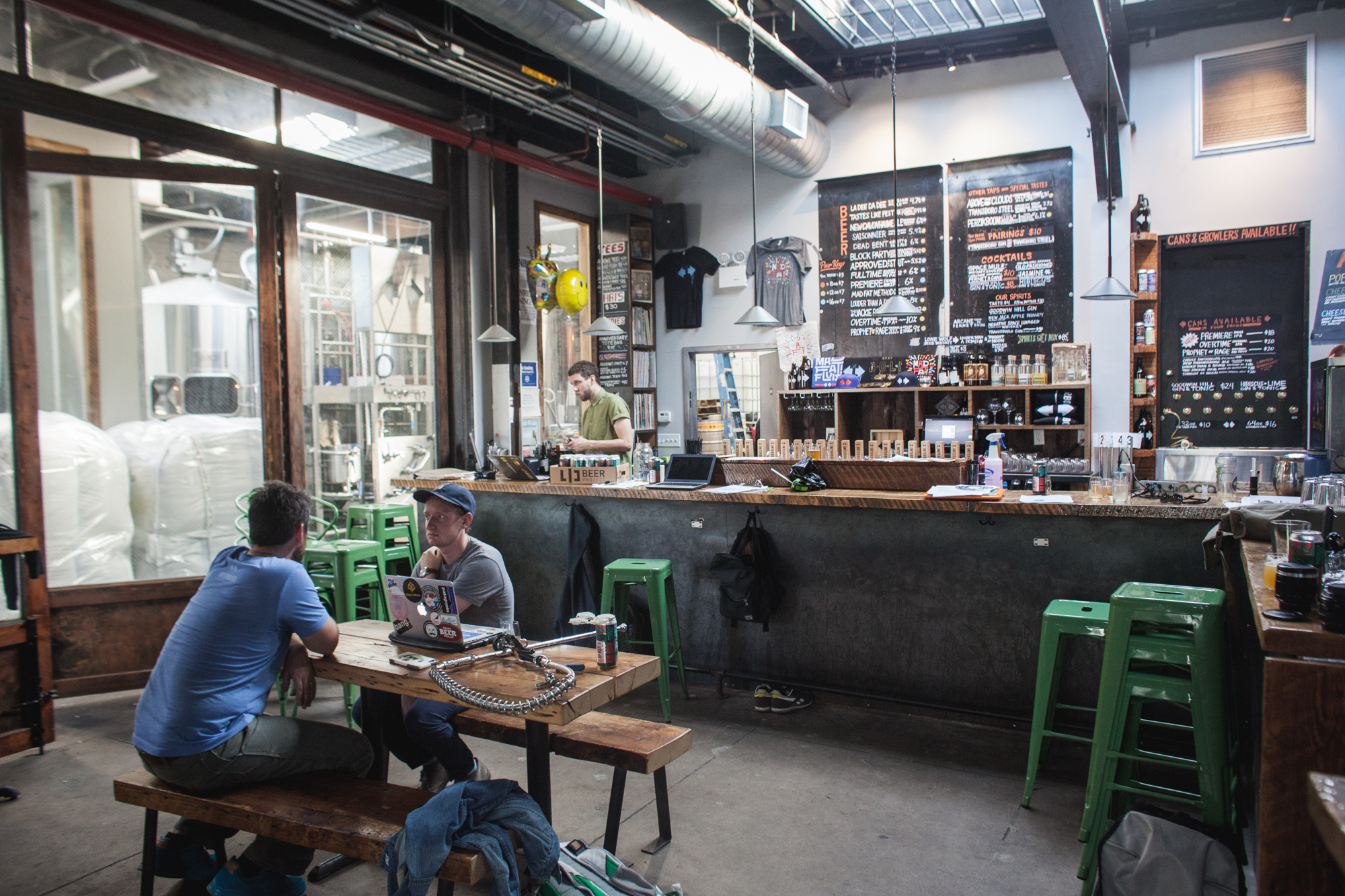 Canning IPAs: Weekly
Where to find them: Brewery, select retail accounts
Around the corner from Grimm, in a graffiti-covered warehouse on Grand Street, Brooklyn's first and only combined brewery and distillery is remixing the refreshment game. After working for a popular indie rap label, Jesse Ferguson hit stop on his music career and swapped hip-hop for hops, brewing at Other Half and New Jersey's Carton before opening Interboro Spirits & Ales with Laura Dierks in 2016. It's easy to see that Ferguson still has a deep love for the genre. Most of the brewery's offerings are named after memorable lyrics from the likes of Nas, Main Source, Lauryn Hill, and Run the Jewels (the duo even collaborated on a beer), coming in the form of hazy and hop-charged IPAs that shouldn't be slept on.
Each week, two or three new IPAs are unveiled in the wood-heavy taproom, with large windows that look into the production area (and more graffiti), and cans usually stick around just until the next release. You can also find cocktails using the distillery's spirits in this packaging—tubes of the Gin & Tonic make a clutch go-to on a sultry summer day.
Kings County Brewers Collective
381 Troutman Street, Bushwick | 929-234-6557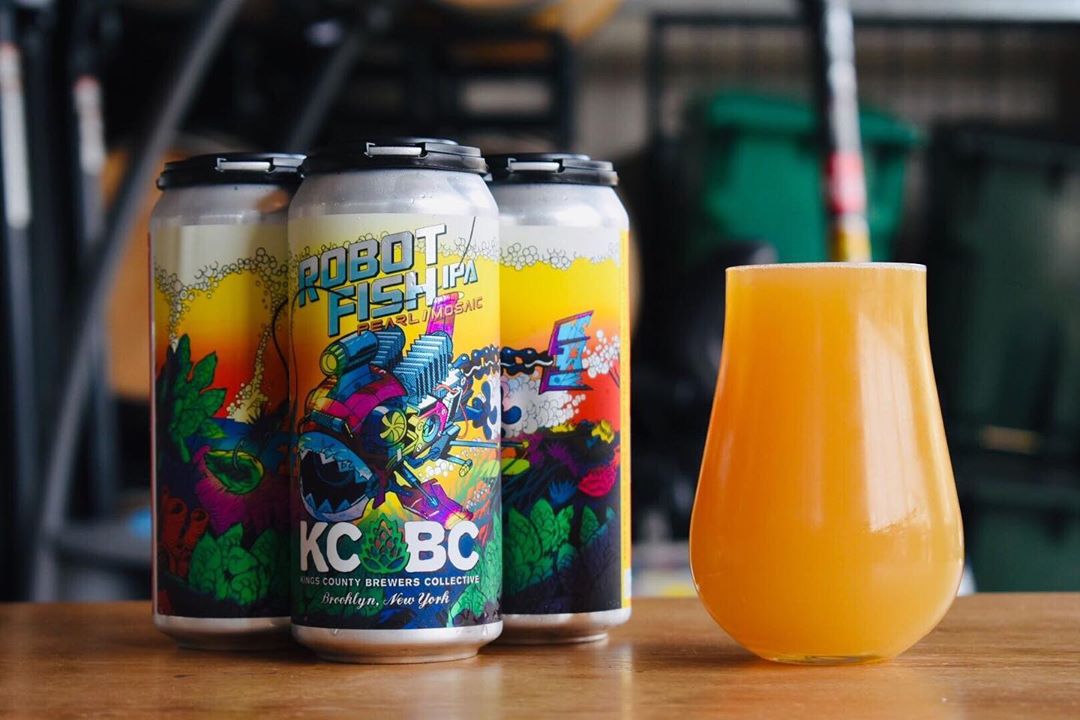 Canning IPAs: Near weekly
Where to find them: Brewery, select retail locations
Four decades after Schaefer shuttered its Bushwick brewery in 1976, ending the neighborhood's reign as the center of the country's brewing industry, Pete Lengyel, Tony Bellis, and Zack Kinney returned beermaking to the area with Kings County Brewers Collective. As my mother always tells me, it's what's on the inside that counts. Still, this is beer for the Instagram age, and with colorful labels featuring comic-book-inspired drawings of crazy undersea and supernatural creatures—my most recent favorite is the intergalactic-insect illustration for Thought Parasite, a double dry hopped IPA with blood orange—Kings County's cans pop way before they're cracked open and boss-poured into a flower vase or fishbowl.
Better yet, the brewery's hazy IPAs have heart and, even with great reviews, you can visit the laid-back taproom anytime and find a filled fridge next to the bar with at least a few hop-forward titles, sold by the four-pack or individually (frustratingly, no other brewery here offers this option), from rotating series like Robot Fish and This Is Your Brain On Hops to one-off collaborations with other proficient IPA producers (Viking Roller Boogie with Florida's Tripping Animals) and even heavy metal bands (Wolf Ov Siberia with Behemoth).
Honorable Mentions
Sixpoint Brewery
40 Van Dyke Street, Red Hook | No phone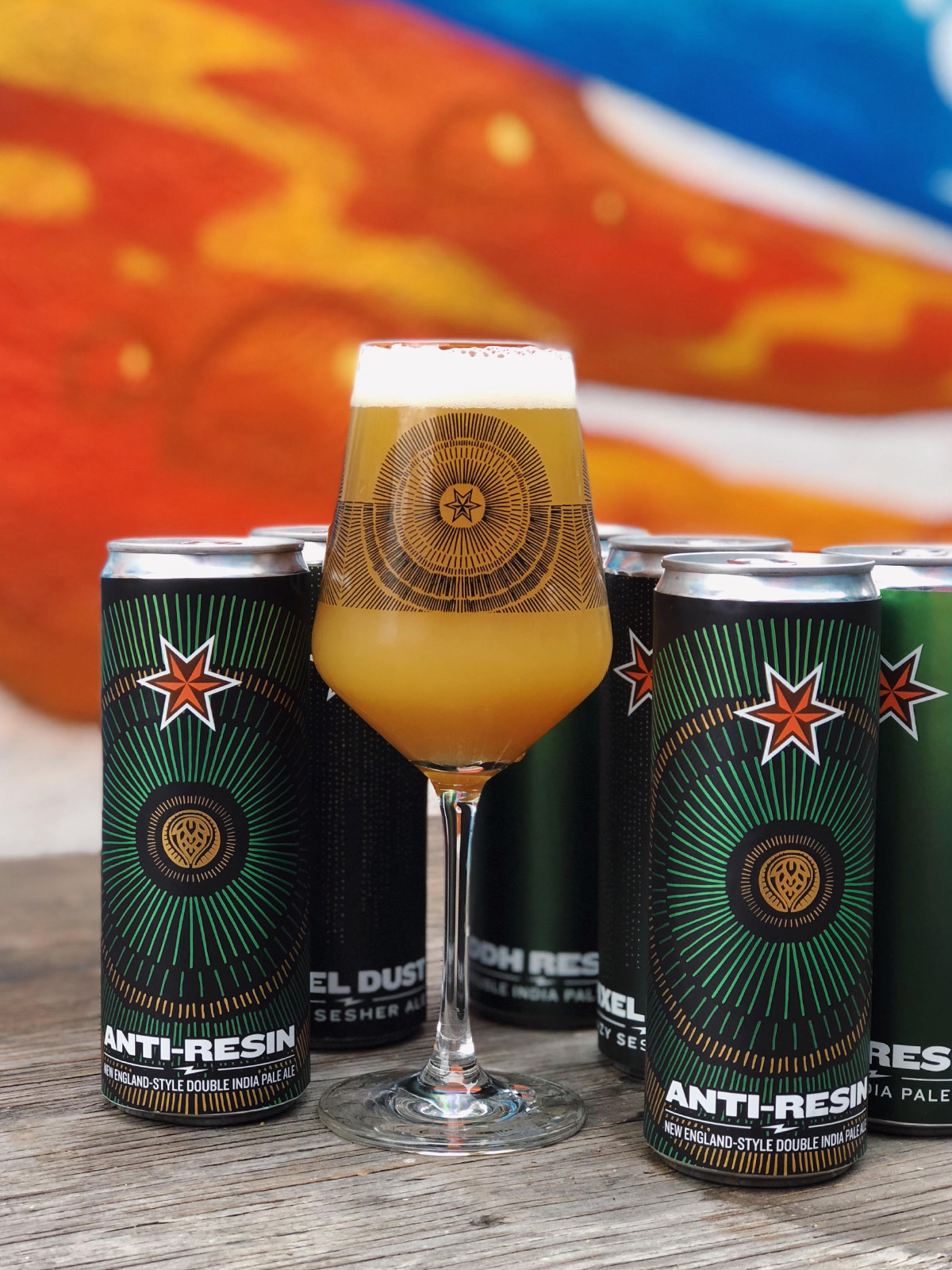 Canning IPAs: Monthly
Where to find them: Brewery, select retail locations
Sixpoint's contributions to today's craft-can craze cannot be overstated. Started by Shane Welch in 2004 in Red Hook, then a neighborhood still clinging to its gritty charm and danger, the brewery was the first in Brooklyn and among the industry's earliest to package beer in 16-ounce vessels (and let's not forget about those clever resealable 24-ounce containers). This was way back in 2010, when putting good beer in aluminum was still being knocked as a novelty. Years before lines of haze bros lounging in lawn chairs, canned IPA in the city solely meant slender tubes of Sixpoint's Bengali Tiger.
Another example of the company's commitment to innovation came in the fall of 2017, when it began selling special-edition hazy IPAs like Party Hat and Anti-Resin as well as other creative offerings—the work of Eric Bachli, formerly head brewer at Trillium—exclusively through a proprietary app, aspiring to eliminate the long waiting lines seen nationwide to nab canned beers made in small quantities. The technology allows customers to place orders and pick them up at the Red Hook brewery, where they are produced and packaged (the brand, which was acquired by Artisanal Brewing Ventures late last year, uses an outside facility for most of its output), skipping the lines and the stress associated with the uncertainty of attempting to acquire hype beers. Held in the concrete backyard, release days have the atmosphere of a house party with friends: a Spotify playlist pumps through small speakers as cheery staff dole out samples of rare vintages and test batches.
Five Boroughs Brewing Co.
215 47th Street, Sunset Park | 718-355-8575
Canning IPAs: Monthly
Where to find them: Brewery, select retail locations
You wouldn't expect a brewery with the lofty aspiration uniting New York City's huge and diverse population to be located on an industrial street lined with auto repair shops in southern Brooklyn, where large crowds of customers in the area are typically found on the checkout lines at Costco, but take a trip to Five Boroughs' colossal taproom in Sunset Park and you'll get the sense that Kevin O'Donnell and Blake Tomnitz, who opened the business in late 2017, might be onto something.
On my most recent visit, the space was percolating with a lively mix of longtime neighborhood locals, beer fiends, young families (with dogs!), and blue-collar workers enjoying the range of solid, approachable beers of brewer Nick Griffin, from the snappy Pilsner to the tart Gose and session-strength Tiny Juicy IPA. While the names of core offerings are perhaps too plain for today's beer world, it's the monikers and labels of limited murky IPAs, typically dropped once a month and around long enough to land with ease, that pay explicit homage to the metropolis, including Across the Narrows, Live From New York, and Insufficient Fare (don't be tempted to "hop" that turnstile)!
FREETHOUGHT Brewing
No location | No phone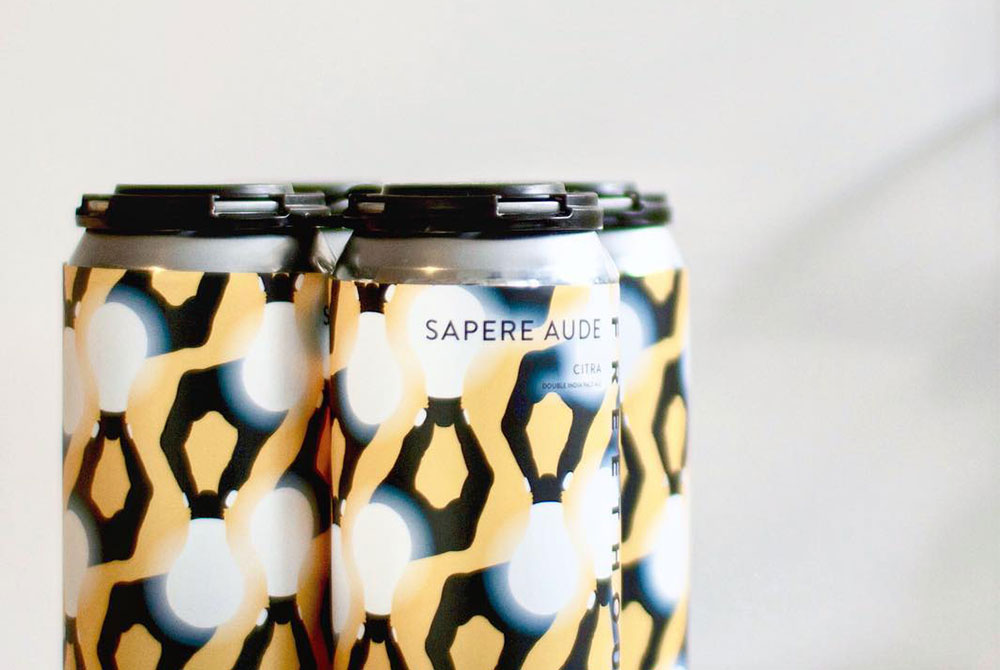 Canning IPAs: Monthly
Where to find them: Select retail locations
Ben Clayton leads the bar program at the Manhattan outpost of Blue Hill, and the restaurant's acclaimed farm-to-table ethos illuminates the thoughtful beers with layered, nuanced flavors he is producing with a longtime friend, Ryan Jorgenson, as FREETHOUGHT Brewing, this guide's only nomadic operation. The duo apply some of the same values championed by Blue Hill's prominent chef, Dan Barber, to their phantom brewing practices, from experimenting with landrace and heritage grains in their grist to developing their own mixed cultures of wild yeast and souring bacteria. Production is focused primarily on sour beers highlighting seasonal ingredients, but there's also straight-up hazy IPAs like Superposition, which provides the sweet and milky pleasures of a Creamsicle, bursting with flavors of peach, tangerine, and guava, with a wonderfully cloudy appearance that begs to be posted on Instagram. (Spoiler alert: I did. Twice.)
Clayton, who lives in Williamsburg, and Jorgenson, who recently returned to their home state of California, savvily offered cans right from the get-go—they only started the business in February—and typically release two titles a month. You'll find them in most serious beer stores in the five boroughs, as well as some across the country through Twelve Percent Beer Project, a distributor that works with many of today's gypsy brewers. Recently, the fledgling brand dropped Open, a single-hopped IPA designed to showcase Simcoe's floral, berry, and pine notes.
Greenpoint Beer & Ale Co.
1150 Manhattan Avenue, Greenpoint (temporarily closed)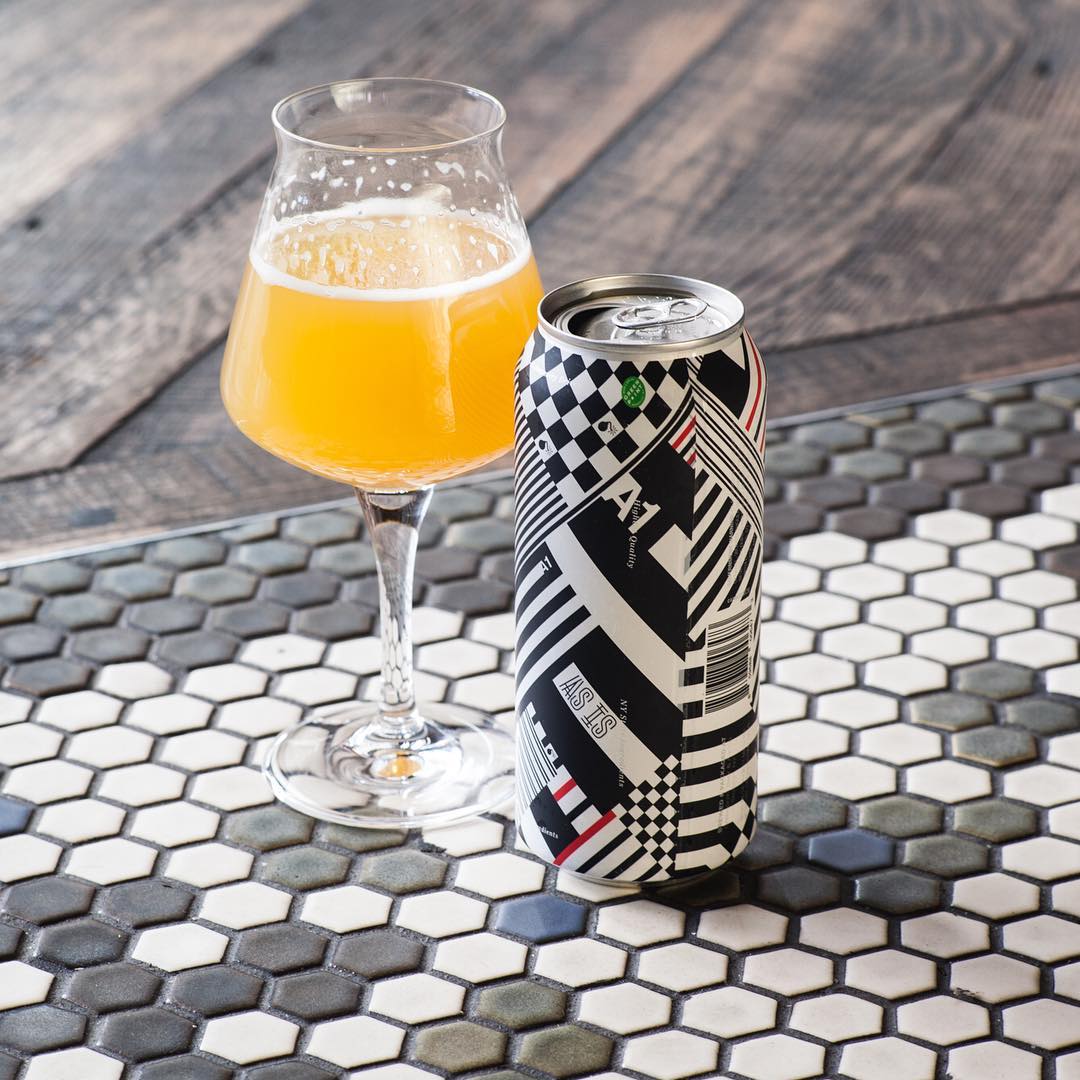 This brewery owned by Ed Raven, who also owns Brouwerij Lane in the neighborhood, began life in the spring of 2014 as Dirck the Norseman and started selling limited-edition cans on site around two years later, after that name was ditched. Raven's brewing flock consistently produces delicious IPAs and double IPAs, while also, refreshingly, proving eager to tackle traditional styles most modern American brewers stay away from, like English mild. You may have noticed an absence of fresh cans from the brewery's Instagram feed recently, and that's for good reason: it closed late last year to move to a larger space, on Manhattan Avenue. (Annicka, a short-lived restaurant that Raven ran nearby under the state's farm brewery license, also closed around this time. No word on if it will reopen.) The new facility, scheduled to open in late summer, features a 20-barrel brewing system (up from five), a small dining room, and a 2,000-square-foot roof deck. Expect a return to regular can releases soon after.
Folksbier Brauerie
101 Luquer Street, Carroll Gardens | No phone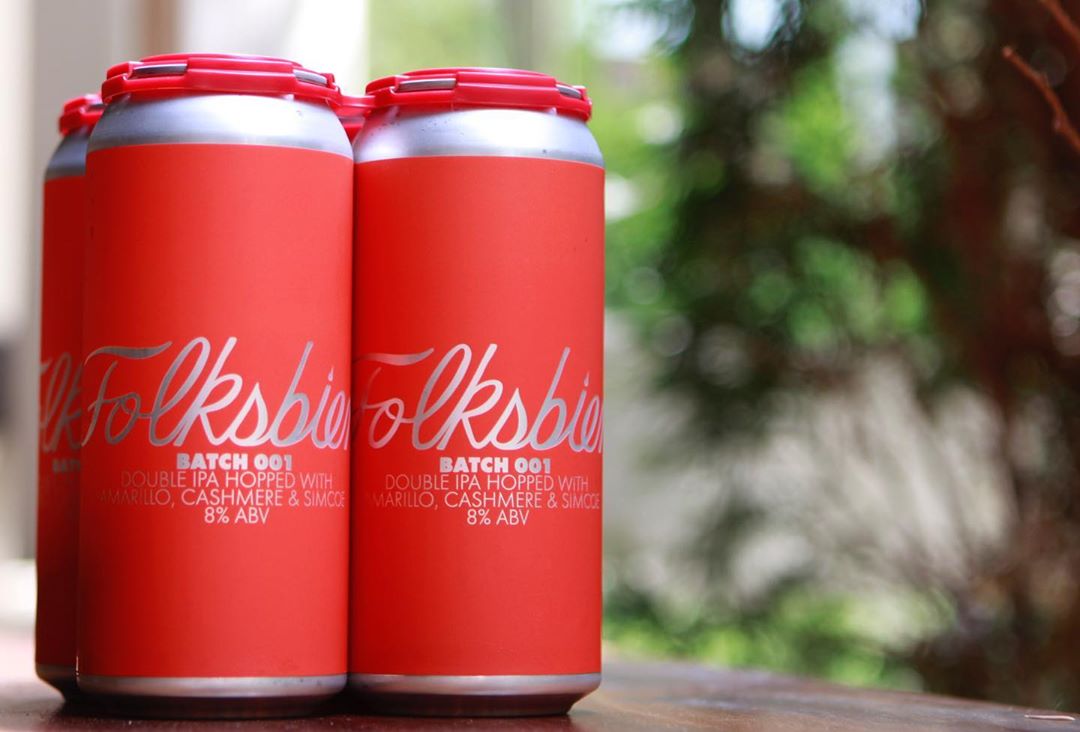 Canning IPAs: Sometimes
Where to find them: Brewery, select retail locations
Travis Kauffman, a former managing partner of Prime Meats and Frankies 457, founded his brewery a sausage's throw from the latter Italian restaurant, on a sleepy street in Carroll Gardens. If you ask me, Folksbier produces some of the finest lagers and European-inspired beers in Brooklyn—heck, in all of New York City—but don't overlook its IPAs, however few there are. It's basically limited to the solid Recurring Dreams series, which showcases different combinations of hops and is now on its 29th iteration.
But that could be changing, especially with a second production facility–one that will be focused solely on lagers–slated to open in Red Hook later this year. To celebrate the installation of a larger brewhouse at the Carroll Gardens location, the inaugural batch, also the brewery's first double IPA, was put in cans in early June and proved impressive. Not to mention really easy to nab on its release day; there was no large crowd of lupulin loons converging on the charming, rustic taproom like you'll find nearly always nearby at Other Half.
Liked this article? Sign up for our newsletter to get the best craft beer writing on the web delivered straight to your inbox.