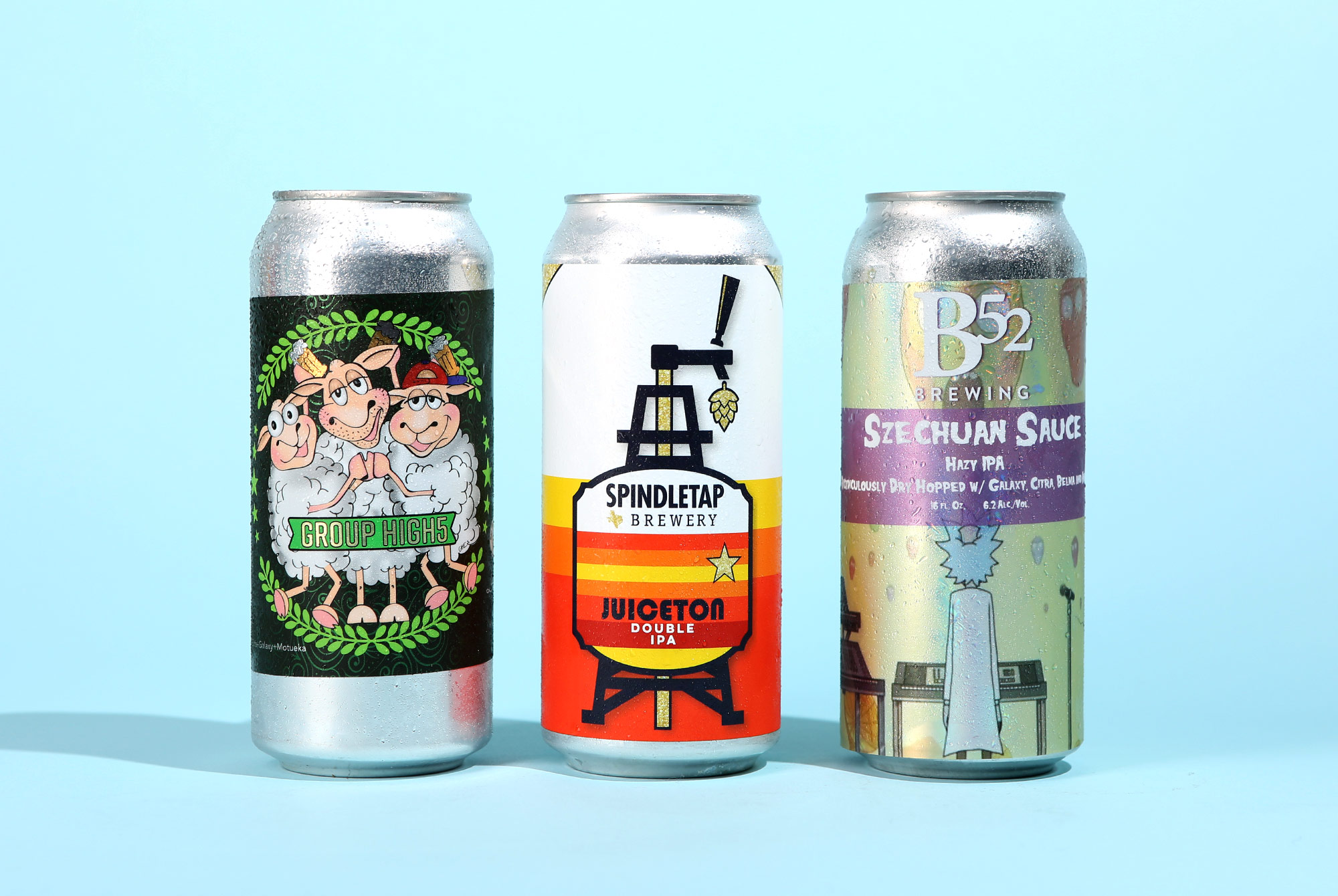 Photography by J. Travis Smith
On a humid afternoon in Houston in late March, after hours of drinking New England-style IPAs, all of them brewed locally, Larry Koestler, Marcus Wunderle, and Chris Anderson claim to have accomplished what is quite possibly the most daring feat of conviviality ever attempted in craft beer: a slightly inebriated group high five.
"We executed it flawlessly, and I believe one, if not two of us even got off the ground for some serious hang time," said Wunderle, the brewmaster and an owner of Baa Baa Brewhouse, which he opened with his wife, Kinga, in Brookshire, about 40 miles west of downtown Houston, in 2016.
Anderson, an award-winning homebrewer who is working on plans to open a commercial brewery in Houston that he will call Laser Brewing, echoed the sentiment. "I'm not one for hyperbole," he said, "but everything about it was just perfect. There was full contact between all three palms, and the speed, the speed was also perfect; not too slow, not too fast. Just perfect."
While no footage or other direct evidence exists to confirm or refute the friends' claims of excellence regarding the celebratory gesture (a photo of a sober recreation of the moment on Instagram lends to the notion that the prolonged imbibing may have distorted their recollection), the slapping of skin they shared that afternoon would inspire the name of their collaboration beer, Group High 5, a quintuple dry hopped double New England-style IPA (referred to from here on as NEIPA) released in late April under Baa Baa's label.
"We wanted it to check all the boxes you look for [in a NEIPA]: cloudy for miles, a massively creamy body, huge tropical-fruit flavor and aroma, and that slight yet satisfying bitter finish," said Koestler, a NEIPA aficionado and, in the interest of full disclosure, a friend, of the plan for the highly-limited release (just 14 cases of 16-ounce cans were dropped; they sold out in under an hour).
He sent me a few cans and I found it a great example of the newfangled style, which in recent years has become a phenomenon among craft-beer fans, who flock to new releases at breweries across the country with the passion and dedication of "Phans" to Phish shows, or, as Christmas neared in 1985, my parents to every toy store in Queens in search of a Teddy Ruxpin, which they eventually found and I still have (and yes, it still scares me). Gorgeous, with a pale orange color you might find in a sunset, Group High 5 offers lush ultra-ripe tropical fruit flavors from heavy quantities of Citra, Galaxy, and Motueka hops added late in the brewing process, showcased on a silky, creamy canvas of oats and Golden Promise malt, with an underlying bitterness that refreshed and invited the next sip. Bright, juicy, thirst-quenching, and delicious, it made me very happy. Others seem to have experienced similar joy: it currently has a 4.43 rating on Untappd.
Over the past year, Koestler has sent me nearly a dozen examples of NEIPA from Houston, where he has lived with his wife and two children since 2013, and I found them all impressive, not only because they were great versions of the style, but because it was clear that the city's breweries, like many others across the country, had begun to see the haze. Some, he told me, had even changed their business models to specialize in it. So I set out to dig up the story on its growing presence here (while simultaneously nominating a location for a future Juicy Brews festival, I thought). I then asked my pal to connect me to the scene's key players being a votary of their limited-edition beers and even, on a few occasions, a collaborator. Despite having a full-time job outside of the beer industry, they all consider Larry a fellow player, and maybe something of a "hop whisperer," crediting his contagious enthusiasm as the catalyst for launching Space City into the Murky Way's orbit.
"Larry has helped a lot of the brewers become familiar with NEIPAs," said Brody Chapman, the chief executive and a founder of SpindleTap Brewery, whose Legends series of hazy double IPAs pays homage to Houston's past sports heroes, like Hakeem Olajuwon (Hopkeem).
"No doubt NEIPAs would've come here to Houston," Wunderle posited, "but I think it's fair to say that they wouldn't have become so prevalent so fast if it weren't for him. Each of us has our own Larry story about juicy IPAs."
This infectious passion for the style has resulted in Koestler becoming a local NEIPA celebrity of sorts, Anderson said. "At the release, I think I saw a few people ask him to sign their Group High 5 cans."
Like many beer strivers today, one of Koestler's chief leisure pursuits is acquiring and drinking limited-edition IPAs. He meticulously plans his schedule around new local releases, enabling him to queue up outside breweries, sometimes for hours, to buy fresh cans. To secure rare drops outside the city, he utilizes a broad network of spirited beer traders on social media. His Instagram page is dominated by posts showcasing the transitory accessions, commonly referred to in the industry as "hauls," displaying cans in pyramidal stacks resembling supermarket end caps on his kitchen counter or in his lush suburban backyard. He visits his local post office several times a week to send or receive packages of the wares, though somewhat covertly. "They must think I'm the most hardcore olive-oil enthusiast," he said with a laugh.
Much has been said about the already deep and diverse impact of NEIPA, from its spurring of innovative brewing practices to its radically palatable flavor profile and its role in creating new business models for breweries. (Still, some prominent brewers, like Brooklyn Brewery's Garrett Oliver, have dismissed them as a fad.) In fact, Koestler himself wrote a comprehensive essay in 2016 examining the rise of the style for Beergraphs, which closed by wondering when it would arrive in Texas's biggest city, and now America's fourth largest. By this time, it had started to spread from the East Coast to other parts of the country, with breweries like California's Monkish pivoting focus to specialize in these kinds of hazy, juicy beers.
Lone Pint Brewing's Mosaic-hop-drenched IPA, Yellow Rose, is considered to be Houston's first breakthrough hoppy beer. Released in 2012 and named for a folk heroine who has come to be identified with the song, "The Yellow Rose of Texas," it is one of the business' top-selling brands. It was met with vigorous approval from Koestler, who had his first taste in the spring of 2013, months after relocating from New York. But no hophead can subsist on one IPA alone. As of early 2017, with more than 30 operating breweries (there are now nearly 50), there had still yet to be a single beer brewed in the greater Houston area explicitly labeled NEIPA. During my interviews, I heard different theories as to why:
"I think a lot of the city's longstanding breweries saw it as a fleeting fad," Chapman said.
"I think it was difficult for breweries to evaluate whether local consumers would be willing to make like their Northeast counterparts and travel to breweries to purchase cans priced higher than anything at the corner grocery store," Wunderle said.
"In the aftermath of Yellow Rose's success, we did start seeing an uptick in locally brewed West Coast IPAs from breweries like Brash," Koestler said. "But to a large extent it still felt like we were playing catch-up with the rest of the country."
There is also the issue of legislation. Despite Texas' reputation as being business-friendly, many of the state's laws related to alcohol have been less than favorable to craft breweries. "It's not a coincidence that things began to pick up in the years following the Texas Craft Brewer's Guild's efforts in 2013 that helped changed the law finally enabling brewpubs to sell beer on-site to go," said Justin Slanina, the head brewer at B52 Brewing.
Whatever the reasons, Koestler, frustrated by his adopted hometown's nonexistent NEIPA scene, wrote a second piece, this in Houston Beer Guide, in which he playfully challenged Houston's craft breweries to take a crack at making a hazy, hoppy beer. "People might not initially line up like they do at Other Half, Tired Hands or Tree House, but if the beer is worthy—and available in relatively limited quantities—they will eventually," he wrote. "Even if someone were to set up shop in, say, Katy, beer geeks have shown that they are willing to travel for greatness—and while many may not want to admit it, exclusivity. And that's a HUGE component of the mania surrounding the NEIPA these days. Not only is selling it on-premise an imperative from a 'best enjoyed as soon as possible and away from the inefficiency of the supply chain' perspective, but it also boosts demand by virtue of only being available at the source. Now, who's gonna be first?"
Almost immediately, a handful of breweries announced their intention to brew NEIPA, with many referencing Koestler's article specifically. In a video Baa Baa Brewhouse released in advance of Cow Jumped Over the Moon, the first beer in the greater Houston area labeled NEIPA, it called the piece an "NEIPA Challenge."
Since that watershed moment, nearly every brewery in Houston has released an example of NEIPA, including Whole Foods Brewing, Ingenious Brewing, Sigma Brewing, Great Heights Brewing, Eureka Heights Brewing, No Label Brewing, Copperhead Brewery, Saint Arnold, Baileson Brewing, Holler Brewing and 8th Wonder Brewing. But three beer makers, in particular, have taken the lead, Koestler said, and he believes they deserve mention among the style's top producers (those, he believes, are Trillium, Tree House, Monkish, and Other Half Brewing in Brooklyn): B52, Baa Baa, and SpindleTap.
B52, of Conroe, situated about 40 miles north of Houston, brews Wheez the Juice, the city's first beer to be explicitly labeled a "hazy IPA." Wheez made its first appearance at the end of 2016 and it quickly became the brewery's flagship as well as a canvas for experimentation, the base used in milkshake versions with lactose and a rotating dry hop series to further layer its flavor profile and showcase the nuances of certain hop blends. It was also the city's first canned beer sold on-site, and the success of that endeavor propelled the brewery to start putting IPAs in cans on a weekly basis. "It was exciting to see the local beer community gravitate and show us so much support for a new thing," Slanina said. "There's nothing quite like putting seconds-old IPA into the hands of our fans."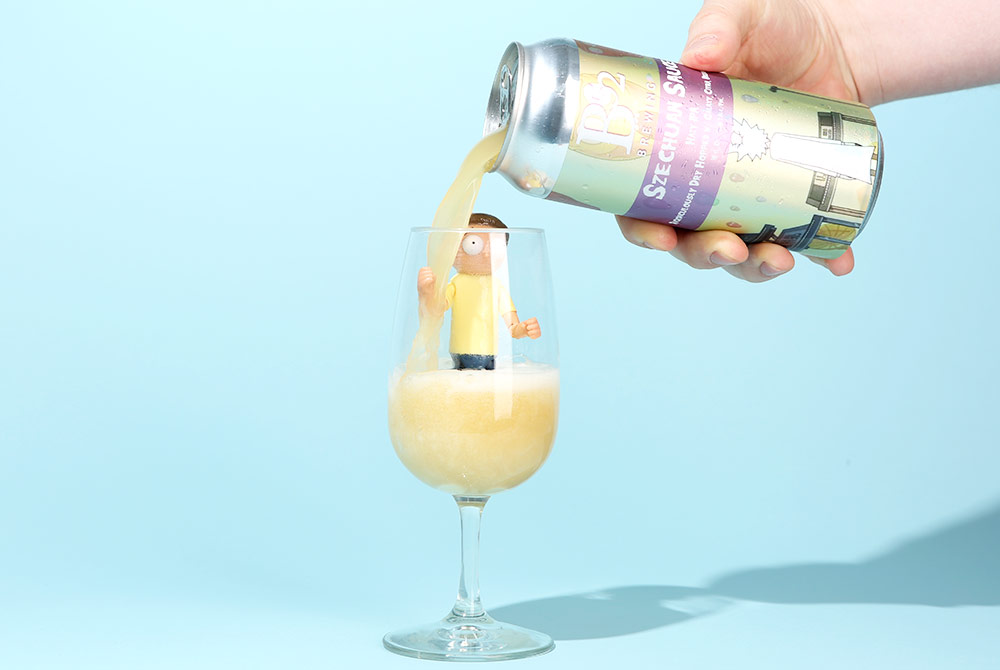 B52's recent stretch of NEIPAs, branded its Cult Classic series celebrating lines from beloved comedies, include Pancake and a Shmoke, Aladeen News, Szechaun Sauce, and Dude. High softness and ultimate hop saturation are the goals behind his hoppy beers, Slanina said. "In our eyes, there is nothing sexier than a super pale, milky haze in a glass that bursts with flavor and aroma. We want to capture as much flavor as possible in every beer that we serve. Educated tweaks, research, and experiments will always be a part of what we love most about IPA."
To further strengthen their capabilities on the style, B52 recently hired Dave Ohmer, a former brewer at Whole Foods Market Brewing (yes, that Whole Foods; the Houston location is one of only two in the entire country with an in-house brewery), as director of operations. While at Whole Foods, Ohmer introduced a weekly Crowler program focused on NEIPAs along with "Shake" versions of each beer with lactose added.
Ohmer utilized the supermarket's produce section as figurative inspiration and literal fodder for experimentation, and looks to continue leveraging his proficiency with lactose and other adjuncts to coax nuanced flavors and added complexity out of future B52 NEIPAs and milkshake variants. Most recently, Two Sheets, brewed in collaboration with SpindleTap, incorporated lactose, pineapple, peaches, and chamomile flowers. "We found that fruit-forward character of the chamomile alongside the pineapple and peaches really accentuated the classic NEIPA tropical flavors from the Citra and Galaxy hops," he said.
Around the time B52 added Wheez the Juice to its rotation, Baa Baa Brewhouse released Cow Jumped Over the Moon, the first beer in the greater Houston area labeled NEIPA. In its first year of business, Baa Baa developed a solid reputation for takes on more traditional styles, such as What the Heff? and Baa Baa Kölsch. But with Cow, the family-friendly, nursery-rhyme-themed brewery's took a leap of faith.
Wunderle was excited and nervous to release not only the brewery's first NEIPA, but the city's first. "The response was good, really good," Wunderle said. "Larry actually wrote about it in a follow-up for Houston Beer Guide, and when we released the second batch a few weeks later, we had a line out the door. He really helped spread the word."
Since that batch of Cow, Baa Baa has shifted most its production toward NEIPA, including two beers last fall that benefited victims of Hurricane Harvey, and with that has become one of Houston's most popular craft breweries: limited releases typically sell out within a couple of hours, and the few kegs sent out to local bars are frequently kicked the same day they are tapped.
To keep up with demand, Baa Baa recently added a new seven-barrel brewing system, expanding from three barrels, and has begun to increase its canning efforts to monthly. For each new release this spring, like Bop It!, Sheep in Sheep's Clothing, and Minor Threat, fans arrived earlier and earlier, queuing up on rustic Waller Avenue, where locals are more used to seeing the occasional horse running loose than a line of beer fans.
Group High 5, its collaboration with Koestler and Laser Brewing, is the most hop-saturated NEIPA Wunderle has brewed to date, with roughly 12 pounds of hops per barrel. While the local breweries that specialize in this style continue to test the efficiencies of their fermentation tanks on a near-daily basis with ever-increasing dry-hopping volumes, the four-to-eight-pound-per-barrel range is often a sweet spot. "We took some risk with making the beer, including modification of the dry-hopping schedule to accommodate five massive dry hops," he said. "In fact, due to the amount of hops, we lost several cases worth of beer volume. The biggest worry when you do an IPA this big is that the beer would turn into veggie soup or be forever green, but thankfully it didn't. It turned out great."
Given the abundance of NEIPA being made today, one might think all are one and the same. But there's more room for variety in the category than one might think, Wunderle said. "I take a lot of pride in working hard to make our own take on the NEIPA be distinctive. It would be pretty boring if we were all doing the same thing. After all, it's beer and every style can be different."
And what Houston brewers are creating, Koestler said, differs from what those who have popularized the style nationally are doing.
"Northeast breweries' versions tend to both look and taste like something akin to orange juice, whereas SpindleTap's beers, for example, are more like pineapple juice, featuring a beautiful soft yellow hue and bold tropical fruit-forward flavors," he said. "I know I'm not alone in feeling that our brewers in Houston have changed the expectations of what the NEIPA style can be, and many of the beers being produced locally can almost fall under their own category."
Garrison Mathis, the brewmaster of SpindleTap, agrees. "One of the most important things to me regarding this style is that we're not trying to copy the breweries that are well known for it."
Last March, two weeks after Baa Baa announced the Cow Jumped Over The Moon, SpindleTap, housed in the same industrial facility as Chapman's other business, an oil and gas transportation company, debuted what many have come to see as the unofficial NEIPA of the city, Houston Haze. As a brewery that previously focused on more traditional styles, SpindleTap may have seemed an unlikely choice to lead Houston's Juice Caboose. But hazy thoughts were already beginning to permeate for Chapman and Mathis when Koestler's article dropped. "People were bringing us hazy IPAs from other parts of the country, and given that the flavor was unlike anything we had experienced locally, we started getting excited about the prospect of trying to do one ourselves," Mathis said. "Larry's essay confirmed our hunch that this was something folks were interested in, and provided the catalyst for us to push Houston Haze into production."
Chapman's and Mathis' dedication to creating a delicious hazy IPA Houstonians could be proud to call their own accelerated the rise of line culture locally, as the first batch of Houston Haze, which is double dry hopped with Citra and Galaxy, drew a line of more than 200 fans before the brewery opened. They snapped up as many cans as they could buy, at $16 a four-pack, and over 150 cases sold out in under 45 minutes.
"We're no strangers to lines in Texas given our brisket, but this was something different," said Josh Frink, editor in chief of Houston Beer Guide, the city's longest-running web publication exclusively dedicated to craft beer. "We'd all heard about the legendary stories of people lining up at Tree House and Other Half, but the idea seemed farfetched for a Houston beer release, especially for a first attempt at the style."
The success of Houston Haze completely upended SpindleTap's business model and set the brewery in a juicier direction. But not before tragedy would strike the Bayou City with Hurricane Harvey. In the aftermath, Chapman converted his brewery into a giant pantry for relief supplies. Contributions took up nearly all of the 30,000 square feet, and more than 75 truckloads were moved inbound and outbound. These efforts spurred SpindleTap to collaborate with Louisiana's Parish Brewing, one of the best-regarded NEIPA breweries in the south, on Operation Juice Drop, which raised thousands of dollars for the hurricane relief fund of J.J Watt, a defensive end for the Houston Texans. (The NFL star visited the brewery during the fund-raising effort.)
"We were moved to see how big an impression that beer made," Chapman said. "Houstonians are a resilient group, and when faced with something as devastating as Harvey, the city once again showed its strength in helping neighbors, donating supplies, money, you name it. The least we could do was open our doors to allow folks to be able to donate whatever they could, and make a beer."
That feeling of pride for its hometown runs deep at SpindleTap, as does the constant desire to innovate, partner with like-minded individuals, and deliver a product that makes local drinkers proud. Wanting to thank Koestler for bringing awareness of the style locally and enthusiastically promoting the product that they were delivering, Chapman and Mathis asked Koestler to collaborate on Houston's first double NEIPA, Juiceton.
Named by Koestler, Juiceton has been my favorite NEIPA from the city ong known as the country's oil capital, its seemingly Herculean amounts of Citra, Mosaic, and Simcoe delivered on a beautifully pillowy and creamy body. It has a super soft mouthfeel, its aromatic AF and monstrously hoppy, yet still delivers a subtle hop bite at the end to remind you that you're drinking a beer.
SpindleTap has followed Juiceton with several well-received double NEIPAs: Heavy Hands (4.41 on Untappd, as of this writing), Cosmic Clouds (4.3), and Houston Hazier (4.44), a 'roided-up version of Houston Haze brewed in honor of its first anniversary. It has become increasingly common to see SpindleTap's juice bombs being posted alongside the likes of Trillium, Other Half and Monkish on the Instagrams of prominent hazy beer lovers outside of Texas, Koestler said, not to mention the fact that SpindleTap's own posts announcing new releases quickly become flooded with de rigeur "ISO" and "FT" comments. "I think that's one of the most significant external indicators that the brewery now occupies a place among the NEIPA world's best-in-class," he added.
SpindleTap didn't plan for the craze for its examples of the style. The brewery initially launched with a core lineup of traditional beers that are sold in grocery stores throughout the Houston area, including Boomtown Blonde and Honey Hole ESB. While these are still brewed, overall production has risen from approximately 1,200 barrels the first year to more than 5,000 in 2017, and has shifted dramatically in favor of NEIPAs, to nearly 75 percent, all of which is sold on-site. The margins earned on these sales has allowed for major expansions recently, with the addition of two new 60-barrel fermenters and two 60-barrel brite tanks. "We just can't make enough NEIPA," Chapman said. "We went from 'people seem really interested in this style so we may as well give it a shot' to producing multiple new double IPAs a month and selling out of three different rotating cans every three weeks like clockwork."
While some still view NEIPA's merits to be as murky as the liquid itself, even after two of the country's largest craft brewers, Sierra Nevada and Sam Adams, have released their own versions (and are distributing them nationally), Chapman said the reasons for its popularity are clear. "Take the best-selling category of beer, IPA, dial back the one aspect that those that didn't care for it cited as the primary culprit, the overwhelming bitterness, and amplify its best characteristics, and you get these absolutely incredibly flavor-bursting juice bombs," he said. "It amazes me that there are still folks in our industry that refuse to acknowledge its staying power. This might just be the most popular style ever introduced in craft beer's existence."
While that popularity took some time to surface locally, it seems fair to say that, given the strides Houston has made in a very short amount of time, the city has rightfully earned the nickname "Juiceton." Underscoring that sentiment, earlier this year saw the opening of the city's first brewery with an explicitly stated mission of brewing two of the most ticked-about styles today, NEIPAs and huge, adjunct-laden imperial stouts: Ingenious Brewing, located northeast of the city, in Humble.
Opened in January, Ingenious has quickly amassed a following for beers like the bold Infinity Hopped Triple NEIPA and Barrel Aged Ice Cream Sundae, an imperial stout aged in whiskey barrels with cacao nibs, vanilla beans, and strawberries. Its owners, Justin Gyorfi, a native of Houston, and Mike Broderick, who hails from the Philadelphia area, discovered a mutual love of hop-forward beers while both were living in Pennsylvania. "We're excited to be a part of bringing these trending flavor profiles to Houston," Gyorfi said. "It's cliché as hell, but even the NEIPAs are bigger in Texas."
Ingenious has recognized Koestler's contributions to helping develop the scene with an NEIPA called Haze Race, which carries this description: "On January 1st, 2017, Houston had exactly zero New England IPAs. Shortly thereafter, an inspiring journalist, Larry K, challenged Houston area brewers to produce this niche but beloved style of beer. Sparked by his article, Houston's breweries accepted the challenge. By January 1st, 2018, Houston had over 50 of these beers. We refer to this period of time as, 'The Haze Race.' This beer is in dedication to Larry and the fine brewers around Houston making H-town the new hazy beer destination."
For local beer fans, among the most gratifying components of Houston's rise to juicy prominence is the fact that, for much of the city's craft beer-scene's existence, it struggled to carve out an identity for itself, particularly when compared to its close neighbor, Austin, which has historically been viewed as the "hipper" city, and has grown a national name for itself via the world-class spontaneously fermented sours at Jester King, top-notch draft IPAs at Pinthouse Pizza, and the country's most highly-regarded hefeweizen, by Live Oak. Yet for all of its beer-making expertise, Austin has yet to see a brewery start producing NEIPAs with the regularity of Houston's leading lights. Could this the impetus for Koestler's next article?
"I'm sticking with Houston," he said with a laugh. "There's plenty here for me now."