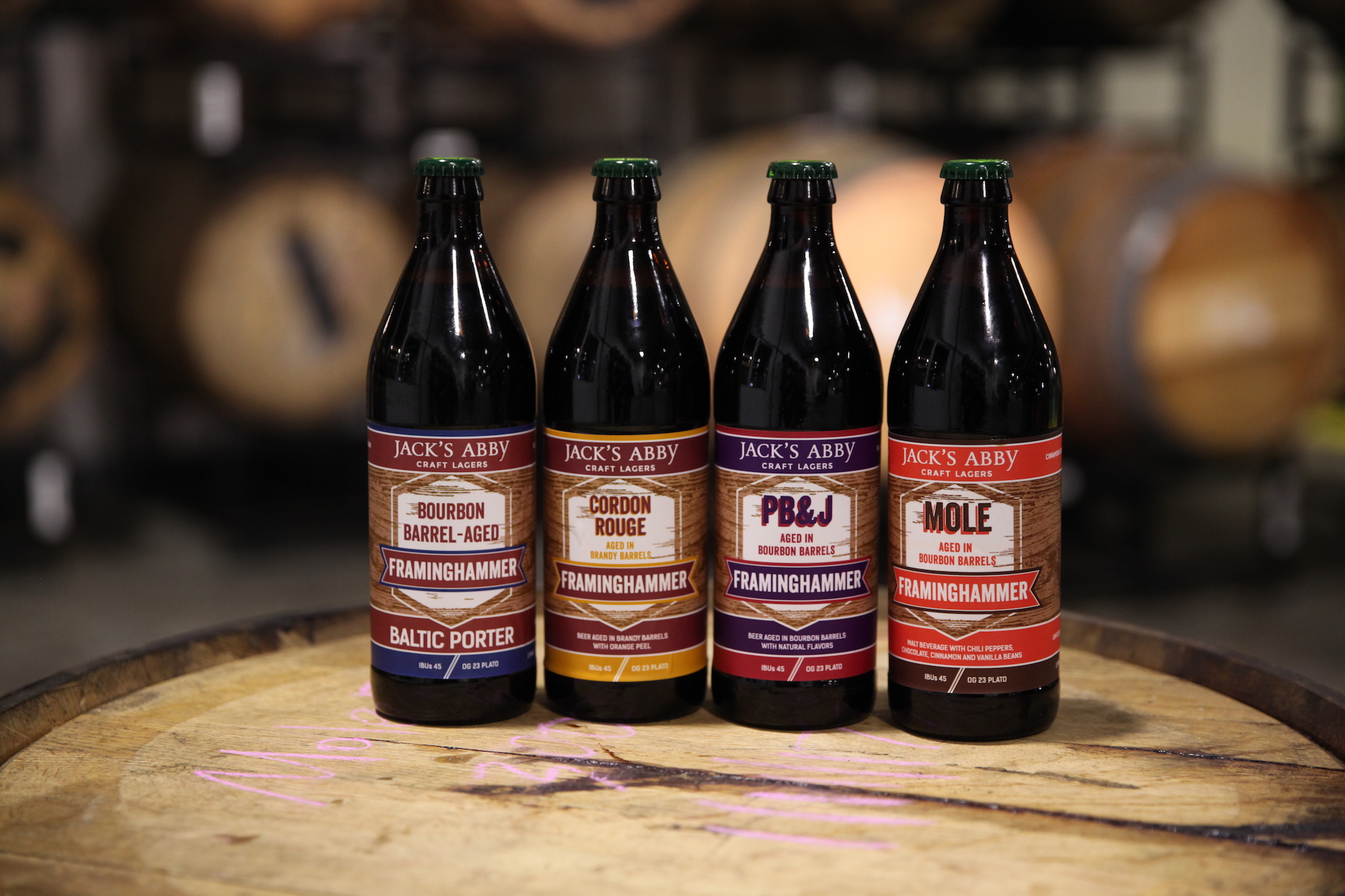 Photography by MediaBoss TV
Each spring, Jack's Abby Craft Lagers, the lauded brewery out of Framingham, Mass., releases a new batch of its barrel-aged Framinghammer series. This year is no different, with four variants rolling out to the expectant masses: the regular Bourbon Barrel-Aged, Mole, Cordon Rouge, and PB&J. No stranger to funky beer flavors, I was nevertheless intrigued by how a peanut butter and jelly beer gets made.
So I asked marketing coordinator Arley Donovan to give me the full rundown. Turns out, Jack's Abby has been a fan of wildly flavored lagers since its inception, releasing such beers as Fire in the Ham, a 60% beechwood smoked malt rauchbier, and Numb Swagger, a popular variation on their Smoke & Dagger Black Lager made with szechuan peppers.
Alex Weaver: How did the PB&J come about? How many times has it been brewed?
Arley Donovan: The PB&J variant was the brainchild of our fearless leader Jack Hendler, co-owner and brewer here at Jack's Abby. I think he really wanted to make something different that other breweries weren't attempting and was interested in working with peanut butter for a beer, so PB&J seemed like a natural fit. It's been brewed since 2013, so 4 years total.
"It's a challenging day for our cellar manager, getting all that sticky peanut butter into the barrels."
AW: How do you brew a PB&J beer, anyway?
AD: Well, this beer is actually brewed as a Baltic porter first and then transferred to bourbon barrels for aging. It ages for approximately 8-9 weeks and is dosed with peanut butter and raspberries a couple weeks prior to packaging. The aging period isn't too long, but you still get all of the prominent flavors from the bourbon barrel transferred to the beer. We use Teddie's peanut butter because it's a local brand and it has no additives, making it the closest option to just crushed up peanuts. Although, as you can imagine, it's a challenging day for our cellar manager — getting all that sticky peanut butter into the barrels.
AW: How do people typically react when they try it?
AD: I would say it's actually a lot of people's favorite Framinghammer variant! Out of all of the barrel-aged Framinghammers we've done over the past five years or so, it's one of our most unique and coveted offerings. I think people are initially drawn in by the name and the memory of mom's PB&J sandwiches and are then surprised at how much they enjoy it!
AW: Any other wild beer flavors you've made?
AD: Most Definitely! The Framinghammer series is one of the places where our brewers are able to get most creative. In addition to the unique Mole and Cordon Rouge Framinghammer variants that we released for distribution this year, we are also doing a brewery-only, draft-only Graham Cracker Barrel Aged Framinghammer. I can't wait to try that one! One of the craziest Framinghammer's we've ever done was The Italiano, which was Framinghammer Baltic Porter aged in barrels with star anise, lemon, and espresso.