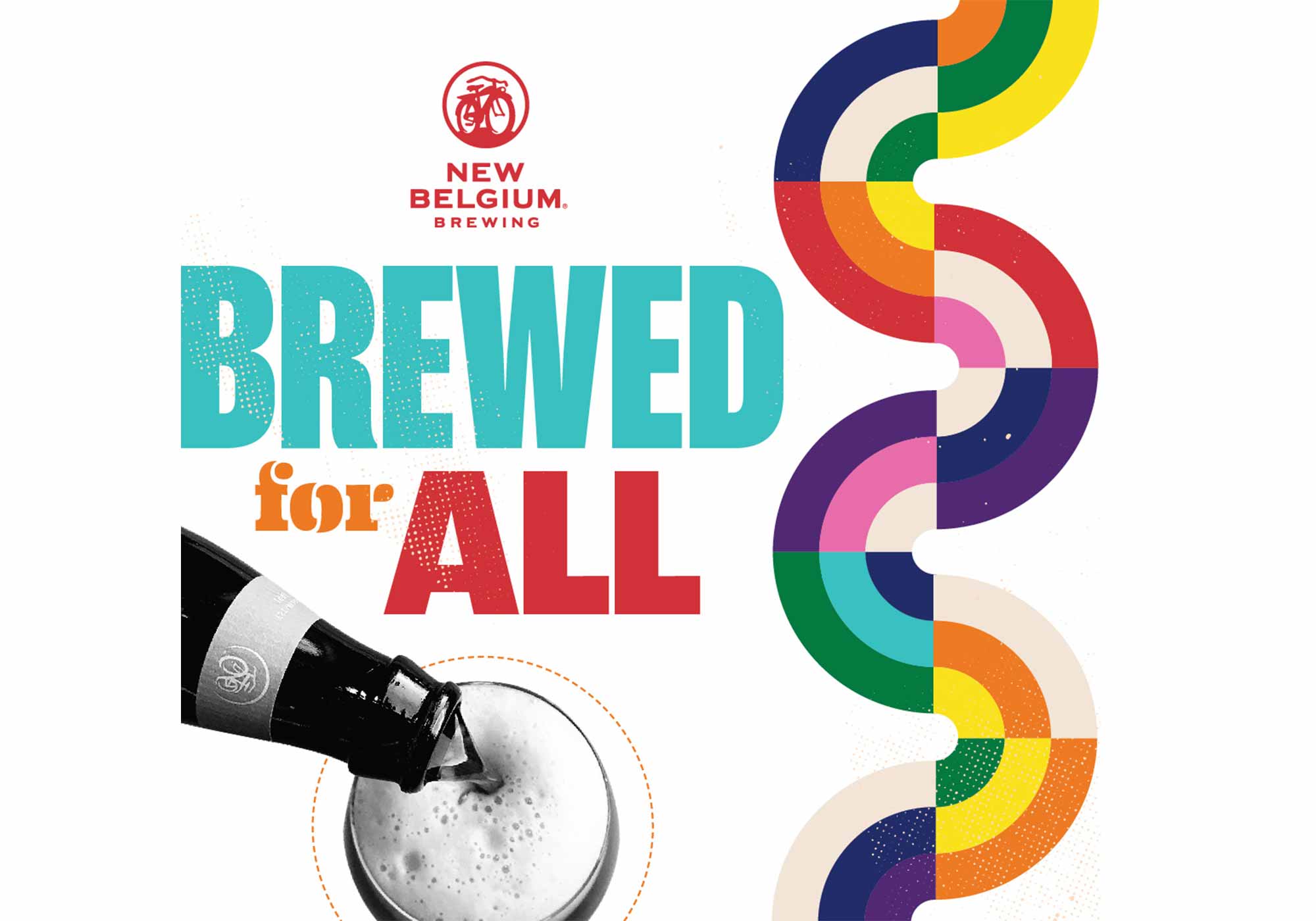 Photography courtesy of New Belgium
Editor's Note:
Join us on June 5th, 2021 for the Hop Culture x Samuel Adams Queer Beer Fest! Click here for all the details.
According to a first-of-its-kind benchmarking survey released in 2019 by the Brewers Association, 88 percent of independent brewery owners and 89 percent of brewers are white. Among independent breweries owned by a person of a single gender, just four percent are woman-owned. And, non-binary employees didn't even register as a full percentage point.
We know there are roadblocks in our industry. There are barriers for women, the BIPOC community, the Queer community, and more. But, progressive programs from breweries like New Belgium Brewing are paving the way for change. In fact, the Fort Collins-based brewery and maker of Fat Tire Amber Ale has been raising the bar on diversity and inclusion for the last three decades.
Equity and Inclusion at New Belgium
When Kim Jordan and Jeff Lebesch founded New Belgium in 1991, they committed to, "Kindling social, environmental and cultural change as a business role model." And a few years ago the brewery started using the phrase, 'Brewed for All'. Both are powerful statements. Originally a social worker, Jordan wanted her business to address inequities she saw in the workplace.
From the very beginning, Jordan and Lebesch offered health benefits to domestic partners and gifted coworkers shares in the company. It's a standard that set the culture at New Belgium for years.
"At our core, we are a mission-driven, aspirational workplace," says Meghan Oleson, Community Programs Manager at New Belgium. "Kim and Jeff laid the groundwork for that back in 1991. They really infused the company with their love for craft beer, but also took a moment to pause and see the potential impact they could make on other people's lives."
Recently, the Human Rights Campaign (HRC), an organization leading the fight for LGBTQ+ rights and "creating a society where none of us is left behind", recognized New Belgium as one of the Best Places to Work for LGBTQ+ Equality on its Corporate Equality Index, giving it a perfect score of 100. At the time of writing, New Belgium is the only craft brewery in the country to receive this distinction.
What Is the HRC Corporate Equality Index?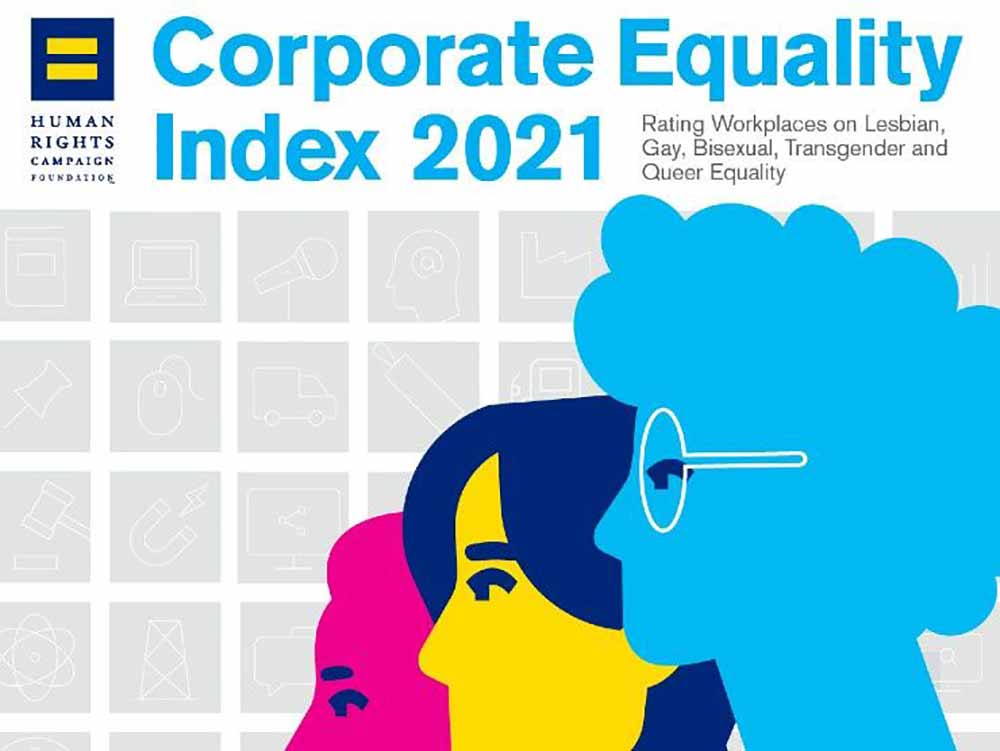 A national benchmarking tool on corporate policies, practices, and benefits for lesbian, gay, bisexual, transgender, and queer employees, HRC's Corporate Equality Index ranks businesses based on four categories. To score a perfect 100 means that a company has satisfied all the criteria in a given year and is advancing best practices for LGBTQ+ workplace inclusion.
"[Applying for HRC's Corporate Equality Index] can be a great step on anyone's workplace diversity, equity, and inclusion path to use as a benchmark. It helps you look in the mirror to see where you're at for LGBTQ+ inclusion and allows you to see where you stand with other companies committed to the work," says Oleson.
According to Oleson, the LGBTQ+ organization personally worked with New Belgium to chart a path. Additionally, they offered free resources, monthly webinars, and more.
"I want to encourage anybody who has ever seen an equal sign — [HRC's official] logo — or looked at the bottom of a coffee mug and seen a product supporting HRC, and wondered how to get involved, to explore the wealth of information and resources they put out for free, to anyone," says Oleson.
The Importance of the New Belgium Brewing Community
"I love that what really pushed us to participate in the 2021 Index were the inquiries from our sales folks and accounts asking us, 'What is your LGBTQ+ index score?'" says Oleson.
Patrice Palmer (they/them/theirs), the Diversity, Equity, and Inclusion (DEI) Specialist at New Belgium, echoes Oleson's sentiments.
"It's one thing when our team says, 'This is what we need,'" they said. "But when other folks echo that same need, it pushes you to another level. That was confirmation for us, and then we were all hands on deck."
The Corporate Equality Index has offered a way to legitimize the brewery's commitment, and hitting a perfect score sent a very clear message to the rest of the craft beer industry: Making your workplace more equitable and inclusive is completely possible.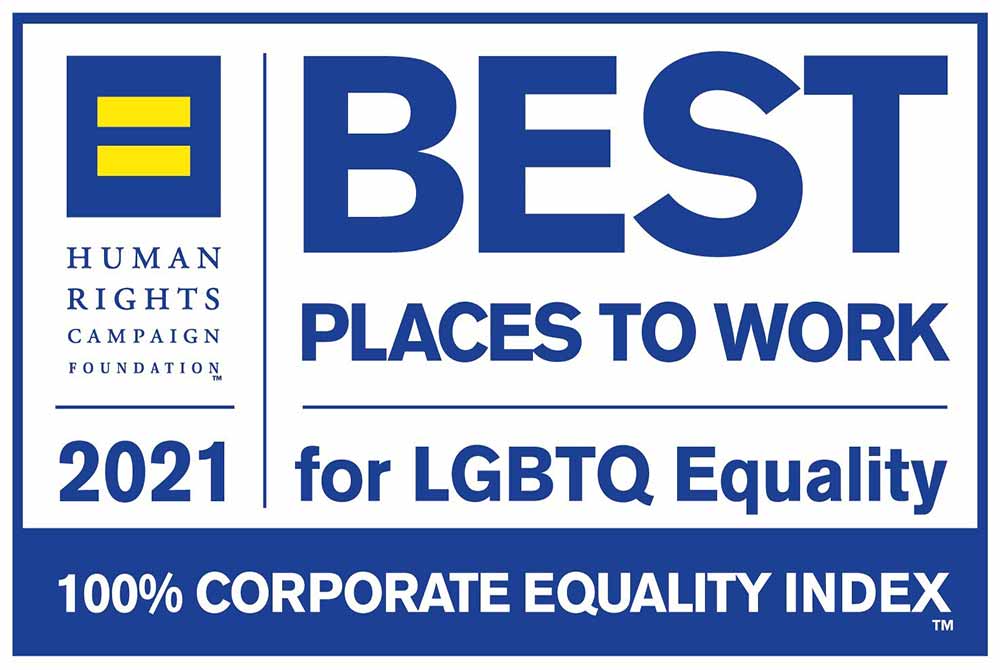 How Did New Belgium Receive a Perfect Score on the Corporate Equality Index?
Above all, HRC ranks businesses based on four categories:
1. Workforce Protections looks for a business' non-discrimination policies to include sexual orientation and gender identity or expression.
2. Inclusive Benefits means providing domestic partner medical benefits for same-and different-sex employees. Along with equal health coverage for transgender individuals.
3. Supporting an Inclusive Culture & Corporate Responsibility includes internal LGBTQ+ training in addition to external outreach and engagement with LGBTQ+ community.
4. Responsible Citizenship assesses how an employer has responded if they've faced a large-scale public anti-LGBTQ event.
"You can't just send one or two emails and now you're a part of the certification," says Palmer. "You need to intentionally look at your structure, find gaps, and put policies and procedures in place."
To kick off their process, New Belgium did one big internal audit, discovered areas they were lacking, and dedicated its resources to closing the gaps.
New Belgium's Continued Work for LGBTQ+ Activism
Despite their perfect 100, New Belgium knows there is more work to be done.
"While we're doing everything we can for equity and inclusion within our four walls, we still legally can't ensure that our community and family members [are covered]," says Oleson.
Currently, queer people in the United States can be fired on the basis of their sexual orientation. There is no law that protects LGBTQ+ employee rights. Although the U.S. House of Representatives passed The Equality Act last February, which would provide anti-discrimination protections for LGBTQ+ people, the law is still up for consideration in the Senate.
"It is so important to make sure people understand why the Corporate Equality Index is necessary," says Oleson.
New Belgium's Other Equity and Inclusion Programs
In 2019, New Belgium became the first brewery in the country to hire a DEI Specialist that jointly held a role within a Research 1 institution.
Since joining the team, Patrice Palmer has helped build a variety of diversity and inclusion initiatives at New Belgium.
Palmer, who identifies as non-binary, and uses the pronouns they/them/theirs – decided to add their pronouns to their signature line when they arrived at New Belgium. The marketing team at New Belgium realized that this should be something that everyone could partake in and developed a template for other employees interested in adding pronouns to their signature.
"It was a great thing to have New Belgium recognize that they had a coworker who didn't use binary pronouns and wanted to make sure they felt safe, secure, and brave in this space," says Palmer.
On a more complex level, Palmer started Pride@NBB, an LGTBQ+ friendly affinity group for both queer and allied coworkers. The affinity group meets regularly to discuss how to support each other.
Going even further, the group organized Queer Sips, a series inviting folks to talk about policies (such as The Equality Act), how they could affect the LGBTQ+ community, and where allies can help along with connecting and creating Queer and Allied community within the brewery.
Other programs have included a beer for National Coming Out Day on October 11th called Biere de Queer. The brewery is also participating in Hop Culture's upcoming Queer Beer Fest.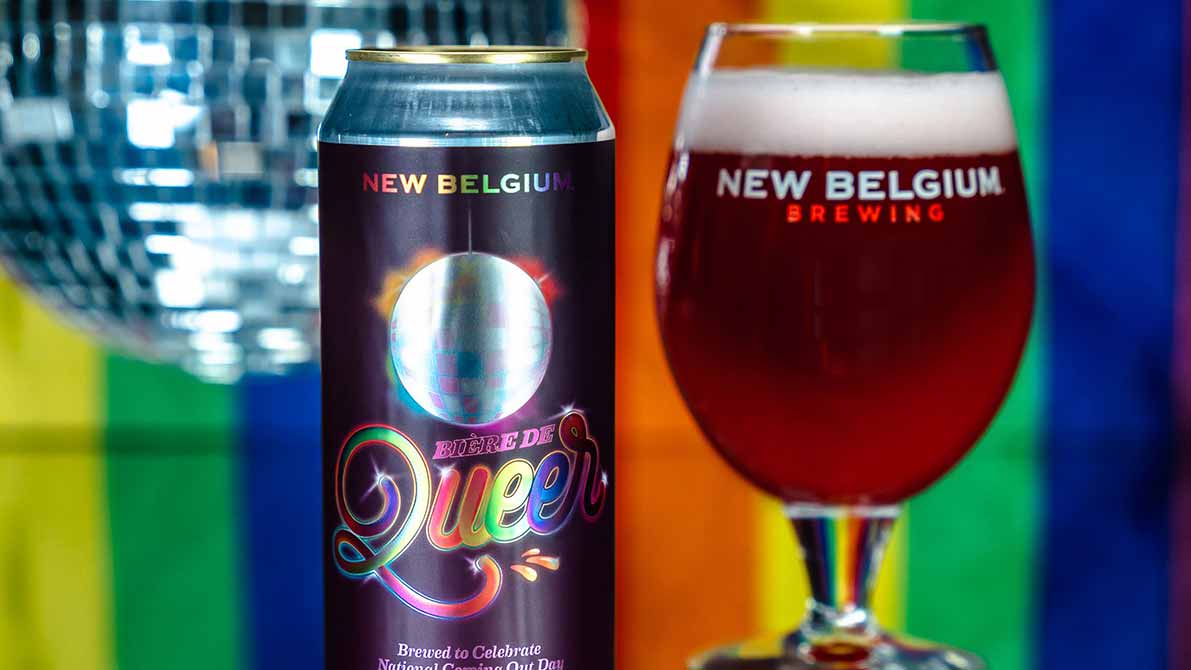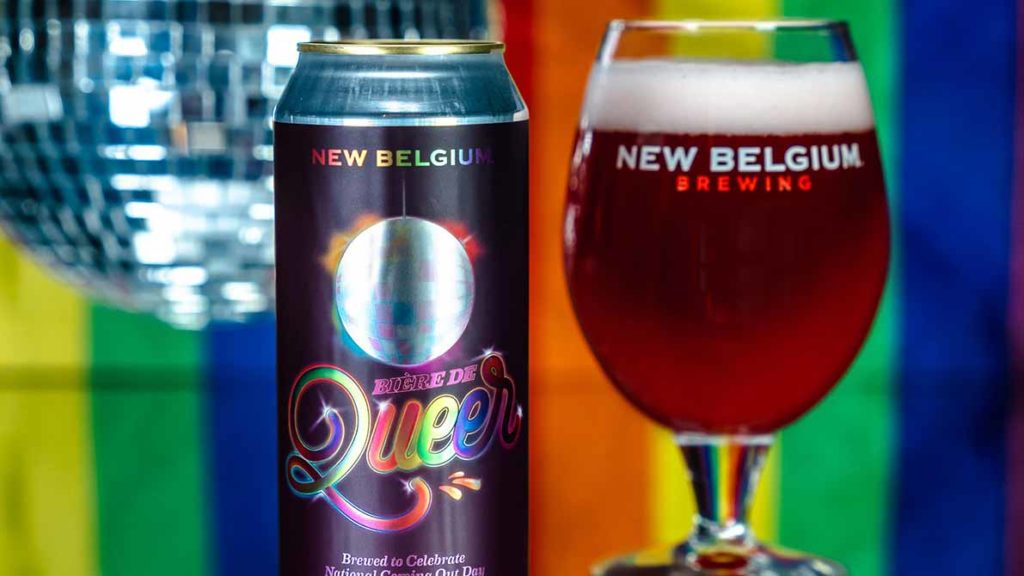 How Is New Belgium Setting a Better Standard for the Industry?
New Belgium has taken tangible steps to create a more inclusive workplace. For Palmer, Oleson, and the rest of the team, every day presents a new opportunity to push the needle forward on LGBTQ+ rights.
"It's really important to know this work is never done. There isn't some date where you can check a box and have all the badges," says Oleson.
Palmer notes that it's imperative to hold businesses like New Belgium accountable. Don't just allow us to say it once and never again. Remind us what we said we're going to do. It holds our feet to the fire and makes what we do that much more intentional."
Although it's not always sexy, building policies around a commitment to inclusion in the workplace is vital. Both Oleson and Palmer hope that the standards New Belgium set will be like a rising tide lifting all boats.
"We want to demystify the process and let people know that you don't have to aspire to be anybody else but yourself," says Oleson. "Just join us from where you're at, because all change in this vein is a good change."
New Belgium knows they can't fix everything. "We're not saying we're perfect," says Palmer. "We're just saying we're being intentional, we're naming [our problems], and we're putting solutions into action."