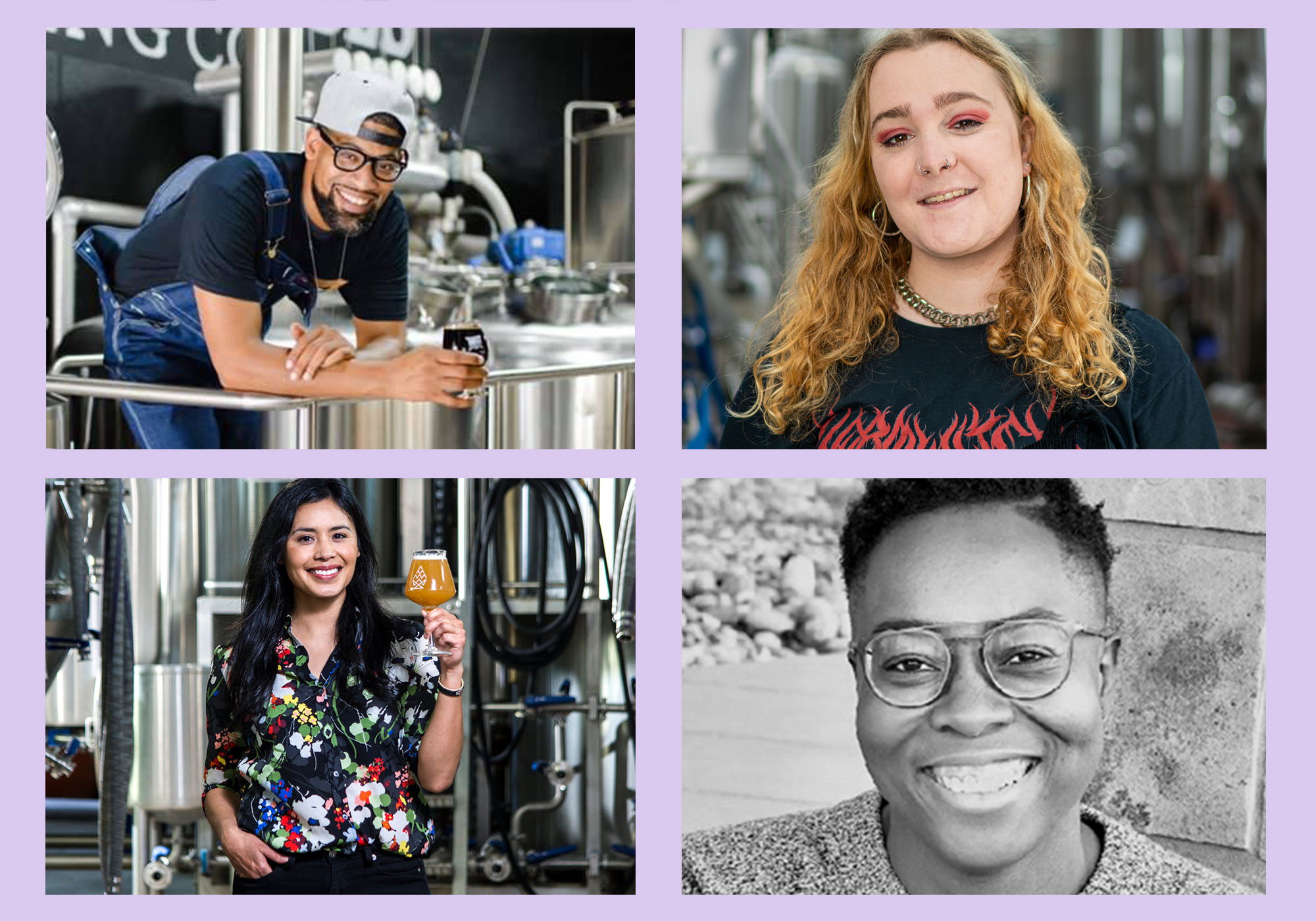 Beer has power.
Beer has the power to bring people together.
It has the power to engender community.
It has the power to change someone's day.
But for a long time that "someone" has overwhelmingly looked a certain way. This year, with movements rising across the country to spotlight racial injustice and police prejudice, the craft beer industry simultaneously faced a call to action. Traditionally, a trade full of predominantly white, male consumers and workers, craft beer has seen a surge of Black, Brown, female, Queer, and Indigenous voices speaking out, urging change, bringing new perspectives to the table, and highlighting BIPOC businesses that deserve recognition.
We've seen new communities give a voice to craft beer. For the first time, the liquid in your glass has proven that it has the power to spark change. But only if you listen, educate yourself, and make the conscious decision to act.
This year during our marquee women in craft beer festival Beers With(out) Beards our keynote speaker Patrice Palmer, the diversity and inclusion specialist at New Belgium Brewing Co., perhaps said it best, "Words without action just become manipulation."
With that in mind, if you're looking for inspiration, tune into these voices (and others) in craft beer who are not only speaking out, but also taking action. From forming scholarships supporting People of Color, brewing beers that raise money for change, or spearheading minority-owned breweries as pillars for their communities, these are the actions of people who understand that while beer does have power it also needs leaders. More than that, craft beer needs its entire community to raise their voices and act. So, listen closely. Hear what these trailblazers and pioneers are saying. And then make a conscious decision to make our industry more inclusive, equitable, and just.
Patrice Palmer
Diversity and Inclusions Specialist and New Belgium Brewing Co.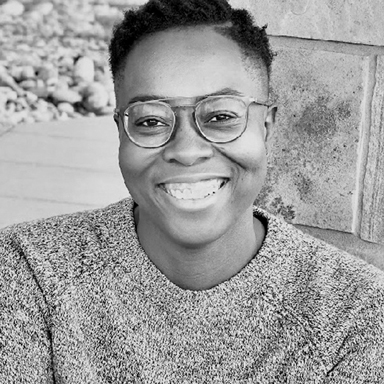 As New Belgium's first Diversity and Inclusion specialty, Patrice Palmer (they/them/theirs) works to create and manage programs, projects, and lead initiatives on diversity and inclusion within the brewery. This year already the black, queer, trans intersectional leadership educator directed New Belgium to celebrate National Coming Out Day, an annual LGBT awareness day observed on October 11, to support lesbian, gay, bisexual, and transgender people to "come out of the closet" and celebrate their sexual identity, with a new beer called Biere de Queer.
They also started an internal program at New Belgium called Pride@NBB with over 80 members that hosts bi-monthly Queer Sips. Additionally, they joined us as the keynote speaker during our annual women in craft beer festival Beers With(out) Beards, bringing down the house with passionate and emphatic words about staying compassionate, confident, and committed to creating more welcoming spaces for minorities in craft beer. Palmer exemplifies how beer can be a vehicle to break down barriers and build up community.
Marcus Baskerville
Founder and Head Brewer at Weathered Souls Brewing Co.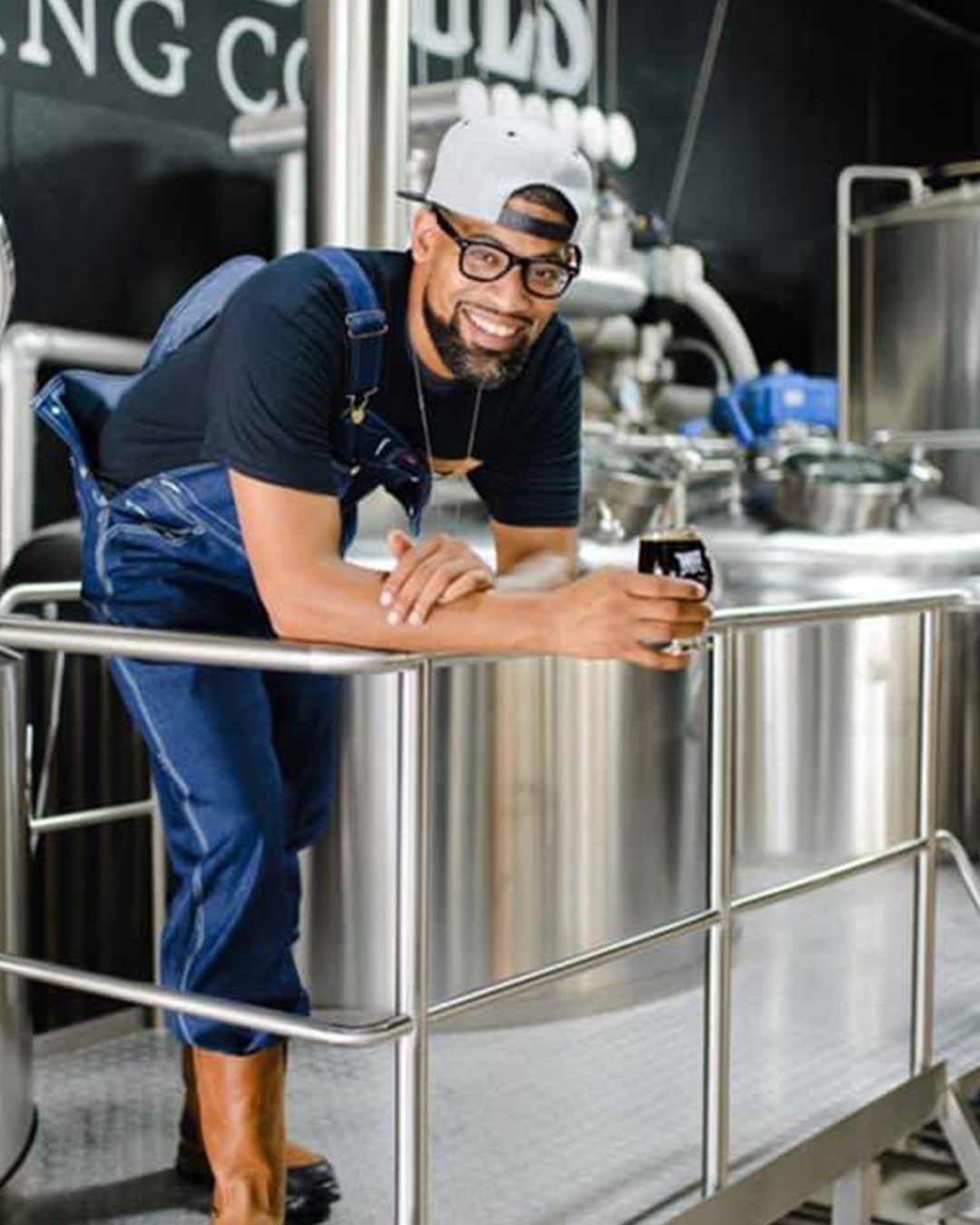 If Helen of Troy was the "face that launched a thousand ships" then Marcus Baskerville, BIPOC founder and head brewer at Weathered Souls Brewing Co. in San Antonio, Texas is the man that launched a thousand beers. Back in the spring as protests and social demonstrations erupted around the country in response to police brutality and racial injustice Baskerville looked for ways to make a difference and speak out.
He created Black is Beautiful, an initiative aimed at "bringing awareness to the injustices that many people of color face daily," Baskerville told us in a Hop Culture interview. While the project initially started with just one recipe and one release, Baskerville opened up the concept to any brewery around the country that wanted to participate. The community responded. As of September over 1,200 breweries across the country have participated in the campaign, releasing their own Black is Beautiful beers and donating 100% of the proceeds to local foundations that support police brutality reform.
Latiesha Cook
CEO and Founder of Beer Kulture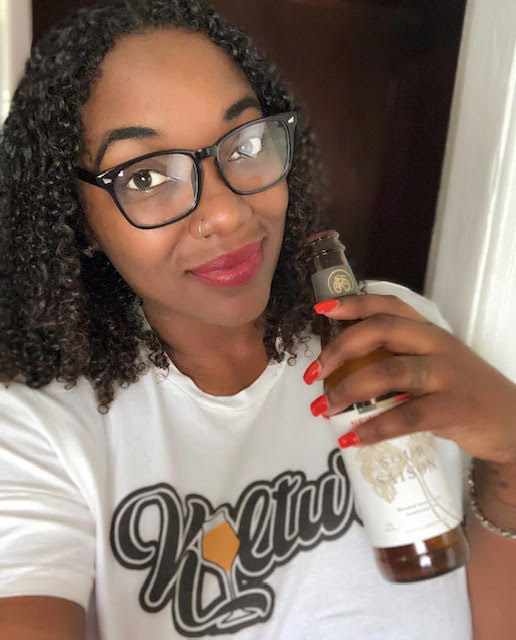 Changing the world one beer at a time! That's the motto of Beer Kulture, a St. Petersburg-based nonprofit that seeks to be the change in a predominantly white, male craft beer industry by creating opportunities that foster diversity, equity, and inclusion. Originally started as a marketing agency in 2017 by beer vet Dom Cook (who has since moved onto other endeavors), Beer Kulture came under the wing of Latiesha Cook and pivoted to a non-profit foundation in the summer of this year.
With a renewed focus on building a brighter future for un-reached demographics in craft beer, Beer Kulture has set out to bring beer to BIPOC neighborhoods, host events for non-traditional craft beer drinkers, and brew "Kulture Kollabs." Projects she's tackled this year include a collaboration beer brewed with Cloudwater Brew Co. in Manchester, U.K. to raise proceeds for its scholarships, educational programs, and community services. Likewise, we teamed up with Cook for our own unique Hop Culture x Beer Kulture collab glass, A Mile in Our Shoes, designed by black illustrator and animator @blackpowerbarbie. Proceeds from our initiative will be used to cover the cost of a joint paid partnership program at the magazine.
Shyla Sheppard
Co-Founder of Bow & Arrow Brewing Co.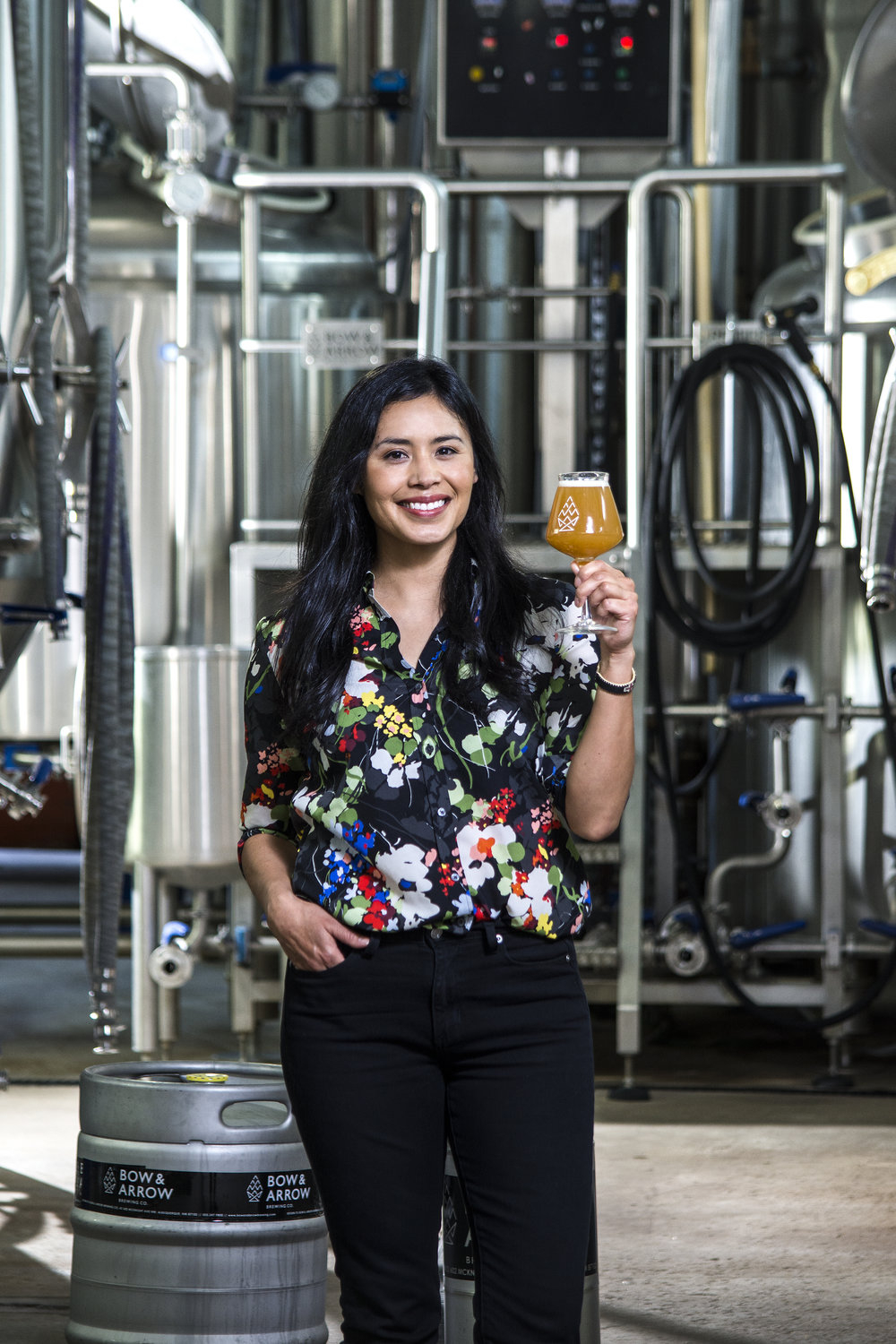 Native and woman-owned, Bow & Arrow Brewing Co. is a one-of-a-kind brewery. Helmed by Shyla Sheppard and her wife Missy Begay, the Albuquerque, NM brewery draws on the duo's distinct Native heritage. Sheppard is a part of the Mandan, Hidatsa, & Arikara Nation and grew up on the Fort Berthold Reservation in Western North Dakota while Begay was raised on the Navajo (Diné) Nation. Sheppard started Bow & Arrow after a decade of investing and business experience backed by an Economics degree from Stanford University. Begay and Sheppard met at Stanford, both catching the homebrewing bug and continuing the hobby even as Sheppard built a career in social impact investing and Begay went to medical school.
In 2005, the duo moved to Albuquerque, where Begay started a residency at the University of New Mexico. Eventually, Sheppard and Begay decided to turn their talents professional, opening Bow & Arrow in 2016. The brewery uniquely captures both Sheppard and Begay's heritage. Specializing in sours, the Southwestern brewery has churned out unique beers highlighting local ingredients such as a beer aged in foeders on Navajo tea or sumac berries from Navajo Agricultural Products Industry. Both Sheppard and Begay bring a diverse perspective to the industry that you'd be hard-pressed to find anywhere else.
Jennifer Glanville
Brewer and Director of Partnerships for Samuel Adams' Brewing the American Dream Program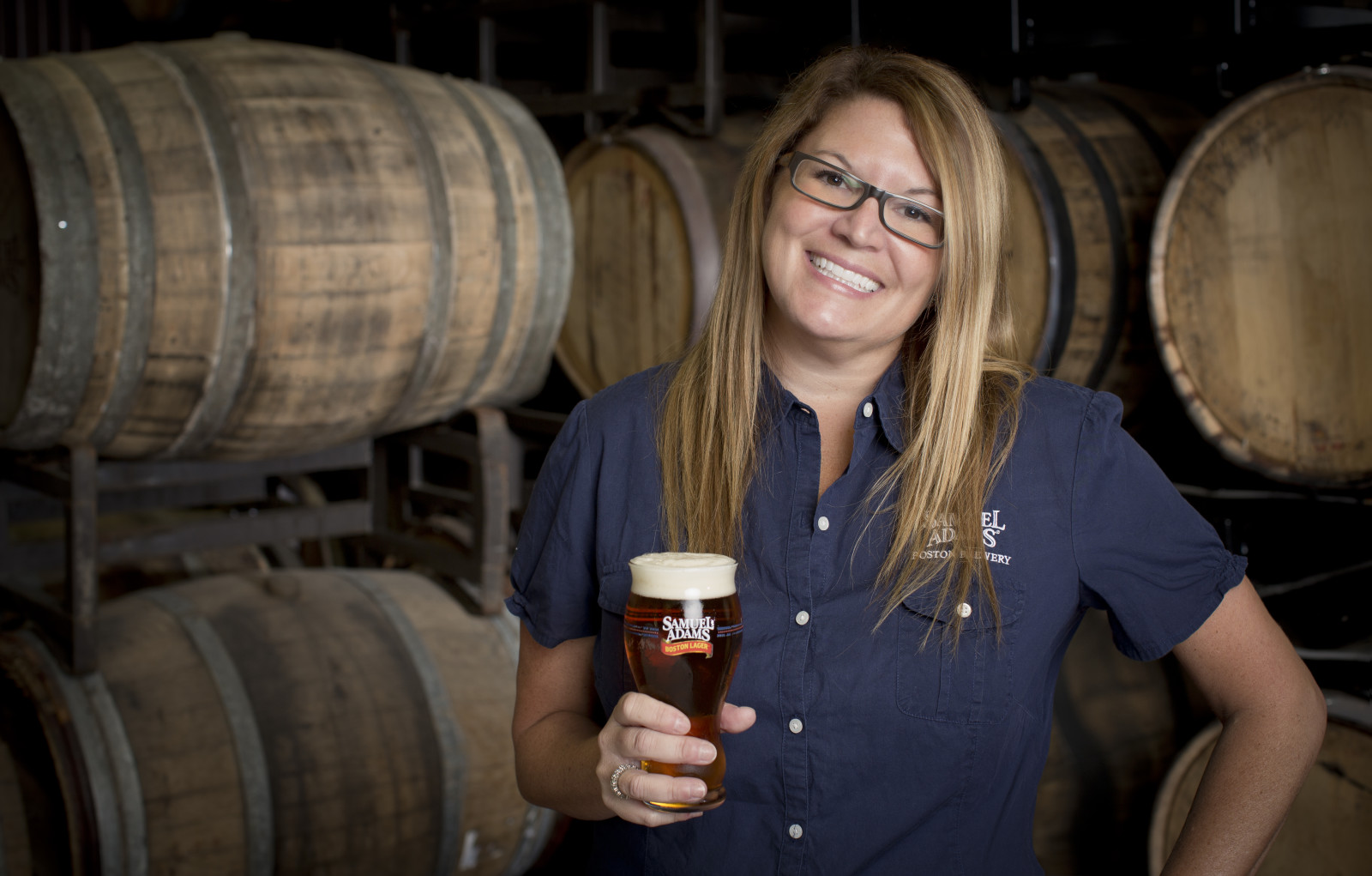 How do you build a dream? It's a question that many brewery owners ask themselves before taking the plunge to open their own small business. But launching and operating a brewery, let alone brewing beer, is no easy task. Even more so if you're a woman or BIPOC-business owner. Samuel Adams Brewing the American Dream (BTAD) program provides capital and mentorship to small beverage and food entrepreneurs across the country. Jim Koch, founder of The Boston Beer Company, started the initiative in 2008 after over three decades of learning how difficult it can be to apply for loans and run daily business operations. And, Koch is a white, educated male with three degrees from Harvard.
Today, Jennifer Glanville, who started out as a brewer at Boston Beer before working her way up, leads the program, ensuring that BTAD continues to counsel and educate small business owners, many of whom are from minority backgrounds, almost 50% of entrepreneurs in the BTAD program are women and 79% are from minority communities. In a little over a decade, BTAD supported by Accion and Opportunity Fund, has succeeded in providing more than 2,600 loans totalling $43.7 million to food and beverage businesses across 38 states and retained more than 9,000 jobs in the industry. Most importantly, Glanville and the program have given free business coaching and mentoring to over 11,000 entrepreneurs across the country.
Basil Lee, Kevin Stafford, and the Finback Brewery Team
Finback Brewery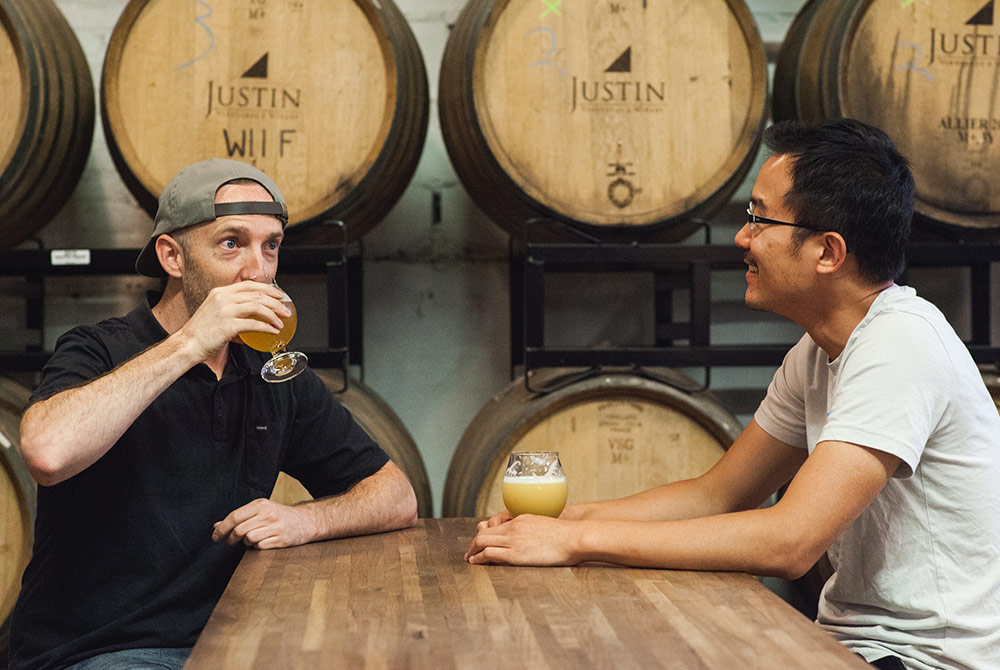 In an effort to create conversations among beer drinkers around race in the wake of George Floyd's murder, Basil Lee and Kevin Stafford, the co-founders at Finback Brewery in Glendale, New York, along with their entire brewery team created Breathing: Conversations. The Breathing Conversations Project encourages breweries to hold their own internal discussions around race and record their thoughts onto beer labels. Finback asks that participating breweries donate a portion or all of the proceeds from the beer to foundations that promote racial equality.
Finback itself contributed sales from the 8% ABV IPA to The Southern Poverty Law Center and Black Lives Matter and pledged another $10,000 to BeyondBeer, a planned not-for-profit fund working on "engaging the brewing industry and people of color to work on issues of diversity, inclusivity, and equality for the long term."
Garrett Oliver
Brewmaster at Brooklyn Brewery and Founder of the Michael Jackson Foundation for Brewing and Distilling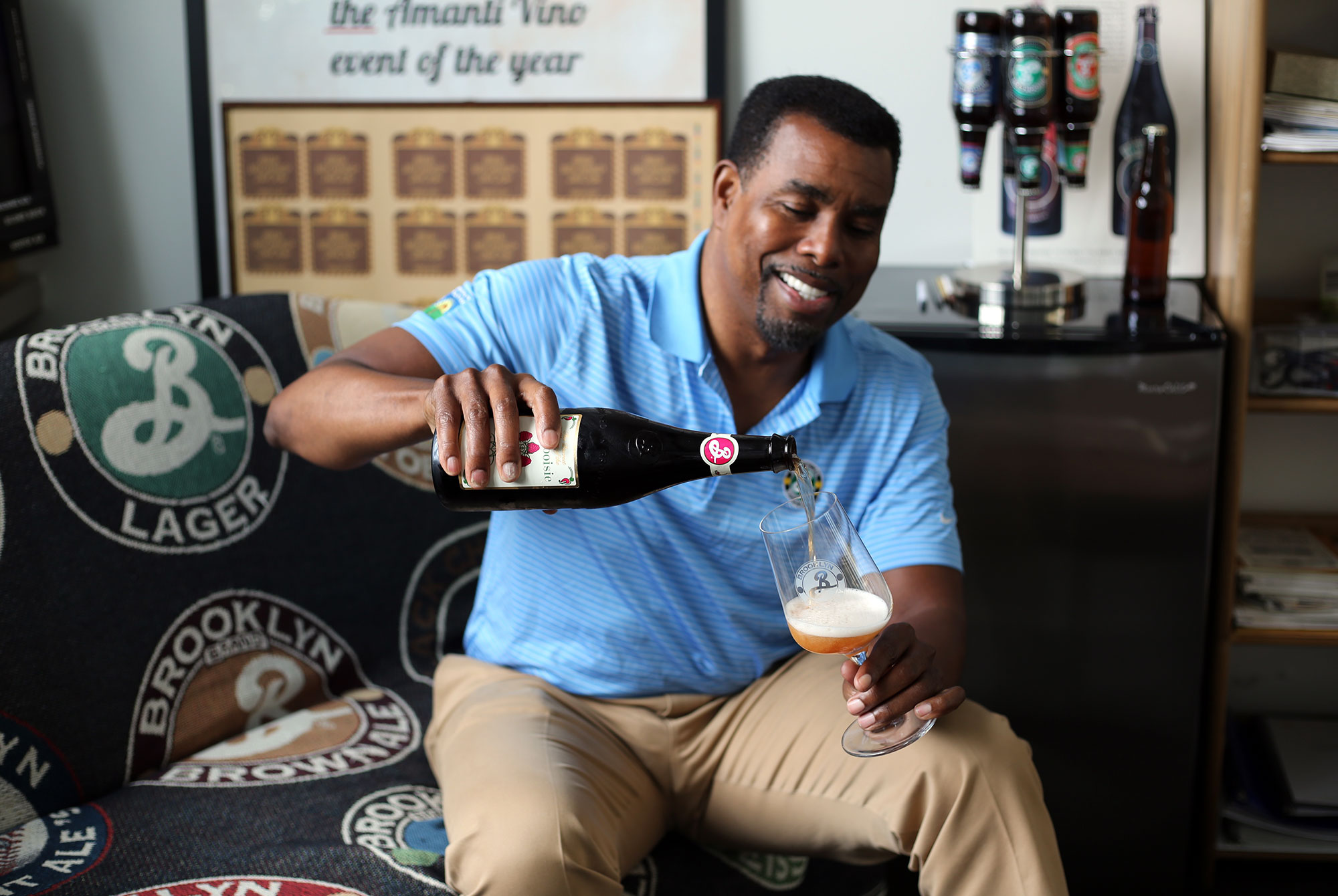 Amongst his many accolades, Brooklyn Brewery brewmaster Garrett Oliver launched his own brewing and distilling scholarship program this past year. Tom Potter, one of the founders of Brooklyn Brewery and New York Distilling Company originally approached Oliver about starting the initiative last year. Oliver stipulated that he would only work on the project if the scholarships went to people of color.
The Michael Jackson Foundation for Brewing and Distilling officially launched in July 2020 and began accepting applications for the Nathan Green Scholarship for Distilling, named for the formerly enslaved distiller who famously taught Jack Daniels how to make whiskey in the 1880s, and the Sir Geoff Palmer Scholarship for Brewing, which pays homage to eponymous brewing specialist, human rights activist, and Professor Emeritus in the School of Life Science at Heriot-Watt University in Edinburgh, Scotland.
"I've been sitting in the brewmaster's chair for more than 30 years, and I've never seen a single African-American applicant for a brewing job," Oliver said in a New York Times interview. According to a survey by the Brewers Association, an organization that works to promote and protect small, independent American craft breweries, less than one percent of brewers in the country are black. Oliver's new project seeks to change that imbalance by providing opportunities for BIPOC working in the industry.
Beny Ashburn and Teo Hunter
Co-Founders of Crowns & Hops
Born to go beyond making beer, Crowns & Hops focuses on creating an inclusive and equitable community for People of Color in craft beer. Started by Beny Ashburn and Teo Hunter, Crowns & Hops in Inglewood, California, is not only woman-led (we named Crown and Hops one of our top 40 women-led breweries to support right now), but Black-led as well.
To further their mission to close the gender and racial gap in craft beer, the duo recently partnered with BrewDog to launch the 8 Trill Pils Initiative, a $100,000 grant for Black-owned craft beer brands. According to the Brewers Association of the 8,386 breweries in the U.S. only 60 are Black-owned. Named for a Business Case for Racial Equity study released by the W.K. Kellogg Foundation found that the racial equity gap in the U.S. could reach as high as $8 trillion in the next thirty years, The 8 Trill Pils Initiative seeks to close that glaring gap. If you are a Black-owned craft beer business you can apply now for financial support. The grant will award several Black-owned craft breweries financial and business support to help grow their businesses.
Dr. J. Nikol Jackson-Beckham
Brewers Association's first Diversity Ambassador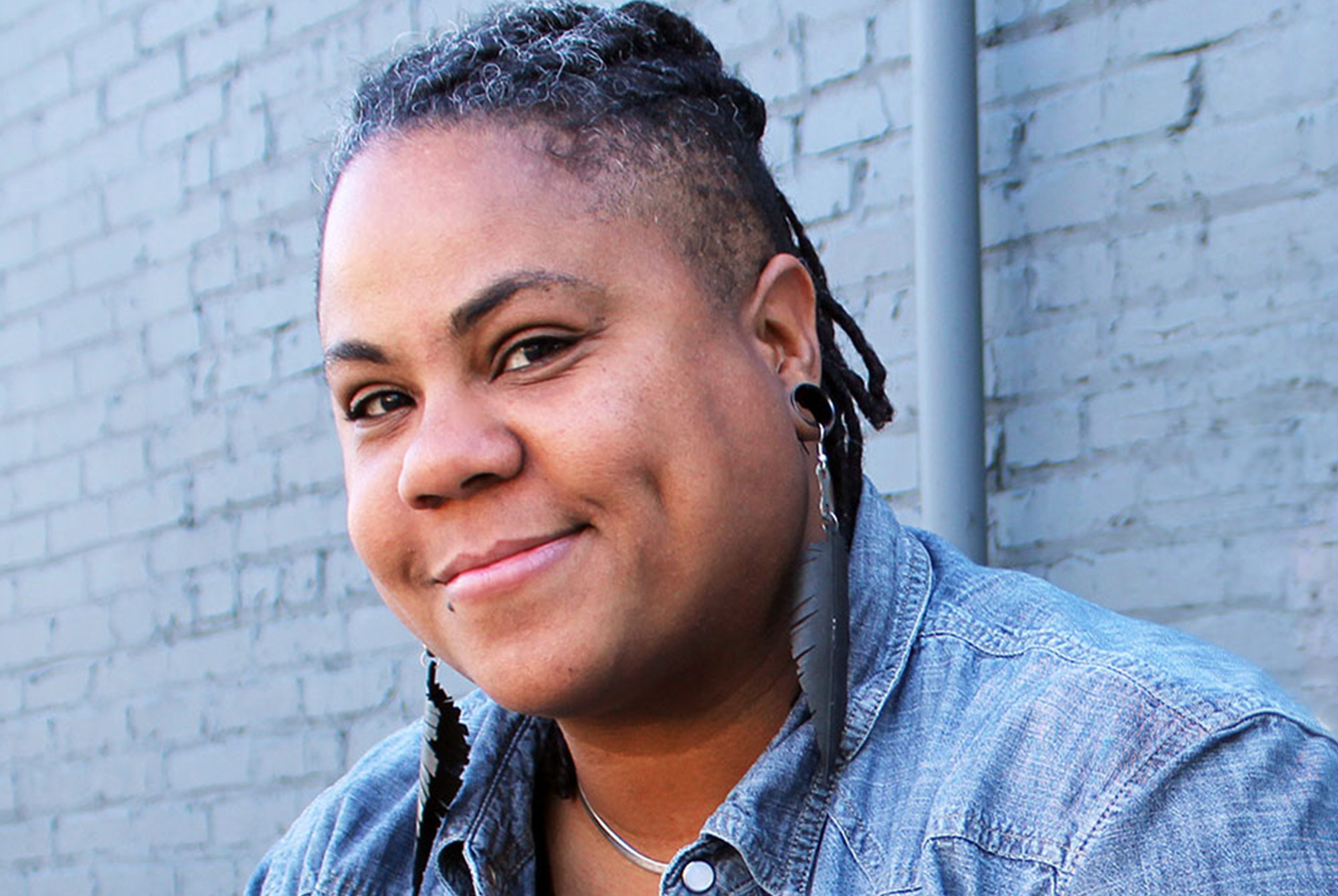 Chances are if you're looking for ways to make your own organization more diverse, equitable, and just you've turned to Dr. J. Nikol Jackson-Beckham, Ph.D. (affectionately known to most as Dr. J.). Named as the Brewers Association's first Diversity Ambassador in 2018, Dr. J. leverages her expertise in equity and inclusion to provide consultation and training to organizations in the craft beer industry.
In addition to traveling the country teaching breweries, cideries, and distilleries how to implement more diverse, equitable, and inclusive programs, Dr. J. also started her own platform, Crafted For All that works to bring the diversity of craft beer to people and the diversity of people to craft beer. Additionally, Dr. J. started a program called Craft x EDU, a new nonprofit that fosters inclusion, equality, and justice in the craft beer community through education and professional development. All of Dr. J.'s work focuses on diversifying the craft beer community and if you've ever heard her speak you'll leave the room awed and armed with the tools to craft change in your own brewery or community.
Jose Beteta
CEO of Raíces Brewing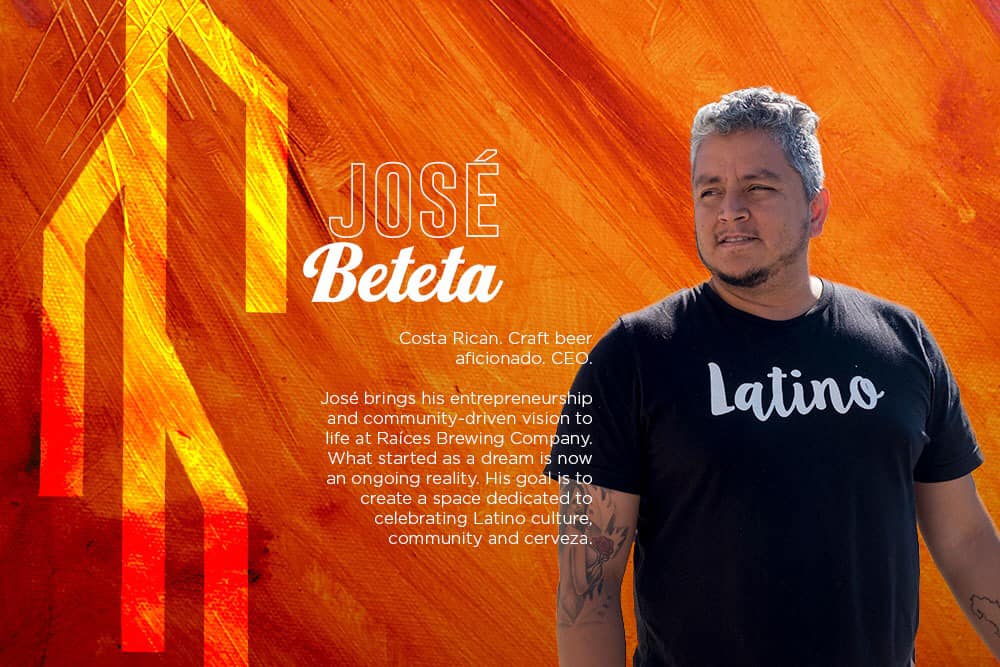 Opened for only a year, Raíces Brewing in Denver, Co. seeks to promote and celebrate Latino culture in craft beer. Jose Beteta, CEO of Raíces, moved to the U.S. from San José, Costa Rica in 1992, living as an undocumented immigrant for the past 26 years until officially earning his citizenship two years ago. Despite all of those challenges, Beteta was the first member of his family to graduate college and consequently open a brewery. Beteta's own life experiences have shaped his business, embodying the change he would like to see in the craft beer industry.
There are so many barriers to entry to craft beer for minority communities — access to capital is easier for white people, craft beer is more of a premium product because of the cost involved to make it, the market has become saturated, the list goes on – Raíces strives to open its doors and break down these barriers to the Latino community. Raíces technically translates to "roots" in Spanish, but really refers to cultural heritage. And those "roots" can be clearly seen in Raíces offerings such as a Manguito summer ale with mango puree or a Mexican lager.
Beyond the beer, Beteta makes sure that he creates a space for cultural celebration. All of Raíces menus are bilingual, Latino art abounds in the taproom, local food trucks serve Mexican, Colombian, Argentine, and even Brazilian food, and the brewery hosts talks and panels around race relations in the Latin American and Black communities. And, Beteta didn't stop there. In 2019 he launched Suave Fest, a beer festival geared specifically to celebrating Latino community, culture, and cerveza. From every angle, Beteta and Raíces are raising the bar and setting a new standard.
Lily Waite
Founder of The Queer Brewing Project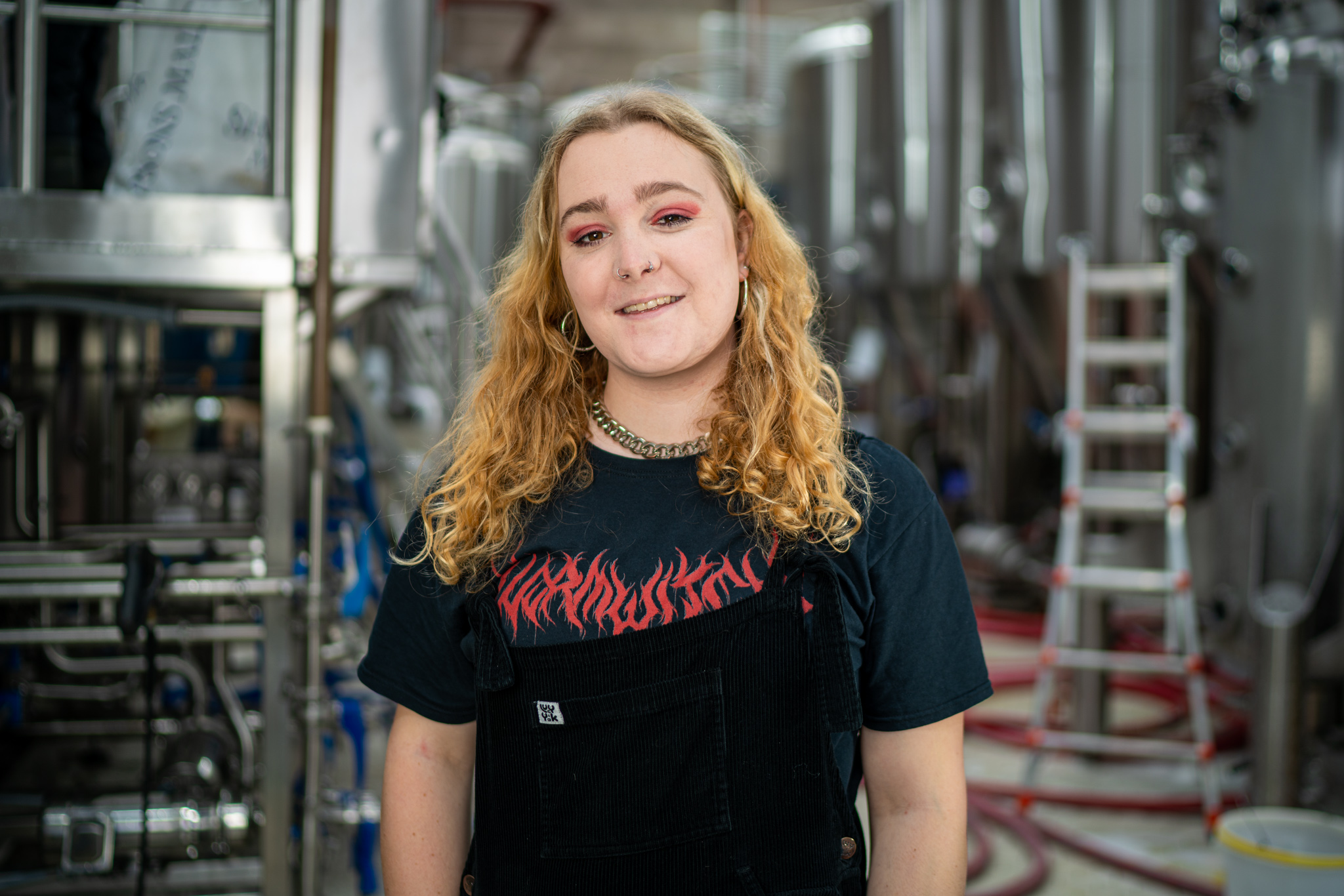 Created to build community and foster advocacy for LGBTQ+ rights in craft beer, The Queer Brewing Project (TQBP) is the brainchild of Lily Waite, a queer, trans woman whose worked around the beer industry including at organizations like Good Beer Hunting, We Are Beer, and Wild Beer Co. At its crux, TQBP seeks to eliminate intolerance and prejudice in the Queer community through the vehicle of beer. Beginning back in 2018, Waite brewed a collaboration beer with Marble Brewery called Dinosaurs Will Die as a part of an art exhibition during Manchester Beer Week. The beer and companion art examined how queer and trans identities intersect with an intolerant society. The response was so positive that Waite started looking for more ways to brew change.
Now, Waite has brewed over 30 collaboratives beers in 5 different countries, all aiming to unveil the intersectionality of the queer and trans communities in craft. Among her repertoire include collabs such as Zoom With Your Legs with Fifth Hammer Brewing Co., Triangle Peach Saison with New Belgium, and Love with 7venth Sun Brewery. And, that's just in the U.S. Collectively these beers have raised thousands of dollars for LGBTQ+ charities. Currently, Waite is a member of Cloudwater's Wayfinder program and working on ways to further the mission of The Queer Brewing Project.
Liked this article? Sign up for our newsletter to get the best craft beer writing on the web delivered straight to your inbox.