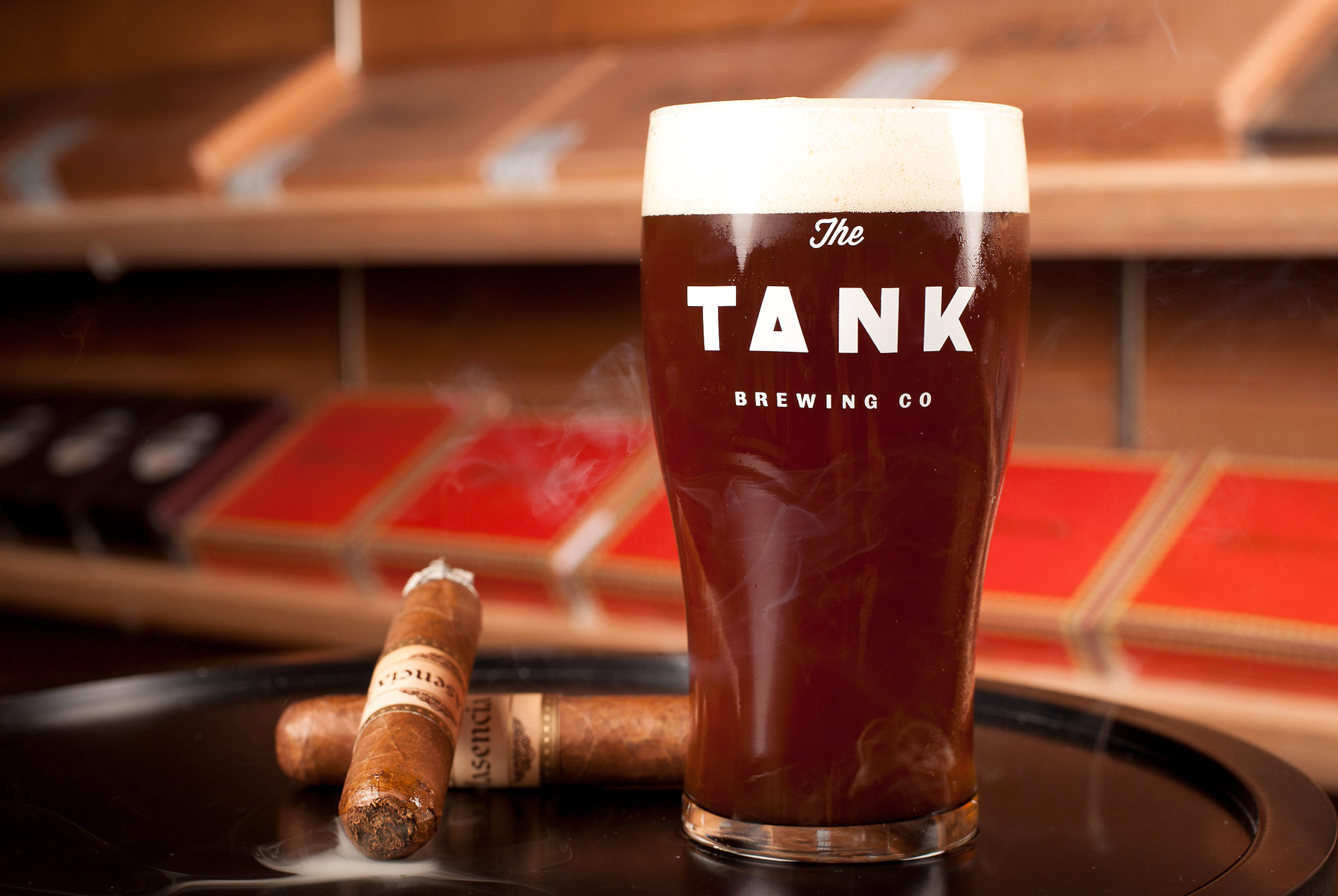 Photo courtesy of The Tank Brewing Co.
When you hear the words "beer pairing" your mind instantly goes to food. You envision a menu with detailed instructions from the house cicerone and chef. There's a blonde ale to open, with a pistachio and goat cheese salad, a rye IPA to go with drunken noodles, and a coffee-leaning stout to accompany the chocolate raspberry tart. *Chef's kiss*
But there's more than one type of beer pairing. At The Tank Brewing Co. in West Miami, pairing beer and cigars is even more natural than pairing beer with food. Opened in 2017 by cigar-industry veteran Carlos Padron, it's the only brewery in the country that boasts a cigar lounge on site—which allows drinkers to have a relaxing puff with their beer. Just grab a beer — perhaps La Finca, a Belgian-style saison that recently won a gold medal in the French & Belgian-style Saison category at the World Beer Cup — walk through a small hallway, and find yourself in the moody, inviting lounge–aptly named "The Family Cigar Shop."
Once inside, you'll meet Ahmed Fernandez, a 15 year veteran in the cigar industry. Fernandez runs the cigar lounge and plays the role of cellar person for the brewery.
Spend just a little time with him, and you may be surprised to learn that there are more than 300 human touchpoints in producing a cigar, beginning with a single seed and ending with the finished cigar you are lighting; that Nicaragua's dark, volcanic soil is ideal for producing cigars with spicy, complex flavor; and that, yes, you should pair your next cigar with a beer.
"Most people think…about whiskey or scotch or maybe wine," he says in regard to common cigar pairings. "They don't think that much about beer."
But, if The Tank and Fernandez have a say, they soon will. For those who can't visit the brewery and have Fernandez guide them through the process, he offers these tips:
Think about what's on tap.
Always pick your beer before your cigar. The flavor of the beer – whether aggressively hoppy, tart, or sweet — will dictate which cigar you should choose. Not a regular cigar smoker? Fernandez advises a pilsner, such as The Tank's La Playita. A light and mild beer without an aggressive alcohol content, it will allow you to ease into the world of beer and cigar pairing.
Consider the wrapper.
According to Fernandez, about 60 percent of a cigar's flavor is found in its wrapper, which is the outermost (and most expensive) layer. When choosing a cigar to accompany your beer, match the characteristics of the wrapper with the characteristics of the beer. For instance, with La Playita, you'd want to opt for a really mild Connecticut or Ecuadorian Sumatra wrapper. Have a more complex beer in your hand like an amber ale or IPA? Choose a medium-bodied cigar with a Havana wrapper, either from Honduras if you prefer more sweetness, or from Nicaragua if you prefer a bit more spice.
Don't make snap judgements.
To start, most cigars will be spicy, particularly in the first inch. Once the first inch has been smoked, you'll begin to get the full complexity of a cigar's flavor. Keep in mind, though: While the beer's flavor remains consistent, the cigar's flavor can change, especially at the beginning and at the end.
It's all about balance.
Don't be in a rush. Fernandez suggests not smoking or burning the cigar too fast, as this can lead to dizziness. But don't wait too long either. If the cigar goes out and you need to relight it, the taste won't be the same. Of course, this doesn't mean you should be setting a timer on your iPhone. Depending on the size of the cigar, you should expect to smoke it anywhere from 20 to 40 minutes.
Liked this article? Sign up for our newsletter to get the best craft beer writing on the web delivered straight to your inbox.