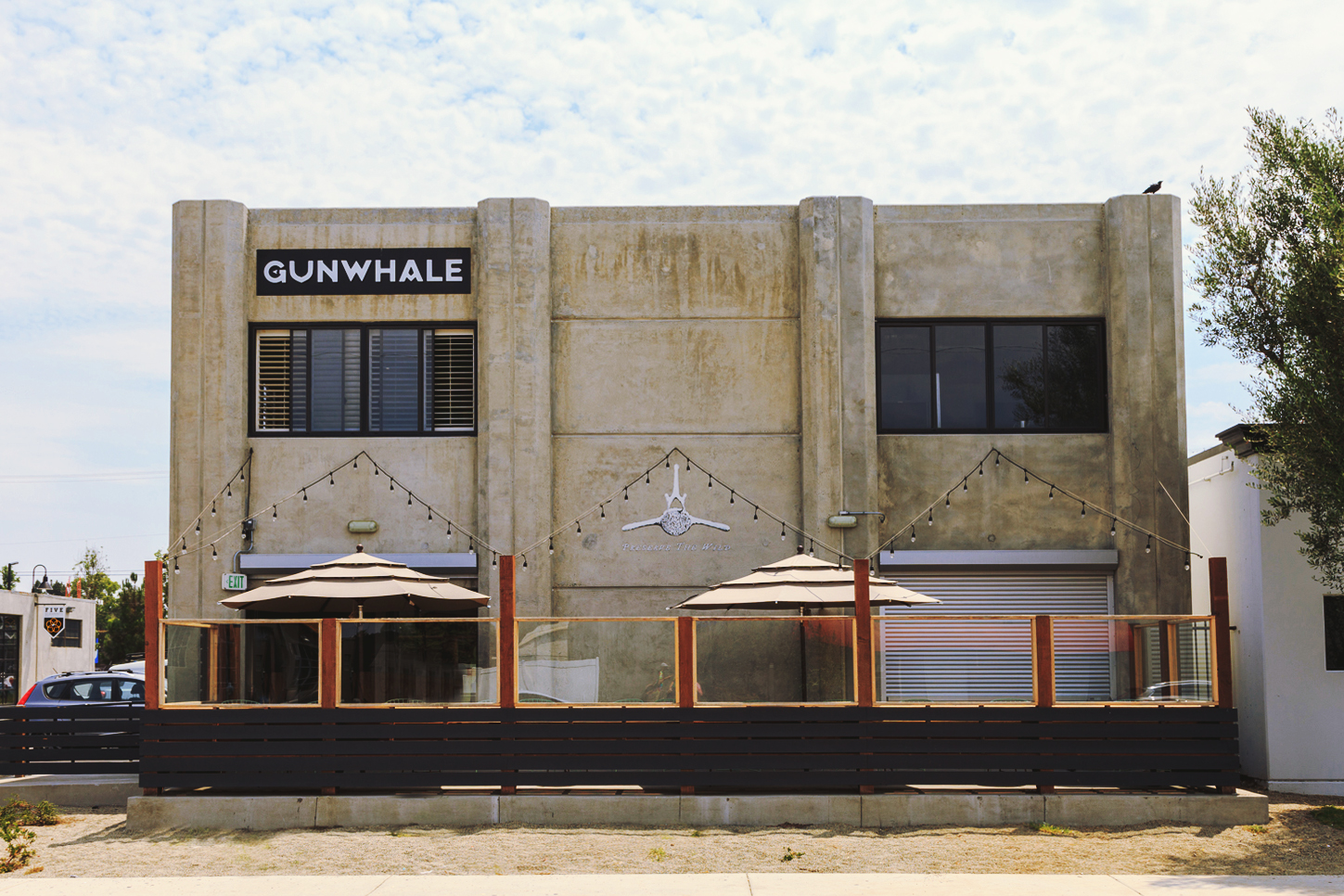 Editor's Note:
Catch Gunwhale Ales at the Horus HOOTenanny in Escondido, CA on January 26th. Get your tickets here!
Gunwhale Ales sits at an interesting intersection of rustic traditions and modern developments. The brewery went to market with the intention of producing "hop forward and yeast forward" beers. Without abandoning their love of saisons, grisettes, and barrel-aged sours, the founders of Gunwhale have worked in a steady lineup of IPAs–from the dry, in vogue, Brut variety to the juicy, hazy New England style.
Gunwhale Ales co-founder Bobby Fitzgerald hopes to maintain traditional styles of beer by bringing them to contemporary drinkers. The taproom and brewery feature Southwestern aesthetics inspired by the history and culture of Southern California offset by sleek modern accessories and the shining stainless steel of tanks and taps.
We spoke with Fitzgerald about his thoughts on the rise of hazy beer and we asked him to describe his ideal taproom.
John Paradiso: Why did you want to launch a brewery?
Bobby Fitzgerald: My partners and I wanted to bring to market beers that weren't readily available at the time: Easy drinking saisons and mixed-ferm beers, unfiltered hoppy beers, and more balanced and nuanced interpretations. We also thought it to be fun to explore the hybridization of styles–with the goal of exploring hops and yeast together, to make beers with a sense of the place of our region, and that matched the lifestyle of Orange County (and the larger coastal region).
JP: What are your thoughts on the state of hazy IPAs in the industry?
BF: Rustic, hop-forward, and yeast-driven beers were a focus for us dating back to our business plan. But, the hazy IPA has flipped the script on the industry. We are glad they are so loved and happy that they have the potential to bring new people to craft beer. But their proliferation is not without cost, both to the consumer and to the brewer. They are very expensive to make, there is increasing difficulty in covering that margin through selling them, and they make it more difficult for brewers to explore a variety of other amazing beer styles.
They are here to stay, but I hope that the consumer will see that they are objectively less drinkable and that more balance in the industry is a healthy thing for the brewers they love to support.
JP: What is your favorite beer to drink now?
BF: A few recent ones that I've enjoyed are Mahrs Brau Pils, Bevog's Golden Ale, Beersel Lager, Highland Park Pleasant Pils, Taras Boulba, and the Blaugies x Hill Farmstead La Vermontoise.
JP: Are you reading anything interesting?
BF:
I'm always juggling a few books. I just got an awesome 700-page book about Belgian beer that I am dipping into. I'm also reading about new Californian wine. Plus, I always having fun teaching my kids to read the same books from my childhood.
JP: Describe your ideal taproom.
BF: Most importantly: Impeccable beer. But also: Comfortable seating, warm lighting, and thoughtful music. It should have–and work to build–a strong sense of community. There should always be excellent care for the beer and service to the customer. I like a nice greeting, a concise explanation of how they want us to experience the beer, and proper glassware. We try to show a seriousness about the beer, without the pretention. I like a mix of worn in and contemporary things, curated objects of meaning, and handmade touches.
JP: Give us a few songs to add to an all-star bottle share playlist.
BF: "Oats in the Water," Ben Howard
"Walk The Line," The Tallest Man on Earth
"Over the Hills and Far Away," Led Zeppelin
"Lovesong," The Cure
"On The Road Again," Willie Nelson
"Electric Relaxation," A Tribe Called Quest
"Gringo Honeymoon," Robert Earl Keen
Liked this article? Sign up for our newsletter to get the best craft beer writing on the web delivered straight to your inbox.