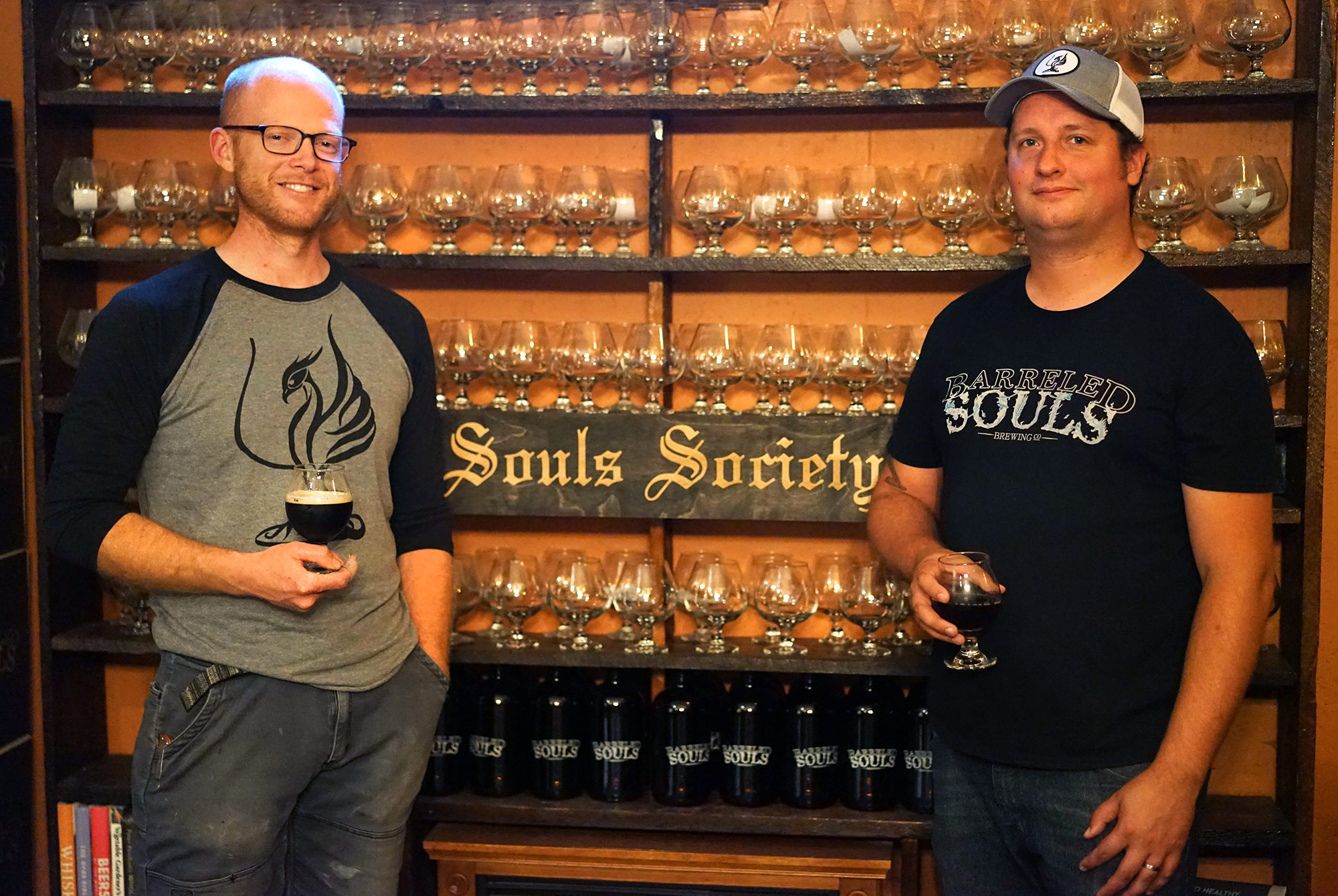 Chris Schofield (left) and Matthew Mills (right), owners of Barreled Souls
Photography by KG
Chris Schofield wants to be bashed over the head with flavor. It's how he describes his ideal beers and meals. "A lot of Japanese cooking is really subtle, where everything is nuance," he says. "But that's not me." Intensity of flavor is the ethos of Barreled Souls, in Saco, Maine, a brewery about twenty minutes south of Portland.
Launched in 2014 by childhood friends, the small brewery has made a big name for itself by completing all of its primary fermentation in barrels, an expensive and unheard of practice. To their knowledge — and to ours — no other brewery in the country ferments 100 percent of their beer this way. "It goes against all good business practice," Schofield says. But the process produces beer with layer after layer of complexity, even in their lighter styles. We sat down with the co-founders of Barreled Souls to talk about history, community, and flavor.
Kenny Gould: Can you tell me how Barreled Souls got started?
Matthew Mills: Chris and I have known each other for 26 years now.
Chris Schofield: That sounds right.
MM: We met in elementary school in the fourth grade when I moved to Wells, Maine, and we've known each other since. After college, I stuck around the New England area and got into restaurant management and wine sales. Chris moved to Corpus Christi, Texas, to work as an engineer. But even then, Chris would come home or I'd go to Texas or we'd meet somewhere else in the country and do beer traveling together.
CS: I was a homebrewer and one of the guys in my homebrew club owned a restaurant and wanted to turn into a brewpub. He wanted to be the brewer but didn't know much about brewing. He hired me as a consultant. I designed the whole brewery and the beer. After I did that, I thought, "I need to do this for myself."
MM: Originally, he was looking at doing something in Austin or San Antonio. I'd managed restaurants and bars and that kind of stuff so I said that I'd come down and help get a tasting room going. I thought I'd go down for 6 months to a year and fly back and forth. We looked at some properties but for whatever reason Chris decided he wanted to come back to Maine. At the time, I was negotiating on a property to open a beer bar. So we said, let's just go for it. We always wanted to do beer stuff together but never really thought it'd work. But every time we got together, we said, "Ah, we should open a brewery."
CS: At some point we looked at the industry and said, if we're ever going to do this, we need to do it now. It's crazy to think about. We were like the 45th brewery in Maine to open; now, there's over 100. And we thought we were pushing it. It's the business model. It's the way you want to do it. The way we do it — staying small, staying local, having an active tasting room — you can do fine at that. But if you think you're going to be Allagash size, or not even that big. Think Baxter Brewing. It's tough to get into that market at this point.
MM: It took us about a year to find a property and we've been brewing since. We started July 19th, 2014. Just passed three years.
It's tough to find good, fresh dumped barrels. A lot of places sell to brokerage houses, and once a barrel leaves the distillery, the handling is suspect. As often as possible, we try to source straight from the distillery.
KG: We're not actually in the city of Portland, but about 20 minutes south in Saco. How'd you pick this location?
MM: Saco-Biddeford is turning a corner and coming around, especially as Portland gets more expensive. We're the only one in Saco right now, but there are two in Biddeford, as well as a distillery. All of us have opened within the last three and a half years. There's a lot of new restaurants coming in, as well as redevelopment of the mills downtown. Portland is Portland, and then there's kind of the rest of the state. We're really trying to push the Saco-Biddeford community. There's great people here and we're very supported by the community's residents and government.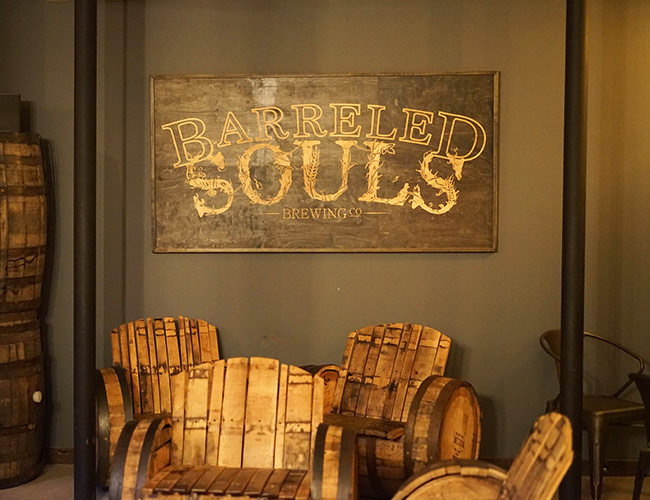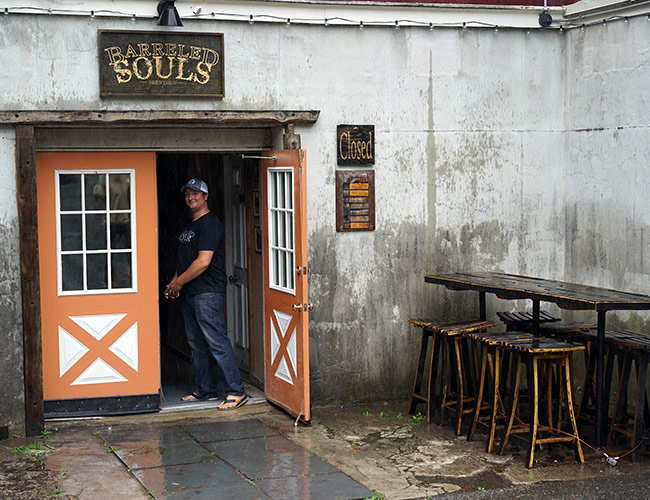 KG: So it was a conscious decision not to be in Portland?
MM: No, actually. We planned on being in Portland. We looked in Portland for a while. We really wanted to be somewhere that had foot traffic or real traffic, and looked more like a normal space than a commercial space. We wanted to be open later than tasting rooms generally were, especially in Maine, tasting rooms are like 12:00 to 5:00 p.m., 12:00 to 7:00 p.m. maybe. [Barreled Souls is open until at least 10 p.m. everyday.] We wanted to change that and have a place where you didn't just take a 4-ounce sip and leave, but back to the pre-Prohibition era where your local brewery was also your local bar, and they went hand in hand. There are aspects of that system that's good for a community. I think a lot of people here know each other and are friends now because of Barreled Souls, or Banded Horn in Biddeford.
We were looking for that in Portland. But the city has changed so rapidly that we just started looking at other communities, and we stumbled upon Saco by chance. We definitely didn't pick out Saco. We'd just been looking for a while and thought, we've got to be making beer. While we were looking, Banded Horn had opened, Bissell had opened, Austin Street had opened—they'd all gone from being names no one knew about to being open while we were still looking at properties. We needed to get open and we landed in Saco. But now, we've consciously chosen not to leave Saco. It's been great.
KG: What's the brewery ethos?
MM: We wanted to do a couple of things. For one, we wanted to make beer that we wanted to make, whenever we wanted to make it. We didn't want to do the older distribution model. We didn't want to be forced to make the same beer over and over. Additionally, we wanted to make a lot of big, barrel-aged beers, both because that's what we like to drink and because it's lacking in the Maine/New England market. That's weird. It's cold up here all the time but people are still about IPAs. That's fine for us — it's nice being one of the few places doing it.
KG: And you're still a small operation.
MM: For the last three years, we've been on a 1.5 barrel system. Our actually yield is closer to 40 gallons per batch. We're about to hit 900 barrels brewed total. If you count all the different barrel treatments, we've done 283 different beers in three years. 90 percent of our sales come through our tasting room, either through bottles or drafts. We do send kegs to a few bars here and there. We have about a dozen or more accounts here in Maine and Massachusetts.
KG: I understand you have a fairly unique brewing process.
MM: We do all of our primary fermentation in barrels. So all of those tanks, those are just conditioning tanks.
KG: Is there anyone else in the country doing that?
MM: There are a bunch of people that do a little bit here and there, but as far as we know, there's no other brewery in the world that does 100 percent of their beer this way. It's pretty confusing to people that we make all clean beer using barrel fermentation. When they hear barrels, they think of sours.
KG: So you do a clean barrel fermentation.
CS: We do. Everything is barrel fermented, but not everything is barrel aged. And we use one yeast strain. It's a Scottish yeast from the McEwan's Brewery in Scotland.
KG: What character does that style of fermentation give the beer?
CS: There are a lot of unknowns, but you get some of the oak character. When the yeast is actively fermenting in wood, it breaks the wood down on a microscopic level, so you get some contribution. It's a little bit permeable, there's a little air that comes in and changes the character of the beer. The shape of the vessel is really beneficial for fermentation. It's shallow, as opposed to a big conical. It reduces the atmospheric pressure so it's less stressful to the yeast. You get a healthier fermentation.
KG: Is it quicker?
CS: No. For some beers, it's 7 to 8 days. For some, it's 6 weeks. But that's just in primary.
KG: Chris, when you were kids, what did you think Matt would be when he grew up?
CS: I don't know if I thought about it when we were that young, but right when he graduated high school, he got into restaurants. He managed this huge resort in Ogunquit called The Cliff House and they appointed him beverage director for the whole place when he was like 20. He was overseeing millions of dollars in product. And he was the wine director at a restaurant that's closed now, but at the time it was ranked top twenty in the country.
KG: And Matt? What about Chris?
MM: I would say something science-wise or comedy wise. Chris was always the funny kid, the class clown-ish type person that everyone loved. But he was also weirdly into physics and arts stuff. Like, he took independent physics studies. So I'd say kinda what he's doing now — something weird, on-his-own science-y. If it wasn't brewing, he'd probably be a local honeymaker. Or something else weird.
KG: What beer are we drinking now?
CS: This is Deep Space, our imperial stout. Matt and I love big, barrel-aged, malty stuff with a lot of depth and flavor. If we had a flagship, this would be it. Intense flavors all the way through: dark chocolate, dark fruit. There's a little smoked malt so it has this smoky, savory kind of character to it. Along with the malt, you get some of the bourbon from the barrel.
I don't want some simple food. Some people love that. A lot of Japanese cooking is really subtle, where everything is nuance. But that's not me. I want it all. Smash me over the head with it. I love it.
KG: It's intense.
CS:
If I'm going to have a beer, I'd rather have less and have it be a festival of flavors than a crushable beer. I get that everything has its time and place, and some things go well with food, but to me, I want intensity of flavor. Even the light beers we make — we have one called Summerjam that's made with strawberries and rhubarb — is exploding with flavor. It used to be that people were like, you shouldn't be able to tell what's in the beer unless you were told. That's how subtle it should be. I get that. But it's not my style. It's not what I want.
KG: So that's your thing. Intensity of flavor.
CS: Yeah. With food too. The food scene in Portland is amazing and I want that intensity when I go out to eat. I don't want some simple food. Some people love that. A lot of Japanese cooking is really subtle, where everything is nuance. But that's not me. I want it all. Smash me over the head with it. I love it.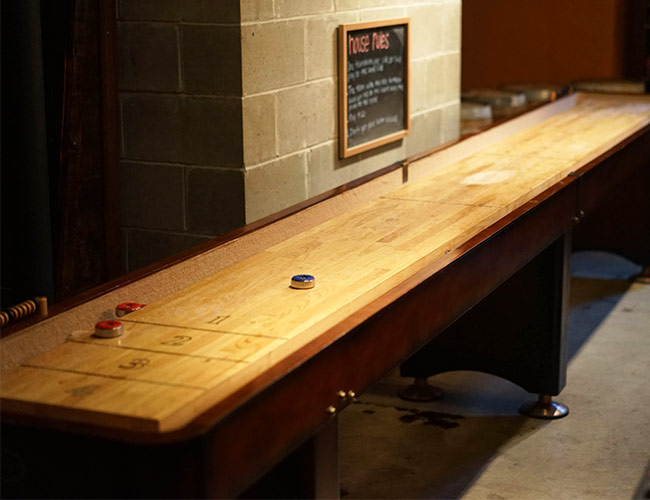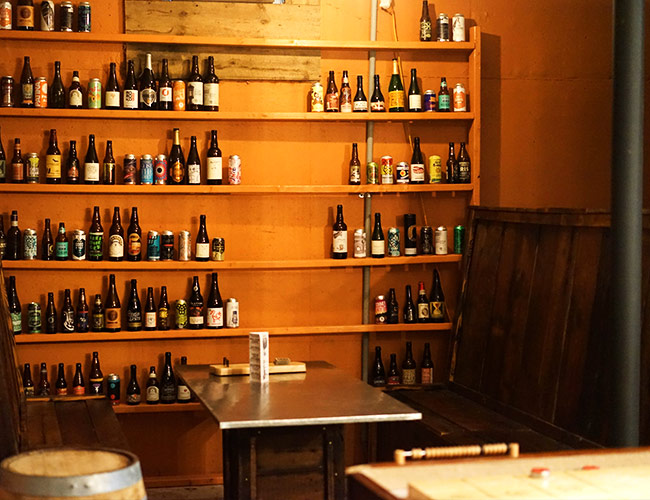 KG: What type of barrel aging did this beer see?
CS: This was aged in Hillrock Estate barrels. It's a little distillery near Poughkeepsie, New York. Very small scale, world class stuff. Matt knew about them because he's super into bourbon.
KG: You have a relationship with them?
CS: Yeah. When we started, we emailed places whose bourbon we loved, just to see who'd respond. It's tough to find good, fresh dumped barrels. A lot of places sell to brokerage houses, and once a barrel leaves the distillery, the handling is suspect. As often as possible, we try to source straight from the distillery. Hillrock said, "We love what you guys are doing, it sounds awesome, so anytime you guys want barrels, just let us know." They'll literally tell us when they're emptying the barrels, and they'll pack 'em up the next day and they'll be here a few days later. You can't get better than that.
KG: And that makes a difference in the beer?
CS: That makes a big difference. When you age something in a Jim Beam barrel versus a really high quality bourbon, it makes a huge difference. For instance, Allagash does all their Curieux in Jim Beam. It's a great beer but every now and then they'll do a Booker's version and it's a completely different beer.
We actually brew beer and then set it aside in anticipation of when we're going to get barrels, so we have all the beer and we can fill them the next day. Once the barrel is empty, the clock is ticking. The barrels are drying out; stuff is evaporating. There's the potential for outside air to get in there and create contamination. We had to learn that. We did it the opposite way to start. We said, "Let's order a bunch and fill them when we can." And we noticed that the wood just dries out and loses its character. We had to scrap a bunch of barrels and turn them into chairs and stuff. Which sucks because you pay like $200 for a barrel…that's an expensive chair
(Editor's note: We thought Chris was kidding about turning the barrels into chairs. He's not. The barrel chairs are located in Barreled Souls original facility).
KG: We're now standing in your new space. What are your plans moving forward? What's the vision here?
CS: More tanks. We have the the potential for a lot of expansion. Eventually, we'll wall everything in so we can do really precise temperature and humidity control, but there's mixed schools of thought on that. Some places think you should do the same temperature and humidity all the time, while other places think you should let the natural environment add some complexity to the beer.
AB InBev isn't going to come make us an offer. That's fine. We don't want that.
KG: Are you still going to be focused on the community and the neighborhood?
MM: We're trying to expand a little more. Just to give some other accounts the product they've been asking for. And as a way to get our name out. But still, we're focusing on our tasting room and the community here by having people come to us if they want to purchase packaged bottles. We're not going to be on store shelves.
As more and more small breweries keep expanding, start canning and start bottling, and are looking for retail shelf space…Whole Foods is only going to dedicate so much of their store. They have a great craft beer area, but they're not going to have a third of their store be craft beer. At some point, there's going to be pushback. You're going to have to work really hard if you want to be a brewery that needs distribution. We don't want to be part of that. We want to keep ourselves small. We're our own market in that we don't rely on that shelf space or have to have tap handles in 200 bars. We have our select accounts that really like our product and whom we like dealing with, and we're focused on that balance of providing our customers what they want while sustaining ourselves and our staff. We're not trying to be the next Firestone Walker or Founders or Lagunitas. We're not trying to be the next billion dollar purchase.
KG: And you know that? And you're comfortable with your lifestyle?
MM: Yeah. I wouldn't say no to a billion dollars, but we 100 percent know we're not making the right decisions for that to happen. AB InBev isn't going to come make us an offer. That's fine. We don't want that. We don't want to run a huge 200-person company that needs distribution all over the country. I think that's fine. I think maybe that time has passed. It's going to be hard for any brewery to open up now and become a 100,000 or 500,000 barrel production space. That part of the market is almost a done thing.
Those guys are there and you see them selling parts of their company or solidifying their distribution chains, trying to lock in their footprints and fight whoever is coming next. That's not us. It makes you do the same thing on a regular basis. Not that there's anything wrong with that, but it's not our choice. I don't want to do that every day. Chris doesn't want to come in and make 540 barrels of the same beer every day.
CS: Beer has such a history of being a huge scale operation. We're still in a place where it's weird not to have to do 100,000 barrels. For us, we just want to be content with making enough money to support ourselves, and to have a dozen employees that we're paying well. Everyone should be having a good time.
KG: I feel like capitalism doesn't always promote that mindset.
CS: It's true. We have people come in and think, "You don't even take it seriously if you're not growing."