Editor's Note:
Catch Hollie Stephenson and Guinness Open Gate Brewery at Beers With(out) Beards on Saturday, August 10. Tickets are available here.
Beers With(out) Beards week has officially kicked off today in New York City. Hop Culture's Beers With(out) Beards is a celebration of women in the craft beer community and this year we have seven events doing just that.
The week begins with a tap takeover at legendary New York City bar Blind Tiger featuring beer distributed by women. The capstone of the week is our tasting festival on Saturday, August 10th at The Well.
One of the highlights of this year's Beers With(out) Beards is the inclusion of Guinness Open Gate Brewery Head Brewer and Imbibe's 2019 Beer Person of the Year Hollie Stephenson. Stephenson is a seasoned professional in the industry and has helped foster a more inclusive atmosphere in craft beer. Stephenson will be joining us for a special Women's Networking Bottle Share at Threes Brewing in Greenpoint, a beer and ramen dinner at Ivan Ramen, and the festival itself.
We chatted with Stephenson about being recognized at the Beer Person of the Year, diversity in craft beer, and what it meant to join Guinness Open Gate Brewery as Head Brewer.
John Paradiso: What was your first experience with craft beer?
Hollie Stephenson: Orval was my first "aha" moment with a beer in general. My first impactful and most memorable early craft moment was when I first had an Abita Turbo Dog.
JP: How'd you get your start in the beer industry?
HS: I became a regular at a craft beer bar, became a total beer geek, and decided on a career change. I attended a brewing program in Sunderland, England and came back and got my foot in the door at Stone Brewing Co. in San Diego.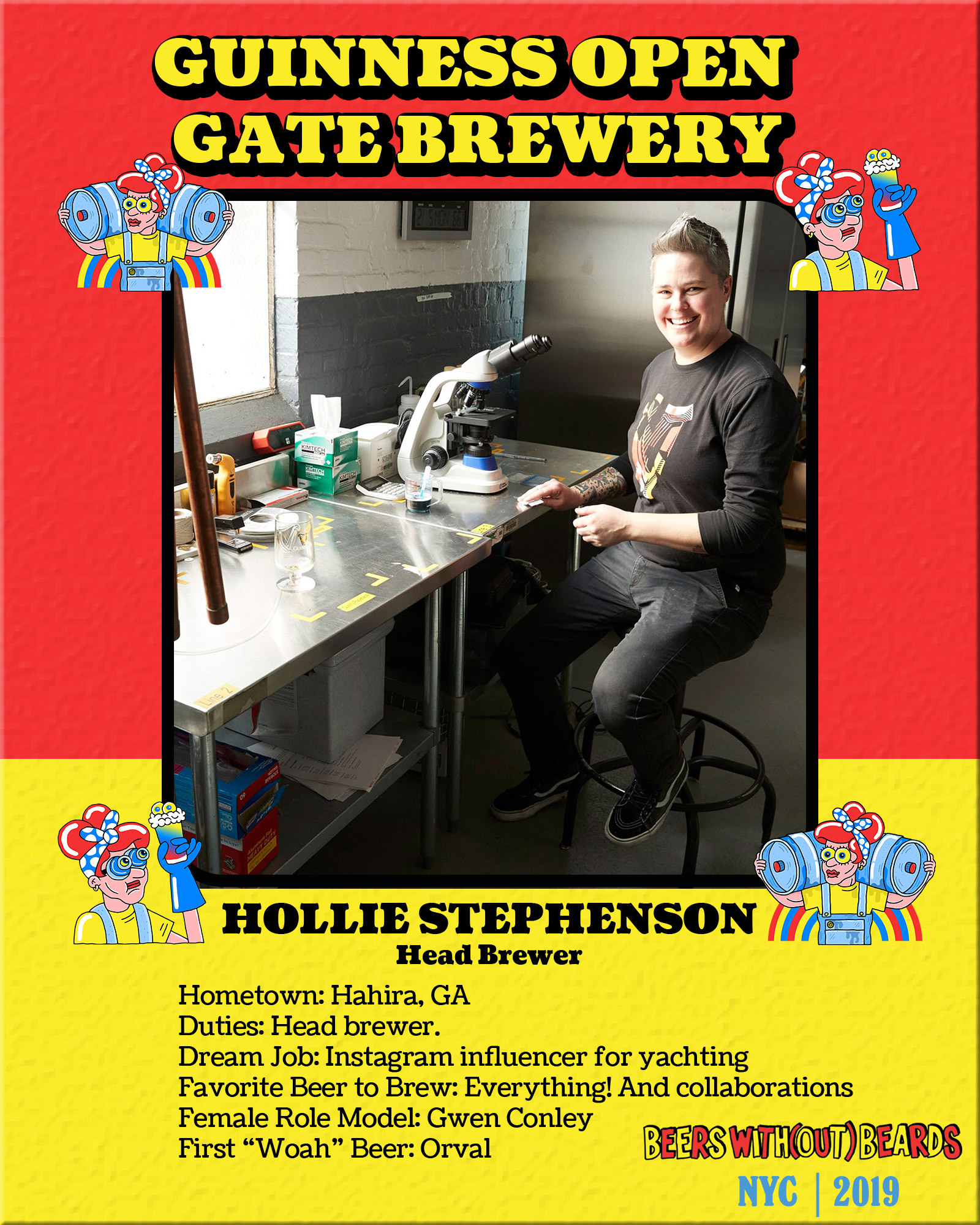 JP: What opportunities and challenges presented themselves when you took the role as Head Brewer at Guinness Open Gate Brewery?
HS: Every day is an opportunity and a challenge. We literally approved the engineering drawings for both breweries and watched them get built over the course of my first year here. Then we built our team, which was no easy task. And then we commissioned both breweries in time to meet our distribution goals from the Blonde side of things and the public opening of the taproom from the pilot brewing side of things. We are the only Guinness brewery in North America. We are paving our own way here in terms of setting up processes and structures that fit our environment, while still being globally compliant. My job holds responsibility for manufacturing costs, efficiency, and processes, as well as big-picture creative and strategic thinking for the business. I love the challenge.
JP: What are some steps folks in craft beer can take to foster more diversity?
HS: Be intelligent about your marketing, not in terms of generalizing or being gimmicky to target specific groups, but instead to make sure that you aren't alienating potential customers. Also, take the time to be thoughtful about your tone so that you can very intentionally set the inclusive environment that you want–doing this is made easier if you actually hire diverse groups.
JP: You were named Imbibe's 2019 Beer Person of the Year. In your eyes, what does it mean to be the "Beer Person of the Year?" Has it changed your attitudes about your role in the industry? Have you thought about yourself as a leader in the industry?
HS: Beer Person of the Year was a huge surprise and I think it is a testament to what we are doing here with Guinness in Maryland. This project continues to challenge me and keeps me on my toes. It is both humbling and exciting to be recognized for it. It also has definitely brought in more attention and I'm realizing more and more, my responsibility to carry beer forward and add value to the industry, and also to purposefully inject some of my own values like safety, quality, diversity, and inclusivity.
JP: What is your favorite beer to drink now?
HS:
My go-to in Baltimore is Monument City Rye 51 IPA, I drink Modern Times anytime I can get my hands on it (it is nostalgic for me–it was a favorite when I lived in San Diego and I got married at the brewery), and Allagash is a general go-to.
JP: What's the best idea you've ever had?
HS: Every time I finally decide to go to sleep.
JP: Describe your ideal taproom.
HS: Balanced beer selection in terms of styles and ABVs, good merch, beer to go, and it has to be styled or designed with purpose. I very much appreciate when people are creative with their style and brand and use it to create a space that feels special and is unlike others.
JP: Give us a few songs to add to an all-star bottle share playlist.
HS: Laughs. I can't say that I have been to a ton of bottle shares lately. However, the bottle shares that I have with myself at home typically include a lot of Lizzo and Beyoncé.
Liked this article? Sign up for our newsletter to get the best craft beer writing on the web delivered straight to your inbox.