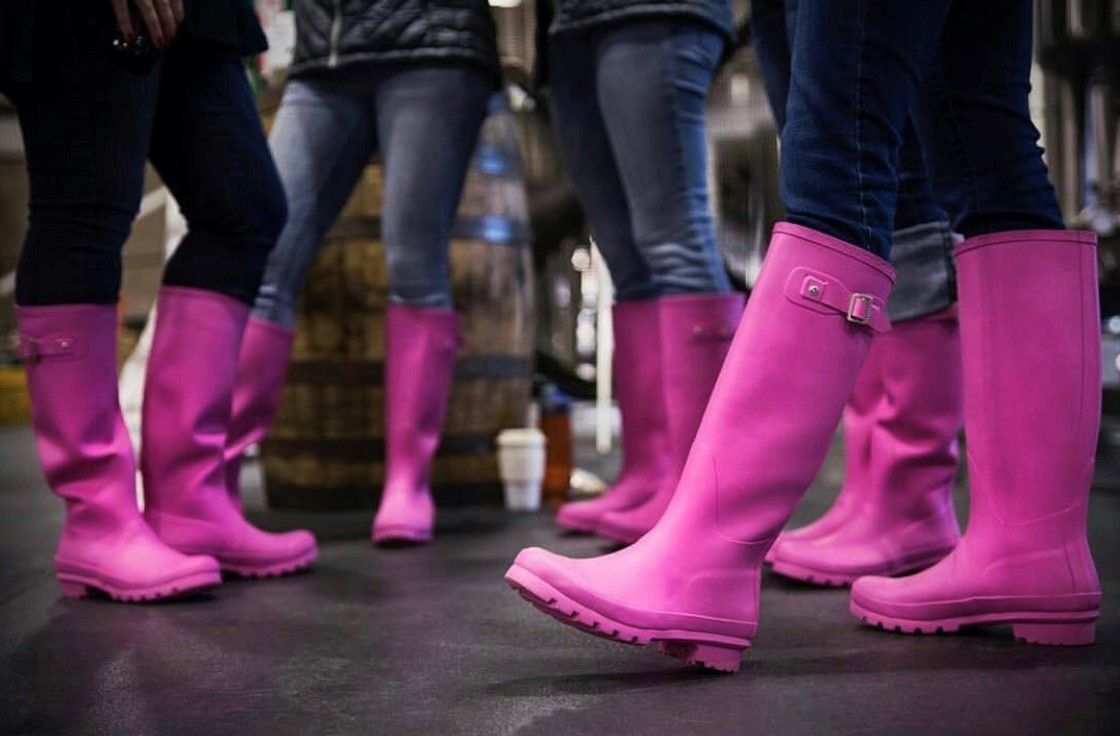 Editor's Note:
Yakima Chief Hops (YCH) is the title sponsor of Beers With(out) Beards, the largest celebration of women in the craft beer industry in the country. Tickets are still available for the Beers With(out) Beards festival here.
The idea, like a hop growing on a bine, first blossomed in an experimental hop yard. In 2017, Yakima Chief Hops (YCH), a 100% grower-owned global supplier of premium quality hops, was in the midst of their hop harvest. Kelly Lohrmeyer, YCH's Regional Sales Manager for the Pacific region stood next to YCH CEO Mike Goettl in a tangle of vines and flowers.
"The thought was, [how can we] work with women in the industry and make an impact on women in the brewing profession," said Lohrmeyer.
With hops in hand, they headed to the Great American Beer Festival (GABF) in Denver. There, they connected with the Pink Boots Society (PBS), the premier professional organization supporting women in the craft beer industry around the world. At the PBS annual meeting, Lohrmeyer and Goettl asked the organization's members to help YCH create an exclusive PBS hop blend.
"They wanted to show they supported us, and women in beer," said Laura Ulrich, Small Batch Brewer at Stone Brewing and President of the Pink Boots Society, who took part in the YCH's very first hop rub session.
Essentially, YCH presented the PBS members including Kim Brisson-Lutz, Maui Brewing Brewmaster, Nicole Mandala, then Brewing Supervisor at Stone Brewing (now Brewmaster at Craft Brew Alliance), and Ulrich with 15-20 raw hop samples — ranging from public to proprietary — to evaluate. Narrowing down those original samples to seven to ten bottlecaps full of hops, everyone took the remaining winners and blended the hops in their own cups. The ladies kept a careful record of the ratios of each hop on the side of their glasses.
A myriad of sniffs later, YCH had its first official Pink Boots Blend. Composed of Palisade®, Simcoe®, Mosaic®, Citra®, and Loral® the 2018 proprietary Pink Boots Blend captured one word in Lohrmeyer's mind: "AMAZING."
Of course, creating the final product for a limited-time large scale production run proved a little more complicated. YCH took the crowd-sourced blend back to their facilities and recreated the blend based on the ratios to bales along with a specific alpha in mind to get as close as possible to recreating that sensory evaluation in the cup. Prior to International Women's Day on March 8th, YCH processed the Pink Boots Blend into traditional T90 pellets and released it for purchase by commercial breweries, encouraging them to celebrate the holiday by brewing their own beer with the blend. With $3 from each sale donated directly to the PBS, the exclusive product in its inaugural year raised $40,000 in funds to benefit PBS scholarships. Over 260 breweries participated in what has now become known as the Pink Boots Collaboration Brew Day.
"It's really such a great time brewing, hanging out, and learning together, and I truly believe Yakima Chief Hops loves seeing that," said Ulrich.
Lohrmeyer cited the first blend of hops as being a big contributor to the program's success.
"Some people might have a fear of utilizing hop blends in their beers, but when we came out with such a unique and solid product, I think it made people more comfortable and it helped to drive sales for the following year," she said.
Ulrich noted that social media really helped spread awareness about the special hop blend and PBS Collab Brew Days.
"The blend was more visible to more people and we hope that continues," said Ulrich
In 2019, the number of participating breweries grew to over 365 from 14 different countries, helping to double the funds raised to over $100,000.
Fifth Hammer Brewing Co., in Long Island City, New York, has participated in the PBS Collab Brew Day for two years running (Read more about Hop Culture's experience in Fifth Hammer's 2018 PBS Brew Day). This past March, co-owner of Fifth Hammer and president of the PBS NYC Chapter, Mary Izett, used the 2019 Pink Boots Blend of Loral, Mosaic, Simcoe, Sabro and Glacier, to brew "You Are A Mountain" Hazy IPA. She described the beer as a complex blend of apricot, grapefruit, and lime balanced with some great earthy and dank notes. You Are A Mountain was a hit in the taproom and around NYC, but beyond that, Izett said it was really all about the success of the brew day.
"As a female brewery owner/brewer and member of the Pink Boots Society, I wanted to support PBS, spread the word about how many awesome women are in the NYC brewing community, and bring women to the brew deck that might not normally get a chance to be there," said Izett.
Izett took a unique approach with her PBS Collab Brew Day by inviting any member of the New York City community to participate — whether a woman working in the industry, a homebrewer, or simply a lady who liked to drink craft beer.
"The camaraderie is my favorite part," explained Izett. "[Brewing with the YCH Hop Blend] is a chance for a bunch of us to get together and brew something beautiful, including women who brew, women who work for breweries in other roles, women in the industry, and women not in the industry. We spend some quality time with old friends and new."
Ulrich agreed, noting her favorite moments are watching all the hype around social media. "It's really impressive what women can do when you get them together," said Ulrich. Stone actually contributed three beers to last year's brew day including Pretty Fly for a Mai Tai, a Mai Tai inspired Pale Ale from the ladies at Stone Brewing Liberty Station in Southern California, to Stone Flwr Pwr from Stone's Napa location, and Pithy in Pink at Ardent Ales from Stone Brewing in Richmond, Virginia.
"It's like we super-charge collaborations and it's impressive to see," said Ulrich.
It's that very sense of community that originally drove Lohrmeyer to pursue this project at YCH.
"Yakima Chief Hops works to connect with as many women in the industry as possible, using this amazing project as a way to build relationships between women in the hop and brewing professions," said Lohrmeyer.
Looking ahead to its third year, the Pink Boots Blend will continue to build on its immense success. Lohrmeyer said YCH plans to add experimental hops into the mix during the selection process, and Ulrich adds that this year's hop rub session will include a special speaker, Joe Catron, the Director of Hoperations for Yakima Chief Ranches.
What started as a simple conversation has grown into one of the world's most fruitful partnerships for women in the beer industry.
"It's been an exceptional success and one that I am proud to be a part of," said Lohrmeyer. "I very much enjoy working closely with women in this industry and I couldn't be happier that it has been such a success across the world."
Liked this article? Sign up for our newsletter to get the best craft beer writing on the web delivered straight to your inbox.