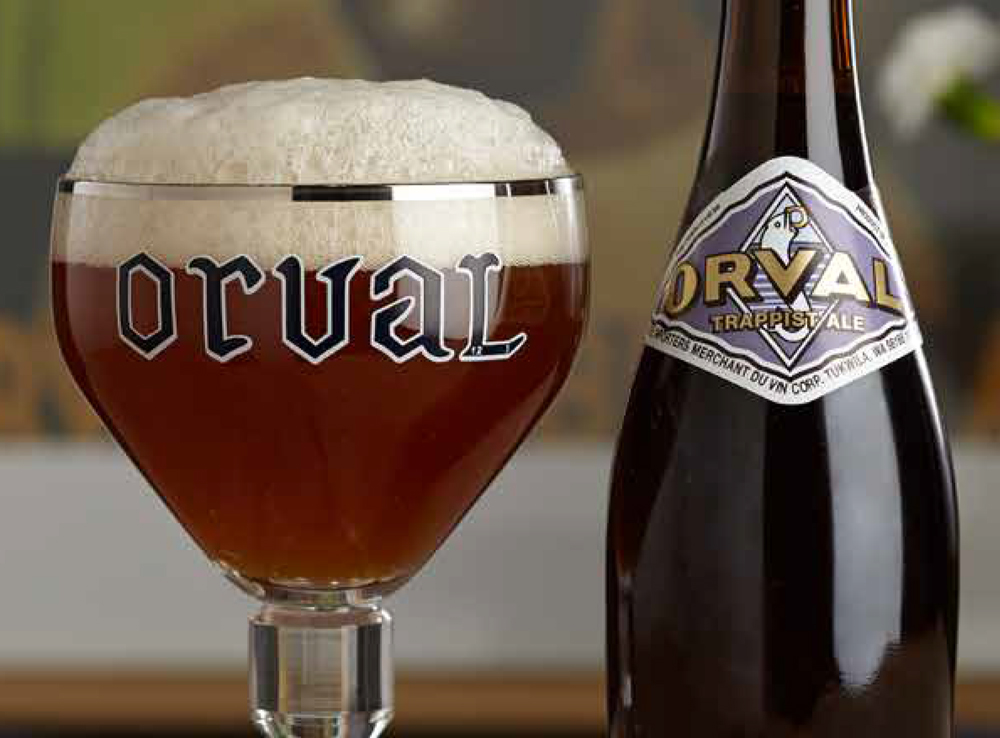 Reaching down, a trout's tail in blue, head in white, and a ring between two pursed lips rose within each cap. Green letters spelled a name upon the orange sides of a plastic crate carrying 23 other beers. At eye level, the skittle-shaped, 11.2 ounce bottle drew focus. When poured, a snowy patch convulsed in dense, bubbly waves. Light crinkling faintly reverberated against parabola-shaped, glass walls. Burnt-orange liquid spit flame upwards disturbing a base of snow.
Foam elevated above the growing sea of fire, eventually breaching the glass's rim. Tart citrus, new leather, and fresh dryness emanated from the bouquet. Tart-orange bitterness struck first, passed through a greenness, and ended firm on the palate. Dryness with funky notes left me quenched. Setting the chalice on a coaster I contemplated what types of regal or executive action should follow from my bar stool.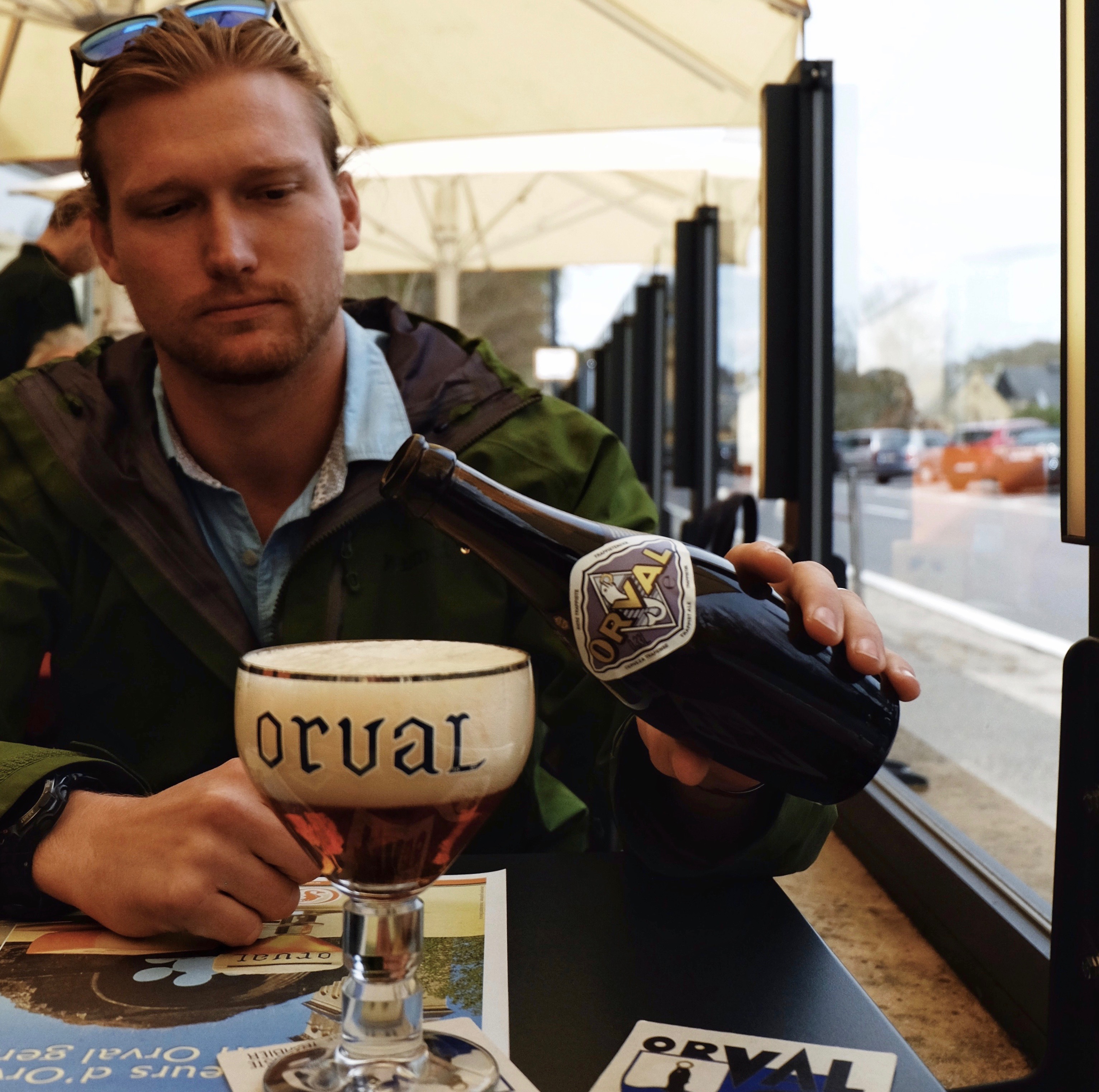 The case for Orval, best beer in the world, fares far better than the average brew. The flavor, drinking experience, marketing, and history pen a fine argument. Thoughtful design permeates every component. The bottle, created in 1931 by Henri Vaes, has an internal shelf that blocks yeast remaining in the bottle from entering the glass. The designated glass, also designed by Vaes, remains as iconic as the beer itself with chaliced walls, silver rim, and blue typeface. The bottle wears a single ribbon just below the neck: golden letters blanketing the purple, lozenge-shaped background. "Orval is an institution for beer drinkers worldwide," states Chris Clarke, Barrel Program Manager at 7 Seas Brewing.
The history involves a princess and some angling. Abbaye Notre-Dame d'Orval, founded in 1070, hosted the Countess Matilda of Tuscany in its sixth year. During a walk she sat beside a spring–the same spring feeding Orval Brewery today. Recently married, she removed her ring, watching it glisten in the sun. Hypnotized, she dropped it into the water. After a stint of fierce prayer she returned to a golden trout breaching the spring's surface, ring in mouth.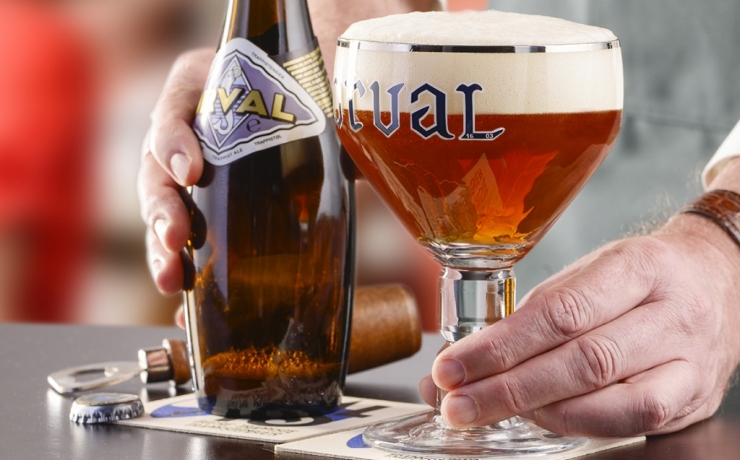 Following the French Revolution, the Abbey remained abandoned until monks returned in the 1920s. To pay for the reconstruction the monks brewed beer. The original brewmaster arrived from Germany with a recipe. An assistant brewer from Flanders, returning from a jaunt in England, brought along dry-hopping and Brettanomyces. Both found their way into the beer. To this day, the beer includes French malt, a German recipe, English dry-hopping technique, Belgian wild yeast, and Slovenian, French, German, and American hops.
The goût d'Orval, Orval's flavor evolution over time, may be its greatest feature. Mika–an Orval acolyte, neighbor to Abbaye d'Orval, and amateur Belgian meatball craftsman–suggests, "The top thing to do is ripen the Orval in a cellar for a few years, standing up and away from light. This brings out the elderflower and fruity notes and the bitterness subsides." Clarke corroborates, "the beer evolves from a farmhouse funk to a well rounded Trappist beer you can age for depth in character."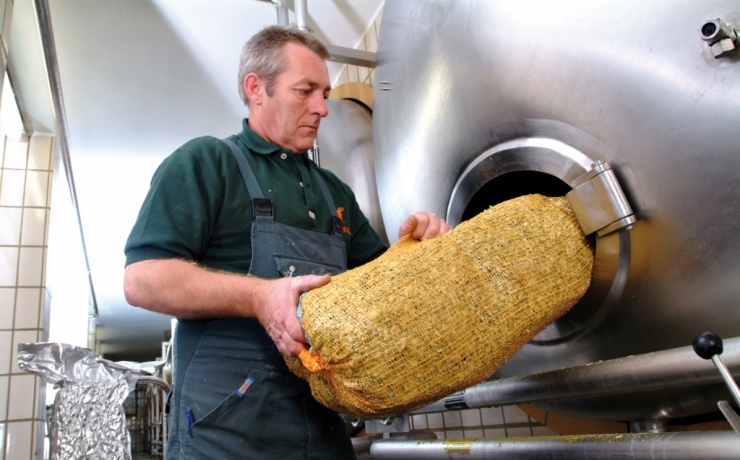 As a young beer at 5.9% ABV, floral and fruity hop aromas abound in the nose. The flavor is bold and fresh. The finish is dry. At six months, Brettanomyces introduced at bottling imparts a funky, lemon-barnhouse quality to the flavor. Time mellows the aroma and amplifies the head. At one year and 6.9% ABV, a whipped cream head extends above the rim in a tight structure. Josh Watterson, brewmaster of Vista Brewing and 2014 GABF Brewpub Brewer of the Year, commented, "I am not usually in Belgium when drinking Orval, so I am blessed with bottles aged for a longer period of time. With time the Brett becomes a foundational aspect instead of a simple facet. Brett dries the beer to a highly attenuated champagne body and accentuates the musty leather vinous notes. The Trappist components are still there with peppery, phenolic compounds and esters providing the slightest banana and bruised pear." Josh finished, "Give me an Orval on a bad day and it turns good; give me Orval on a good day and it turns better."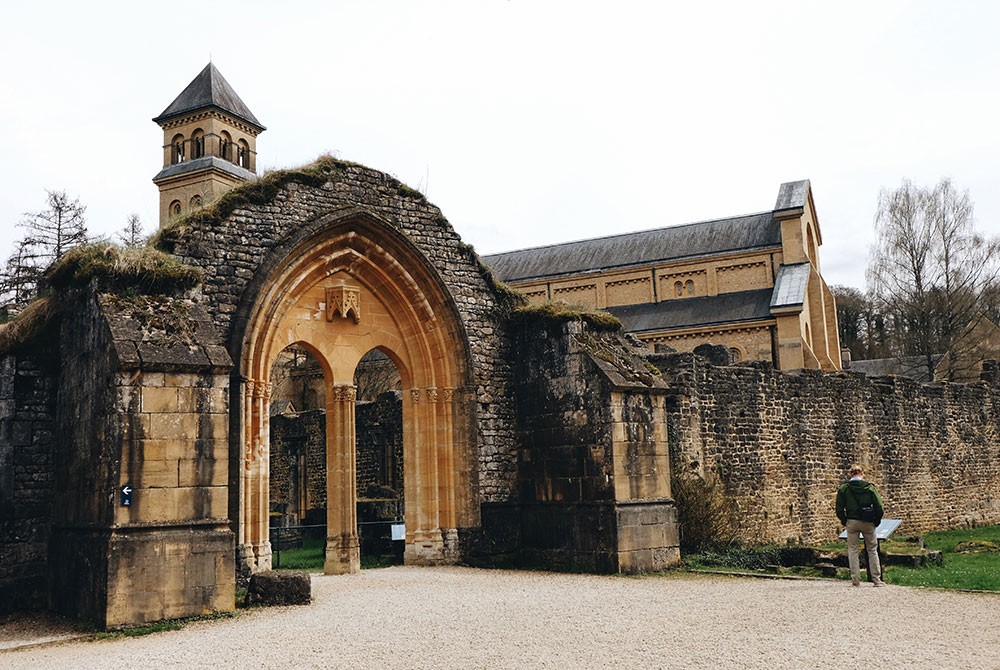 Budding Spring trees fluttered beyond the edges of their grey branches. In my periphery, shadows projected on the roadside grass. The infinitely-broken, afternoon light transformed the woods into an emerald chandelier. At A l'Ange Gardien, white asparagus braised in Orval became butter. Salty Ardennes ham cut the richness. A torn piece of baguette mopped the remaining sauce, and I slurped at the remaining foam in my chaliced glass like a kid with a milkshake, asking, "We drinkin' another?" Reaching down, a trout's tail in blue, head in white, and a ring between two pursed lips rose within each cap. Green letters spelled a name upon the orange sides of a plastic crate carrying 22 other beers.
Liked this article? Sign up for our newsletter to get the best craft beer writing on the web delivered straight to your inbox.