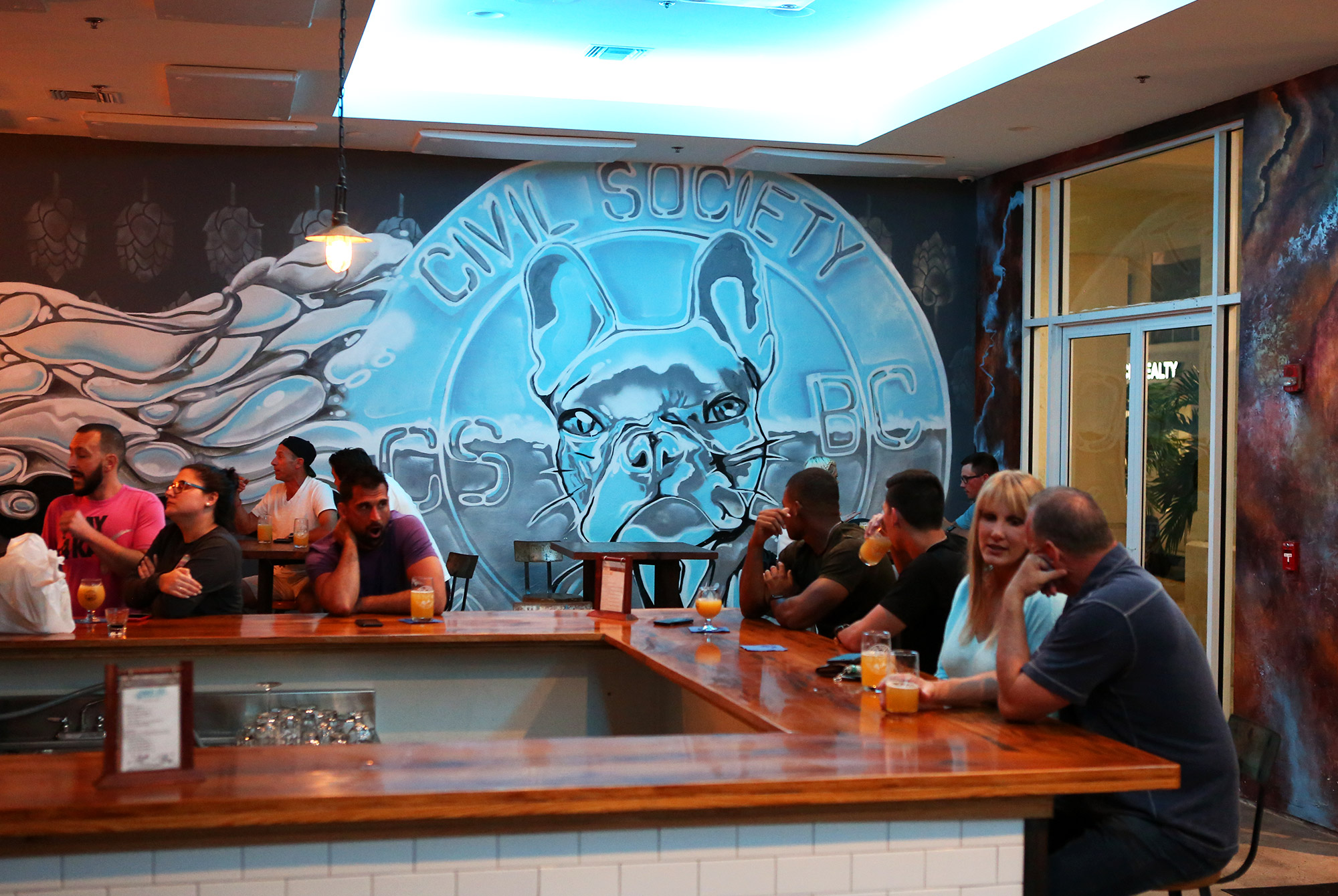 On a sunny street in Jupiter, Florida, beside clothing shops specializing in boutique women's clothing and restaurants where you can eat on the patio, sits Civil Society Brewing. The brewery is a product of its environment, serving bright, juicy beers from a taproom covered in colorful art and graffiti. When cans drop, the line wraps around the block, with fans waiting patiently under arbors covered in vibrant bougainvillea.
Civil Society is the creation of Karl Volstad, high school friend Evan Miller, and Volstad's cousin (and current Chicago White Sox pitcher) Chris Volstad. We sat down with Karl to talk about Florida beer law, hazy IPAs, and the company's future developments.
Kenny Gould: A lot of my family lives in Florida, and I'm always struck that the state doesn't seem to have a bigger scene.
Karl Volstadt: Florida is very, very, very distributor and macro-brand heavy. The reason breweries opened in Florida was that Budweiser had a tour facility at Busch Gardens. They opened the idea of a "tasting room" because you could go take a tour and get beer. So technically, they opened a tasting room under the guise of "tourism." Other breweries said, "Hey, if they can do it, we'll also open 'tasting rooms' under the guise of 'tourism.'" And everyone was backdooring into the tasting room that way.
KG: I imagine that made some people upset.
KV: The state got upset and the Budweiser distributors got upset because they were losing their cut. At the time, breweries could only do 32-ounce or gallon growlers. I don't know why. So you could have two beers or ten, but not six. So when people started trying to reform growler laws, distributors said, "Okay, we'll give you the growler thing, but because there's no set law about having a tasting room associated with a brewery, we're now going to let you manufacture beer, but to sell it at your bar, you have to go through a distributor.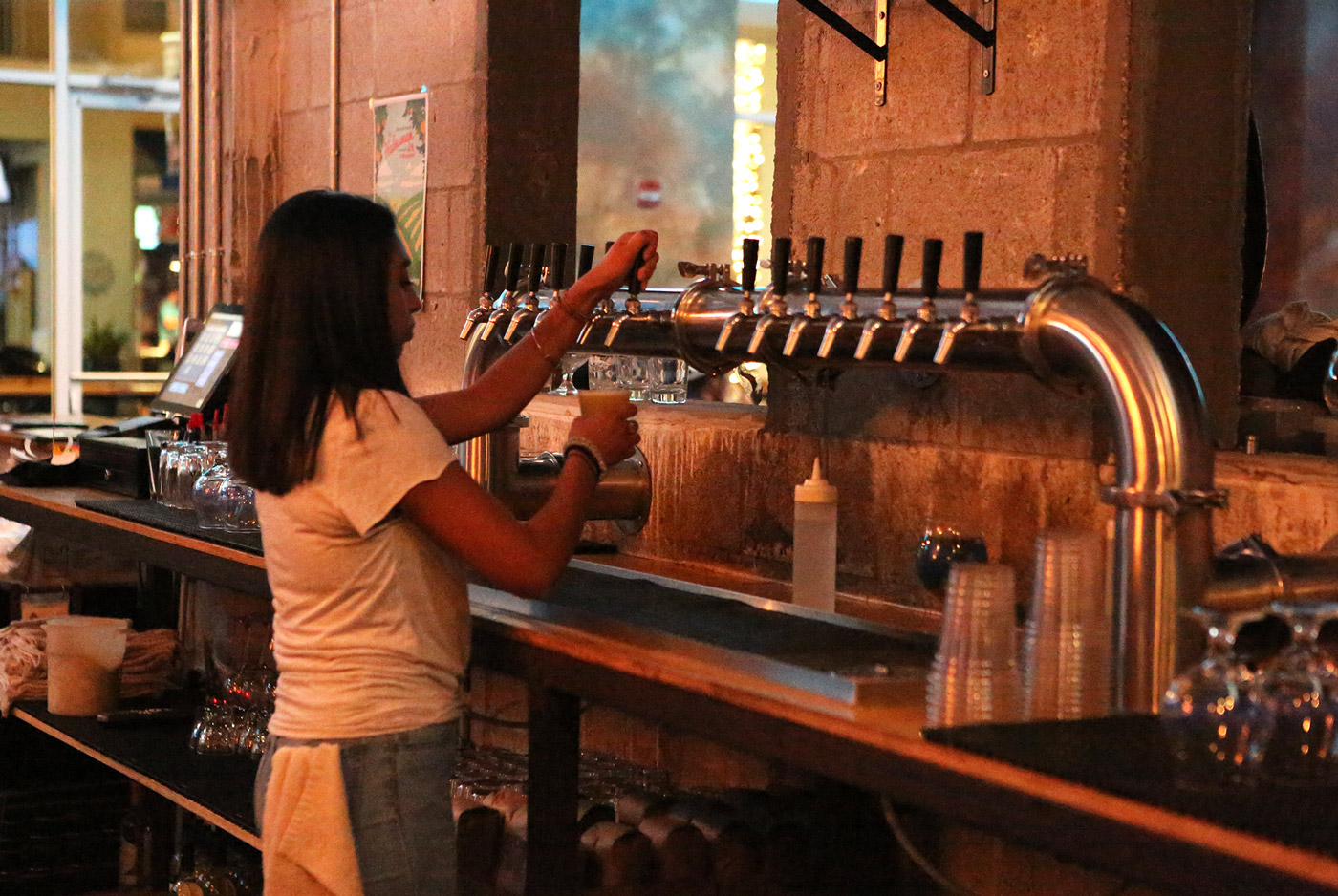 KG: Wait. So to take beer from your brewery to your taproom, you'd need a distributor? Even if they're connected?
KV: Yup. I could manufacture beer here, put it in my cooler, and then I'd have to pay the distributor for it, and they'd just move it from my cooler to my bar. They were getting 30% for nothing. For literally existing.
KG: This happened?
KV: It came very, very close to happening. Finally, they scrapped that. We got a clean growler law, and we finally got a clean tasting room law so that we could have this, where you have a brewery attached to a taproom. But we still can't self-distribute. The drive for self-distribution is there, but I'm not sure the argument is being made in the correct way. It makes no sense. If we had the ability to self-distribute, who's going to sell my brand better than me? I could show you what's going to sell or not. And then you (the distributor) can come in when we need a partner. Because at some point, self-distribution isn't feasible. I think it'd help both entities, but no one's asking me.
KG: Given the limitations of this area, why'd you choose to open a brewery in Florida?
KV: I went to high school with my business partner, Evan Miller. I've known him for twenty years at this point. We went to Jupiter Christian, which is about two miles from here. And I always thought this was a cool location. This is actually the only street in Jupiter where you can have an open container outside.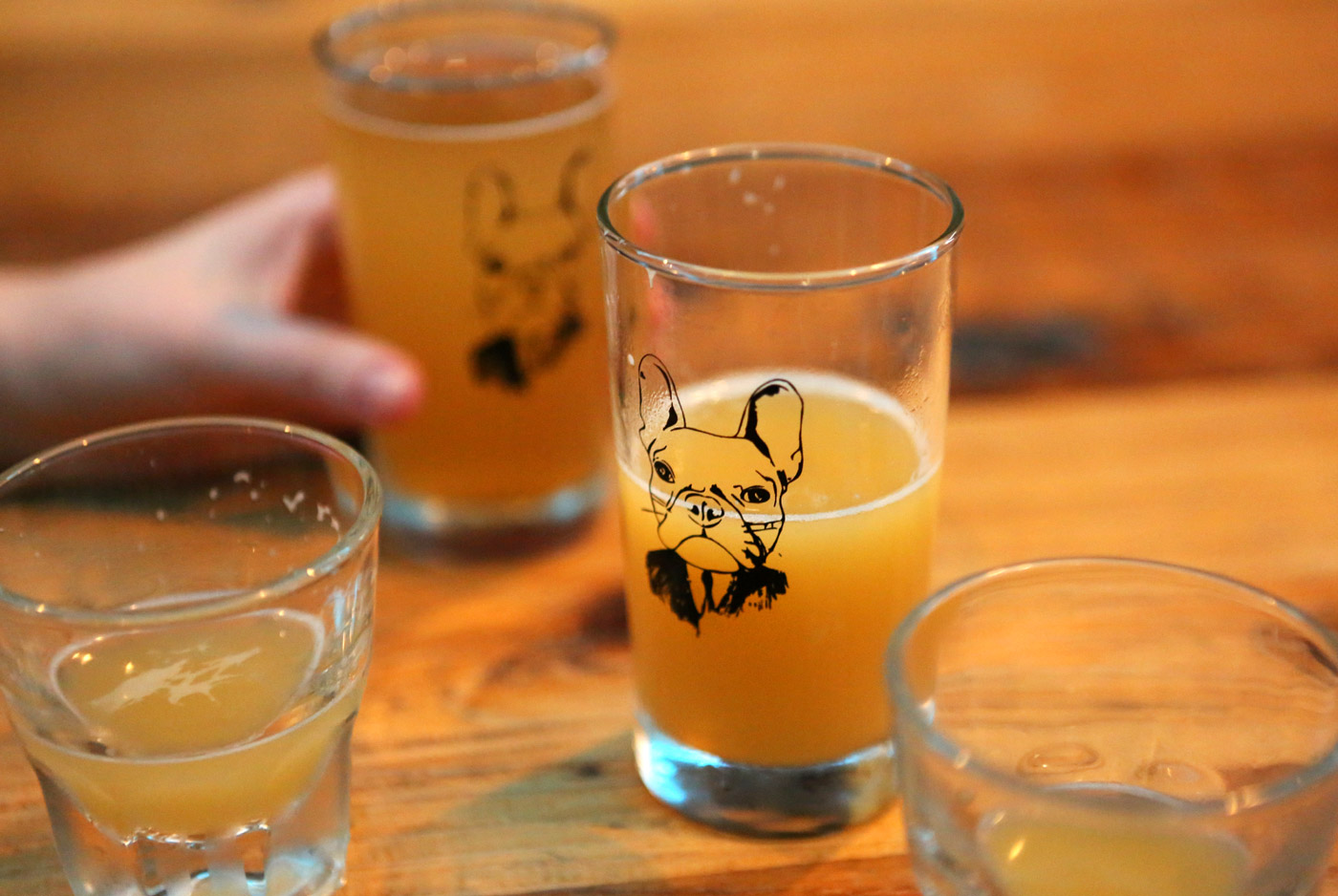 KG: You can walk back and forth with a drink?
KV: I mean, you can't come in here with a liquor drink because we don't have a license, but you could walk outside with a beer. This used to be Rooney's, which was an Irish bar. It was a flip cup on Wednesdays type place. The kind of place where if you flip a coin and call it, you got a free drink. On Thursday nights, this street was insane. But about 2009 or 2010, they put a noise ordinance on this street. All these condos above us were rentals, and the developers decided to start selling them off. Some older lady bought an apartment right above Rooney's and started complaining to the city. Everything shut down because businesses had to close their doors at 10:00 PM. It was crazy here, and then it just died. This building went into foreclosure, and the bank didn't want anything to do with anybody. But as we were rounding third to go home with the city, this place got bought by investors and we were the first tenant to sign with them.
KG: You still wanted to come here, even though there wasn't that Thursday night traffic?
KV: Breweries are in warehouse districts in the middle of nowhere. If you go to a warehouse district, and you go all the way in the back, and there's a brewery, it's busy. I felt like, if you build it, they will come.
KG: And they've come.
KV: I had no idea that we'd be where we are today. I mean, the only examples I had were the local breweries and they were just that — local breweries. I don't want to diminish what they do, but it's a different model. We opened and thought we'd be that.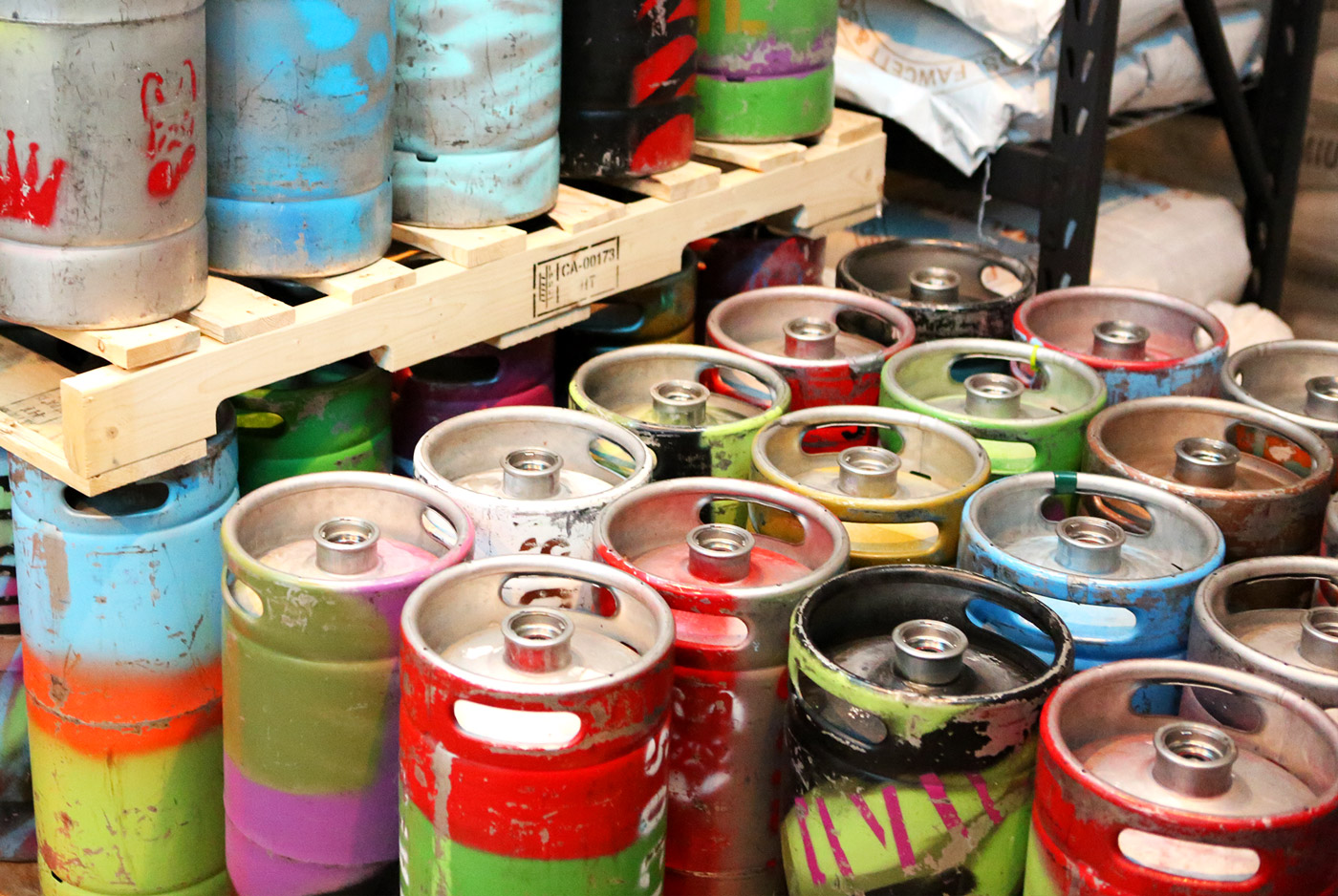 KG: You guys were on the cusp of what's become the haze craze. Is that a trend?
KV: Back when I was trading for beers, sours were all the rage, mixed culture stuff, big, barrel-aged stouts with vanilla and coffee. Then it moved on to the hazy stuff. Now you can even see a pivot with what Hudson Valley is doing, and Angry Chair. I think beer is ever evolving. One good beer from a particular style is never going to go out. But if you're just doing average stuff, yeah, maybe it won't last. On the other hand, if you're doing really good stuff, I don't think it matters the style. I mean, look at Suarez Family Brewing. Dan Suarez is doing styles no one cared about two years ago, and he's doing really well with them.
KG: You started as a homebrewer. How does is that different than brewing professionally?
KV:
I think home brewing forces breweries to be more creative with what they do, rather than doing the status quo. When you're brewing five gallons of beer, you can goof around with whatever. Here, it's a bit different. We brew 300 gallons, we have an oversize seven barrel, so we knock out about 9 barrels of beer. It's a little different than doing five gallons. But all the creative stuff you can do at home is entering the professional arena.
KG: Do you still pilot stuff?
KV: It's hard because our brew schedule is so jam packed. We're constantly talking about new stuff, but we can't brew enough of our staples right now. We only have so much time and space.
KG: If you could make new stuff, what would it be?
KV: We have a sour IPA we're going to do on fruit and adjuncts, just because it seems cool and we've been talking about it for a while. I mean, we brewed one with J. Wakefield in 2015. Where's The Yeast, Bro? We did it back then and we've wanted to do one here but we just haven't gotten around to it. And actually, we just did our first pilsner. And I've been goofing around with vanilla salt. We've been talking about a vanilla salt gose with different fruit. We'd like to get into more stout stuff, but again, we don't have the space for barrels, or the time. We've been able to turn IPAs over relatively quickly and it's what people want.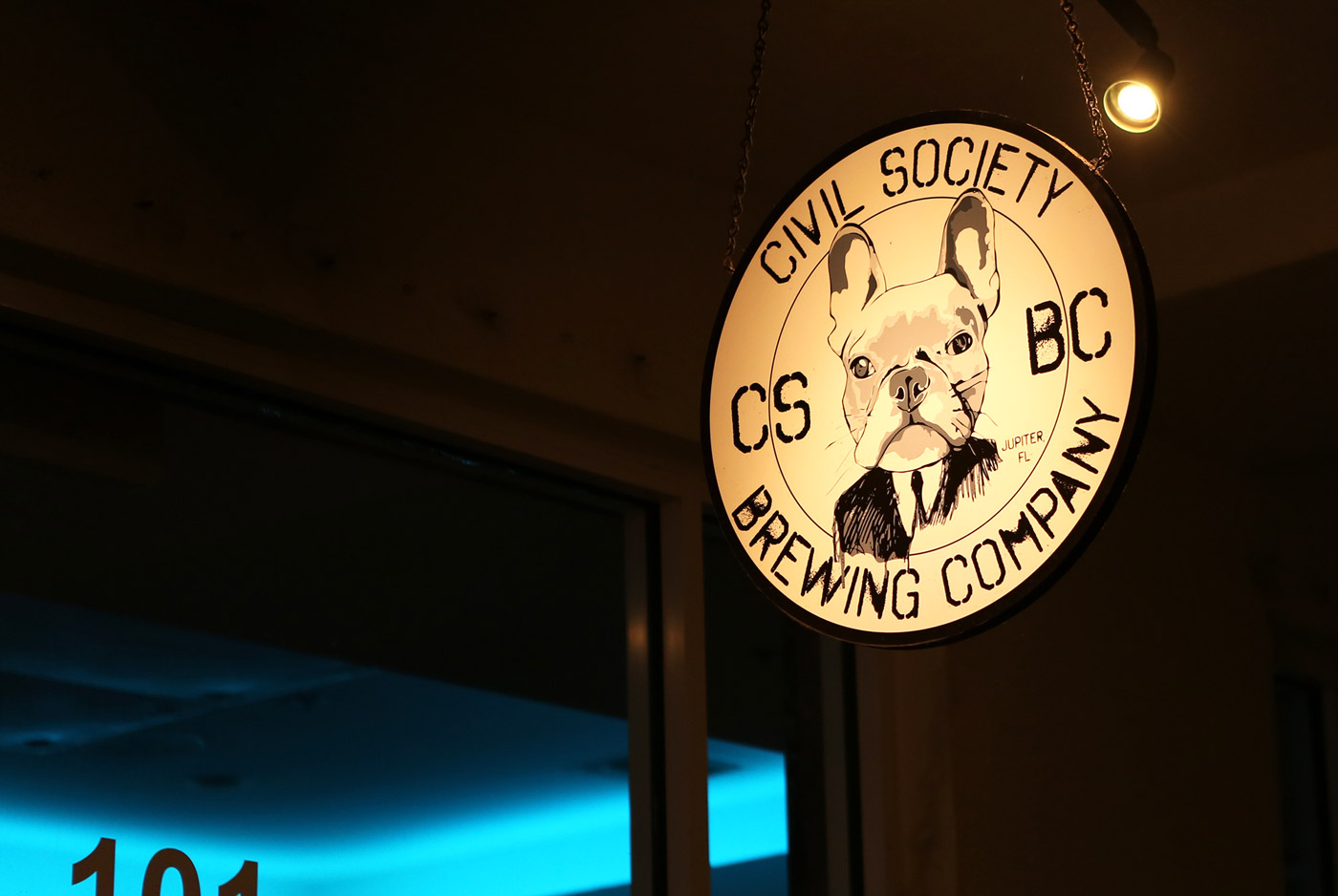 KG: So it's like, why do anything else?
KV: Yeah. But having said that, the ability to sell everything at arm's reach through our taproom has allowed us to explore the more creative side of what we do instead of just brewing the cores.
KG: It seems like the ability to sell out of the taproom has changed the entire culture.
KV: It's been extremely beneficial. I think it started with food, honestly. That farm to table stuff. Now it's coming into your local brewery, your local bakery, where you get your meat. People are saying, "I want what I can get here."
KG: Is there a favorite beer you make?
KV: I think Fresh, because it's my baby. I really like Pulp quite a bit. I like Tracks. For the most part, I'm a fan of all our beers. There are a couple that aren't my cup of tea but I'm not the only one tasting them. It's not that they have off flavors, but there's a couple of hops that I'm not fond of. Sometimes we get those in the mix and they're too expressive.