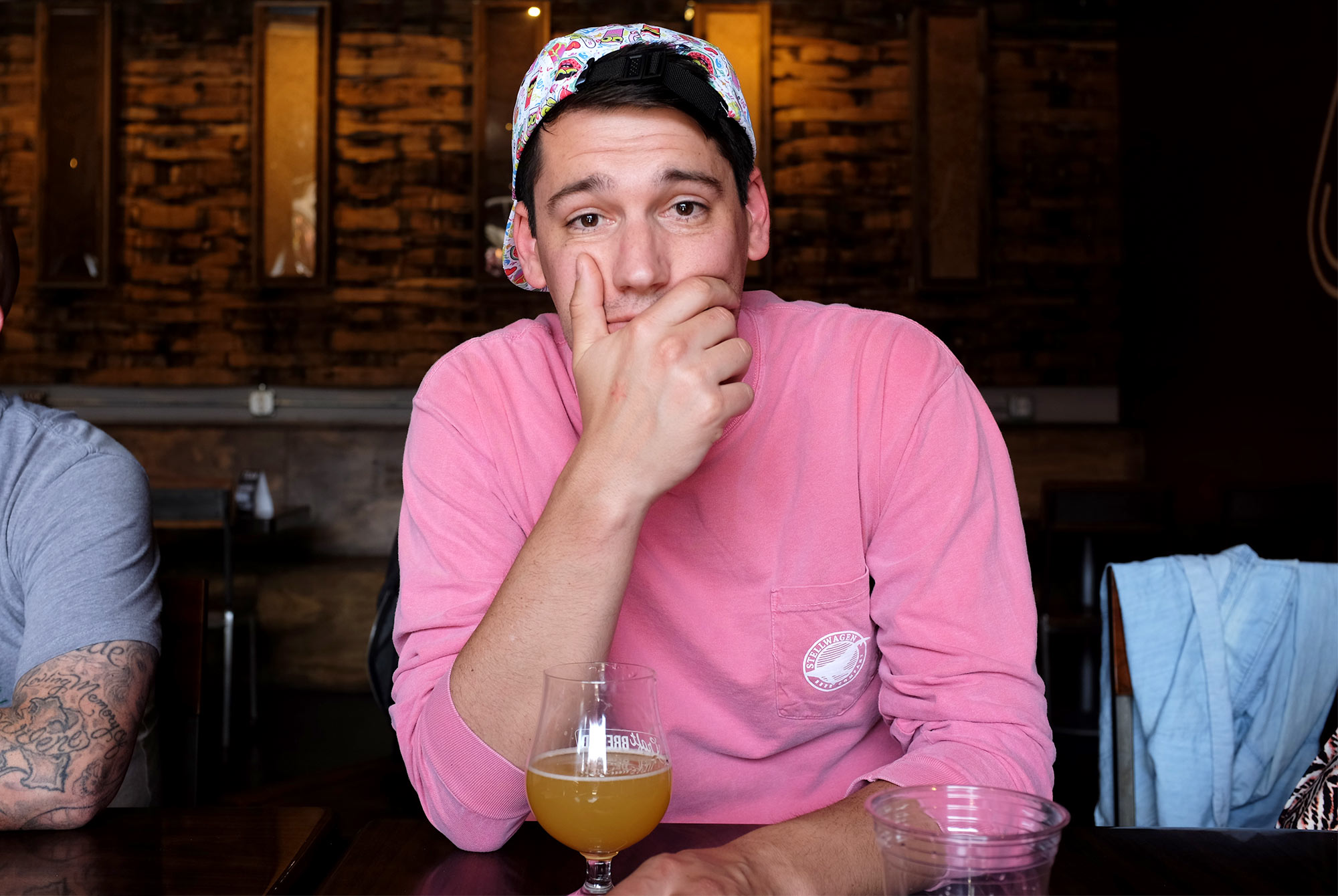 Photography by Olivia Hurley
Editor's Note:
In a few weeks, we'll be bringing our Juicy Brews festival to Richmond, Virginia, with Juicy Brews Summer Invitational. We're reconnecting with our friends in the area like Burley Oak, Ocelot, and Aslin and inviting some Juicy Brews first timers like Brewery Bhavana, Charles Towne Fermentory, and Resident Culture Brewing Company.
To give you a little taste of some of the breweries pouring at Juicy Brews, we asked them a few questions about their history, favorite music, and their thoughts on juicy IPAs.
Mast Landing is one of the many Portland, Maine-area breweries (technically they're in Westbrook) that are crafting stellar beers. They've made a name for themselves with their lineup of juicy IPAs, but have also produced intriguing beers like Gunner's Daughter, a milk stout with notes of peanut butter and chocolate, and Paper Plates, a strawberry shortcake Session IPA brewed in collaboration with Barreled Souls.
Parker Olen, Mast Landing's Marketing Director and Designer, has been a large part of the brewery's success. Their can designs are eye-catching and gorgeous. Parker spent most of his time in Nashville at CBC hanging out with the Hop Culture team, where it was revealed that he used to be an L.L. Bean model (to no one's surprise). Ahead of Juicy Brews Summer Invitational, I learned a little bit more about Parker and he gave us a few killer songs for our bottle share playlist.
John Paradiso: How'd you get your start in the brewing industry?
Parker Olen: I started out as a designer for "big beer" brands like Miller, Coors, Guinness, and Heineken, but finally escaped and teamed up with Ian, Neil, and Mike when Mast Landing opened in 2016.
JP: What are your thoughts on the state of hazy IPAs in the industry?
PO: I think it's a very interesting and fun part of the industry. It seems like anyone can make a hazy beer, but when they're done really well, it creates a drinking experience unlike any other beer style.
JP: What's your favorite beer to drink right now?
PO: I was just down in Nashville for CBC and had Process Control by Southern Grist. The balance on that beer is bonkers. I had to bring some back home with me to Maine.
JP: Describe your ideal taproom.
PO:
A large, open concept tasting room with floor to ceiling windows to let in tons of natural light (and to make taking great photos of beer easier). Having a large outdoor space surrounded by trees is also awesome. And a killer Yacht Rock playlist on repeat.
JP: How has a failure, or apparent failure, set you up for future success?
PO: My first job out of college was at a company doing phone sales. On my second day of work, I left for lunch and never went back. I absolutely hated it. From that day, I knew I had to love what I was doing for a job or it just wasn't going to work out.
JP: Give us a few songs to add to an all-star bottle share playlist.
PO:
"Everywhere," Fleetwood Mac
"This Must Be The Place," Sure Sure
"Sit Next To Me," Foster The People
"Running Scared," Duett feat Stewart Lockwood
"Good Life," Kanye West
Catch Mast Landing Brewing Co. at the Juicy Brews Summer Invitational on June 10 in Richmond, VA.