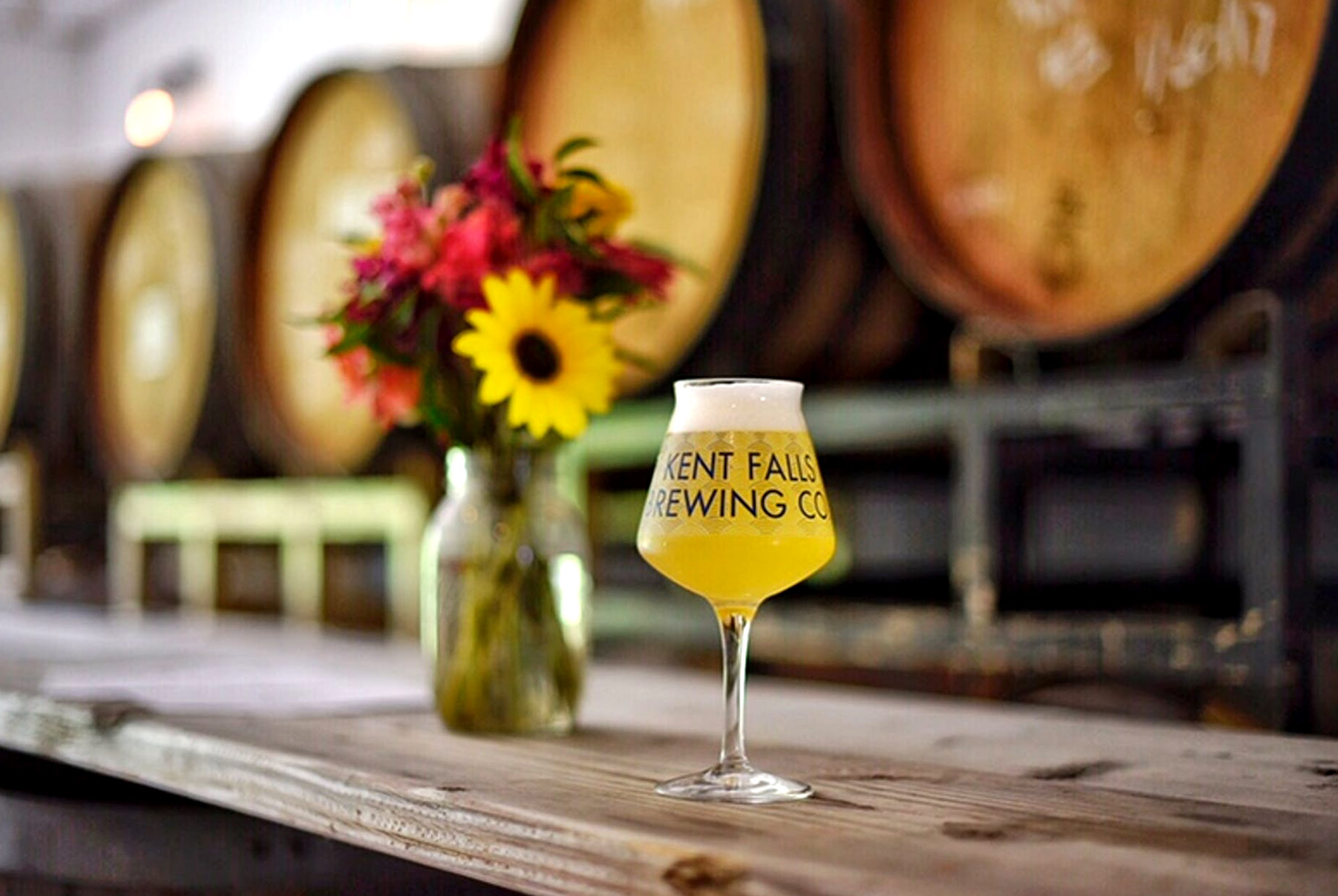 Editor's Note:
In a few weeks, we'll be bringing our Juicy Brews festival to Richmond, Virginia, with Juicy Brews Summer Invitational. We're reconnecting with our friends in the area like Burley Oak, Ocelot, and Aslin and inviting some Juicy Brews first timers like Brewery Bhavana, Charles Towne Fermentory, and Resident Culture Brewing Company.
To give you a little taste of some of the breweries pouring at Juicy Brews, we asked them a few questions about their history, favorite music, and their thoughts on juicy IPAs.
Kent Falls Brewing Co. sits on a small portion of the 50-acre Camp Roads Farm in Kent, Connecticut. Camp Roads is a diverse farm dedicated to growing a variety of veggies and raising pigs and poultry. They also have a 1-acre plot devoted to hops, as well as an acre and a half of cider apples reserved for Neversink Spirits, Kent Falls' distillery located in Port Chester, New York.
As Connecticut's first farm brewery, Kent Falls paved the way for the state's Farm Brewery Manufacturer's permit, and has committed itself to maintaining Camp Roads Farm by minimizing waste through composting spent grain, fruits, and hop and yeast trub and maximizing renewable energy sources through a photovoltaic solar panel.
We chatted with Zac Ross, one of the brewers at Kent Falls, who has spent time at Voodoo Brewery in Meadville and The Answer in Richmond. He told us about brewing the perfect blonde ale and gave us a killer song for our all-star bottle share playlist.
John Paradiso: How'd you get your start in the brewing industry?
Zac Ross: I walked into Voodoo Brewery's taproom opening weekend and immediately fell in love and asked if I could help out. I started helping them bottle on Fridays and slowly found my way into the brewery by cleaning and filling kegs.
JP: How has a failure, or apparent failure, set you up for future success?
ZR: I once brewed a terrible blonde ale when I was at The Answer and it frustrated me so much I became obsessed with making a great blonde ale. I was forever tweaking and attempting to perfect each batch.
JP: What are your thoughts on the state of hazy IPAs in the industry?
ZR: I enjoy the idea of unfiltered IPAs but I think the natural inclination of pushing things to the extreme (i.e., more is better) has started to ruin the style for me. A lot of hazy IPAs have extreme levels of minerality or the yeast is too abused or the hop to liquid ratio is irresponsible. For a time, these extremes appease the flavor-seeking masses, but beer is about enjoyability, not palate fatigue. For me, I've become moderately obsessed with balance and extracting the most flavor out of the ingredients. I think making a hazy, juice bomb IPA is easy; the secret is out. But creating a good, unfiltered IPA that has balance between the hops and grain and yeast and water (while still hazy) is not easy and it's where the future of the style lies.
JP: What's your favorite beer to drink right now?
ZR: Palatine Pils from Suarez Family Brewing.
What's the best idea you've ever had?
ZR: Move to the middle of nowhere, Connecticut, hours away from friends and family and brew beer on a farm.
Are you reading anything interesting?
ZR: Brewing Local: American-Grown Beer by Stan Hieronymus.
Give us a few songs to add to an all-star bottle share playlist.
ZR: "This is America," Childish Gambino Editor's note: 100% co-sign this.
Catch Kent Falls at Juicy Brews Summer Invitational on June 10th in Richmond, VA