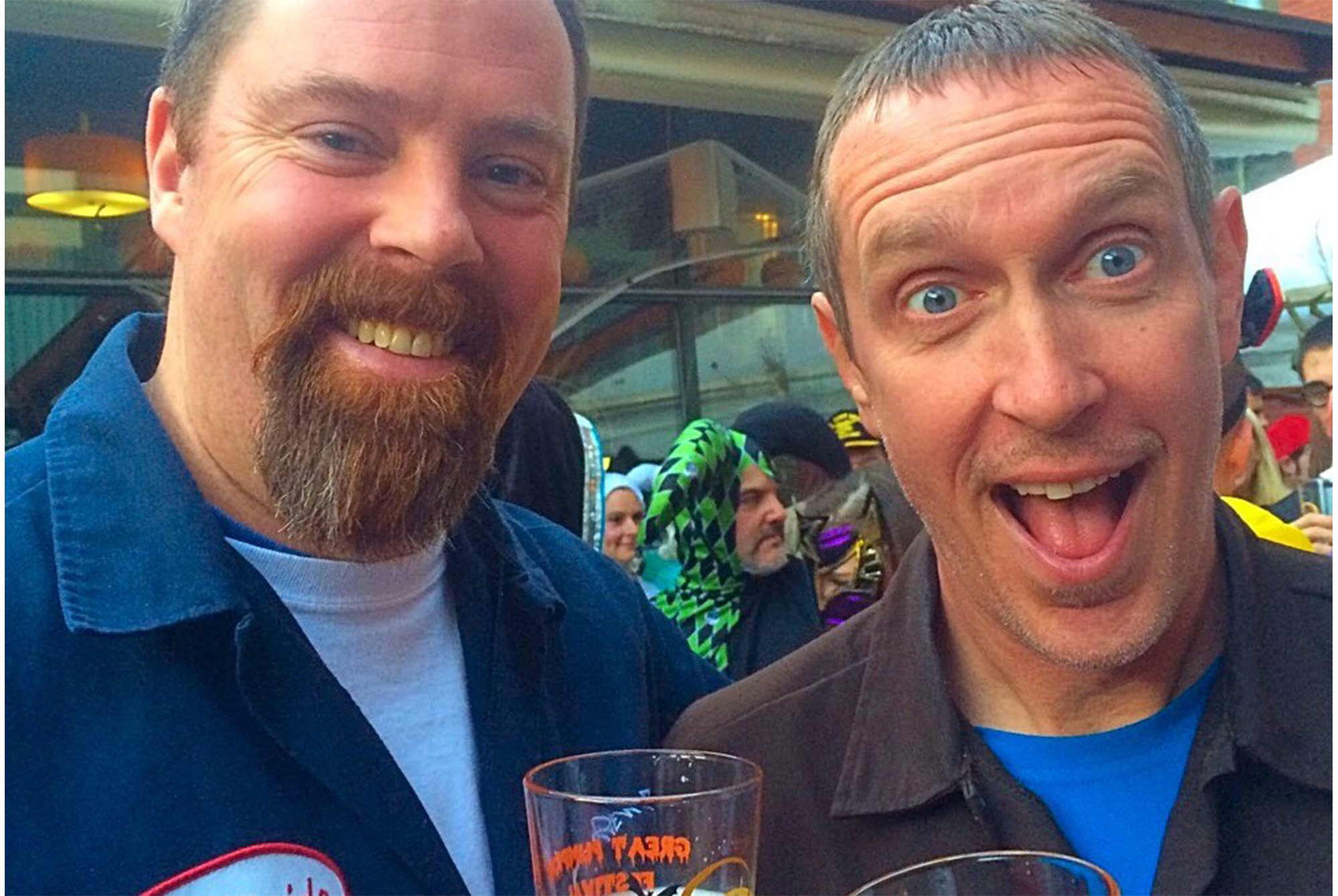 Photography by Mass Brew Bros
Rob Vandenabeele and Bob Kelley don't consider themselves beer ambassadors. They don't advocate on behalf of Massachusetts brewers, distributors, or enthusiasts. They see themselves as conduits, a bridge between drinkers and breweries. And they've got an impressive resume — they've been to every single brewery in the state.
What started as two middle-aged dudes drinking beer quickly became a craft beer database. Rob and Bob realized, as they took weekend trips to local and not-so-local breweries, that it might be worthwhile to catalog their journey on social media, informing others about the breweries they've visited. While planning these trips, they realized there was no one-stop-shop for the type of detailed information on Massachusetts breweries, brewpubs, and bottle shops they were searching for, so they decided to fill that need.
Rob and Bob are pretty humble, unassuming guys. They make goofy shirts and call themselves the Mass Brew Bros. Not the "bros" that go nuts for the next DDH DIPA, but two friends with nearly identical names who're passionate about good beer. Despite having day jobs, they've developed a useful service for curious drinkers. Beyond providing a map of all the breweries in Massachusetts, they also try to stay on top of beer news and frequently write blog posts and organize blind tastings with local beer experts.
Recently, they teamed up with the Massachusetts Brewers Guild to develop an app — which replaces the guild's paper passport — that lists all of the breweries in the state and serves as a Bay State Untappd, rewarding users with badges for visiting breweries across the state.
They've become an authority on beer in Massachusetts and they're cautious not to play favorites. When asked if they have a favorite brewery, they hesitate to name names. They aren't trying to be trendsetters or critics, they're just trying to have fun. "We started drinking craft beer because we were having a good time," Rob shared. "When it stops being fun and starts being work we'll stop doing this. But we're stilling having fun."
John Paradiso: Where did the Mass Brew Bros. idea come from?
Rob Vandenabeele: This is not a full-time gig for us. We both have other jobs; my wife refers to this venture as a hobby gone wild. Basically, we started going to festivals, having fun, and meeting people. At a certain point, we just got into visiting different breweries.
Bob Kelley: We created the Mass Brew Bros social media accounts just to log our journeys and then people seemed to be interested in knowing about the breweries we were visiting. We launched our website after that.
JP: So, you were just having fun and then you started serving a need.
RV: We were just like anyone else excited about craft beer and when we started getting on the road to visit breweries we were just having fun with it. But we had to put a fair amount of work into finding where each brewery was. All of that info was in separate places, like maybe one brewery had a facebook page and you could possibly find info there. Another bigger brewery might have a decent website where you could figure it out. But there was no central hub to really know how many breweries there were, whether you could visit them or not. And we thought, "It's crazy no one has put this together yet. Maybe we should do it." That's what led to the website. Social media was good because that's where we saw the need for it. And then we thought, "Alright let's make that easier."
JP: When you first launched Mass Brew Bros. as a social media resource, was there anything driving you beyond your own curiosity?
BK: The rise of the brewpub in the '90s sort of showed us that beer could be something different and we started searching for that next beer. And then going to breweries, we realized that it was just a better environment — being able to drink straight from the source. You go there and you actually get to meet the people making the beer.
RV: When we had been going to these beer festivals we thought, "Why don't we have a stupid goofy drinking name and shirts?" That's where the Brew Bros name came from.
BK: Originally, we were going to be the Pint Pals and we'd have bowling shirts but when we walked into the store we found these dickies work shirts and thought "oh let's get those and look like brewers." The first time we wore them at a festival people were like, "oh you work at this festival? Are you brewers?"
RV: So it was sort of silly but we'd walk into a brewery and people would kind of look and the brewers would be like who are these guys, what's the Mass Brew Bros? The shirts alone gave us an opportunity to approach people and explain what we were doing and it's amazing how gracious and cool people were.
BK: And I don't know if there's another industry where you can do that. Sort of put on the shirt and walk into the business and start talking with the guys making the products.
JP: Did you meet any resistance or difficulty at all from folks in the industry?
BK: I don't think there was any resistance. I mean some people were more willing to stop and talk than others but there wasn't any resistance…
RV: We also had a humble approach to it. I mean we'd walk in with our shirts but we wouldn't walk up to the bartender and say, "Hey who's the Head Brewer here? Send them out." We'd go in like any other consumer; we just wanted to learn. And to be honest not every brewery knew or cared who we were. We only met Jim Koch like three weeks ago. We didn't meet anyone from the big breweries for probably at least a year so it really depended on the situation.
JP: Was there a sense of relief when you finally visited every brewery in Massachusetts?
RV: It was really cool. But there are two scenarios. The first was when we finished the Massachusetts Brewers Guild paper passport.
BK: It was a big weekend. I think we visited six breweries.
RV: And you had to get stamps for that whole thing. Our last trip was a trip down to Cape Cod and we hit all the breweries there and then took a ferry across to Martha's Vineyard and a ferry to Cisco Brewing on Nantucket and then we flew home from there. From that point forward we basically just kept up with new breweries. I think last year 20 something breweries opened up so we had to run around the state to visit those breweries and we'd revisit as many of the originals as we could. And this year it's been keeping us busy. I mean full disclosure there's a brewery out in western Mass. that opened up 3 weeks ago and we still need to get there now. So it's a moving target.
JP: Do breweries now reach out and let you know they're opening?
RV: That's really how we have the most accurate database in Massachusetts. A place will reach out when they plan to open, so if you go to our site we'll compile a list of planning or pending breweries. If you want to know who's open and pouring and who's going be open in 3 months, it's all there. Plus we do try to research and find out about new breweries.
BK: It's a sense of pride we have. We don't want to be caught not knowing about a new brewery. It's good to know that we provide folks with accurate information and work very hard to do that.
RV: And that's why the guild asked for our help; they don't necessarily know every single brewery.
BK: Well also not every new brewery might be guild members so it can be hard to keep track of.
JP: To step back, what's the beer scene like in Mass?
RV: Well one of the things we've found is that the community is very positive and welcoming as consumers, breweries, anyone. Plus I think the state is small enough that you can go and visit every brewery.
BK:
Yeah, imagine living in California and trying to visit every brewery.
RV: You can do that in Massachusetts if you're crazy enough.
BK: It also just feels very connected from brewery to brewery. But then there's also a variety, you have breweries in urban areas like Night Shift or Aeronaut or others and then if you go up to Stone Cow it's got this barn and small taproom.
RV: We also have a pretty good history of craft beer. Obviously, Sam Adams was one of the first, and Harpoon also really got things going early on and were pioneers.
JP: How have you seen the scene change in the past few years?
RV: One real obvious way it's changed is that there are twice as many breweries as there were just five years ago. One big reason is the change in the law to let "farmer-brewery" get pouring licenses. That's been huge.
BK: All of these breweries are coming up with a lot of experimentation too so it encourages a lot of variety
RV: Plus some friendly competition and collaborations.
We wouldn't walk up to the bartender and say, 'Hey who's the Head Brewer here? Send them out.' We'd go in like any other consumer; we just wanted to learn.
JP: I want to refer to an article you had written a while back. It talked about the idea of a bubble in the industry, especially in Mass. Has anything changed in your mind about the volume of craft beer in the state?
RV: I think in the last few years there have been about half a dozen closures and each of them for different reasons. Not always because they weren't able to sell beer. Sam Adams is not gaining market share. Harpoon I think has leveled off. Some of the other bigger breweries have leveled off too, but I don't think that's necessarily a problem. It just shows that other breweries, smaller breweries, are growing. I don't think there's any problem with the amount of beer. It's just that if you're a bigger brewery looking to get bigger it seems unlikely. In terms of a bubble, I don't think we see one. But I think about 5 years ago you could've come into craft beer a little naive with a half-baked business plan, a location that was off the beaten path, and beer that was good, not amazing, and you could've made it. I don't know that you can make it now if you don't have two of those three things really nailed down. You have to be making really, really good beer, or you have to have a great location, or you have to have a really smart, thought-out business model.
JP: Do you want to talk about breweries you're excited about?
RV: That's always a tough one for us because we're at the point where it's easy to throw out the obvious names like Tree House, or Trillium, or Jack's Abby, but I don't know… I don't think we're giving away any secrets with those names.
JP: Would you recommend folks in other states to start their own brew bros?
BK: There's actually a Vermont one, I think! And a South Carolina brew bros…
RV: Every state should have their own group of drinkers. Guys and girls. And here's one last thought, we don't represent the guild or the breweries. We try to be a bridge between the drinkers and them. And yeah, every state needs someone doing that.