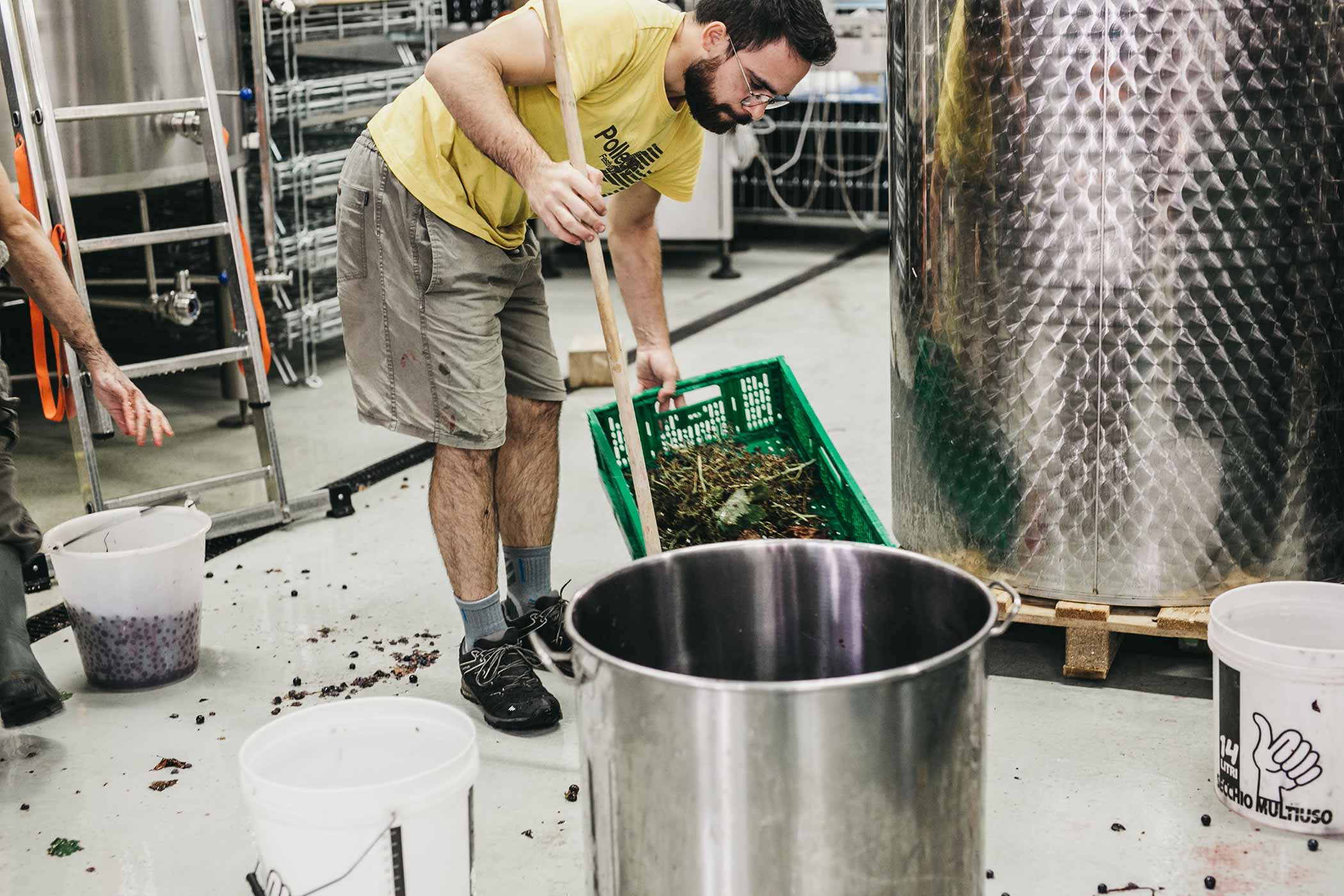 Photography courtesy of Ca' del Brado
Italian Grape Ale is a marriage between beer and grape. These beers, particularly more modern ones, can contain funky, barnyard, farmhouse-like flavors, but they are usually more subdued than lambic beer.
Nuanced and, at the same time, very drinkable, these ales highlight specific grape varieties. White grapes can contribute flavors of apricots, oranges, peaches, and pineapples, while red grapes express themselves with red berry and cherry notes.
Grape ales have a low hop character, both in bitterness and flavor, just enough to balance the beer. While these ales focus on the grape, the fruit should not overwhelm or dominate; you should still know that these are beers. Everything is in harmony; you should be able to taste the terroir and the characteristics of the grape. And the entire beer should complement these qualities.
Birrificio Barley and Birrificio Montegioco were two of the earliest adopters of this style of beer. But over the last five to ten years, grape ales have gained popularity, becoming more common at higher-end restaurants. They are also being made more in Italy and other regions, particularly wine regions, and by sour-beer makers.
The Soul of Italian Grape Ale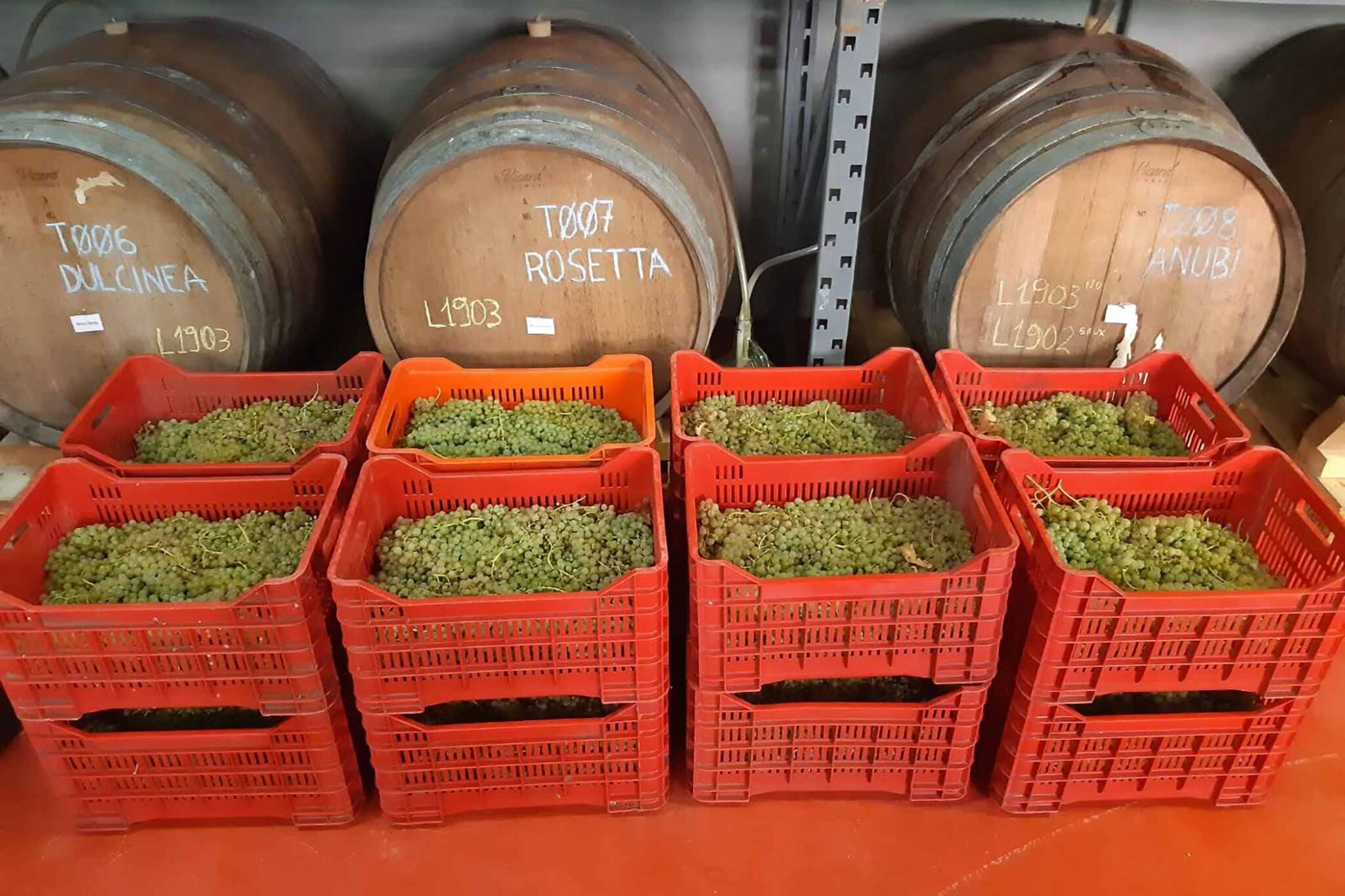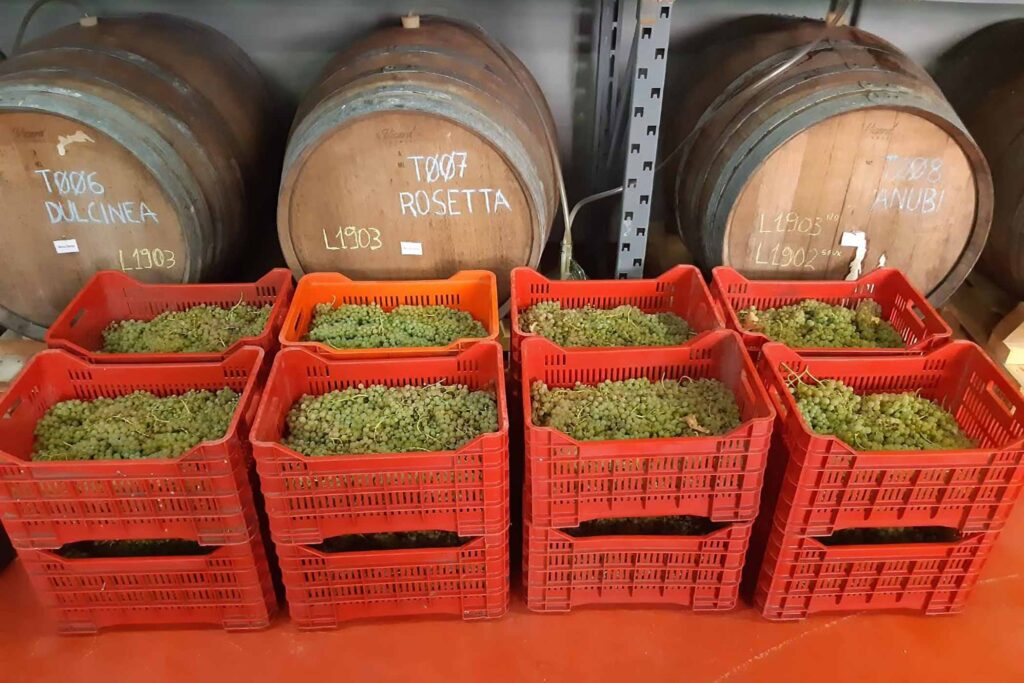 On the outskirts of Southern Bologna lies Ca' del Brado, which translates to "House of Slow" or "House of Wild." Co-founder and head brewer Luca Sartorelli founded the brewery with a group of friends after cutting his teeth for a year at Great Divide in Denver, CO.
When he moved back to Italy, he and his friends worked on Brado on the weekends, experimenting for several years before officially opening the doors. Since then, Italian grape ale has been a large part of the brewery, with two primary beers accounting for around twenty percent of sales—Û baccabianca, made with white grapes, and Û baccarossa, made with red grapes. "Beer in barrels represented an empty space in Italy at the time," says Sartorelli. "The heart of the brewery is in the barrel room, where the microflora makes the beers."
Sartorelli says there are usually very large and very small winemakers in his region of Italy and only a few in between. Experimenting with Italian grape ale made sense because he had already formed relationships with many of the smaller producers. "We were friends with them; they are like us, very small, very craft, all-natural," he says. "They go to our events; we go to theirs. We are the same age; we share the same culture. It was very obvious to try to take the terroir of their grapes and put it in our beer."
This relationship goes even deeper when selecting the grapes, a process where Sartorelli relies on the winemaker quite a bit since they know the fruit best. "We are not winemakers, so we have them help us with what we want to create, then we choose together," he says. "We ask the winemaker for different characteristics in the grapes, looking at the amount of tannins and acid we want for the beer."
The Magic of Making Italian Grape Ale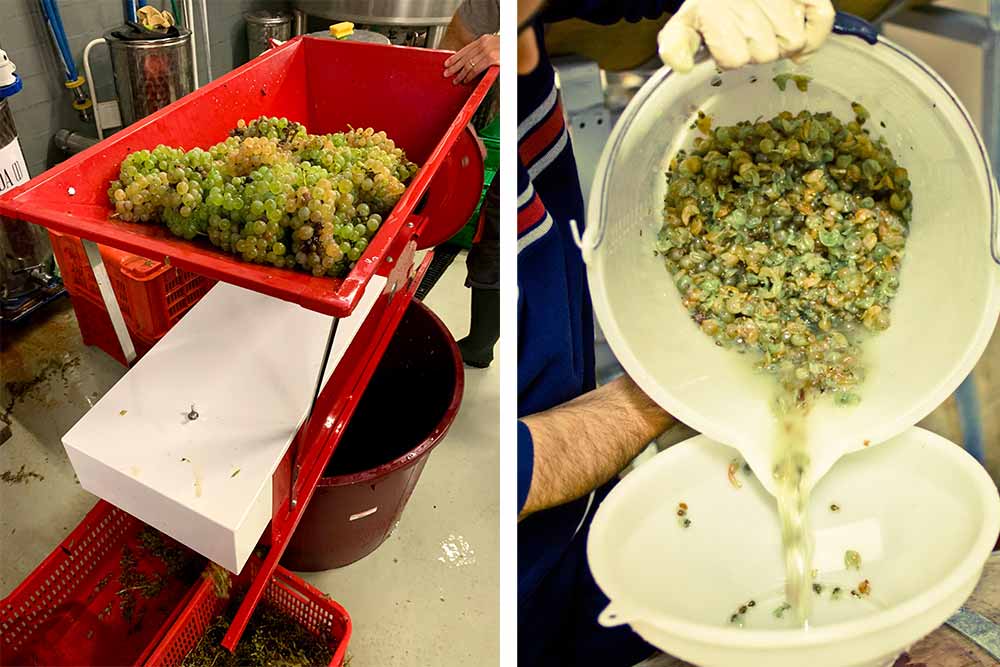 Unlike many regions around the world, Italy has a lot of different grape varieties, so there are always options. Brado makes yearly red and white Italian grape ale that they treat quite differently.
For the white grape ales, Sartorelli prefers to pick the grapes a little earlier, to get more acid and sourness. He says this helps the flavor of the grape stay with the drinker longer. For the red grapes, he picks them a little more ripe, giving the final beer a more rounded feel.
The end goal is to be approachable yet complex. Sartorelli says he focuses on sour beer but with a subtlety that newer drinkers can get behind, along with depth that connoisseurs can appreciate. Sartorelli keeps that in mind for almost every decision throughout the process.
After selecting a variety with the winemakers and harvesting the grapes, Sartorelli presses them, brings them back to the brewery, and puts them into 3,000-liter (792-gallon) foeders. He simultaneously adds fresh, unfermented beer, or wort, to the barrel. "We use the yeast from the grape skins to start fermentation; that is the main goal," says Sartorelli. "The second goal is to add complexity from the tannins and the skins and carry over the flavors of the wine producers into the beer."
About ten percent of the volume of the beer comes from the grapes, a number on the lower end of the spectrum for Italian grape ales, which can go up to just under fifty percent grape. "We want something different than a wine hybrid," says Sartorelli. "It's still a beer in the end."
A very slow oxidation allows complex flavors to develop. "We already have a lot of oxidation from the grapes," says Sartorelli, adding that they have to punch the skins down into the liquid of the barrel during the first week of fermentation. The large barrels have a greater surface area, further reducing the pace of oxidation (the brewery has tried barrels as small as 200 liters, but they didn't like the result). After that, a thick pellicule forms on the top of the liquid before the yeast works its magic
In fact, Brado has had samples tested showing over seventy different yeast strains in the beers, including six different types of pediococcus, a lactic acid-producing yeast strain. One can find a specific pediococcus strain in over eighty percent of the beers tested. This results in a distinct house character, what Sartorelli calls "our sourness," and an underlying flavor present, no matter the grape variety.
The base beers brewed at Brado will also differ depending on the grapes used. The beer finishes very dry, so using unmalted wheat and rye helps drinkers still "feel something in their mouth," as Sartorelli says. The white grape ales also use pilsner malt for the base and then a tiny amount of hops that stay "quiet" in the beer, rounding out the recipe.
Contrast that with the red grape base, which took several years to dial in a recipe that Sartorelli liked. He still uses wheat and rye, but the base is Munich malt, providing the beer with a toastier, biscuit-like character. "We also use a little caramel malt that you can feel because the red grapes have a lot of tannins," says Sartorelli. "The beer is still dry, so the caramel malt helps balance the beer." He adds that the base beer is reminiscent of a German dunkel.
The white grape beers go into foeders for about seven months, whereas the reds will stay in for an entire year. The beers are then conditioned in stainless steel tanks at temperatures near freezing for a full two weeks before being bottle conditioned to medium carbonation, not too much as to accentuate the acid character to higher levels, but also not flat or still.
Is Italian Grape Ale Getting Under People's Skin?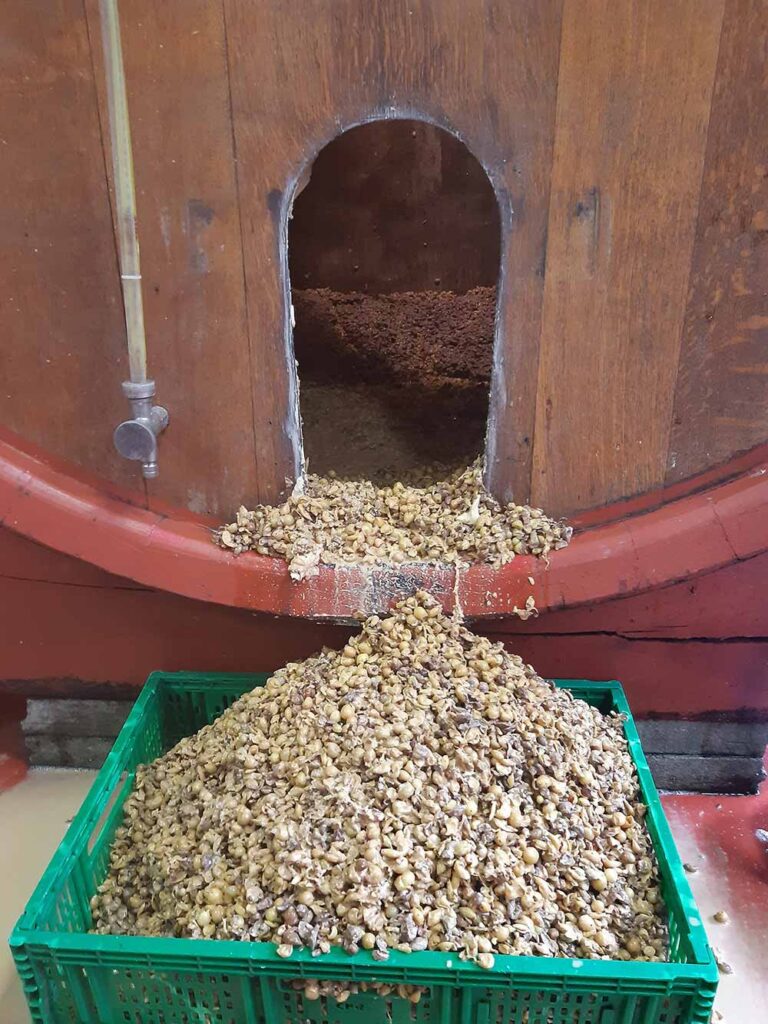 Wine drinkers love to pair wines with meals, and beer drinkers often enjoy a pint during meals, so what better way to accompany a meal than with an Italian grape ale?
Restaurants are catching on, though more slowly in Italy. "There is an [upscale] restaurant in Bologna," says Sartorelli. "They used to have seven wines, but now they have six and one of our beers. This was impossible three years ago." Not everyone welcomes change, though. "It's getting under the skin of some people," he says.
This is not a problem in Northern Europe and America, where there is less "heritage," according to Sartorelli. He's finding it far easier to get his grape ales on the table in countries like Poland, Germany, Denmark, and the Netherlands.
You don't have to take our word for it, but you should probably try a few Italian grape ales for yourself.
Hop Culture's Recommendations for Grape Ales to Try Right Now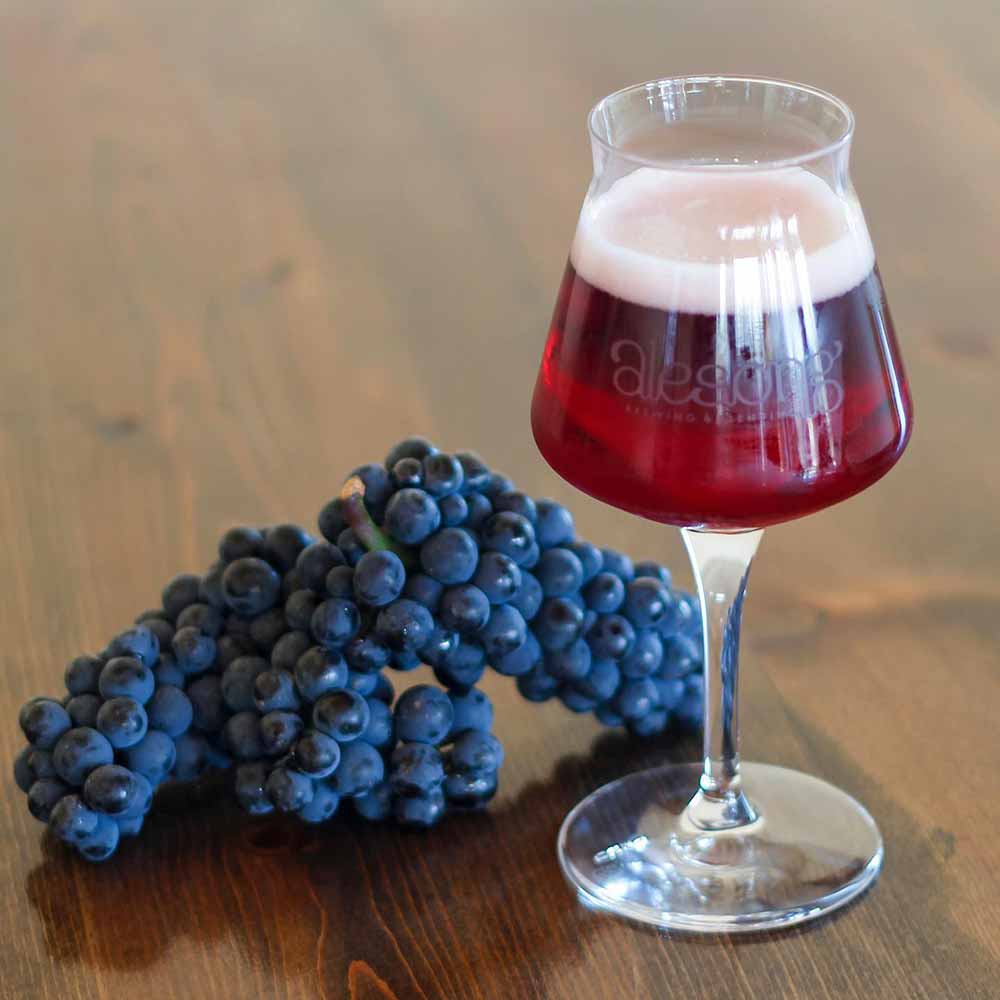 Û Orange – Ca' del Brado
Bologna, Italy
This beer was fermented with Tokaj grapes from the Slovenian winery Kmetija Stekar. The beer took techniques from orange wine, a wine that has been around for over five thousand years but only revitalized over the last few decades and is best known in Slovenia.
The orange wine (and this inspired beer) is made by macerating white varieties of grapes and putting the entire grape into the wine—stems, seeds, and all. The grape stays in contact for an extended period, pulling additional tannins and pigment from the grapes, thus creating an orange hue in the final liquid.
Incrocio Rosso – Siemàn
Villaga, Veneto, Italy
Siemàn, which translates to "six hands," is run by three brothers. One brews the beers while the other two make wine. Sartorelli counts this among his favorite breweries in Italy.
Incrocio Rosso rests in oak barrels for a year. Towards the end, the brewery adds three different grapes they grow to the barrel. The result is a gorgeous rose-colored beer with hints of magenta shining through—flavors of red berries and citrus, with a slight tartness and a noticeable funk.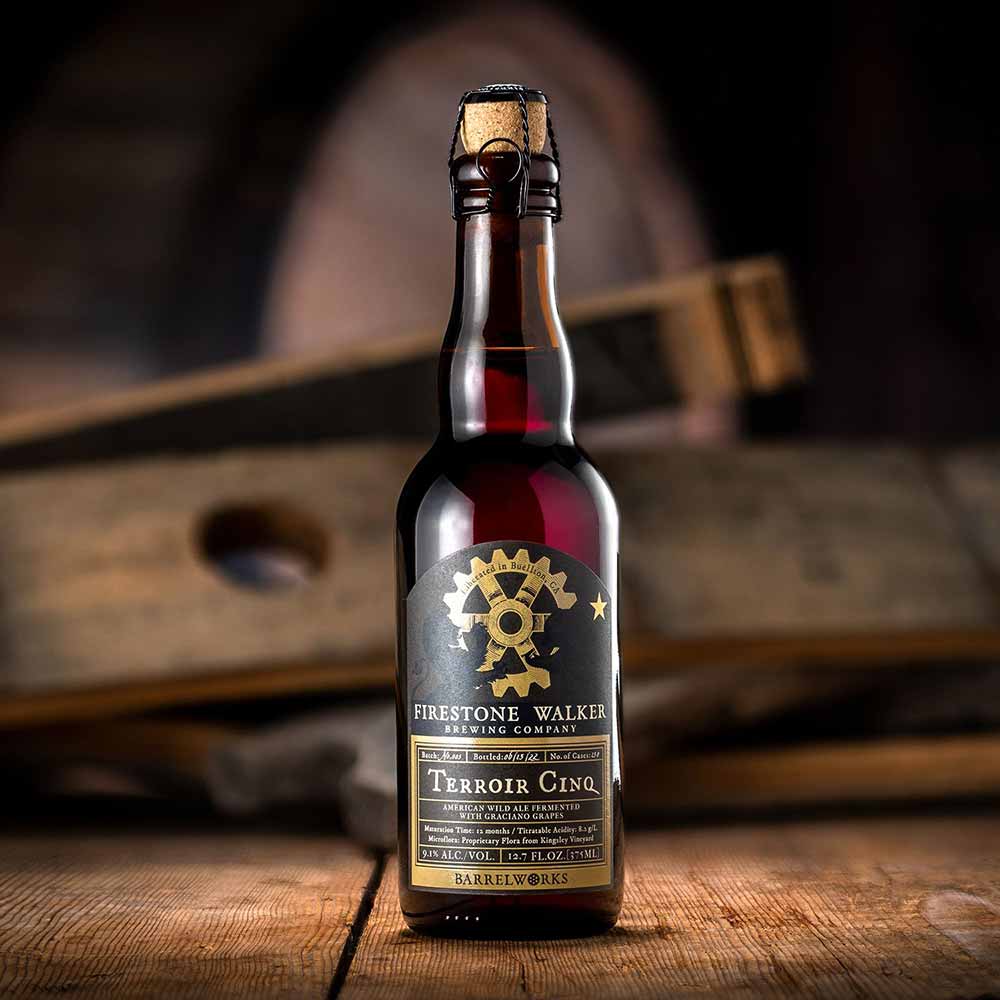 Terroir Cinq – Firestone Walker Brewing Company
Paso Robles, CA
Firestone Walker is another American brewery taking advantage of the surrounding wine country. For over a decade now, Firestone has been making beer with grapes.
In 2017, Firestone launched the Terroir Project. The concept was simple: Create a beer with fifty-one percent barley and forty-nine percent red wine grapes and ferment it with wild flora. Over a dozen breweries participated with the same stipulations, including Russian River, Jester King, Birrificio Del Ducato, Garage Project, and Alesong.
Look for Terroir Project beers and other limited-release grape ales from Firestone Walker.
Whiskers On Kittens – Alesong Brewing & Blending
Eugene, OR
Whiskers on Kittens will be out later this summer and features Cabernet Sauvignon grapes from the large Horse Heaven Hills AVA growing area in Washington State.
Also, watch for the yearly release, Raindrops on Roses. Alesong makes this grape ale with Pinot Noir grapes from Alesong's neighbor, King Estate, in Eugene, Oregon. The late-season release from 2022 is still on a few shelves.