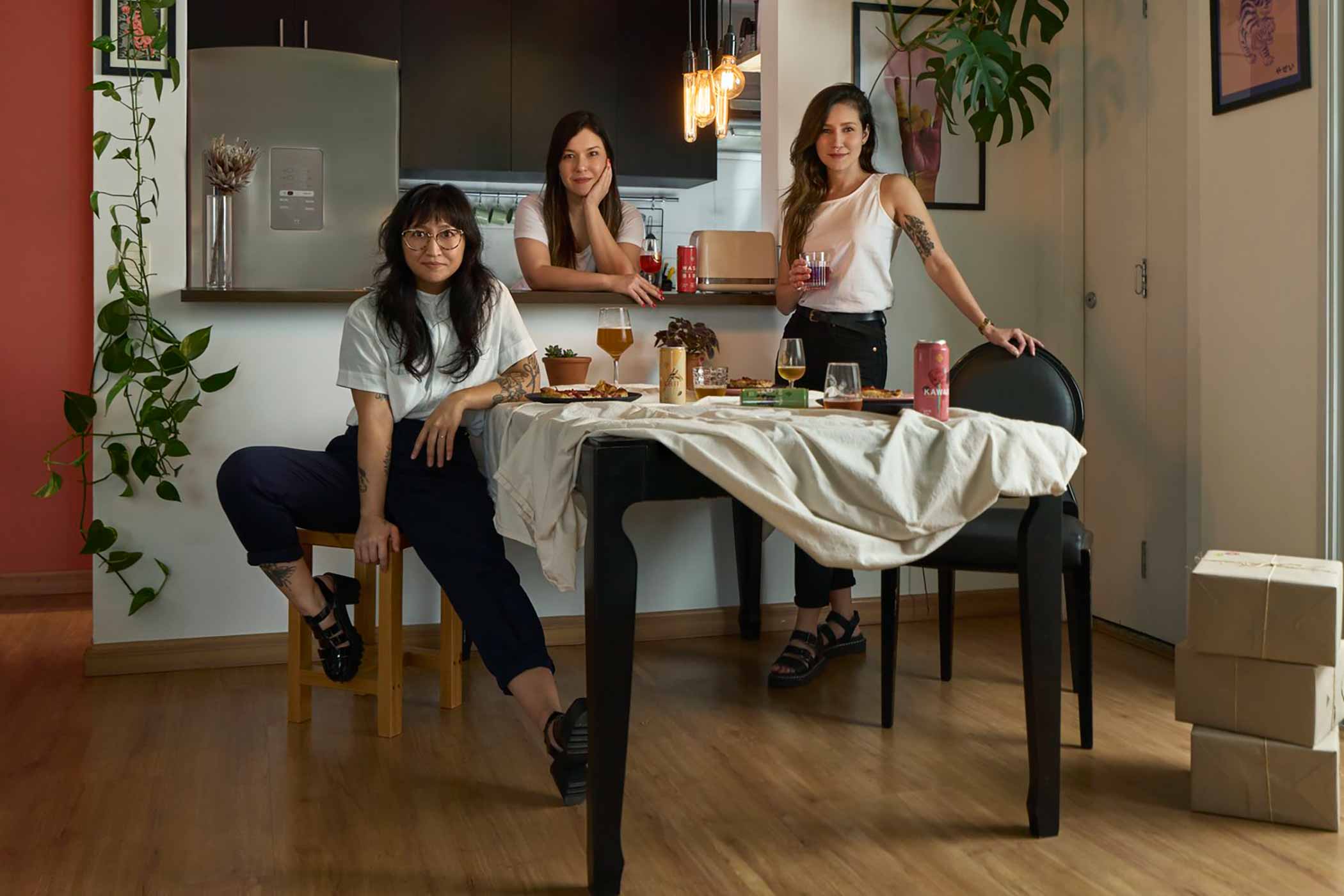 Photography courtesy of Bruno Fujii | Japas Cervejaria
Stop us if you've heard this story before: A couple of white guys decide to quit their day job in finance to pursue their love of homebrewing full time, opening up a brewery. At risk of falling into a casual fallacy, you could probably [insert many an American craft brewery here].
Which is why we love Japas Cervejaria.
Because these three Brazilian-born women of Japanese descent represent the new frontier of craft beer. One with limitless possibilities. One where beer can not only be a passport into one's heritage, but also a kaleidoscope of stories woven together into a quilt of craft beers.
Funny, because isn't that supposed to be a version of the classic American dream?
Which is why we were excited to hear that the women behind this São Paulo-based brewery kicked off a whirlwind tour of the United States, bringing their iconic brand with all its stories and culture to our backyard.
For the first time, all three traveled together from coast to coast, stopping in major cities such as New York and the Bay Area in California to participate in pop-ups, beer collaborations, fireside chats, and beer dinners.
"Our role is to raise awareness not only for our empowerment within feminism and Asian causes, but also to embrace all kinds of diversity that are often excluded," says Yumi Shimada, one of the co-founders of Japas Cervejaria, in a press release. "Because we are women and Japanese- descendants in a world of white and male dominance, it is more important than ever to show that representation matters."
For the all-female, Brazilian-Japanese brand, it's a chance to share their beers, stories, and culture with the United States and beyond.
After all, beer, stories, and culture brought this trio together.
Connecting Culture Through Craft Beer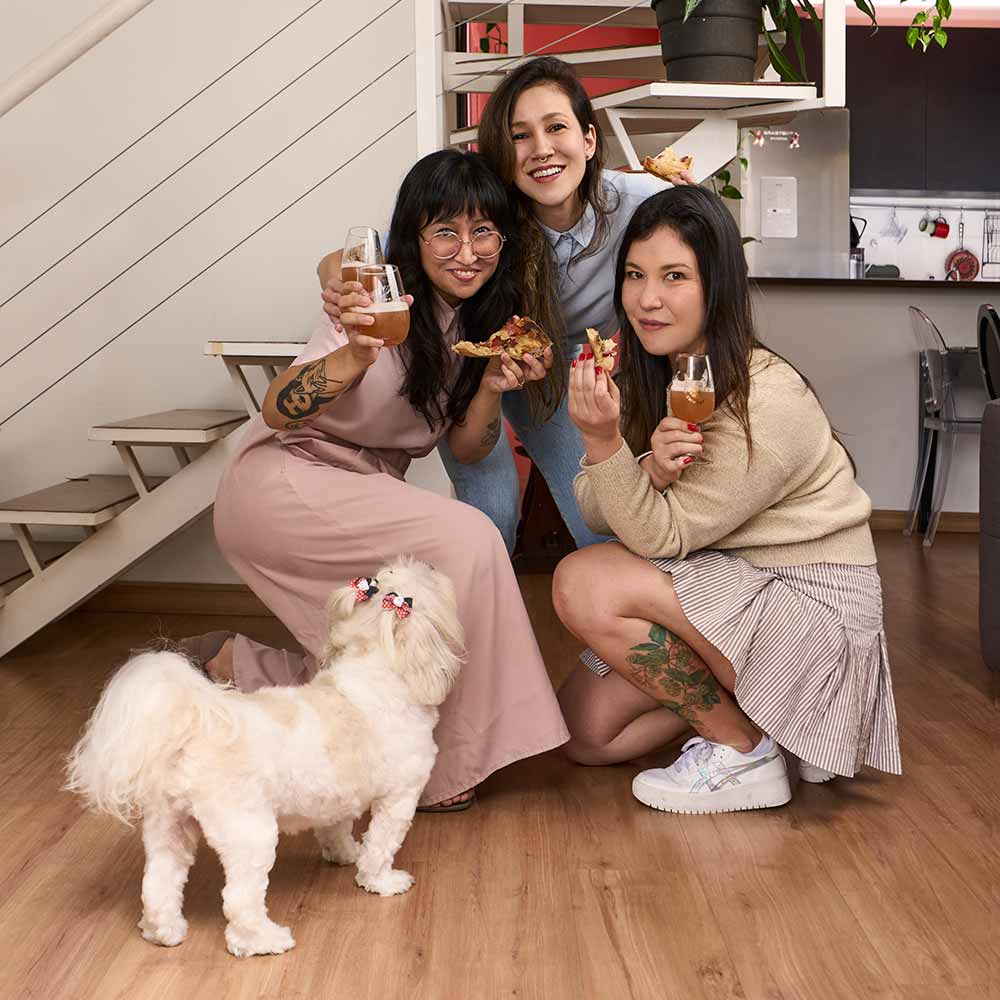 Japas Cervejaria Co-Founders Maíra Kimura, Fernanda Ueno, and Yumi Shimada first met through the Brazilian beer industry.
But as Nipo-Brazilians or Brazilian-born individuals with Japanese ancestry, they bonded over their shared heritage.
"We grew in different levels of interaction with the Japanese parts of our family," says Ueno, who serves as co-founder and brewer at Japas, noting that Kimura's family probably observed more Japanese traditions than her or Shimada's families.
For instance, although Kimura used to speak Japanese with her grandmother as a kid, Ueno and Shimada did not speak Japanese at all.
And while Ueno recalls dancing in her Japanese community in her hometown, Shimada says that her family did not necessarily keep any ties to her Japanese culture.
For that reason, Japas became a way for all three to more deeply relate with their own legacy.
"It was a great way to connect us with our families and to find out more about our past," says Ueno. "We've gotten closer since we started."
Tracing History From Ships to Suds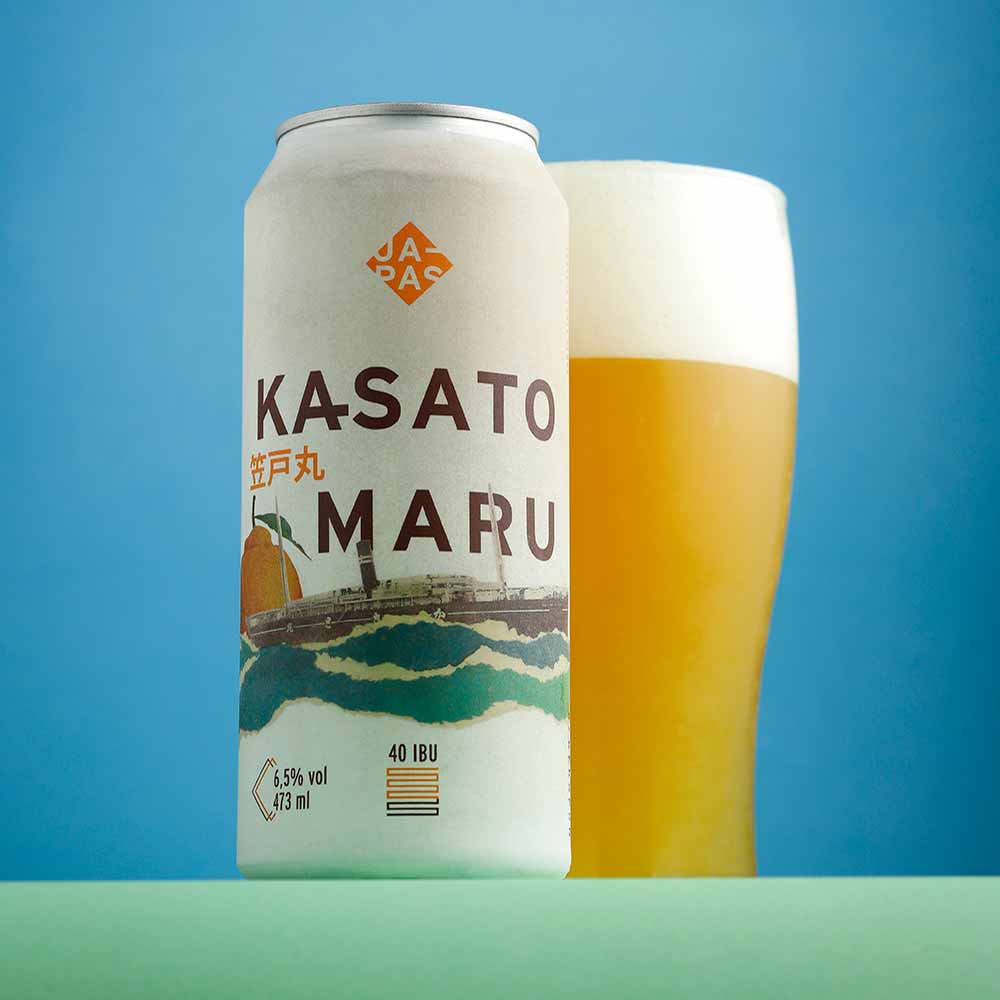 Japas Cervejaria strives to weave a thread of ancestry into every beer.
"It's very good for us to learn and to share our history with people," says Shimada, who, as creative director, designs all of the branding for Japas. For each beer, the label or recipe has some history.
For example, Kasato Maru, a New England-style IPA named after the very first ship that brought Japanese immigrants to the port of Santos, south of São Paulo in 1908.
In fact, Brazil is actually home to the largest Japanese population outside of Japan.
And although none of the trios' families came over on the Kasato Maru, each traced their own lineage back to specific ships, tracking down the original documents showing the names of their families.
And brewing beers in honor of each.
Like Sanuki Maru, a hazy IPA with the Japanese citrus fruit yuzu, named after the ship that brought Kimura's family to Brazil in 1919.
And Rio De Janeiro Maru, an imperial NEIPA christened after the vessel that brought Ueno and Shimada's families to this South American country.
"Through Japas we got deeply connected with our ancestry and we got to know our past better. It also connected us more with our families as our lineage and history are proudly showcased in the beer," says Kimura, who also serves as a brewer and business strategist for Japas, in a press release. "Through this process of beer-making, we learn about ourselves and about Japanese culture every day."
But Kimura, Ueno, and Shimada are telling more than just stories with beer, they're also showcasing unique Japanese and Brazilian ingredients.
And sometimes, poetically, they're harmoniously marrying both.
Wasabi, Yuzu, Jasmine Petals, Cacao Fruit, and More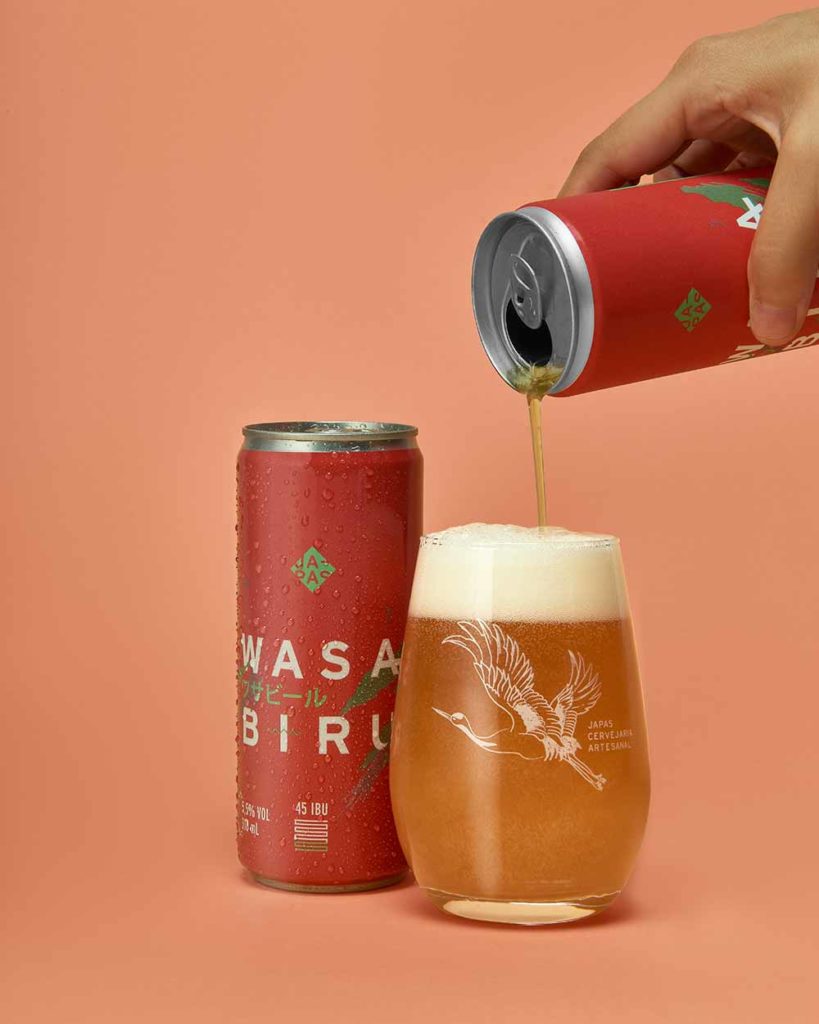 When Japas Cervejaria launched in 2014 their very first beer included a very unique ingredient—wasabi.
Wasabiru, an American pale ale with wasabi, put the brewery on the map. But in the last eight years Japas has plotted a path through uncharted waters.
In some beers Ueno and Kimura include Brazilian ingredients.
And in some they use Japanese ones.
Such as Matsurika, a bohemian pilsner with jasmine flowers that Kimura says is the brewery's best seller in every market.
"This beer has a history for all of us because we've all been to Japan where we drank jasmine [tea] all the time because it's so popular there," says Kimura. "We all became obsessed with it because it's so good and it translated well in a beer."
Now Kimura and Ueno have plans to create a line of beers melding Brazilian and Japanese ingredients, a harmonious symbol of the entire brewery.
The first in the series called Ichi Um—Ichi means one in Japanese and Um means one in Portuguese—will be a New England-style IPA highlighting yuzu with the fruit of the cacao, an ingredient native to Brazil.
Creating each beer brings the Japas co-founders closer to their country, whether that's Brazil or Japan. And opens up the opportunity for drinkers to learn more about ingredients they may not be familiar with.
"People don't know here, they think [cacao] has something to do with chocolate," says Kimura who says the fruit is actually the white pulp around the cacao beans inside the pod.
But perhaps most importantly, Kimura, Ueno, and Shimada are pushing the vanguard of the craft beer industry the world over.
Breaking Through Boundaries in Craft Beer in Brazil and Abroad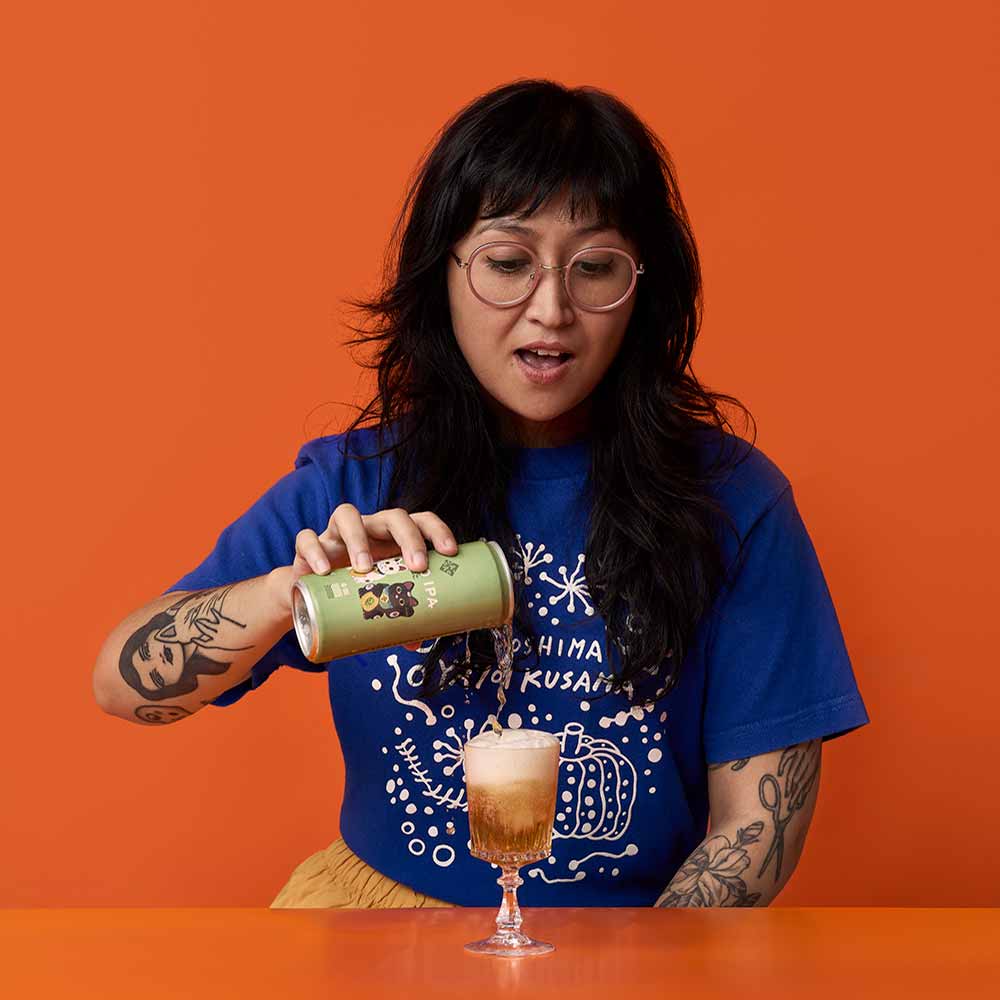 Starting an all-female brewery hasn't always been easy. But Kimura, Ueno, and Shimada have persevered through challenges and misconceptions.
Both Kimura and Ueno have been brewing for over ten years, yet people still mistake them for the face of the brewery.
Or will only reach out to the brewery to work together in March around International Women's Day.
"The worst is when people call us to do collabs only in March and then forget about us the rest of the year," says Shimada.
Kimura agrees, "I don't want to be used."
It's a feeling that sticks because all three have worked very hard to build their careers in beer.
"We know a lot of things, we're technical, we studied a lot, more than most men!" exclaims Kimura, who notes that even when she or the other two are invited to speak at conferences it always goes back to what it's like to be a woman in the industry. "It's important to talk about, but c'mon, we're brewers and Yumi is a world-renowned designer, so let's talk about beer, business, or something else."
Luckily, Japas had plenty of opportunities to talk about their beer and brand during their tour of the United States.
Japas Cervejaria Brings Beer to the United States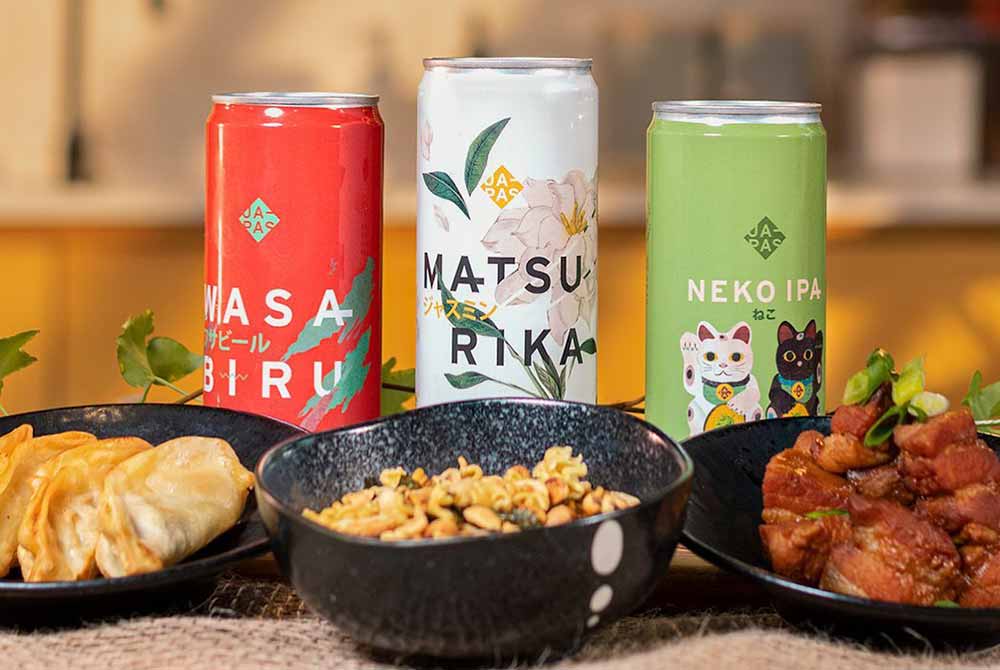 Although this summer marked the first time that all three Japas Cervejaria Co-Founders traveled to America together, their beers have been distributed in the U.S. for about four years.
Thanks to the efforts of another woman-owned business called Beerternational.
Started by Israeli-born Pooah Alon, Beerternational brings international beer brands to the United States.
Alon actually met Kimura at a French class in Paris back in 2010. "We spent a lot of time in beer bars just enjoying all these great beers," says Alon. "Enjoying beer was one of the things that connected us."
Years later the two crossed paths again thanks to beer, reconnecting at the Extreme Beer Festival in Boston in 2017, where Kimura told Alon about Japas Cervejaria.
"I just loved everything about it, the story, that it's women owned, the labels, the beer, everything," says Alon. "It was one of those things that later you remember was a profound moment in your life without realizing it."
So when Alon launched Beerternational in 2018, Kimura was one of her first calls.
"I love saying it and Japas has heard it a million times, but for me it is the most Beerternational story ever," says Alon. "I'm Israeli; Maira, Yumi, and Fernanda are Brazilians; we had an international connection in France and the beers are Brazilian inspired and we're brewing them in the U.S. It's as Beerternational as it gets."
Today, Beerternational helps distribute Japas' beers in 10 states including: CA, FL, MA, ME, MI, NY, RI, OR, PA, and WI, with plans to expand to South Carolina and Texas soon.
The Japas Cervejaria Trio Travels Together to the United States for the First Time
But even with a countrywide presence, Kimura, Ueno, and Shimada have never traveled together to represent Japas in the United States.
Until now.
For the past month, the ladies of Japas have gone from coast to coast, visiting select bars and breweries in cities such as Boston, New York City, Louisville, and the Bay Area.
It's an incredible opportunity for all three to showcase Japas beers, but also to tell their story and showcase their overall brand.
"Our brand is so much more than beer," says Shimada. "Our brand is out of the box and we can create all these things together because the big concept is the Brazilian-Japanese background."
Beyond Beer: New Quirky Merch and Out-of-the-Box Collabs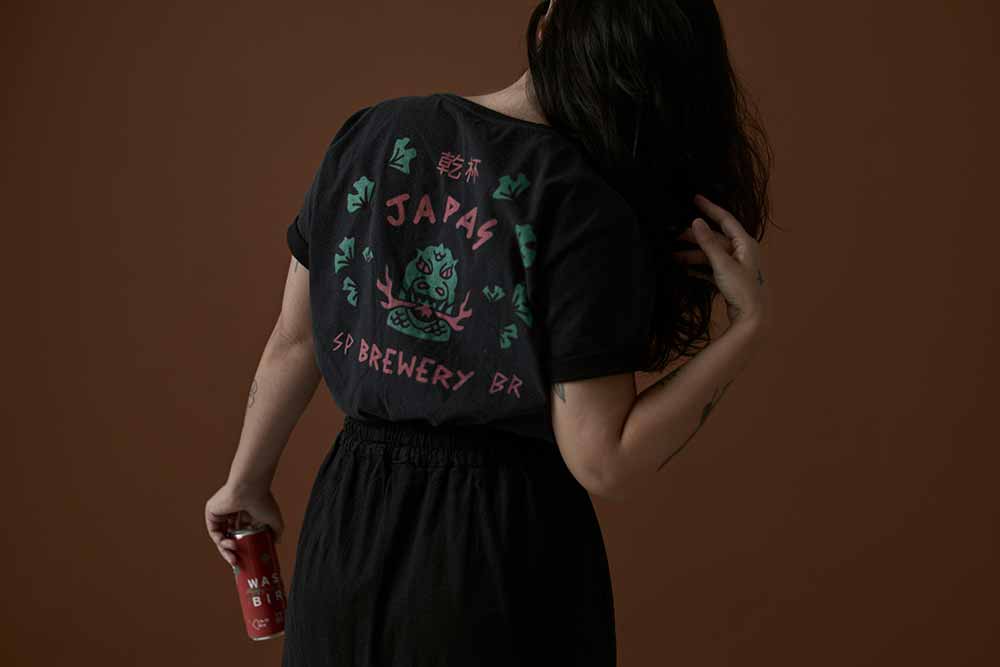 First and foremost, beer is what brought all three ladies together. And it has certainly cemented their friendship and bonds over the years.
But Japas Cervejaria means more than just beer.
For instance, Japas Cervejaria launched a merch brand called Arigatou by Japas in Brazil. And they plan to bring it to the United States soon. The fun series of shirts, beanies, caps, pins, and posters include vibrant, colorful characters like the Gojaira. "It's our female Godzilla," says Ueno.
Additionally, they're open to collabs with not only breweries but also other brands that fit with their ethos.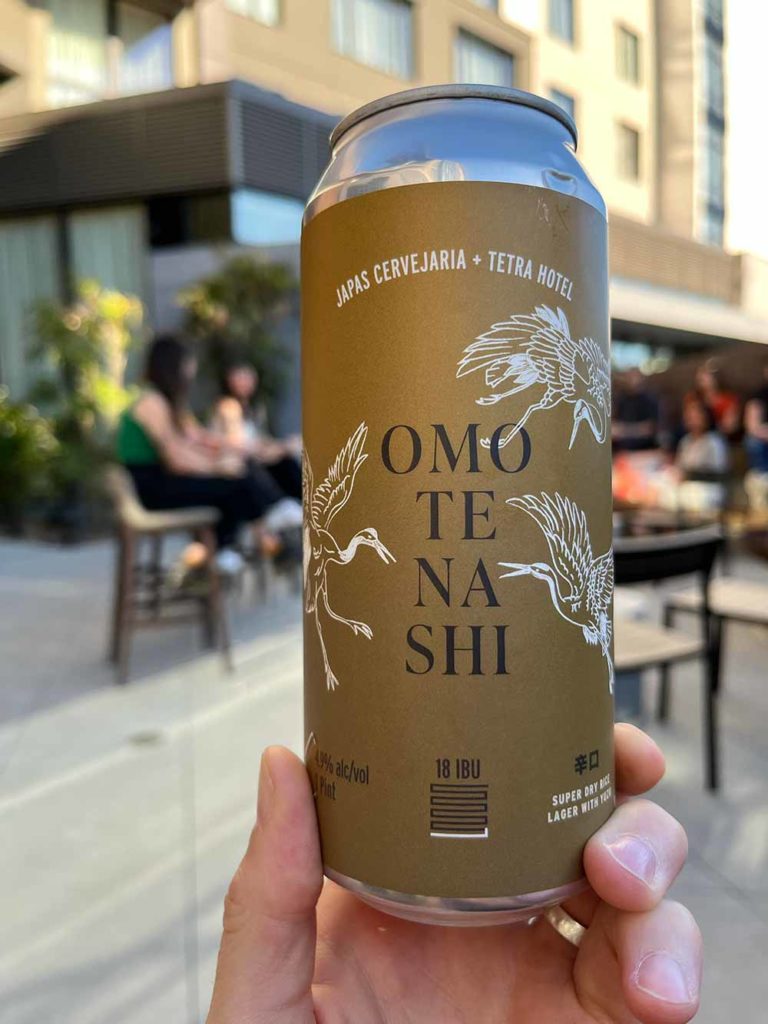 For instance, TETRA Hotel, Autograph Collection, a luxury hotel in the South Bay of California. Along with hosting the ladies for a fireside chat, the hotel teamed up with Japas to host a beer dinner and even create a collab beer.
A super dry rice lager with yuzu, Omotenashi represents one particular level where the two brands clicked—service and hospitality.
In Japanese culture the word Omotenashi is a mindset translating hospitality into a complete experience.
"It's like serving and caring," says Ueno. "It's pretty much what we like doing with our beers. We think about everything: how people will feel tasting it, so we tell the story, we really do care about each thing we are creating and that connects really well with TETRA because they are really focused on hospitality and serving and receiving people well. It was a good match."
The Future of Japas Cervejaria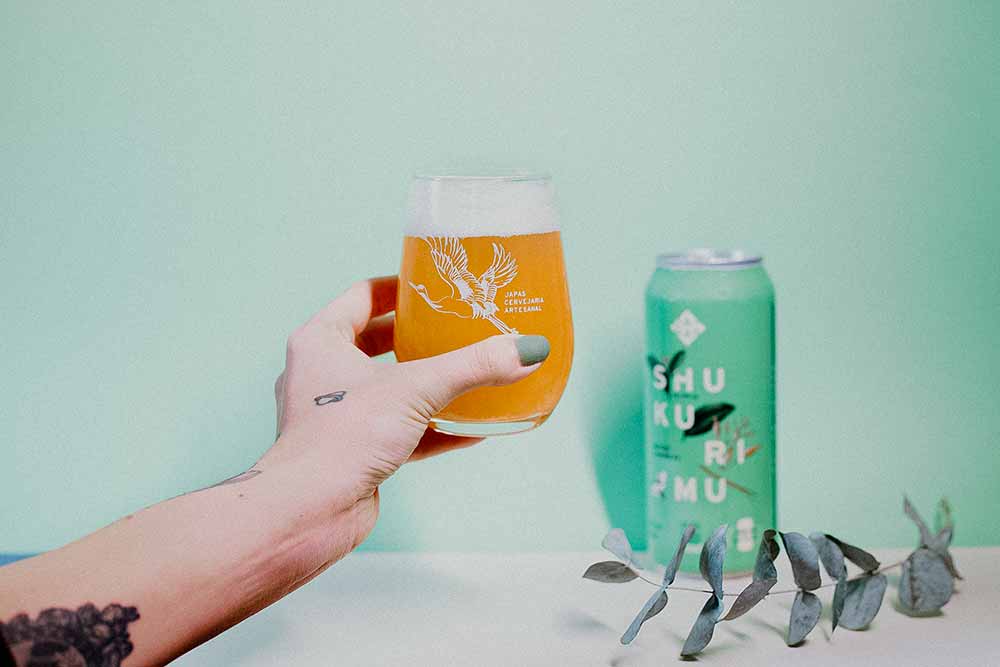 The future for Japas Cervejaria will stretch as far as Kimura, Ueno, and Shimada's imagination.
When asked about what's next for the brewery, all three beam with anticipation and excitement.
Kimura eagerly mentions a brick-and-mortar taproom one day.
While Ueno chats about bringing a fair featuring different craft producers of all kinds—beer, art, other beverages—of Japanese descent to the States.
And Shimada perhaps puts it best by simply saying, "We have a big presentation with many, many ideas!"
It's that melting pot of creativity that will continue to drive Japas Cervejaria forward.
Expect big things from these three ladies in the future, but for now enjoy their thought-provoking, offbeat beers. And truly listen to the story each one tells.
Because when you open up a Japas Cervejaria can, you're unlocking a little bit of herstory and heritage.
Where Can I Find Japas Cervejaria Right Now?
You can find Japas Cervejaria's beers in ten states including: CA, FL, MA, ME, MI, NY, RI, OR, PA, and WI, with plans to expand to South Carolina and Texas soon.
To find a Japas Cervejaria beer, visit the brewery's "Find Japas Beers Near You" page on Beerternational.