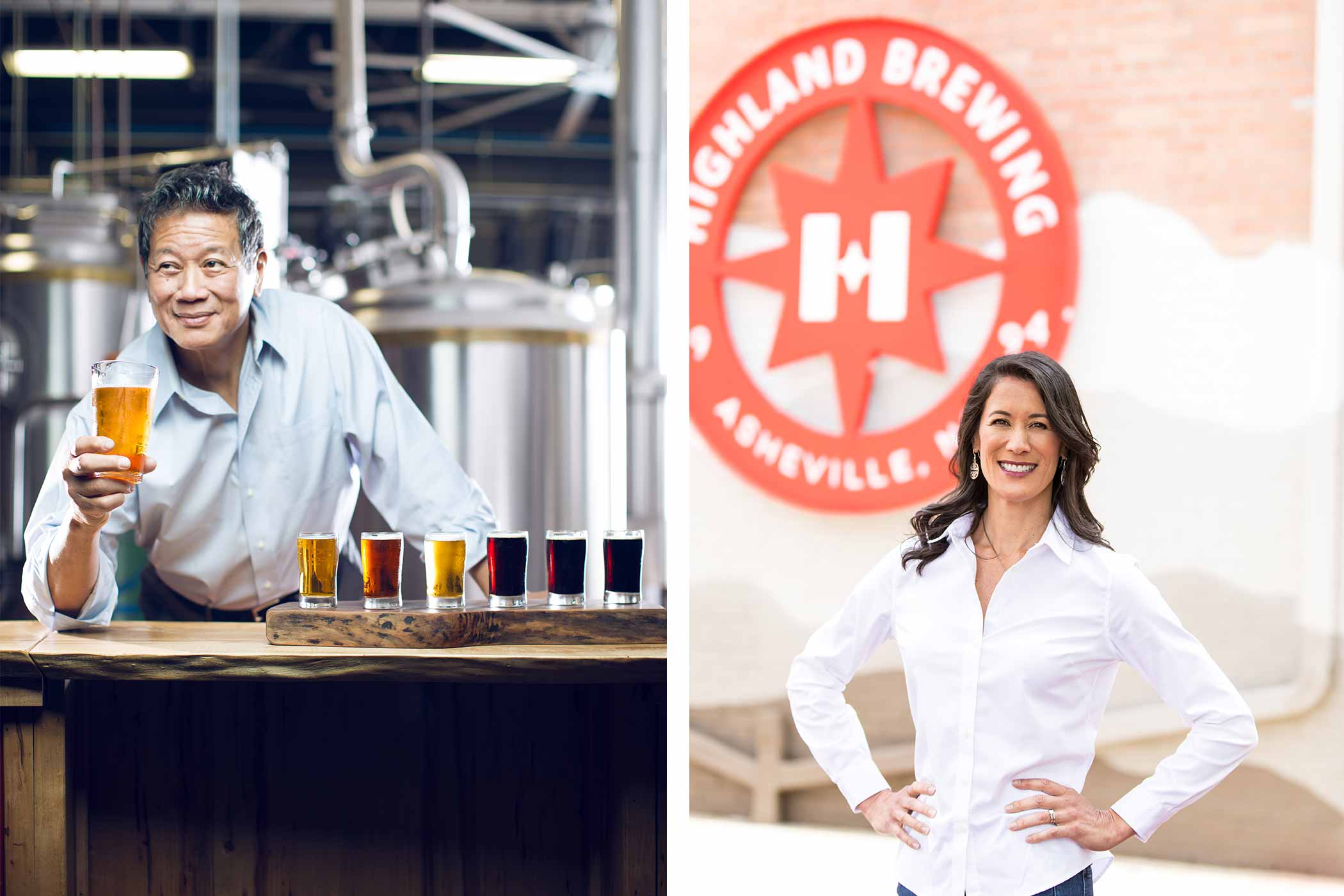 Photos Courtesy of Highland Brewing
When Oscar Wong left Jamaica, where his parents had immigrated from China, to attend Notre Dame at eighteen years old, he never imagined he would one day open a brewery. But in 1994, the then-retired mechanical engineer did just that, launching Highland Brewing in Asheville, NC. At the time, Highland was the first legal brewery in Asheville since Prohibition and certainly one of the only AAPI-owned breweries in the area (if not the only).
Over the last three decades the brewery has thrived, growing into the largest brewery in North Carolina.
And yet overall, Asian representation has remained low in craft beer, a predominantly white industry.
An owners demographic survey completed by the Brewers Association last year found that only two percent of craft breweries are Asian owned (without breaking down the category further into, say, South Asian-owned breweries or Korean-owned breweries).
Breweries like Highland Brewing or San Francisco-based Barebottle Brewing Company, co-founded by Lester Koga in 2016.
Or Drunk Fruit hard seltzer started by Asian-Americans Steven Tang and Kenn Miller that focuses exclusively on bringing Asian ingredients into American drinking culture.
All represent a small, but mighty contingent of AAPI-owned beverage businesses making their mark in the United States.
But in this country in particular, the past couple years have been extremely challenging for the Asian American Pacific Islander (AAPI) community. In addition to battling the challenges of a worldwide pandemic, Asian-owned businesses also had to contend with an exponential rise in hate crimes. The Center for the Study of Hate and Extremism reported that anti-Asian hate crime increased by 339 percent last year compared to the year before.
"It has always been my mantra at the company that challenges will continue to happen, but finding opportunities in those challenges will have us come out ahead, stronger for it," says Leah Wong Ashburn, Oscar's daughter, who took over as president of Highland Brewing in 2015. "We've had the chance to flex a new muscle we didn't know we had, find a new path to success, and diversify the brewery while remaining true to ourselves."
For an AAPI business owner, it's an incredibly optimistic approach considering the hurdles of the past few years.
During all of May we celebrate Asian American and Pacific Islander Heritage month, so now more than ever the AAPI community needs our support.
Which begs the question: What more can we do as consumers?
How to Support AAPI-Owned Businesses Right Now
There are many ways that you can show solidarity.
You can attend bystander intervention training from organizations like Safe Bars and Right To Be (formerly Hollaback!) that teaches you how to respond and intervene if you see harassment happening. On a personal note, my wife is Korean, so I went to workshops from both of these organizations to feel better prepared to handle a situation that might arise.
You can make it a priority to stand up for your AAPI coworkers and friends by stopping inappropriate jokes in their tracks.
You can educate yourself on the history of oppression against the AAPI community in the United States, so you can dispel hurtful stereotypes and #StopAsianHate.
For our part, since we are a craft beer magazine, we encourage you to support these AAPI-owned breweries and beverage brands that have been rocked by the global pandemic along with rising hate crimes.
Buying products from these AAPI-owned businesses will directly benefit owners and build solidarity in the community.
Certainly go out and buy these brands now and continue to support them way past these thirty-one days. But beyond that, consider Asian American and Pacific Islander Heritage month a perfect time to learn about these AAPI-owned breweries and beverage businesses.
Opening an AAPI-Owned Business in America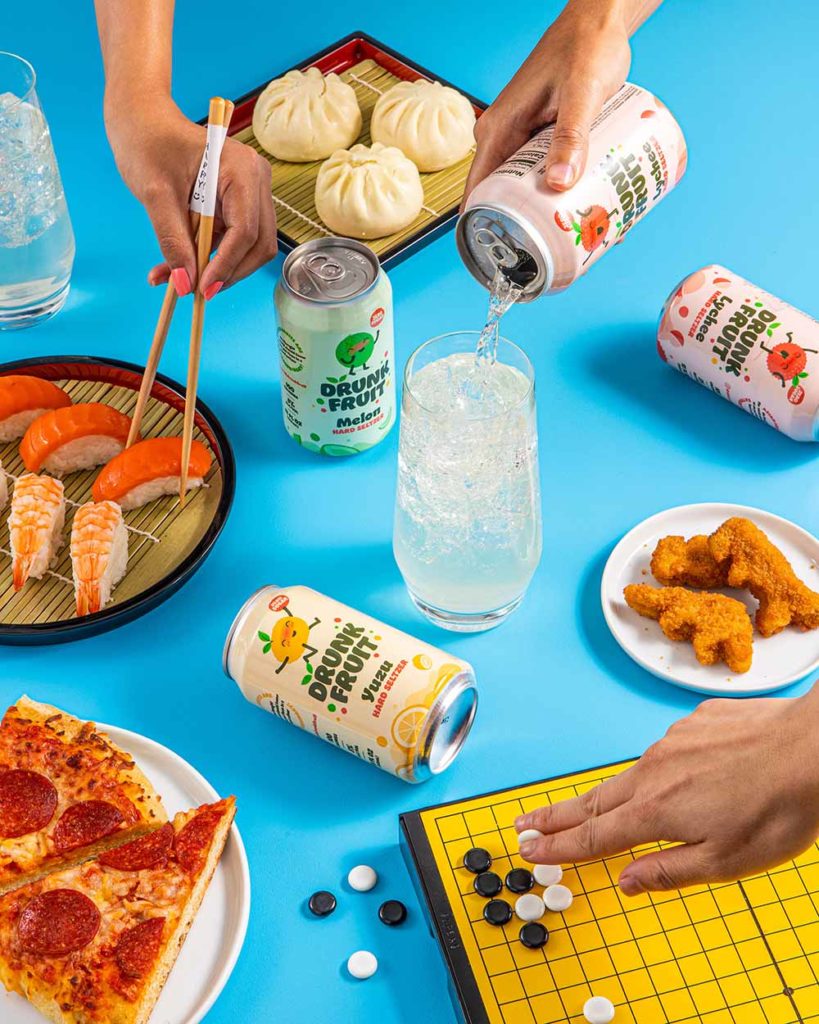 The challenges for minority and Asian-owned businesses have stayed high across all industries, especially in craft beer.
Oftentimes, for minority-owned businesses hurdles abound, including a lack of educational resources and internships and a difficulty finding a loan.
"[Loan officers] are the gatekeepers who will pass your application onto the next step," says Koga. "When we've been successful getting SBA funds or loans, a lot of the loan officers were minorities…either Filipino, Middle Eastern, or Mexican. There was so much diversity on that side and that makes a difference…[because] they shared the minority or small business experience."
Koga also believes that launching a business in Northern California, which has a very high Asian population, has helped Barebottle in the long run.
Born in LA and raised in Fresno, Koga went to undergraduate school at Berkeley before eventually starting a brewery in San Francisco.
"Opening here in the Bay Area maybe because there is a larger Asian and ethnic population, I didn't experience anything overt at all," says Koga. "That's fortunate. I've never (knock on wood) had to experience it that much… But I'm not saying that's the average experience."
Tang notes that his Asian identity has actually been a strength for the Drunk Fruit brand, helping differentiate the business in a crowded industry.
Miller and Tang, along with their friends William Zeng and John Zhang, created Drunk Fruit as a way to express their culture and share Asian ingredients with American drinkers.
"There was a lack of representative flavor profiles in the alcohol segment here in the U.S," says Miller, who actually came up with the idea for Drunk Fruit while on his honeymoon in Japan. "We started Drunk Fruit as a means to help showcase these flavors and hard seltzer was our way to introduce this as a cross-culture experience with a twist."
The brands first three flavors: Lychee, Yuzu, and Melon all represent classic Asian fruits.
"Alcohol for us has always been a way to bring people together and a very important part of the social fabric in the U.S," says Tang. "People are engaging with and trying these flavors for the first time through hard seltzer…this makes our culture normal and cool through the drinking culture of the U.S. It's a way to get ourselves out there as an Asian American population."
According to Tang, distributors and retailers were excited to work with Drunk Fruit because the brand could tap into an Asian American audience. "If we can build trust with them and they see us as a voice that represents Asian Americans that become a strength for us during retailer and distributor conversations."
Running an AAPI-Owned Business Over the Past Couple Years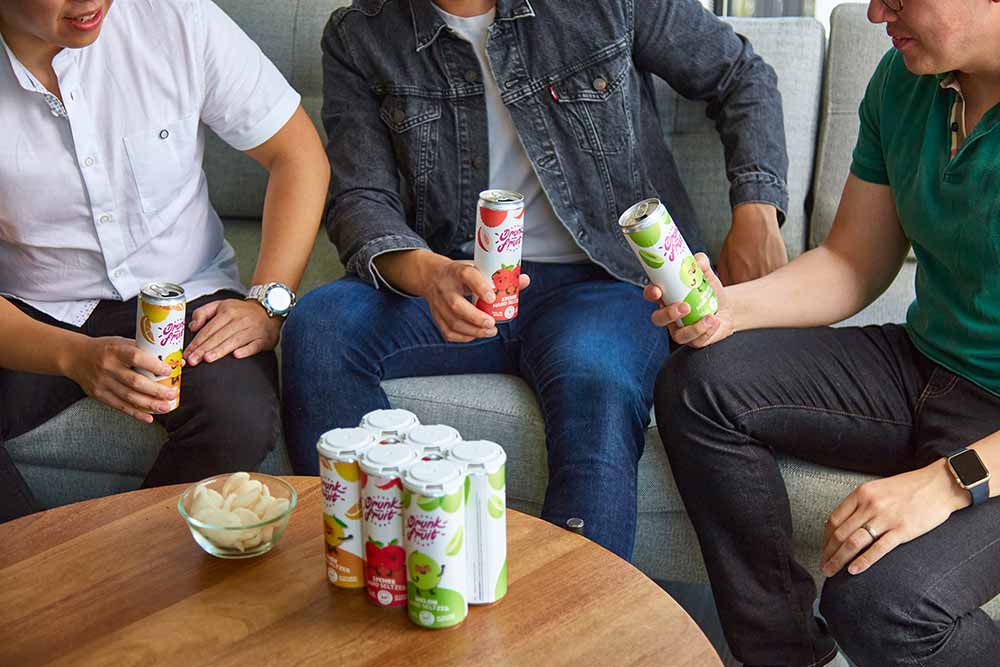 With a huge uptick in AAPI-discrimination and hate crimes, the past couple of years have not been easy for AAPI-owned businesses.
But here again Tang and Miller have managed to find a silver lining.
"We all know about the terrible crimes in our community…on the positive it's bringing the Asian community closer together toward share goals," says Tang. For example, Drunk Fruit participated in a box featuring Asian alcohol producers created by Hi-Lo Liquor in Los Angeles. Through that initiative Tang and Miller met other Asian founders and were able to bring more attention to these instances of discrimination. Plus, all of the proceeds from sales of the box went to anti AAPI-hate causes. "It's actually brought us closer together, helped us meet other founders that care about this, and brought more attention to discrimination against Asian Americans," says Tang.
On the other side of the country, Leah notes that at Highland Brewing her and her dad have been lucky to avoid any instances of outright racism.
When Highland Brewing first opened in the mid-'90s, Leah attributed that to her dad's personality. "For someone who has so much charisma and genuine love of people he has found fewer challenges than a lot of folks," says Leah. "He is in love with this country, as imperfect as it is, because it gave him a place to get an education, start a family, and start two businesses. He led what he calls a charmed life."
Even more recently, during a rise in anti-Asian hate crimes across the country, Leah says she has been very lucky to be a part of a community that has accepted and encouraged her.
"I feel so disconnected to what I saw on the screen because it felt really far away," says Leah. "It's hard for me to admit…but I don't get that reception here. I feel very fortunate."
But overall, Tang, Miller, Koga, and Leah are all highly aware of the racial discrepancy in the industry for all minorities. And each want to change the narrative in their own ways.
"We love to joke that the craft beer industry is still the white, bearded flannel dude," says Koga. "But it's something we're working on…making diversity a core component of what we do."
Call it an unbalanced scale that these AAPI business owners are trying to fix.
Starting Uncomfortable Conversations Can Change the Craft Beer Industry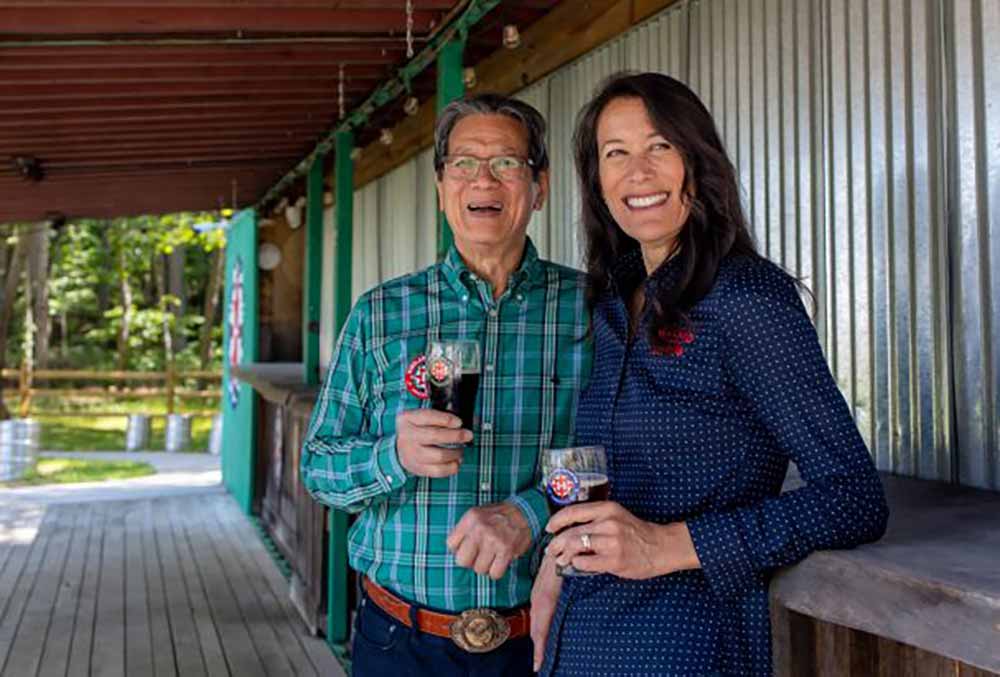 "Craft beer for a long time has gotten the benefit of the doubt," says Koga. "It's been an old boys club, a very white-dominated industry with not a lot of criticism fired at craft breweries, but now it's coming to the forefront."
Koga continues, "It's good. There has to be a catalyst for change in order for change to happen."
For Koga, that change starts with a conversation.
"These are uncomfortable conversations to have, they're not easy conversations…but at the same time, these are conversations that have to be had…to be able to make a difference," says Koga.
Similarly at Highland Brewing, conversations have been at the forefront of Leah's mind. "There have been hate crimes against every marginalized group, and so my awareness of that has been raised for the past couple years and has led me to do a lot of listening, a lot of asking questions, and a lot of educational experiences for me, the staff at Highland Brewing, and for my family."
For example, Leah reached out to Dr. Nikol J. Beckham, founder of Crafted for All and Craft x EDU, a nonprofit whose mission is to champion equity, inclusion, and justice in the craft brewing community, and asked her to come speak to her team. "I felt the call to do something," says Leah. "I wanted to give our staff that opportunity."
Beyond starting a conversation, both Leah and Koga believe direct actions also need to happen.
Beyond Conversation, AAPI-Owned Breweries Take Direct Action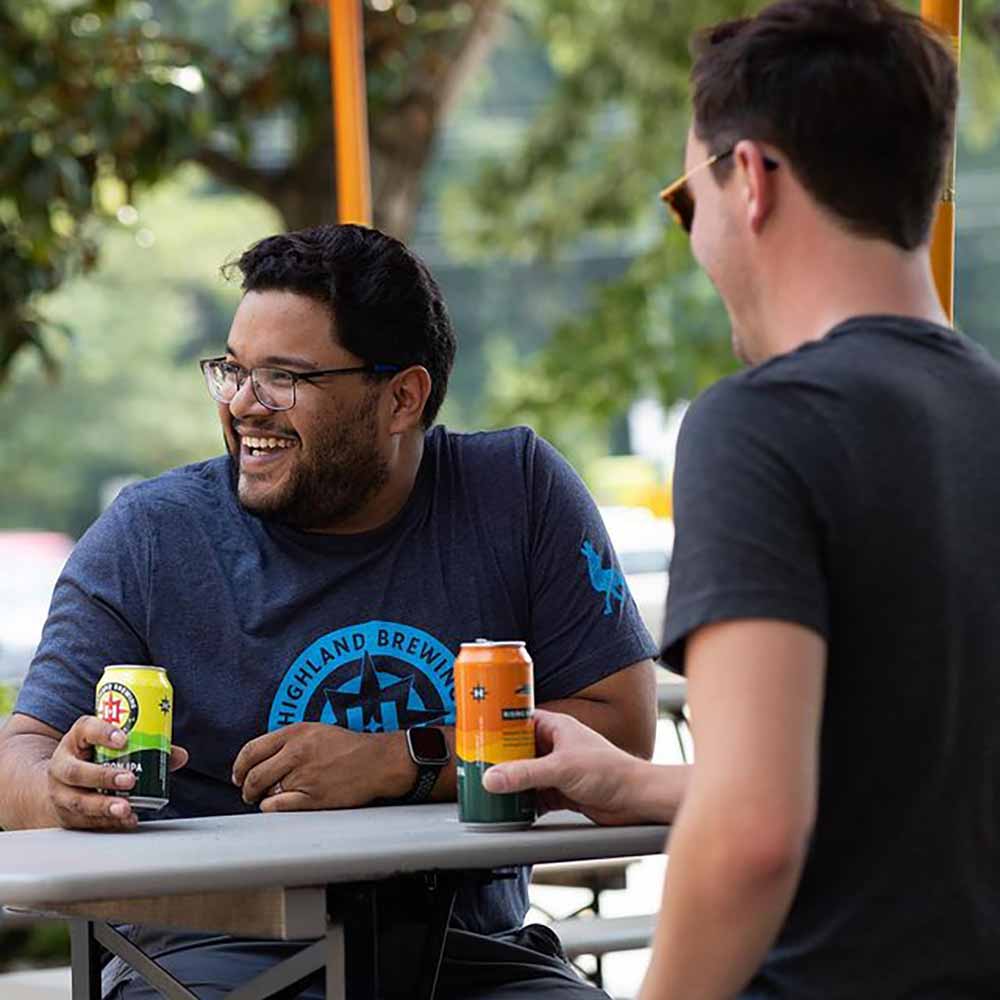 At Highland Brewing, Leah says they've completely re-hauled their marketing efforts, showing who they want to be at the brewery as opposed to only showing who is already there. "By learning and asking how do we encourage more People of Color to come to Highland, we were told it's okay to show People of Color at Highland even though there are not that many right now."
Additionally, Leah took ten of her staff members on the Hood Tour, a guided walk from a local guy named Dwayne Barton that goes through a traditionally black neighborhood in Asheville, showing what life is like in the community.
"We all need to keep learning since this has been such a white male industry for such a long time in the United States," says Leah, who believes associations and local guilds will be crucial to helping breweries with fewer resources access educational resources such as Dr. J. "Our focus is going deep versus wide that encapsulates what we do."
Which is exactly what Koga is striving for internally at both Barebottle and the Bay Area Brewers Guild (where Koga sits on the board). They've been working on creating a diversity scholarship for the Master Brewers School at U.C. Davis called Pour It Forward.
"That's one of the major challenges the industry faces is how can someone get into brewing for the first time," says Koga. "How do we tackle that problem of getting more diversity on the brewing side?"
Providing more educational resources is a start because more diverse brewers will lead to more diverse beers and beverages. Ones that can help show one's own customs and help educate consumers.
Drunk Fruit Introduce Consumers to Asian Heritage and Traditions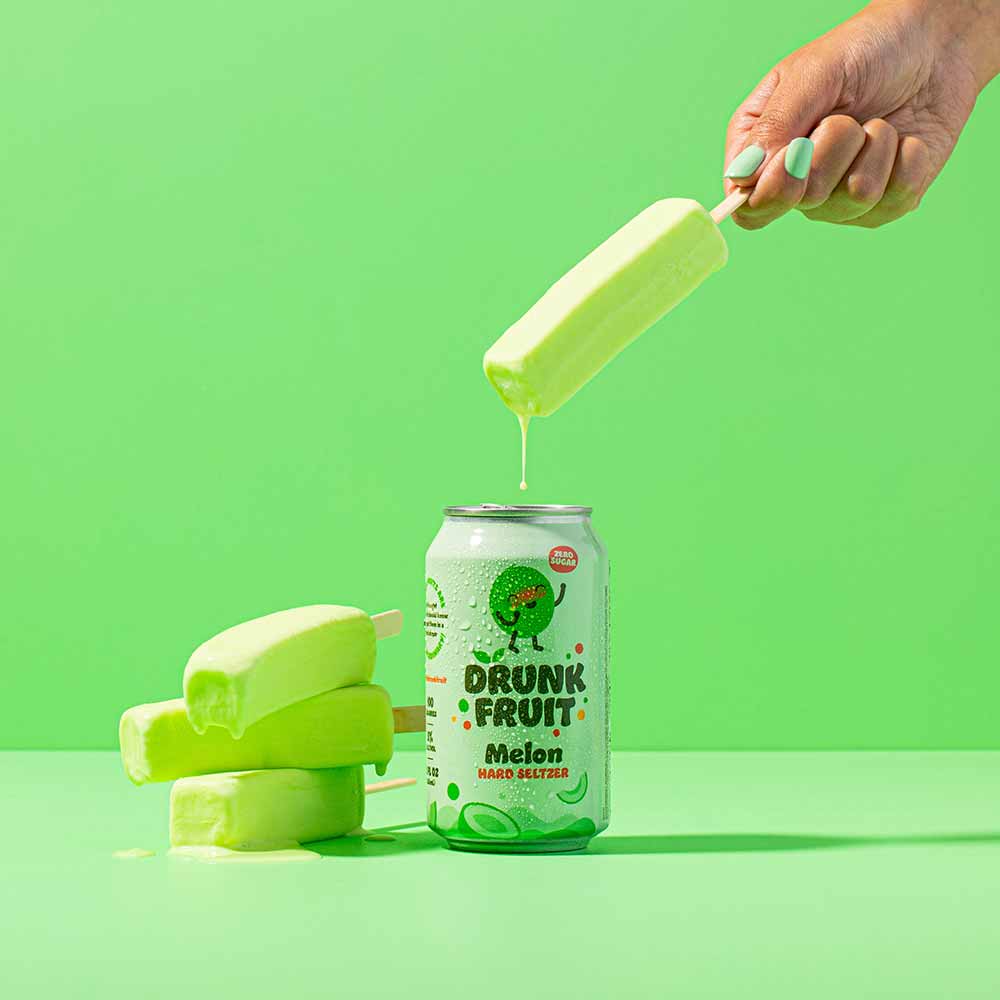 Drunk Fruit, Barebottle, and Highland Brewing have all found unique ways to showcase their own traditions and ingredients through beer.
At Drunk Fruit, it starts right off the bat with the name and the packaging. Sporting cute fruits that are glowing, Drunk Fruit's mascots are a tongue and cheek nod to the owner's own backgrounds. "Definitely our labels allude to the more Asian labelling scheme, which is more eye-catching, colorful, and uses cute things," says Tang. "The fruits all have Asian glow, another way to make fun of ourselves a bit…and showcase the fun and lighthearted side of Asian culture."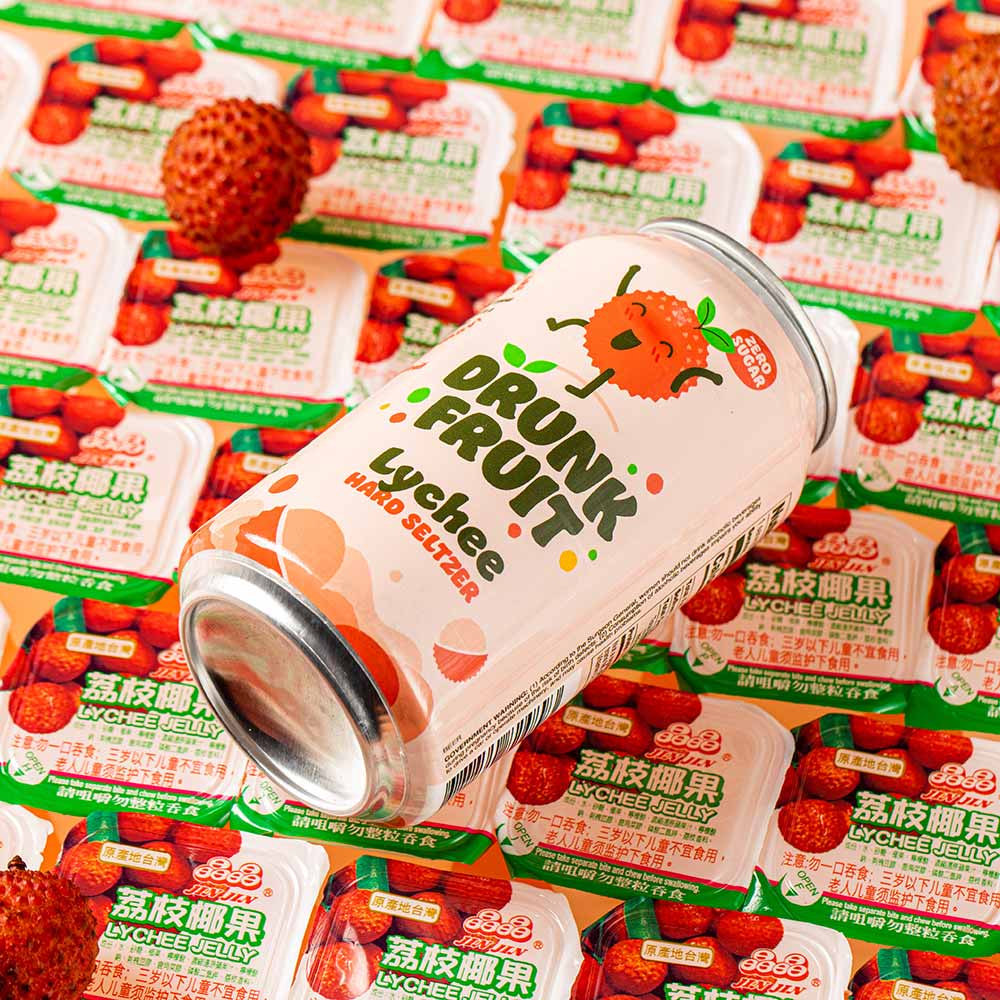 But it's the specific core flavors that bang home Drunk Fruit's mission. Tang and Miller consciously choose the core three flavors—Lychee, Yuzu, and Melon—to represent their Asian heritage.
For instance, Lychee is based on a lychee jelly cup, a popular candy you find in any Asian grocery store. "If you've never had lychee before I describe it as elderflower, floral, and very light and subtle," says Miller.
Similarly, Yuzu is an Asian citrus fruit. "We based this one on a Japanese drink called Ramune which is similar to Japanese Sprite," says Miller. "Think orange mixed with lime, an earthy undertone, and a citrus flavor profile.
Lastly, Melon is a honeydew melon based on a popular popsicle bar called Melona that you can likewise find in many Asian grocery stores.
"If we can normalize our food and culture and help people understand it that goes a long way in reducing discrimination," says Tang. "A lot of other Asians when they were kids there is always the story of bringing lunches to school and people thinking they're weird because they smell different. If we can help make the flavor profiles of say durian or stinky tofu normal here just imagine that!?"
To that end Drunk Fruit will be exploring more flavors such as Asian mango, guava, kalamansi, and persimmon.
Barebottle Introduce Consumers to Asian Heritage and Traditions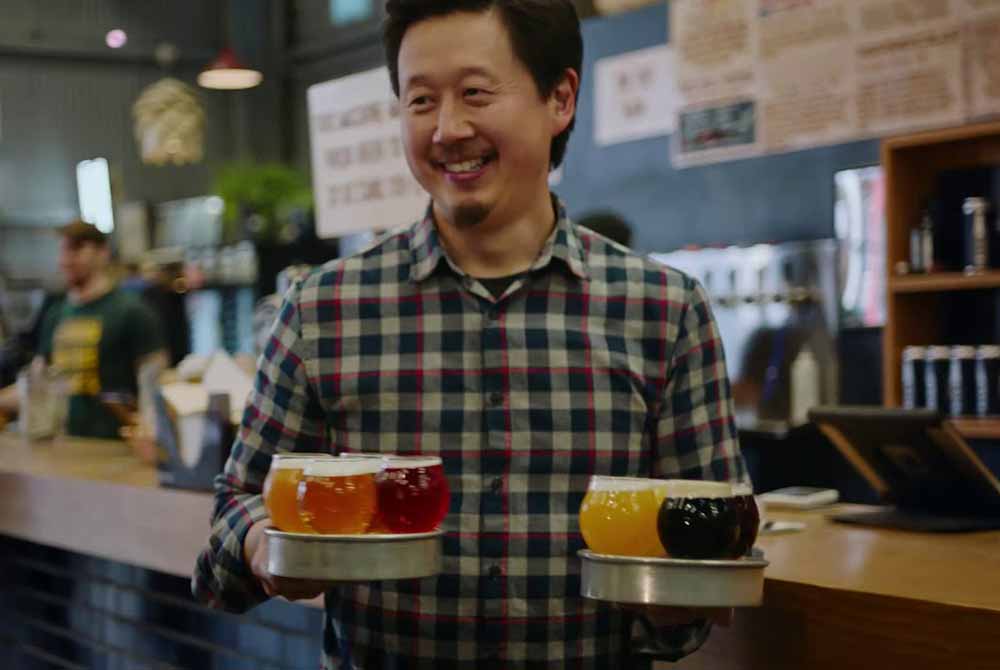 While Barebottle doesn't exclusively brew with Asian ingredients, Koga has enjoyed experimenting with certain Asian flavor profiles.
Koga identifies as Japanese. Both his parents grew up in a post-WWII Japan before immigrating to California.
"I grew up in a cooking household," says Koga. "Most Asian cultures…that's what you do, what your grandparents do, what your parents do, so flavors were always a major component of what I did in my free time."
And that includes beer. "You're making, crafting, cooking, and it's fun to integrate different flavors, especially things that most people don't have a reference point to," says Koga.
Such as with Half Samurai, Barebottle's beer-sake hybrid named after Koga's old Berkeley roommate who was half Japanese and half white (his email handle was halfsamurai@gmail.com).
For the beer, Barebottle collabed with Sequoia Sake, a company owned by Jake Merrick, a white guy who lived in Japan for many years and now makes sake in the Bay Area.
Koga would hang out with Jake, watching him make sake. He became more familiar with the process, which includes cooking rice, adding a mold called koji to the rice that breaks down sugar, and pitching yeast.
Koga noticed that a part of sakemaking led to a leftover slurry—liquid that Jake would simply toss. "I realized we could probably grab that, throw it into the tank, and since there was already yeast and mold cultures in it, there was a good chance it would do something and ferment," says Koga.
Long story short: He was right.
Koga waited for a day when Jake finished making sake, took buckets of that slurry off his hands, and threw it into the fermenter.
"Even to this day it is so easy to remember that smell, the flavors," says Koga. "Miso and all these fermented products from Asia and Japan. It had that bleu cheese, a little bit of that stinky moldy note, but in a very floral, fragrant way with a lot of pear. It was very saisony in the way it drank and the flavor profile, but definitely had a bit of sake note to it."
Another ingredient Koga remembers fondly as a kid—tea—ended up in a beer called Panda Petals.
"We would have tea everyday at home growing up," says Koga. "Tea has always been in my head for a flavor profile that I find really comforting." While studying in China one summer, Koga made it a priority to visit tea shops, eventually discovering Osmanthus oolong tea. Very peachy, the tea captivated Koga, who has been drinking it every single day for the last seven years. "I banked it in the back of my head as a great ingredient to add to something like a beer."
Years later, Koga brought Panda Petals to life, a saison brewed with Osmanthus tea.
Highland Brewing Introduce Consumers to Asian Heritage and Traditions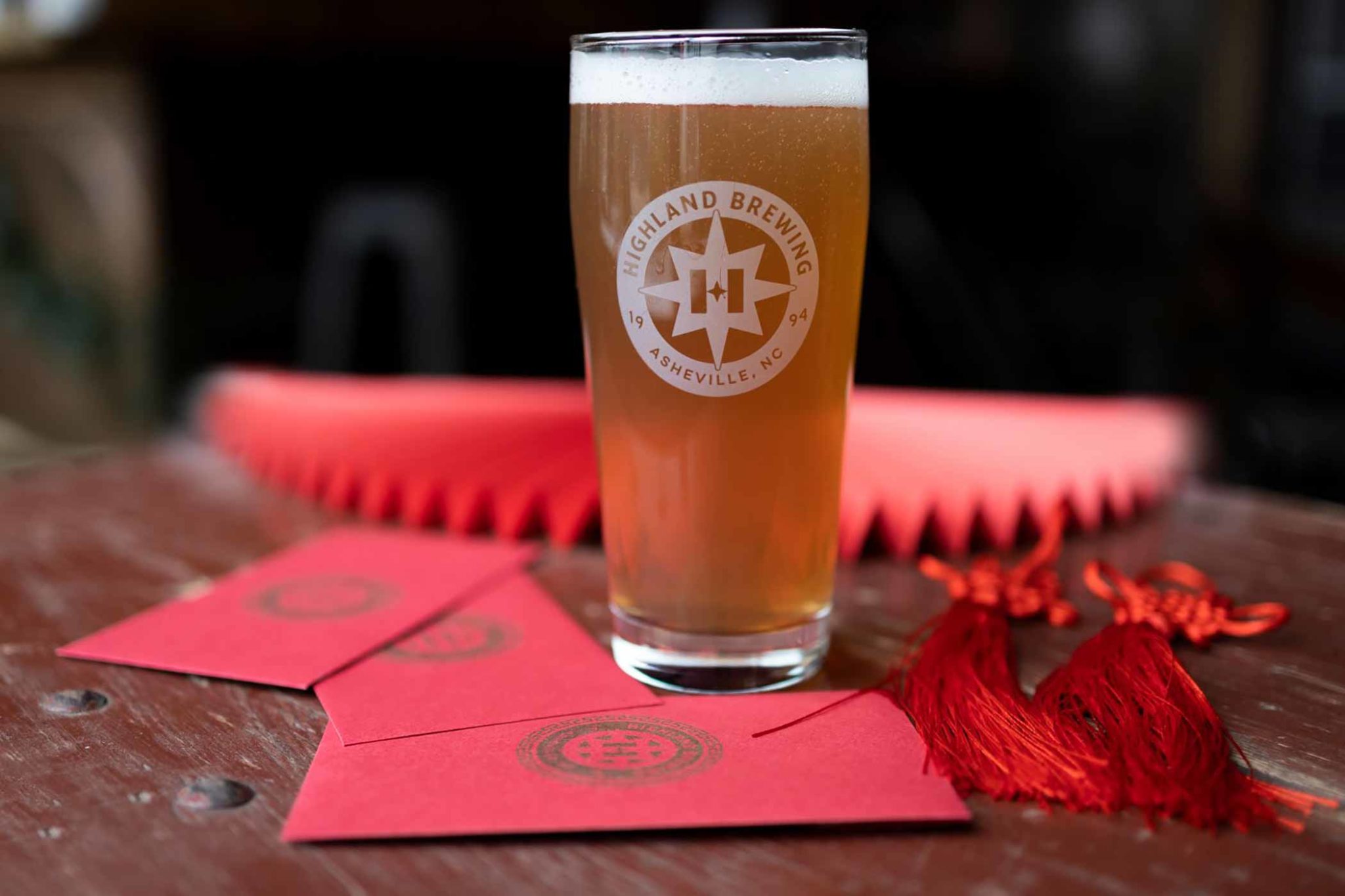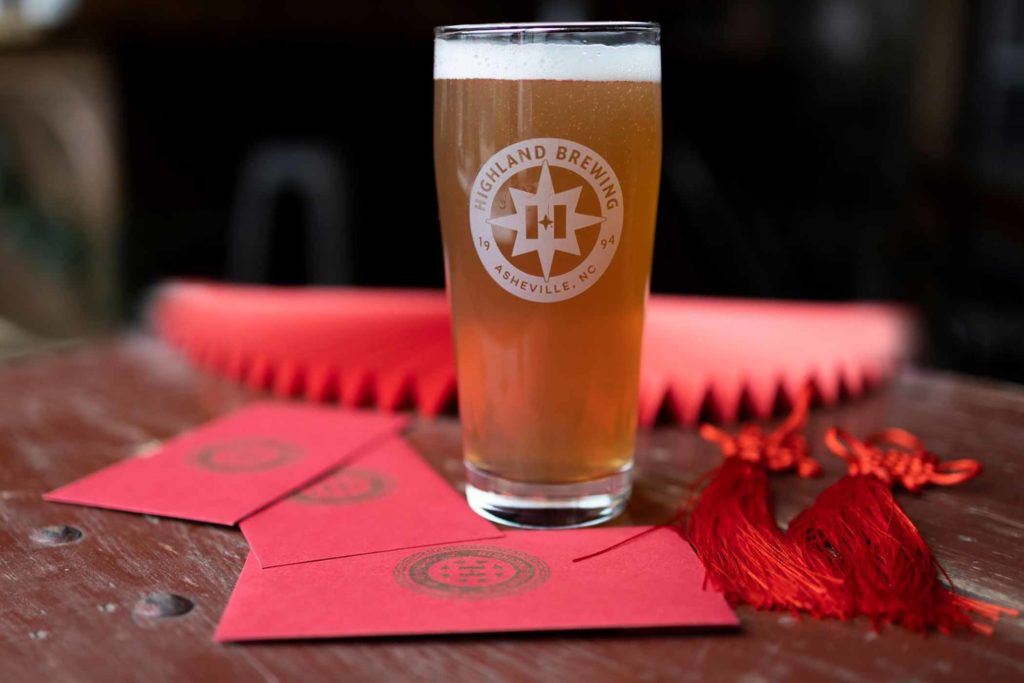 Similar to Barebottle, Highland Brewing brews a wide variety of styles. But Leah and Oscar have taken the opportunity to celebrate their Chinese heritage through specific beers.
At Highland Brewing, for the past two years the brewery collaborated with another Asian-owned brewery—Lucky Envelope in Seattle, WA—to celebrate the Chinese New Year. Each collab beer reflected the Chinese zodiac. For example, in 2020 the two brewed Metal Rat. While last year they made Water Tiger.
Additionally, Leah will decorate the taproom during January and February when one traditionally celebrates the Chinese New Year.
In the future, Leah says the brewery could brew more beers in this vein. Recently, they've been playing around with a rice lager that features the heritage of the grain. "We're looking for a story to make that complete and give it a reason for being," says Leah. "Something we can proudly put out there…and add to our story."
From an AAPI-Owned Brewery Perspective, What Does the Future of Craft Beer Look Like?
According to Koga, the future for the craft beer industry looks encouraging for several reasons.
He recounts a conversation he recently had with Colin McDonnell, CEO at HenHouse Brewing Company in Santa Rosa, CA. "People think they're still making beer for the bearded white dude, but look around the taproom," says Koga. "[For us] there is probably a thirty-year-old Hispanic plumber or laborer, they are our biggest drinkers. The demographics for craft beer as far as workers and drinkers, especially in diverse areas like the Bay Area are changing."
It's a positive sign for an industry that has been dominated by white, straight, cis-male, bearded dudes for so long.
But we still have a long way to go.
"There needs to be more of that," says Koga. "We don't want our industry to be seen as just a white male crowd because we already know the drinkers keeping us afloat are so diverse, and companies need to reflect that and figure out systemic ways to put processes and policies in place to make sure we have as much diversity in the industry as possible because that makes everything better."
20+ AAPI-Owned Breweries and Beverage Companies Across North America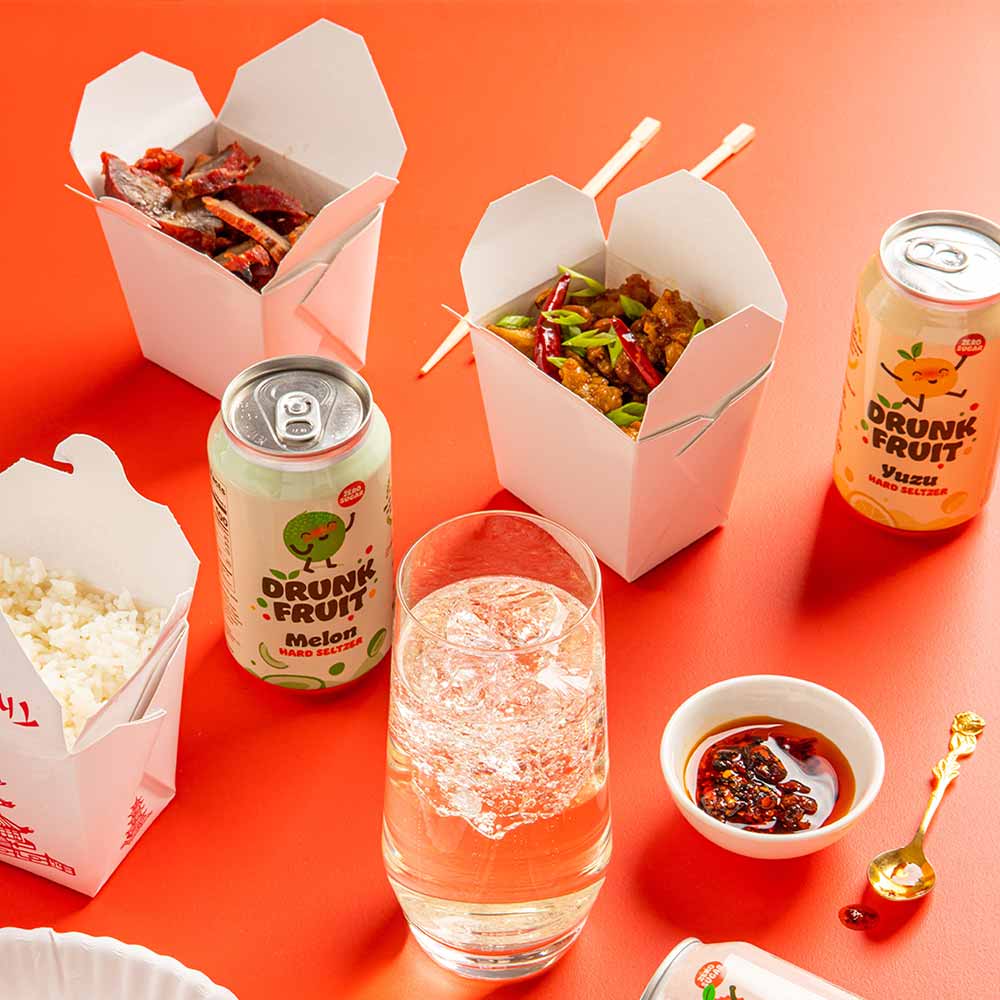 While this certainly isn't a complete list, here are 20+ AAPI-owned breweries and beverage companies to support right now. If you know of others, please reach out to us at hello@hopculture.com!
Breweries and beverage companies are listed in alphabetical order
1947 Craft Beer
Long Island City, NY
Asian Brothers Brewing Co.
Isleton, CA
Azadi Brewing Company
Chicago, IL
Barebottle Brewing Company
San Francisco, CA, x Santa Clara, CA
Brewyard Beer Company
Glendale, CA
Comrade Brewing Co.
Denver, CO
Dokkaebier
San Francisco, CA
Drunk Fruit Hard Seltzer
Los Angeles, CA
Eagle Rock Brewery
Los Angeles, CA
Highland Brewing
Asheville, NC
Hoi Polloi Brewing
Berkeley, CA
Inu Island Ales
Kaneohe, HI
King Cong Brewing Company
Sacramento, CA
Lucky Envelope Brewing
Seattle, WA
Lunar Hard Seltzer
New York City, NY
MERIT Brewing
Hamilton, ON, Canada
Monkish Brewing Co,
Torrance, CA
Mustang Sally Brewing Company
Chantilly, VA
Nectar Hard Seltzer
Culver City, CA/em>
Other Desi Beer Co.
Branford, CT
Small City Taphouse
Sandusky, OH
The Answer
Richmond, VA
Three Weavers Brewing Company
Inglewood, CA
Windmills – Brewery. Restaurant. Music.
The Colony, TX