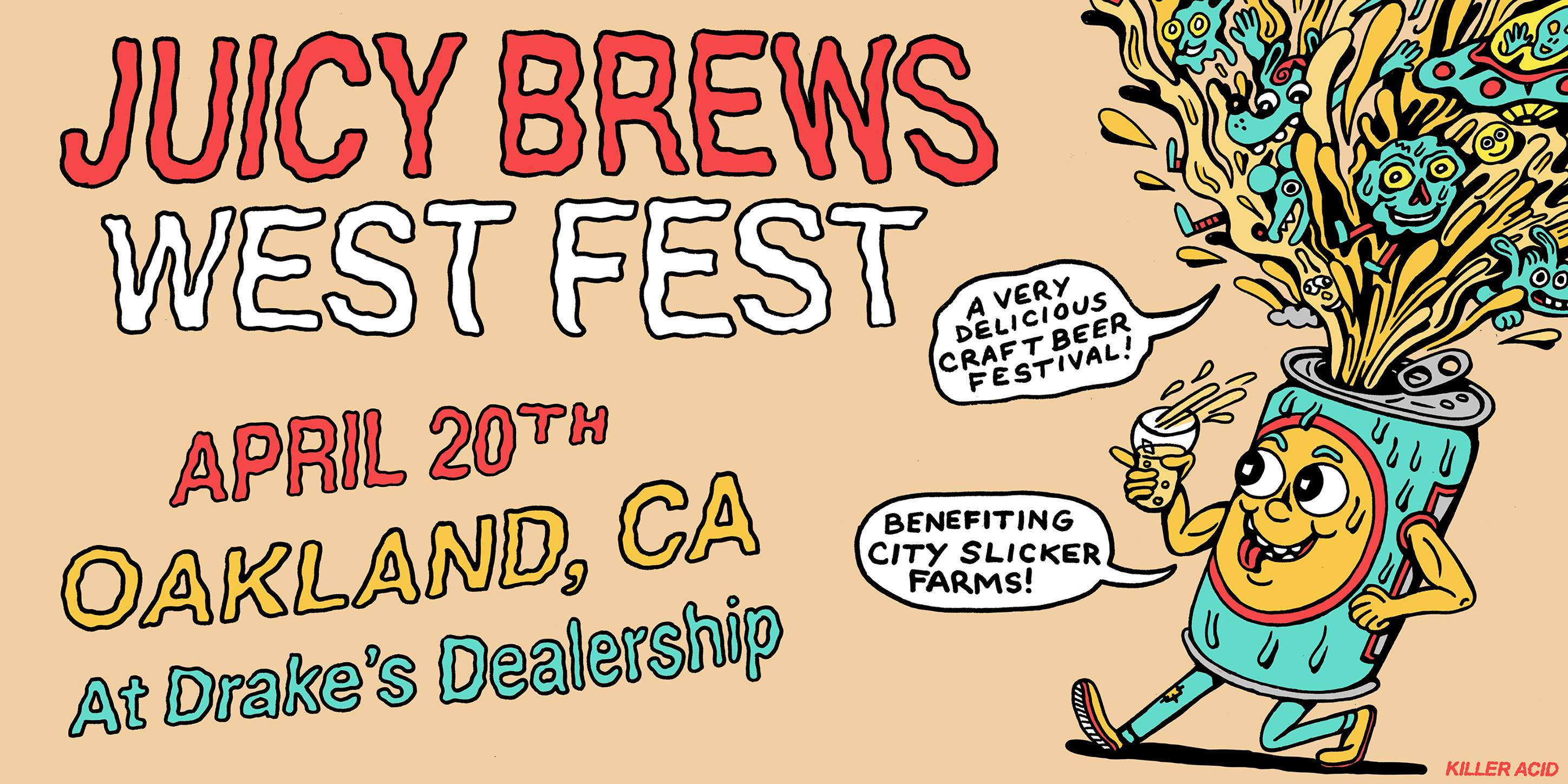 Editor's Note:
Tickets for the Juicy Brews WestFest beer festival go on sale on 2/25 at noon PST. Find tickets here.
I love the East Bay. Lots of cool, genuine people who are way nicer than me. My Type A personality and penchant for black peacoats make it difficult to hang, but I enjoyed the time I spent there, and I still love to visit. There's nothing better than eating fresh produce and seeing how everything has changed.
When I lived in Berkeley, one of my favorite places to spend time was The Rare Barrel Taproom, a warehouse filled with cool art and barrels stacked from floor to ceiling. Down the street is Fieldwork, and the Torpedo Room, and Acme Bread, where I've crushed the best carbs of my life. There's so much stuff happening in the East Bay, and it's all rooted in a strong sense of community.
Shoutout to breweries like Temescal, Drake's, The Rare Barrel, Alvarado Street, and Cellarmaker who keep that community ethos alive. They remind me of the importance of being excellent to one another, an attitude that's central to this "new wave" of craft beer.
Whether that attitude travels from the breweries to the city, or the city to the breweries, it's a terrific feeling. Last year, when we threw our Juicy Brews WestFest Craft Beer Festival at Classic Cars West in Oakland, people were vibing on another level. The beer was fantastic, the weather was great, and conversation was flowing. No one tried to steal anything! Not a single punch was thrown! On the contrary, people were sharing with strangers and making new friends. It's this fun, welcoming community that makes us want to return to the Bay.
On April 20th of this year, we'll be back in Oakland for the second installment of our Juicy Brews WestFest Craft Beer Festival, this time at Drake's Dealership (also in Oakland). The proceeds from the festival will benefit City Slicker Farms, which is a food justice organization that I knew from my time in Oakland. They're an integral part of the East Bay community and provide affordable, nutritious food to families with low access and low income.
The list of attending breweries isn't random. We didn't pick names out of a hat, or cold call taprooms with the highest ratings on Untappd. Everyone chosen has a talent for making a high-quality product, but they've also listened to their drinkers, and gone out of their ways to help others succeed. They're all active members in the craft community.
From all across the United States, please welcome:
The Brewery List
Alvarado Street Brewery (CA)
Barreled Souls Brewing (ME)
Burley Oak Brewing Company (MD)
Cellarmaker Brewing Company (CA)
Cloudburst Brewing (WA)
Dancing Gnome Beer (PA)
Drake's Brewing Company (CA)
Great Notion Brewing (OR)
HenHouse Brewing Company (CA)
Humble Sea Brewing Company (CA)
King's Brewing Company (CA)
Resident Culture Brewing Company (NC)
Southern Grist Brewing Company (TN)
Superstition Meadery (AZ)
Temescal Brewing (CA)
The Rare Barrel (CA)
The Answer Brewpub (VA)
Urban Roots Brewery and Smokehouse (CA)
We've got a sharp list, and we've limited tickets to create an experience that facilitates conversation. But for those who join us, we promise an experience. Great beers, new friends, and an accepting community. We wouldn't bring anything else to Oakland!
Liked this article? Sign up for our newsletter to get the best craft beer writing on the web delivered straight to your inbox.