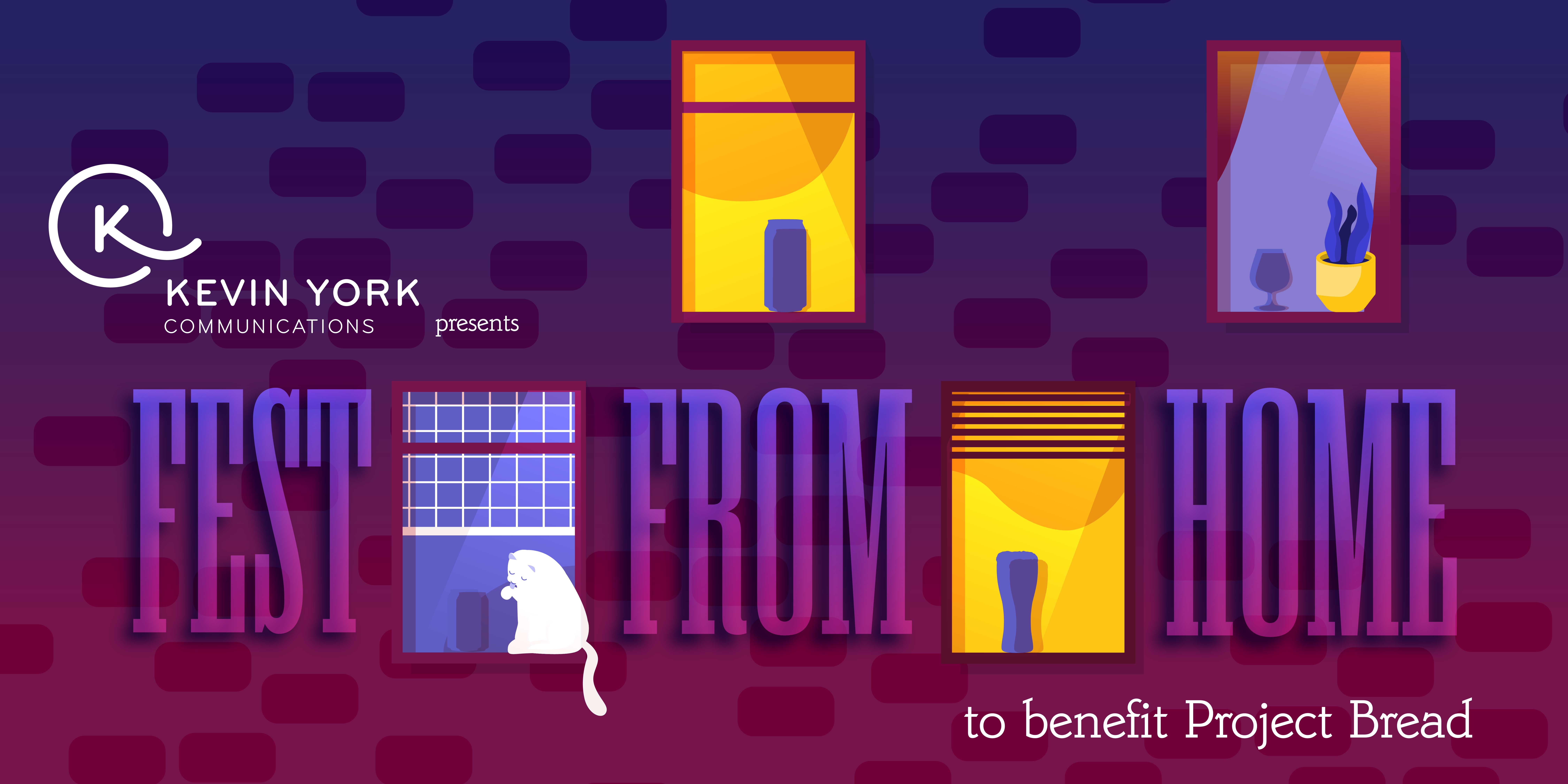 Images courtesy of Kevin York Communications
Editor's Note:
This story is part of our #brewwhatsright campaign, an effort to feature people, businesses, and communities actively helping others by doing what's right.
Hop Culture and Oozlefinch is throwing their own virtual festival: FML Fest 2020. Check it out here.
As coronavirus continues to afflict our world, large-scale physical events are still off-limits. But that doesn't mean celebrations around craft beer can't happen. Enterprising beer pros have entered the digital landscape with virtual events, digital conferences, and Zoom happy hours and hangouts. One of the most recent examples is Fest From Home, a virtual beer festival thrown by Kevin York Communications that raised over $3,000 for Project Bread.
To throw Fest From Home, Kevin York Communications partnered with 28 breweries across Massachusetts, including Wormtown Brewery, Cape Cod Beer, Harpoon, and Samuel Adams — as well as numerous Massachusetts retailers.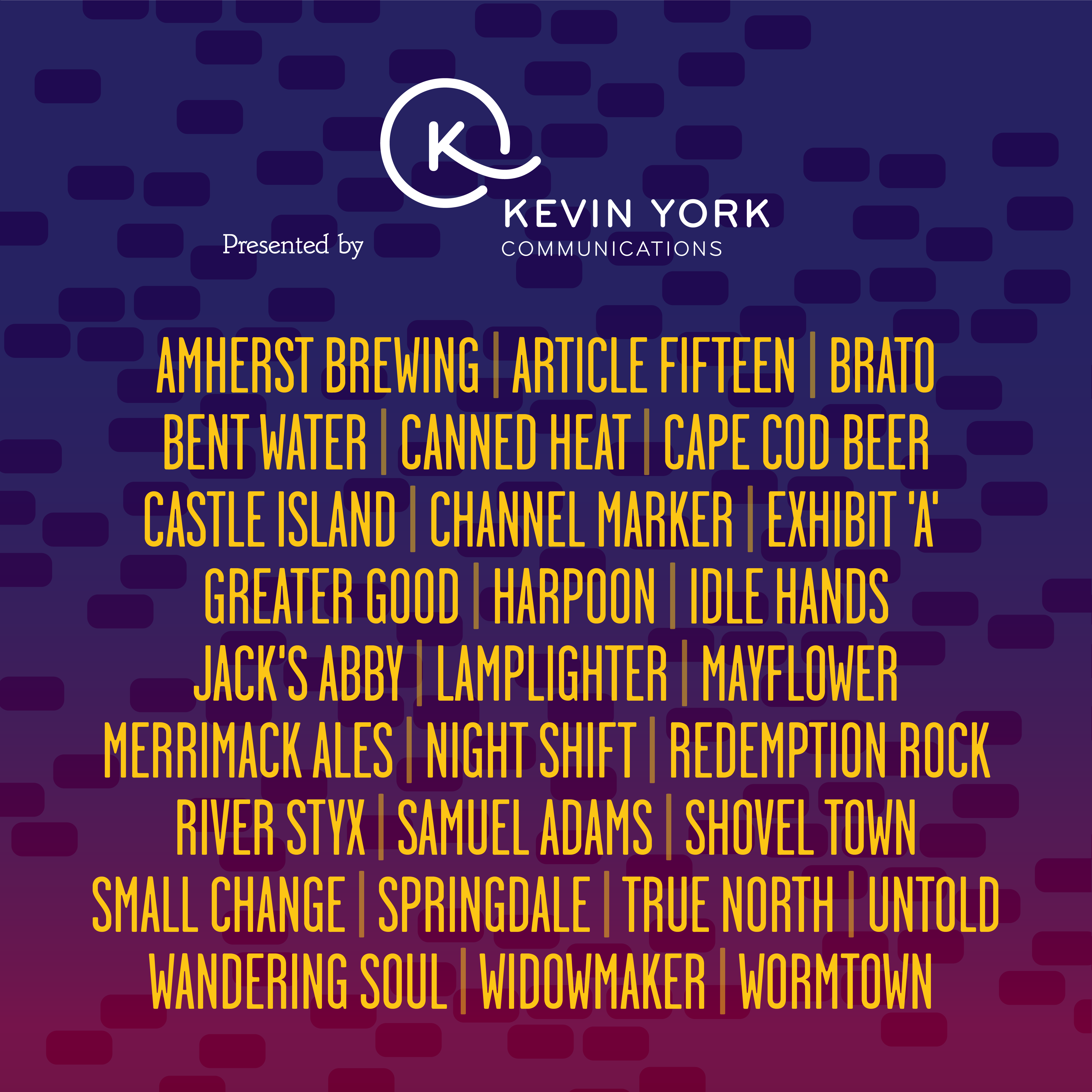 The virtual beer festival consisted of events led by head brewers, founders/owners, an internal beer educator, a brand manager, beer enthusiasts and experts — and even Hop Culture's very own founder Kenny Gould. These panel members conducted live interviews, chatted over Facebook Live, shared pre-recorded videos, and guest-moderated.
What is Kevin York Communications?
Kevin York is an Indiana native who contemplated several career paths before settling on PR.
"I took some PR courses in college and really improved my writing," says York. "With PR, I could write, create messaging and press releases, and develop relationships with media."
Out of college, York got a job in San Francisco at a PR agency that worked mostly in the tech industry. But he didn't stay there for long. His frustration with the traditional PR world drove him to create his own business, which is how Kevin York Communications was born.
This career shift prompted him to move from San Francisco to Boston. Because of his personal love for beers, he focused his representation on breweries.
"Craft breweries really need a strong PR and advertising strategy and team," says York. In his experience, there have been "instances where public sentiment turned negatively on a brewery and then never fully recovered."
Kevin York Communications aims to prevent that. His spirited and dynamic team of five handles PR for numerous breweries, including Bent Water Brewing Co., Loaded Question Brewing Co., and Lone Pine Brewing Co.
The Story Behind Fest From Home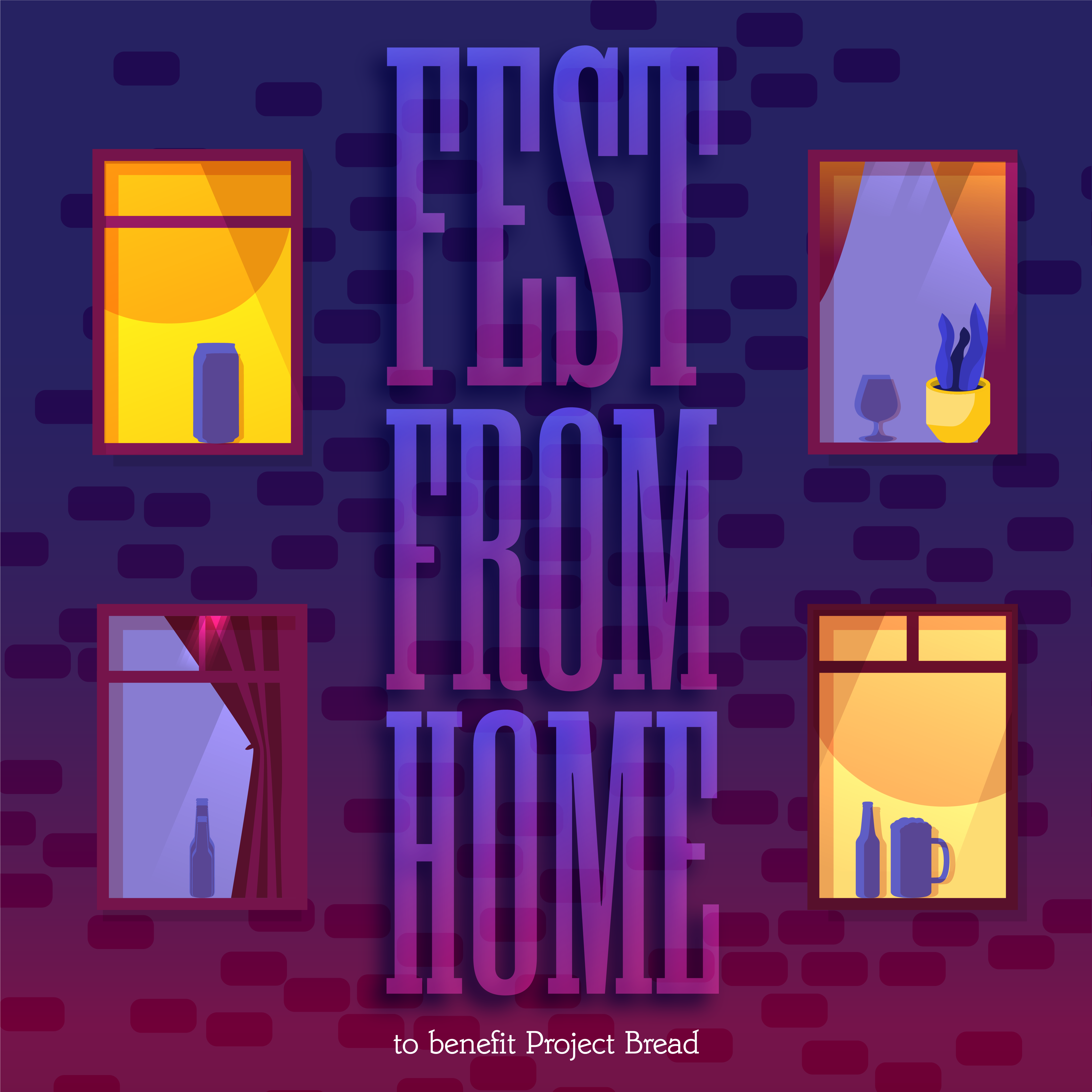 Since quarantine began, and especially with summer temperatures rising, those in the craft beer community have been craving the taproom experience of sharing a cold beer with friends, family, and like-minded strangers.
While virtual events might not hold the same ambiance as in-person events, they get pretty close.
"We'd seen similar festivals done in other parts of the country: Oregon, Kentucky, New Hampshire," shares York. "We thought, 'Why doesn't Massachusetts do one of these?' And as we thought about it more, we looked at ourselves and thought could we do something like that. We have a lot of relationships in the beer industry here in Massachusetts."
York and his team realized that with their connections throughout the beer industry, they could be the ones to organize a killer virtual beer festival for Massachusetts. Within two weeks, they had put together a full day of digital programming to support Project Bread.
What's Project Bread?
Project Bread is a non-profit organization working to end hunger throughout Massachusetts. They take a holistic approach, providing communities with both short term solutions — access to food today — as well as long term solutions like advocacy, education, and community action.
"As a team, we were thinking about how people who don't typically struggle to get food or think about how they are going to eat are starting to think about it during COVID," says York. "We wanted to address this problem because it's been kind of overlooked."
York continues, saying, "We hadn't worked with Project Bread directly before, but some of our team members had supported them individually in the past. And knew their mission and efforts lined up with what we wanted to do."
All ticket sales from the festival went to Project Bread.
The Fest From Home Experience
At just $5, Fest From Home tickets were significantly less expensive than most in-person beer fests, which typically range from $40 to upwards of $150. According to York, 200 people bought tickets.
"We were expecting around 200 people to attend based on ticket sales," says York. "On the Fest day some people stayed on the whole time, some popped in and out, some had friends and family with them. So it's hard to know exactly how many people actually attended, but around 200. We were happy with the turnout."
Ticket holders had access to a private Fest From Home Facebook group, which is where the festival lived. Once inside the group, attendees could pick and choose from the wide variety of events streaming simultaneously on Zoom and Facebook Live.
York and his team also worked with retailers throughout Massachusetts to assemble Fest Boxes, which contained a variety of beers from "attending" breweries.
The Fest Boxes varied by retail location. According to York, "We recruited the retail partners and then left the contents of their boxes for them to decide. With distribution agreements and some breweries not distributing at all, we knew that all the retailers wouldn't necessarily be able to get their hands on all the same beers. A few retailers set up shelves containing the Fest beers and allowed customers to build their own 6 of 12 packs. Others pre-packed boxes containing 14 of the beers."
York also partnered with Brato Brewhouse + Kitchen to provide attendees with food.
Of the funds raised, $1,000 came from ticket sales. People could also donate, and additional donations came to $1,001. York then matched the additional donations to bring the total to $3,002.
The Future of Digital Beer Festivals
York reported that the overall feedback from Fest From Home was positive.
"We sent a formal survey to attendees after the fest and we got good feedback from them," says York. "Over 90% said they would do something like it again."
Additionally, partnering breweries were very happy that they participated. According to York, breweries reported that the festival "gave them an opportunity to connect with each other, in a way they're not able to right now with some of the COVID restrictions. Some were making new relationships and some were catching up."
Events like Fest From Home give attendees the chance to hear directly from some of their favorite brewers and connect for a virtual pint.
In the future, York said he'd want to give more time to brewers and retailers to put together festival boxes, and focus more on the beers.
If you're interested in attending a virtual beer festival, check out Hop Culture's very own FML Fest 2020, which will take place on 8/15/20. An all-access digital pass is $15 while a VIP Beer Box (which includes the all-access pass, 18 curated beers, a festival glass, and shipping) runs $175 to participating states.
Liked this article? Sign up for our newsletter to get the best craft beer writing on the web delivered straight to your inbox.