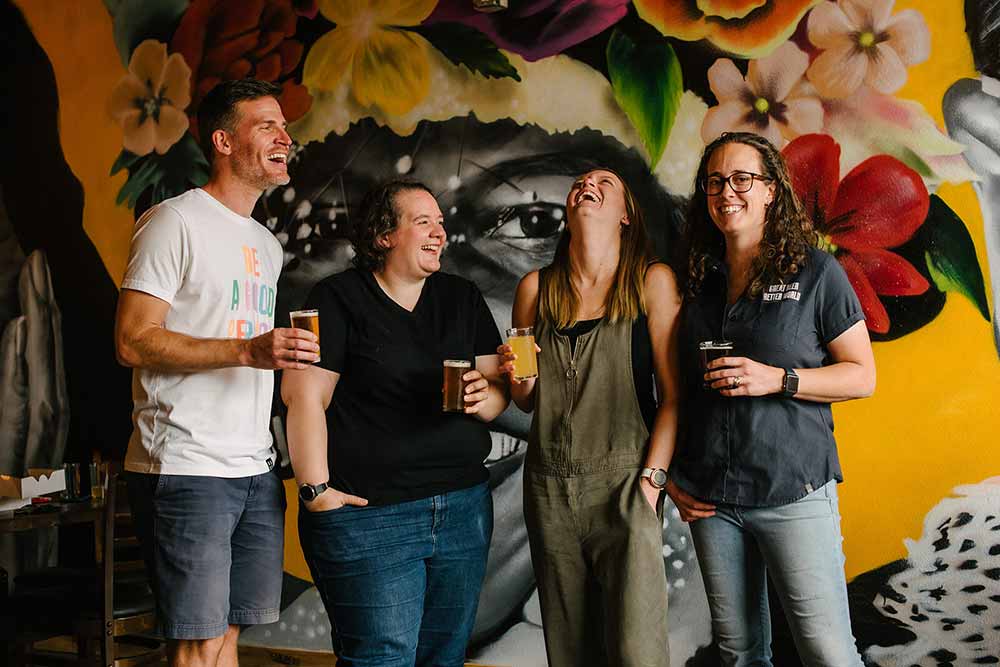 Photography courtesy of Lady Justice Brewing
Editor's Note:
Find Lady Justice's Strawberry LaLager along with 11 other beers in Hop Culture's newest 2023 Queer Beer Box!
Get Hop Culture's newest beer box here!
In 2009, Lady Justice Brewing Co-Founders Betsy Lay, Jen Cuesta, and Kate Power served in the AmeriCorps VISTA program, living at the poverty level while making only ten grand a year.
In the middle of a recession in America, the three found it difficult to make money for non-profits with no grant money available and donations drying up.
To relax, the trio would often go out to drink at local breweries.
One night the conversation turned to, "Why is this brewery always packed?" says Lay. "Even super broke in the middle of a recession, we were still finding ways to spend money at this craft brewery, so how do we get people to translate beer money into money for their community?"
A few years later, when Power attended law school, she reignited that idea for what she called a "social enterprise brewery."
Launched in 2014, Lady Justice (aka Lady J) has significantly impacted the landscape of craft beer, changing how we approach making, enjoying, and drinking beer.
Lady Justice Bangs the Gavel on Beer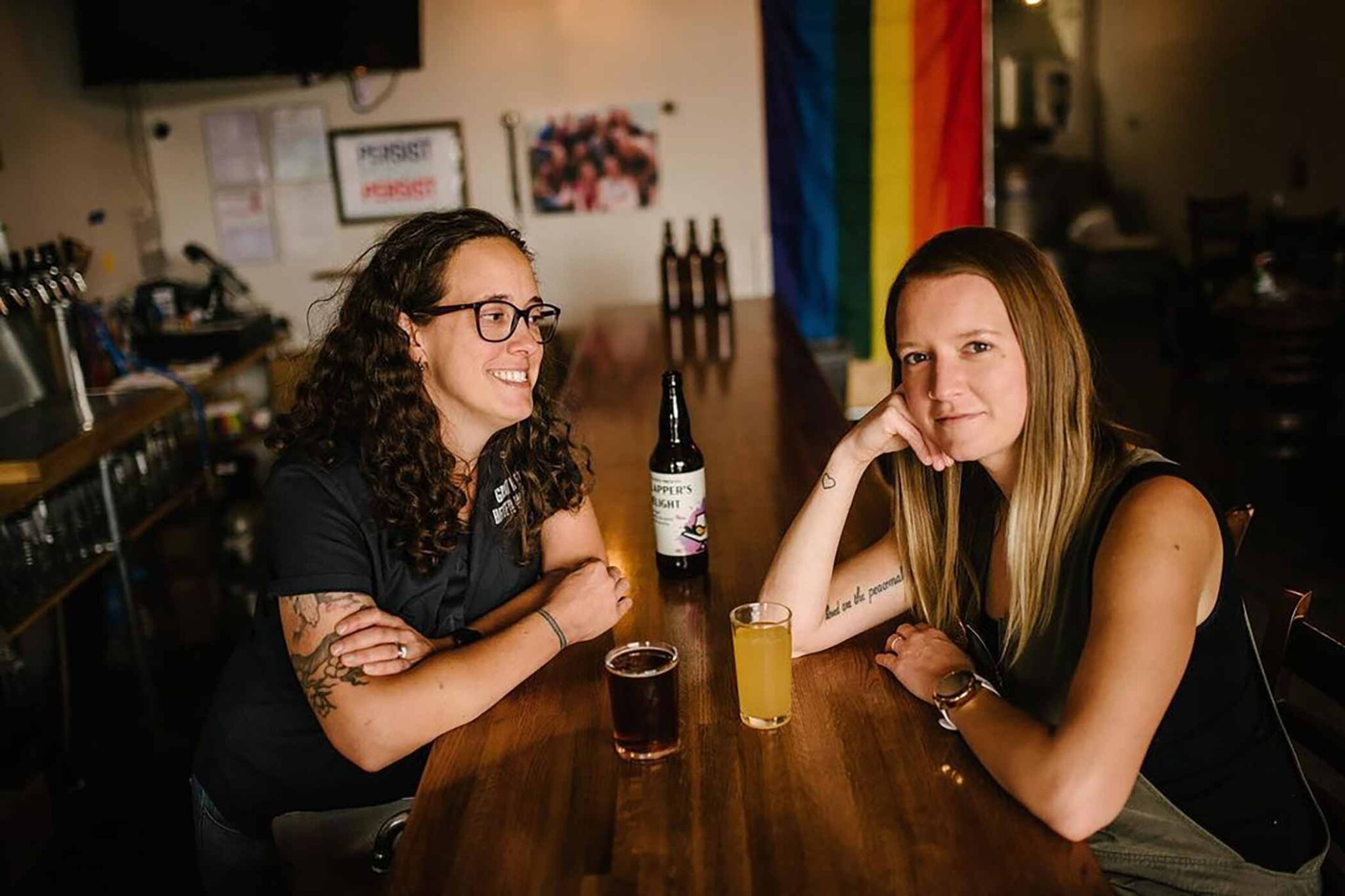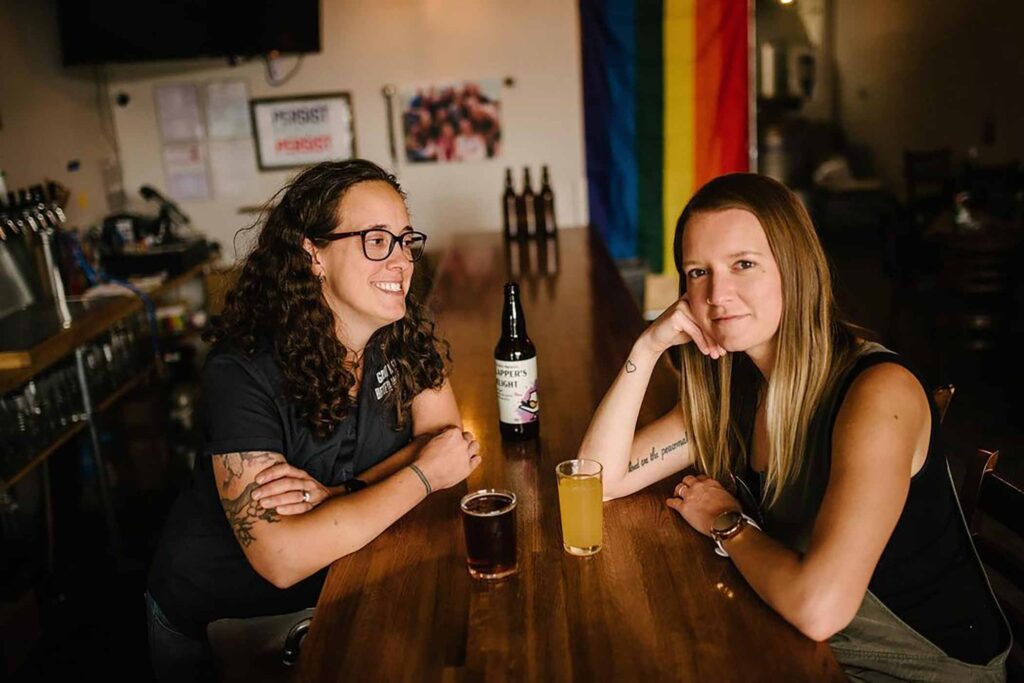 The idea behind Lady Justice seems simple: Donate a portion of profits over cost to non-profits in Colorado that support and empower women, girls, and non-binary folx.
Lay, Cuesta, and Power aren't in the business to just make beer or just because it's cool or to just make money for themselves.
They brew beer for a purpose.
But this social enterprising business model is not something often seen in the industry, especially in 2014.
"I think craft beer has been philanthropic for a long time, but there weren't breweries that existed solely to give their money away," says Lay. "So when we started Lady J, we didn't know if it was going to work."
To fund Lady Justice, the three women—all without jobs at the time—crowdsourced, raising $20k in capital.
Without a physical brick-and-mortar in the beginning, Lady J created a membership program to generate donations.
Although popular now, beer memberships weren't really a thing back then, either.
But since day one, Lady J committed to donating one hundred percent of profits over costs from all of the Community-Supported Beer membership sales to various local non-profit organizations.
Lay says that from the brewery's memberships alone, each non-profit organization they chose to work with would get somewhere between four and six grand.
Then in 2020, Lady Justice opened its first taproom.
With a physical space, the brewery came up with a new way to generate money.
Now you'll find a line in the taproom called Pouring Goodness, where $1 from every 13oz pour of the that tap in a given month goes to a particular local organization. In a full year, Lay says, they'll donate to somewhere between fifteen and eighteen non-profits.
All told, since opening, Lady Justice will have raised $50,000 and counting for almost 90 organizations by the end of 2023, according to Lay.
"We exist particularly to give that money away," Lay says. "If Lady J stopped doing that, I think Lady J would have to close because that's not our mission."
Lady Justice Brews Beer Bringing People Together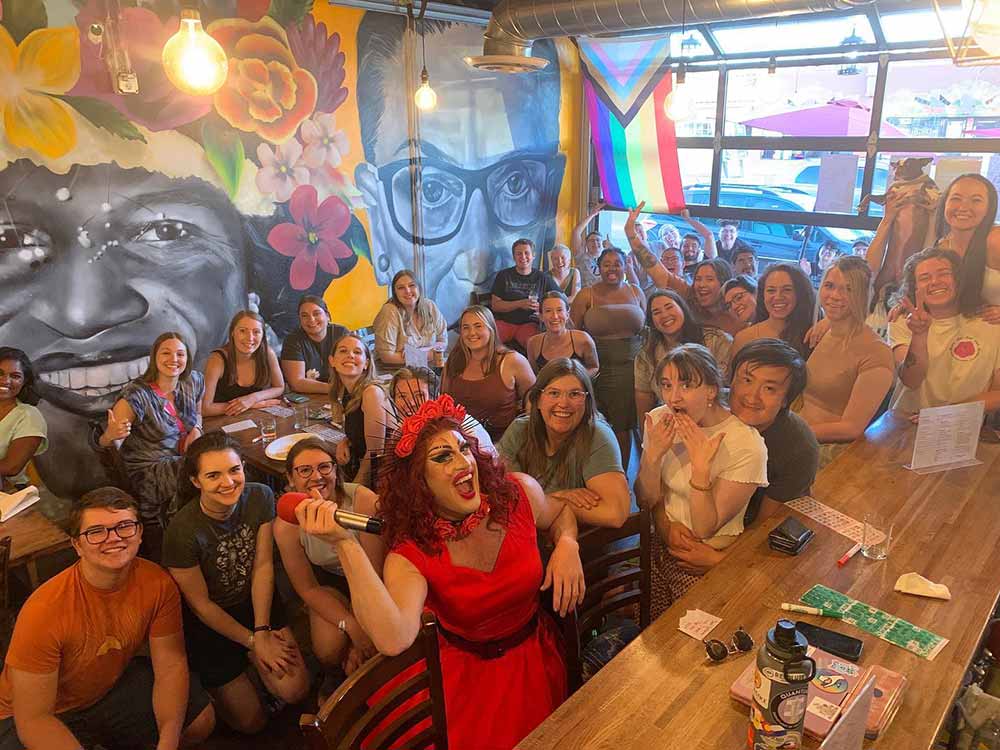 Beyond straight-up raising money, Lady Justice transformed their taproom into a welcoming, safe space for all drinkers.
"How was our physical space going to connect us to our community?" Lay says the co-founders asked themselves when the taproom first opened. "How do we make sure that we're living into our mission both in the brick-and-mortar and in the money that we give away?"
The answer meant hosting events and fundraisers and opening up their space to non-profit organizations for meetings.
"I think we're a mix between a neighborhood brewery and destination," says Lay. "We have people who take vacations just to come to see Lady J, which blows my mind!"
Some people travel from far and wide, others come from down the street just to play trivia on a Wednesday night. Some venture into the taproom because they know it's Queer owned. And others might just be old white British men that stop by on the way to the airport to try Lady J's Chosen Family ESB.
Seriously.
"They'd be like, I heard you had an ESB," laughs Lay. "I'm like, where the f**k did you come from? Who told you this? And they liked it, so that made me feel good."
Lay calls all of the folks that visit Lady J "different unicorns."
The ultimate feedback for her is, "I walk into your space, I walk into Lady J, and I just feel comfortable," she says. "I feel like I can be myself, I feel really good here, because that doesn't happen to them at a lot of other breweries."
Because existing as an underrepresented group in craft beer can be challenging, and often carving out a place to call your own can be lonely or frightening.
Lady J Quietly Shouts for Justice in Craft Beer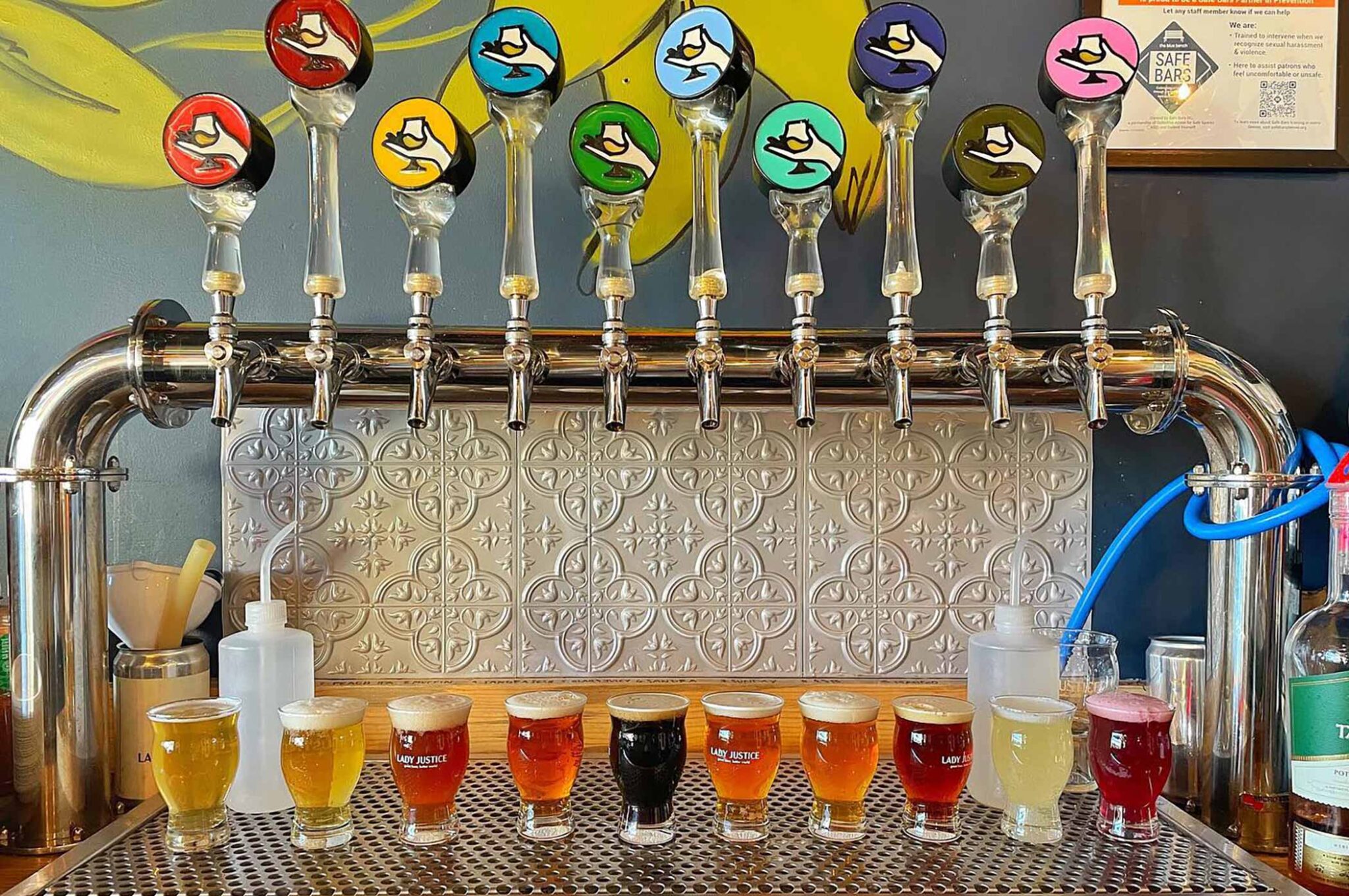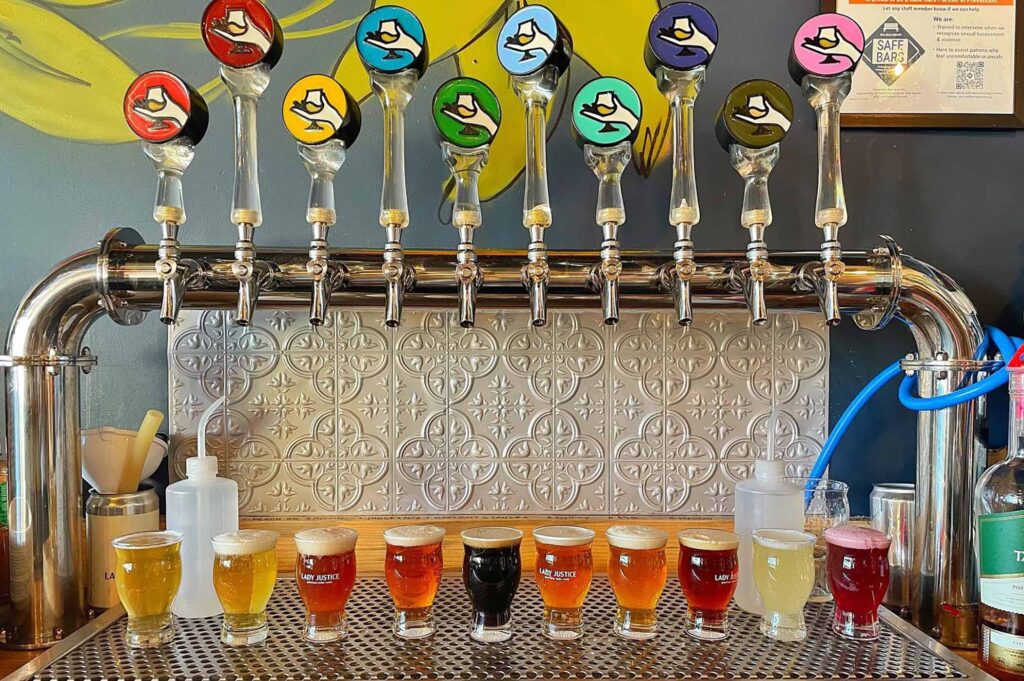 When Lay, Cuesta, and Power started Lady J, they perhaps naively didn't know how they'd shake up the industry.
"What we did not understand was that being women brewery owners was really a big deal," says Lay. "And being women who also brewed was a big deal."
All three came from the non-profit world where women do much of the work in those spaces, according to Lay, who has a Master's degree in theology and spent much of her time before opening a brewery also doing church work.
"We did not understand craft beer culture in a way that made us think that being women in a brew space would be special," she says.
In the beginning, a lot of people just didn't believe three women could succeed. Or even brew.
"They'd ask, 'Who's your brewer?'" recalls Lay, saying all three women brew. "'Yeah, but who makes it?'" she says they'd respond.
"We make the beer, we brew the beer, we also pay the bills," says Lay.
And when people found out that Cuesta and Power were also lawyers?
"It just blew white mens' minds," says Lay. "They could not handle that a woman could be good at two things at the same time."
So at first, Lady J didn't lean into qualifiers like "women-owned," "Queer-owned," or "Latina-founded" (Cuesta is Latina).
But after the country elected former President Donald Trump in 2016, something snapped.
On November 15, 2016, Lady J posted this on Instagram:
We are Lady Justice Brewing. We are women. We are Mexican, we are Lebanese, and we are white. We are gay, and we are straight. We are agnostic, and we are faith-seeking. Most importantly, we are united by our common goal to work together, with grit and with poise, for a better world built on equality and inclusion.
We have dedicated ourselves to working towards a brighter future for women and girls, and we will never waver from that commitment. -Your Ladies of Lady Justice Brewing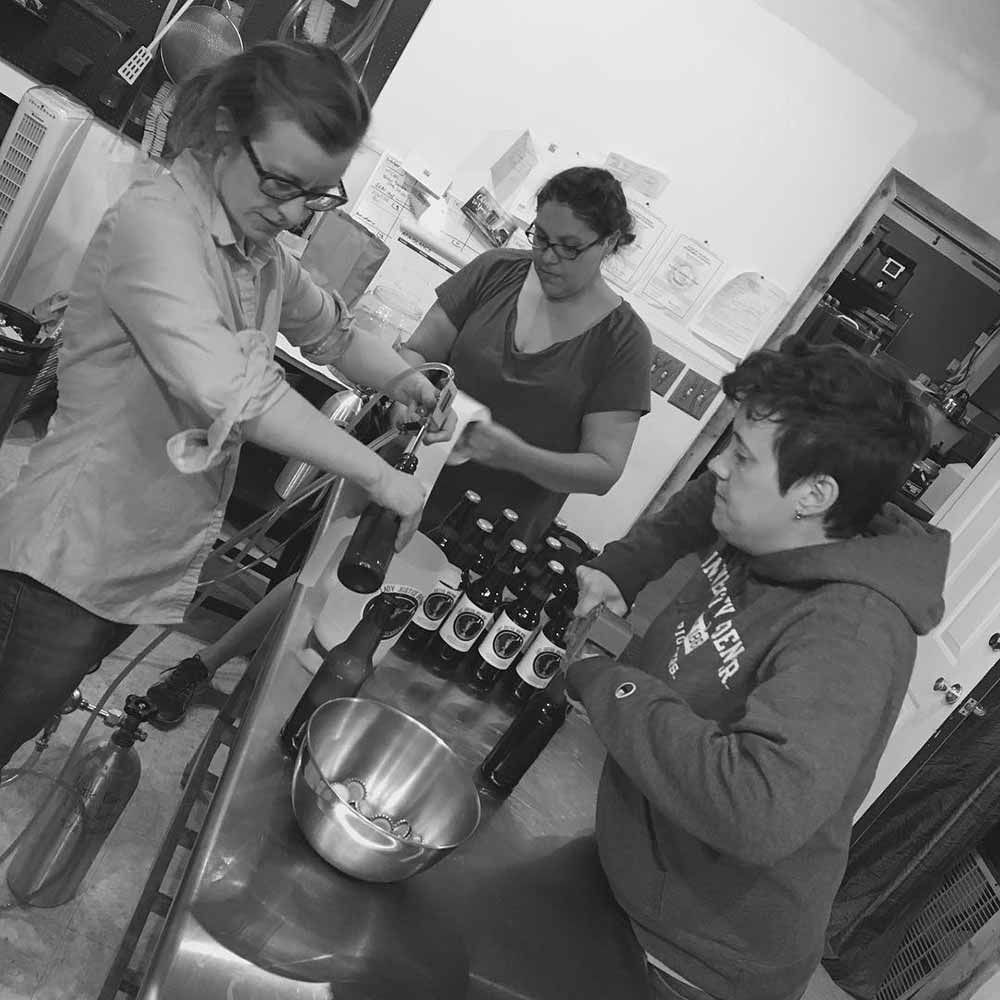 "That was the first time we got a lot of feedback that being Queer or a woman or Latina in a space meant something to people," says Lay.
Still, Lay says embracing identity and culture proved challenging for her because she doesn't like to publicly talk about herself or her life.
But at the Great American Beer Festival (GABF) in 2017, a person stopped her asking if she was Betsy from Lady Justice. "She just started crying," says Lay. "She was just like, it's so important that you're doing this and that Lady Justice exists, so that's when it sort of clicked for me that it's important to people on a very deep emotional level."
Now the three weave their identities into the social fabric of Lady J almost naturally. Along with the help of Lay's wife and Lady J's Director of Marketing, Alison Wisneski, who constantly urges the three women to share their personal perspectives at the brewery, often through social media.
But putting yourself out there, wearing your heart on your sleeve 24/7 through your taproom, through your beers, through Instagram, also opens you up to a different sort of drinker. Not the one who stops you on the floor of GABF to cry, but the ones who like to judgementally cut you simply for being a human who isn't like them.
The Trials of a Queer-Owned Brewery like Lady Justice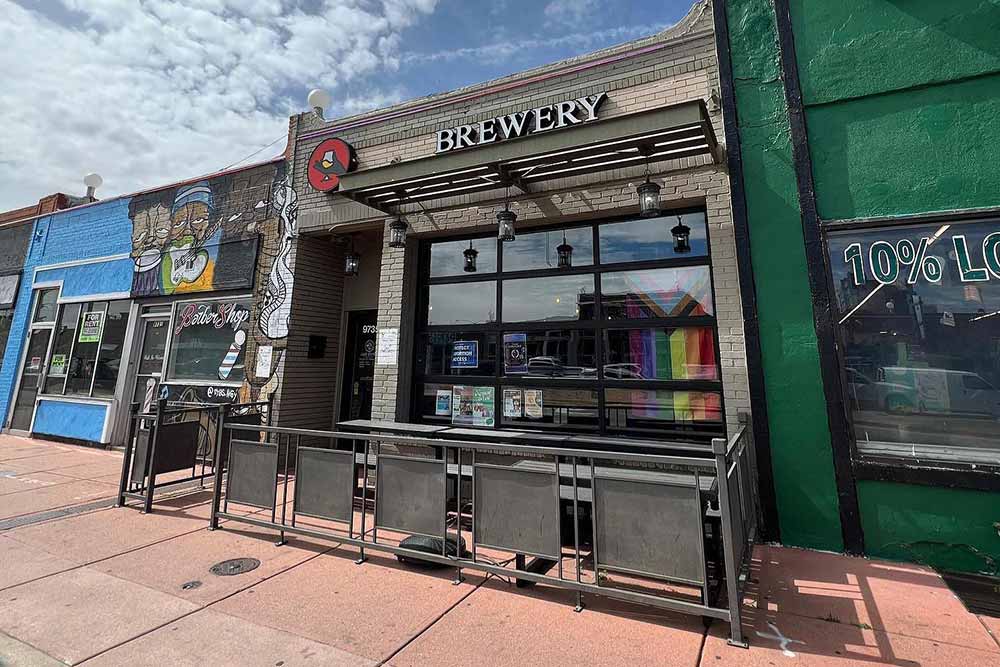 Every year, on June 1, two things happen at Lady J.
First, what the team calls Gay Christmas, an influx of support and visitors pouring in for Pride Month.
Second, the trolls. "It's almost like they set a date on the calendar to go f**k with Lady J on June 1," says Lay. "I don't know what it is, but the first week of June is always a really sh**ty barrage for us."
Comments on social media posts come pouring in, haranguing Lady J for its beliefs and ideals.
This year, Wisneski posted a handful of the comments they received.
Things like:
Stupid gay.
Is this page just a page filled with misogyny and exploitation of women?
You women are all just superior sociopaths on this page are you?
These are just a snippet of the awful, sh**ty, demeaning, and straight-up mean things people write on Lady J's page.
"So, on the one hand, these identities are really good; they make Lady J what we are today, and it's why we exist," says Lay. "And then, on the other hand, it can just be so exhausting."
In those low times, Lay says she keeps thinking about that woman at GABF. She thinks about how important the brewery is to someone out there.
Because Lady J isn't like any other brewery. The brewery isn't just a passive participant making beer because it's cool or it makes money.
They've put the onus on themselves, as a business, to achieve a sometimes seemingly unachievable belief: to balance the scales of equity in craft beer, to fight for the rights of underrepresented communities.
"I have no idea how we would function if we didn't include these identities in our story and in our daily work," says Lay. "If that wasn't who we are, I think we'd have to close and open, like, Average White Lady Brewery or something."
Proudly Queer-Owned, Women-Owned, Latina-Founded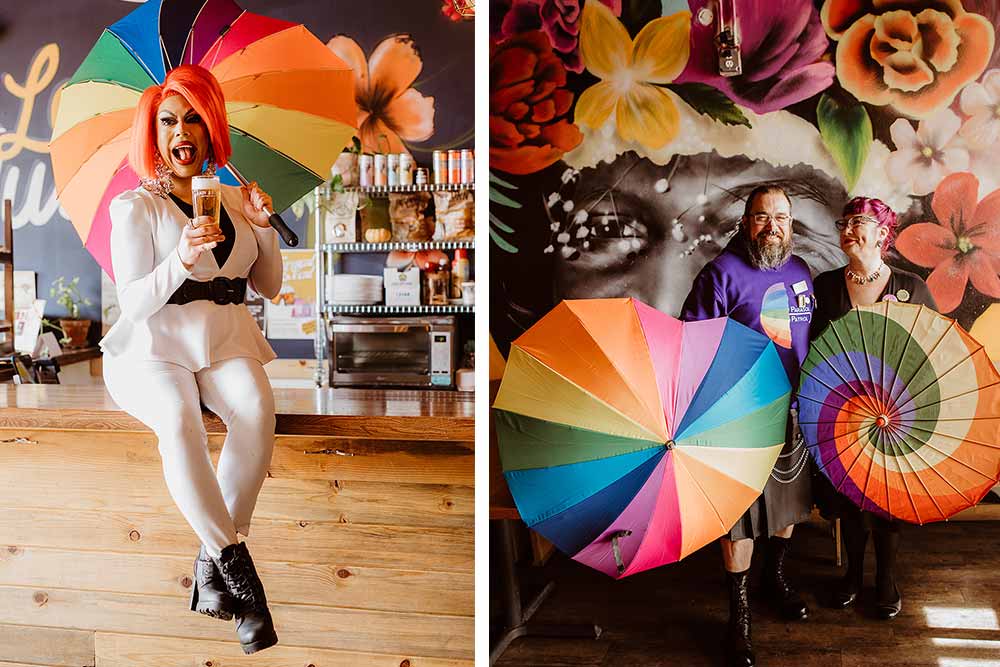 "Lady J does have the power to shift culture," says Lay, admitting that "is very scary some days."
She knows that changing the mind of trolls probably won't ever happen, but to those open to creating a welcoming, equal industry, Lay says Lady J exists for those conversations.
"The folks who choose to come here and engage with what we're doing, it's about showing them that it actually does feel good to be in a space like this," she says. "It feels good to be in a space where chosen identities are important to people, and beer is accessible."
Lay recounts times when sixty-year-old white men would come up to her and genuinely question, "'What does it mean to be a Queer-owned brewery?'" she says, noting they always thought Queer was a bad term. "This dude is actually curious, and he wants to learn because his experience has told him he shouldn't use that language."
For those people, Lady J has the tools to start a discussion.
All the owners have previous experience with DEI and non-profit work. "We have a different toolbox than other people," says Lay. "Part of why we can talk about this more comfortably than other breweries can is our lived experience and the professional careers that taught us how to give this language a long time ago."
While that space may be uncomfortable for others, Lay says for the crew of Lady J, it's actually their bread and butter. "Any dude opening a brewery, they're probably coming from a background of almost anything else besides diversity, equity, and non-profit spaces, right?" she says. "Lady J is uniquely qualified."
Lay, Cuesta, and Power know how to professionally and respectfully approach uncomfortable conversations with folks who want to engage.
And honestly, sometimes that starts with just talking about the beer.
Bridging the Gap With an ESB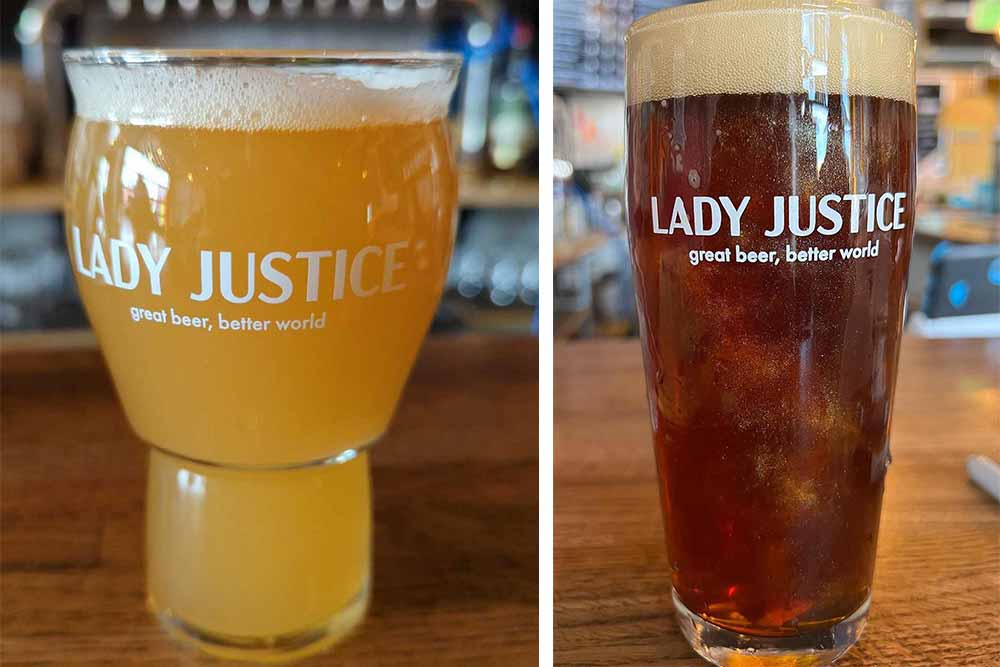 Lay loves to talk with Lady J patrons about their beer.
She admits that sometimes she hangs around the taproom, sitting near a table or group just to listen to what they're saying about the beer. "If I hear people start getting nerdy, I'll scoot closer and ask if I can tell them about it," she says.
One of her favorites happens to be a pretty great conversation starter.
Lady J's Chosen Family ESB. This is the beer that eighty-year-old British men stop by to try on their way to the airport. This is the beer that won bronze at the U.S. Beer Open in 2021.
"Honestly, the ESB is my favorite child," admits Lay. "The style is just obscure enough to most people that they ask a lot of questions about it, and then I get to nerd out with them over the chemistry of the water."
Lay says that's the secret to an award-winning ESB: Treat your water correctly (which Lady J does).
Chatting with people about the backstory and history of the style lights Lay's fire. "As people start to drink it, their synapses are going bonkers," she says.
Another beer Lay geeks out over, Sunday Best Cashmere juicy pale ale went through a few transformations.
Lay changed the yeast strain and switched from Sabro to locally grown Comet hops to complement the Cashmere ones.
Using a Kveik yeast now "made that beer magical," says Lay. "It was good before, but [the yeast] has done something to this beer, brightened it up … so when people drink it, they're like, 'Whoa, this is awesome.'"
People give a similar reaction to Lady J's Strawberry LaLager, a fruited lager brewed in collaboration with local drag queen LaLa Queen.
The beer started in tandem with Queer Love Letter, a Valentine's Day event hosted at Town Hall Collaborative featuring drag story time with LaLa Queen and a drag show with a bunch of her favorite drag friends to raise money for Parasol Patrol.
A nonprofit that uses rainbow umbrellas to block kids from seeing anti-Queer protests, Parasol Patrol essentially shields kids from sh**ty people.
Lay says that the night exceeded expectations. Drag story time started at 6 pm, with the drag show following around 8 pm. "We were expecting the families to go home … but they stayed the whole night," says Lay. "They partied so hard with these drag queens; it was so fun to watch. There were adults in the room, but the stars were this group of twenty to thirty kids who did not go home, raging with drag queens on Valentine's Day."
For that reason, Lady J brought the beer back for Pride month.
A single-malt lager with strawberry puree, LaLager seems very simple, but, "It's again one of those beers that almost everybody who drinks it, they're like, oh, that's pretty good," says Lay. "People have fallen in love with it, and we can't keep it in here fast enough."
If you're looking to get your hands on some, you're in luck.
Lady J will be featuring Strawberry LaLager in Hop Culture's 2023 Queer Beer Box.
Get this beer + 11 others in our newest beer box, which you can get here!
What Is the Future of Lady Justice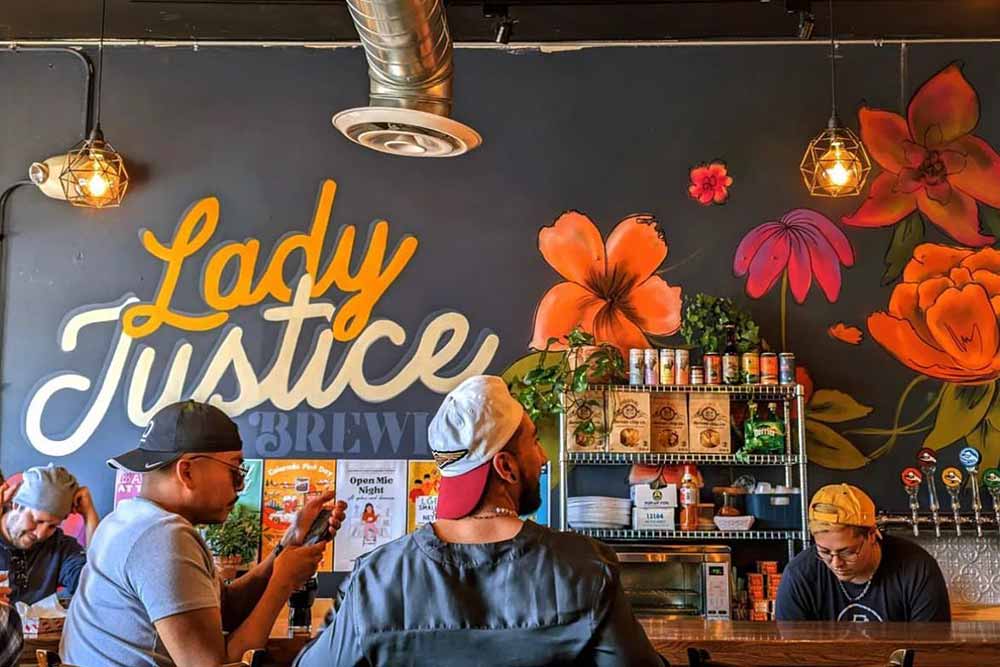 Ultimately, Lay says what's most important to Lady J is how the brewery can shape the future of craft beer.
"I would really hope that in ten years we can look back and be like, oh, we actually kind of changed some things for good in the craft beer space," she says. "We helped folks understand how to make spaces more accessible … and how do we get the larger craft beer space to understand that these identities actually do matter, right? So if you are going to get all worked up that we're queer and we're talking about being gay and quote, unquote, putting politics in our beer, right?"
At the end of the day, how can we shift the conversation?
As Lay reminds us, craft beer is kind of a big deal and it isn't going anywhere, despite a slight decline and dip in recent years.
"People are drinking craft beer almost everywhere, and so I hope that Lady J can be a part of the story that shifts us to just be more comfortable with a more diverse group of people in there," Lay says. "Like, be more comfortable with opening the doors, be more comfortable with having seats at the table for everyone, be more comfortable in having these awkward conversations."
On a broader scale, Lay says one of the team's goals has always been to create a model that can be replicated. "I hope, no matter where Lady J goes in the future, that we get more breweries like us in the beer space," she says.
At home, Lay says the brewery has outgrown its current space and that they'd love to find a bigger place.
In the meantime, Lady J will do what it does best: killing it as a socially enterprising brewery looking to balance the swinging scales of craft beer.
"I hope that we can continue to have a space that feels good to people when they walk in the door," says Lay.