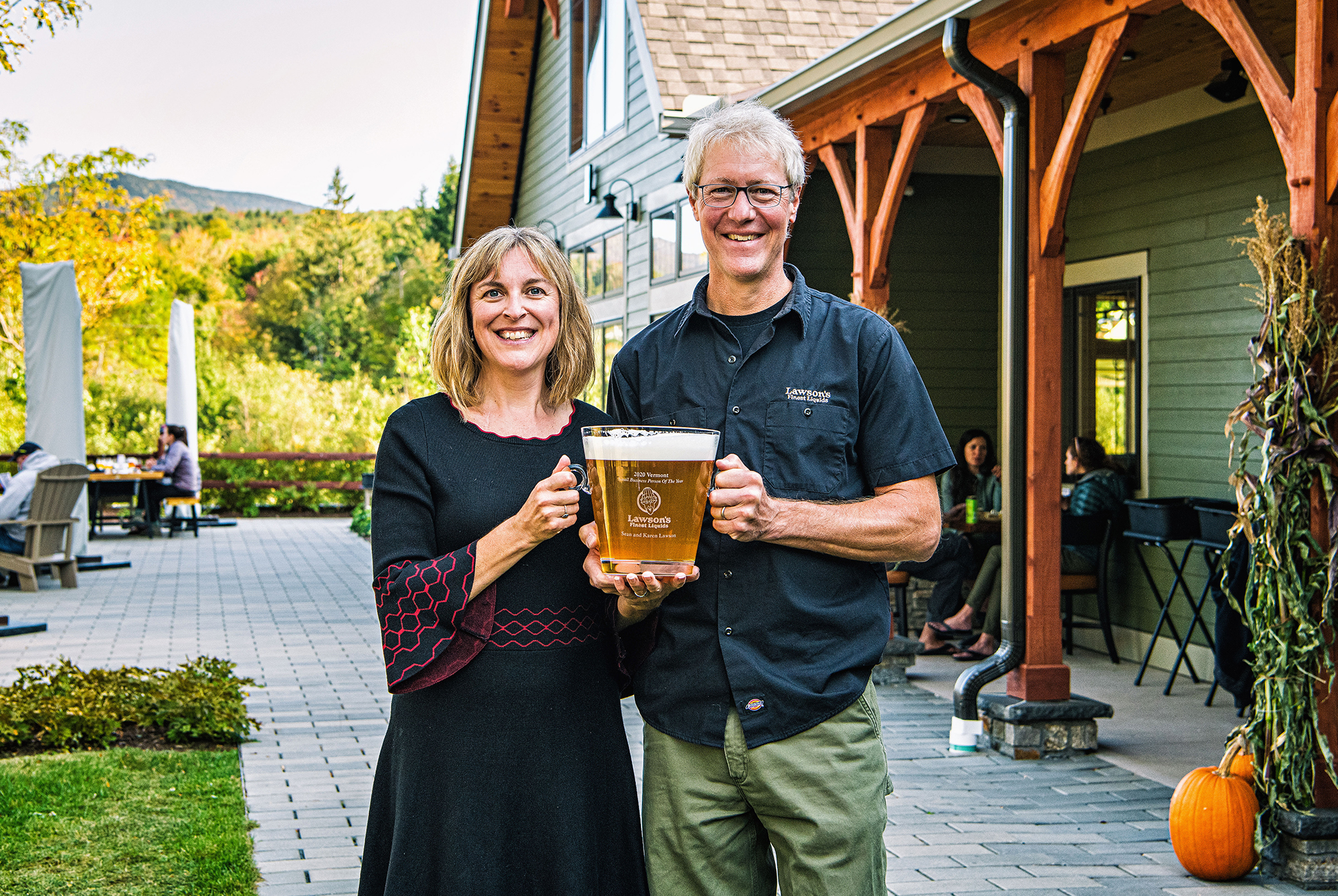 Photography courtesy of Lawson's Finest Liquids
As a rule, craft beer work is neither particularly secure nor lucrative. New breweries often rely on initial unpaid labor. Friends, family, or ground-floor partners spend nights and weekends scrubbing mash tuns for free. Significant others helm the taps, serving early patrons in exchange for whatever tips come their way. Local boosters work the can line for a couple four-packs.
Starting salaries for shift brewers and packagers hover around $20,000 per year. Cellar managers and even head brewers tend to top out short of $40,000. Even before COVID-19 decimated the service industry, moderate-scale outfits caught flack for dubious hiring and retention practices. For one larger-scale brewer, it was even more dire. Last year, Constellation Brands purged scores of Ballast Point Brewing Company production and service employees before selling the brand entirely.
However, there are breweries that make the often difficult choice to prioritize worker security. Lawson's Finest Liquids, one of the luminaries of Northern Vermont's estimable beer haven, is such a brewer. All of its fifty-plus employees receive a living wage, health benefits, paid time off, and retirement plans. That's all the more exceptional given that most of these employees have worked there only two years. Nonetheless, 2020's one-in-a-lifetime public crisis put the brewery's ideals to the test.
The History of Lawson's Finest Liquids
Lawson's Finest Liquids became a world-renowned brewer when you could still count its full workforce on one hand and have fingers to spare. Established by Sean and Karen Lawson in 2008, its initial three-person team worked out of Warren, VT. If you couldn't make it to their local provisions store or one of the farmer's markets where their bombers sold, you were pretty much out of luck. After three years, they upgraded to a seven-barrel system, but demand for their products remained insatiable.
By 2014, Lawson's Double Sunshine and Triple Sunshine IPAs became fixtures of top 10s on sites like Beer Advocate. This was an inflection point year for the brewer. They started working with Two Roads Brewing Co. in Connecticut, producing and canning Sip of Sunshine, a double IPA bearing the same New England tropical hop character as their more storied ales.
Within a year, they began distributing Sip of Sunshine and lower ABV single-hop Super Session beers beyond Vermont, into greater New England. Sip, in particular, became a minor phenomenon in the region. In 2018, they expanded to eastern Pennsylvania and New Jersey. That additional capacity gave Lawson's the ability to grow their operation in Vermont, and in October 2018 they opened a new production brewery and taproom in Waitsfield, VT.
With this expansion, the Lawson's team immediately grew from three employees to over 50. Almost overnight, the brewery became one of Vermont's most visible small employers and a model for worker-friendly business practices.
Lawson's Finest Liquids Is a Workplace of Choice
Lawson's taproom employees receive a fair salary – paid hourly but scaled to match a living wage – good health coverage, paid vacation, and retirement matching. Sean and Karen made a concerted choice to ensure this compensation when planning essentially its first major hiring.
"We wanted to hire the best talent, be an employer of choice, a place people really want to work," says Sean Lawson, founder of Lawson's Finest Liquids. "I wanted to build a culture to support our employees in a way, so they will stick around."
Lawson's Waitsfield taproom is a no-tipping venue. They note on their website, as well, that any gratuity proffered is donated to local nonprofits. This includes the Mad River Food Shelf, and area ambulance services and libraries. Sean mentioned, somewhat unassumingly, that they focus on social welfare and environmental concerns, but that doesn't fully capture the scope of the brewery's giving. They've contributed to foundations focused on domestic abuse, mental health services, and aid to teachers, to name a few.
"It's been amazingly successful," Lawson tells us. "We had no idea our guests would be so generous."
For a brewer to commit simultaneously to a robust charitable giving program and living wages for their staff, it has to accept reduced revenue. Lawson's accepted this concession when they opened shop in Waitsfield. But Sean was quick to point out that they weren't sacrificing all profit.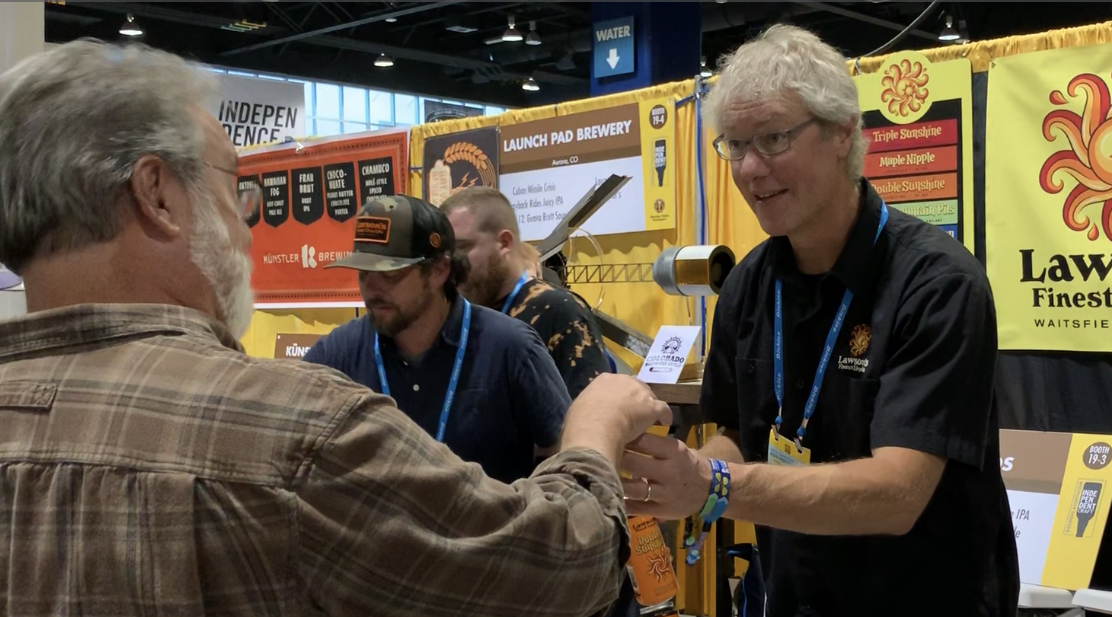 "When you're running a successful brewery, the margins can be pretty good," he says. "We're not alone at all. There are many breweries with good programs where they really treat their staff well."
He cited New Belgium Brewing and Maine Beer Company, both of which have no-tipping policies, with gratuities donated locally. When asked if their policies are replicable across all industries – or even all brewers – Lawson acknowledges, "It depends on the size and type of business. Breweries these days come in different shades and incarnations. Is it a distributing brewery? Is it a small taproom-only business? A brewpub? I think in general, breweries that are doing well could follow the same model."
Sean was less sanguine that this model can exist broadly in the service sector. He noted that margins are extremely thin for many service-oriented businesses.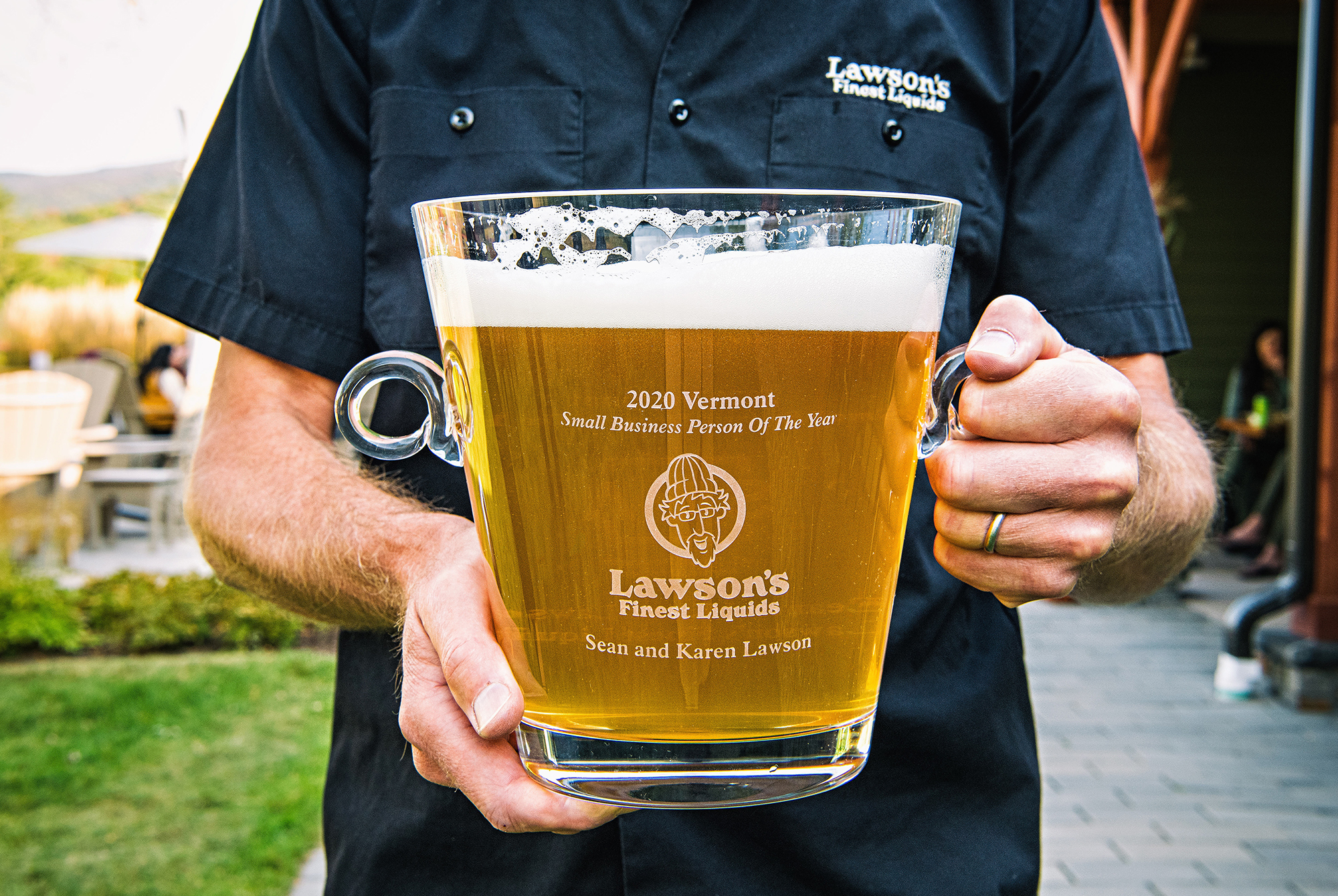 In March of this year, Sean and Karen Lawson were named the Vermont Small Business Persons of the Year by the United States Small Business Administration. The SBA specifically commended their brewery's "employment growth, success in the marketplace, company expansion and community involvement."
This honor was announced only two weeks before Gov. Phil Scott issued a shelter-in-place order for Vermont.
How to Retain Employees During a Global Pandemic
If ever there was a moment that could test a company's commitment to its workers, now is that moment. The craft beer sector is especially vulnerable. In July, the Brewer's Association reported that the industry would see an unprecedented 10% decline in sales this year from 2019. While permanent brewery closures have not proliferated as much as many had feared, countless craft employees have found themselves laid off or on indefinite furlough.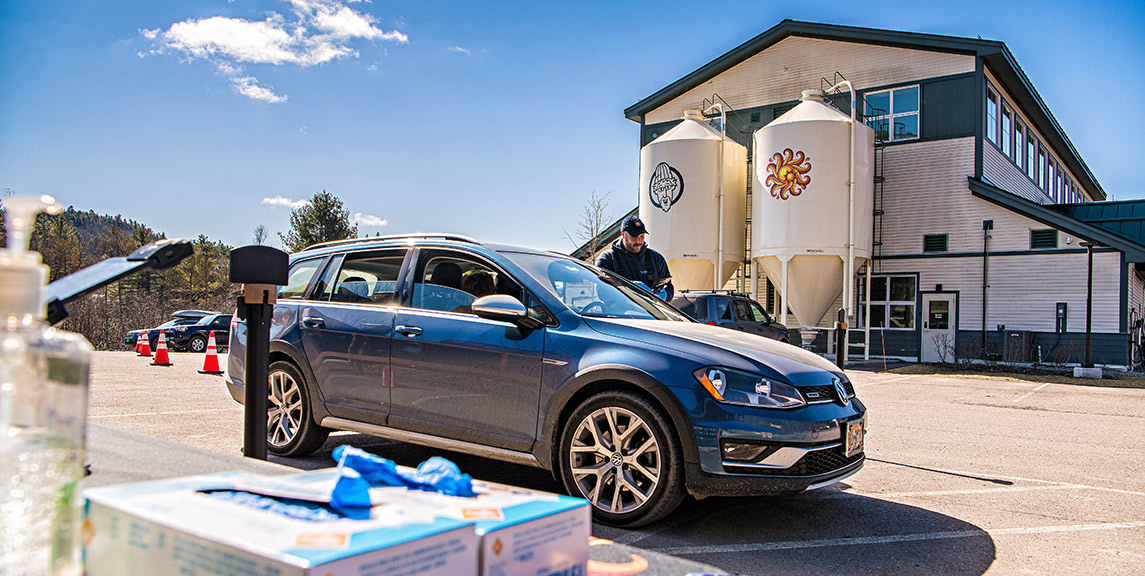 For Lawson's, situated in a state that has managed the COVID-19 crisis as well as any in the country, this meant that the taproom closed to the public on March 15th.
"Right away, we pivoted to a to-go model," Sean explains. "Drive-through retail store, to-go food options, seven days a week."
Even now, dining and on-site drinks are limited to Lawson's outdoor space. That partial reopening, effective June 15th, required careful coordination with the state and attention to CDC guidelines and metrics. In the interim, we asked, what happened to taproom employees?
"Upon shutting down," Sean says, "we said, 'We are going to keep all full-time employees on payroll.' We shifted some job responsibilities. But we were able to keep them whole."
Service and front-of-house employees transitioned to to-go responsibilities, and the brewer reduced all employee schedules to 2-3 shifts per week, to keep everyone working. Even so, all full-timers received full pay and benefits.
As for part-time workers, Lawson acknowledged that they saw reduced hours and shifts: "We weren't able to keep them as employed as they were previously," he said, "but we did extend some additional paid time off as a benefit."
A few weeks into the closure, the Paycheck Protection Program provided Lawson's with some relief. That ensured they could maintain full support for full-time workers until the June partial-reopening.
The brewery's charitable giving also shifted in the wake of COVID-19. Its 2020 donation plan was put on hold in March, and funds were focused instead on pandemic-relief causes such as the Mad River Community Fund. Additionally, the Lawson's taproom served as a distribution location for ShiftMeals. After the May killing of George Floyd, Lawson's shifted some of its giving again, dividing it between coronavirus relief and racial justice work.
Amid the pandemic, the Washington DC ceremony where the Lawsons were supposed to receive their SBA award was canceled. Instead, perhaps more fittingly, they received their prize at the Waitsfield taproom: a glass goblet engraved with their honorific, filled with one of Lawson's beers.
The Bottom Line on Lawson's Finest Liquids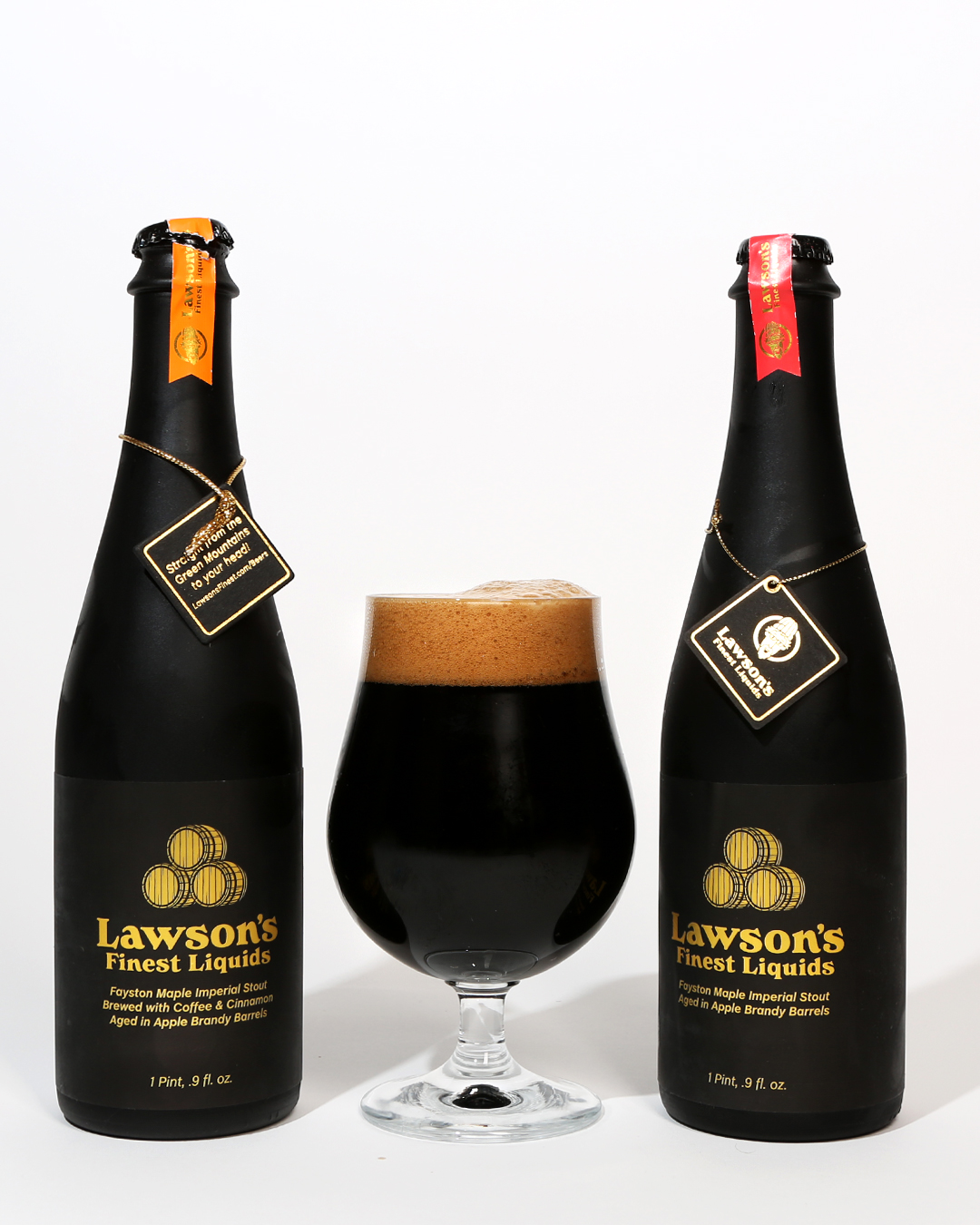 The question remains Is the Lawson's Finest Liquids model replicable and sustainable? Certainly, there are a great many mid-size and regional breweries that see decent profits. However, with the notable exception of a handful of co-op brewers, whether US beer workers share this prosperity depends entirely upon the generosity of management.
Richard Wolff, the prominent professor of Marxist economic theory, has noted that many common avenues to worker empowerment in craft beer – unionization, employee ownership – fall short. He asserts that the only pathway to real workplace democracy is a model that negates the line between employer and employee.
Yet there are more than 8,000 independent breweries already operating in the United States. Their employees face the same challenges and hardships that Lawson's crew faces. Many industry workers are seizing this moment to organize, but consumers need to weigh in with their dollars and voices. Craft beer has long thrived on word of mouth and online discourse. Drinkers need to speak up in favor of brewers like Sean and Karen Lawson. We need to publicly reject the products of employers that jettison worker security in challenging times.
Lawson and company made the choice to compensate workers with a fair wage, decent benefits, and time off. They also made the
choice to retain staff when faced with a massive public health and economic crisis. Sean and Karen Lawson's reaction to these challenges reaffirms their commitment to an equitable employer-employee dynamic. Even if this commitment doesn't become the norm for independent breweries, it at least shows that the model can work.
Liked this article? Sign up for our newsletter to get the best craft beer writing on the web delivered straight to your inbox.