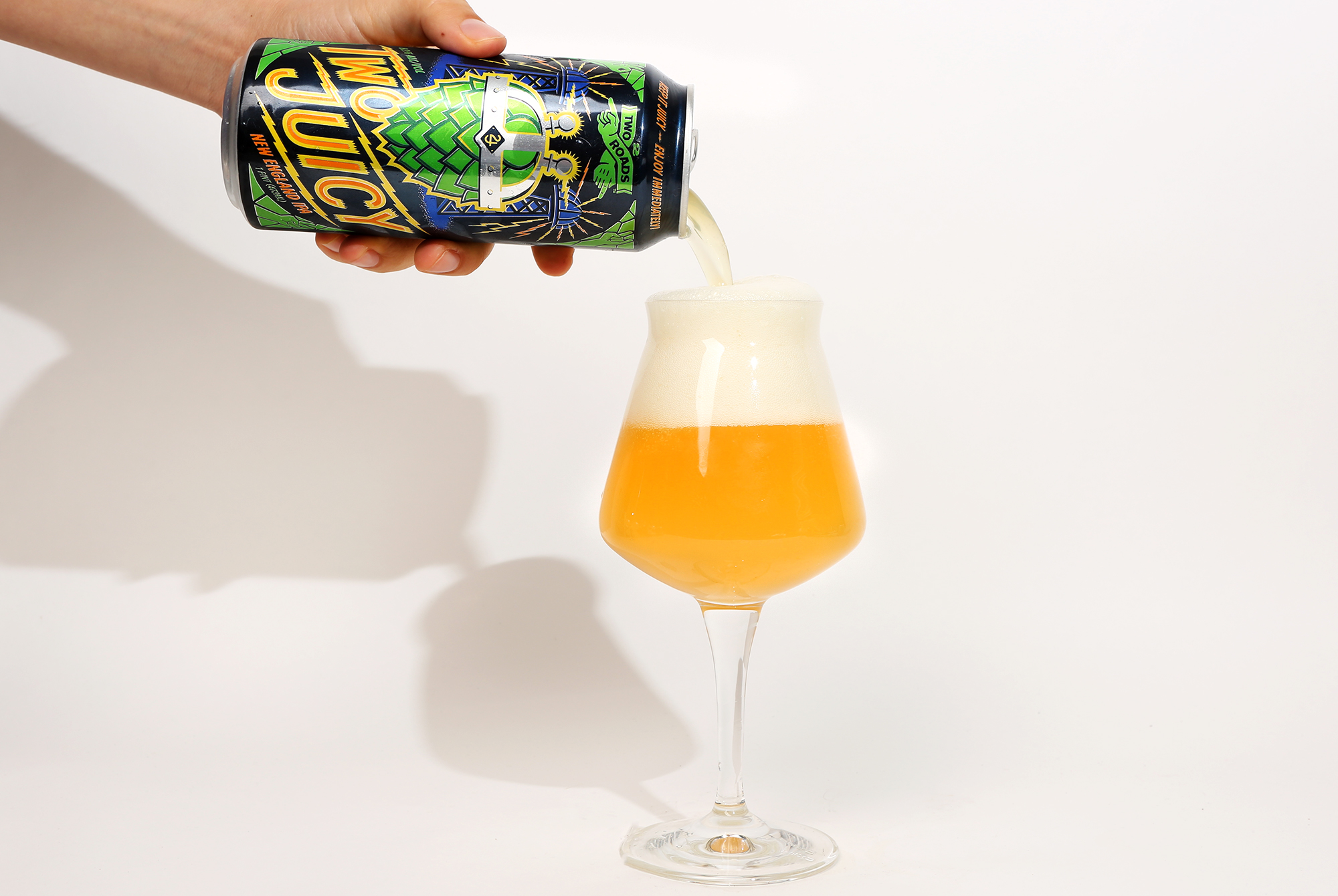 Editor's Note:
This article is part of a series of reviews on readily available hazy IPAs from some of the biggest craft breweries in the country.
Most craft breweries dabbling in the New England IPA release their hazy, hoppy brews directly from their taproom. Meaning, if you want to get your hands on some of the top-rated hazy IPAs, you'll likely need to travel to the brewery, wait on line, and consume them as quickly as possible. But that's not the case with Two Juicy from Two Roads Brewing Co. in Connecticut.
Traditionally, most hyper-local IPAs aren't considered "shelf-stable"; i.e., those juicy, mimosa-like fruit flavors will fade as the sixteen-ounce cans sit on a shelf. However, as bigger, more established breweries try their hands at hazy IPAs and ship them across the country to *gasp* sit on bottle shop shelves, they've figured out ways to make the haze last longer. Such is the beauty of Two Roads Two Juicy.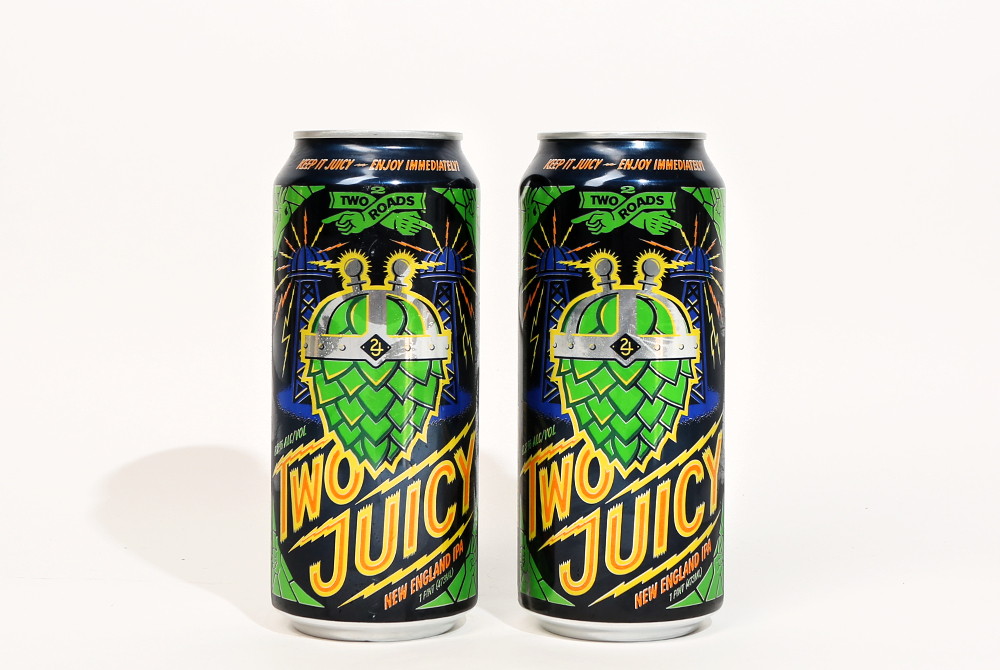 Two Juicy at a glance:
Two Juicy is a 8.2% unfiltered double New England IPA brewed by Two Roads Brewing Co. based in Stratford, CT.
This beer is hopped with Hallertauer Blanc, Citra, and Mandarina Bavaria hops.
Two Juicy is available throughout Two Roads' distribution footprint in 16 oz. cans as well as on draft.
The Story Behind Two Roads Two Juicy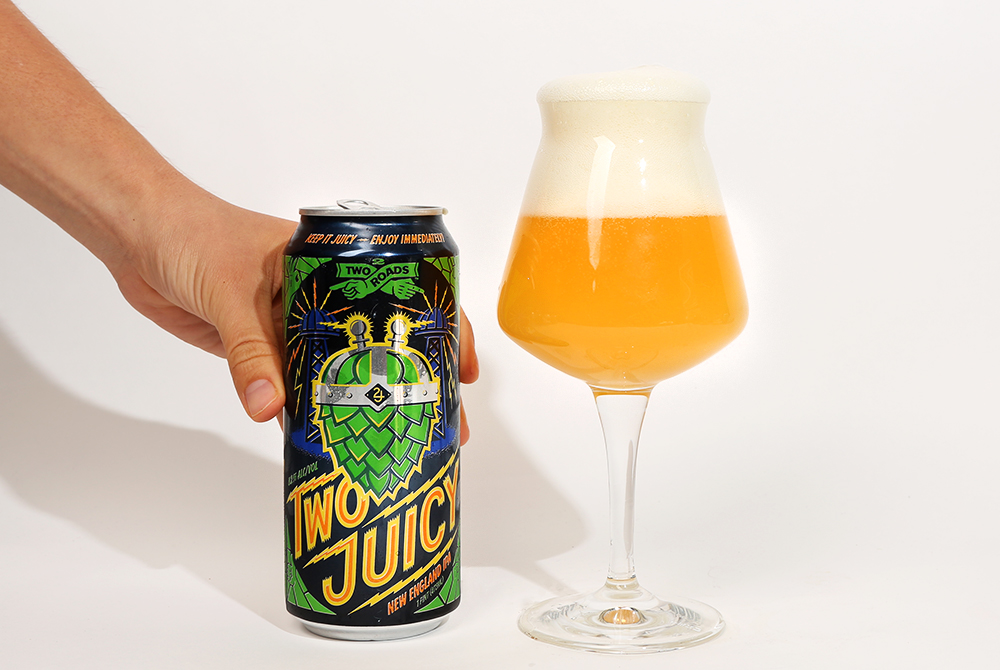 Since it was founded in 2012, Two Roads Brewing Co. has been something of an instant classic on the East Coast. Started by a group of four industry pros, Two Roads produces a steady lineup of award-winning beer that has been admired by critics and beer fans alike. Plus, the Stratford, CT-based brewery serves as the production space for some of the country's most revered breweries/brands. After forming a working relationship with 12 Percent Beer Project, Two Roads has brewed the contract offerings for brands like Evil Twin, Stillwater, Lawson's, and more.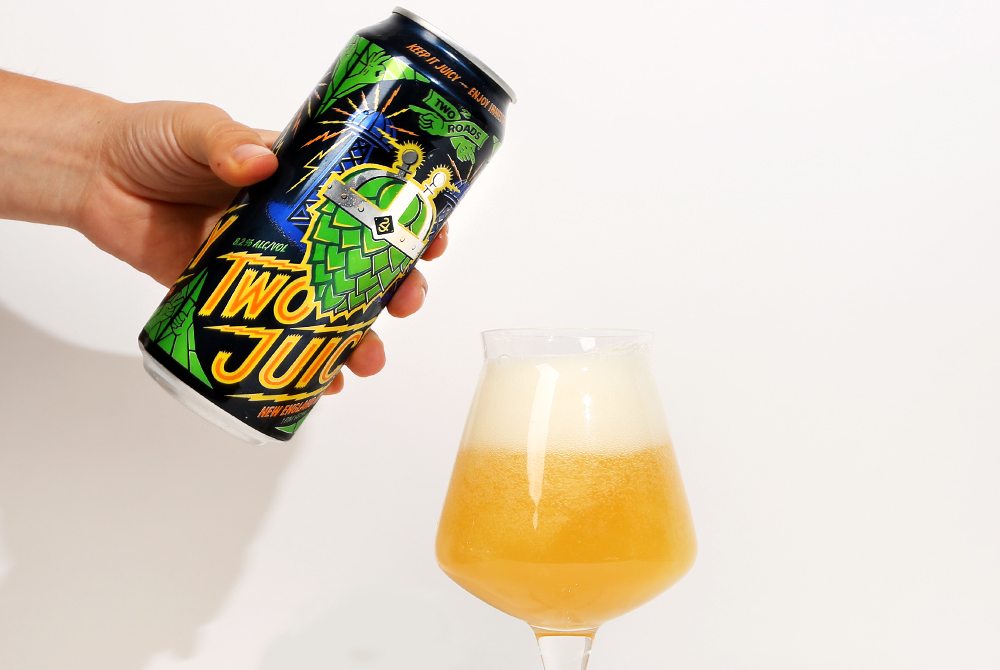 Two Roads Brewing Co. built a following of its own with year-round classics like Worker's Comp and Ol' Factory Pils, as well as seasonal beers like Roadsmary's Baby and the Tanker Truck sour series. Two Roads has been brewing its hazy IPA Two Juicy for several years now but it wasn't until about 2018 that the year-round offering was available throughout the brewery's distribution footprint. It's gone on to achieve the type of acclaim Two Roads has come to expect. But what did we think of it?
What Two Roads Two Juicy tastes like:
Two Juicy pours a light golden color with a beautiful creamy off-white head. And that frothy foam sticks around on the rim of the glass for a bit. It's bright and appropriately hazy for the style.
The aroma is really where this beer takes off. I found notes of freshly baked lemon cookies left out on the windowsill with a breeze blowing through to cool them off. The first sip is slightly creamy with a delicious blend of key limes, peach, pineapple, coconut, and custard. I want to say that it tastes like sunshine but that would be crazy. Best of all, despite the 8.2% ABV of this double IPA isn't burdensome or overwhelming.
The Bottom Line
Two Juicy is an excellent expression of New England IPAs. And it's certainly one of the best of the widely available, year-round hazy IPAs we've tried. To be fair, Two Roads is not as large or as well-distributed as some of the other breweries we've tried. And perhaps it's that smaller, mid-size brewery sensibility that makes Two Roads Two Juicy so tasty. Or perhaps it's just that good.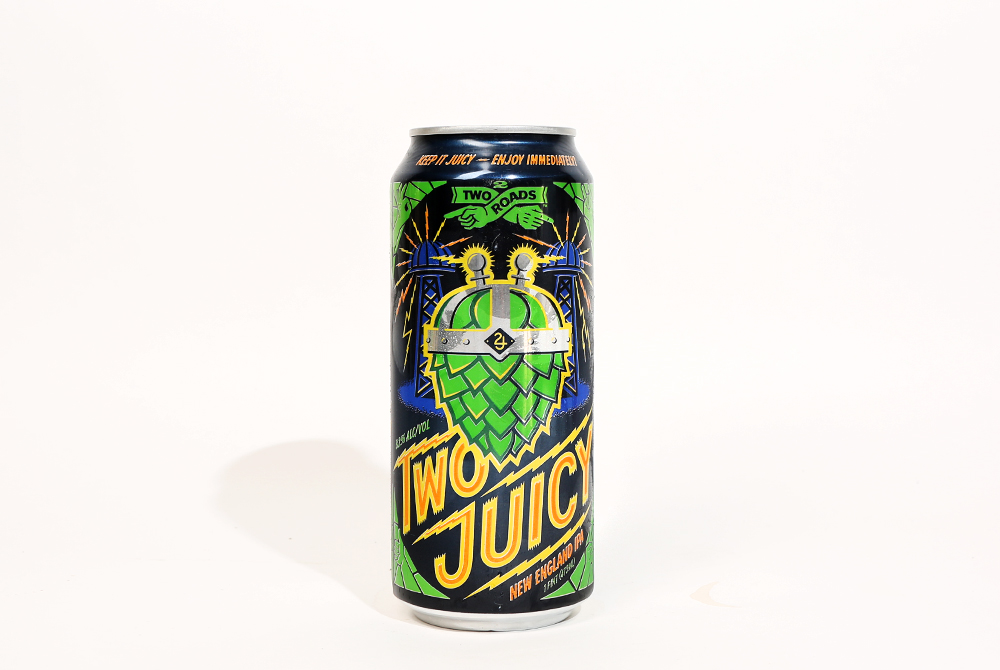 On Untappd Two Juicy sports a 4.01/5 and a 92/100 on Beer Advocate. These scores are on par with some of the better hazy IPAs from much smaller breweries and I think they speak to both Two Roads' skill and their perception as a much smaller brewery than some of the nationally distributed production breweries.
The only downside to this beer is that you won't likely find it in every single grocery store, gas station, and bottleshop around the country. It's certainly more accessible than a Trillium offering or even Sip of Sunshine, the Lawson's beer that Two Roads brews. But it isn't as ubiquitous as, say, Firestone Walker or Bell's. Still, call up your local bottle shop and, if they don't have it, see if they can order in some Two Juicy. You won't regret it.
Buy Now: Two Roads Two Juicy 4-Pack
Unless otherwise noted, all of the products featured on Hop Culture are independently chosen by our editorial team. However, Hop Culture may earn a commission from purchases made through affiliate links on the site.
Liked this article? Sign up for our newsletter to get the best craft beer writing on the web delivered straight to your inbox.