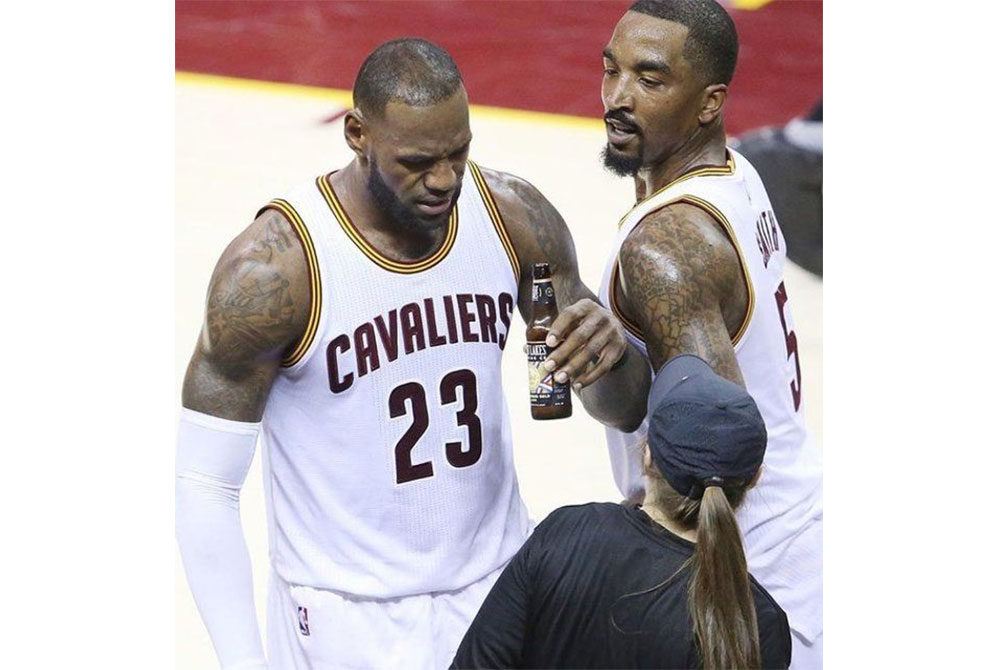 As you've probably heard by now, in an attempt to seem more like you and me, LeBron (almost) drank a beer on Monday night in a what seemed to be a spontaneous decision. But I wasn't fooled. I have my suspicions that this stunt was in planning for years (actually decades).
No, this beer grab wasn't at some '03 draft class wine drinking reunion. It was in the middle of a game: game one of the Eastern conference semifinals. LeBron, after whizzing past opponents, ran down the sideline in celebration and snatched a beer from a walking vendor. And, in true LeBron fashion, he made some Dad-like angry face, pretended to drink the beer, and then politely handed it back to the laughing vendor. The crowd went nuts. They went nuts because it's LeBron; they went nuts because the Cavaliers were winning; they went nuts because the beer he grabbed was a locally-brewed Great Lakes Dortmunder Gold Lager, and everyone knows LeBron's career has been tied to this specific beer from his first tip off.
Here's what I mean:
The Great Lakes Dortmunder Gold Lager has won 16 World Beer Championships medals. LeBron's mother, Gloria Marie James, was 16 when she had LeBron. LeBron, in 2016, broke the 52 year professional sports title drought in Cleveland. Weird.
The Great Lakes Dortmunder Gold Lager, named that for its multiple gold-winning years at the World Beer Championships, has an ABV of 5.8%. In LeBron's Olympic debut, where he hoped to help the United States nab a Gold Medal, he averaged 5.8 points per game.
The Great Lakes Dortmunder Gold Lager has an IBU of 30. LeBron, in the only season he led the league in points per game, 2007-2008, averaged 30.0 points per game. Spooky.
The Great Lakes Dortmunder is the first beer brewed by Great Lakes. It won its first award, and has been their most successful beer since 1994. 1994 happens to be the year that, when LeBron was nine, he was introduced to basketball. Alright, I'll stop.
This all may be coincidence, and this one-night-stand of sorts between LeBron and a brew may be just that. But the facts are undeniable and, after receiving too much publicity over the beer stunt, LeBron claimed that he isn't much of a "beer guy." Then, to take it further, he lashed out at Great Lakes Brewing for publicizing the grab, likely as a ploy to throw us off the trail.
Lebron was just practicing "safety first" ???? pic.twitter.com/gWDWNNPYCl

— NBA TV (@NBATV) May 2, 2017
Nice try.