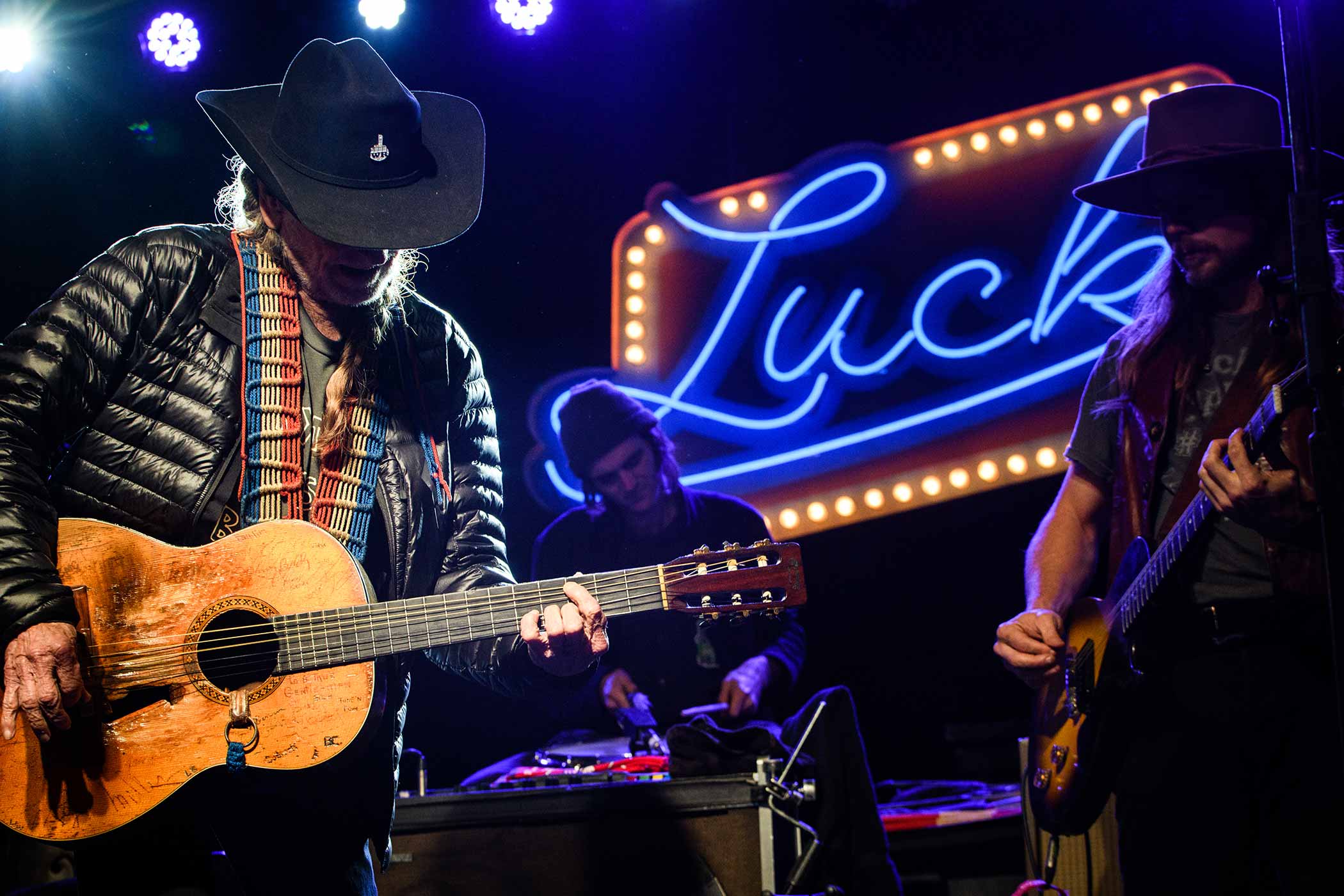 Photography courtesy of James Joiner (@jamesjoiner)
Editor's Note:
This is a paid, sponsored post presented by our friends at Luck Presents.
Willie Nelson, Terry Allen, the Panhandle Mystery Band, Guster, Spoon, Ethel Cain, and more will all converge on Nelson's Luck Ranch in Spicewood, TX, on Mar. 16, 2023, for the eleventh anniversary of Luck Reunion.
A yearly music festival and experience created to be a "reunion" of the people and community that make music and Texas tick, Luck Reunion can really be summed up by one phrase: "Live like Willie."
"We are creating a platform for the next generation of creatives and storytellers while preserving the past that came before us," wrote Luck Reunion Co-Founder, CEO, and Creative Director Matt Bizer in an email to Hop Culture. "It is a celebration of music, food, and community that annually makes a pilgrimage to Willie Nelson's ranch to celebrate not just a legacy, but to help carry the torch of a community created around a lifestyle."
One that really starts with a pair of cowboy boots on the ground in Texas.
Just A Kid from Texas

Sort of like the anti-festival, one driven by an experience-driven community, Luck Reunion very much expresses the Texas roots of its creator.
As a kid growing up in Texas, Bizer spent as much time skateboarding and BMXing as learning the two-step.
"I skipped school to chase storms and surf in the Gulf but also to go to a cowboy breakfast in San Antonio and dance in Conjunto and Tejano all day," wrote Bizer. "That's Texas."
Bizer carried that adventurous spirit throughout his teens and twenties, traveling around to different cities and artistic communities in his car with aspirations to make films.
"I was fascinated by the Beat Generation and I loved to see how other people lived," he wrote.
Never content to settle down, Bizer jumped around in the film industry from lighting tech to camera operator to making his own films.
Each role taught him something new.
Eventually falling into producing, he made everything from music and fashion videos to commercials.
"Over the years I sort of collected production skills like a hobby," he says.
And he started meeting people—famous people.
"There was no point you could have told eighteen-year-old Matt that he would get to sit beside the Cohen Brothers for weeks at a time, play Pass the Pigs with Jeff Bridges, have dinner with Steve Earle, make a music video for Chuck Berry, have to convince Emmylou Harris to do another take, have a flirt with Bonnie Raitt, or sit across from Willie Nelson in his underwear," wrote Bizer. "I have a hard time even saying that… So yea, I would say my motto for the first twenty years of my life was: 'Why not?'"
From Why Not to Willie Nelson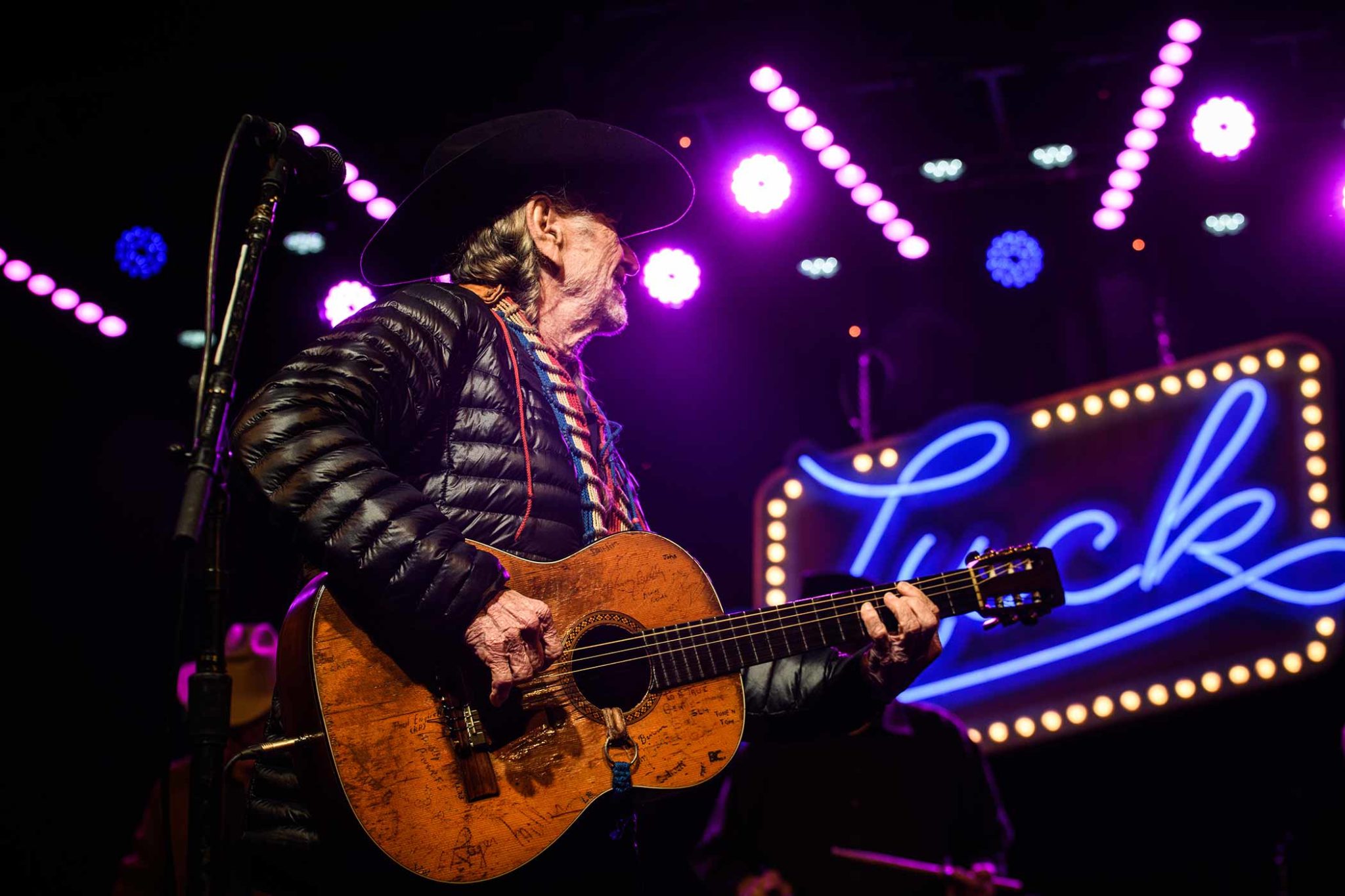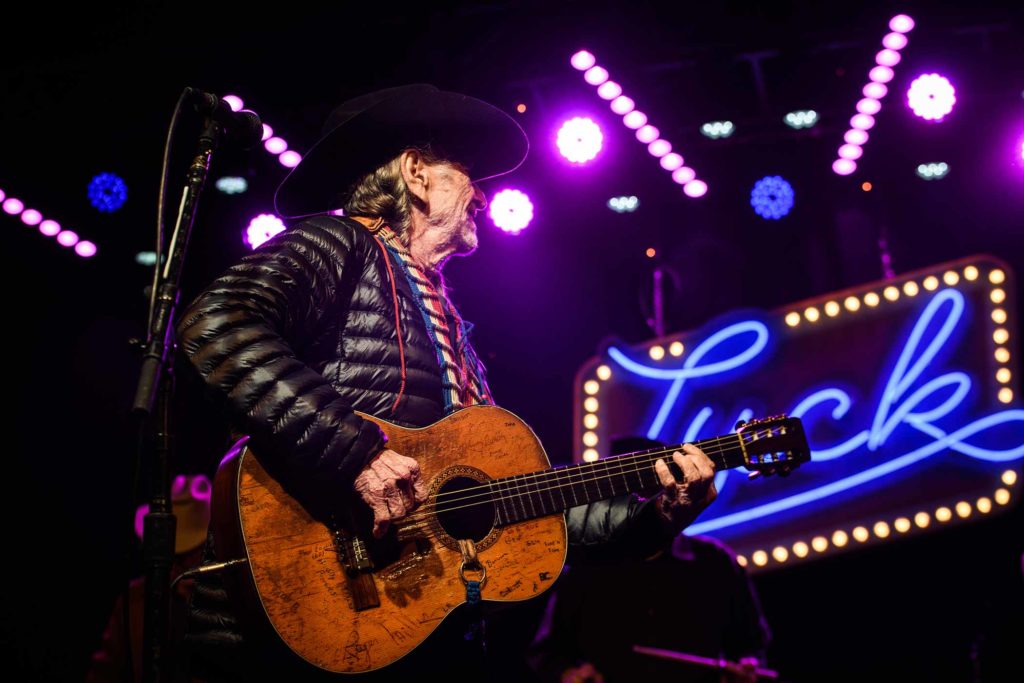 While it wasn't Willie Nelson in his underwear per se that inspired Bizer to create his own music festival, Nelson as a person did.
That and the intersection of Texas and New York.
Bizer met the Nelsons on a movie he crewed in Austin called "When Angels Sing."
And his eventual business partner Ellee Durniak, who he happened upon in New York while visiting with a rock band called the Happen-Ins and filming a documentary.
"The idea of Luck was sort of a product of all these chance encounters with artists and people collected stretching from Austin to NYC and back," wrote Bizer. "Ellee and I talked a lot about what was missing in music and events with our friends in NYC."
A place where all people, from all walks of life, from all different backgrounds could come together and enjoy something they all loved—music.
One night at a restaurant in North Central Austin with Annie and Willie Nelson, Bizer pitched the idea off the cuff.
"It really is a blur, but I remember Annie saying 'get insurance' and thinking it was a joke," wrote Bizer. "It wasn't until a few weeks later in NYC that I realized they had thought it was already happening."
When You Realize You're Throwing a Music Festival on Willie Nelson's Ranch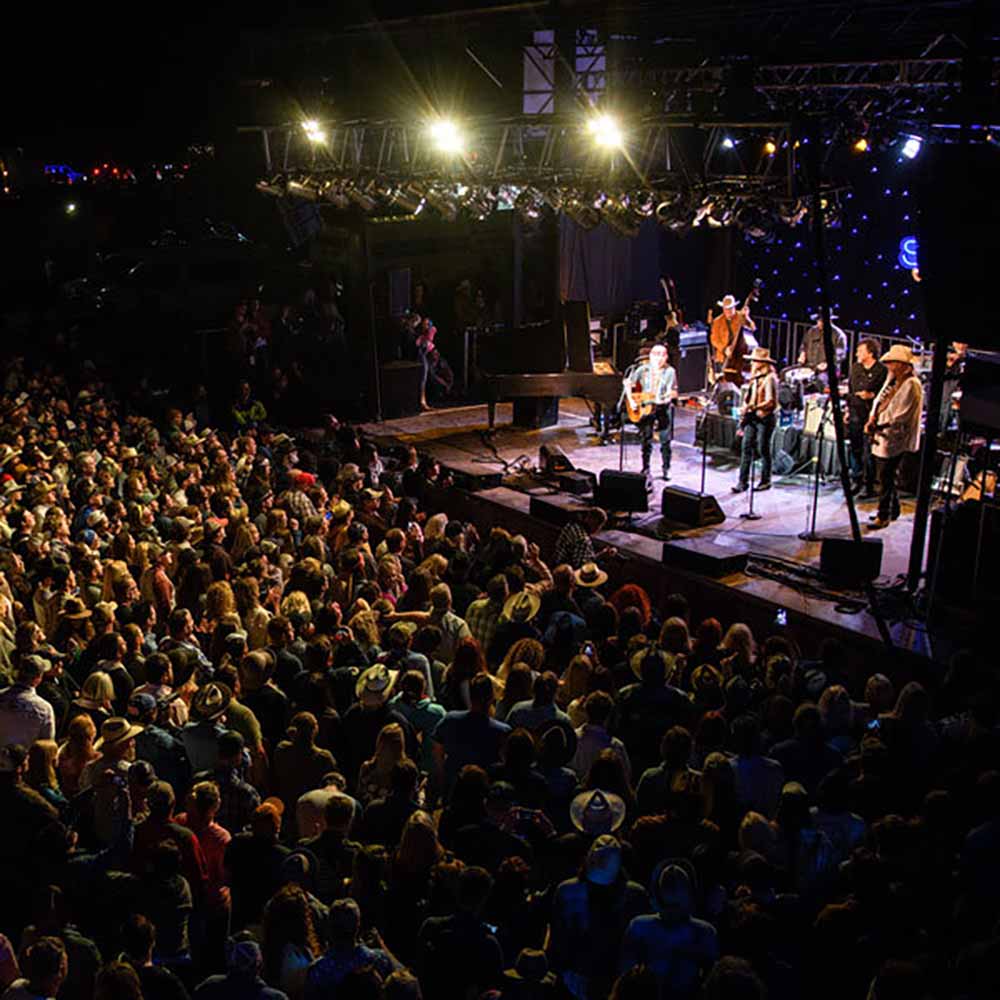 😱 It's all hands on deck.
"One thing you learn working with the Nelson family is that they say what they mean, and good or bad you just might find yourself throwing an event at their ranch!" wrote Bizer.
Does it matter that you've never put a big event together before? Does it matter that you need to Google the words "sponsorship deck" because you realize that you need one to get sponsors?
Nope. You just get 'er done.
"Year one was friends and family boot-strapping it," wrote Bizer, who cold emailed companies, drove a box truck for a week, and did whatever else was needed to scrape Luck Reunion together.
And yes, before you ask, Bizer got insurance.
In reality, that first Luck Reunion was just a secret party with people invited over social media and by word of mouth.
There were kegs and Tito's alongside a small festival stage at the end of main street where eclectic bands and artists played. For instance, James McMurtry, Johnny Fritz , Blitzen Trapper, Jenny O., Aaron Lee Tasjan, Billy Joe Shaver, and more.
"The Sheriff showed up to unplug the show at 11pm and Gary Clark Jr. played a twelve-minute version of Bright Lights," wrote Bizer. "After that and a Rolling Stone article or two, it just sort of grew and we hung on."
To Bizer, creating Luck Reunion has been more like "breaking a horse" than methodically planning out everything.
But although they stumbled into the rodeo like a lost bull, Luck Reunion found something real drifting aimlessly across the dusty Texas plain.
"We call it a family, but it really is a community in true form," wrote Bizer. A group of people all brought together to enjoy music harmoniously. Those people dug their heels into the sides of the bull, tightened the reins, and held on for dear life.
And it's that bond between friends, artists, and fans that has kept Luck Reunion going strong even eleven years later.
Luck Reunion Celebrates Its Eleventh Anniversary With a Big Lineup…of Beer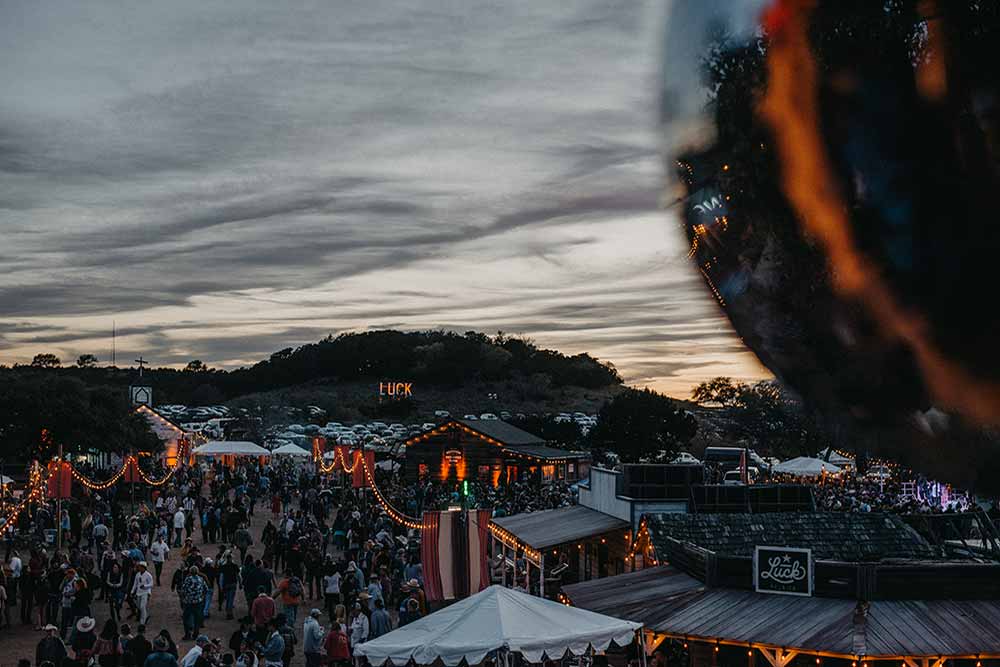 In 2022, Luck Reunion has gone all out.
"This year's Luck Reunion event is going to be a really special eleventh year for the Luck Family," wrote Bizer. "We are excited to invite a list of returning acts as well as a ton of amazing faces to the Luck Family. It won't be one to miss!"
Artists such as Nelson himself, Terry Allen, the Panhandle Mystery Band, Guster, Spoon, Ethel Cain, and more will grace the stage at Willie Nelson's Luck Ranch in Spicewood.
All told, over thirty-five folks will sing, strum, and play. See the full lineup here.
"From our Potluck on March 15th celebrating the stories of the 3 Sisters agriculture and culinary heritage to our celebration of New Orleans on March 18th, and tribute to the late, great Sister Rosetta Tharpe on Sunday March 19th, we have a heck of a week lined up out in Willie's Backyard," wrote Bizer.
Here's what the full weekend will look like:
Wed., Mar. 15, 2023 – Potluck x Three Sisters: A Three Sisters-themed multi-course dinner and concert fundraiser paying homage to the main agricultural crops of indigenous cuisine.
Thur., Mar. 16, 2023 – Luck Reunion '23: The main event!
Sat., Mar. 18, 2023 – New Orleans Takeover – An experience like no other as New Orleans, LA, invades Luck, TX, with a multi-performer show drawn from the spirit and deep influence of the Big Easy. The event will feature a chef-curated food experience presented by the Texas Food and Wine Alliance as well as food vendors from across Texas and Louisiana.
Sun. Mar. 19, 2023 – A Tribute to Sister Rosetta Tharpe: Gibson, Antone's and Luck Present: Strange Things Happening – A Tribute to Sister Rosetta Tharpe. Capping off the week at Luck is a gospel brunch like no other. A thoughtful and artist-packed tribute to the legendary Sister Rosetta Tharpe, original "Soul Sister" who made an indelible impact on gospel and soul music. The Dap Kings' own Binky Griptite serves as musical director.
And as a craft beer magazine, we took note that the beer will match the big stars with the festival featuring its first ever Craft Beer Hall.
"Unique to this year's reunion, we are adding a 50'x70' Beer Hall to the Luck Barn state outfitted with draft walls and a selection of amazing craft beers," wrote Bizer.
Which makes sense because a) everything is bigger in Texas and b) Texas has some pretty freakin' amazing breweries.
But at Luck Reunion specifically, big breweries you'll get to drink from, include Lagunitas, Deep Ellum, Founders, Odell, Real Ale, Sierra Nevada, Family Business Beer Co., and Bishop Cider.
How Can I Get Tickets to Luck Reunion?
Looking to hang out with Willie Nelson while drinking a Lagunitas?
Sound like a once-in-a-lifetime experience to you?
While the presale tickets to Luck Reunion '23 are sold out, you can subscribe to the email list at luckpresents.com and follow Luck Reunion social media platforms to participate in the remaining Lucky Draws and pop-up opportunities to buy tickets. Or check out all the other events that are happening at Luck Reunion from Wed., Mar. 15, to Sun., Mar. 19, 2023, and get your tickets here.