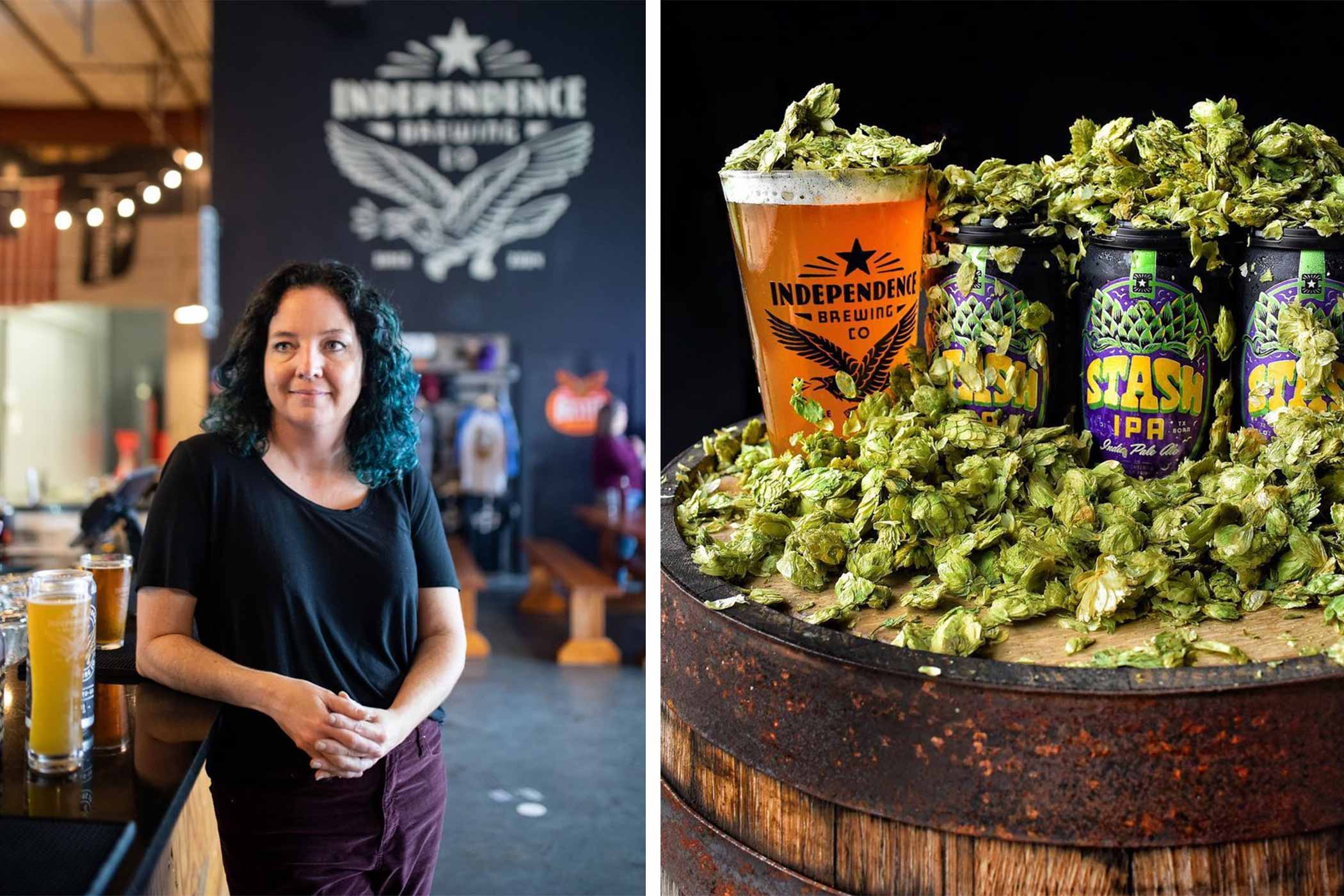 Photography courtesy of Independence Brewing
Editor's Note:
Independence Brewing will be joining Hop Culture at its fifth annual Beers With(out) Beards taking place April 9th, 2022, at Brick South in Portland, ME. You can get tickets here.
When Amy Cartwright opened Independence Brewing Co. in Austin in 2004, she was only one of three production breweries in the Texas city. And she was certainly the only woman-owned one.
Fast forward eighteen years and Independence Brewing is now the eighth largest brewery in the entire state and Cartwright has become a pillar of the craft beer community, helping to found the Texas Craft Brewers Guild and reviving the Texas Craft Beer Festival.
Beyond that, she's set the standard for other women in the industry, helping to grow a thriving Pink Boots Society Chapter in Austin and bringing together women who want to drink or make a career out of beer.
We're thrilled that Independence Brewing will be one of the thirty-plus breweries joining us at our fifth annual women in craft beer festival Beers With(out) Beards on Saturday, Apr. 9th, 2022, at Brick South in Portland, ME.
Psst: Tickets may still be available. But not for long. 👇👇👇
To celebrate, we sat down with Cartwright to chat about her first experience drinking in Germany, building Independence into one of the largest breweries in Texas, and how staying independent as a woman in beer has helped define a new generation of craft beer.
Sweet Sixteen: A Drinking Education in Germany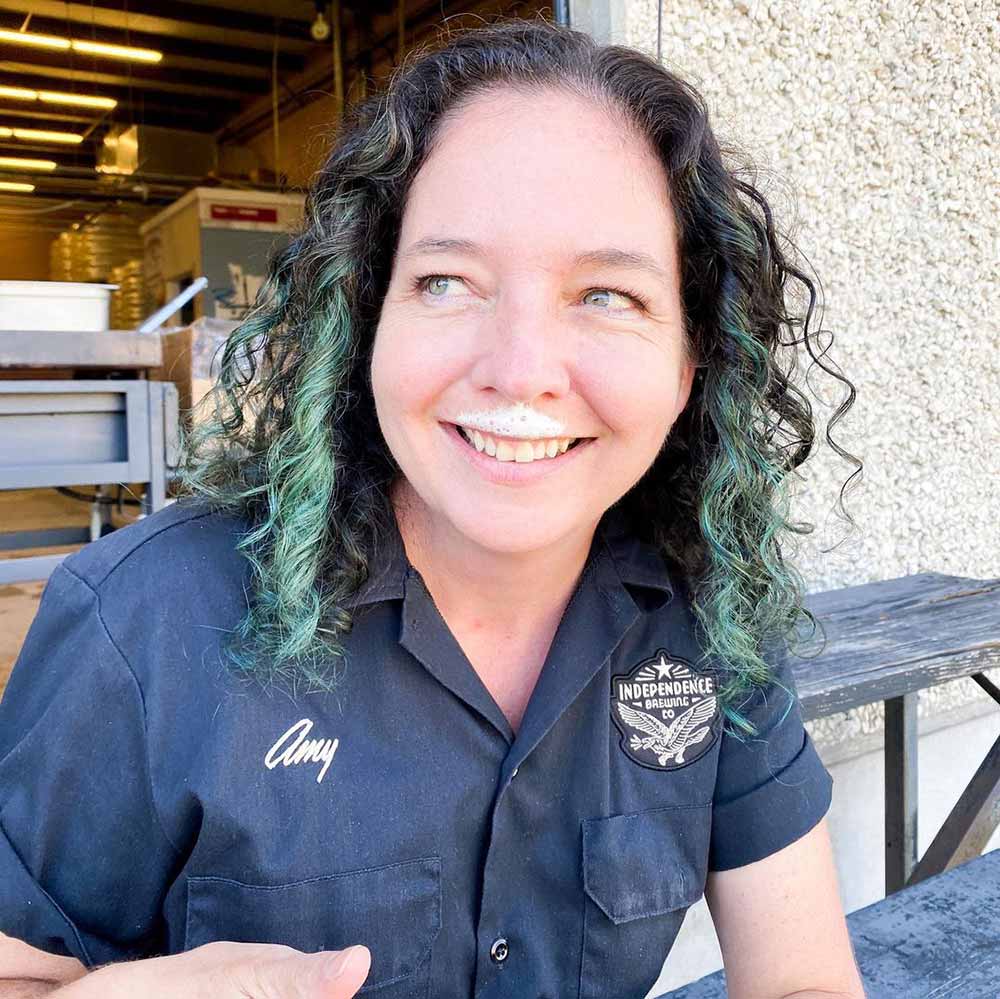 At sixteen years old Cartwright had her first introduction to beer.
Good beer.
At the time Cartwright had an older brother in the Air Force stationed in Germany with his wife and newborn baby.
Her family visited him over the summer.
"It was an eye-opening experience," says Carwright, who traveled around Austria, Northern Italy, and Germany, where the legal drinking age happened to be sixteen. "It left a big imprint because there were regional differences in the beer. We were in Cologne drinking kölsch. It was a good introduction [to beer] compared to what tends to be the normal experience of the cheapest beer we can get."
Cartwright carried that experience with her when she moved to Austin as a twenty-one-year-old transfer student at the University of Texas.
She wound up working at the Bitter End, a popular brewpub.
"I had a lot of exposure to everything," says Cartwright, who learned a lot about beer, wine, even cocktails. She even got a first-hand glimpse at the brewing process.
The brewpub's unique layout included all the tanks up at the front behind a glass wall.
From the hostess stand Cartwright could see everything going on in the brewhouse. "I started learning all about the process as a distraction technique," laughs Cartwright. Anytime folks had to wait for a table Cartwright would start chatting about what the brewers were doing in their little glass-walled room. "Next thing they knew five minutes passed and their table was ready," says Cartwright.
The Bitter End even hosted beer dinners. Including one with the famed beer writer Michael Jackson.
"I remember seeing a poster on the wall and asking our manager, 'Michael Jackson is coming to the Bitter End?" says Cartwright. "He told me, 'Not that Michael Jackson!'"
For two years Cartwright's appreciation for beer grew. But it would still be a while before she realized she could make beer a career.
The Origin of Independence Brewing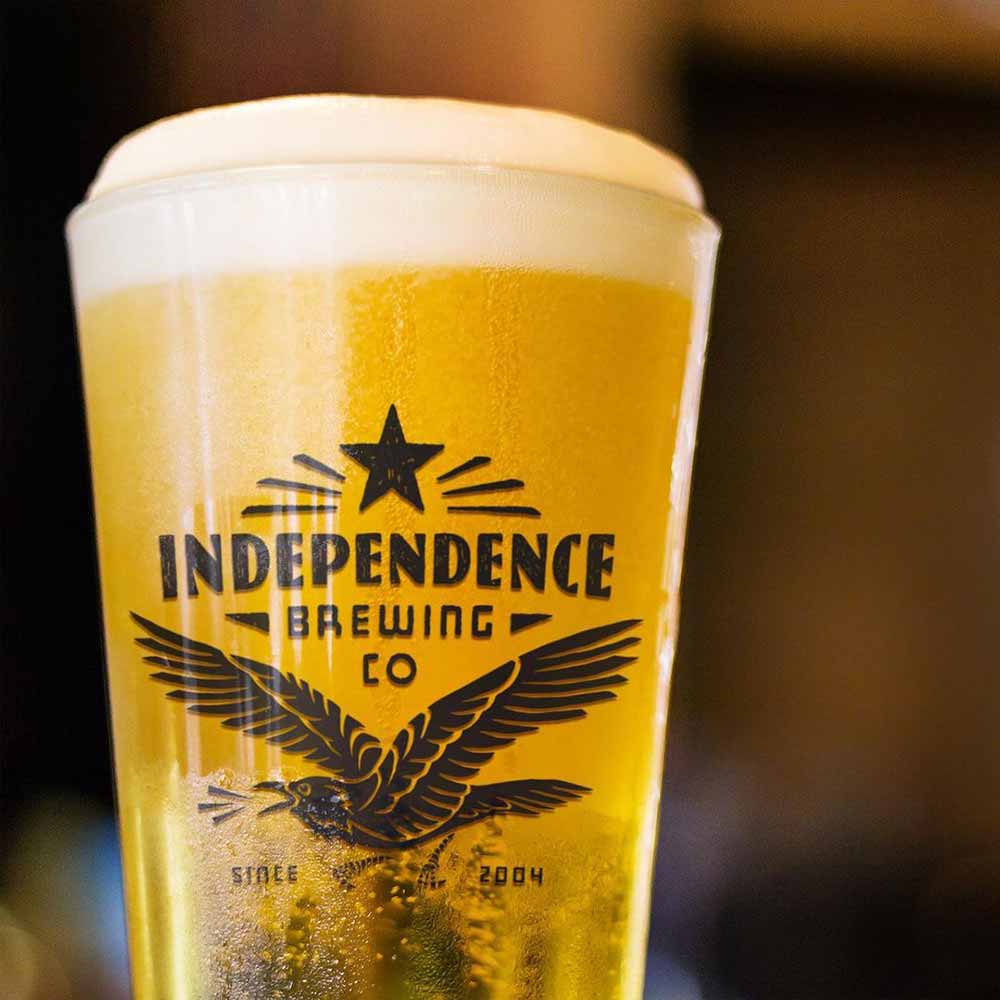 After graduating from the University of Texas, Cartwright worked for an online magazine covering thirteen different outdoor sports. She ran two subsites for both mountain biking and cycling; their biggest project included writing about the Tour de France in real time.
Creating a website from the ground up would be invaluable experience later down the line.
"Some of the things that shaped me early on were being a part of these new or emerging projects," says Cartwright. It was this mentality of "if they don't exist we'll figure it out. We get to be the ones to do it," says Cartwright.
That's exactly what happened with Independence Brewing.
In fact, it's right in the name. "What does it mean to call ourselves Independence Brewing?" says Cartwright. "It has to be Austin-related, Texas-related, or something about the expression of freedom in some shape or form."
It's that can-do, autonomous spirit that has carried Cartwright throughout the brewery's eighteen years. Even when they were just a tiny little operation.
In 2004, Cartwright and her husband Rob Cartwright opened Independence Brewing with only a small, outdated 15-bbl system that they found in the desert.
"This was a used system, very rudimentary," says Cartwright. "It had no instrumentation, no mash rakes. All gravity-based grain from the mash tun to the kettle. Just pretty bare bones."
But with this trusty brewing equipment Independence churned out classic styles of the time.
Such as amber ales.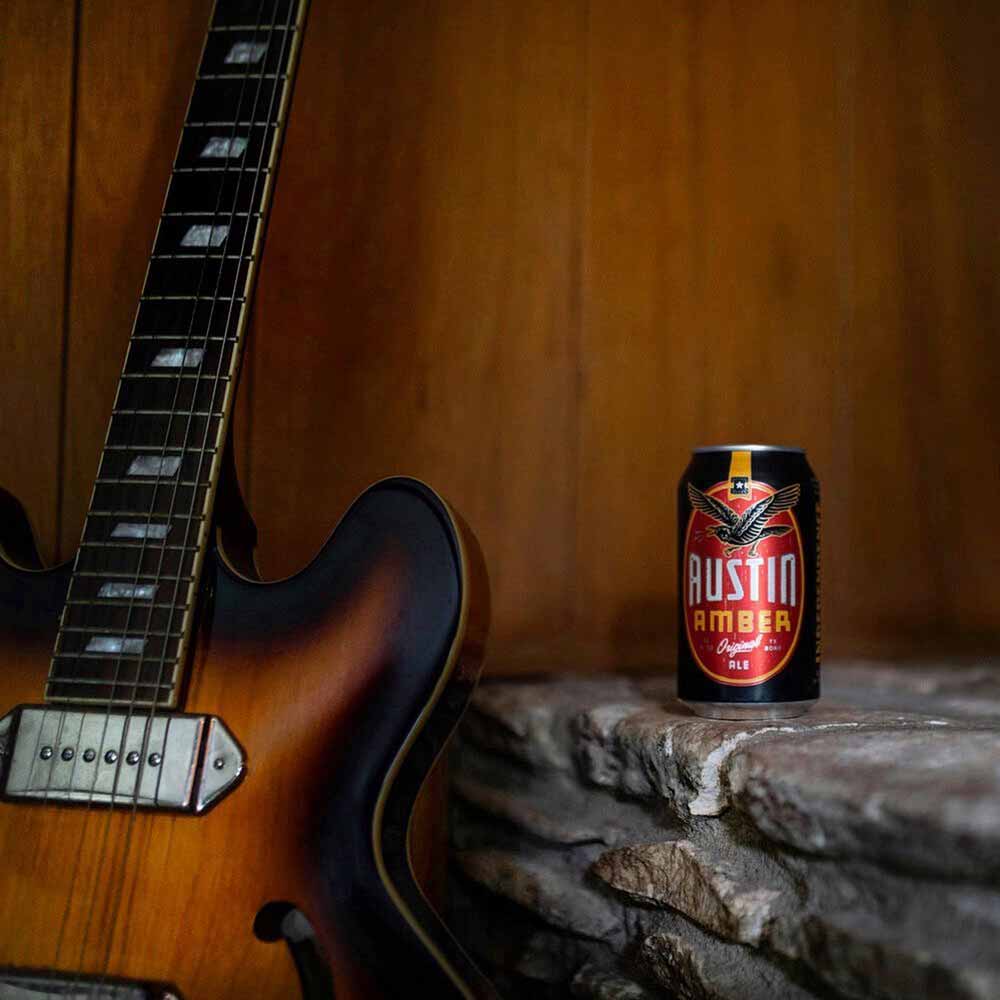 In fact, Austin Amber became one of the brewery's signature selections, serving as a gateway beer for the local craft scene.
See in the early aughts, Austin didn't have its fair share of breweries yet. Independence was only the third production brewery to open in the city.
Since then, the times have changed dramatically. And Independence Brewing has simultaneously grown into one of the largest breweries in all of Texas.
And like with any independent, women-owned business, the journey has featured many twists and turns.
Refusing to be Pushed Around: A Women-Owned Brewery in Texas During the Early Aughts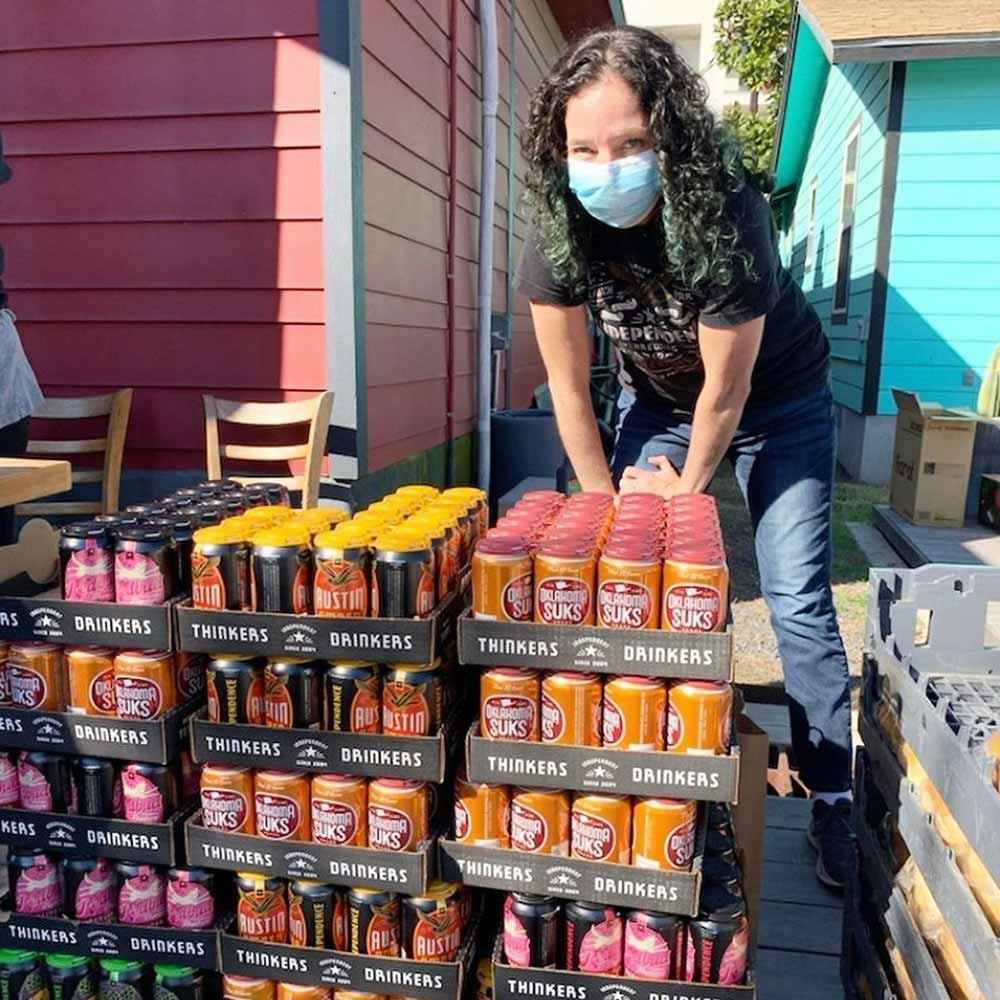 From the get go, Cartwright had to fight for her place in the industry.
For the first five years Independence Brewing self-distributed; Cartwright delivered many of the kegs and cleaned draft lines herself.
"It was intimidating to be in the back of a cold room with big giant dudes working for distributors," says Cartwright. "They have a lot to deliver too and they were always like get out of my way and I'm like no! I'm here to do this; I'm not going to be bullied or pushed around."
It was a tricky line to toe for Cartwright, who at the same time wanted to make a good impression on the industry as a new business owner. "Navigating the line of standing your ground but not being perceived as overbearing was challenging," says Cartwright.
Still, Cartwright stayed the course, staying true to herself and her brand, building respect and street cred in the local beer scene. "We know what we're doing, we're going to show up, we're here to play," says Cartwright, who continued to carve out a place for herself by doing the dirty work, drilling holes and putting in shanks in the back of cold rooms and running draft lines.
"For the most part for me, if I felt someone got in the way or was giving me a hard time, I tried to deal with it as best I could," says Carwright. "I don't know that I had to deal with any overt harassment or someone telling me we couldn't do it, but it was a challenge to navigate and get things done."
She recalls showing up to a local restaurant chain to drop off kegs. They questioned her, "Oh, you're doing it?" says Cartwright. "Yup, I'm the one who does it. I'm here. They might expect or assume you're going to be uncomfortable, but nope, you show up and get it done."
It's that tenacity that has helped Independence grow.
Maxing Out, Trading Up, Staying Independent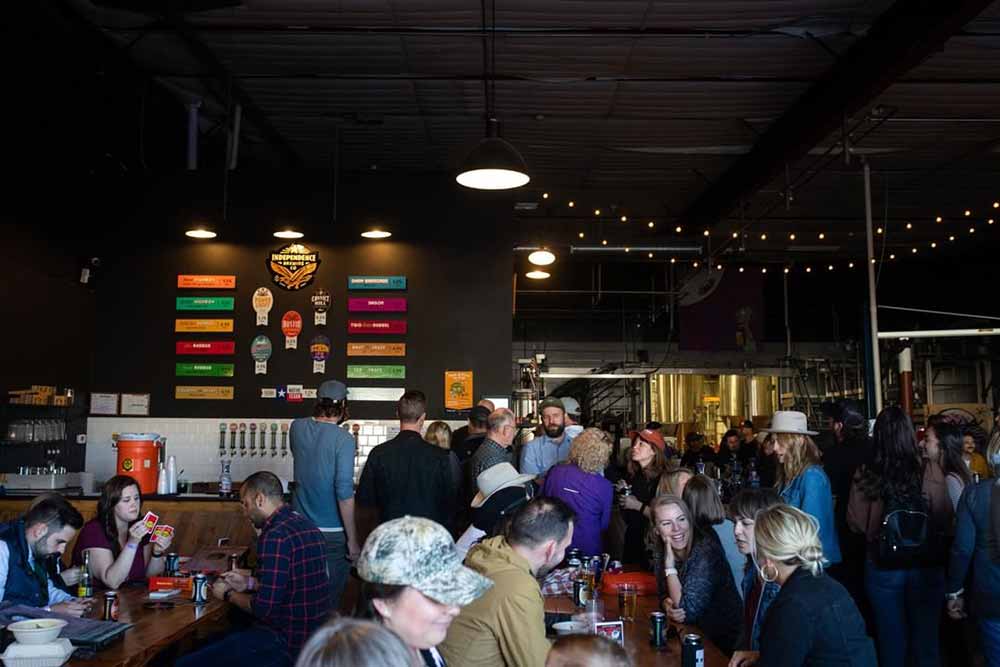 Eventually Independence maxed out its 15-bbl system at 9,000 bbls of beer a year.
They needed bigger equipment.
The project took several years, but in 2014, Independence opened a brand new 17,500sq-ft facility (more than doubling its previous 7,500-sq-ft space) with a shiny state-of-the-art 60-bbl brewing system.
To go with the upgrade, Cartwright started distributing to more parts of the state.
"If you haven't been through Texas it's hard to conceptualize how big Texas is," says Cartwright. "Going to Houston, the fourth largest city in the U.S at that point, and Dallas/Fort Worth, another huge metro region, and El Paso, those three metro regions couldn't be more different from each other."
So Cartwright spent the next few years trying to get beer across Texas, eventually expanding to Arkansas and most recently announcing a new distribution partnership in Oklahoma.
Growing its footprint certainly helped cement Independence Brewing in the Texas craft beer scene, but what truly catapulted the brewery as a serious contender was one beer—Stash IPA.
Stash IPA – Independence Brewing Crushes the IPA Game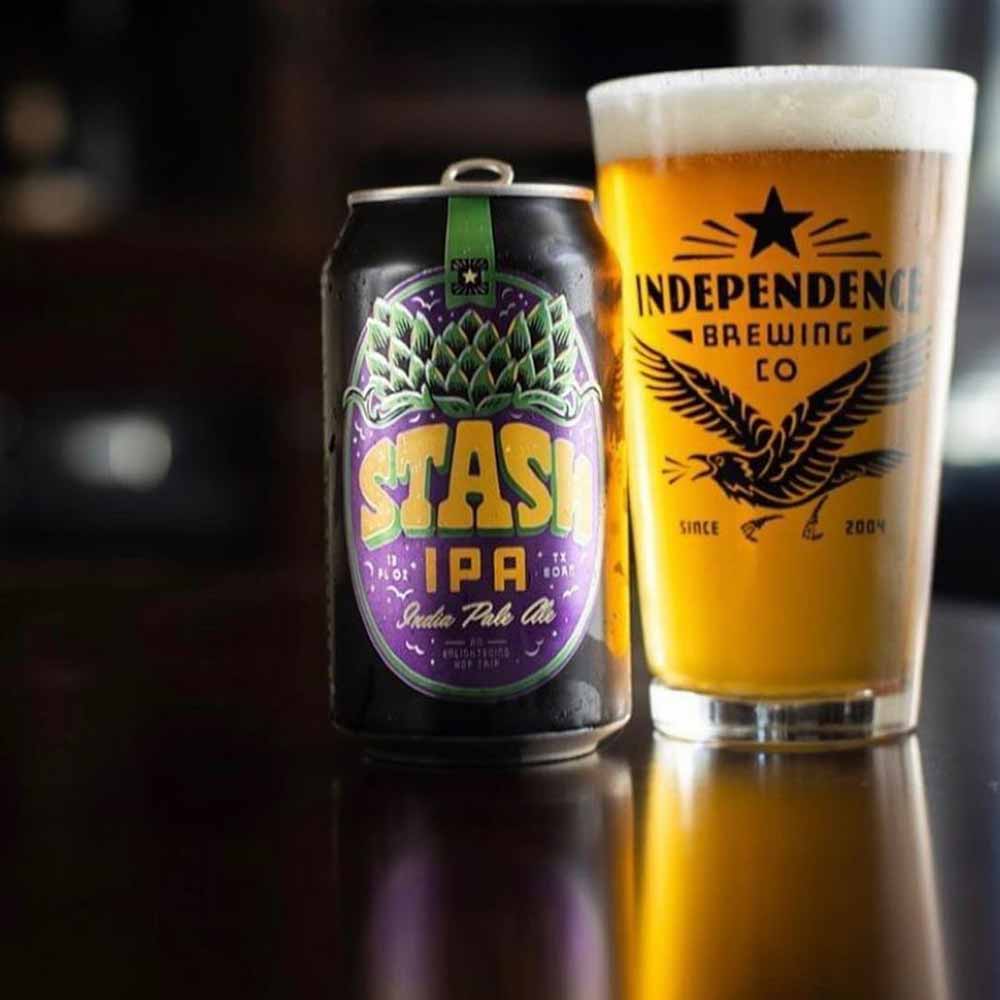 Perhaps unsurprisingly, it's an IPA that truly changed the trajectory of Independence.
First brewed in 2011, Stash IPA was Independence's first stab at an IPA. It was a beer all about "busting out your best reserves for your friends…sharing your stash instead of hoarding it," says Cartwright.
A beer meant to be the best in your stash deserved the best hops. Such as Cascade, a popular hop at the time and honestly still today.
But that year a huge fire actually destroyed many of Yakima Chief Hops products. All of a sudden hops weren't available.
Cartwright says they ended up sourcing Argentinian Cascade for Stash IPA. Consequently, the experience taught Cartwright that she needed to stay on her toes, discovering new hop varieties wherever possible.
"We started searching high and low for what new hops that could make a good IPA," says Cartwright.
They tried Citra. "The next year Citra blew up and we couldn't get it," says Cartwright.
So they tried Galaxy. "Lo and behold, then Galaxy blew up," says Cartwright.
But with each version of Stash IPA, Independence started to make a name for itself and for Texas beer. "That got us on the map because we had to push ourselves to find some other hops because we couldn't get what was out there," says Cartwright. "At that time there wasn't as much respect for Texas brewers amongst beer fans and geeks, so for us, Stash was the first beer that got us street cred."
Cartwright calls Stash IPA a game changer. One that led to a period of even more growth for the brewery.
And eventually would inspire a new rotational hop-forward beer series called Highboy.
So it makes sense that when Cartwright wanted to make a beer celebrating International Women's Day this year she would turn to her IPA series to spread the word.
Pink Boot Society Double IPA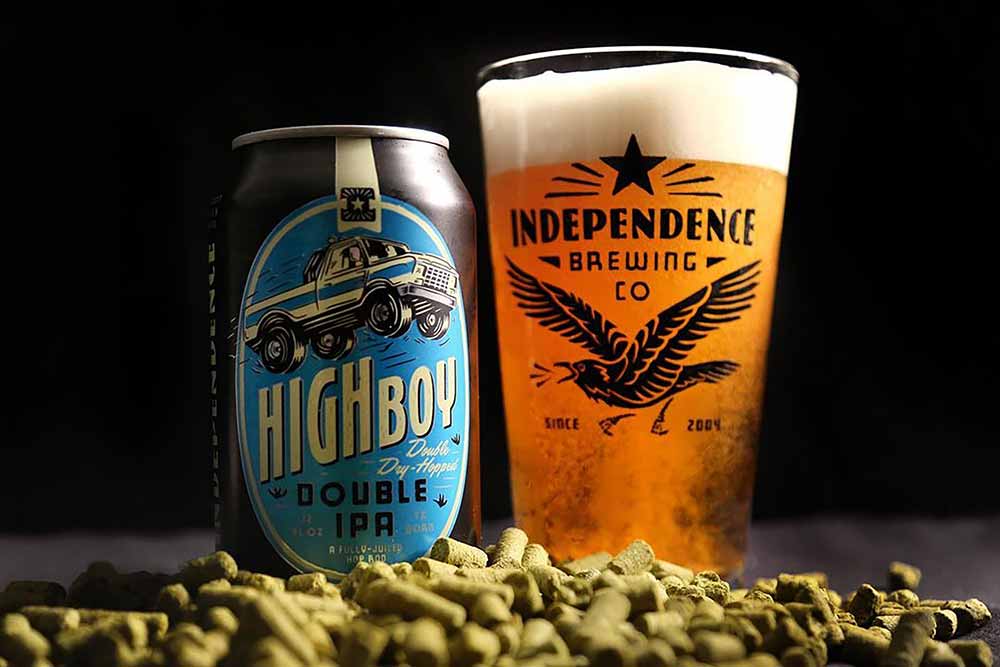 Every year in March breweries around the country participate in the Pink Boots Collaboration Brew Day to celebrate International Women's Day. Created nine years ago by the Pink Boots Society (PBS), an organization that supports women in the beer industry, Pink Boots Collaboration Brew Day invites women from all facets of the industry to come together for a night to brew a beer. Often taking place on the same day as International Women's Day, the event recognizes the successes of women in beer.
The concept is simple: Yakima Chief Hops provides a special Pink Boots Blend that breweries can purchase with $3 from every sale going to support PBS scholarships and programs.
Breweries then craft their own beers with proceeds from sales donated to an organization supporting women.
It's an empowering campaign that Independence Brewing participated in during 2020. But because of the global pandemic, they only released the beer on draft and in crowlers.
This year, for the first time, Independence will release its Pink Boots Society beer in cans with contributions from can sales going to the Austin Chapter of the Pink Boots Society.
To increase the visibility and impact, Cartwright chose to brew the Pink Boots beer as a part of her Highboy series. "Highboy is an ongoing hop project with a big following…so I thought this would be a good way to get more attention for the Pink Boots project as a whole," says Cartwright. "People wait for the different releases to come out all the time, so let's incorporate the Pink Boots release into that program because it has a pretty wide distribution, to get exposure for it, and to raise some money."
The double IPA itself simply showcases the unique Pink Boots Blend, featuring HBC 630, Idaho Gem®, Loral®, Talus®, and Triumph hops. A fair amount of pale and wheat on the malt side give it a great canvas to show off the hops. "I really like the blend this year," says Cartwright, who notes they did some massive additions in the whirlpool and extensive dry-hopping.
"It's a double IPA, so it will have a decent body, but not heavy, with an appropriate level of medium malt sweetness," says Cartwright. "The hop blend itself had a really great mix between tropical and stone fruit flavors. It has good balance with some hints of dankness.
You can expect Independence Brewing's Pink Boots Society DIPA to hit shelves in 19.2oz cans by the second or third week of April. Cartwright might even be able to bring some to Beers With(out) Beards if it's ready in time!
And while the beer itself is exciting, it's the women behind it and the movement pushing behind them that truly empowers.
Beyond Beer, Women Changing the Industry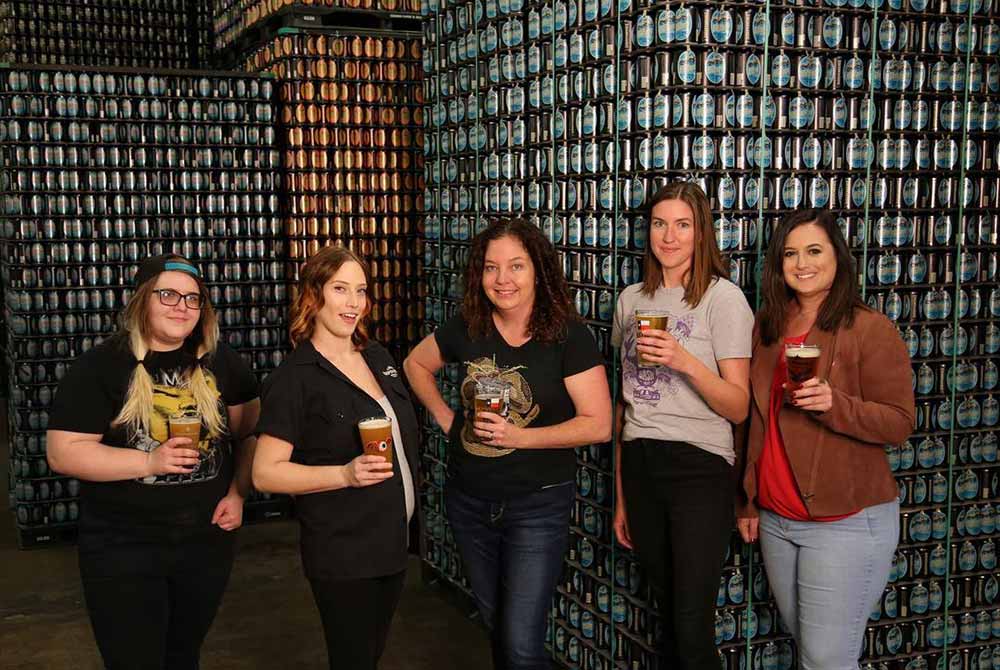 Today, Cartwright is encouraged by the change she has seen in the industry.
In 2004, when a friend wanted to put together a women in beer event, Cartwright said two people showed up. Her and her friend!
Now when the Austin chapter of the Pink Boots Society puts on an event, tons of women come.
And Cartwright says she currently sees women in every field of the industry.
Beyond that, she's noticed a change in attitude.
"I was raised that you have to be better than the guys or you have to demonstrate more," says Cartwright. "[But] I don't get the sense that younger women…feel the need to go above and beyond. They do the job. They know what they're doing and that's enough."
But Cartwright cautions that, while she's noticed tangible change, there is still a lot of work to be done.
"There has been a lot of progress and huge changes I've seen," says Cartwright. "At the same time it always feels like it's a journey, not an ending point. It feels like a pendulum. It swings, you make progress, and then it pushes back a little bit."
For instance, Cartwright was very disturbed and discouraged to hear some of the stories that came out in the last two years. "I didn't see that publicly here, but that's why it needed to come out," says Cartwright.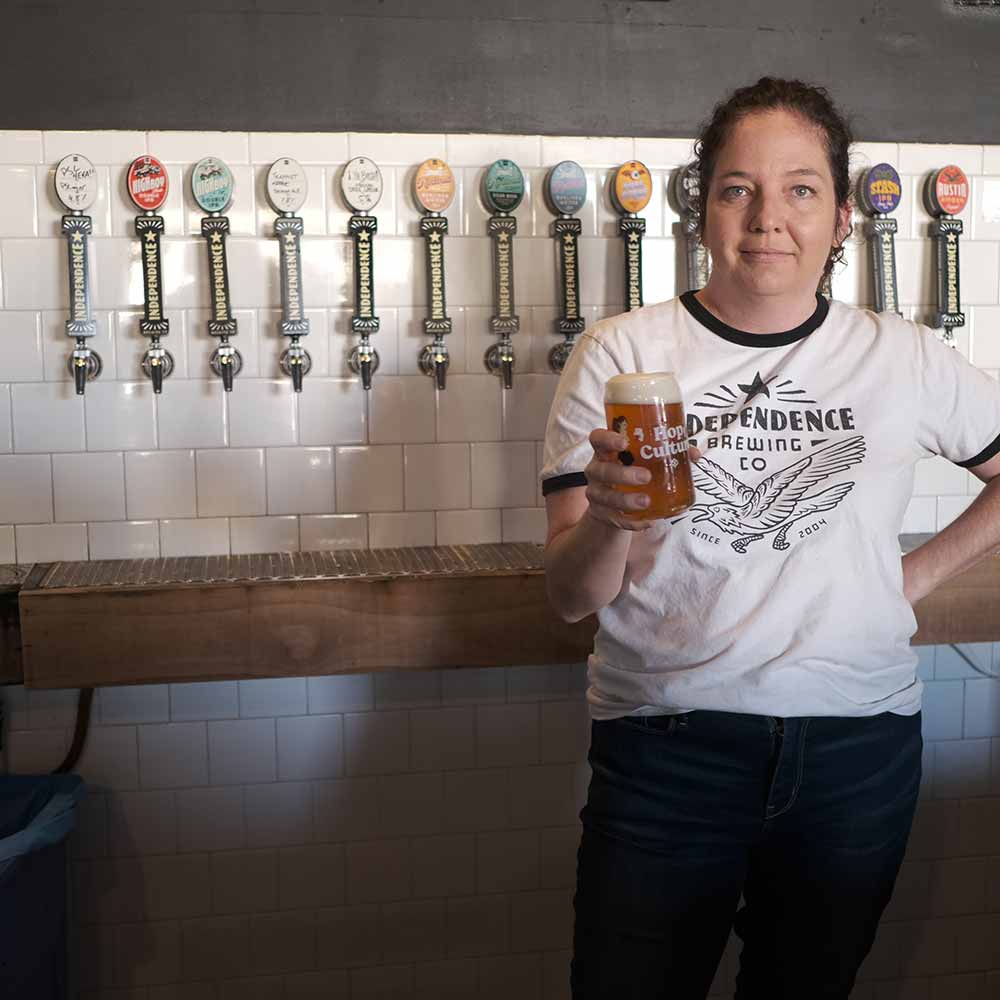 She continues saying that festivals like Hop Culture's fifth annual women in craft beer fest Beers With(out) Beards (which Cartwright will be attending in-person with Independence Brewing) on Apr. 9th, 2022, are helping to push that change forward.
"I'm excited to meet a lot of amazing women," says Cartwright. "If it's anything like our [Pink Boots Society] chapter here, just the opportunity to meet people from so many different backgrounds and different parts of the country adds a lot of value."
Cartwright continues. "It's always amazing…to meet up and share information and there's a camaraderie aspect. I'm really looking forward to it."