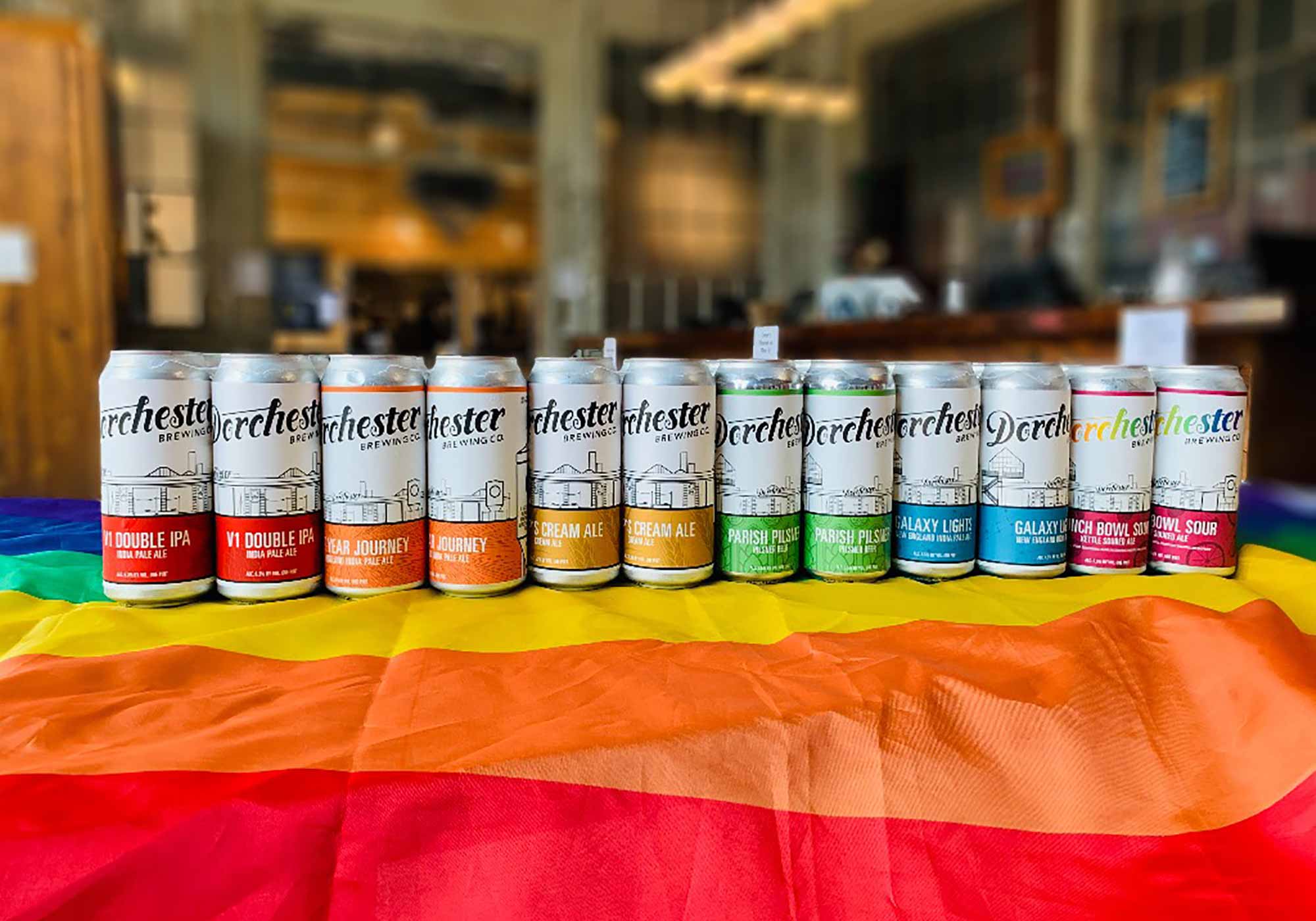 Photography courtesy of Dorchester Brewing
Editor's Note:
Dorchester Brewing will be featured in our upcoming Hop Culture x Samuel Adams Queer Beer Fest! Click here to get your tickets.
Once upon a time, before it was annexed by Boston, Dorchester was a city rather than a neighborhood. Were it still a city, it would be the 3rd largest in Massachusetts. As is, "Dorchester" represents a series of neighborhoods. And gay-owned Dorchester Brewing Company, settled between several of the city's premiere LGBTQ+ neighborhoods, strives to represent them all.
Cool, modern, and relaxed, Dorchester Brewing has become a pillar of the sprawling Dorchester community since opening in 2016. Co-founder Matt Malloy and his husband moved there after leaving their South End home in 2006; like many other LGBTQ Bostonians, he craved the diversity for which the South End once was known.
"Dorchester has been nothing but wonderful," Malloy says. "It's truly a community for everyone, not just black, white, but straight, gay."
Although many people look at him strangely when he says he lives in Dorchester (it was once considered uniquely dangerous compared to other areas of Boston), diversity and inclusivity make it an attractive place to put down roots.
"Beer and community are really the same thing," Malloy says. "You don't just build a brewery to make great beer, but to serve a community and make people happy."
This, according to a famous — and falsely attributed — Benjamin Franklin quote, is unimpeachably true. If you leave a brewery in a bad mood, someone screwed up.
Malloy and the Dorchester Brewing Company (DBCo) crew take their responsibility seriously. He recalls a trip to Munich the week before Oktoberfest (because going during Oktoberfest is compressed hell), and having a terrific experience as a direct result of a local beer culture's commitment to their community.
"It's not until you sit in the Englischer Garten with a big liter of delicious lager and get offered a piece of homemade warm cherry pie from a German woman that it flips," he says. This was, as he puts it, his "ah-ha" moment.
Who Founded Dorchester Brewing Company?
Dorchester Brewing Company was born after Matt Malloy met Travis Lee, a local businessperson who ran an incubator out of Fields Corner. They connected and talked, and from that conversation sprang DBCo.
Lee and Malloy wanted to create a place that drew together people from all backgrounds under the same banner of good beer and good company. Over the past several years, they've not only served the Boston community, but clientele from all over New England.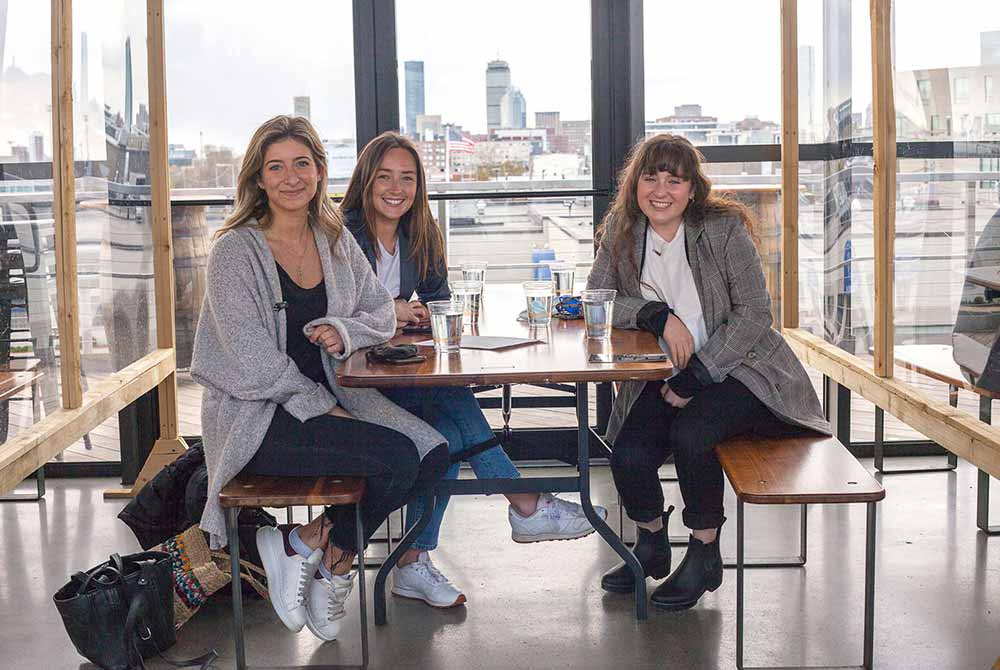 How Does Dorchester Brewing Company Build Community?
Gay bars — and to a lesser extent, gay neighborhoods — are slowly disappearing from places where once they were cornerstones, leaving LGBTQ people in short supply of spaces to call their own.
Malloy acknowledges this recession, but points out that it's happening for a good reason: "Everyone is acclimated to the idea that we can all row together in the same boat, the same restaurant, the same bar," he says. Businesses like Dorchester Brewing serve the same gathering function as gay bars (a'la dbar, a New American spot and the center of Boston's Savin Hill neighborhood) while also fulfilling Malloy's goal of drawing an inclusive crowd. "We've only been open for four or five years, but it's really interesting to see that transformation and to be able to have a place where everybody can go," he says.
Dorchester Brewing's success can be seen as an indicator of Boston's increasing culture of acceptance and inclusion, which Malloy pays forward by hosting gay-oriented events (like Bears, Brews, & Boys) and by participating in citywide events (like the Boston Pride Parade, which awarded DBCo Best Float in 2019). The brewery also works with Boston BAGLY, the Boston Alliance of Gay and Lesbian Youth.
"We're trying to be super authentic," Malloy explains, "because people see that. They see we're trying to help."
Review: Beer at Dorchester Brewing Company
Just as DBCo intentionally creates community, they also put care and authenticity into their beer.
"When we started out, one of our mantras was that we wanted to provide choice, and be a place where people can try different beers they might not have access to," Malloy says.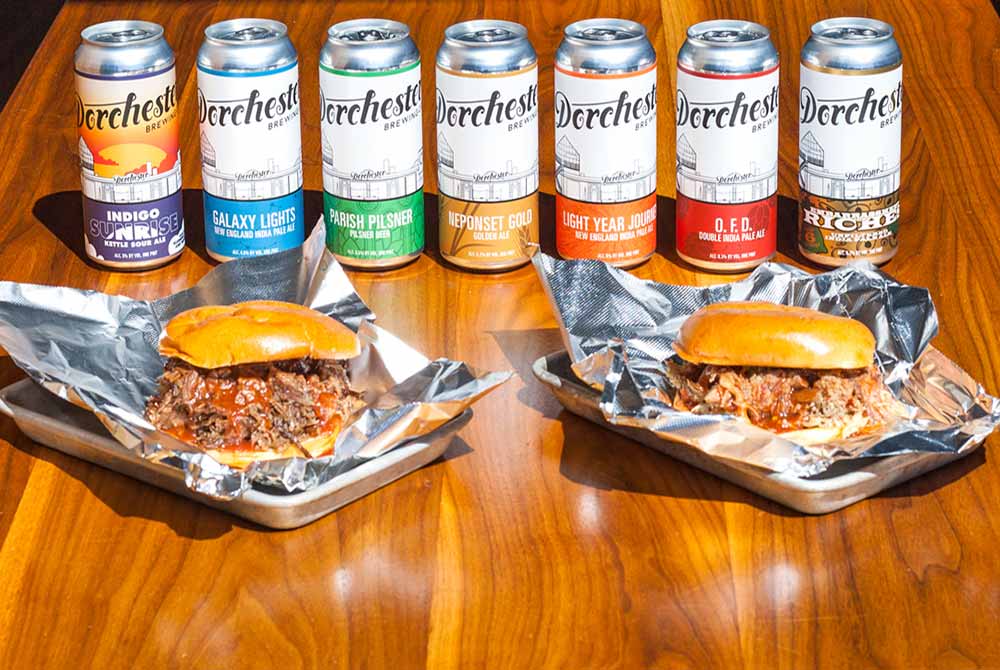 Although the brewery has a steady IPA rotation, DBCo outputs plenty of lagers and lighter ales, including a Dunkelweizen and an Extra Special Bitter. Other than Cambridge Brewing Company, it's a style few others are making. The crown jewel of the brewery's offerings, Neponset Gold, is a golden ale.
When people think of Dorchester Brewing, he wants them to think, "Good beer." However, he knows many people will think "gay brewery," too, and that's not necessarily a bad thing. But Malloy emphasizes that while DBCo celebrates its gay-leaning identity, he doesn't consider it a gay brewery.
"We're a brewery where one of the owners happens to be gay," he says. "I didn't choose to be gay. I was born this way."
In this way, orientation makes up part of Dorchester's identity but it's not the main driver. That comes from the community, and the beer.
"When we have events here that are gay-oriented, I don't want people's feathers ruffled," Malloy opines. "But we also try to have that diversity for everyone else."
That's in keeping with the brewery's mission: Embracing inclusivity and embracing community. And for over 5 years, Dorchester has embraced DBCo right back.
You can find Dorchester Brewing's O.F.D. "Originally from Dorchester" Double IPA in our official Queer Beer Festival Beer Box
Buy Tickets to the Hop Culture x Sam Adams Presents Queer Beer Festival