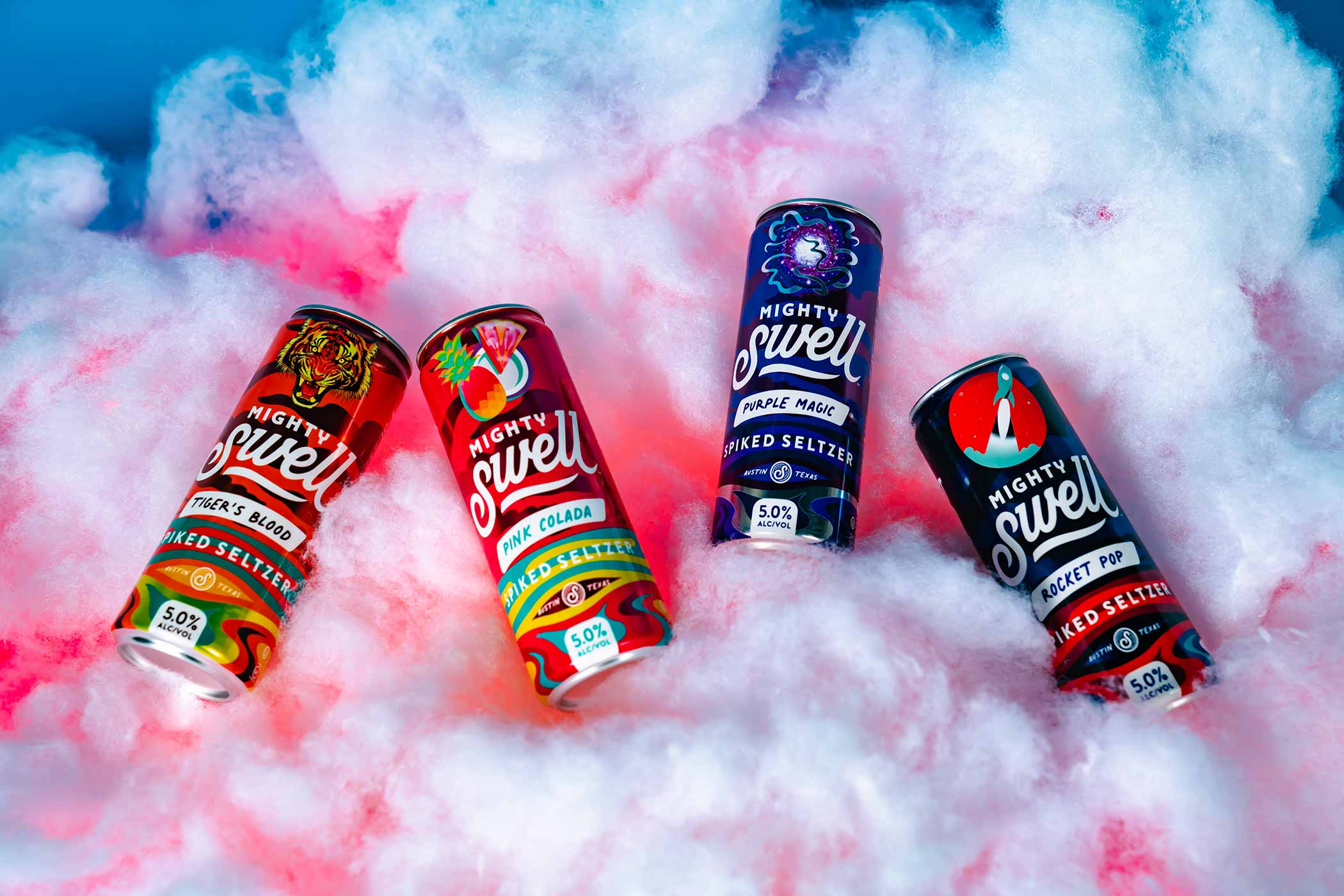 Photography courtesy of Mighty Swell
Editor's Note:
This is a paid, sponsored post presented by our friends at Mighty Swell.
Are you having a Mighty Swell day? One Austin-based company hopes that by bringing its quirky and inventive flavors to the party, its spiked seltzers will literally change your day. With so many breweries jumping into the category, standing out as a spiked seltzer brand can be challenging. But Mighty Swell has been a bit defiant, veering towards the wild and the weird to make it stand out in the pack.
Featuring only real fruits and ingredients in all of its hard seltzers, Mighty Swell's kooky, innovative flavors are some of the craziest we've seen. For instance, Rocket Pop (raspberry, pomegranate, and lime), Tiger's Blood (strawberry, watermelon, and coconut), Purple Magic (grape, blueberry, and boysenberry), and Pink Colada (pink pineapples and coconut).
All are redefining the spiked seltzer game.
And you can find them all in Mighty Swell's newest Keep It Weird variety pack.
What Is Mighty Swell?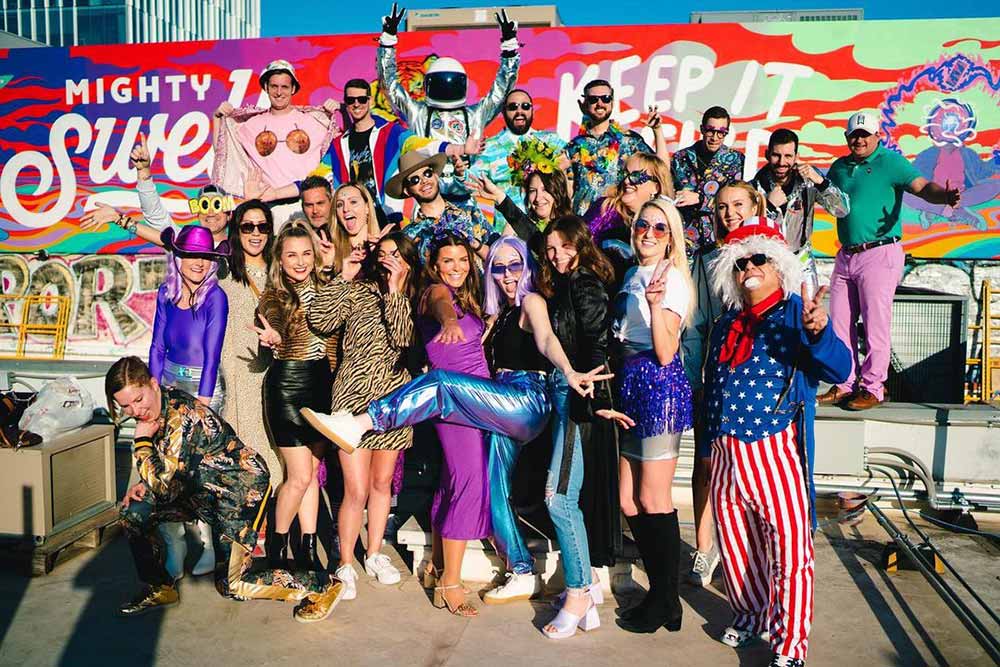 Originally founded in 2016 as a wine spritzer company, the Austin-based Mighty Swell rebranded and reformulated as a solely spiked seltzer brand in 2019.
Now, Mighty Swell is the largest independent spiked seltzer company in the country.
Featuring only real ingredients and fruit juices, Mighty Swell spiked seltzers forgo artificial sugars—such as Stevia—to craft a natural, flavor-forward spiked seltzer clocking in at only 3g of carbs and 100 calories.
It fits in with the ethos of Mighty Swell. In fact it's right in the name. Mighty Swell is, "a really positive, bright energy about feeling good and embracing who you are," says Faryn Duncan, brand manager at Mighty Swell.
Tapping into that individuality and sparkling spirit, the brand has already taken the spiked seltzer game to new heights.
Most recently, with its new Keep It Weird variety pack.
Featuring super unique flavor combinations, the new variety pack speaks to the brand's bigger mission.
"It's a nod to our Austin roots and the 'Keep Austin Weird' slogan, but it's also something most people can relate to," says Duncan. "We wanted it to be something that resonates with everybody, embracing individuality, weirdness, being unique and different."
Mighty Swell Keeps It Weird with Unique, New Variety Pack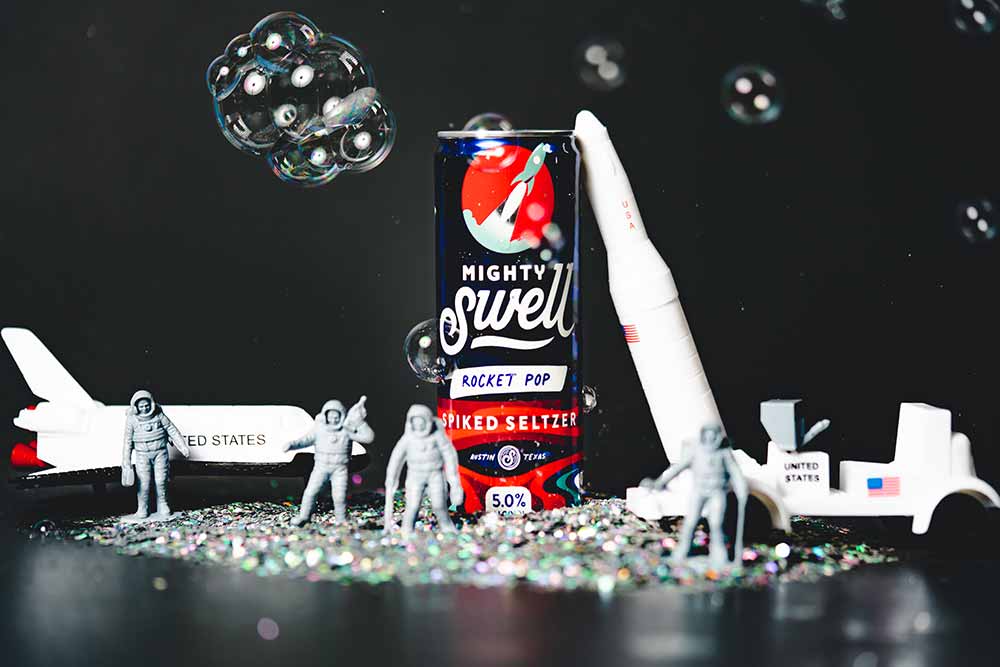 Officially launched on March 1st, 2022, the Keep It Weird variety pack is almost a Willy Wonka-esque adventure into the flavor possibilities and combinations of spiked seltzer.
"There are a lot of twists on boring drinks in the category," says Duncan. "We're going for something completely different that no one has ever done before."
Different is right.
Taking a look at the flavors available in the Keep It Weird variety pack is like falling down the rabbit hole into Wonderland.
Here you'll come across inventive seltzers. For instance, Rocket Pop, Tiger's Blood, Purple Magic, and Pink Colada.
"We're trying to figure out what is different, new, fresh, and actually innovative in a category that has so many competitors," says Duncan."
Following a nostalgic route, Rocket Pop takes inspiration from the red, white, and blue bomb-shaped popsicles many of us probably remember from childhood.
Similarly, Tiger's Blood is based on a popular snow cone flavor and Purple Magic is essentially an elevated grape soda.
Pink Colada may not be something you drank as a kid, but it is a classic piña colada flavor. Just made weird by using pink pineapples, a fruit native to Costa Rica.
"Each flavor speaks to weirdness, a little different and a little nostalgic," says Duncan.
Mighty Swell's Magic Brings Keep It Weird to Life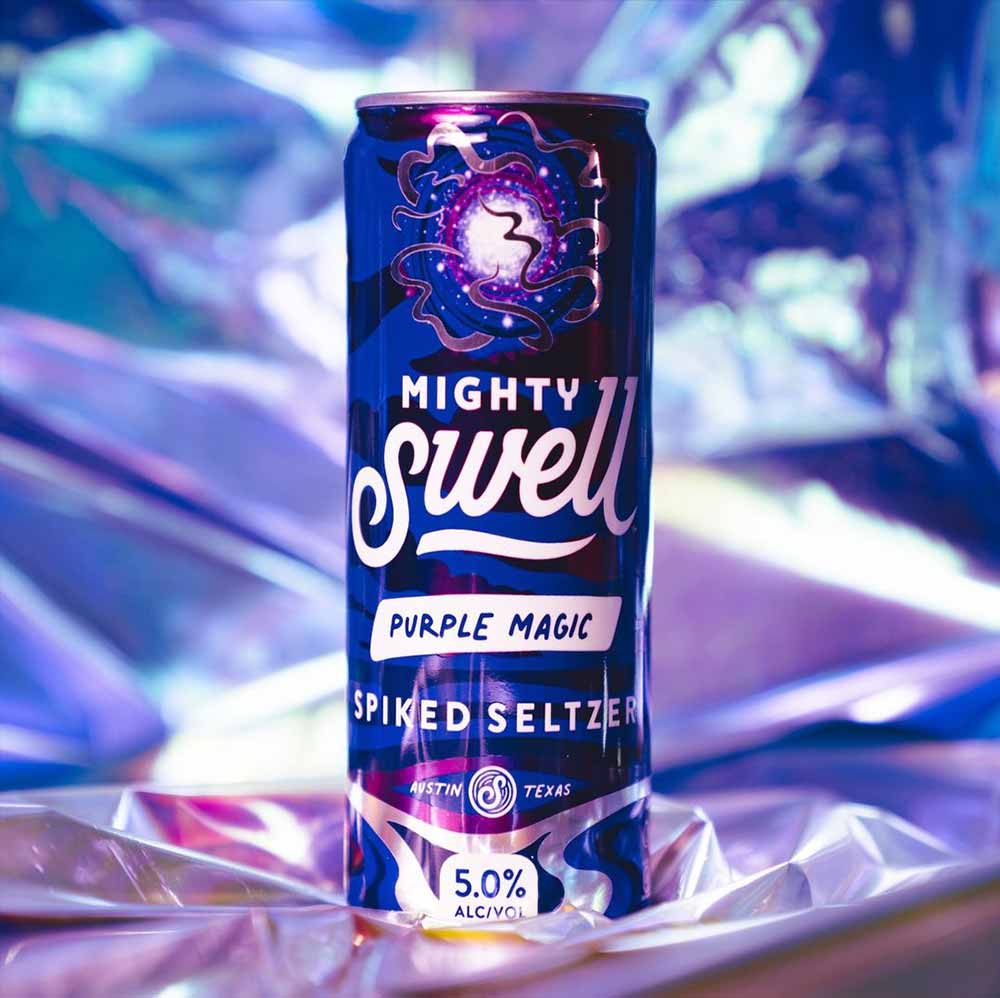 A lot of thought, consideration, and experimentation went into crafting Mighty Swell's Keep It Weird variety pack.
The idea first came to the table in early 2021. But it took almost a year of execution to bring everything to life.
Brewer Andrea Clodfelter led the way, testing out many iterations before settling on the final recipes for all four flavors.
"I learned there are seventeen different types of coconut flavoring you can use," says Duncan. "Which is crazy, but our amazing brewer, who made all of the flavors, went through each one and made sure we got the exact right flavor of coconut."
Which meant using one closer to coconut water in Tiger's Blood and one for a more creamy coconut in Pink Colada.
"She's so incredible we call her our brewwitch," says Duncan. "She makes all the potions for all of our flavors."
Discovering All the Flavors in the Keep It Weird Variety Pack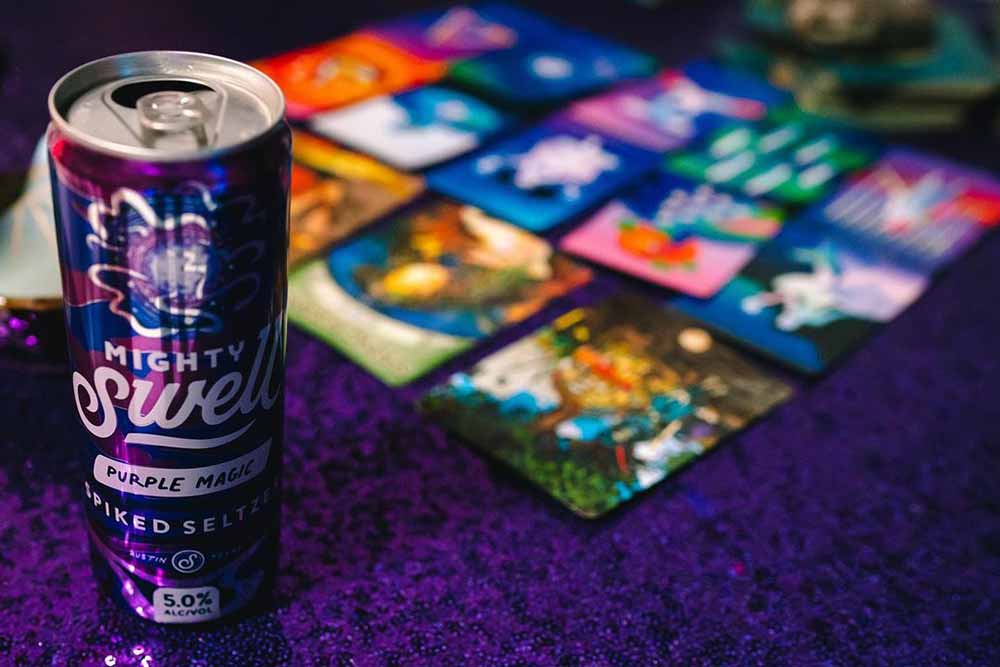 With names like Purple Magic and Tiger's Blood, you may not immediately know all the flavors in the can.
But one name you can't miss is Rocket Pop. An ode to those red, white, and blue bomb-shaped popsicles, Rocket Pop features raspberry, pomegranate, and lime. "I always like to explain that it literally tastes like a Bomb Pop melted into a can without the stick and add alcohol," says Duncan, who counts this spiked seltzer as her favorite flavor in the pack. "It's amazing for summers sitting by the pool. Basically, whenever you'd be eating a popsicle, insert Rocket Pop."
Similarly, with Tiger's Blood the spiked seltzer riffs off a popular snow cone flavor most often found around Texas.
Bursting with strawberry, watermelon, and coconut (here it's more coconut water), Tiger's Blood gives a "strawberry kick with a cooling watermelon flavor and that coconut finish," says Duncan. "It's very refreshing, and for people who don't necessarily like bold, citrusy flavors, it's a bit more subtle and a little smoother."
The last flavor that taps into childhood nostalgia, Purple Magic tastes like an elevated grape soda. When it comes to fruits, Purple Magic includes grapes, blueberries, and boysenberries.
The plethora of produce gives Purple Magic a very mellow, smooth flavor that's enjoyable as opposed to in your face.
Pink Colada rounds out the Keep It Weird variety pack. "If you love piña coladas, you're going to love Pink Colada," says Duncan. "It is so summery; it's the perfect beach drink; it's piña colada in a can."
Based on the popular tropical cocktail, Pink Colada replaces the more well-known pale yellow pineapple with pink ones indigenous to Costa Rica. "They add a little bit more tartness versus a really sweet, tangy pineapple," says Duncan.
Overall, it's a pack full of quirky, interesting flavors that tantalize our tastebuds.
The Verdict on Mighty Swell's Keep It Weird Variety Pack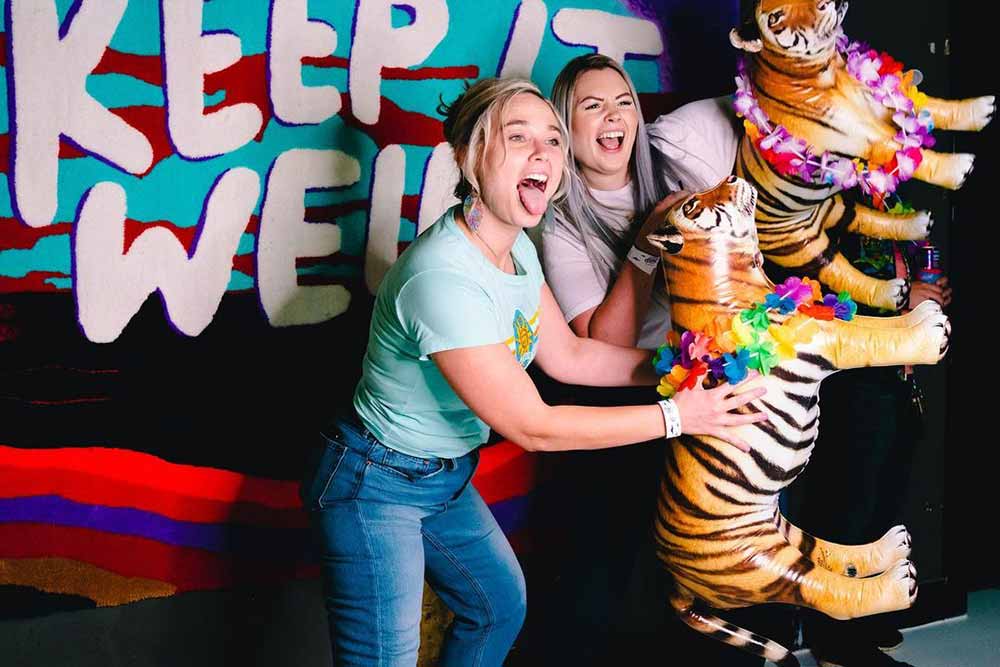 Even though the variety pack has only been on shelves for a month, the response has been impressive.
"People are loving it," says Duncan, who notes that the initial launch has far exceeded any of Mighty Swell's previous releases. Perhaps most excitingly, folks are enjoying every single flavor. "With variety packs there is always one flavor you don't like that you hope someone else drinks," says Duncan. "But we found everyone resonating with all the flavors, which is so exciting."
One week's feedback showed Rocket Pop as the consensus favorite. But by the next week, Tiger's Blood looked like the pack winner. "It goes back and forth on who is outranking who in the pack," says Duncan.
Even in blind taste tests, the spiked seltzer flavors are hitting the mark.
Duncan recalls a video she watched on social media of a consumer blind tasting Rocket Pop. "In one IG Reel, someone posted that they were trying Rocket Pop with a koozie over it so she couldn't see what it was called," says Duncan. "As she's tasting it she says it tastes like that red, white, and blue popsicle. It tastes like a Rocket Pop! It's so perfect!"
Keeping It Weird with Flavor and with Art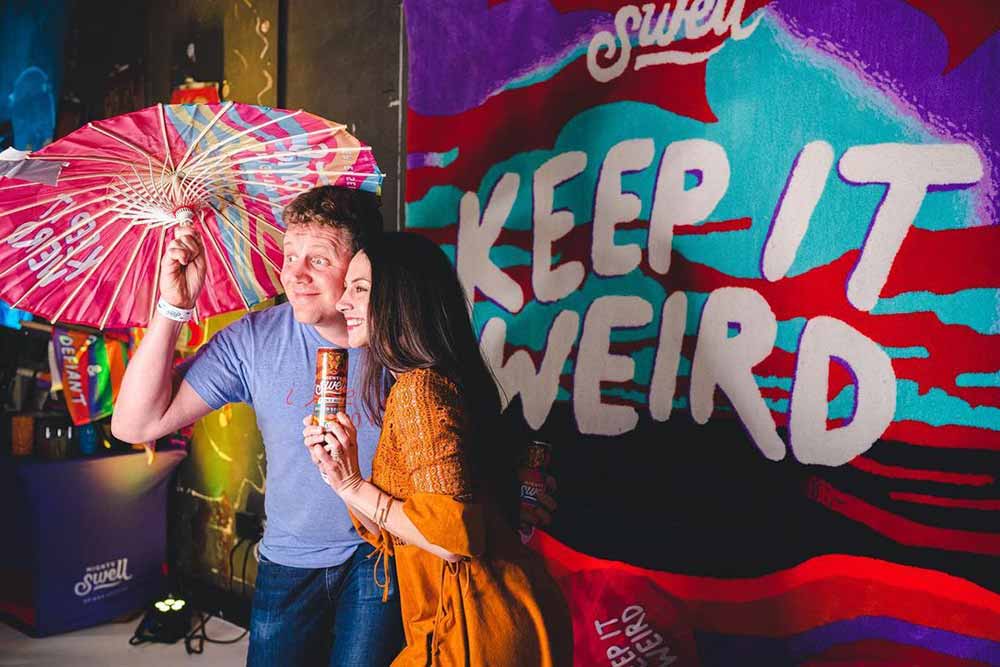 To match the quirky flavors in the Keep It Weird variety pack, Mighty Swell designed an equally eye-catching package.
"We knew if we were going to make this crazy pack with crazy flavors…and if the Keep It Weird variety pack was going to be as weird as we wanted it to, it had to stand out visually as well," says Duncan.
Keeping with their Austin roots, Mighty Swell partnered with a local Austin artist and muralist to create packaging that would live up to the weird flavors. The packaging is bright, bold, and funky to play off of the weird, nostalgic flavors.
"We wanted the cans and carton to scream weird just like the actual flavors do," says Duncan. "There were lots of iterations for each of the flavor icons and colors to make sure we got it right."
In place of the fruit images you'd see on Mighty Swell's first two variety packs, the Keep it Weird pack has an icon that embodies each of the new flavors. From the roaring tiger head atop the Tiger's Blood can to the metallic crystal orb on Purple Magic, the personality of each can is just as out there as the flavors are.
"Someone who doesn't know Mighty Swell will see Keep it Weird on the shelf and be intrigued by it," says Duncan. "But they'll stay for the flavors because they're just as amazing as the packaging."
What's Next in the Weird and Wild World of Mighty Swell
With Keep It Weird, Duncan says that Mighty Swell has found its groove.
In the future, the company wants to continue celebrating its Austin roots and embrace its individuality.
"We feel we found who we are as a company that is authentic to us in this weird out-of-the-box space," says Duncan.
For fans, that means you can expect more crazy flavors to come. For instance, a Keep It Weird 2.0 is already in the works. Although at the time of publication Duncan couldn't share any more details, we're expecting something super quirky and fun.
Where Can I Find Mighty Swell's Keep It Weird?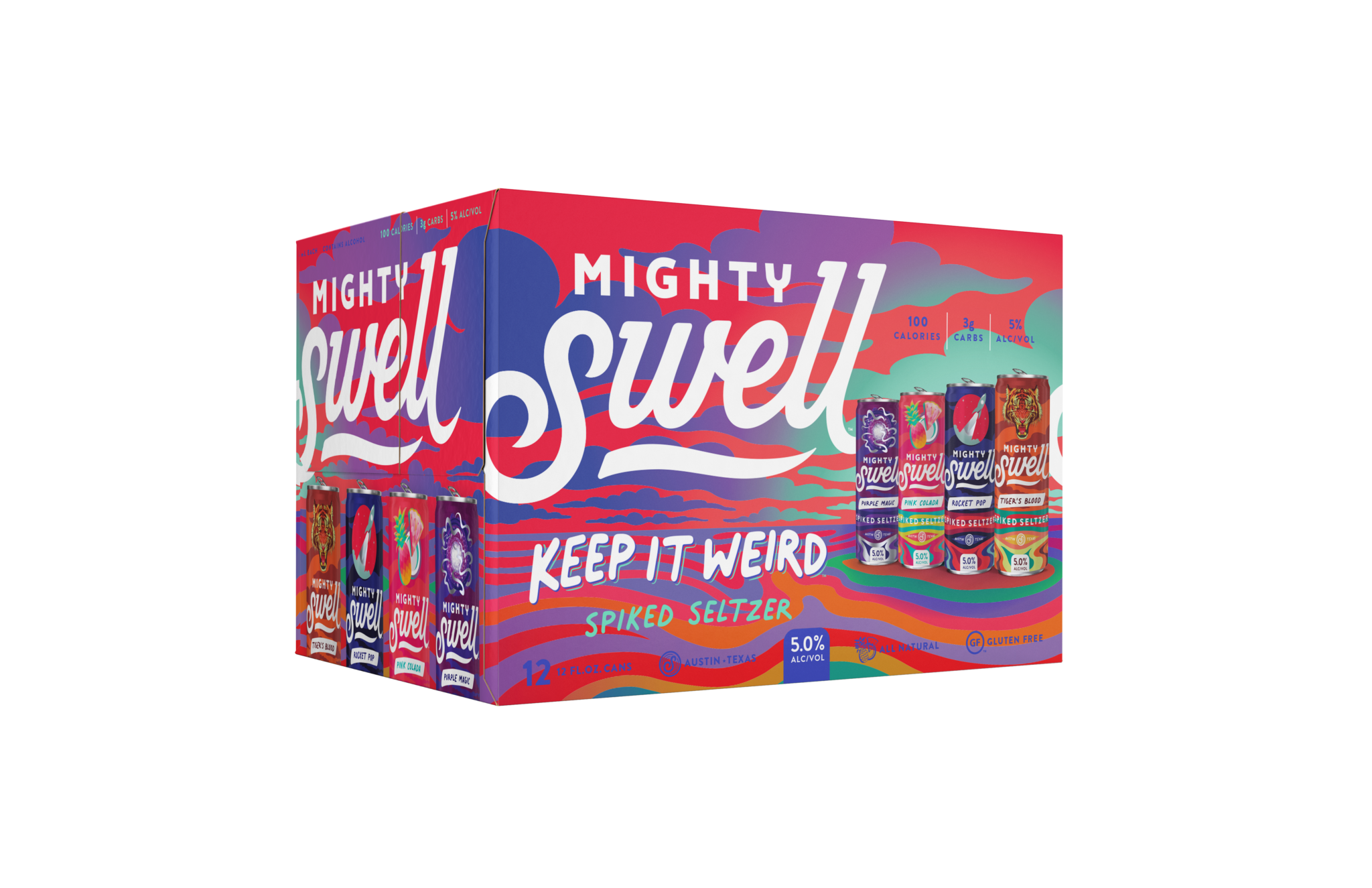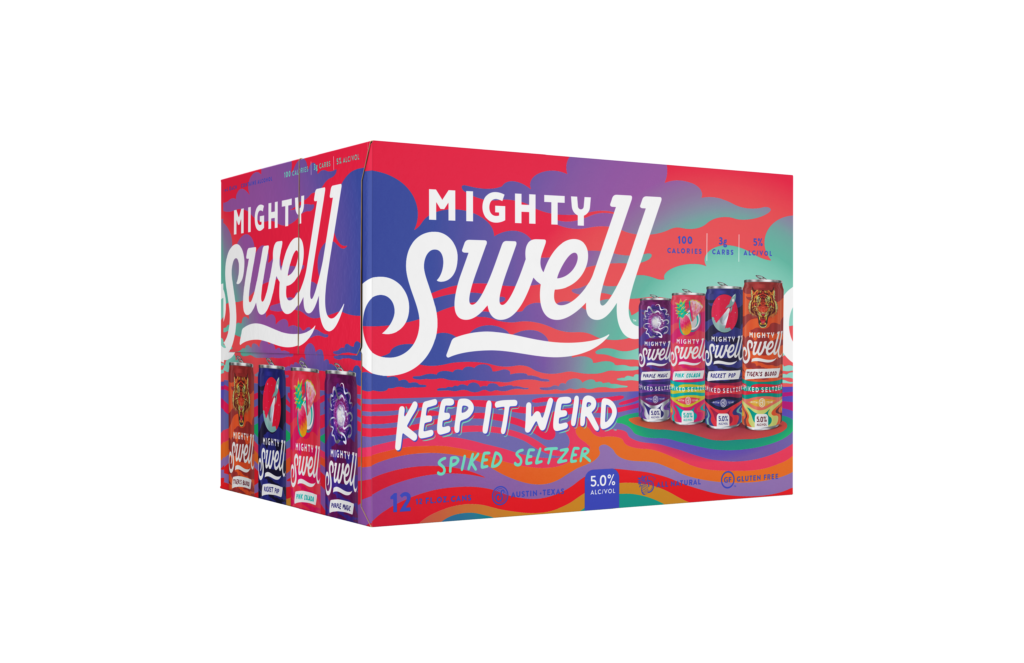 If you're ready to get weird with Mighty Swell, you can most likely find the Keep It Weird variety pack in a store near you.
Mighty Swell distributes to the following twenty-eight states: AL, AR, AZ, CO, CT, FL, GA, IN, IL, KY, LA, MA, MI, MS, NC, ND, NE, NJ, OH, OK, PA, RI, SC, TN, TX, UT, WI, WV.
Along with Puerto Rico, Cayman Islands, and Panama.
Check out Mighty Swell's "Find Us" page to track down the Keep It Weird variety pack.