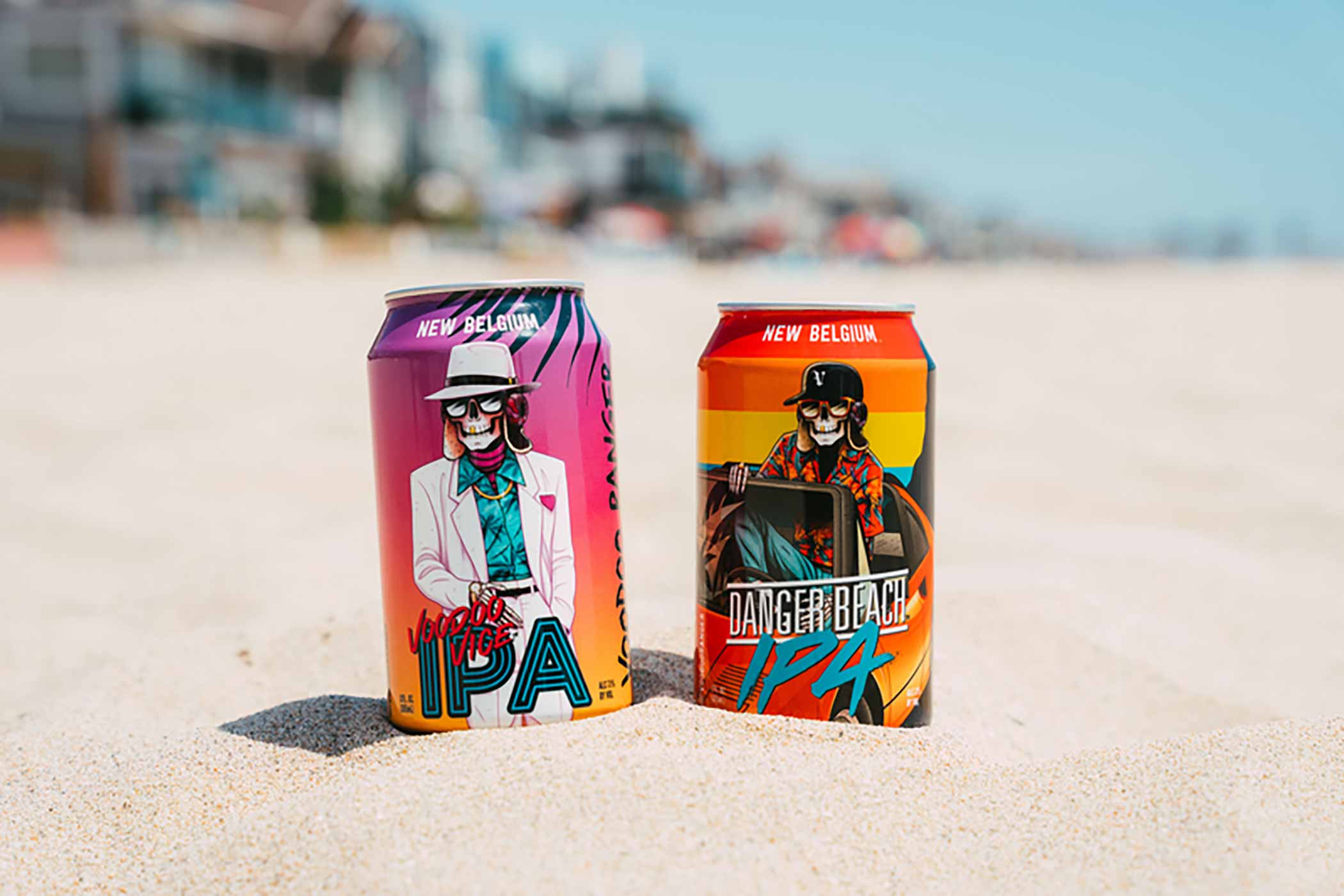 Editor's Note:
This is a paid, sponsored post presented by our friends at New Belgium.
Can you show us a beer that has conjured up more Instagram followers and Twitter followers than New Belgium's Voodoo Ranger?
At 91.4k fans on Instagram (@voodooranger) and 14.7k on Twitter (@voodooranger), New Belgium's Voodoo Ranger has put a hex on craft beer fans thanks to its novel skeleton characters and innovative lineup of IPAs.
Now, the spellbinding beer series that asks you to "Live Rangerously" is once again pushing boundaries.
New Belgium recently announced the launch of this year's Vote Voodoo, a contest pitting two new Voodoo Ranger beers against each other to battle for Sorcerer Supreme.
Who will win?
Well, it's actually up to consumers to decide who emerges victorious and earns a coveted spot on the shelves.
And for the first time ever…you actually get to taste both beers before casting your ballot.
First, Remind Me: What Is Voodoo Ranger?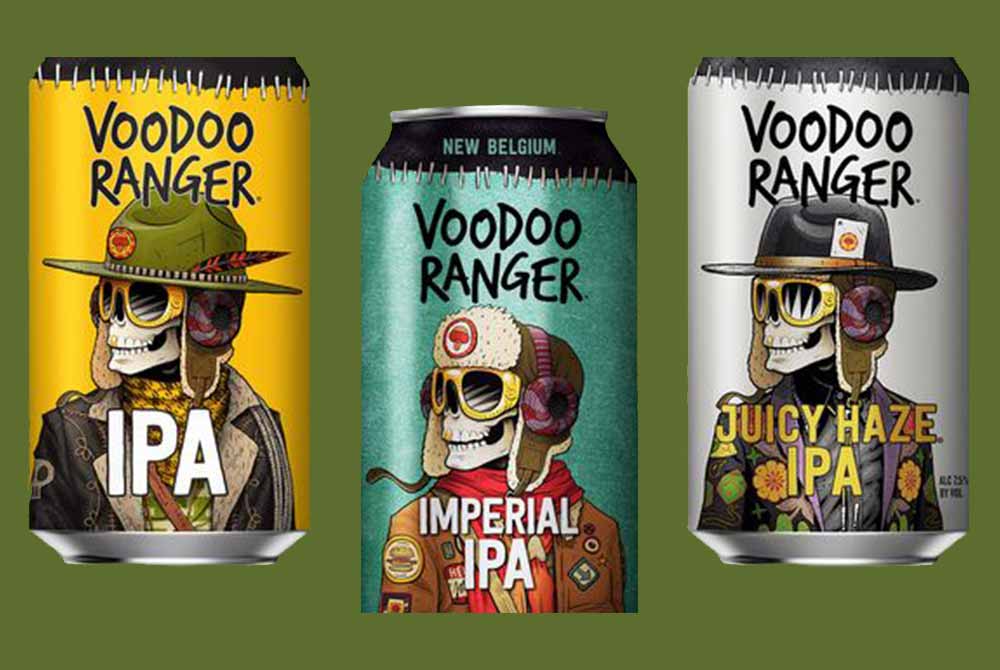 Launched in 2017, Voodoo Ranger represents a series of IPAs "brewed with trendsetting hop and malt varieties—and served with a side of sarcasm," according to New Belgium.
Kicking off with the release of two beers, Voodoo Ranger IPA and Voodoo Ranger Imperial IPA, and followed closely by Voodoo Ranger Juicy Haze IPA, New Belgium brewed up incredibly delicious IPA potions.
Over the last five years, New Belgium has released over twenty different IPAs under the watchful eye of the Voodoo Ranger's wizardry.
Sure, these are some truly creative IPAs, but it's Voodoo Ranger's approach, encouraging drinkers not to take themselves too seriously, that has really resonated. Voodoo Ranger's somewhat witty and sarcastic approach to beer has skyrocketed the series to the top of the charts.
Just take a look: Considered the fastest-growing, number-one IPA brand in craft beer, Voodoo Ranger has steamrolled ahead with the help of its OG Voodoo Ranger Imperial IPA, the best-selling IPA in America. Plus, the number-one craft variety pack in the country—Voodoo Ranger Hoppy Pack.
"Voodoo Ranger fans are especially interested in innovation and sampling our newest beers," said Dave Knospe, Voodoo Ranger senior brand manager. "Everything we do with Voodoo Ranger is focused on our relationship with our fans and building a community, and that translates to the beers we release. In years prior, Vote Voodoo has been well received by our fanbase, but we were unable to get the competing beers into drinker's hands. This year we're thrilled to be bringing Vote Voodoo tasting experiences to every corner of the country through the Voodoo Ranger Hoppy Pack."
What Is Vote Voodoo?

Three times a year, New Belgium releases limited-edition Voodoo Ranger beers. In the past, people voted for which they'd like to see appear in the market just by reading about them.
But in 2022 for the first time, the brewery is actually letting people go out, buy the beers, try them themselves, and then cast their ballot online.
You can actually taste both beers before deciding which one you like best!
Intrigued?
What Two Beers Are Battling for Voodoo Ranger Royalty?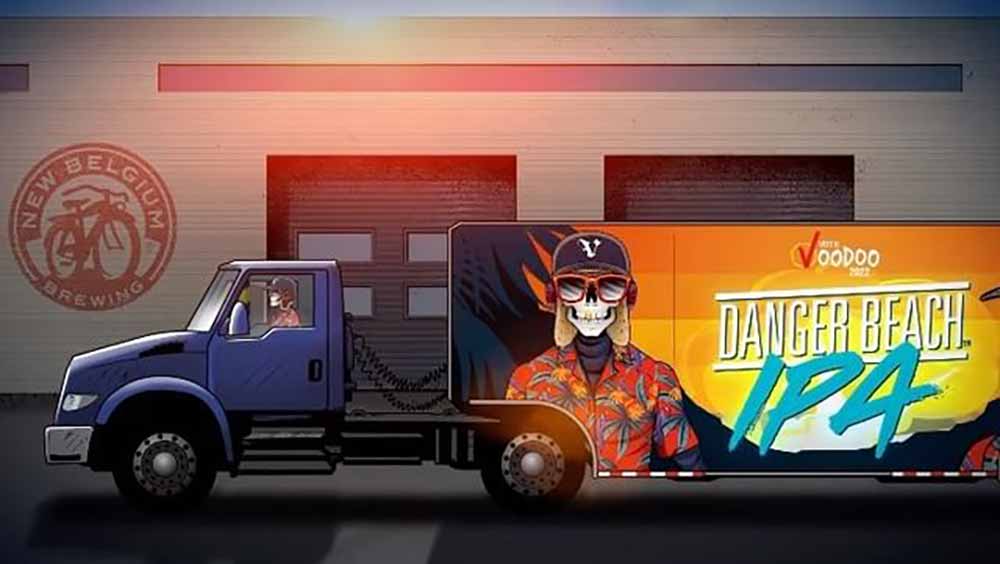 You should be.
Because this year New Belgium has two incredibly delicious new IPAs to poke through (yes, that's a Voodoo pun).
And we should know.
Graciously, New Belgium sent us both competing beers to try ourselves—Danger Beach IPA and Voodoo Vice IPA.
Danger Beach IPA
7.1% ABV; 28 IBUs
As I'm writing this story, my wife is on a journey to a small island off the Western coast of Indonesia called Mentawai. She's taken three planes (one for fifteen hours), one boat, and traveled to three different cities to reach this far-off beach. Why, you might ask? Because in this tiny place in the middle of the Indian Ocean, she'll find what is widely considered some of the best surfing conditions in the world.
To me, that's Danger Beach, a beer that asks you to live a little bit dangerously (or as the Voodoo Ranger skeleton would say, "rangerously"), pushing the idea of what it means to be an American IPA.
Super juicy on the sip, Danger Beach washes over your tongue with a tropical creaminess. Notes of guava and passionfruit bang harmoniously, but interestingly in the finish there is an almost cotton candy-like sweetness.
This is the kind of beer that inspires a bit of mystery and keeps us going back, sip after sip, to discover just a little bit more.
Voodoo Vice
7.1% ABV; 28 IBUs
In the other corner, Voodoo Vice pings around your mouth like a pinball in a Tron machine at the boardwalk arcade.
In all its neon glory, Voodoo Vice lights up with notes of strong lemon. And we're talking all kinds of lemon—juice, pulp, flesh, and zest.
This is a mutedly acidic IPA. One that makes your taste buds salivate and encourages you to bring the glass to your lips again and again.
But, drinkers beware. At 7.1% ABV, this IPA just might come back to bite you in the end, like the morning after a night out in Miami.
Which Voodoo Gets Our Vote?
At the risk of bearing the voodoo wrath of one of these beers, we're not too keen to share, but we'll take that chance.
Because with great power comes great responsibility.
For us, our vote goes to…Danger Beach.
This beer just smacks your tongue like a coconut falling on your head. It's just a bit bolder and more adventurous than Voodoo Vice. But at the same time, enthrallingly lush. For as much as Danger Beach explodes with tropical flavor, it beguilingly floats around your mouth like a goose down feather. This is a beer plush like a teddy bear, but with the pulse of a serious surfer.
However, if you're looking for something that's super refreshing, more citrus forward, and a bit softer around the edges, then Voodoo Vice is your foible.
In our opinion, Danger Beach excites us just a little bit more.
But you don't have to take our word for it. Go out and grab the Voodoo Ranger Hoppy Pack and choose for yourself.
After all, this is a Voodoo-mocracy.
How Do I Vote Voodoo?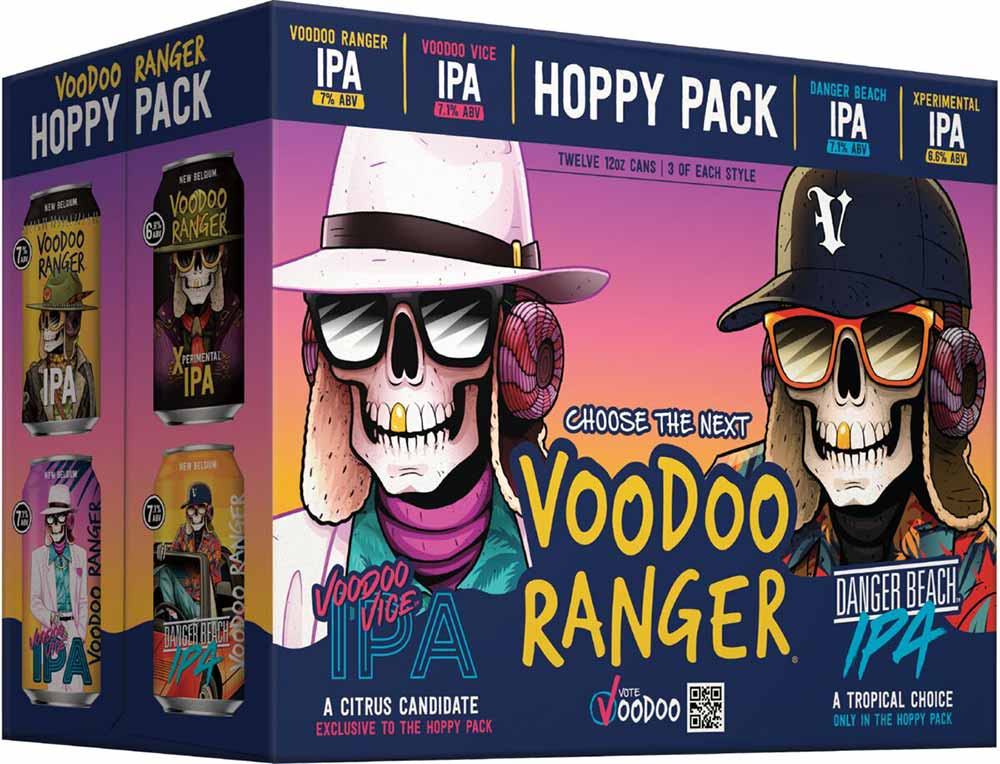 Now it's your turn! In fact, some might say it's actually your civic 'voody.'
You decide whether you want to live rangerously on Danger Beach or light up your tastebuds with Voodoo Vice.
The future of fridges everywhere depends on you.
All you need to do is pick up a Voodoo Ranger Hoppy Pack—the most-distributed 12-pack in New Belgium's arsenal—taste both for yourself, and then cast your ballot here or via the QR code found on the packaging.
Beginning in January 2023, whichever new Voodoo beer reigns supreme will be available at select retailers nationwide.
All hail the best IPA. Let the battle begin!