Photography courtesy of New Belgium
When Kim Jordan and Jeff Lebesch founded New Belgium in 1991, they committed to "kindling social, environmental, and cultural change as a business role model." Since then the company has developed this ethos into a business model called Human Powered Business, which is based on the idea that putting co-worker and community well being first drives the most successful business in the long run. One of the principles of this model is brewing world class beer for all.
To that end, the brewery recently hired a new Director of Diversity, Equity, and Inclusion (DEI), Courtney Simmons, who is already playing a big role in two integral new initiatives this year, including Poured for All, a first-of-its-kind, completely free inclusivity training for any bar or restaurant, and New Belgium's Guide to Rainbow Washing, which helps consumers look beyond the Pride month rainbows and flex their economic power to support companies doing meaningful, year-round work to support LGBTQ+ equality.
Progressive programs like these from breweries like New Belgium are paving the way for change in the future of the entire industry.
What Does It Mean to be 'Brewed for All'?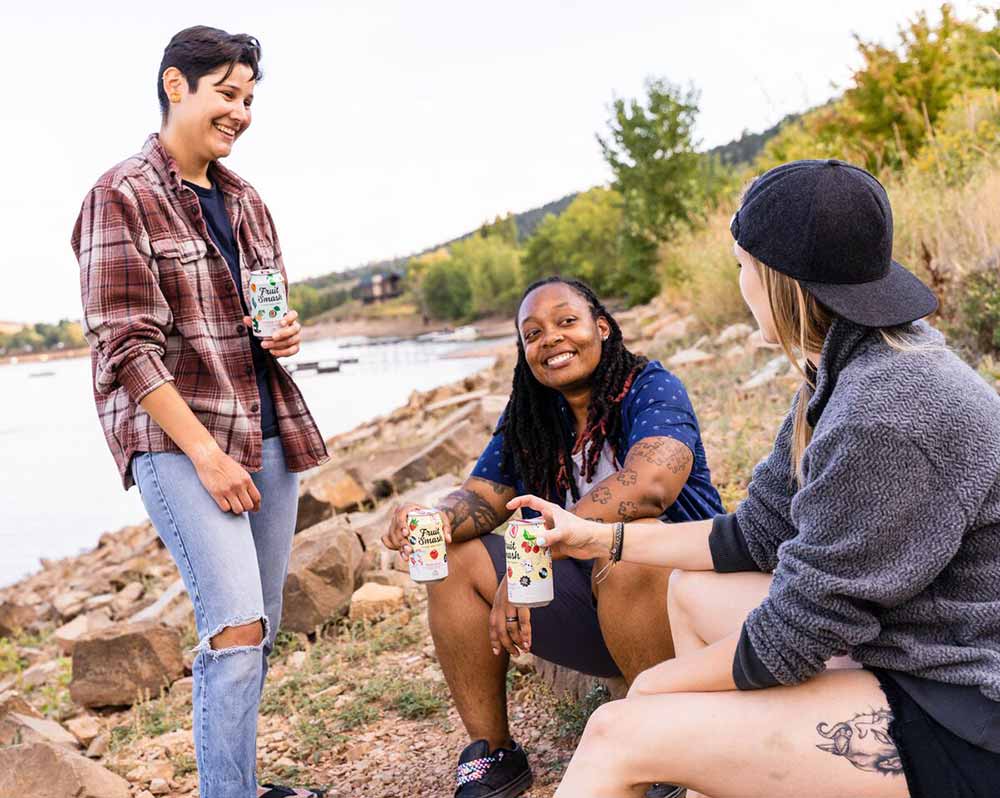 From the very beginning, Jordan (who was originally a social worker) wanted her business to address inequities she saw in the workplace. That included offering health benefits to domestic partners and gifting coworkers shares in the company even when the brewery first started in the 1990s. It's a standard that set the culture and business philosophy at New Belgium for years.
And for several years now, New Belgium has lived and breathed the phrase: 'Brewed for All.'
But what exactly does that mean?
According to Courtney Simmons, the new Director of Diversity, Equity, and Inclusion (DEI) at New Belgium, a key to changing the status quo can come from a simple decision. "Organizations can clearly articulate what they will and won't stand for and define the behaviors required to create a more welcoming environment for their consumers," says Simmons.
Beyond the hashtag and catchy language, Brewed for All is a clearly articulated list of behaviors that New Belgium adheres to in order to create a safe environment for all of its coworkers and customers. "We have zero tolerance for any form of harassment, sexism, racism, or homophobia," says Simmons. "When the world isn't inclusive and welcoming, it's important to see signals from organizations that share your same values that will create a safe space for you. How do you show up to really create a world, community, and experience that is welcoming for all?"
For New Belgium, a major piece of the puzzle was finding the right person to lead the charge.
New Belgium Hires a New Director of DEI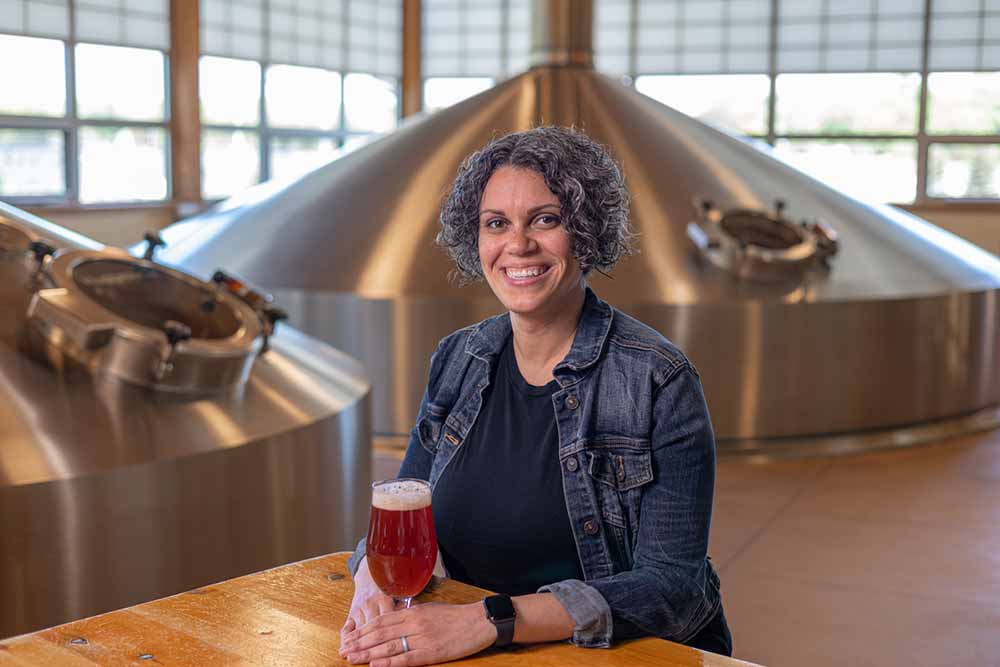 Three years ago, New Belgium became the first brewery in the country to hire a Diversity, Equity, and Inclusion (DEI) Specialist, Patrice Palmer (they/them/theirs). With the goal to build up diversity and inclusion at the brewery, Palmer pioneered programs, including adding pronouns to the signature line of interested New Belgium employees; starting Pride@NBB, an LGBTQIA+-friendly affinity group for both Queer and allied coworkers; and introducing Queer Sips, a series inviting folks to talk about policies and how they could affect the community.
Patrice also supported the brewing of Biere de Queer, a purple ale dreamed and brewed for the past three years by Kelly McKnight, New Belgium's Lead Pilot Brewer, in support of LGBTQ+ equality. One-hundred percent of proceeds from every Biere de Queer sold benefits New Belgium's hometown LGBTQ+ communities. New Belgium just released its latest batch, just in time for Pride month.
When Palmer left, New Belgium invested time and effort to find the right person to take up the mantle. When New Belgium acquired Bell's Brewery in late 2021, Courtney Simmons had just started a job leading DEI at Bell's – and it soon became clear that Simmons was the best candidate for an expanded role overseeing DEI across both businesses after the deal closed.
With experience in a variety of industries including retail, sales, furniture, and food service, Simmons early on in her career knew she wanted to figure out ways to make companies more equitable and inclusive.
"Fresh out of college, bright eyed and bushy tailed, going to change the world, I had the opportunity to observe the way organizations tell us implicitly and explicitly we don't belong, we don't fit in," says Simmons, who says early on people often told her she was too ambitious. "I became passionate about creating spaces and organizations that invite people to truly be their full selves and not have to cover, pretend, or use cognitive energy to be in a space that wasn't built for us."
With craft beer, Simmons feels she has the potential to make an incredible impact in an industry that hinges on community and yet, may unintentionally alienate so many so many groups of people in the same breath.
"I had spent time in craft establishments because I love being part of the community and hanging out with friends," says Simmons, who still considers herself a budding beer drinker. "I was really attracted to…how the craft community is vibrant and rich and has so much potential to create spaces that all people can feel a part of, but I'd be in these spaces and see people that didn't look like me and experience a culture that didn't look like my own."
At New Belgium, Simmons is already diving in head first, leveraging her background in workforce DEI to focus on a balance of internal and external programs.
New Belgium's DEI Goals in the Workplace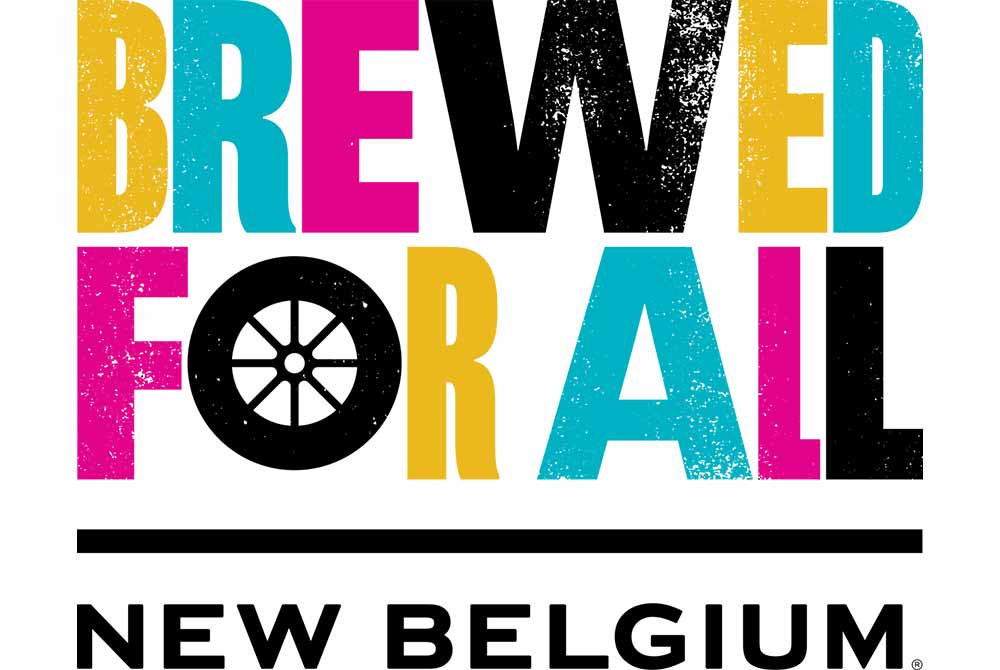 Finding a good balance between important sponsorship and investment in the community and asking questions around the needs of New Belgium coworkers will be key to Simmons' goals at New Belgium.
First and foremost, she'll look to build out the current DEI team – a first for the brewery. "It speaks to the broader investment that New Belgium is making," says Simmons. "I'm really excited that not only did New Belgium say this is important to us, we're going to rehire this position, but also we're going to expand your responsibilities and dedicate expanded resources to this work."
With a core group in place, Simmons hopes to focus on strengthening the internal culture, ensuring it is as strong as possible.
"It's important to ensure we have an internal culture of equity and inclusion and [understand] who might be left behind," says Simmons. "We do that well at New Belgium, asking questions of where we might have gaps in opportunities and seeking to address them."
These opportunities include boosting DEI education, improving hiring practices, and providing opportunities for everyone.
"A core piece is focusing on increasing cultural competency, training and access to learning, making sure our leaders understand DEI beyond the nebulous idea of 'it's the right thing to do' by breaking down practical actions that our leaders can do every day," says Simmons. "Our intention is to bring lots of voices around the table where decisions are made."
To that end, Simmons has taken on executive leadership and sponsorship of the DEI Coworker Council where she invites coworkers to directly influence strategy. Everything including talent development, access, recruitment, and community relationships.
Perhaps most importantly, Simmons knows that instilling a healthy culture internally at New Belgium will lead to both greater business success, and increased positive impact outside the brewery.
New Belgium's DEI Goals Outside Its Four Walls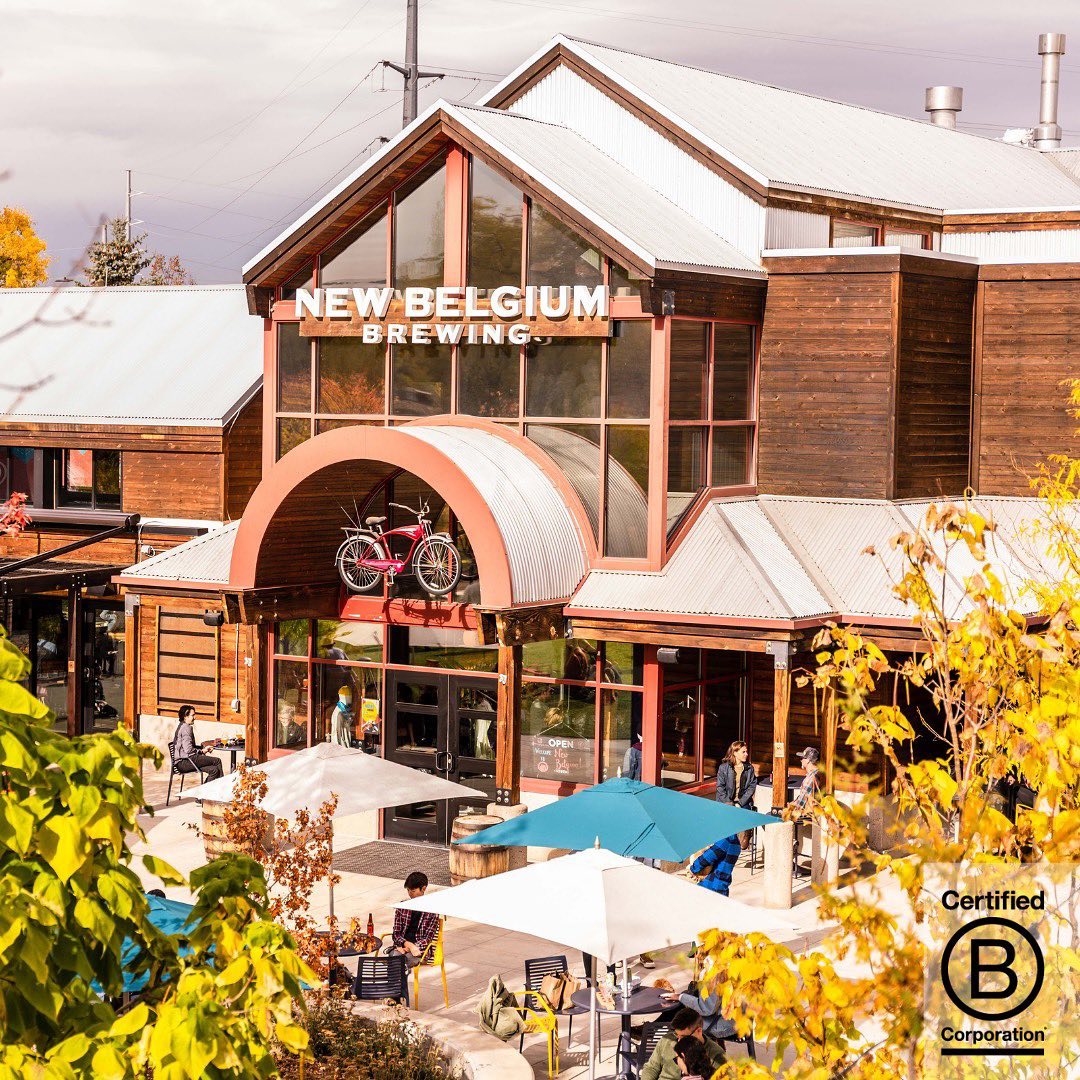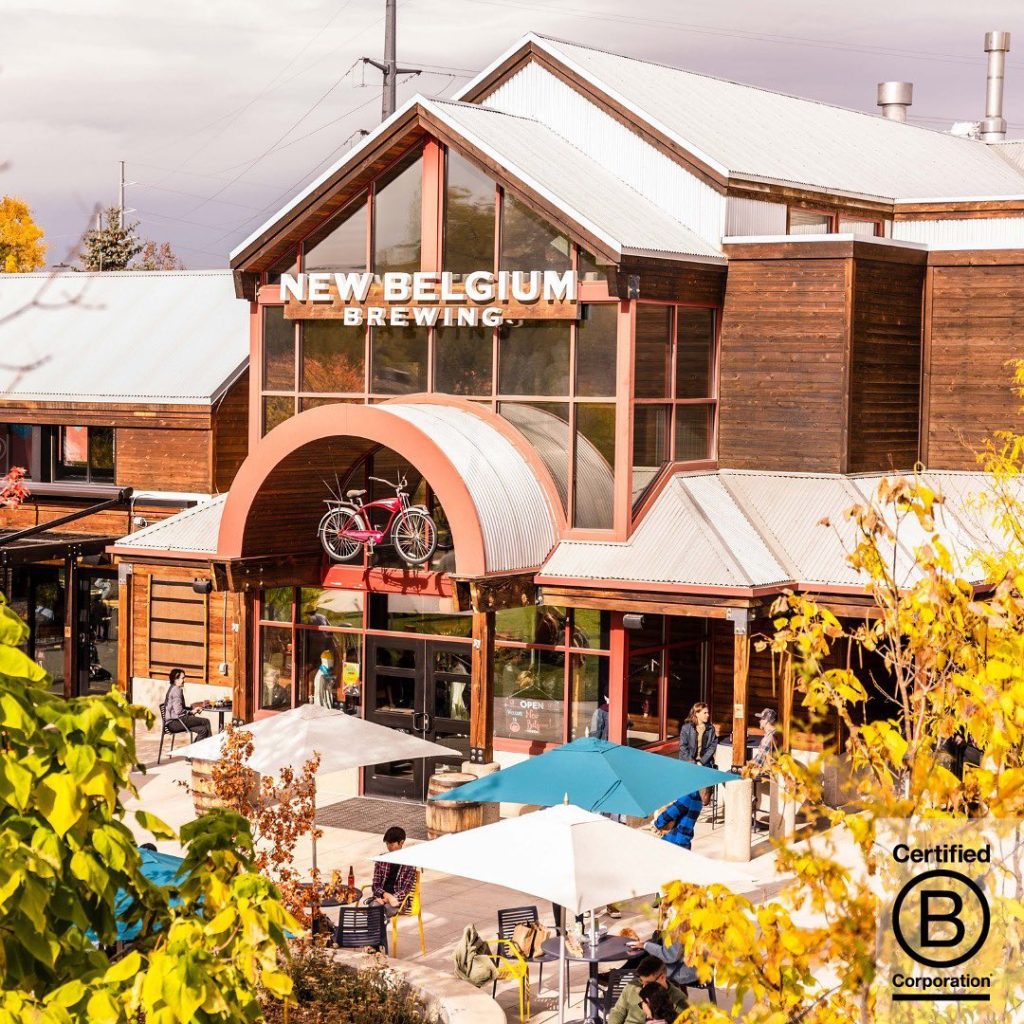 "It's safe to say the experiences people have on a day-to-day basis don't stop within our proverbial four walls," says Simmons. "In our workplace we create safe spaces to empower our humans to be safe, comfortable, and productive…so when they leave our four walls they can show up in meaningful ways."
It's a lofty goal, but one New Belgium has already made significant strides towards, specifically with two new initiatives just this month.
New Belgium Creates Safe Spaces Training Certification
First, New Belgium partnered with Hospitable Me, a global leader in inclusive hospitality, to develop a completely free, first-of-its-kind training designed specifically for bars, restaurants and taprooms with the goal of ensuring every space where craft beer is poured – including beers brewed by New Belgium and Bell's – is welcoming and inclusive for all. The training is under development now and will be released in Fall 2022.
"Our hope is that all of our customers will take advantage of this low-barrier-to-access training so their staff becomes better at welcoming and including all identities from LGBTQ+ to BIPOC and intersecting identities," says Simmons.
Specifically, New Belgium's Poured for All training will include simple but critical lessons embedded with personal stories, so staff can understand what real life behaviors look like to help create more inclusive and welcoming environments. "That's so important because most people don't get up at the beginning of the day and imagine how they can make others' lives miserable, but they move through life the way they know it to be," says Simmons. "And if we're not intentionally inclusive we can be unintentionally exclusive."
The training guide will help bar and restaurant owners and their employees understand the subtle ways establishments can send signals that certain groups don't fit or perpetuate societal stereotypes.
Simmons offered a classic example. When she and her husband visited a restaurant last weekend, Simmons ordered a sangria and encouraged her husband to get a beer from a local Black-owned brewery that she wanted to taste. When the drinks came to the table, without asking, the server delivering the beverages placed the sangria in front of Simmons and the beer in front of her husband. Now this happened to be the right order, but it's one simple implicit action that hints that inclusion can be improved in that space.
It's no secret that craft beer has been predominantly dominated by white, cis-men with only 23.7% of brewery owners identifying as female and 0.2% as non-binary/third gender in a demographic audit performed by the Brewers Association last year.
"When we make assumptions about people based on our own lived experiences, we can unintentionally reveal our biases and "other" people which makes it harder to make genuine connections," says Simmons.
But with New Belgium and Hospitable Me's Poured for All Initiative, the brewery hopes to help its partners understand how to make a safe space that's welcoming to all regardless of gender, race, age, religion, sexual identity, and more.
Bar and restaurant owners and managers can sign up for first access to the training as soon as it's available by visiting HospitableMe's simple online portal.
New Belgium and the Queer Community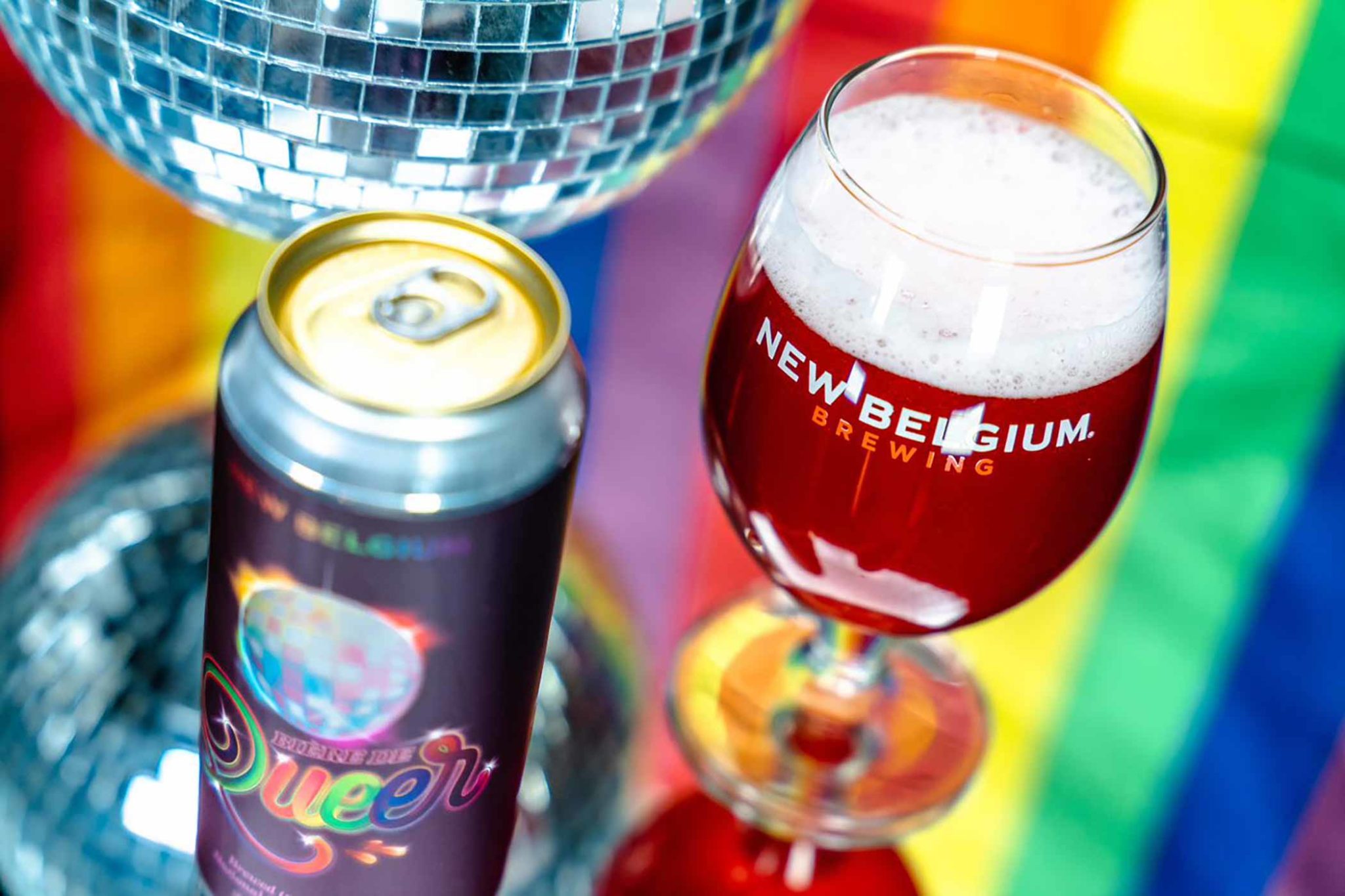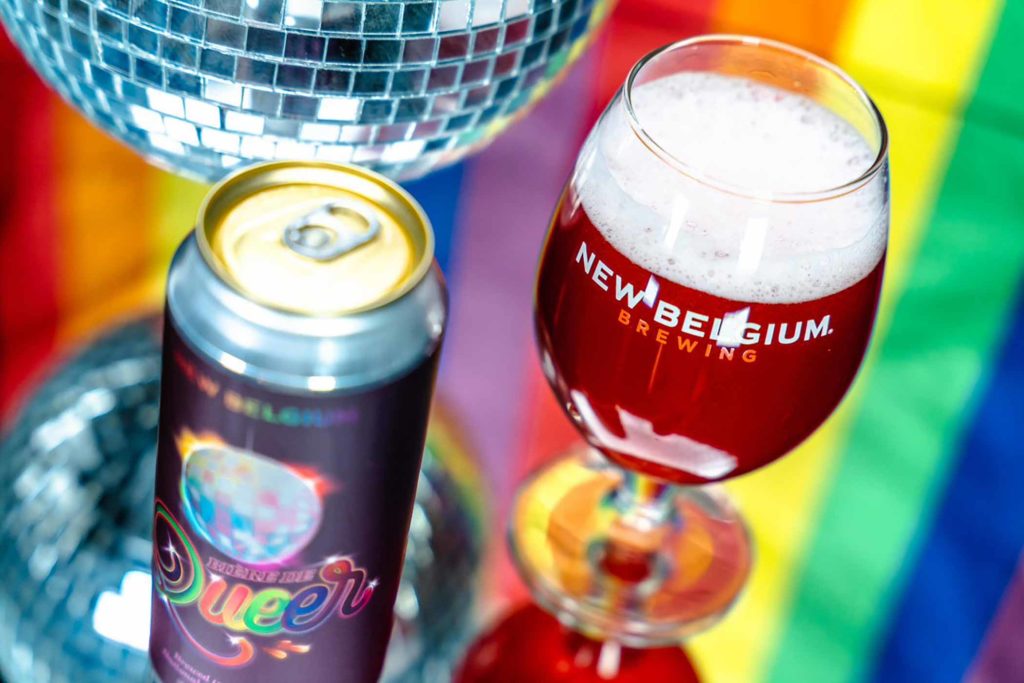 Last year, the Human Rights Campaign (HRC), an organization leading the fight for LGBTQ+ rights and "creating a society where none of us is left behind," recognized New Belgium as one of the Best Places to Work for LGBTQ+ Equality on its Corporate Equality Index, giving it a perfect score of 100. At the time of writing, New Belgium is the only craft brewery in the country to receive this distinction.
This year, New Belgium has once again shown up in a big way for the Queer community.
New Belgium Creates a 'Guide to Rainbow Washing' for Pride 2022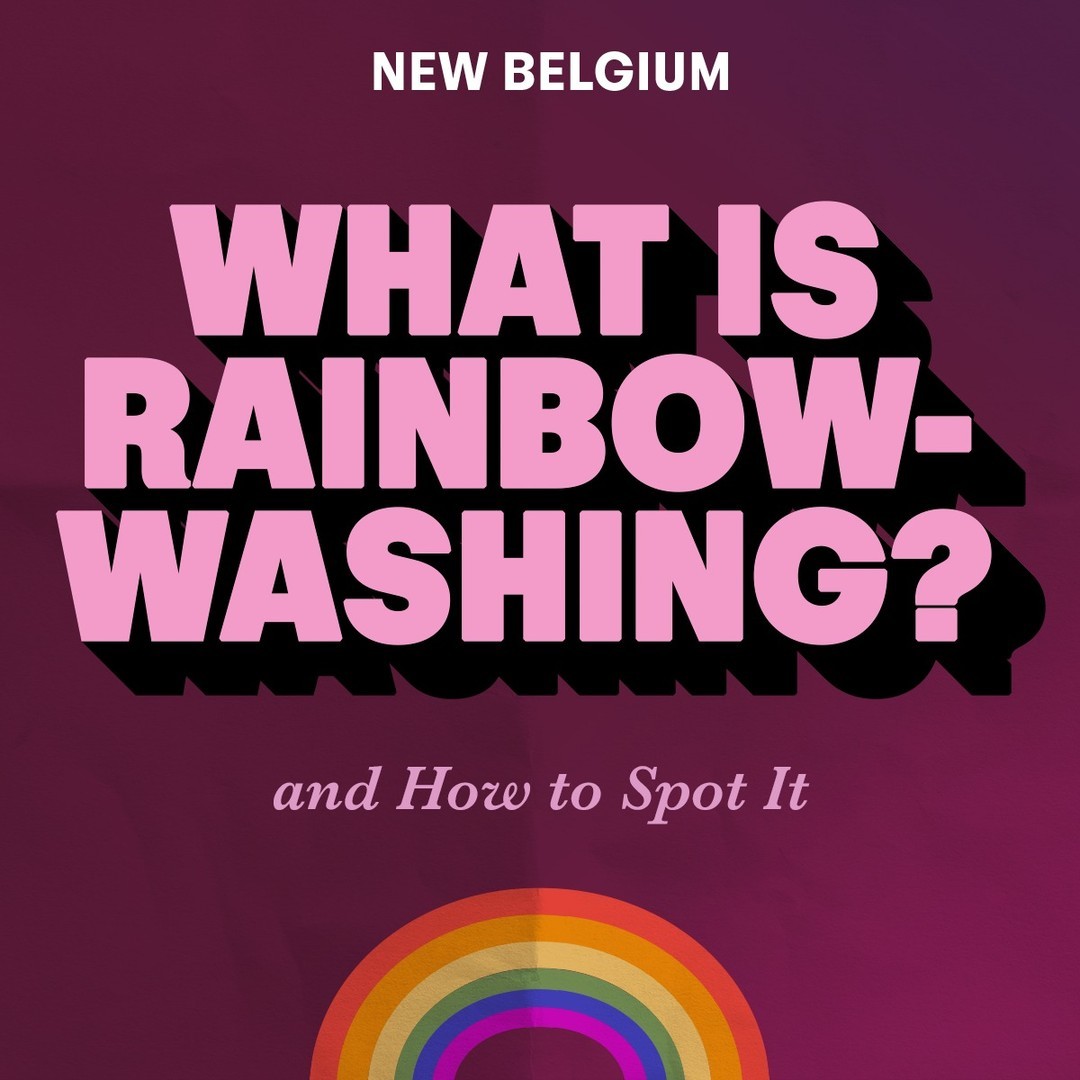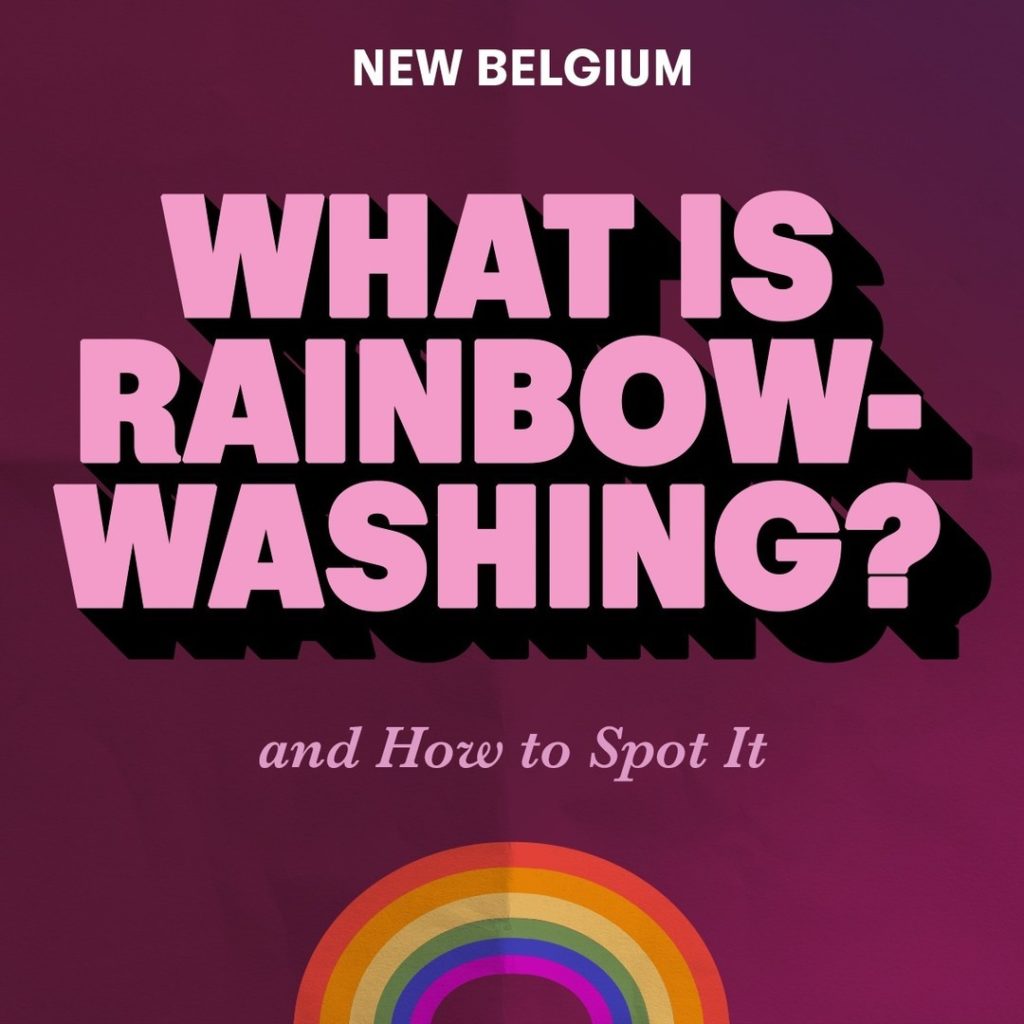 Released on June 3rd, the brewery published a comprehensive "Guide to Rainbow Washing," which refers to a all-too-common practice where companies slap a rainbow flag on something or add rainbow colors to one of their products throughout Pride month without backing up that action in the Queer community.
"It is really important to understand why only putting out Pride flags doesn't necessarily help the community," says Simmons.
It can be a very dangerous and detrimental practice.
"At its worst, organizations put up a rainbow flag, but do not examine their internal culture—the implicit and explicit ways people are made to feel they don't belong—or contribute to campaigns and legislation that are standing behind bills creating legitimately life-threatening experiences for the LGBTQ+ community," says Simmons. "Often organizations get excited about parades, beads, and Pride, but Pride was born out of struggle and it's about continuing to support equity, inclusion, and life-saving policy."
New Belgium's "Guide to Rainbow Washing" hopes to be a resource for consumers interested in flexing their personal economic power to support companies walking the walk for the LGBTQ+ equality, and for companies truly interested in authentically supporting the Queer community. The guide features a compilation of research, resources, and expertise from both internal members of the LGBTQ+ community and allies at New Belgium along with outside experts. Specifically, the brewery worked with the Equality Federation, as well as its internal LGBTQ+ community of coworkers, for guidance.
Included in New Belgium's "Guide to Rainbow Washing" are sections on what rainbow washing is, why it's harmful, and what customers can look for in gauging whether companies truly support the Queer community – not just during Pride, but all year long.
"It's really important for us to acknowledge that, for the community, Pride is more than just one month," says Simmons.
To spread the Guide far and wide, New Belgium is donating $1 to the Equality Federation every time one of the company's "Guide to Rainbow Washing" Instagram posts are shared.
"Intention is such a big word and super important in my work because intention is not only about what you are saying, but also about how your actions are or are not backing up what you're saying," says Simmons. "Just do better. We try to do that all the time at New Belgium."
New Belgium Partners with Hop Culture for Second Annual Queer Beer Festival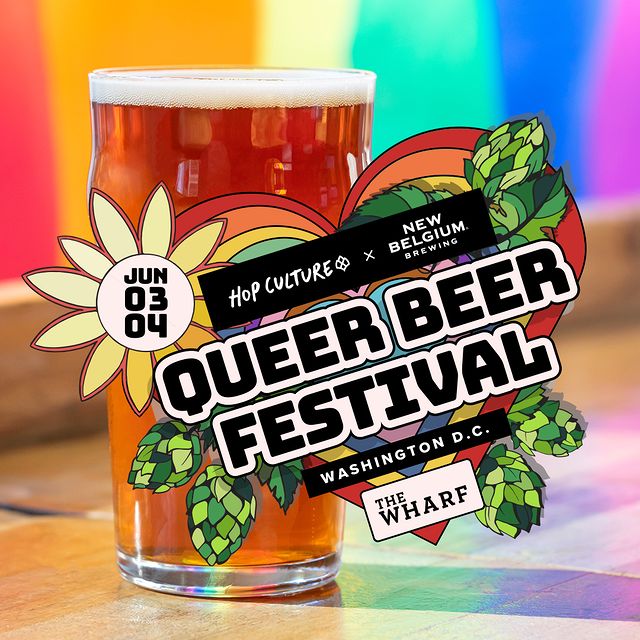 Hop Culture was beyond honored to partner with New Belgium to bring the first-ever in-person Queer Beer to life.
Last year, because of the pandemic, the inaugural Queer Beer festival took place virtually. But on June 3rd and June 4th, 2022, Queer Beer happened in real life at The Wharf in Washington, D.C.
I conceptualized Queer Beer to elevate and showcase the voices of the Queer community in the industry and create a safe space for all to enjoy craft beer. With all the incredible work New Belgium has shown in the the Queer space, our missions perfectly aligned.
With New Belgium as a presenting partner, we made this the most impactful, vibrant, diverse, and colorful festival yet.
Beer Like People Is Diverse. And the Future of Beer Means Investing in People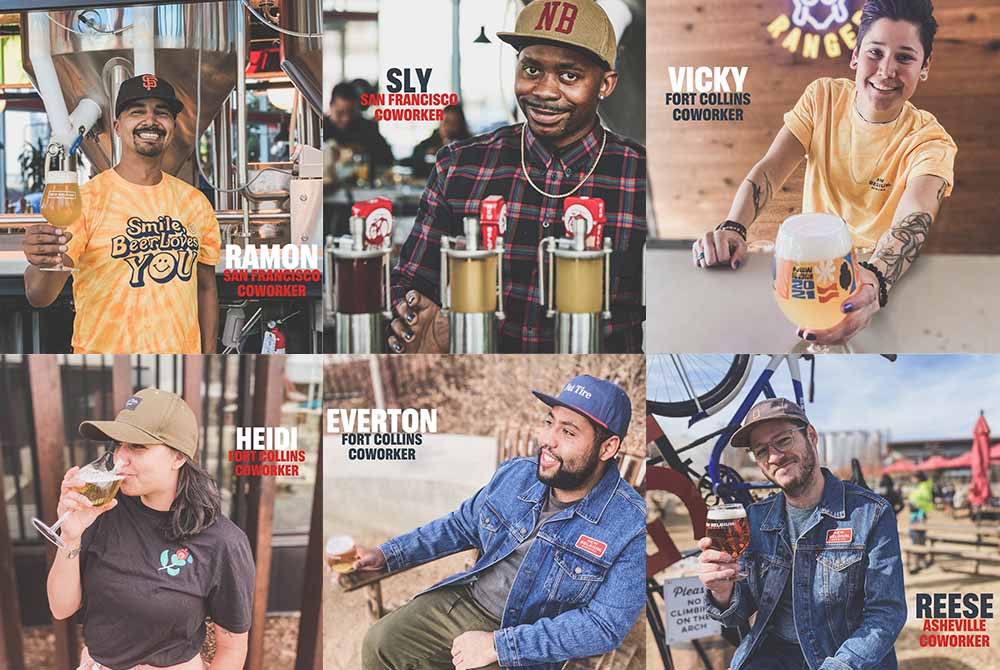 At the end of the day, it's important to remember that there is not a one-size-fits-all solution to improving an organization's DEI policies and programs.
"There is no one quick solution to doing this work, no checklist of go-do-these-things-and-everything-will-be-perfect-and-you'll-have-arrived," says Simmons. "This is long term generational work. I'm not interested in just checking the box, and neither is New Belgium."
What is important is that more breweries start to take steps forward. Even if they're baby steps.
New Belgium's three big DEI goals this year are the perfect example breweries can look to when wondering how to use their impactfull platforms to create change.
Because make no mistake, beer does have a magical power to make a difference.
Just think about it: What is beer? It's a combination of all these different ingredients of varying colors, backgrounds, and origins, coming together to make a beautiful liquid in a glass.
"Beer is not one note; from the ingredients to the types of beer we can create… There is such diversity," says Simmons, who hopes that in the next three to five years she can walk into any craft beer establishment in any city and have a richly diverse experience. "When you really think about it, a lot of people talk about DEI as the right thing to do, but at the end of the day if you have a lot of different people with a lot of different ideas all gathered and actually listening to those different ideas there are unending solutions that can be created."