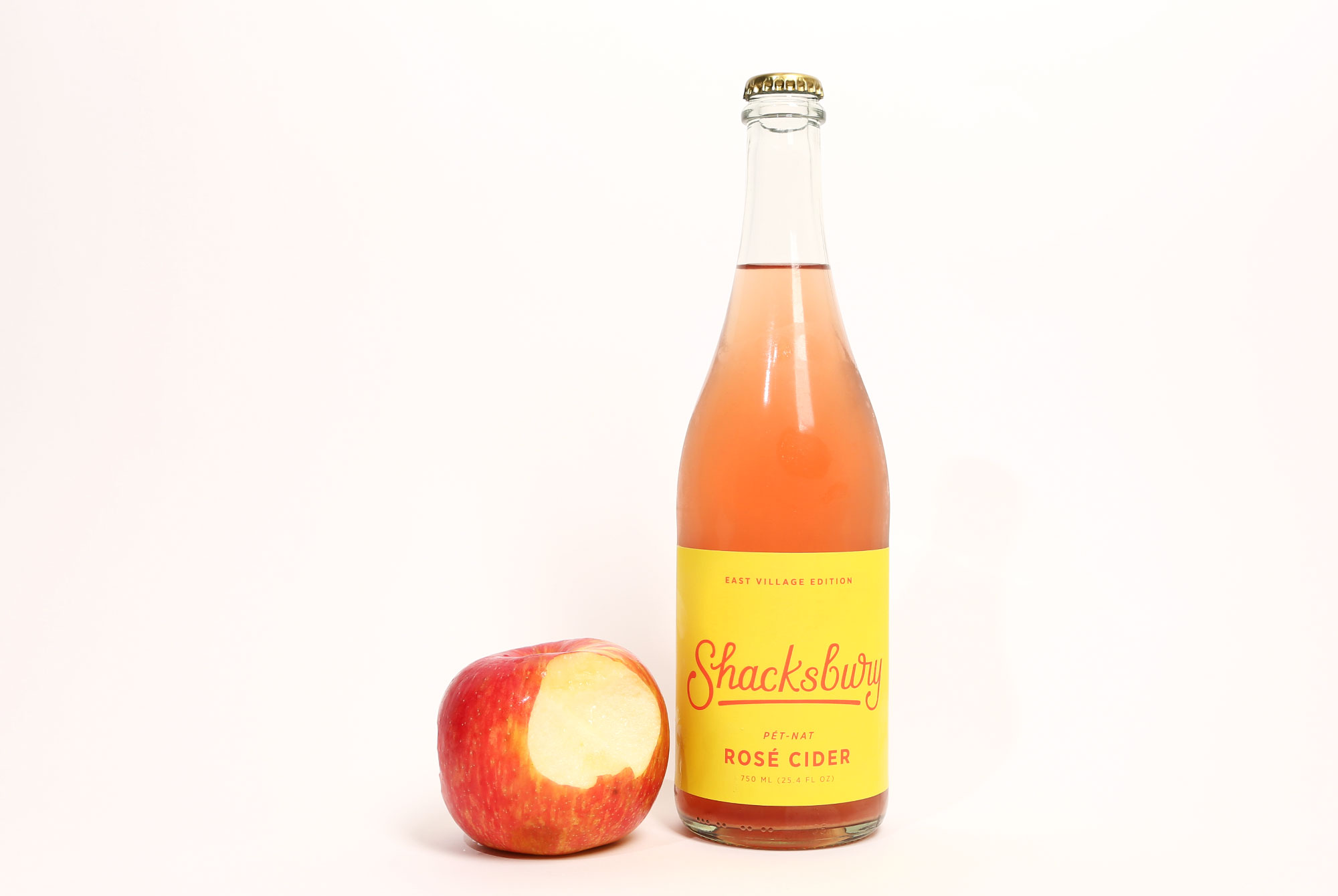 Photography by John A. Paradiso
Editor's Note:
Want to try some Shacksbury cider? Catch them at Juicy Brews March Madness on March 23rd at Resident Culture in Charlotte, NC.
Pét-Nat Rosé (East Village) at a glance:
Shacksbury is a cidery based in Vergennes, Vermont.
Shacksbury released three variants of Pét-Nat Rosé: the Lo-Fi Edition (CA), the Texas Edition (TX), and the East Village Edition (NYC).
Pét-Nat Rosé (East Village) is a 6.2% ABV sparkling rose cider with grape skins from Brooklyn Winery and made in collaboration with ABC Beer Co.
Why you should care:
Pét-Nat (short for Pétillant Naturel) is a fermentation technique used to produce sparkling wine (or, in this case, cider). As opposed to the more traditional méthode champenoise, Pét-Nats are bottled before primary fermentation has finished. The method dates back to the 16th century but has found widespread popularity with the boom of natural wines — and cidermakers have innovated on the style.
In the past, Vermont-based Shacksbury has dabbled in Pét-Nat ciders, but this is the first time they've brought their rosé cider into the mix.
"It's the convergence of all of our favorite things," shared partner and Director of Business Development Luke Schmuecker. "For the past couple of years we've been making a Pét-Nat cider; after we came out with our canned rosé, it got us thinking, What if we combined the two and did a Rosé Pét-Nat Cider?"
The result is gorgeous. The vibrant grapefruit pink of the cider shines through the clear bottle and pops alongside the bright yellow, retro baseball jersey-style label.
"We decided to make the switch [to clear bottles] because the color was so beautiful, we wanted to show it off," Schmuecker said. "I wish it was a cooler story but we saw the color of the cider and were like, 'Wow, this should be in a clear bottle.' Colin [Davis, co-founder of Shacksbury] came up with the idea to go with the highlighter yellow for the labels because we wanted a visual way to show this cider is supposed to be fun. I mean it's cider, it should be a dry, refreshing beverage you can pop open at any time."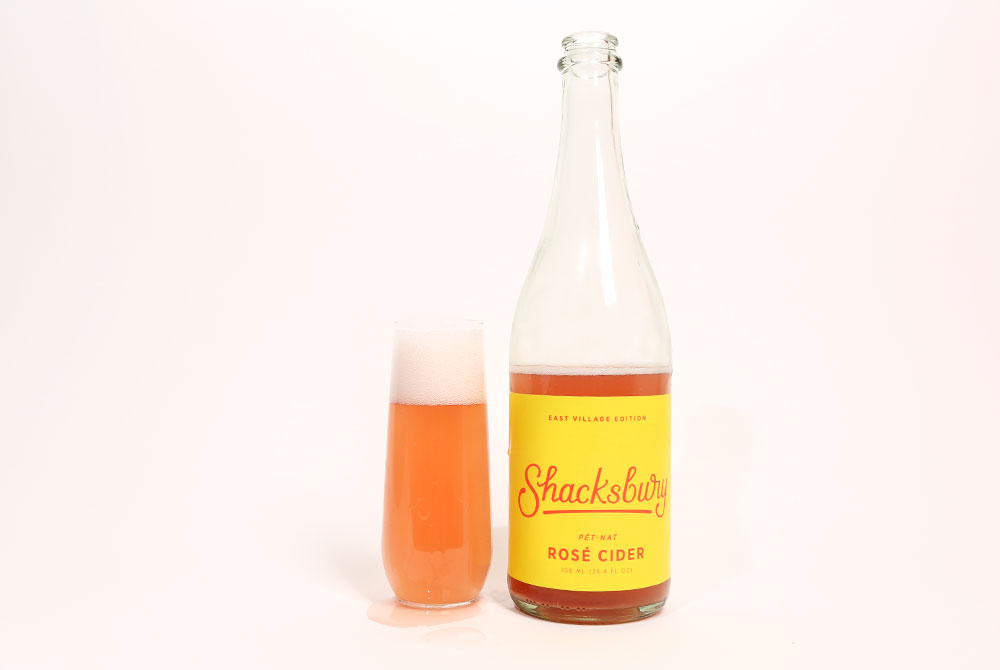 Shacksbury produced three slightly different variants of the cider: the Lo-Fi, the Texas, and the East Village. Each edition is a collaboration with a local winery, Lo-Fi Wine in California, Lewis Wines in Texas, and Brooklyn Winery in New York.
The base cider is the same across the board but the use of native grape skins in each variant imparts unique characteristics. As Schmuecker explained, "All three are different. They're like siblings that all started out in the same house together then decided to take their own path. If we're keeping this metaphor going, the East Village edition is the cool, post-hippie brother. He probably skateboards. He definitely listens to Fleet Foxes and King Krule. He's kind of a thoughtful, quiet dude but he's always a good time at the dinner party. I want to hang out with this guy…
Pét-Nat Rosé is not a precious cider. Don't stock up on bottles and hide them away in your closet. Bring a bottle to your next picnic in the park. Enjoy during appetizers at your favorite BYOB joint. Pop it open and drink it on your own. Just don't take it too seriously. When I asked Luke Schmuecker the best way to enjoy Pét-Nat Rosé, he suggested, "Saber it? The joy of these Pét-Nat Ciders is they're super versatile for pairing. You could have it with Thai food or a hot dog — either way it's going to be delicious."
What Pét-Nat Rosé tastes like:
Disclaimer: The bottle gushed a bit when we opened it.
Pours a vibrant pink/orange and has a nice funk on the nose with a little apple and grape.
Extremely effervescent and sparkling with a head that dissipates quickly.
Super dry with lovely apple and earthy red wine notes.
Shacksbury describes the cider as "dangerously drinkable" and that's very true.
Where to get it:
Bottles of Pét-Nat Rosé will be hitting the NYC market soon and will be made available to Shacksbury's cider club members.
"While we couldn't duplicate this one if we tried (because of the native yeast fermentation and variation in vintage), we're definitely going to be coming out with more Pét-Nat ciders," Schmuecker said. The best way to stay up to date is to follow Shacksbury on social media.
Bottom line:
Pét-Nat Rosé is a beautiful cider that lives up to the delightful packaging. It's tasty on its own and elevates any dish you might be pairing with it. There are some incredible cidermakers producing world-class cider in the states and Shacksbury is certainly one of the best. Welcome the start of spring with a Pét-Nat Rosé cider.
Catch Shacksbury at the Juicy Brews March Madness Festival in Charlotte, NC on March 23rd.
Liked this article? Sign up for our newsletter to get the best craft beer writing on the web delivered straight to your inbox.