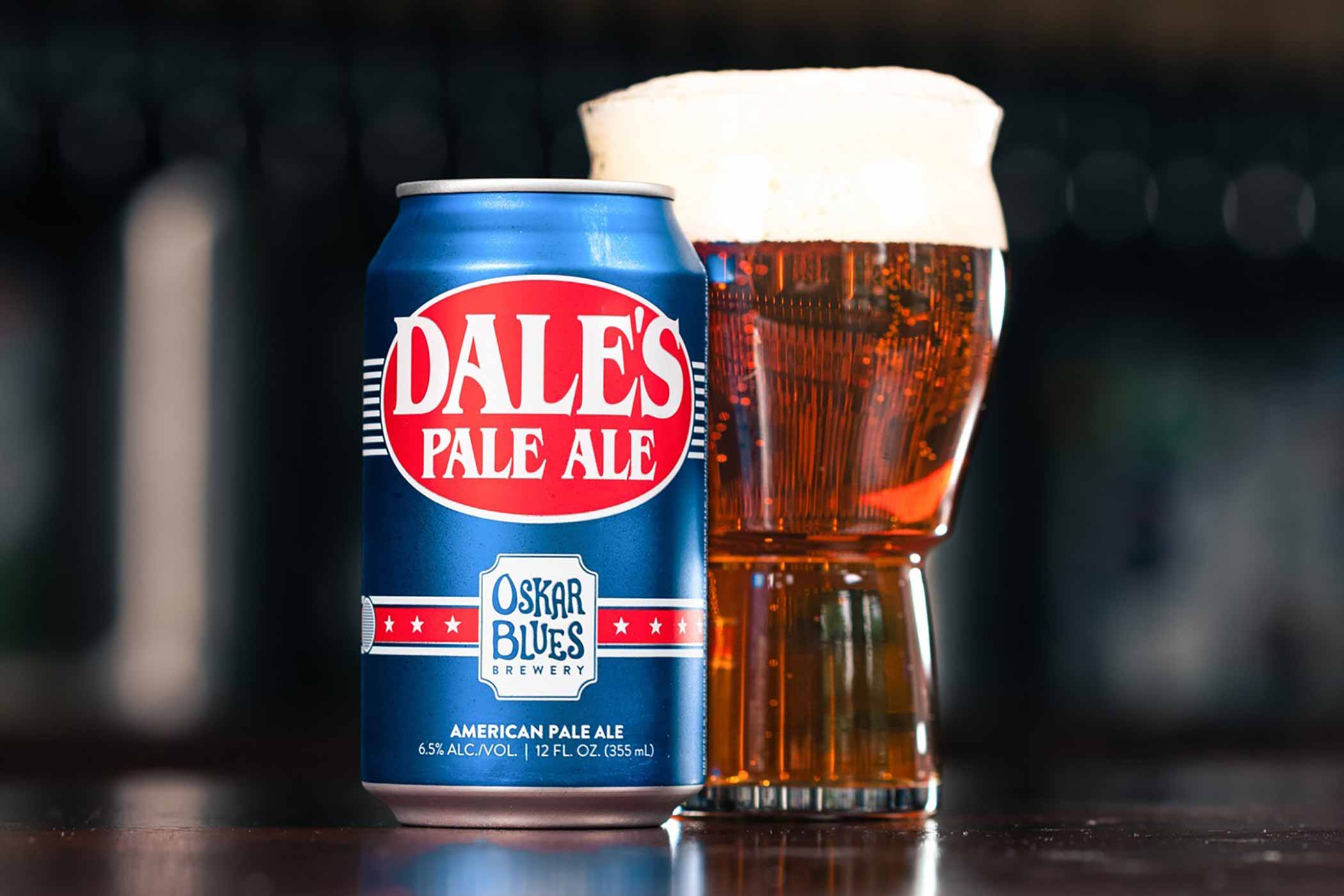 Photography courtesy of Oskar Blues Brewery
The canning revolution in craft beer started with one little unsolicited fax. Sounds like a bold statement? Well, Oskar Blues, the first brewery to put craft beer in a can, has always been a bold brewery, forging a lasting legacy by going against the grain.
Twenty years ago, Oskar Blues Brewery Founder Dale Katechis received a spam fax from a Canadian company promoting a small manual can seamer.
At first, Katechis and the team laughed at the ad. "It was a joke," says Aaron Baker, senior marketing manager at Oskar Blues. "But then they started thinking more about it and how it would allow them to sell beer outside the restaurant and get it to people…to take on a bike ride or get out in the woods."
An avid mountain biker himself who loved the outdoors, Katechis started to believe that canning beer just might be a good idea after all.
He probably couldn't have imagined it at the time, but Katechis' seemingly tiny decision to buy a manual can seamer paved the way for a packaging revolution.
In 2002, Katechis bucked convention, releasing the original craft beer in a can—Dale's Pale Ale.
Two decades later, as Oskar Blues celebrates its 20th CANiversary, Katechis' radical decision still reverberates throughout the industry.
Wait, There Was a Time When Craft Beer Wasn't Canned?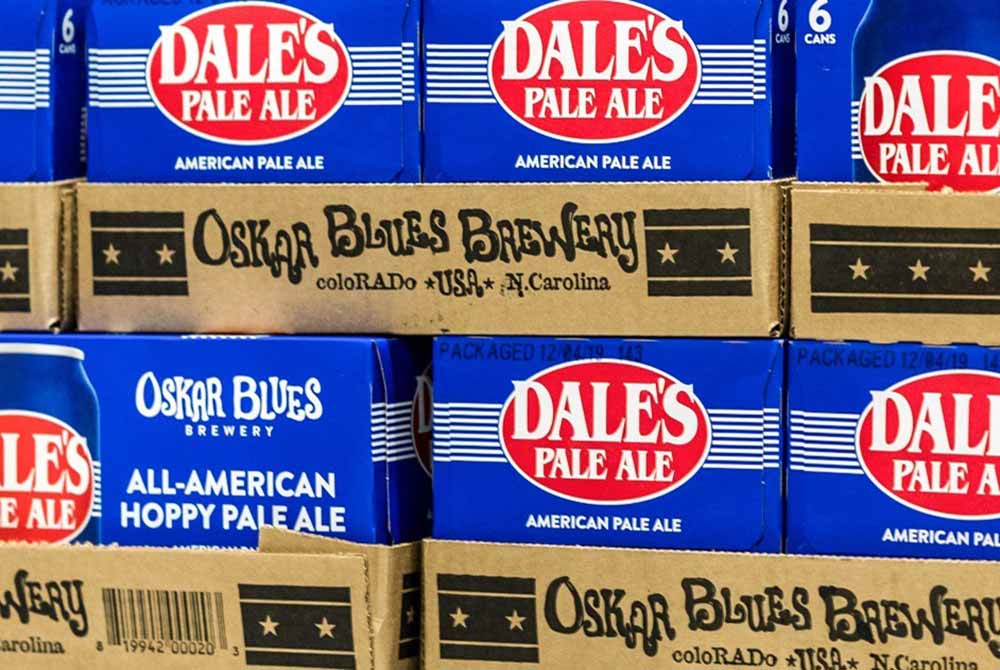 Yes, we know it's hard to believe, especially since the Can Manufacturers Institute reported that beverage can production jumped six percent in the United States to more than 100 billion cans last year.
But think back to the late 1990s and early 2000s, when Katechis first started getting into the beer business.
At the time, the American craft beer movement was really just starting to gain momentum.
And the package of choice?
Bottles.
"Back then it was a completely different time," says Baker. "Nobody knew you could even put good beer in a can."
Instead, cans were synonymous with mass-produced domestic lagers.
"We started at a time when there was no beer that wasn't some mass-produced domestic light lager or bad pilsner in a can," says Baker. "To put a 6.5% really hoppy pale ale, which is basically an IPA, in a can was just a totally bonkers idea that blew people's minds."
But Katechis had always done things differently. Even right from the start.
From Fly Fishing Guide to First-Rate Brewmaster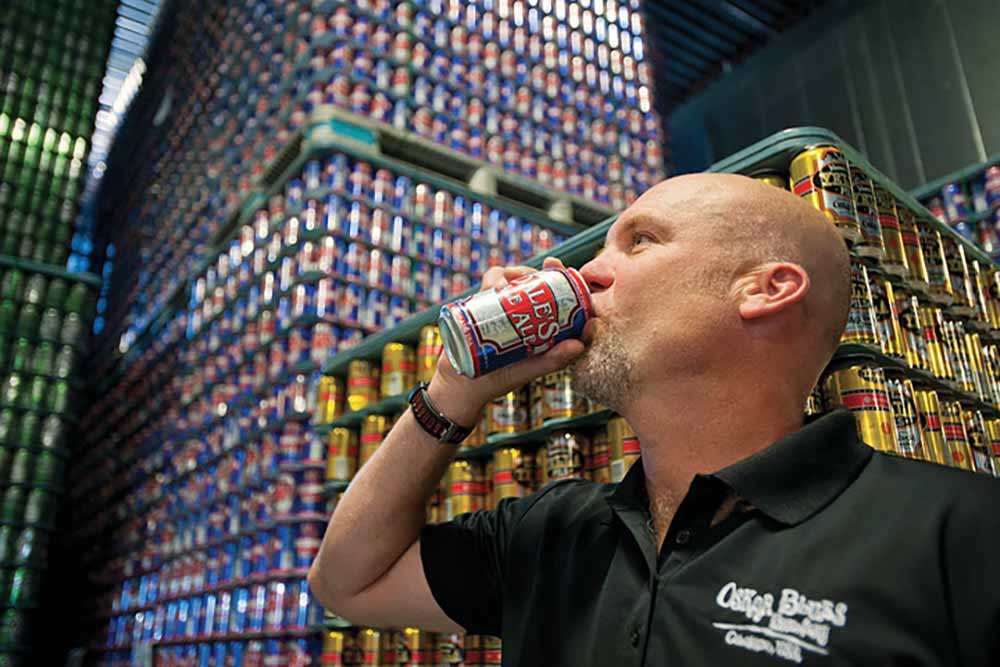 Originally planning to move to Wyoming to become a fly fishing guide, Katechis found himself sidetracked along the way, stopping in Colorado.
He never left.
"He fell in love with the place," says Baker.
So in 1997, Katechis opened Oskar Blues Grill & Brew as a restaurant. About a year later, he saw an opportunity. After partnering with Left Hand Brewing Co. in Longmont to craft a beer just to serve at his joint (dare we say a very early collab?), Katechis enjoyed a thirty percent bump in annual sales. So he decided to brew his own beer, asking Oskar Blues Co-Founder Brian Lutz to help him turn the blues hall basement into a brewpub.
A homebrewer in college at Auburn, Katechis and brewmaster-at-the-time Craig Engelhorn churned out the first keg of Dale's Pale Ale as a way to provide handmade suds to their customers.
Originally named Dale's Pale Ale because, well, the name rhymed and sounded good, Katechis' signature creation took off like a shot.
"The name was a joke in the beginning…but it stuck around," says Baker. "It's kind of ridiculous, but that's why it's great. We were able to poke fun at ourselves a little bit and not take ourselves too seriously."
Something that would come in handy when Katechis decided to can his eponymous beer for the first time in 2002.
Because at first, they were the laughing stock of the beer world.
When in reality, it would be Katechis who had the last laugh.
Those Who Can First Can Hardest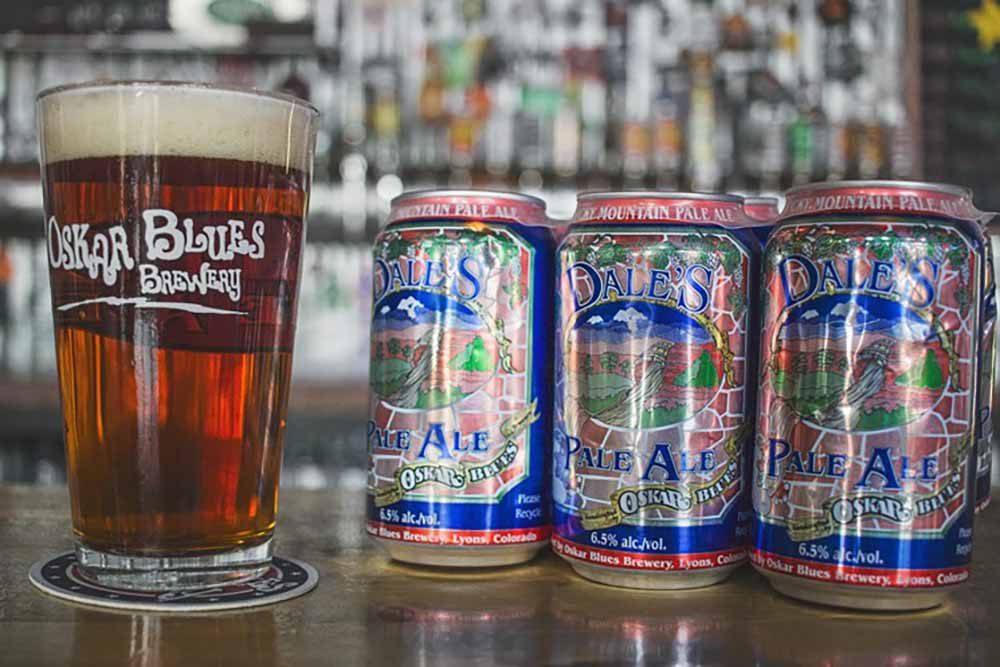 When Katechis first canned Dale's Pale Ale he started off small. Oskar Blues employees manually filled each can, hand-capping sixteen cases per hour in a 5,000-sq-ft barn Katechis renovated next to the original brew pub.
"In the beginning, it was wild," says Baker, recalling how Dale would tell him stories about hiring his brother to help sell the cases by hand to local grocery and liquor stores. "They had to show people that the beer was good coming out of a can and that people would buy it."
Because again, at the time, canning had a negative connotation. People believed that the cans gave the beer a metallic aftertaste.
People just didn't understand why Oskar Blues would ever can a beer. Even brewery pioneers such as Boston Beer Company Founder Jim Koch chimed in with their own arguments against Katechis' crazy choice.
But today, these old beliefs have proven to be myths.
In fact, it's the complete opposite, cans are actually better for beer.
Why Cans Can-Can-Can Make Beer Better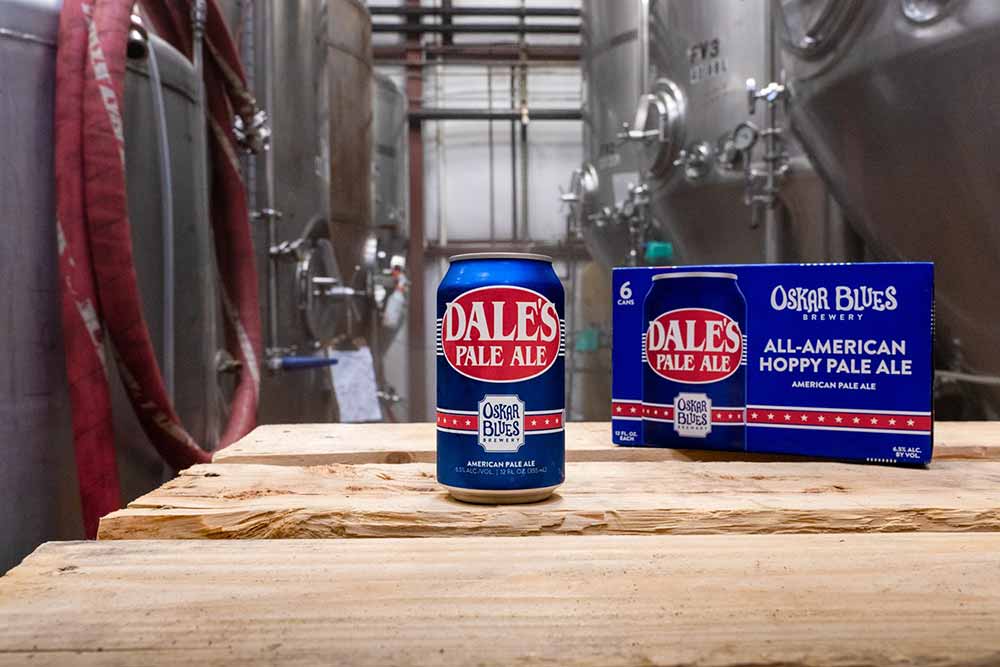 For all intents and purposes, beer has two enemies: oxygen and light. Both can potentially cause beer to spoil.
Cans actually help eliminate both of those pesky problems.
"You can get a much better seal on the can lid than on the crown of a bottle," says Baker. "And you can't see beer in a can because it blocks out 100 percent of the light."
Whereas glass bottles, even brown bottles, let in some light. "If you hold a brown bottle up to the light you can see the beer in there, which means light is getting in," says Baker.
Plus, to put it simply: Cans are easier to take anywhere. "Getting out into the woods and getting after it is pretty hard to do with a glass bottle and feel good about," says Baker.
Cans on the other hand? Easy to take on a mountain biking trip, a hike, while fly fishing, or really during any outdoor activity.
And today, cans have even more advantages. Since they're made of aluminum they are better for the environment. "It's an amazing material because it can be recycled over and over and over again with no loss whatsoever," says Baker.
Additionally, aluminum cans are lighter, meaning shipping them across the country can reduce a brewery's carbon footprint.
But back in the early 2000s, none of these advantages resonated with a burgeoning American craft beer industry.
Katechis had to fight tooth and 'Dale's Pale Ale' to buck the entire status quo.
Giving the Finger to Can Foes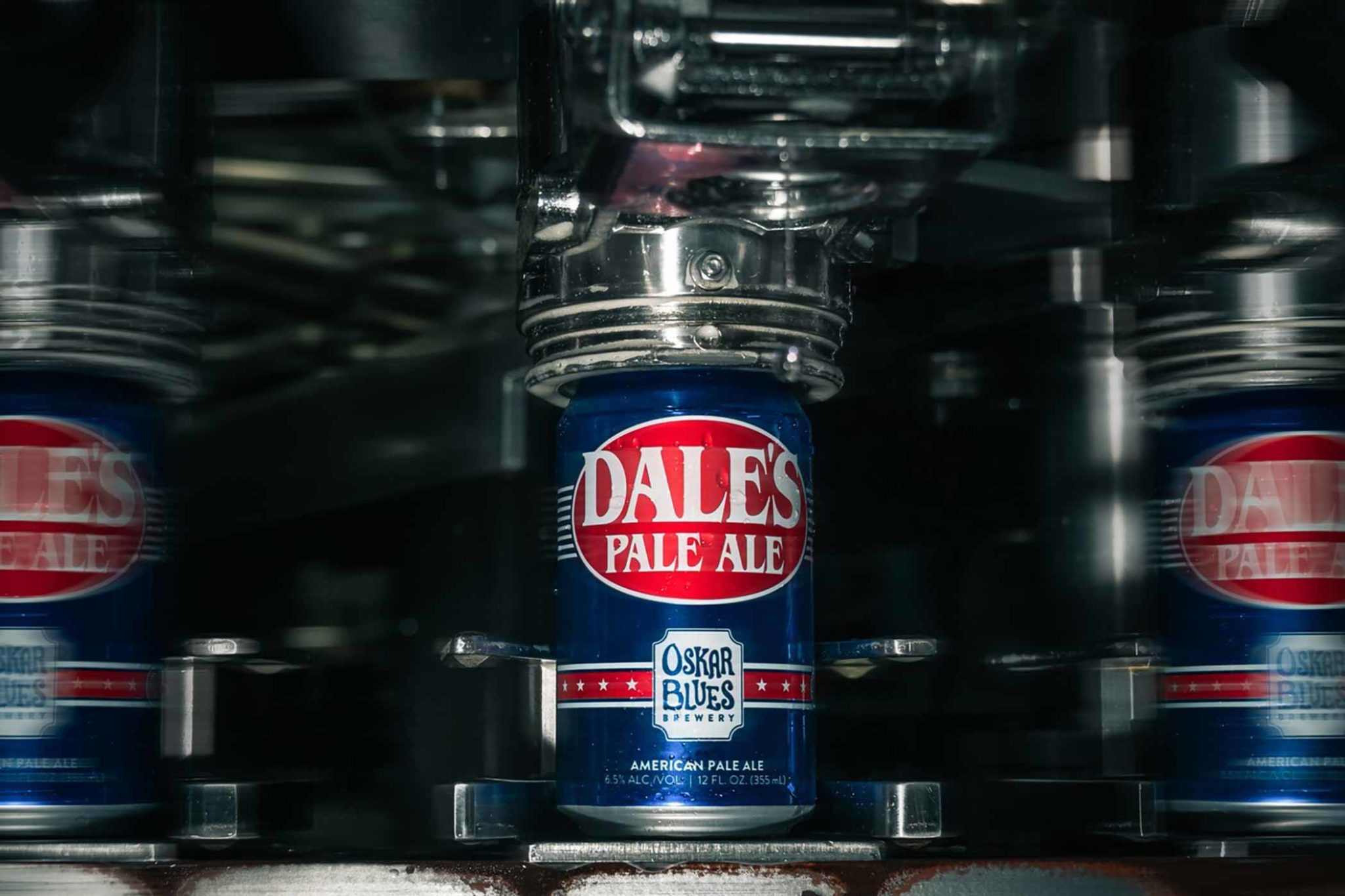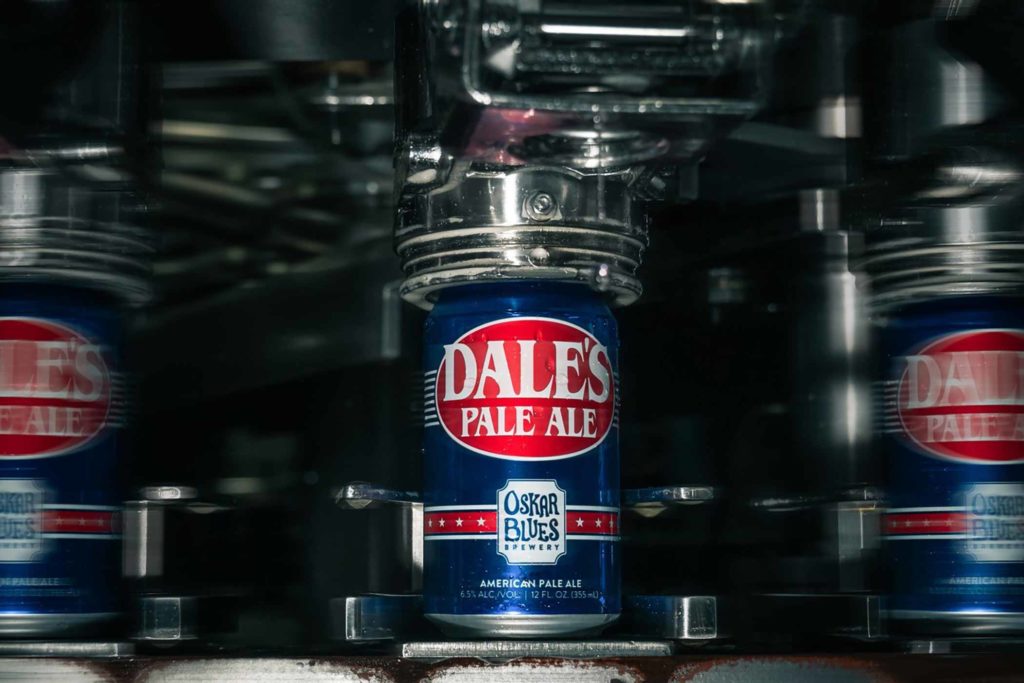 Once Katechis heeded the call (or fax, in this case) for cans, he never looked back. Two years after canning Dale's Pale Ale for the first time, Katechis invested in a $45,000 automated canning machine built by Cask Brewing System.
Oskar Blues went from manually canning sixteen cases an hour to automatically filling 1,200 cans per minute.
Katechis' investment signaled just how deeply he believed in cans.
"Dale and Oskar Blues in particular were uniquely positioned to break through the can barrier because the attitude was just 'fuck you,'" says Baker. It's an ethos that pervades many decisions at the brewery, from putting the original craft beer into a can to each beer that followed.
What came next after the crazy idea of putting a 6.5% hoppy pale ale in a can? Well, Katechis could have put an easy-drinking, light, and popular beer in cans.
But…nope! (tThat would come later. Mostly recently, with Oskar's newest release, Oskar's Lager)
Have you learned nothing of this bold, badass brewery yet?
Next, Oskar Blues canned Old Chub, an 8% ABV malty scotch ale, followed closely by Ten FIDY, a 10.5% ABV imperial stout.
"The attitude was 'don't tell me we can't do it, we're going to do it,'" says Baker.
A fitting decision, considering FIDY stands for "fuck the industry do it yourself."
Katechis and Oskar Blues made the decision to blaze a trail, sticking to their guns despite the outcries calling them crazy.
"If people didn't catch on they were like well your fucking loss," says Baker. "It's great beer out of a can so you're missing out."
It was a headstrong belief that Katechis stayed true to despite battling a substantial headwind.
"The rebellious side of it is the American spirit of just holding to your principles and going for it no matter what," says Baker. "That's something we're proud of and worth celebrating with everybody."
Because in reality, Oskar Blues' steadfast belief eventually impacted the entire industry.
Celebrating Oskar Blues 20th CANiversary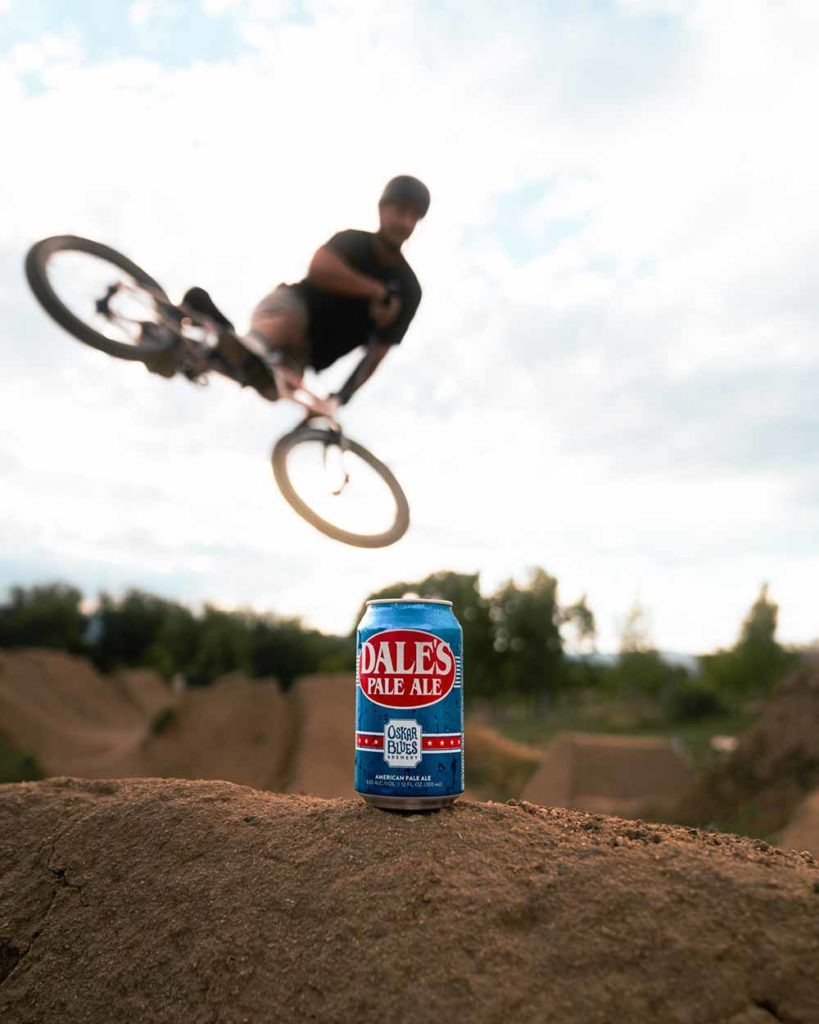 More than a milestone for Oskar Blues, celebrating the 20th 'CANiversary' (as Oskar Blues has come to call it), marks a win for the entire craft beer industry.
"It's really about discovering how good cans are for craft beer and how many breweries it has helped," says Baker. While it's impossible to really say how many breweries Oskar Blues inspired, canning Dale's Pale Ale has "definitely had something to do with the explosion of craft beer and the number of breweries able to get into packaging," says Baker.
In 2004, Oskar Blues reported selling 5,000 cases of canned beer each month.
Incredibly, that's now only a small chunk of the over 100 billion cans rocking shelves all across the country.
Within the last twenty years, nearly every brewery in the United States has come around to canning. Even those breweries that skipped packaging beer at all were forced to look at options when the global COVID-19 pandemic closed taprooms for long periods of time.
Today, cans are king.
But despite Katechis and Oskar Blues' contributions to this now-royal form of packaging, the brewery remains humble. For Baker it really all returns to the brewery's start in a drafty brew pub basement in Lyons, CO.
"We're most proud of making sure we maintain that community aspect, because as you grow and get bigger, it's harder to hold onto those things," says Baker. "Twenty years after we first put beer in a can it's great to still say we have that same mentality."
Whether at Oskar Blues' taproom in Longmont, CO; Austin, TX; or Brevard, NC, each maintains the camaraderie of the original. Oskar Blues Grill & Brews was a place where locals would go to grab lunch, have a beer, and hang out.
And if the last twenty years have proved anything for Oskar Blues, it's that a steadfast faith even in the face of adversity, while the entire industry laughs in your face, can eventually turn into a rumbling revolution.
As we said, those who can first can hardest.
"I'm not sure there's another can out there that will blow the entire industry like [Dale's Pale Ale]," says Baker. "But I hope in forty years we're still drinking Dale's out of a can and taking it on bike rides."
We'll crack open a can of Dale's Pale Ale and drink to that.