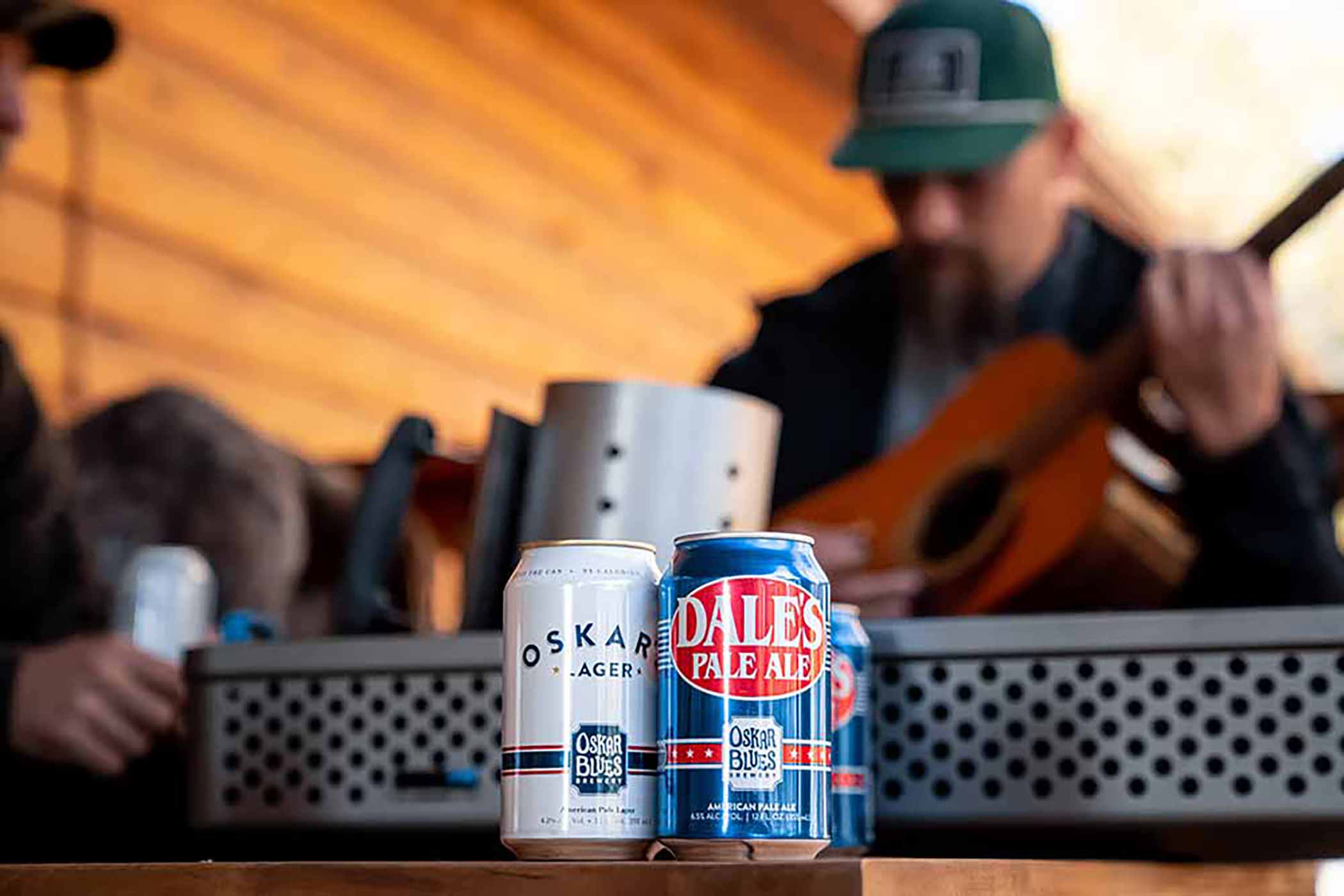 Photography courtesy of Oskar Blues Brewery
Oskar Blues has never been a brewery to go with the grain. Twenty years ago, Oskar Blues Brewery Founder Dale Katechis bucked convention by releasing the original craft beer in a can. And over the course of the last two decades, Oskar Blues has continued to innovate, brewing its own Scotch ale, Old Chub, and boundary-breaking Ten FIDY imperial stout (FIDY stands for "Fuck the Industry, Do it Yourself.") Now, the brewery has struck gold again in the most unassuming way, brewing its revolutionary take on a craft American pale lager called Oskar's Lager.
A lawnmower beer. An everyday beer. Or a beer while out on the trail, after a bike ride, or following a long shift. Oskar's Lager has been described as many things. But at its core the American pale lager boils down to one simple solution: This is the beer Oskar Blues' brewers always wanted to drink but couldn't regularly find in cans on shelves or on draft in taprooms.
So quite simply, they brewed their own, releasing Oskar's Lager in 2021.
Do we hear echos of "Fuck the Industry, Do It Yourself" ringing true here too?
It's all a part of the Oskar Blues legacy: Bold. Fresh. And might we add badass.
The Creation of Oskar's Lager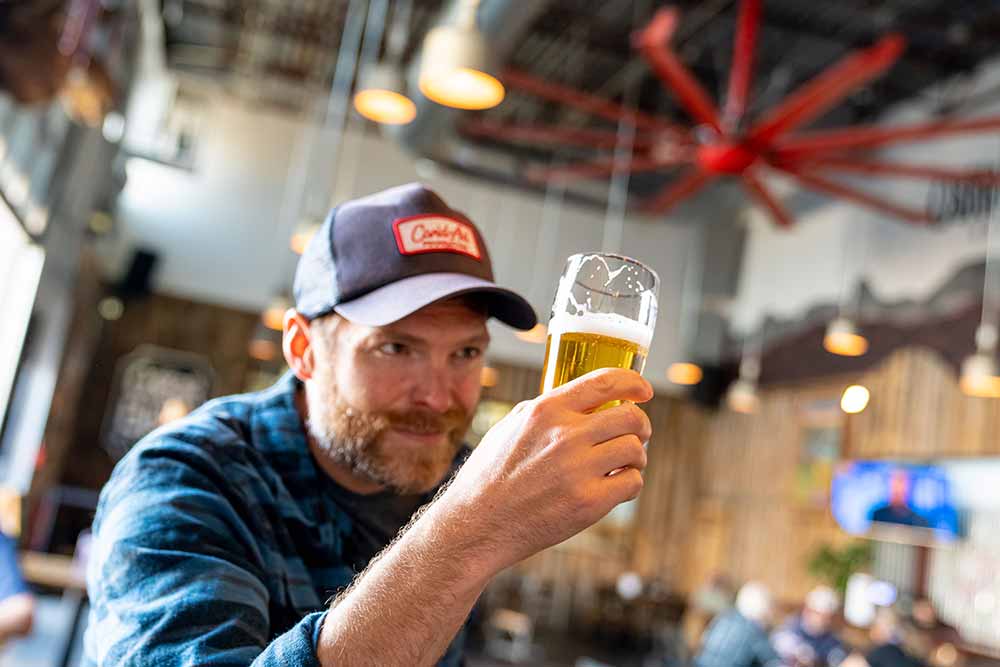 Oskar Blues has become most well known for its ales: Dale's Pale Ale, Old Chub, Ten FIDY, and a slew of IPAs.
What you may not know is they've "always had an affinity for lager brewing," says Tim Matthews, VP Global Brewing at CANarchy Craft Brewery Collective and Head of Brewing Operations at Oskar Blues.
Matthews has been visiting Germany every year since 2014, exploring not only the quality of European hops, but also their lagering techniques.
With Oskar's Lager, Matthews and his team have combined what he learned about traditional European lagering practices with, interestingly enough, Oskar Blues' IPA brewing experience.
"Ironically, a lot of the things we learned through the years brewing IPAs to hit complex profiles and different ABV levels gave us a leg up on what to do," says Ryan Dunnavant, Vice President of Operations at CANarchy Craft Brewery Collective. "I think our experience brewing numerous beer styles and in recent years certain types of IPAs increased our broader understanding of yeast management, enzymatic activity during brewing, and fermentation."
For example, take Oskar Blues' experience brewing Pinner. "Wrapping our heads around hop creep and how yeast behaves under stressful conditions gave us a deeper understanding of similar issues we had to deal with when we developed Oskar's Lager," says Dunnavant. "It's a difficult fermentation to manage and there's no way to hide off flavors, so having that knowledge baseline gave us a head start."
And while the overall recipe took about six months to hone, Dunnavant says the brewing team nailed Oskar's Lager's carb and calorie level on the first go-around.
"This was a pretty cool development because in the first trial we hit all our specs," says Dunnavant.
Clocking in at only 95 calories, 2.5 grams of carbs, and a 4.2% ABV, Oskar's Lager offers that classic light lager drinking experience, but with a huge punch of flavor.
From the outside, Oskar's Lager may seem like a simple beer. But dig a bit deeper and you'll find that brewing this American pale lager is actually very complex, requiring a deft hand and subtle touch.
Precision and a Gentle Touch Are Key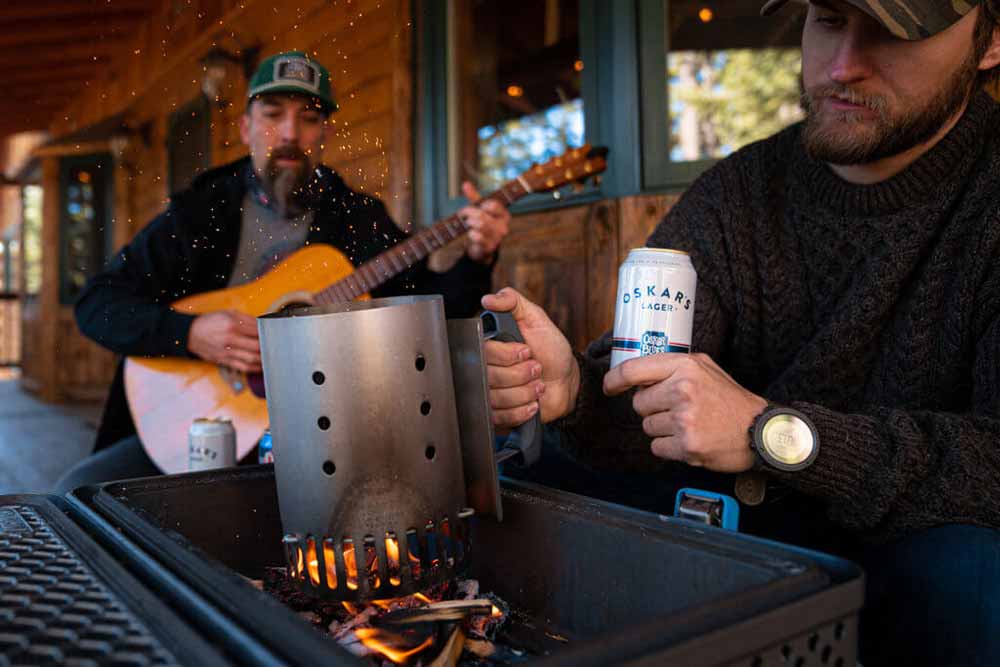 Spoiler alert: Light lagers are actually some of the toughest beers to brew. Not hazy IPAs, not barrel-aged imperial stouts. But rather, the humble light lager.
Why?
Well herein, as the barter says, lies the rub.
Ultimately, when you lower the number of ingredients along with the carb, calorie, and ABV levels—such as with Oskar's Lager—"there is not much to hide behind, so we have to be really careful," says Sara Laurienti, Director of Brewery Operations for Oskar Blues at Oskar Blues.
You need to dial in your recipe and be meticulous in your brewing techniques.
"The entire process is about being gentle," says Matthews. "We had to be very precise in how we mash, lauter, boil, and chill the wort along with the entire temperature schedule for fermentation."
According to Laurienti, even if they changed the fermentation schedule by a couple of hours, the beer wouldn't turn out exactly how they wanted because the yeast would be too stressed or there would be issues with the carbonation level.
It also means that the ingredients, while again simple, each serve a precise purpose.
The Essential Ingredients in Oskar's Lager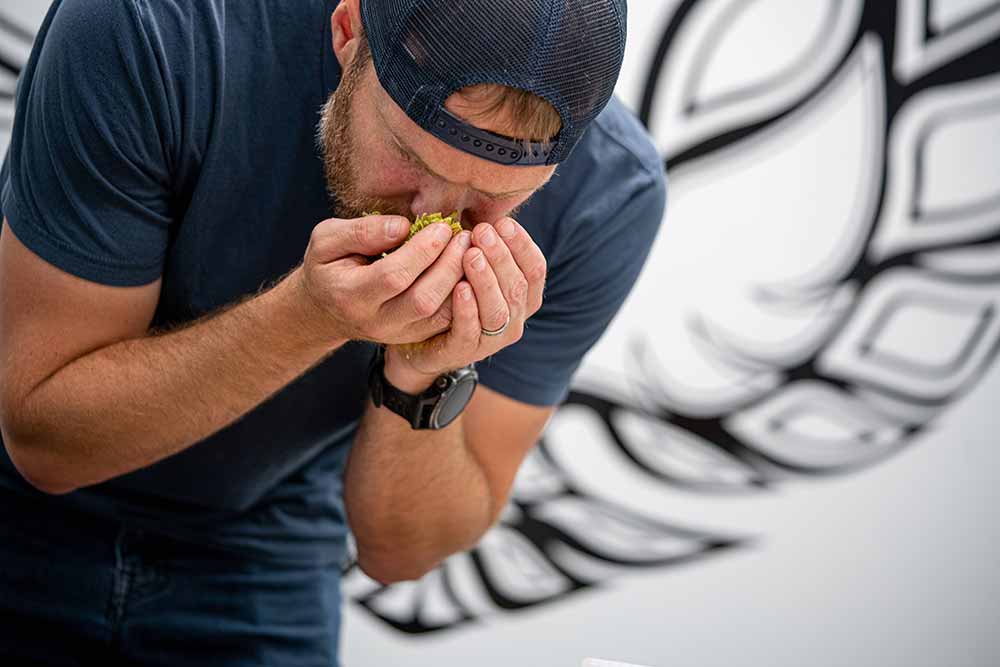 The malt bill is pretty clean: Pilsner, 2-Row Pale malt, and a little bit of brown rice to build that nice crisp platform. Plus tiny amounts of nutrients and enzymes to keep the yeast happy.
On the hop side, Oskar Blues adds both French Aramis and Saphir on the hot side without any dry hopping.
Saphir features prominently in Oskar's Lager; it's a hop Matthews, Dunnavant, Laurienti, and the rest of the brewing team fell in love with during hop selection.
"We feel like the Saphir really shines, which is somewhat ironic given this is essentially an American light lager," says Dunnavant. "But Saphir helps set Oskar's Lager apart from others in the category."
The idea here is for all these humble ingredients to combine harmoniously.
"We want people to experience malt, hops, and yeast…in a way that is a little bit more approachable and multidimensional," says Matthews.
Well, consider their mission accomplished.
Tasting Oskar's Lager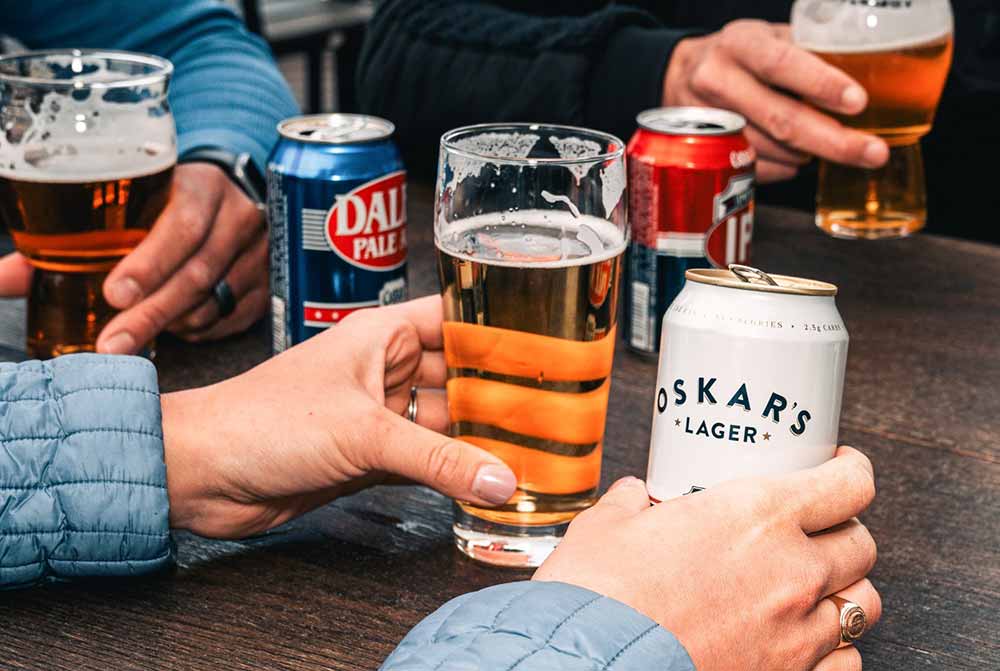 We drink with our eyes first, right?
The first thing you'll notice about Oskar's Lager is the golden hue and light, wispy foam.
"We do take a lot of pride in the foam retention you get if you pour [Oskar's Lager] into a proper glass because foam is the carrier for aroma," says Matthews. "That's where all our work with Saphir and fermentation is exhibited."
Right off the bat, you'll be hit with notes from that Saphir hop along with a light malt biscuit.
"As soon as you open the can you get a whiff of the beer and Saphir hops," says Laurienti. "It's your first introduction to the beer that makes you keep going back for more."
And more…
…and more.
"Every single time you sip and exhale, you get that aroma over and over." says Matthews. "Every single sip still has all those flavors."
It's one of the highlights of Oskar's Lager. "You've got the desire to continue sipping," says Dunnavant, who used a Japanese term kire, which literally translates to the verb "to cut," but in the beerworld means a crisp aftertaste and nice clean finish. "That refreshing crispness was very important to us… We want you to be able to have [Oskar's Lager] right out of the can, right off the trail, or have a pint on a sunny day at a taproom."
Oskar's Lager is truly a beer for any situation, whether you're simply hanging out after work, kicking it around the pool, jamming in the studio, hitting the trail, or [insert whatever verb you'd like here].
What's the Verdict on Oskar Blues New American Pale Lager?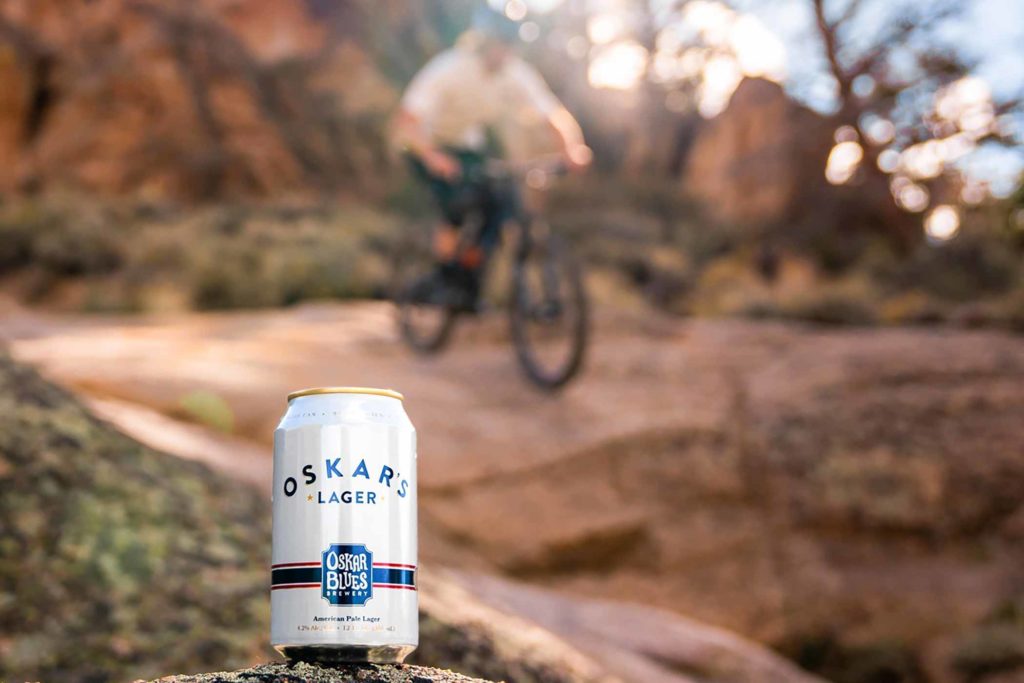 Irony abounds with Oskar's Lager. This appears to be a simple beer, but the brewing on the back end is very complex. For that reason, it's a beer that has appealed to the gamut of consumers from the casual drinker to the craft beer enthusiast.
"If you look specifically at beer geeks, those who have a deep understanding of the process, they know how hard something like this is to make and pull off and to keep balanced and subtly complex," says Dunnavant.
Accordingly, while Oskar's Lager pours out light, the beer in the glass bursts with aroma and flavor.
"With beers like this you think "crushable," "simple," "easy-drinking," but even within that sphere we present a lot of complexity," says Dunnavant.
Dunnavant likes to describe Oskar's Lager as "subtly complex."
"It's an everyday beer," says Dunnavant. "It's there on a hot day; it's thirst-quenching, but also has a ton of flavor that won't overwhelm you. You can have it with dinner or after a workout. When I go on a bike ride, that's the first thing I reach for… It's good for what ails you."
Laurienti—and in fact many on the Oskar Blues' team—agree. "After work most people go to the bar to have a shift beer and these past few years it has been a hazy IPA or a heavier beer," says Laurienti. "It's pretty cool to see that lately when you go there ninety percent of the team is sitting at the bar, hanging out after work with their Oskar's Lager."
A team favorite, Oskar's Lager has quickly caught on with Oskar Blues' fanbase as well.
"They can drink a couple pints while sitting at the bar hanging out for a couple hours and not feel weighed down by heavy ABV or a heavy mouthfeel," says Laurienti. "One of the things we hear in the taproom from our local customers is it's about time we made this beer."
Where Can I Find Oskar's Lager?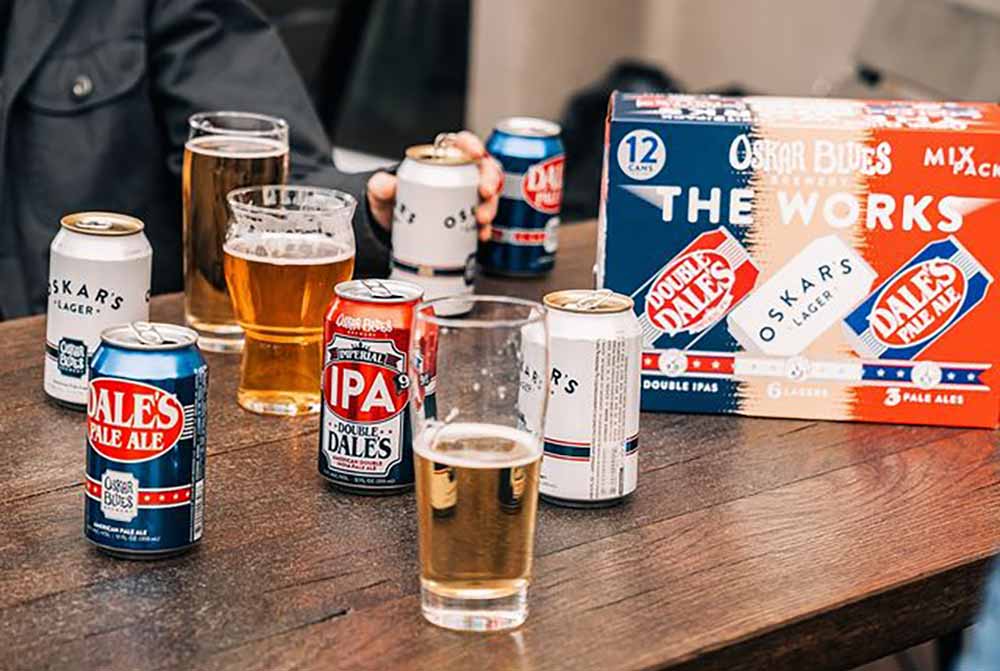 You can get your hands on this crushable, yet subtly complex lager across Oskar Blues' entire footprint, which includes all fifty states.
Additionally, you can find this American pale ale in The Works Mixpack, which includes: Dales, Double Dales, and Oskar's Lager.
Check out Oskar Blues' Beer Finder to find an Oskar's Lager or The Works Mixpack near you.