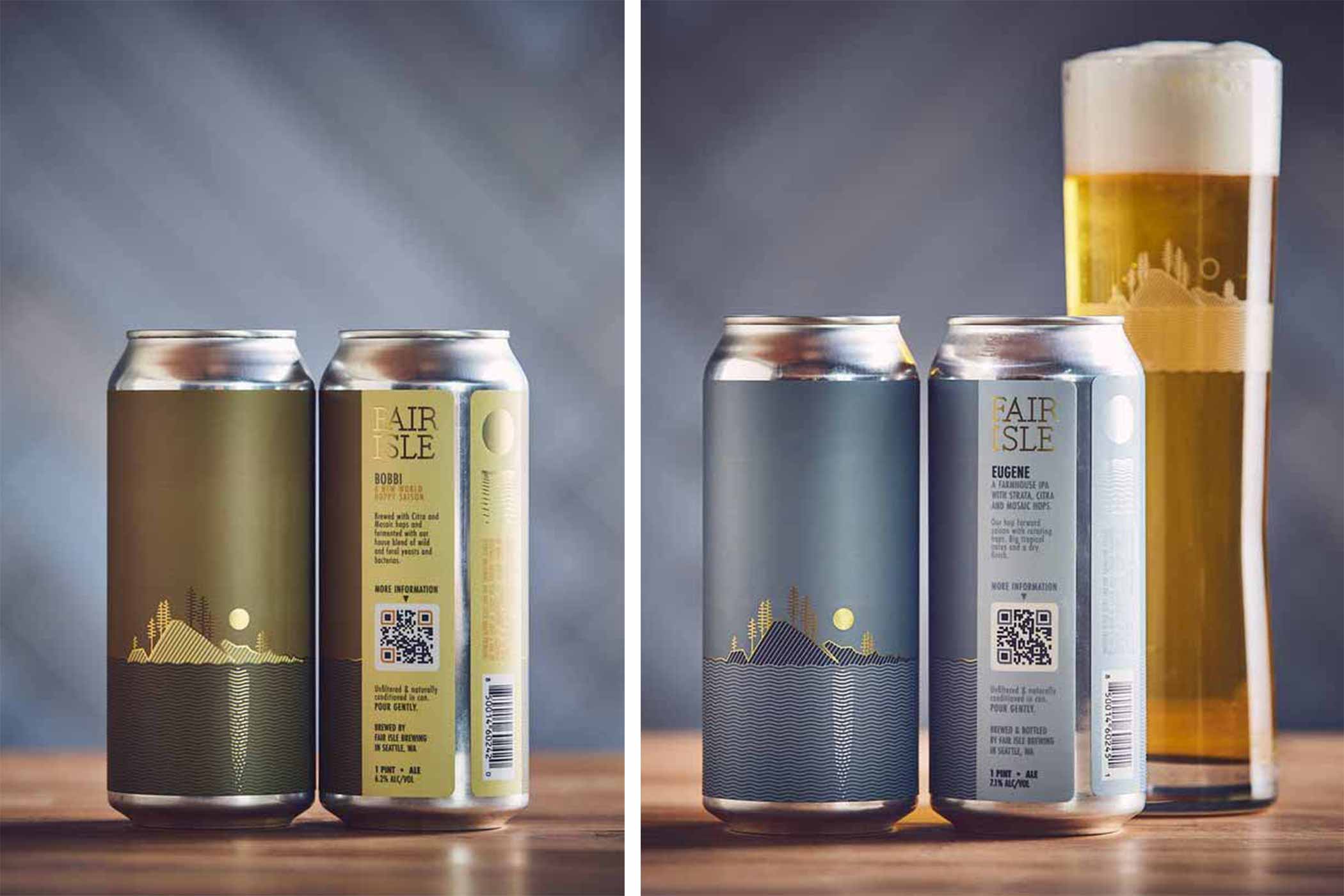 Photography courtesy of Fair Isle Brewing
Summer is over.
We weren't quite ready to say it last month. But now we are. With Labor Day coming up this weekend, the holiday officially marks the end of the season. And boy does it have us excited.
Why?
Because August unofficially signifies pumpkin beer season! Just kidding, that's not really what jazzes us in the fall. But we do always get revved up to once again debate the merits or lack thereof of this controversial style.
Mostly, we know that Oktoberfest season is right around the corner.
But before we get too giddy and far ahead of ourselves, let's take a look back at the last month of summer.
In the twilight of August, we find ourselves enjoying a shit ton of IPAs.
Afterall, in the beginning of the month we celebrated National IPA Day, aka the best day of the year. To honor the humble hop, we put together an homage to hazies including: "The 5 Breweries with the Best Hazy IPAs, According to You" followed by "5 Under-the-Radar Breweries with the Best Hazy IPAs, According to the Experts."
And we didn't stop there. We dug deep into an essential guide to "Everything You Need to Know About Session IPAs," the approachable, low-ABV version of an IPA.
On the other side of the spectrum, we rummaged up a list of the session IPAs' burlier, higher hopped cousins—the double IPA—in "The 10 Best Double IPAs Available in Most Stores Right Now."
We even followed Firestone Walker up to their hop harvest in 2021 to learn what hops are most exciting to Brewmaster Matt Brynildson.
Overall, August hopped us up and now we're excited for fall and all its malty, amber-y, darker styles. Whether you like pumpkin beer or not, you can't deny that September brings Oktoberfests, märzens, ambers, and festbiers galore. But for one more month, gorge yourselves on this harvest of hop-forward beers.
10 Best Beers We Drank in August 2022
Art Is Hard – North Park Beer Co.
San Diego, CA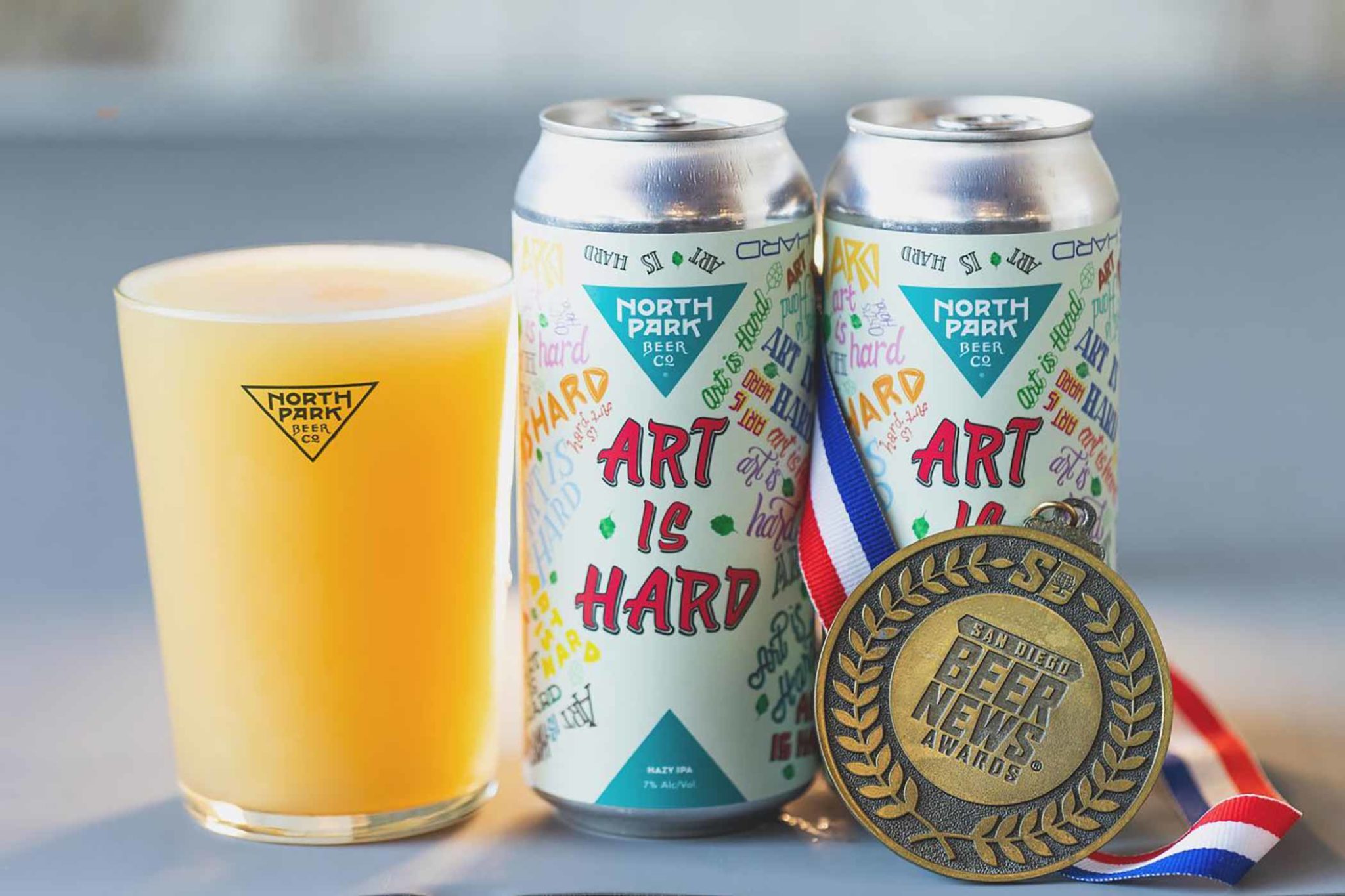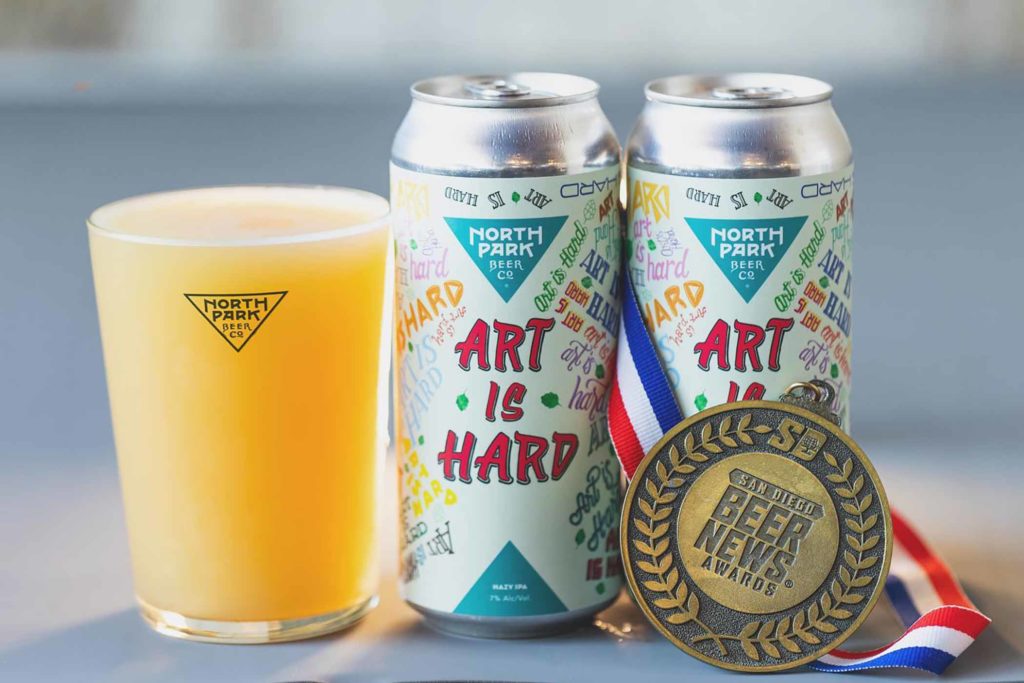 Hazy IPA – We think it's fair to say that the haze craze still has us in a daze. And we're not the only ones. Last year the style "IPA – New England" on the Untappd app ranked second highest with the most number of check-ins with over 6.1 million. Followed up closely by "IPA – Imperial / Double New England" in the fifth spot with just under 2.9 million.
Since we celebrated National IPA Day on Thursday, Aug. 4th, 2022, we wanted to take a pulse on the pulp.
So we put this question out over social media: What is the best hazy IPA you've drunk this year and why?
By far and away the brewery that received the most love across all our social platforms: North Park.
And the beer you—our fans and readers—seemed to give a lot of love?
Art Is Hard, a GABF silver medal winner in 2021 and SD Beer News Gold Medal Winner in 2022.
Somehow North Park takes a now standard combination of hops—Simcoe, Citra, and Motueka—and transforms it into something luscious and creamy along with tropical and dreamy.
Want to see what other breweries you deemed worthy of a cloudy crown?
Super Session #3 – Lawson's Finest Liquids
Waitsfield, VT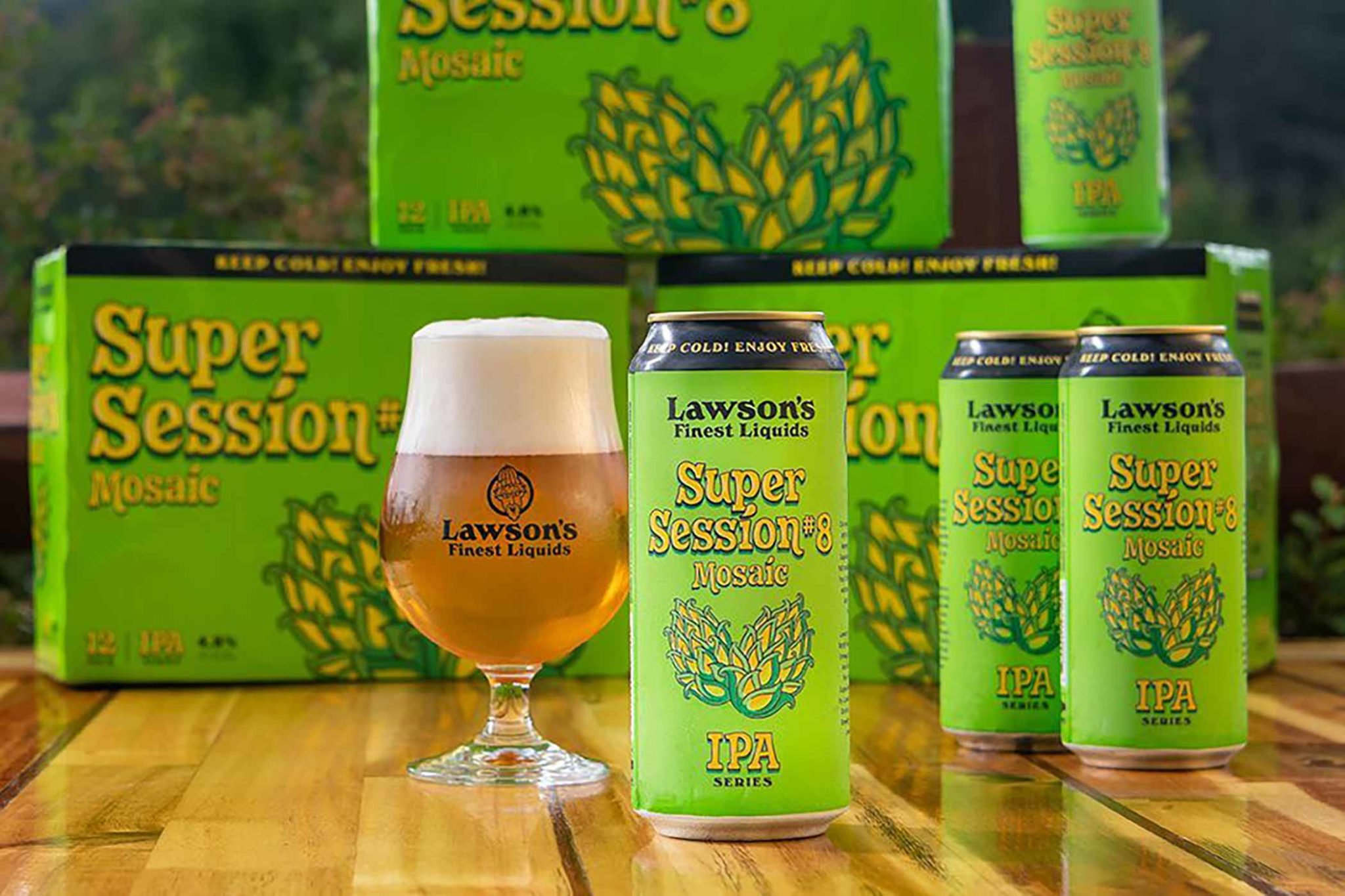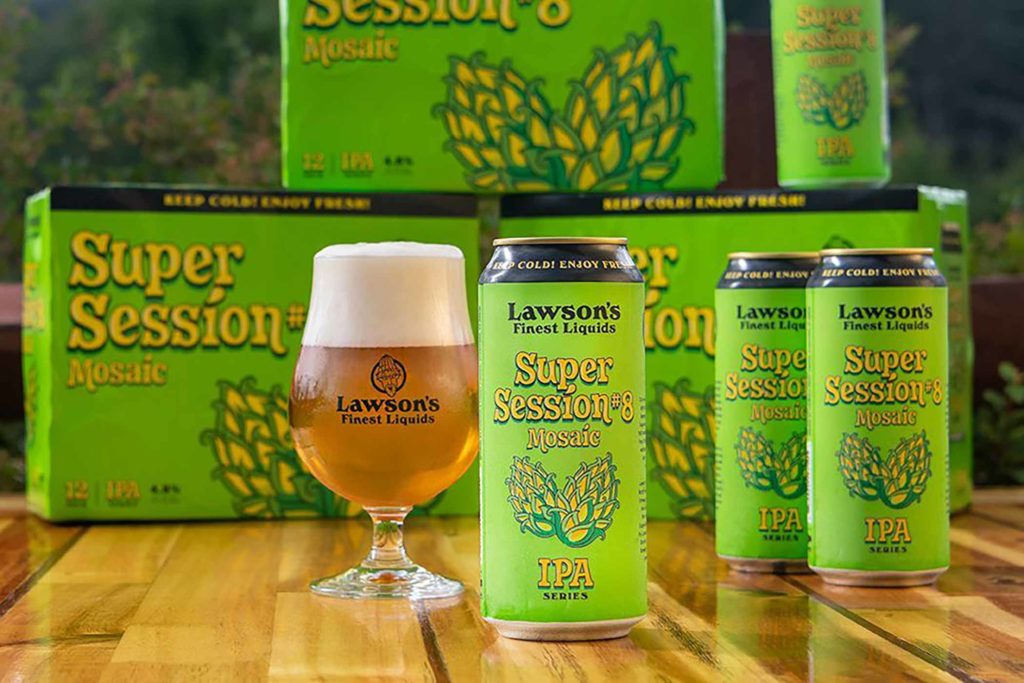 Session IPA – Sure, we love barrel-aged, pastry, and imperial stouts.
And intensely fruited dessert sours.
Or, heavily hopped DIPA, TIPA, or even quadruple IPAs.
But sometimes, we just want something easy-drinking.
A little lower in ABV.
A beer we can crush one, two, or even three of in one sitting.
Cue the session IPA.
And Lawson's makes one of the finest around.
Super Session #3, released back in February, joined Lawson's "Signature Liquids" as a 4.8% ABV session IPA full of Comet hops but light on alcohol content.
Expect big bursts of grapefruit and tangerine supported by a bright floralness.
Curious to learn more about these lean, thirst-quenching IPAs?
Florida Man – Cigar City Brewing
Tampa, FL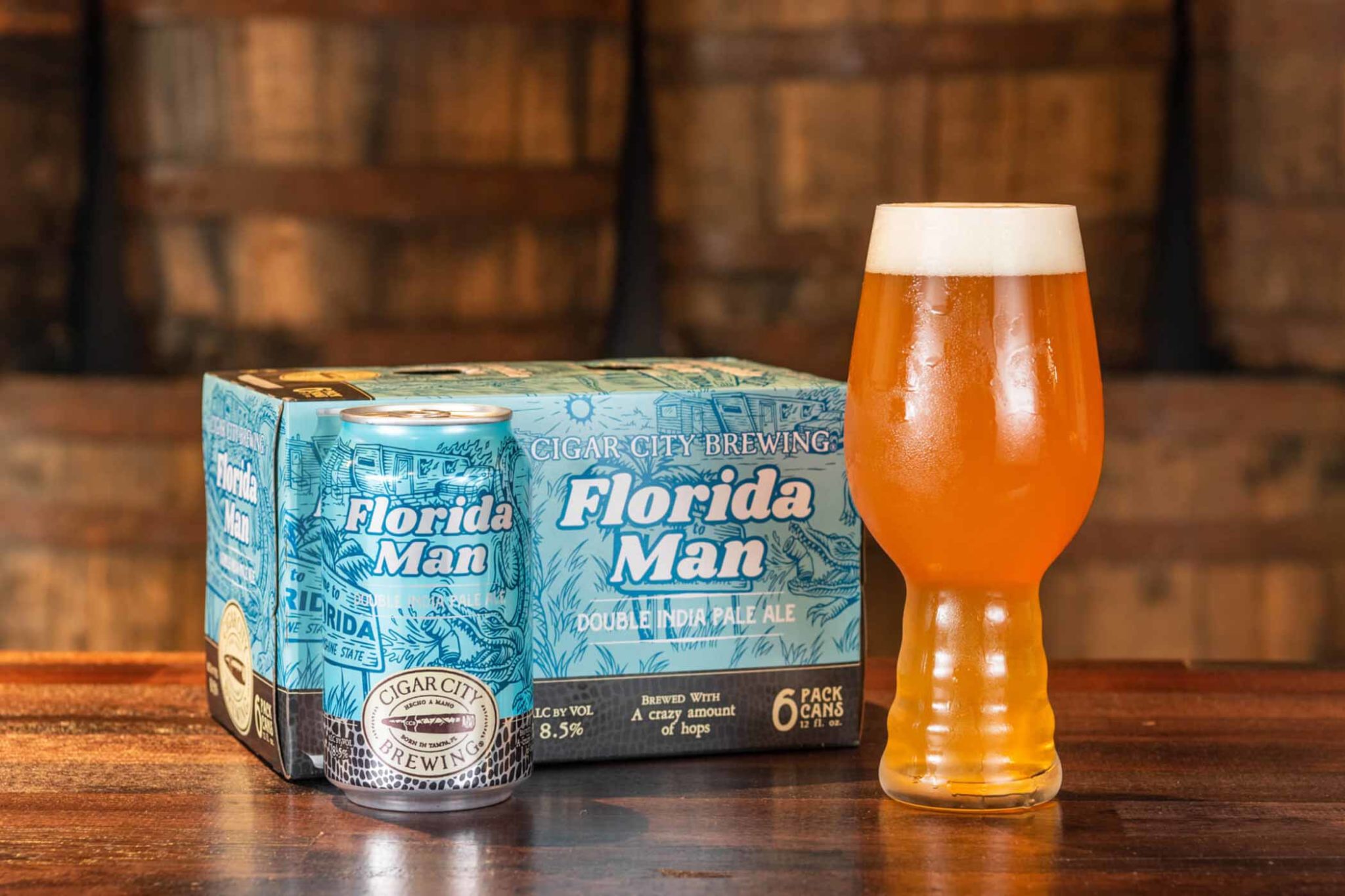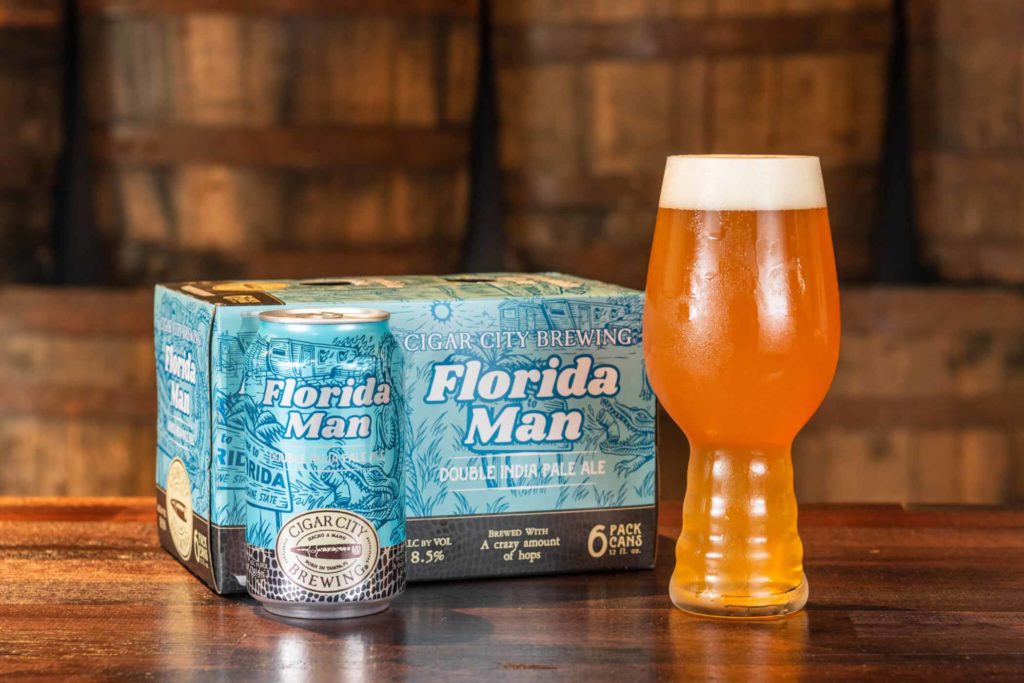 Double IPA – Playfully called "the world's worst superhero" by the brewery, Florida Man is brewed with a "nearly criminal amount of hops," including Citra, Azacca, El Dorado, and Mandarina Bavaria.
Accordingly, the 8.5% ABV DIPA that hits 55 IBUs bursts with big citrus character.
Cigar City also uses a unique Double IPA yeast that slices through the beer with peachy, stone fruit notes.
While Cigar City's incredibly popular Jai Alai might be more widely known, this big brother DIPA is a superhero in its own right.
Even as the "world's worst superhero," Florida Man is one of the best widely available imperial IPAs.
And while we love highly coveted versions from breweries such as Monkish, Other Half, Tree House, and so many more, we always think there's something to be said for a few mainstream DIPAs.
Ones that are widely available in your corner bodega or neighborhood supermarket.
Here are a few more of our favorites…
The Crystal Spirit – Root + Branch Brewing
Copiague, NY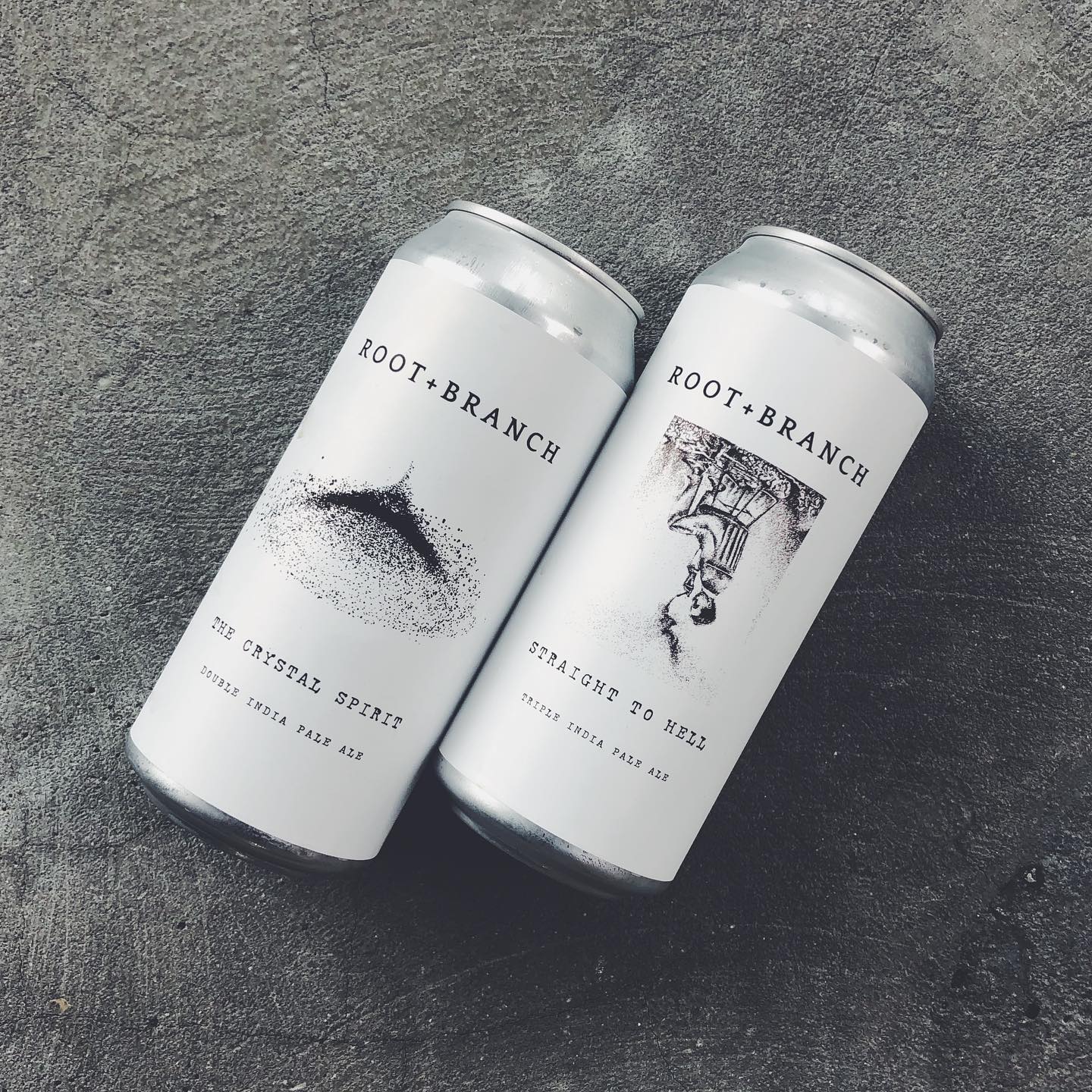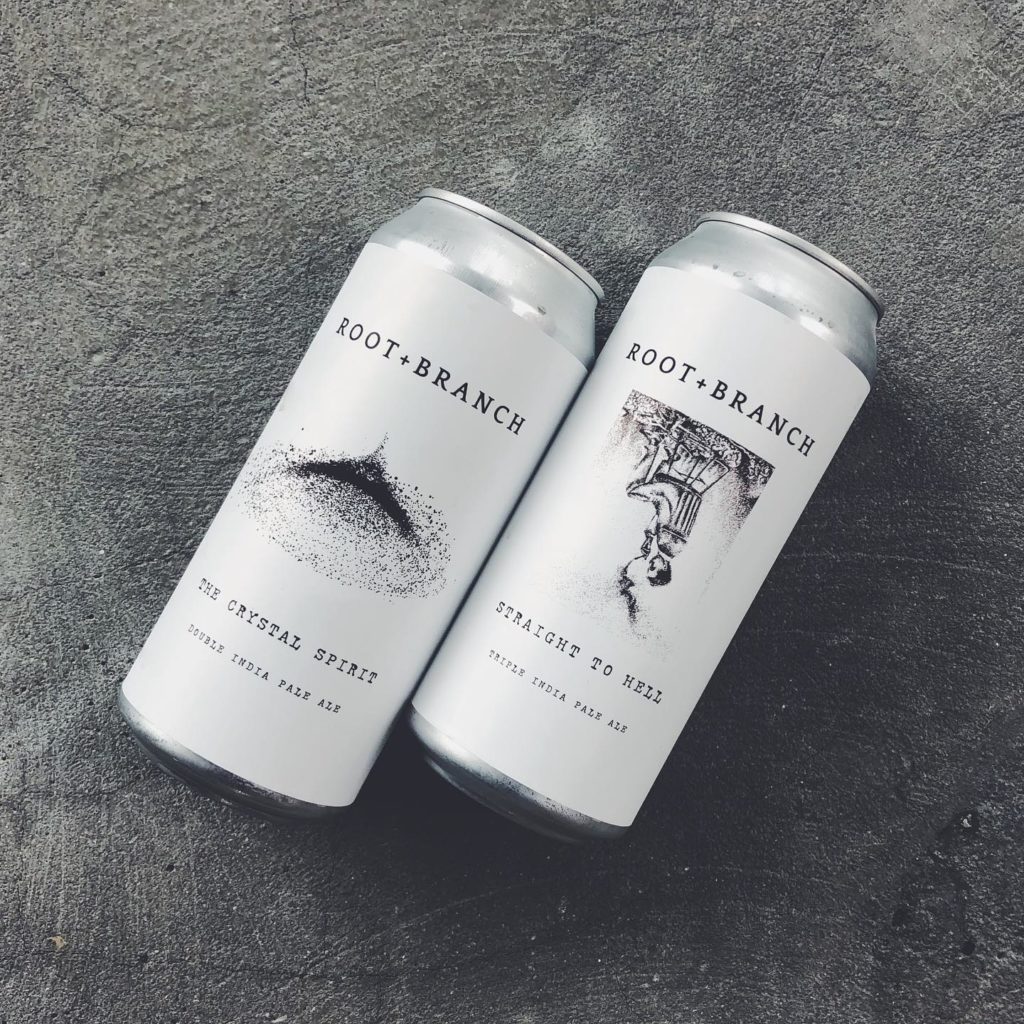 Hazy DIPA – When we asked Larry Koestler, part of the team credited with bringing the hazy IPA to Houston (aka 'Juiceton') to share his favorite under-the-radar hazy-producing breweries across the country, Root + Branch came up top of the list.
"It's impossible to have a conversation about elite producers of hugely flavorful opaque ales without mentioning Root + Branch," says Koestler. "They round out my personal top three favorite breweries, and have long established themselves as a premier producer of beers that meticulously elicit extraordinary hop character."
For example, The Crystal Spirit, a hazy DIPA with oats and wheat, dry hopped with a blend of American hops.
Koestler points out that with every release from head brewer and co-owner Anthony Sorice, Root + Branch seems to raise the bar, especially since the opening of their new taproom in Copiague, NY.
Koestler suspects they're on the "cusp of becoming even more widely known and appreciated."
Gen-6 – Firestone Walker Brewing Company
Paso Robles, CA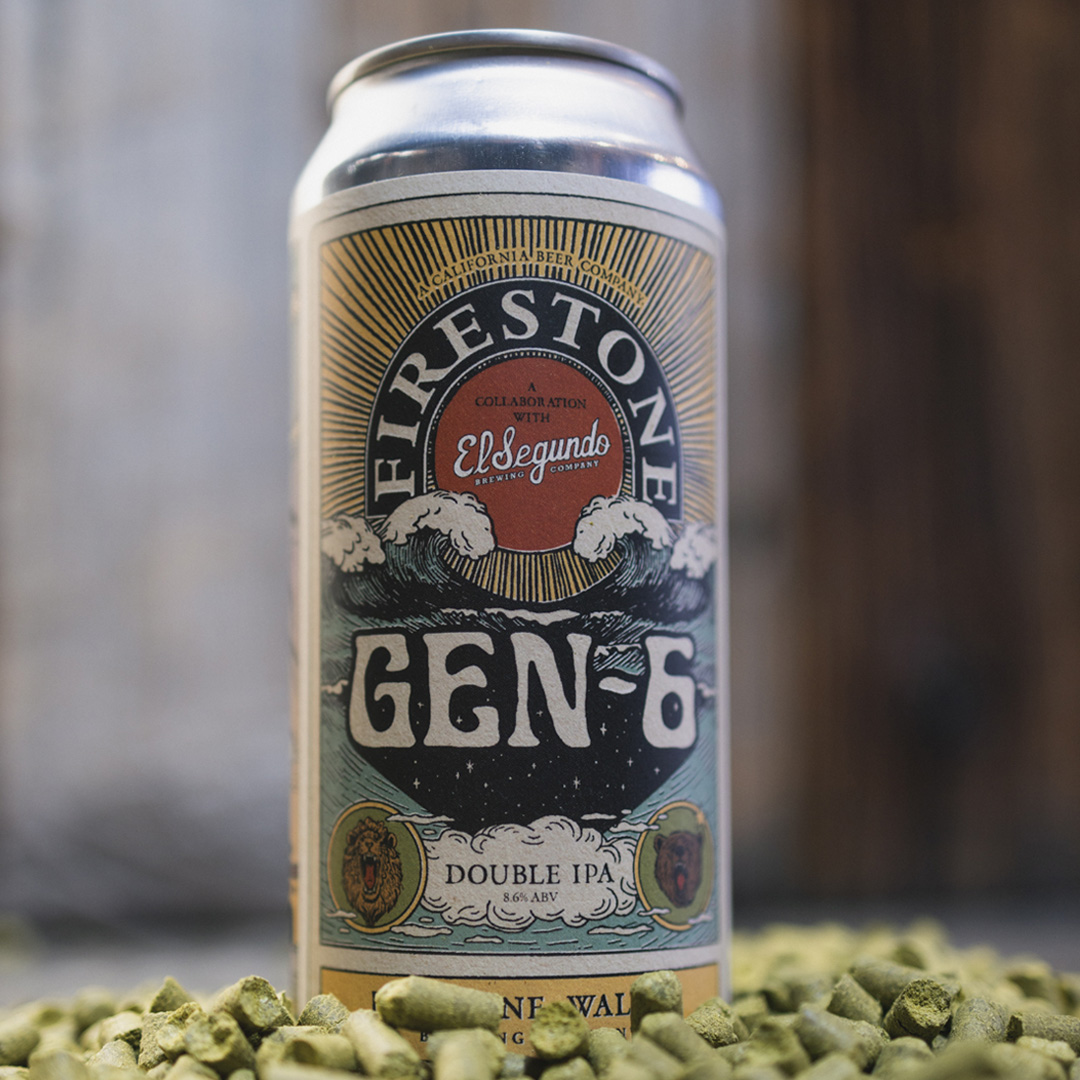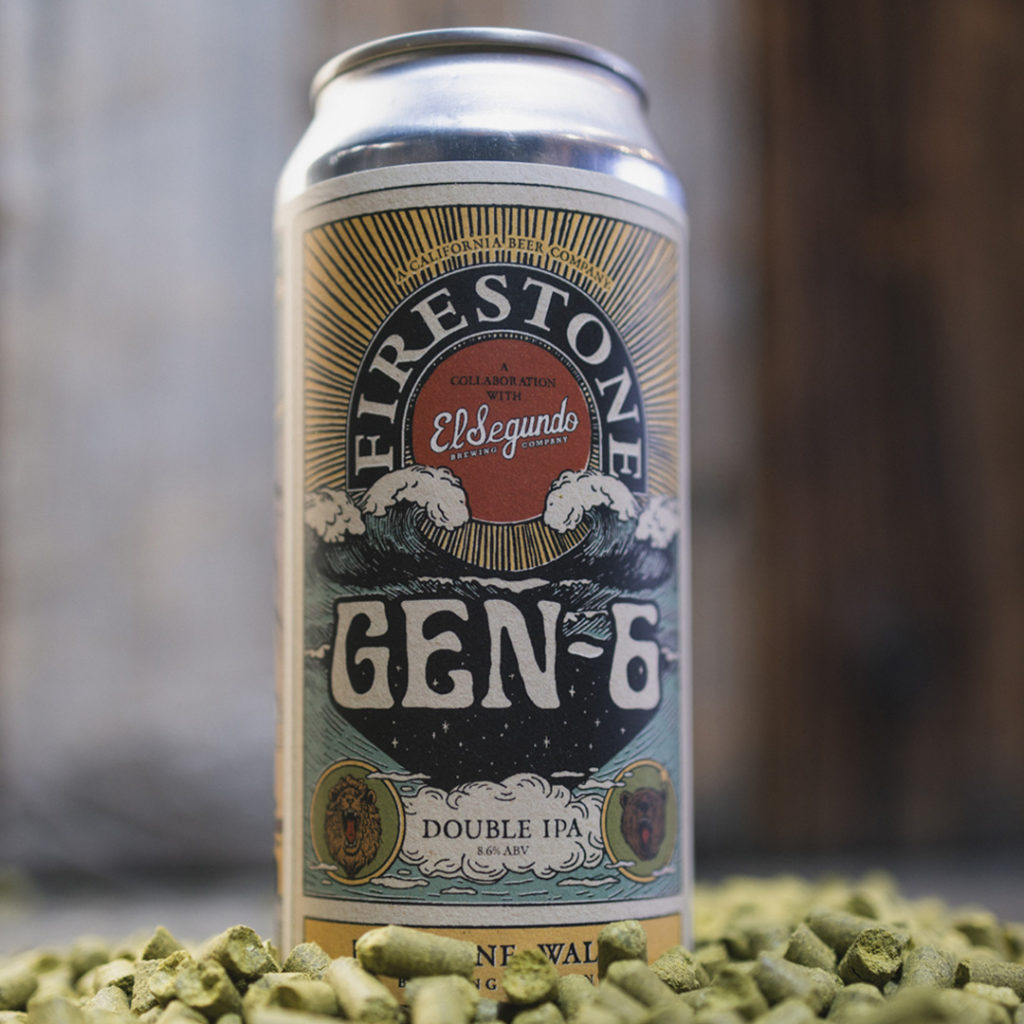 Double IPA – Hop harvest has become a bit of a pilgrimage for Firestone Walker Brewmaster Matt Brynildson and The Propagator's brewer (Firestone Walker's R&D brewery) Sam Tierney.
Every year, they make the trek up to the Yakima Valley in Washington State to commune with other brewers, farmers, and hop growers in the area that produced seventy-three percent of the country's hops in 2021.
It's a time to select lots for the year, but also to check out new experimental hop varieties and processes and really just hang out with the people who are cultivating the backbone of beer.
A time to not only walk through the bines and smell hops in places like an old redwood-framed warehouse, but to hike with growers and eat tacos with hop farmers.
"Bottom line: No farmers, no beer," says Brynildson in Firestone Walker's new short film Hop Dreams: A Brewery's Journey, which followed the Firestone Walker crew during the hop harvest in 2021. "[So] it's an honor to be here where these hops are being born."
Last year, Brynildson and Tierney fell in love with an experimental hop variety called HBC 1019. Tierney had a chance to test it out in Firestone Walker's double IPA anniversary beer, Gen 6.
A collab with El Segundo, for Gen 6 each brewery picked what they thought was the most compelling hop from the 2021 harvest. El Segundo chose Vista while Firestone Walker chose HBC 1019. "It's really interesting because [that hop] adds almost a creamy, slightly coconutty, stone fruit-y quality," says Tierney. "That's why it's exciting, because it has an interesting creaminess in the mouthfeel."
Read about what other experimental hops Tierney and Brynildson raved about…
Anchor Steam – Anchor Brewing Company
San Francisco, CA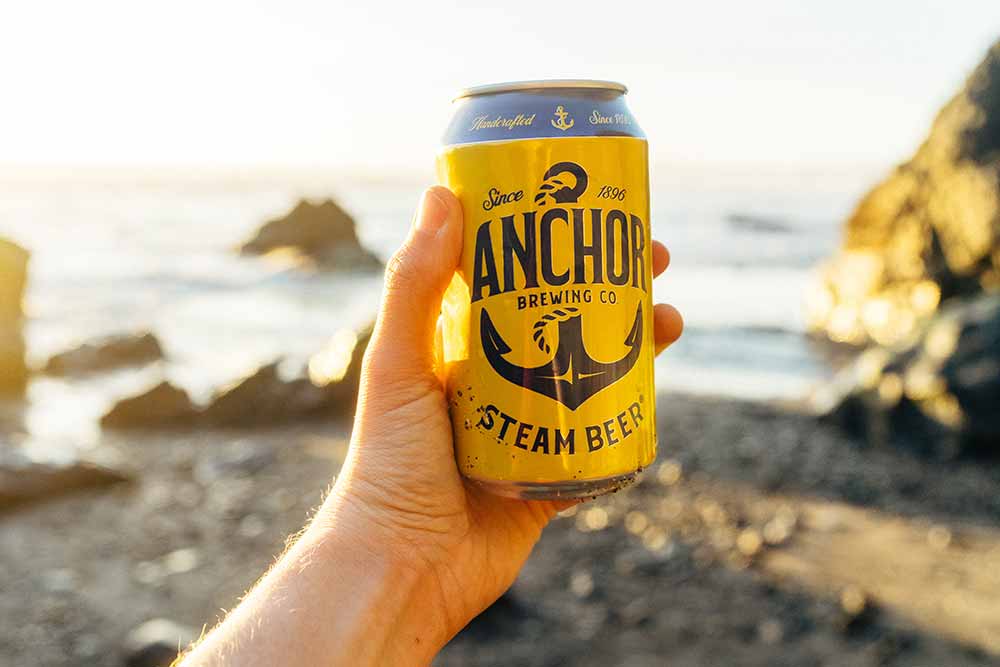 California Common – If we asked you what makes San Francisco iconic, we imagine you'd mention a few things: cable cars, fog, and Anchor Steam® Beer.
Anchor Steam® Beer has become as tied to this town's roots as, say, Pilsner Urquell in Plzeň, Czech Republic, or Spaten Oktoberfest in Munich, Germany.
Look at the beating heart of San Francisco and you're sure to see Anchor Steam® Beer pumping in and out of its right and left ventricles.
Almost like a delicate ecosystem, the very climate endemic to this city made the steam beer style, and in return, steam beer became the life blood of this city.
Anchor Steam® Beer in particular has survived fires, earthquakes, deaths of multiple owners, years of Prohibition, and threats of bankruptcy. Yet each and every time, this amber beer rose from the ashes.
Over 150 years, Anchor Brewing Company has evolved into a legendary brewery making many iconic beers.
But more so than any other, Anchor Steam® Beer endured, the liquid gold that kept the pulse of this San Francisco brewery alive from the very beginning.
We love it because it's rich, woody, a bit herbaceous, and a little creamy.
Oh and delicious.
On the palette you'll find "that balance of bitterness and sweetness… I always say it has a real beer flavor to me," says Dane Volek, assistant brewmaster at Anchor. "It's something that is full and rich."
A sentiment that Anchor Brewmaster and San Francisco native Tom Riley echoes: "It's an unpretentious beer in a classic style."
A beer that's withstood the test of time forever has the time of San Francisco in every batch of beer.
"I call it the extraordinary everyday beer," says David Burkhart, brewery historian at Anchor. "In other words, I never get tired of it; it's history in a glass, yet it never grows old."
Slow Pour Pils – Bierstadt Lagerhaus x Premiant – Alma Mader Brewing
Denver, CO, and Kansas City, KS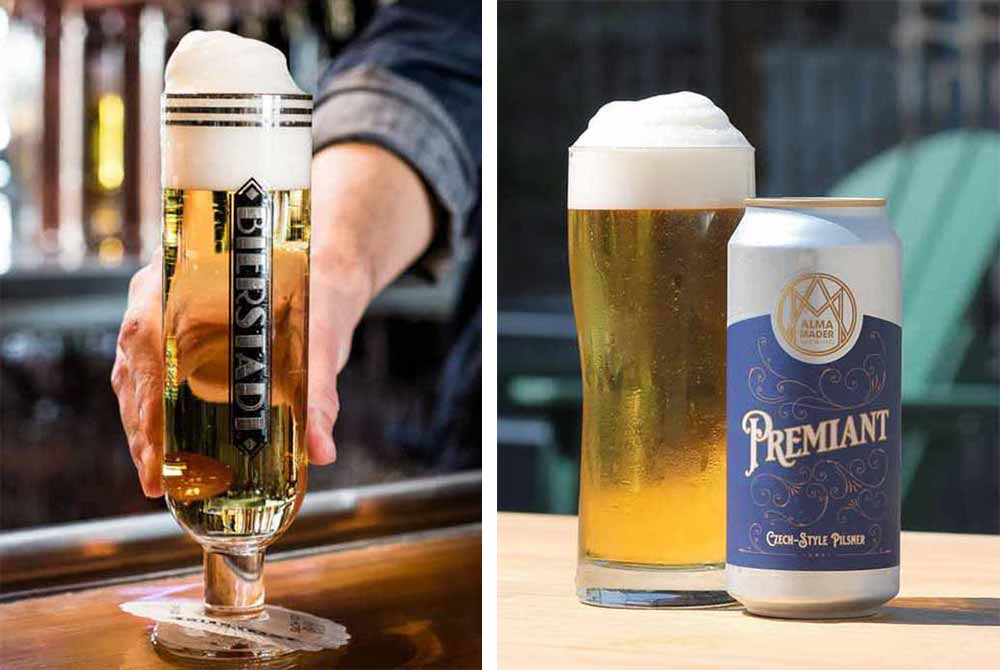 Pilsner – You may be wondering why we listed two beers together in one listing. Frankly, because we couldn't choose just one.
What binds these two beers together is a little known pouring technique called "slow pour," where one pours beer out of what's called a side-pull faucet.
The overall idea is to create layers of foam that build on top of each other. Something that can only be done slowly through a series of around three to four pours in the same glass.
The slow pour creates a beautiful presentation with a beer overflowing from the glass in a thick, almost whipped cream-like head.
The mountain of foam captures all those beautiful beer aromatics, delivering them right to your nose as you take a sip.
Famed Bierstadt Lagerhaus owners Ashleigh Carter and Bill Eye are often credited with perfecting the technique. And now other brewers are following in their footsteps, such as Nick Mader, owner of Alma Mader Brewing in Kansas City, KS.
The rub?
The beer takes a good five to seven minutes to pour. C'mon, you're not that surprised are you? It is in the name, after all—slow pour.
But seriously, we promise both Slow Pour Pils and Premiant are well worth the wait.
Here's why…
Beer Is Art – Montclair Brewery
Montclair, NJ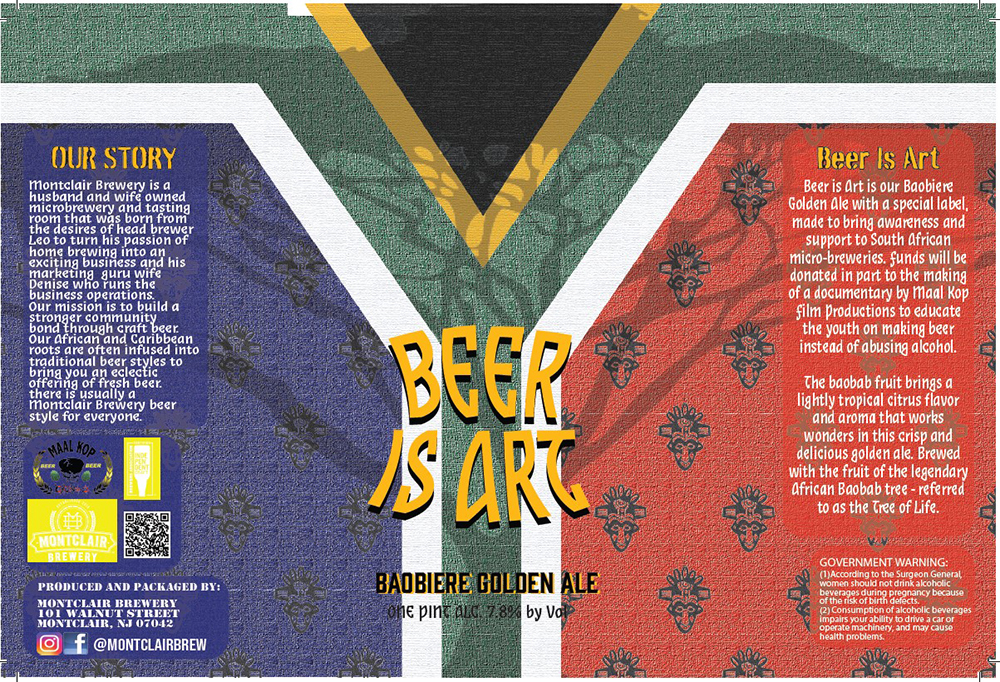 Baobiere Golden Ale – Brewed in collaboration with Beer Is Art, an initiative based in South Africa focused on teaching unemployed youth about beer, brewing and licensing, and how to turn beer into a career. The incredible project started by filmmaker Obakeng Malope shares the idea that beer is not something that you drink and get drunk off, but rather an art form that can be appreciated and leveraged to create a career.
Partnering with folks across the world from India and Japan to Belgium and the U.S., Beer Is Art will create a curriculum for South African youth showcasing the influences of beer in different countries.
In America, Malope connected with Denise Ford Sawadogo, general manager and co-owner of Montclair Brewery, to create an eponymous benefit beer.
This Baobiere Golden Ale features a fruit from the legendary African Baobab tree often referred to as the Tree of Life.
Released in mid-August, Beer Is Art's proceeds will benefit Malope's Beer Is Art initiative.
Eugene and Bobbi – Fair Isle Brewing
Seattle, WA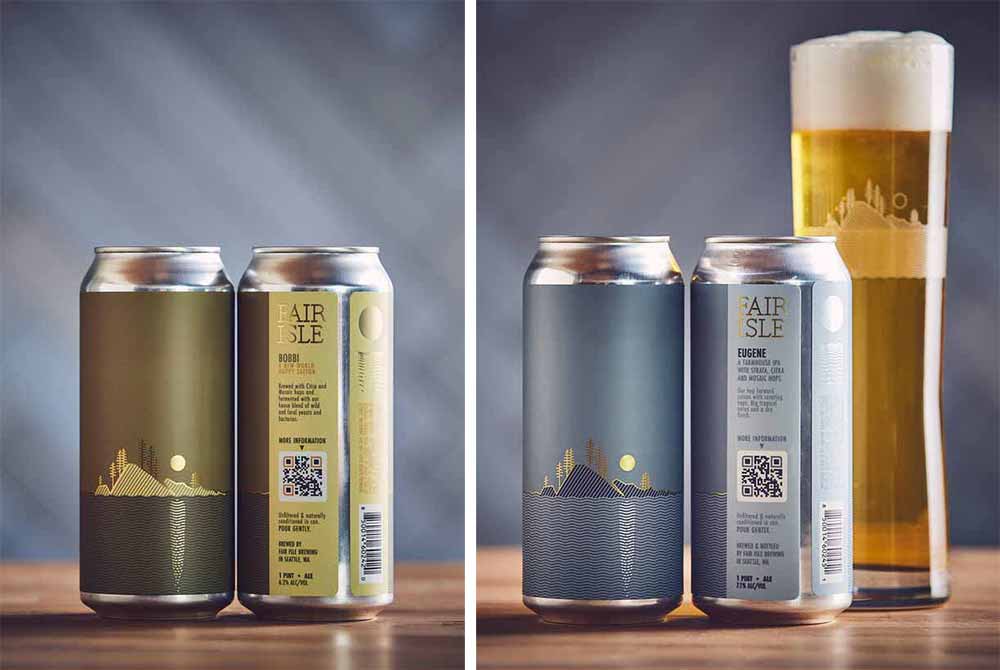 Saison – You may be wondering why we listed two beers together in one listing. Oh wait, we already did that. Damn, we've just had so much good beer this month!
Spend mere moments chatting with Fair Isle Brewing Founder Andrew Pogue and Brewer Matt Rowe and it's almost like they've opened up a door at the back of your wardrobe. But instead of walking into Narnia, you take a step into this Seattle-based brewery's own magical backyard.
There, words like sustainable, patience, and terroir grow on trees.
They use these words as pillars to craft some of the most exquisite, harmonious mixed-culture saisons in the country.
And, in Fair Isle Brewing's sustainable brewing system, you can't have Bobbi without Eugene.
Let us explain…
Consider Eugene an evolution of Bobbi, a rotating series of beers that uses both the spent yeast and spent hops from Bobbi. It's an idea the Fair Isle team kind of stumbled onto accidentally by following their noses.
"The first time we made Bobbi, we were dumping the cone and were just blown away by the aromatics and how the tank smelled," says Matt Rowe, brewer at Fair Isle. "We all kind of wondered: Are we not getting the full utilization of this dry hop? And how could we do that?"
So to make Eugene, after brewing Bobbi, Rowe simply doesn't clean the tank, "because we don't want to disturb that hops and yeast slurry," says Rowe. Instead, he leaves in all that matter brimming with aromatics.
The very next day, he'll brew Eugene, knocking out directly on top of the spent hops and yeast from Bobbi. "Next day, we come in and it's the best smelling day in the brewery," laughs Rowe.
Six weeks later, to top things off, Fair Isle includes an additional dry hop in Eugene, rotating one single hop in for every new batch.
What you get is a super aromatic beer that "jumps out of the glass," says Rowe.
When we tried it ourselves, we immediately noticed light, almost lemon meringue-like aromas. On the sip, Eugene presents a lot of those aromatics first. Almost a very crisp pine floor or whisper of hay gives way to very bright bursts of orange creamsicle and lemon verbena.
Finishing dry, we immediately want to take another sip.
And that in and of itself is part of the Fair Isle ethos: to keep you coming back every day to drink a saison again and again.
Hop Reach – Allagash Brewing Company
Portland, ME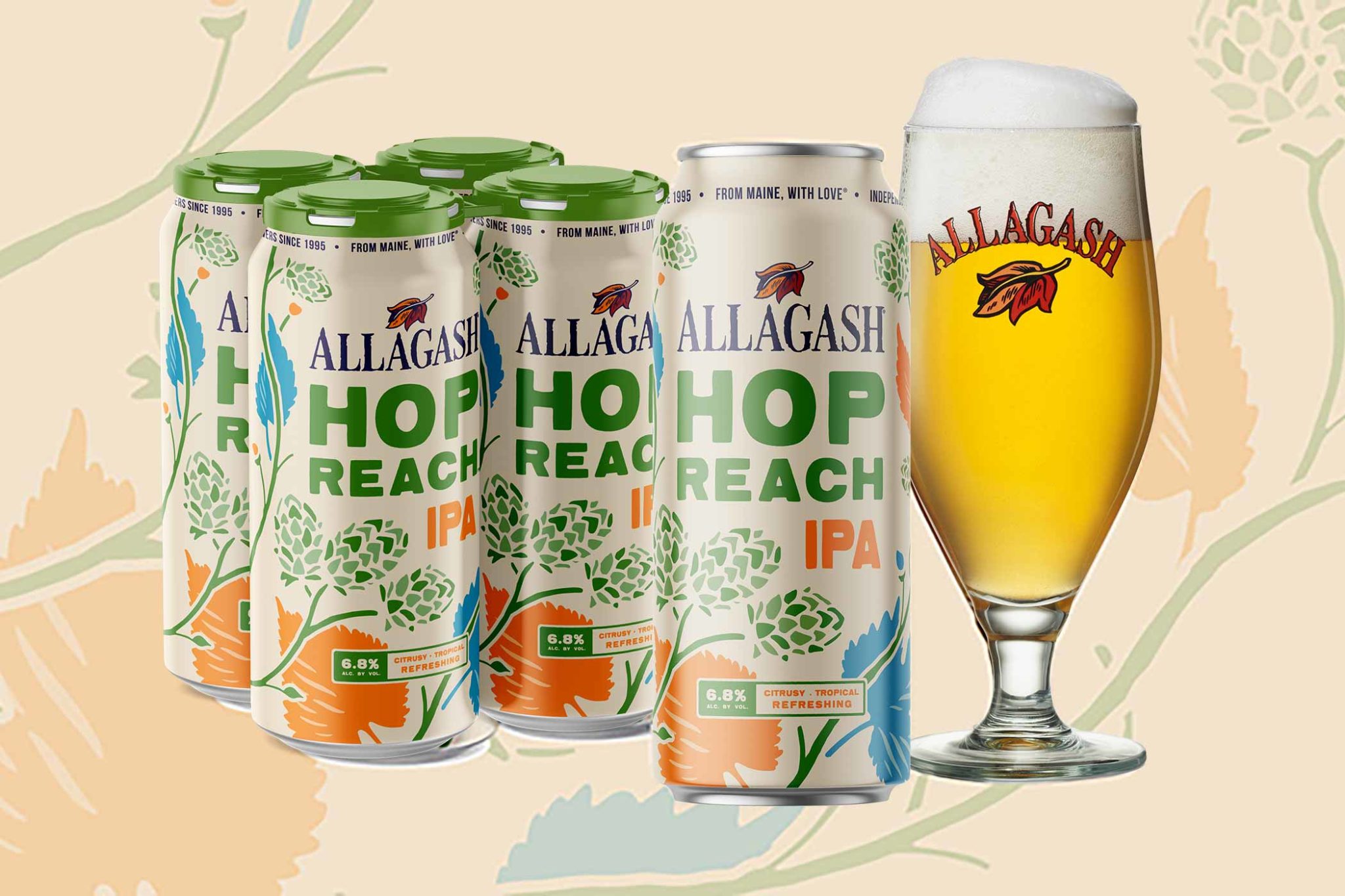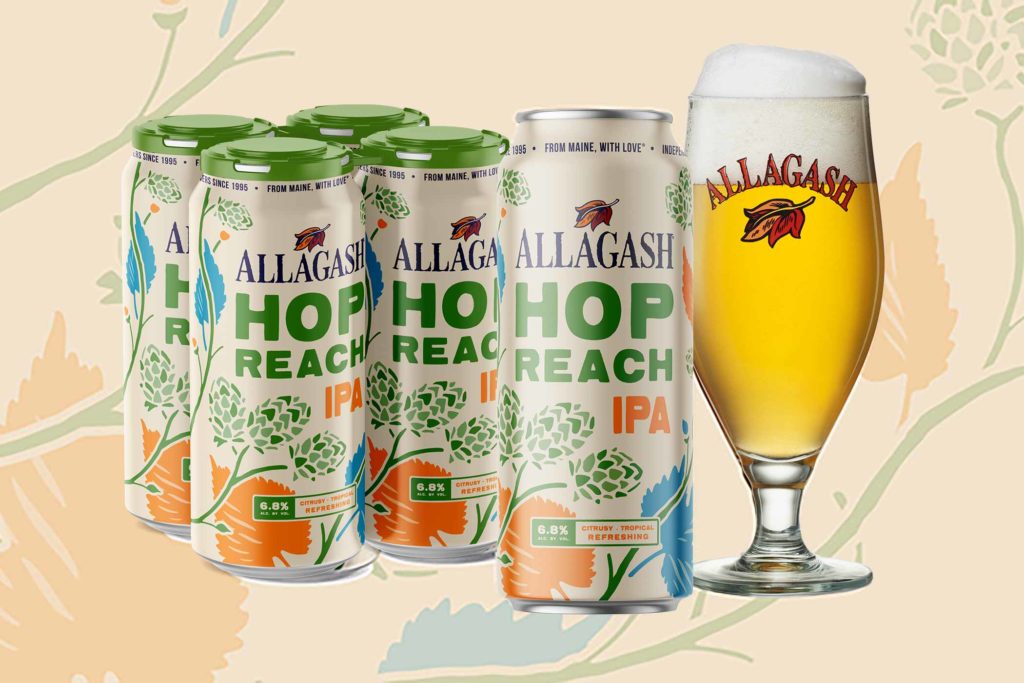 American IPA – Allagash and IPA—two words we never thought we'd use in the same sentence. But boy are we excited to announce the launch of Allagash's new year-round IPA—Hop Reach.
Allagash has dabbled with a few limited IPA releases. But they've never flipped head first into a pile of hops.
We know and love Allagash for its iconic witbier—Allagash White—impeccable Belgian tripel—Curieux. Along with a whole host of other spontaneously fermented beers and sensational saisons.
But a brewery that made a name for itself on a little-known style of beer back in the late 1990s, has for the most part resisted permanently tapping into the most popular American craft beer style.
Until now.
Allagash's first new year-round launch in quite some time, Hop Reach is a 6.8% ABV IPA featuring a blend of some older American hops—Nugget and Cascade—alongside new "more sexy proprietary hops," says Allagash Brewmaster Jason Perkins, including Citra, Mosaic, Cashmere, and El Dorado.
"From the get go, we were looking for something timeless," says Perkins. "We wanted to make a beer that we hope will resonate for many years to come, something you were drinking a few years ago and a few years from now."
And we can't help but find ourselves just as excited to see Hop Reach make its way onto the shelf next to some of these other classic American IPAs you can find at a store near you.